If you're looking to make a simple but stunning cake for your next party, there really isn't anything more classic than a flower birthday cake. From roses to tulips, learning how to pipe buttercream frosting flowers is easy. With just a few decorating bags, tips and spatulas on hand, there are endless combinations of cake decorations to make for your celebration.
We've made it super easy for you to get started by putting together a list of some of the best happy birthday flower cakes around. Whether you're a beginner or a more advanced cake decorator, this list has something for everyone. We have all you need to make your next birthday cake a blooming success.
1. Buttercream Flower Cake
Your cake is your canvas when you make this gorgeous summertime flower birthday cake. It's lovely, but very easy to make because no bags and tips are required. Just blend shades of green and blue icings together and top it off with simple buttercream flowers — all made with only a couple of cake spatulas.
2. Fall Flowers Buttercream Cake
Made with bold colors, this fall flower cake is sure to make a statement at any autumn birthday celebration. You only need to know a few simple flower decorating techniques, including rosettes and leaves, so it's a great birthday cake for beginners to make. The best part is, no one needs to know just how easy it was!
3. Cool Blooms Giant Cupcake Cake
This giant cupcake cake is a birthday party showstopper. With just a few cake decorating tips needed, you can cover the entire top with beautiful blooms and leaves. Use our bold color combinations or chose your own. Either way, it's definitely the cake people will be talking about days after the party.
4. Blooming Number One Birthday Cake
Whether you're turning one or 100, age is more than just a number with this blooming number birthday cake recipe. Use our shaped number cake pan for baking your cake, then get to the fun part – decorating! You can tint the buttercream icing in any color combo to fit your party's theme, then use easy cake decorating techniques like rosettes, mums and more to complete the look.
5. Happiest Birthday Cake
This is one of the easiest three-layer cakes you'll ever decorate. We used various shades of pink and violets for our cake, but you can pick any palette to fit your party. Just tint your buttercream, then pipe pull-out stars, dots, swirls and rosettes in any pretty pattern you'd like. Simple and impressive – this cake is a total win/win.
6. Blooming Floral Birthday Cake
Easy Bloom decorating tips make decorating this cake a breeze. Mix and match your favorite colors of buttercream frosting, then use a variety of tips to create a beautiful mix of blooms in all shapes and sizes.
7. Blossoming Spring Flowers Cake
From sweet peas and mums, to violets and roses, spring has sprung on this gorgeous cake overflowing with the prettiest petals perfect for spring birthday celebrations.
8. Tulip Cake
Tulips are such lovely flowers you only need a few to make any birthday cake beautiful. Use a leaf tip to add tiny touches of greenery and arrange a few Sugar Pearls for just a bit of shimmering glamor.
9. Fondant Flower Cake
Topped with fondant leaves and flowers, this flower birthday cake is sure to catch everyone's eye. Start with your favorite cake recipe, then ice with buttercream. Add a swag of floral blooms for a lovely treat anyone would be sure to love. To save time, make your fondant flowers a few days in advance.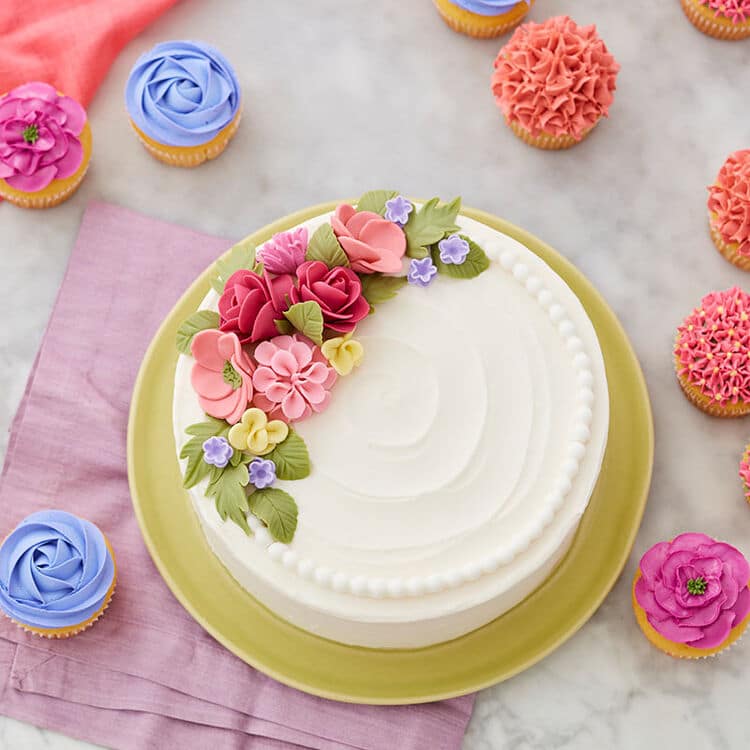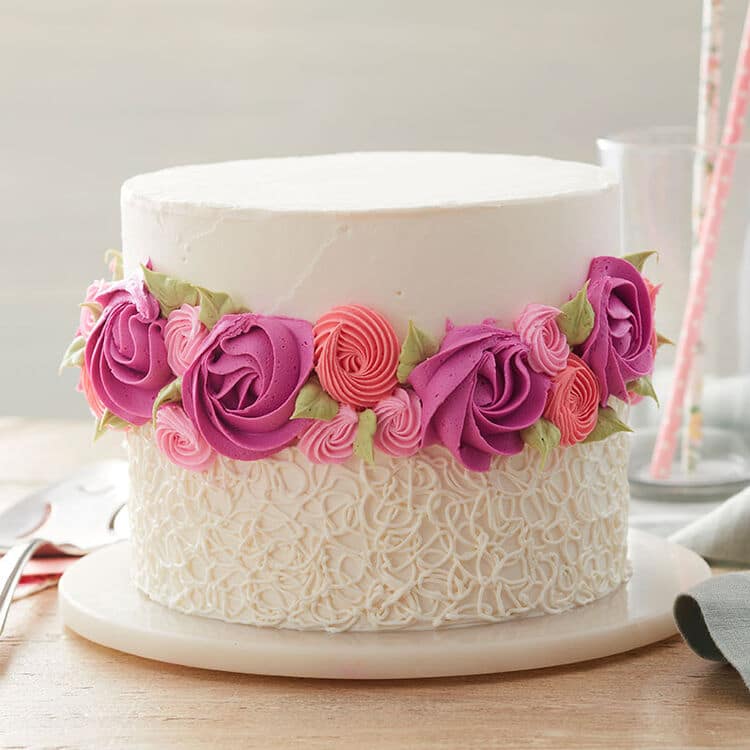 10. Pink Rosette and Sotas Cake
Wonderful for birthdays or wedding showers, this Pink Rosette and Sotas Cake combines two popular decorating techniques for a flower birthday cake that's party ready! Start by piping a sotas pattern on the bottom half of the cake, then add a crown of pink and purple rosette flowers. A striking cake for any occasion, this beautiful dessert is sophisticated and chic.
11. Pretty Poppy Cake
Whether you're celebrating a birthday or Mother's Day, flower cake ideas are perfect for bringing the beauty of spring inside! This Pretty Poppy Cake, for example, is blooming with spring colors. Topped with a crown of poppy flowers, this textured cake is simple and sweet. Best of all, you can make these flowers days in advance, so there's no rush to finish this cake.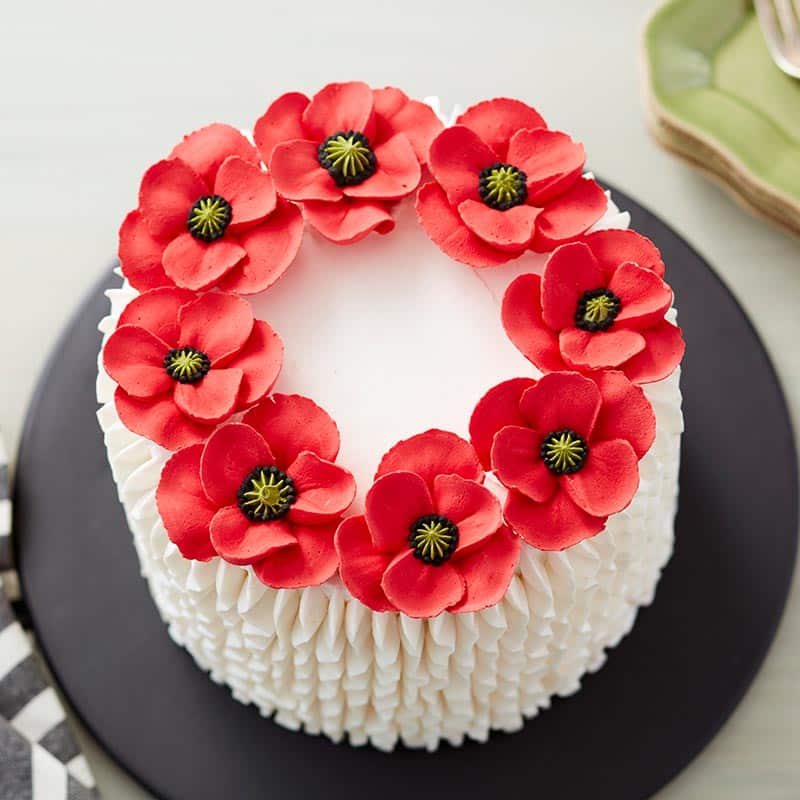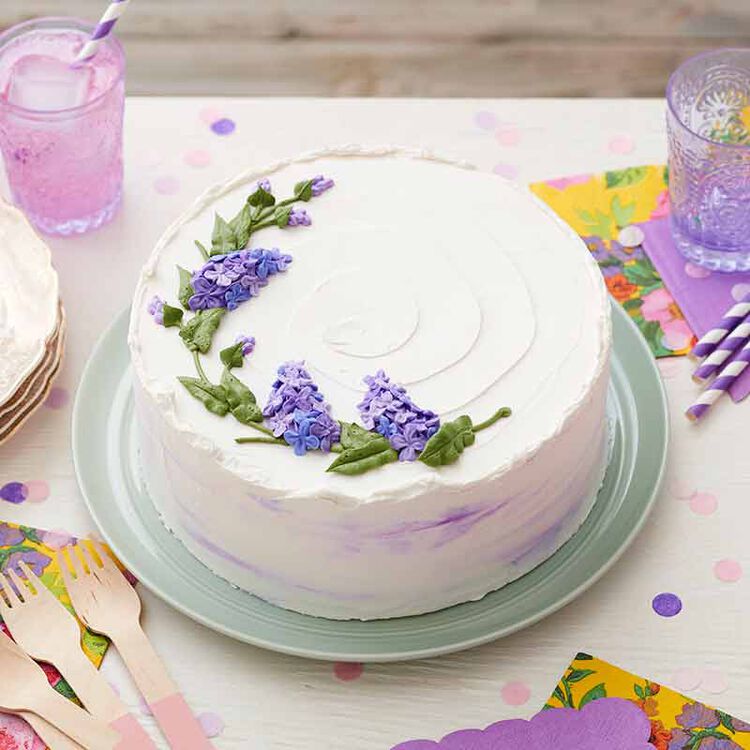 12. Lovely Lilac Flower Cake
You can almost smell the flowers with this Lovely Lilac Flower Cake. Simple and rustic, this flower cake has a natural look, making is great for weddings, birthdays and spring showers.
13. Rosebud Cake
This towering Rosebud Cake is a tribute to all those who love flowers and beautiful colors! Bright and bold, this flower cake idea is perfect for almost any occasion, including birthdays, showers, garden parties or get-togethers with the girls!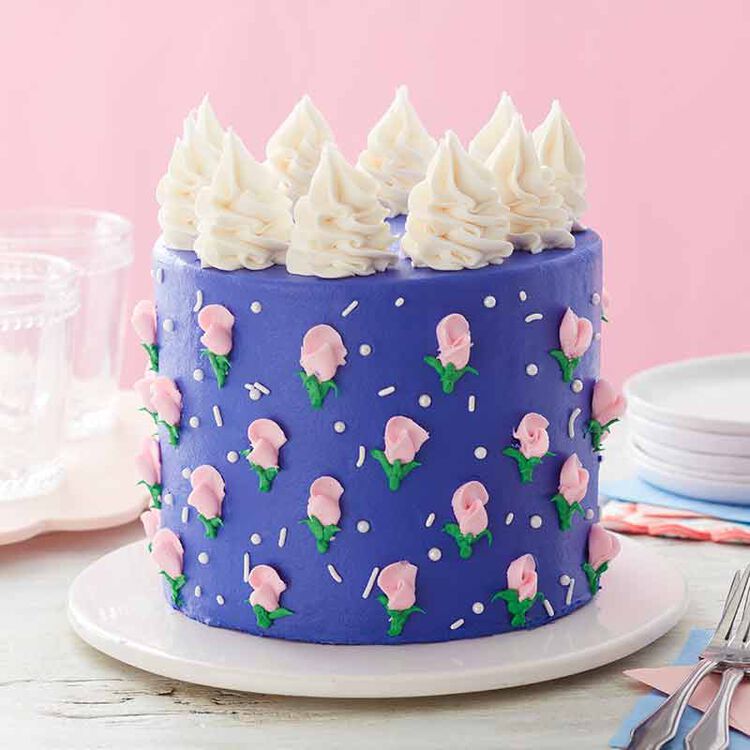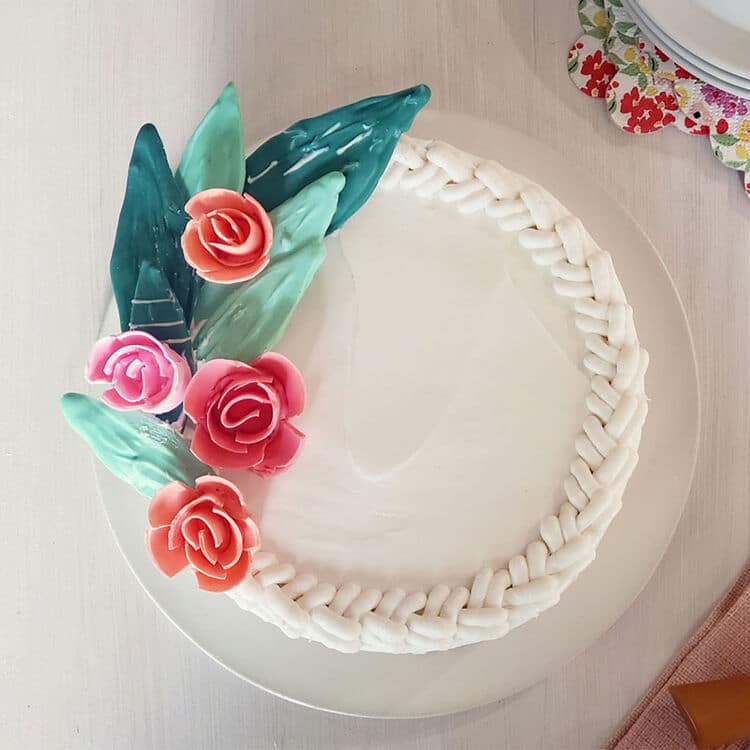 14. Candy Melts Candy Rose Cake
Stop and smell the roses – and then eat them! This simple and elegant cake features Candy Melts candy roses that are easier to make than you might think. A lovely braided border adds style and texture and there's even plenty of room for a piped birthday message or candles!
15. Whimsical Oblong Floral Cake
Flower birthday cake designs don't come much easier than this! With a simple floral border, this Whimsical Oblong Floral Cake is great for spring birthday parties and gatherings with friends. Add a Happy Birthday message or top your cake with candles or a cake topper for the perfect finishing touch.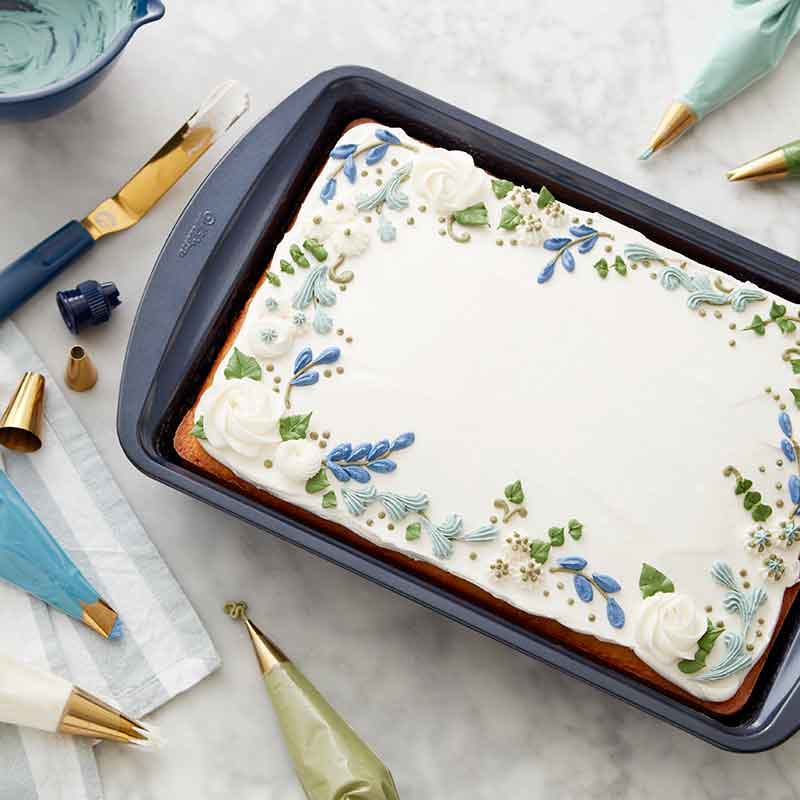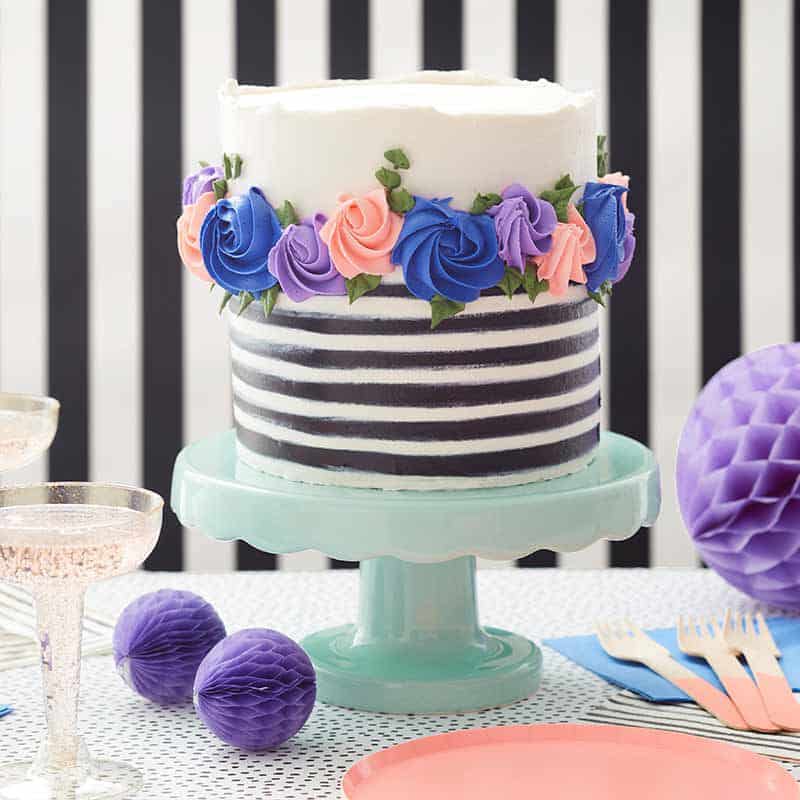 16. Ring of Rosettes Cake
This is one trendy cake worth celebrating! Adorned with a crown of rosettes, this Ring of Rosettes Cake combines popular buttercream decorating techniques for a colorful and striking cake that's great for any gathering or celebration. You can even customize your cake with rosettes in different colors (pink and red flowers on a white and black striped cake would look amazing for Valentine's Day or an anniversary).
17. Floral Spring Cake
Create a literal bouquet of delicious edible flowers with this Floral Spring Cake. Using very simple piping techniques, this cake is blossoming with bright spring colors. Combine rosettes, dots, stars and more to jazz up your cake with bright spring blooms!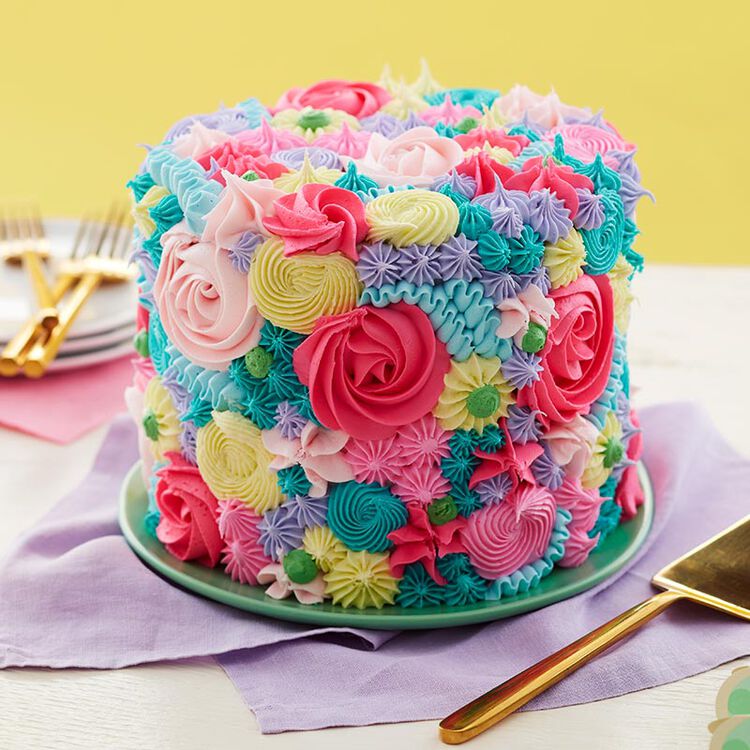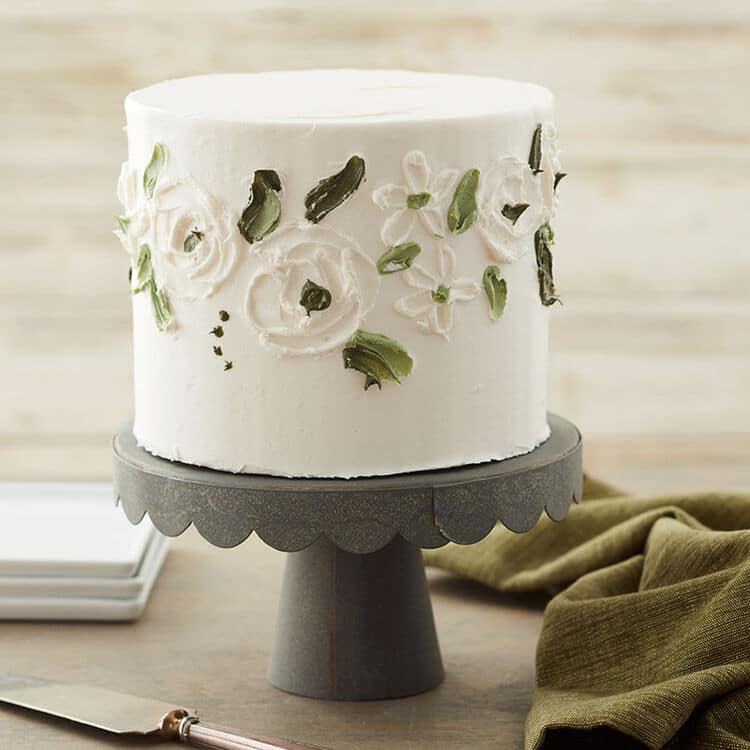 18. Elegant White Rose Buttercream Cake
No bag and tip needed for this cake! Decorated using a tapered spatula and some white and green icing, this Elegant White Rose Buttercream Cake is great for your next bridal shower or birthday party. The tapered spatula has a fine point, perfect for making petals and leaves. Simply use it like a paint brush to create a beautiful rose and daisy-inspired design.
19. Breath of Spring Floral Cake
Soft and feminine, this Breath of Spring Floral Cake is a lovely way to celebrate an upcoming baby or wedding shower. Simply outline your design with a toothpick, then pipe over the lines to create stems, flowers and leaves. A little goes a long way with this cake, so keep it simple and sweet!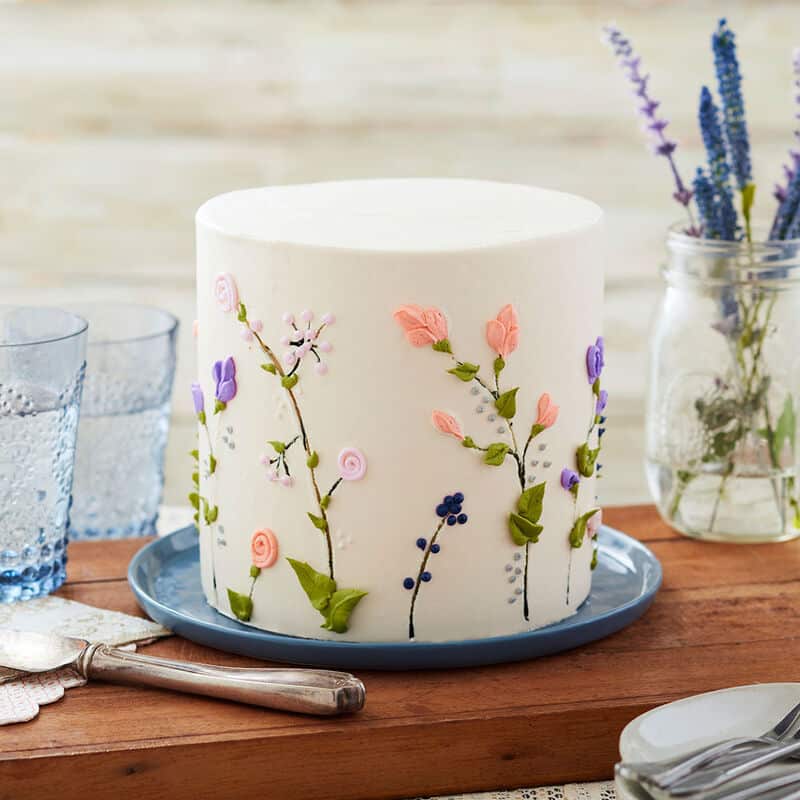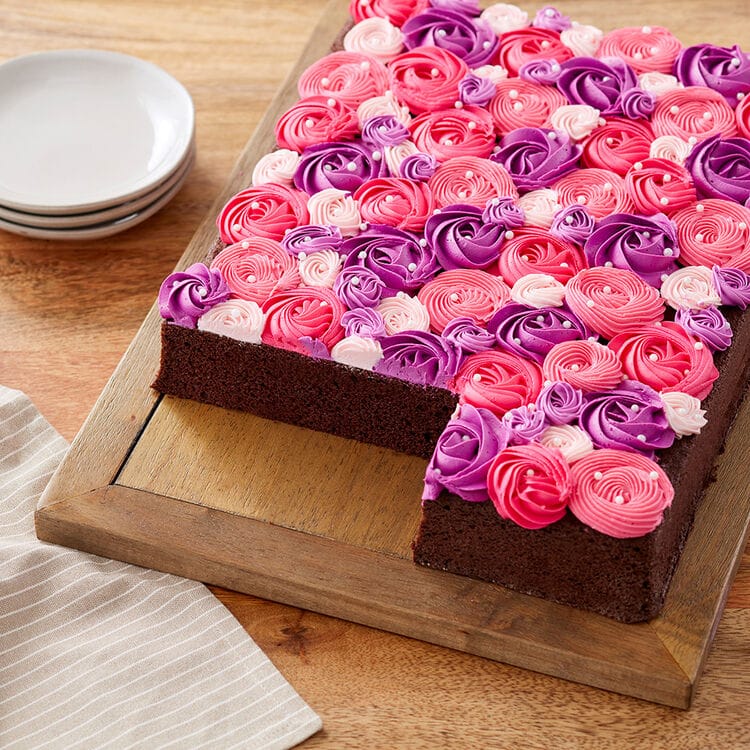 20. Pink and Purple Rosette Cake
An easy sheet cake for beginners, this Pink and Purple Rosette Cake is blooming with buttercream rosettes. Combine different star and drop flower tips to make rosettes of different shapes and sizes, then add a few sugar pearl sprinkles to top the whole thing off.
We'd love to see the beautiful flower birthday cakes you're decorating! Tag us on Instagram @wiltoncakes.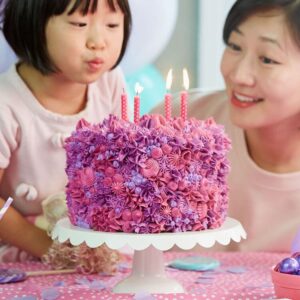 20 Beautiful Flower Birthday Cake Ideas
There really isn't anything more classic than a beautiful flower birthday cake. We've made a list of our favorite birthday flower cakes around.
Tried this recipe?
Take a picture and tag us @WiltonCakes on Instagram