These 20 delicious Valentine's Day mini desserts are exactly what you want to bring out after a special Valentine's Day dinner or to drop off in a cute box with a bow and some flowers.
First off, they're not store bought. Instead, they're homemade helping to show just how much you care! Whether you're looking for a heart-shaped treat, a uniquely rich, chocolate covered sweet or just something that's easy to make, there's something in this list for you! Choose any of these great dessert recipes that are bite sized and perfect for Valentine's Day sharing to impress and delight that special someone, this year!
1. Valentine's Day Donuts
Fun for the whole family to do together, these Valentine's Day donuts are sure to make your morning a little sweeter. Top them with icing, sprinkles, or nonpareils for a dash of color and texture.
2. Sweet and Salty Valentine's Candy Bark
We've got a candy crush on this bark! Made using Candy Melts candy and pretzel twists, this bark is great for anyone who loves the sweet and salty combo.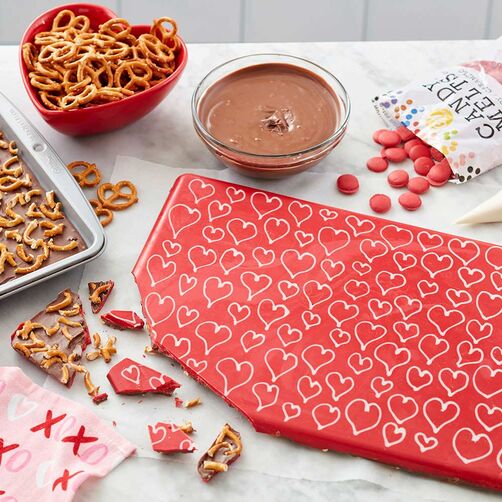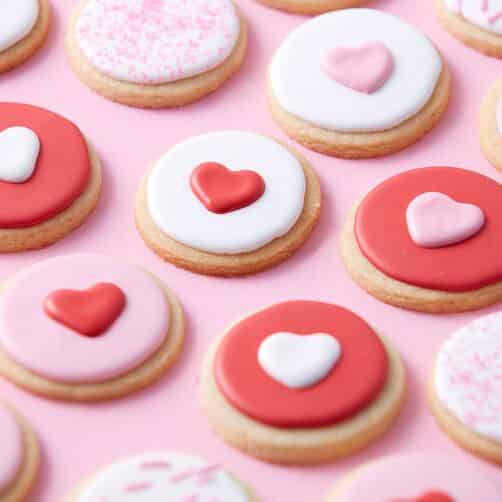 3. Mini Round Heart Cookies
These little cookies are fun for bringing into work or packing in lunches. Top your cookies with icing hearts or sprinkle them with sanding sugars or jimmies.
4. Mini Valentine Cupcakes
For a quick bite of something sweet, look no further than these mini Valentine cupcakes. Easy for beginning decorators, these little cupcakes are great for sharing with coworkers.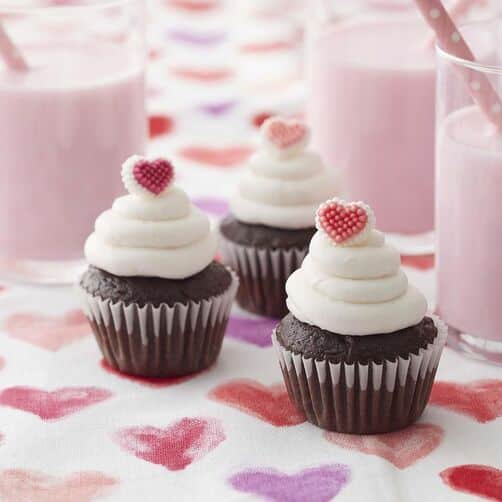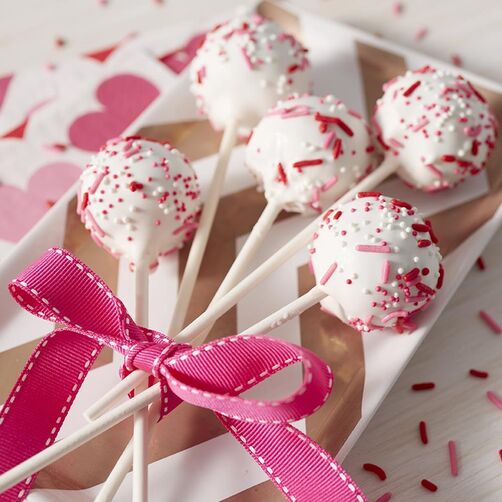 5. Valentine's Day Cake Pops
Whether you're making treats for your kids or your gal pals, these Valentine's Day cake pops are a fun way to spread some love. Package them in little treat bags for the perfect edible Valentine.
6. Valentine's Day Marshmallow Pops
These quick and easy Valentine's Day marshmallow pops are a great treat for kids. Use a FoodWriter marker to customize your marshmallow pops with a message of your choice.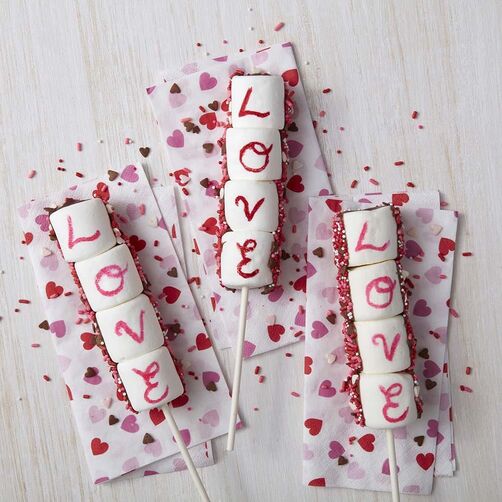 7. Cherry Heart Pies Recipe
Filled with tasty cherry pie filling and topped with a sweet sugar glaze and colorful sprinkles, these cute hand pies are sure to become a favorite. Share them as a morning treat or pack them in lunchboxes for a fun surprise!
8. Yummy Caramel Pecan Brownie Bites
Chocolate and caramel are the perfect match with these caramel pecan brownie bites. Made using a brownie mix and store-bought caramel, these little bite-sized treats come together in no time.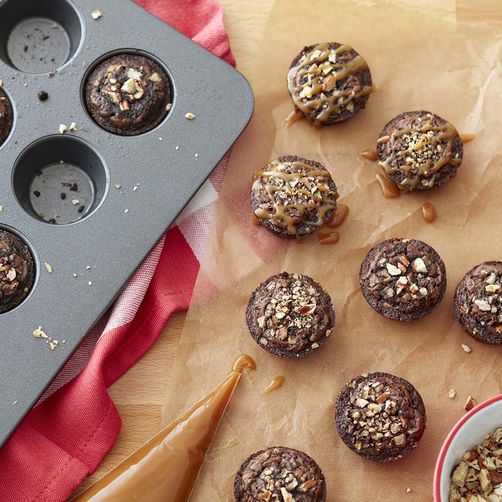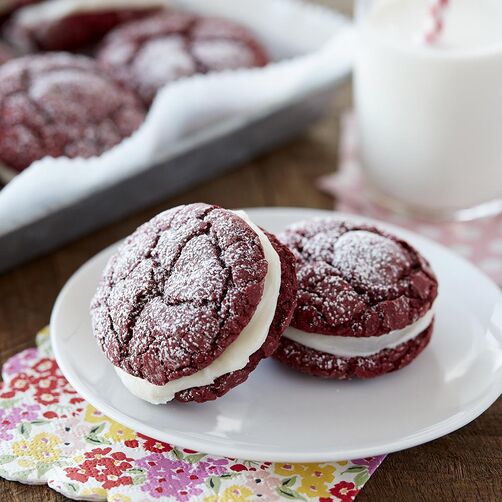 9. Red Velvet Sandwich Cookies
Enjoy one of your favorite cake recipes in cookie form! These red velvet sandwich cookies feature a delicious layer of cream cheese filling for a scrumptious dessert your sweetheart will love.
10. Raspberry Jam Shortbread Cookies
Filled with raspberry jam and buttercream frosting, these shortbread cookies are a sweet way to celebrate Valentine's Day.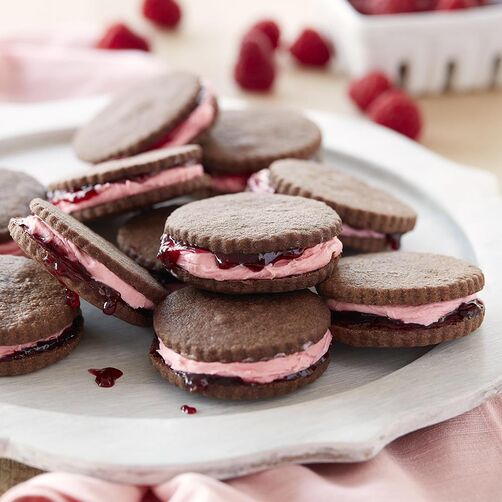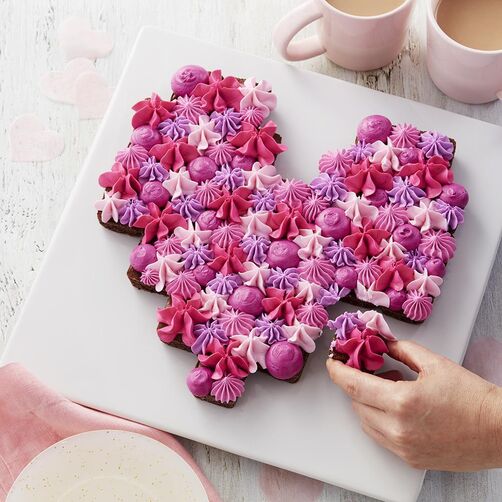 11. Pull-Apart Brownie Heart
Forget the box of candies. Give your sweetheart a treat they'll love to eat with this Pull-Apart Brownie Heart. Topped with pink and purple stars, flowers and dots, this party treat is great for a crowd.
12. Mini Cranberry Pound Cakes
These little mini pound cakes are the perfect dessert (or breakfast) for Valentine's Day. Garnished with sugared cranberries, these mini cakes pair well with a glass of your favorite sparkling wine!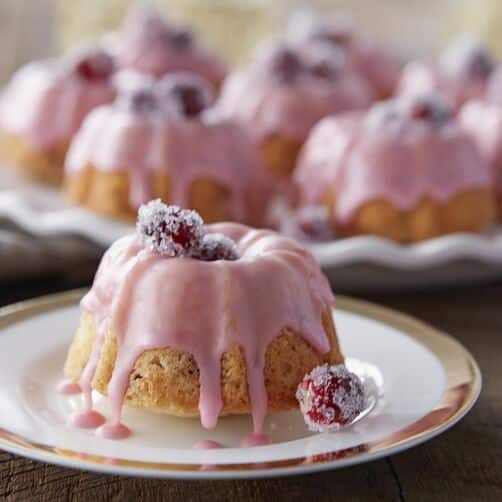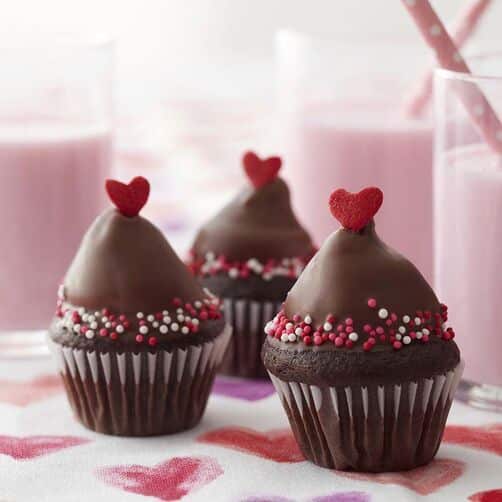 13. Made with Love Mini Valentine Cupcakes
Topped with tasty cocoa-flavored candy and colorful Valentine's Day sprinkles, these mini Valentine's Day cupcakes are perfect for parties, bridal showers or even weddings!
14. Strawberry Heart Mini Cakes
Perfect for Valentine's Day, weddings, anniversaries and more, these Strawberry Heart Mini Cakes are a cute way to show someone how much you care. Start off with your favorite strawberry cake recipe, then top your mini cakes with cute fondant hearts, made from delicious white chocolate fondant!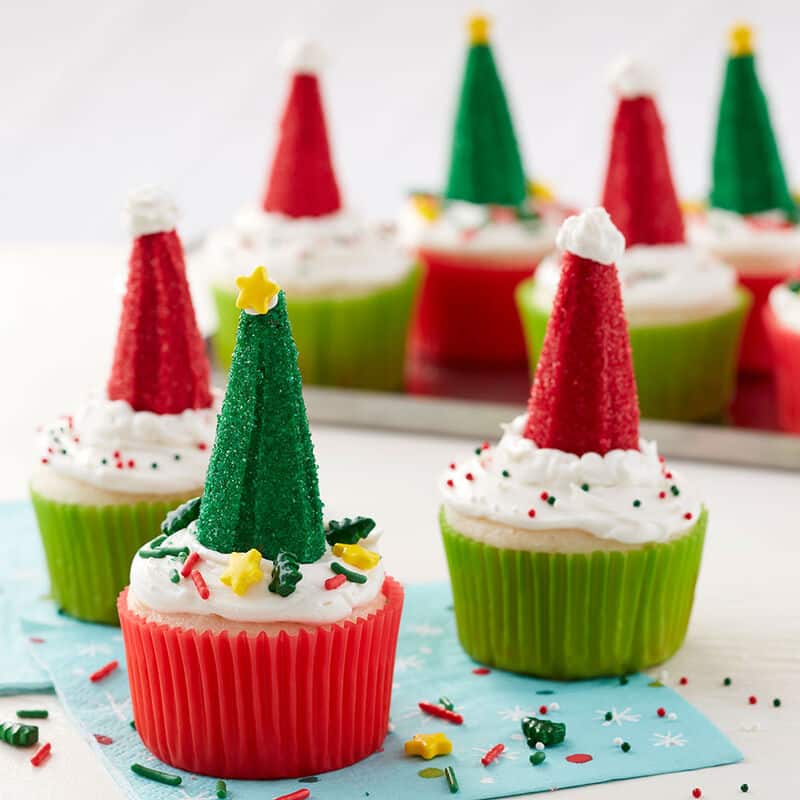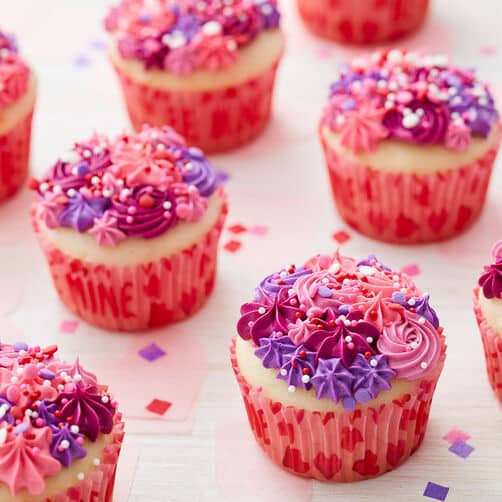 15. Valentine's Day Cupcakes
These cute Valentine's Day Cupcakes use beginner piping techniques to create something really cute! Use your favorite vanilla or white cake recipe, then top with a variety of stars and rosettes in shades of pink and purple.
16. Super Rich Red Wine Brownies
Create a decadent Valentine's Day dessert with these Super Rich Red Wine Brownies. Made using Dark Cocoa Candy Melts candy and your favorite cabernet sauvignon wine, these chocolatey brownies are perfect for sharing with your sweetheart.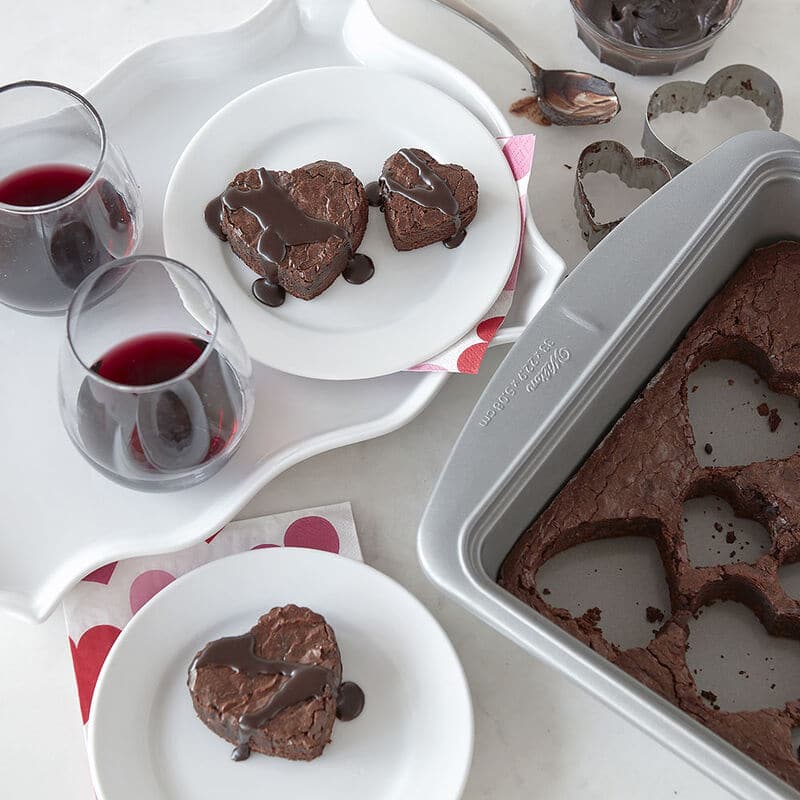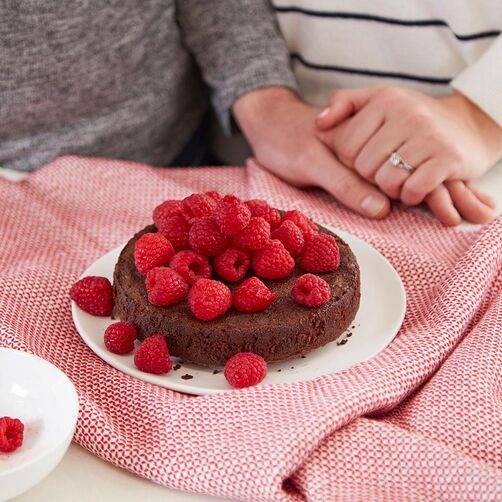 17. Molten Chocolate Lava Cake for Two
What's the perfect ending to a perfect Valentine's Day? A Molten Chocolate Lava Cake for Two, of course! This delicious lava cake recipe is bursting with rich chocolate flavor and is just the right size for sharing.
18. Valentine's Day Kabobs
Forget the veggies, these Sweet Treat Valentine's Day Kabobs are made with all the good things, including donuts, gummy candies, rice cereal treats, brownies and more. A fun dessert for kids to make for their friends, these sweet treat kabobs are just as eye-catching as they are fun to make.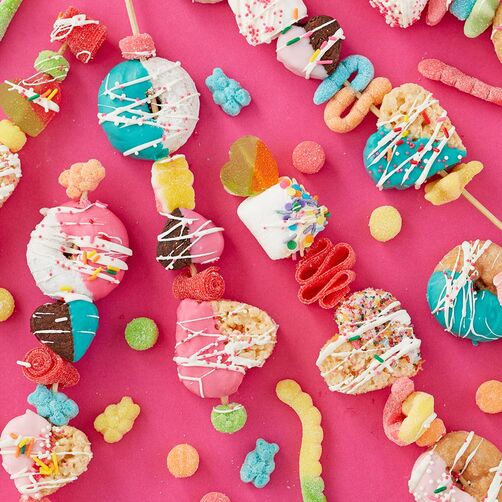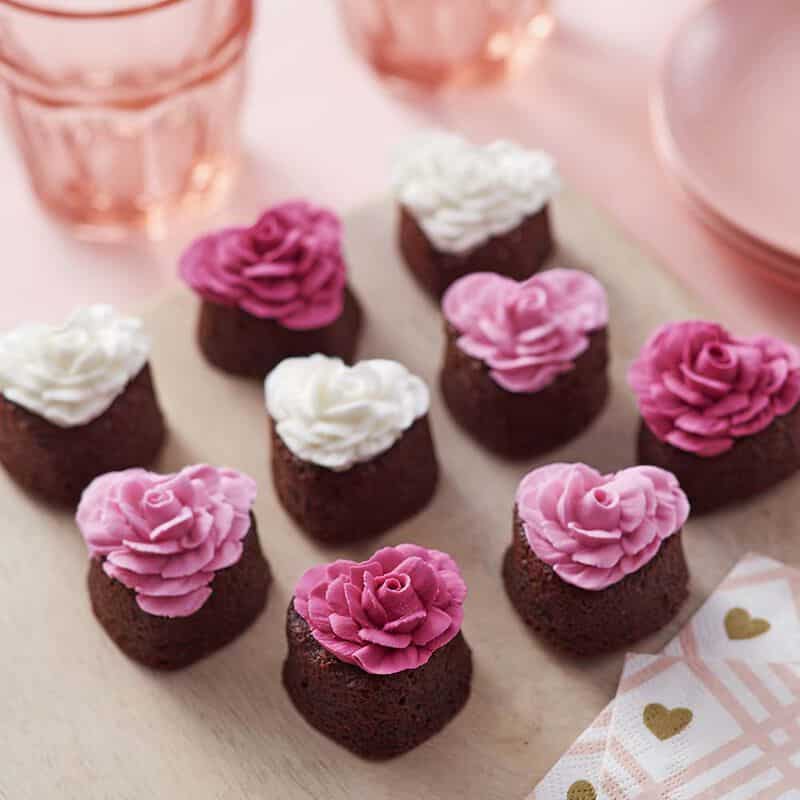 19. Everything's Coming Up Roses Brownies
Enjoy a little bite of something sweet with these cute rose-topped brownies. Decorated with a buttercream rose, these brownie bites are a great alternative to candies or chocolates.
20. Chocolate-Covered Strawberries
Add a cute decoration to your chocolate-covered strawberries with this fun chevron decorating idea. Decorated using White and Light Cocoa Candy Melts candy, these candy-coated strawberries are a delicious treat for Valentine's Day.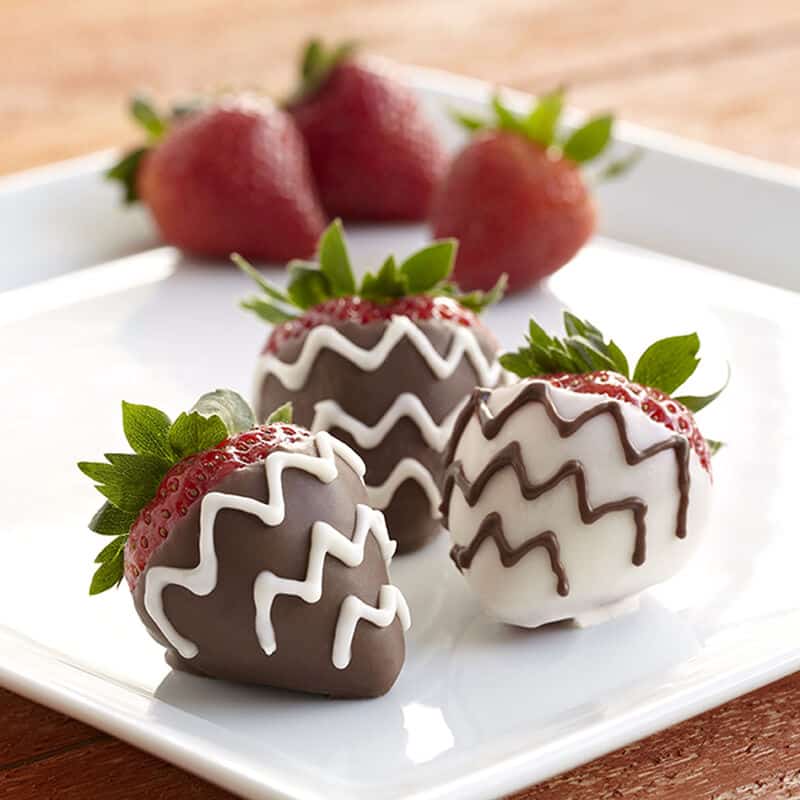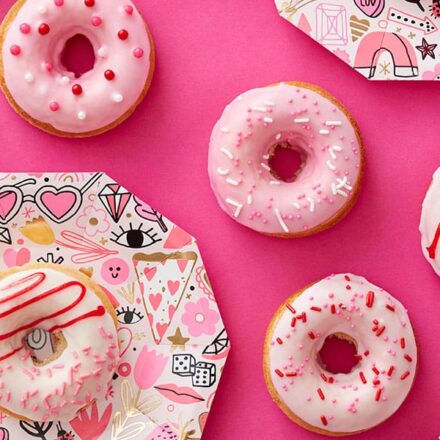 20 Mini Valentine's Day Desserts
Ditch the store-bought goodies and try making one of these 13 delicious mini Valentine's Day desserts for that special someone this year! They're bite-sized and perfect for sharing after dinner or dropping off with some flowers.
Tried this recipe?Take a picture and tag us
@WiltonCakes
on Instagram
Find all the supplies you need to make Valentine's Day sweet!