This easy to follow cake pops recipe includes helpful tips on how to prepare your cake, as well as instructions on how to properly melt our famous Candy Melts candy, to make decorating super easy!
Easy to make and fun to decorate, cake pops make great edible gifts or party favors. They're a cinch to customize with your favorite flavors and colors and are perfect for those moments when you just need a little taste of something sweet!
You can make cake pops with your favorite homemade cake recipe; however, there's no shame in using a boxed cake mix here. Boxed cake mixtures produce a moist cake crumb that's perfect for cake pops. You can also add in your favorite mix-ins to make it feel a little more "homemade" (we suggest mini chocolate chips or sprinkles for a confetti look).
So roll up those sleeves…let's get poppin'!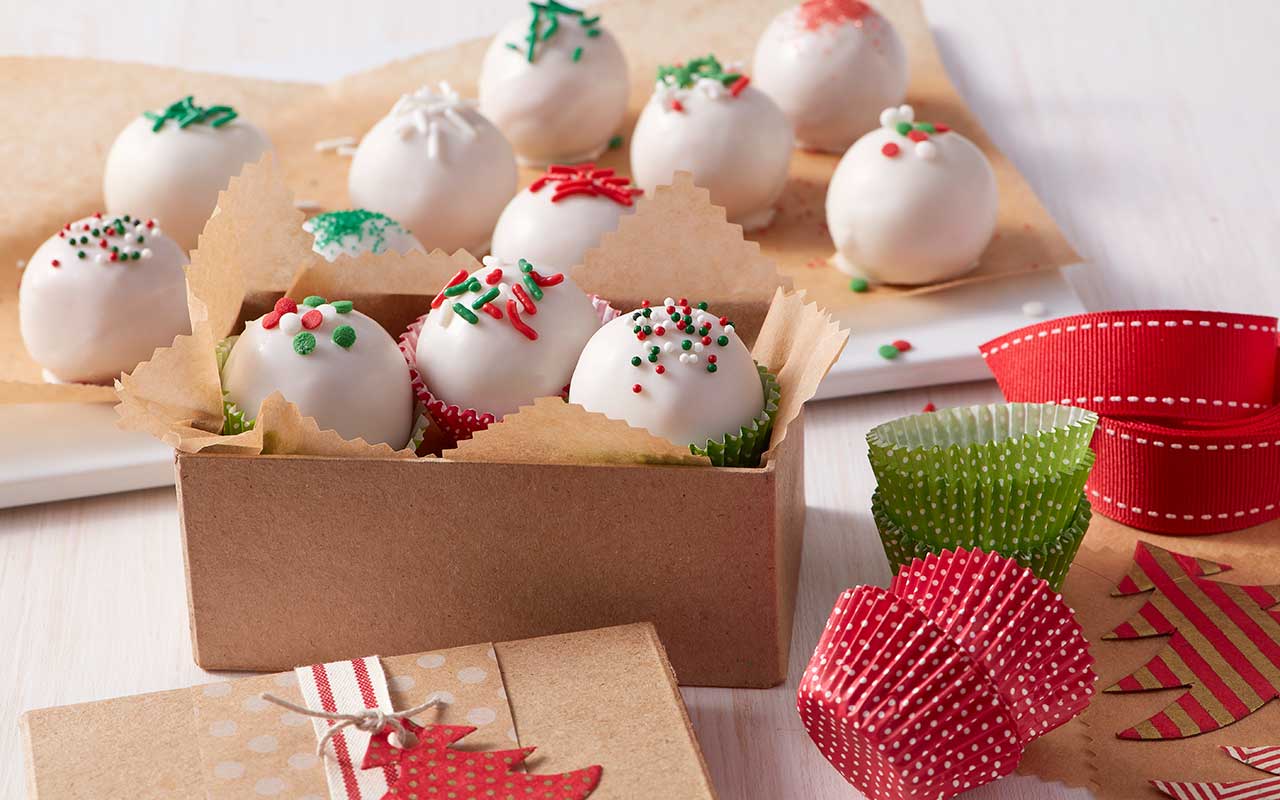 How to Make Cake Balls
The easiest way to make consistent, uniform cake balls is to use a measuring spoon. Depending on the size, you can get anywhere from 16 to 48 pops with one batch!
Here's how you can make small, medium or large cake balls:
Small: 1 tablespoon-sized cake ball (each about 1 1/4 in. diameter) makes about 48
Medium: 2 tablespoons sized cake balls (each about 1 1/2 in. in diameter) makes about 24
Large: 3 tablespoons sized cake balls, each about 2 in. diameter makes about 16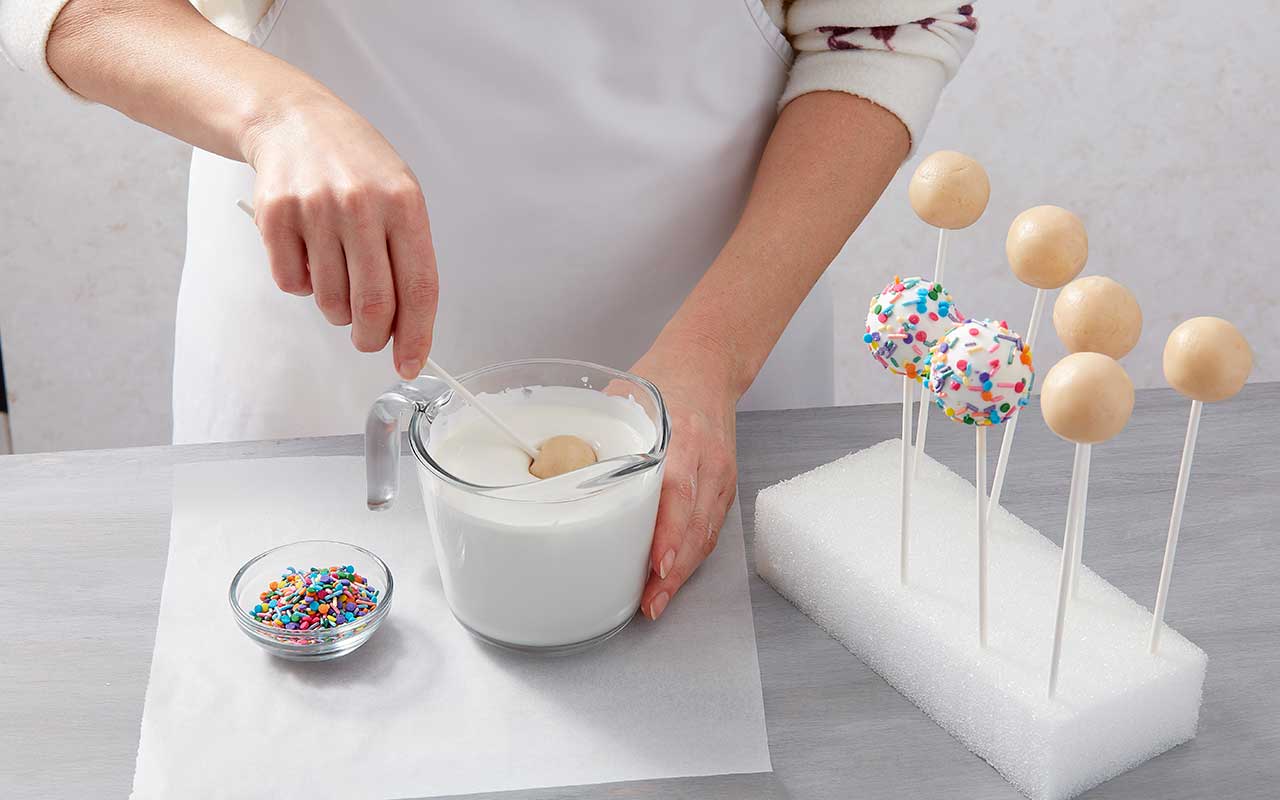 How to Dip Cake Pops Using Candy Melts Candy
For dipping, we suggest melting wafers in a Candy Melting Pot with a little bit of EZ Thin Dipping Aid. The melting pot will help keep your candy at the right temperature and the EZ Thin will make your candy the perfect consistency for dipping.
Candy Melts make it easy and fun to decorate and customize your cake pops. They're easy to melt and can be found in a variety of colors and flavors.
For more information on how to melt, use and decorate cake pops with Candy Melts, check out our step-by-step How to Use Candy Melts for Baking and Decorating guide.
You can also use chocolate or white chocolate in your melting pot. Both make a great coating!
How to Store Cake Pops
Dipped cake pops decorated with Candy Melts candy can be stored at room temperature for a week. If you used melted chocolate or white chocolate to dip or decorate your cake pops, store them in the fridge so the chocolate doesn't melt.
Can You Freeze Cake Pops?
Simply place your cake pops in a large reusable freezer bag. Cake pops will last in the freezer for up to 6 weeks.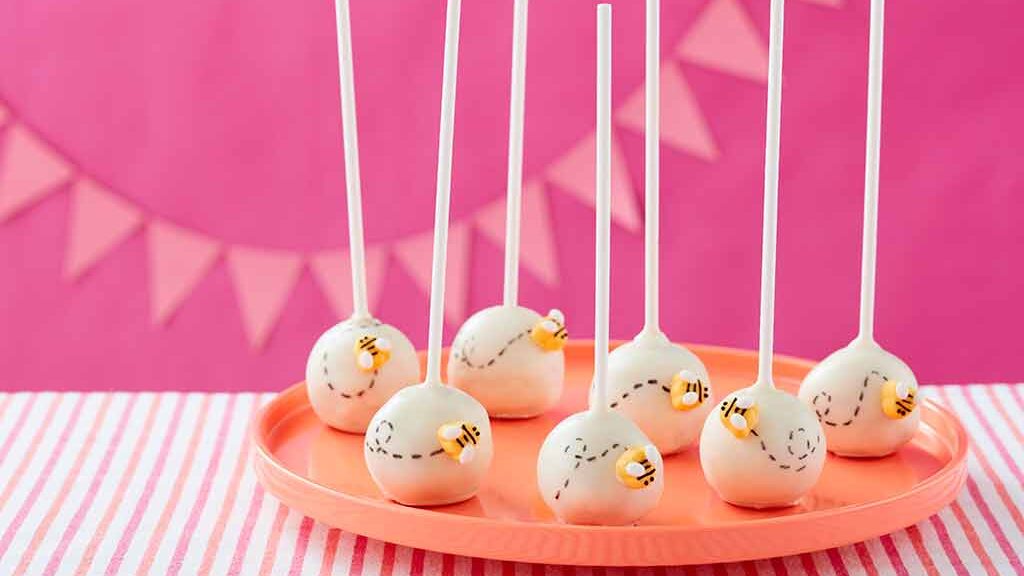 Easy Cake Pop Ideas & Recipes
If you're busy as a bee and don't have time to make cake pops for your party – use store-bought donut holes instead! These adorable Busy Bee Donut Pops are great for baby showers or birthdays and all you need to do is dip and decorate.
Show off your pride with these Team Spirit Cake Pops. Made using two colors of cake and candy, these treats are great for any sport or school event!
Grow your own edible garden with these cute Succulent Cake Pops.
A little swirl of blue makes these Marbled Cake Pops, well, pop!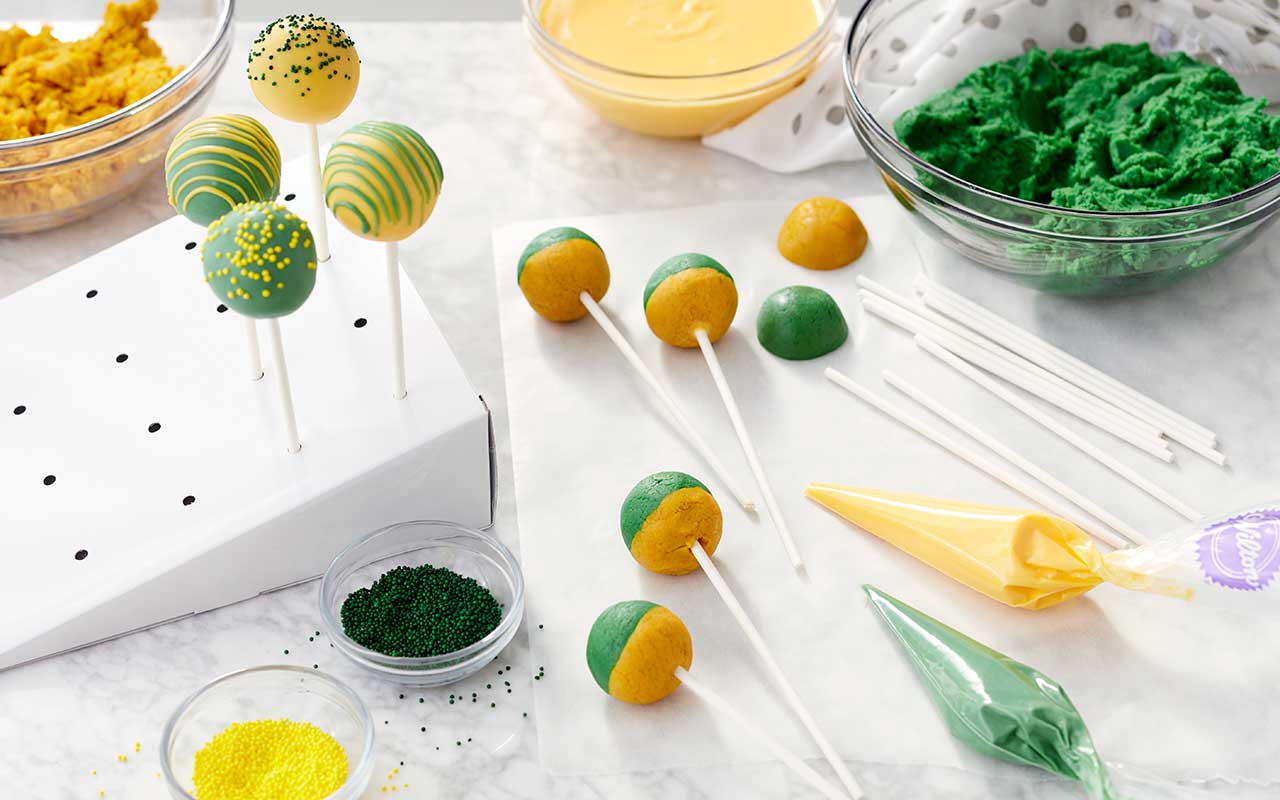 Cake Pops Tips and Troubleshooting
How Far in Advance Can You Make Cake Pops?
Your mixture can be prepared a couple days in advance and kept in the fridge until ready to use. You can even form the cake balls a day ahead and let them chill in the fridge for easier dipping.
If you want to prep your cake balls and freeze them, store them in a large freezer bag and keep in the freezer for up to 6 weeks. Let your cake balls come to room temperature before dipping.
Why Are My Cake Pops Cracking?
If your candy shell is cracking, it's mostly due to an extreme change in temperature (cold cake balls being dipped into hot candy). This can also happen with hot candy or chocolate being put into a cold refrigerator or freezer.
To avoid cracking, let your cake balls warm up to room temperature a bit before dipping in warm candy or chocolate. Once dipped, let your cake pops sit at room temperature for 5 to 7 minutes before placing in the fridge or freezer so the candy has time to cool. 
Getting a Smooth Finish
To get that nice, smooth finish, try rolling your cake ball again to smooth out the sides before inserting the stick. We also suggest using EZ Thin to thin out your candy, making it the perfect consistency for dipping and dunking.
Why Do My Cake Pops Fall Off the Stick?
If your cake balls are falling off your treat stick, they could be too heavy due to size or adding too much frosting.
To help ensure your cake balls stay, be sure to dip the stick in melted candy before inserting it into the cake ball. This hardened candy coating acts as a glue to hold the stick in place.
If you think you've added too much frosting, add a little more cake to help even out the texture.
The Frosting to Cake Ratio
When it comes to adding frosting to your cake, you want just enough to moisten it. This is especially important to keep in mind if you're using a boxed cake mix, which is already pretty moist. Start with a small amount and add more as needed.
Have Fun Experimenting with Flavor!
Not a fan of buttercream frosting? Try using cream cheese frosting instead! Cream cheese frosting is great for red velvet cake pops, or can be used with your favorite dark chocolate cake mix.
What are some of your favorite cake pops that you've made? Share a picture of them on Facebook, Instagram or Twitter and tag us
@wiltoncakes
.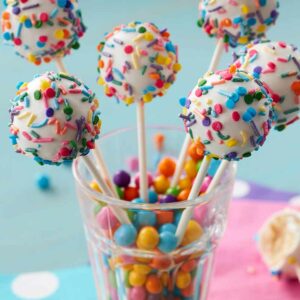 Easy Homemade Cake Pops
This homemade cake pop recipe is ultra-moist and easy to make. These cake pops are a blast to decorate and even better to eat!
This simple recipe is perfect for making cake pops in all shapes and sizes. Great to use as edible favors for birthdays and other celebrations, these treats can be customized using Candy Melts candy and colorful sprinkles.
Equipment
Craft styrofoam block or cardboard box for holding and carrying
Ingredients
1

box

Cake Mix of Your Choice

1

box

Instant Pudding Mix

3.4 oz (If you're using a chocolate cake mix, use chocolate instant pudding mix.)

4

Eggs

1

cup

Water

⅓

cup

Vegetable Oil

½

cup

Buttercream Frosting

(chocolate frosting for chocolate pops)

1

bag

Candy Melts Candy

12 oz. (any color you'd like)

Your Choice of Toppings

(sprinkles, nuts or other toppings)
Instructions
Make the Cake
Preheat oven to 350℉. Spray sheet cake pan or baking sheet with nonstick spray.

In a large bowl, combine the cake mix, pudding mix, eggs, water and oil. Beat at medium speed with an electric mixer for 2 minutes. Pour into the prepared pan.

Bake 35 to 40 minutes, or until a toothpick inserted in the center comes out clean. Cool cake in pan for 10 minutes, then remove from pan and cool completely. Divide cake in half and freeze one half for future use.

Using your hands, crumble up the cake until no large pieces remain.

Add frosting, mixing with fingers until well combined.
Form Cake Balls
Form into cake balls and chill until set, about 2 hours.

Small cake pops: 1 tablespoon-sized cake balls (each about 1 1/4 inch diameter) makes about 48 cake pops.Medium cake pops: 2 tablespoons-sized cake balls (each about 1 1/2 inch diameter) makes about 24 cake pops.Large cake pops: 3 tablespoons-sized cake balls (each about 1 3/4 inch diameter) makes about 16 cake pops.
Create & Coat Cake Pops
While cake balls are setting, melt Candy Melts candy according to package instructions.

Dip the tip of each lollipop stick into melted candy, then into set cake balls. Repeat with all cake balls, then let chill again until set, about 10 minutes. Reserve remaining melted candy.

Dip the cake balls, one at a time, into remaining melted candy. Tap lightly to remove excess. If needed, you can reheat the candy with some EZ Thin Dipping Aid to thin it out for easier dipping.

Immediately cover with sprinkles or topping of choice, then transfer to craft foam. Repeat with remaining cake pops. Chill until set, about 10 to 15 minutes.
Video
Notes
Makes about 24 medium sized cake pops
For equal-sized cake pops: use a cookie scoop to measure out each cake ball size.
Dipping cake pops: Use a tall and deep bowl or cup, like the Ceramic Candy Melting Bowls, to dip your cake pops in Candy Melts. This way the pops can be completely submerged.
Chocolate cake pops: If you're using a chocolate cake mix, use chocolate instant pudding mix. For all other cake flavors, you can use a vanilla pudding mix. We also recommend using chocolate buttercream fora rich chocolate flavor.
Tried this recipe?
Take a picture and tag us @WiltonCakes on Instagram