What's the best chocolate for fondue? Whether you're melting your chocolate in a melting pot or a fondue pot, we'll help you find the perfect fondue chocolate for the ultimate dip n' dunk party!
Finding the right chocolate to use for your fondue night is just as important as what you pick to dip in it. From white to dark, we'll break down what chocolate to use for fondue dipping.
What is chocolate fondue?
Chocolate fondue is a dish where pieces of food are dipped into warm chocolate. The chocolate is kept warm using a fondue pot, which features a small tealight candle at the base to keep the chocolate melted.
If you don't have a fondue pot, you can also use a chocolate fountain, a Candy Melts melting pot, or even a double boiler.
Most fondue pots include a set of dipping sticks, but you can also use toothpicks or lollipop sticks for dipping. For larger items, we suggest using the Candy Melts dipping tools, which are great for strawberries, pretzels, cookies and more.
1. White chocolate
For a classy fondue party, a white chocolate dip is certainly the way to go! It tastes great with strawberries, pretzels, chocolate cookies, even cheesecake or brownie bites.
2. Milk chocolate
For a crowd-pleaser, you can't go wrong with milk chocolate! Delicious with just about any dipper, milk chocolate fondue is a staple for a reason.
3. Dark chocolate
Dark chocolate, or semi-sweet chocolate, is perfect for salty dippers – such as candied bacon, pretzels or potato chips.
If you're using dark chocolate, pay attention to the cacao percentage. A high cacao content means bitter chocolate. Try to stay between 60 and 70% if you're not a big fan of bitter chocolate.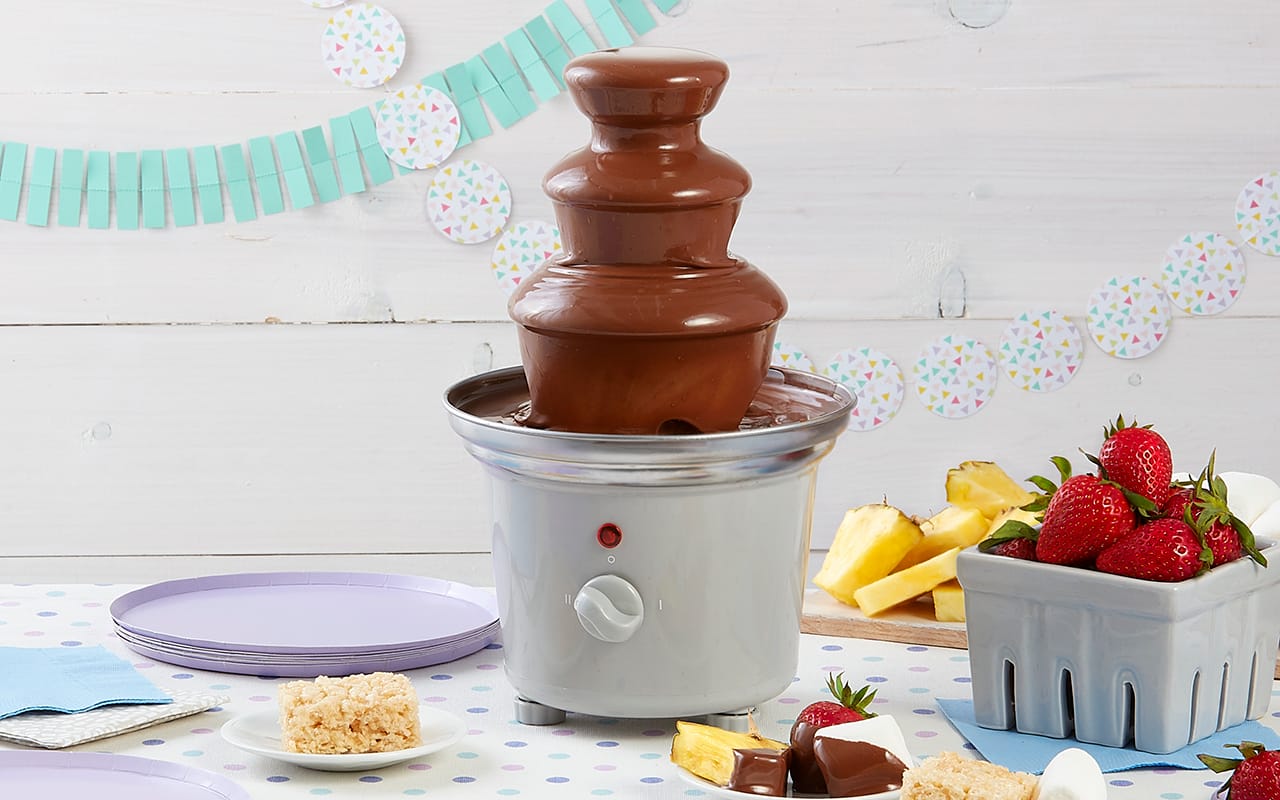 4. Chocolate fountain chocolate
Designed to be used in a chocolate fountain, these Chocolate Pro Melting Wafers are perfect for melting. They have a smooth texture and rich flavor, making them a great dip for fruit, pound cake, cookies and more.
The great thing about these chocolate melting wafers is that they're designed to melt and stay at a liquid consistency, so even if you're not using a fountain, these melting wafers will melt quickly and smoothly in a fondue pot or double boiler.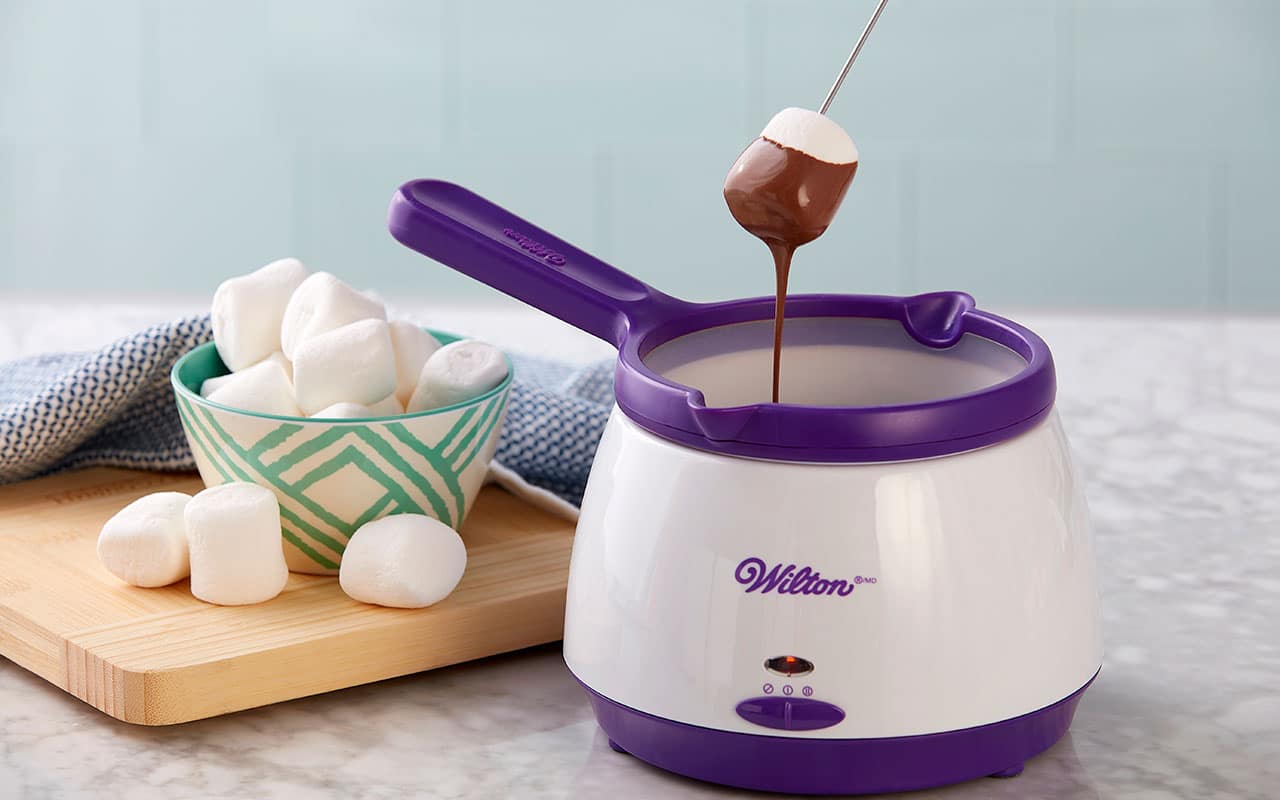 5. Candy Melts candy
This colorful candy coating makes a fantastic fondue dip! Designed to melt quickly and smoothly, Candy Melts melting wafers are available in a variety of colors and flavors, perfect for matching to your party theme.
For a traditional fondue dip, try the Light Cocoa or Dark Cocoa Candy Melts candy. With a rich chocolatey taste, these Candy Melts taste amazing with sweet and savory dippers.
Is your candy too thick for dipping? Add a little EZ Thin Dipping Aid to help thin it out. You can also thin out melted Candy Melts with solid vegetable shortening.
A note about chocolate chips
While you certainly can use white, milk or dark chocolate chips to make fondue, we suggest using melting wafers instead. Chocolate chips include stabilizing ingredients designed to help the chip maintain its shape (that's why they don't lose their shape when added to cookies or brownies). Using wafers minimizes the risk of burning your chocolate and results in a smoother, creamer dip.
No matter what chocolate you prefer, you can turn any party, occasion or weekend into a night worth celebrating with chocolate fondue.
What's your favorite dessert to dip in chocolate fondue? Let us know in the comments below?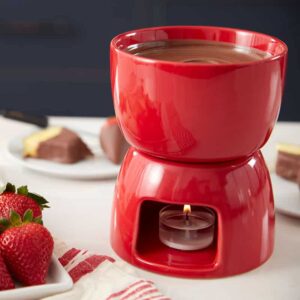 5 Types of Chocolate to Use for Fondue
What's the best chocolate for fondue? Whether you'remelting your chocolate in a melting pot or a fondue pot, we'll help you findthe perfect fondue chocolate for the ultimate dip n' dunk party!
Tried this recipe?
Take a picture and tag us @WiltonCakes on Instagram