While Candy Melts candy is great for dipping and dunking, you can also use it to pipe cute cake and cupcake decorations.
Candy Melts candy is great for dunking pretzels or drizzling over popcorn, but you can also use it to pipe fun cake and cupcake toppers.
Since Candy Melts candy melts down to a semi-liquid state, it cannot be used to pipe 3-D decorations, such as swirls or flowers, but you can make cute flat decorations that are perfect for decorating almost any type of treat.
Tips Before Getting Started
Using a Template
The best way to pipe with Candy Melts is to use a printable template. Most of our projects that involve piping candy include one, but you can easily create your own.
Simply lay a sheet of waxed or parchment paper over your template. Following the design, pipe the candy onto the waxed or parchment paper, then chill as directed.
It's all in the Bag!
While you can certainly use plastic decorating bags to pipe your candy (you can even melt your candy right in the bag!), finer details, such as dots or outlining, are best done with a parchment bag. These bags offer better control, especially for smaller amounts of candy.
Adding EZ Thin to Your Candy
To help your candy flow smoothly out of your bag, you can add EZ Thin Dipping Aid to thin out your candy. If you can't find EZ Thin, you can also use 2 tablespoons of solid vegetable shortening per 12 oz. bag of candy.
How to Pipe with Candy Melts Candy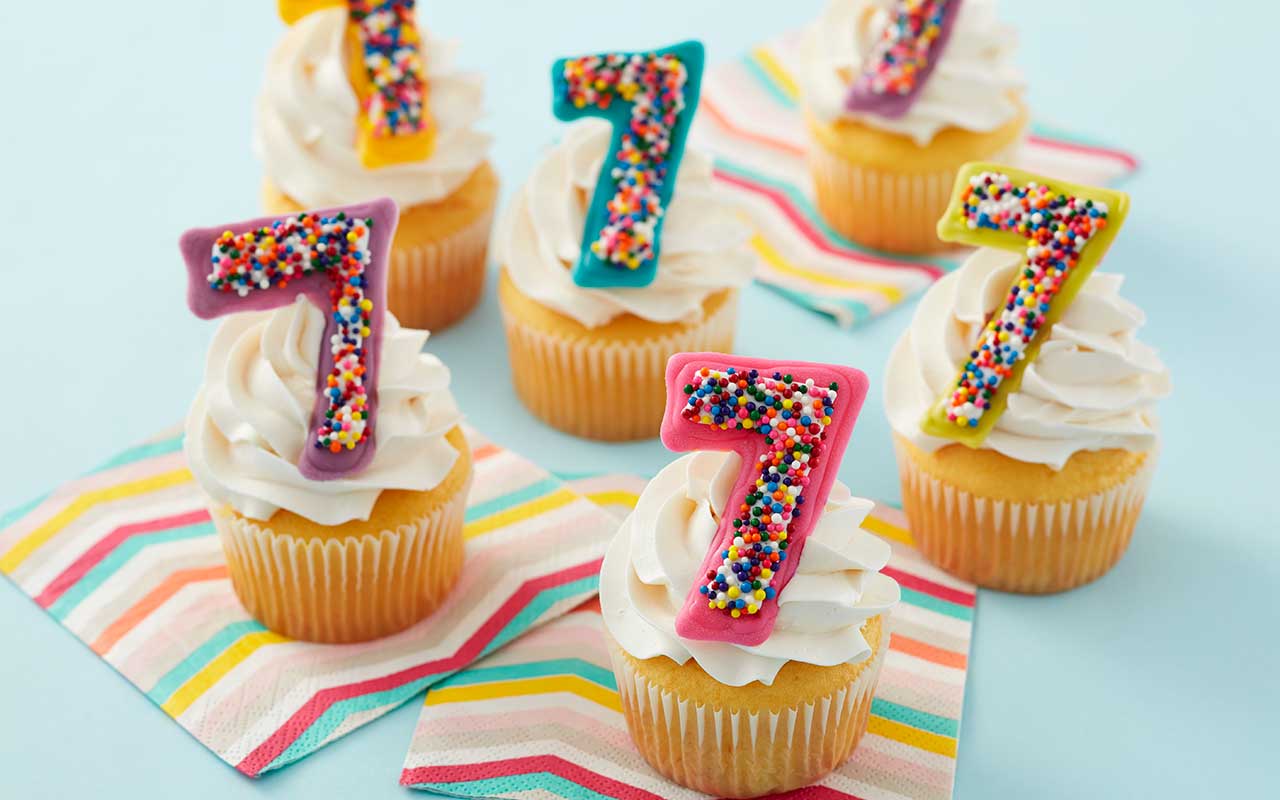 Piping Letters and Numbers
Candy Melts candy is great for piping edible numbers and letters for topping cakes, cupcakes, cookies and more. These Be Kind Cupcake Toppers are easy to customize with your desired message. Or create a total birthday vibe with this Sweet Vibes in a Snap Cake.
For a sugar-coated message, try covering your candy letters in pearlized sugar sprinkles, like on this Star-Studded First Birthday Smash Cake. For monumental birthdays or celebrations, try these Candy Number Cupcake Toppers, outlined with melted candy, then topped with rainbow nonpareils.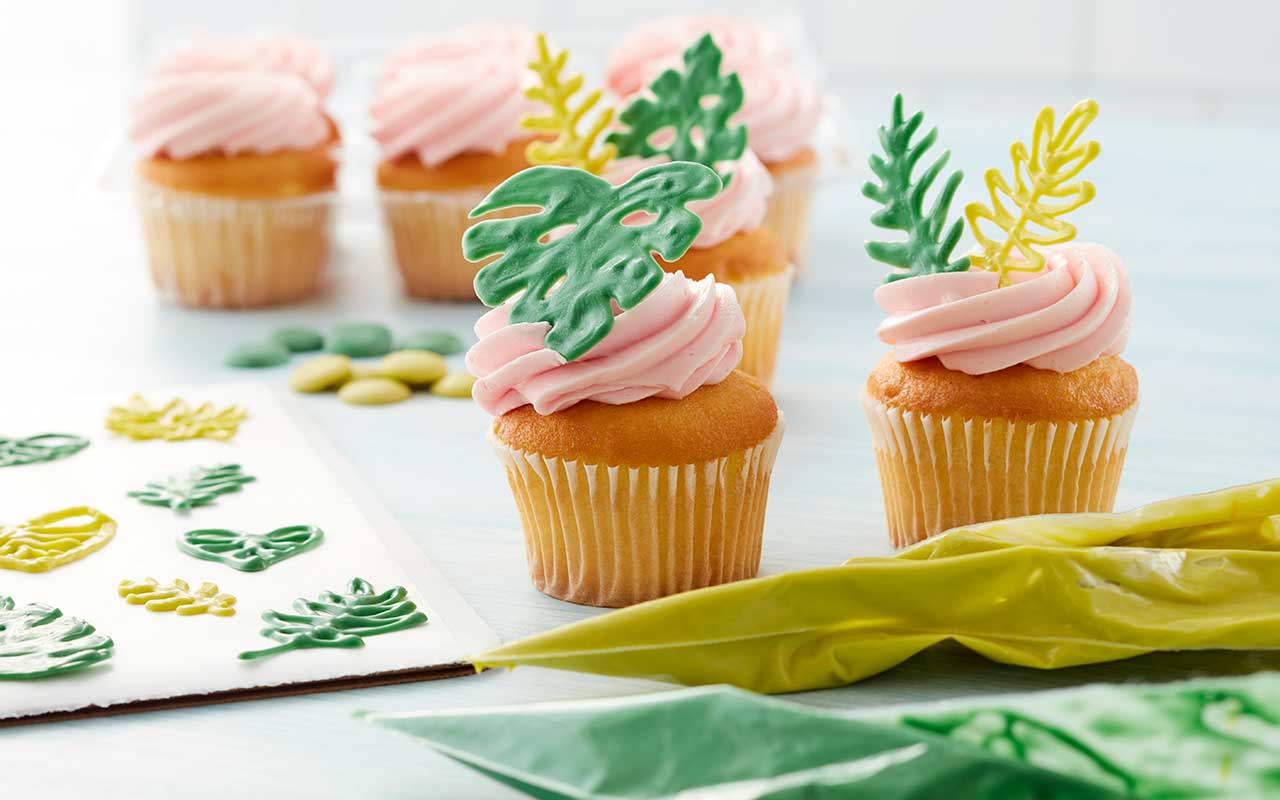 Piping Candy Icons
Give a new look to homemade or store-bought cupcakes with a fun candy topper! These Tropical Leaf Cupcakes are a fun addition to a pool party or summer BBQ…or add a little color to your celebration with these Candy Rainbow Cupcakes.
No summer celebration is complete without a watermelon treat, and these Cheerful Watermelon Cupcakes are a bright and fun way to sweeten your celebration. For spring weddings, birthdays or baby showers, try these Candy Butterfly Cupcakes, topped with simple candy butterflies resting on swirls of buttercream frosting.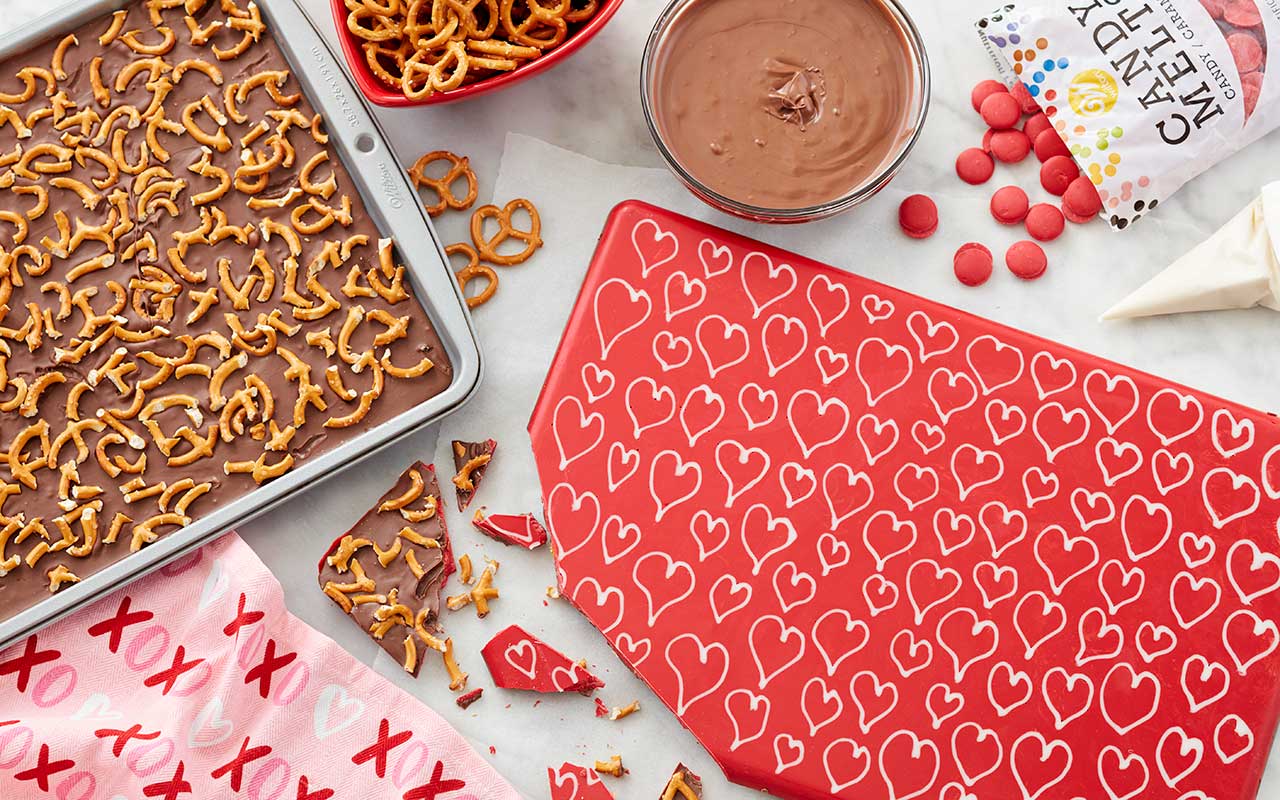 Decorative Candy Bark
Great for spring celebrations and holidays, this Cherry Blossom Candy Bark is a lovely and simple treat your guests will love. Simply pipe your design using Pink and Green Candy Melts candy, then cover the whole thing with melted White and Light Cocoa candy. Your amazing design will reveal itself when you flip over your candy bark. Be sure to check out our Valentine's Day Candy Bark version, too – made using the same technique.
If you need some candy bark ideas for Christmas, look no further than this beautiful Crispy Pinecone Candy Bark, lovely for wrapping and gifting to friends and neighbors. You can even add an Edible Candy Gift Tag, complete with a holly piped design.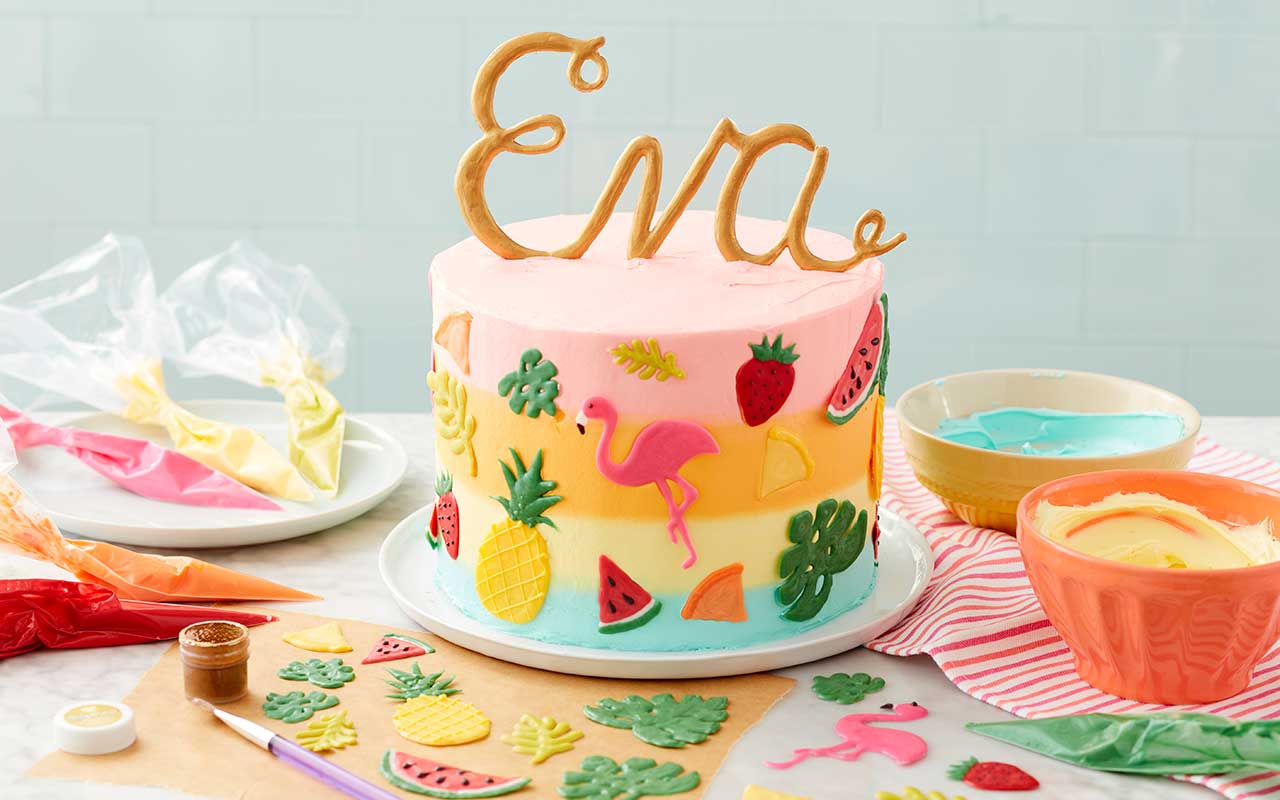 Piping Candy Cake Decorations
Add some summer cheer to your cake with this Cherry Candy Melts Cake. A simple striped buttercream background is all you need to help these candy cherries pop! And if cherries just aren't enough, you can create a whole assortment of summer shapes and fruits to decorate your treat, like on this Tropical Time Birthday Cake.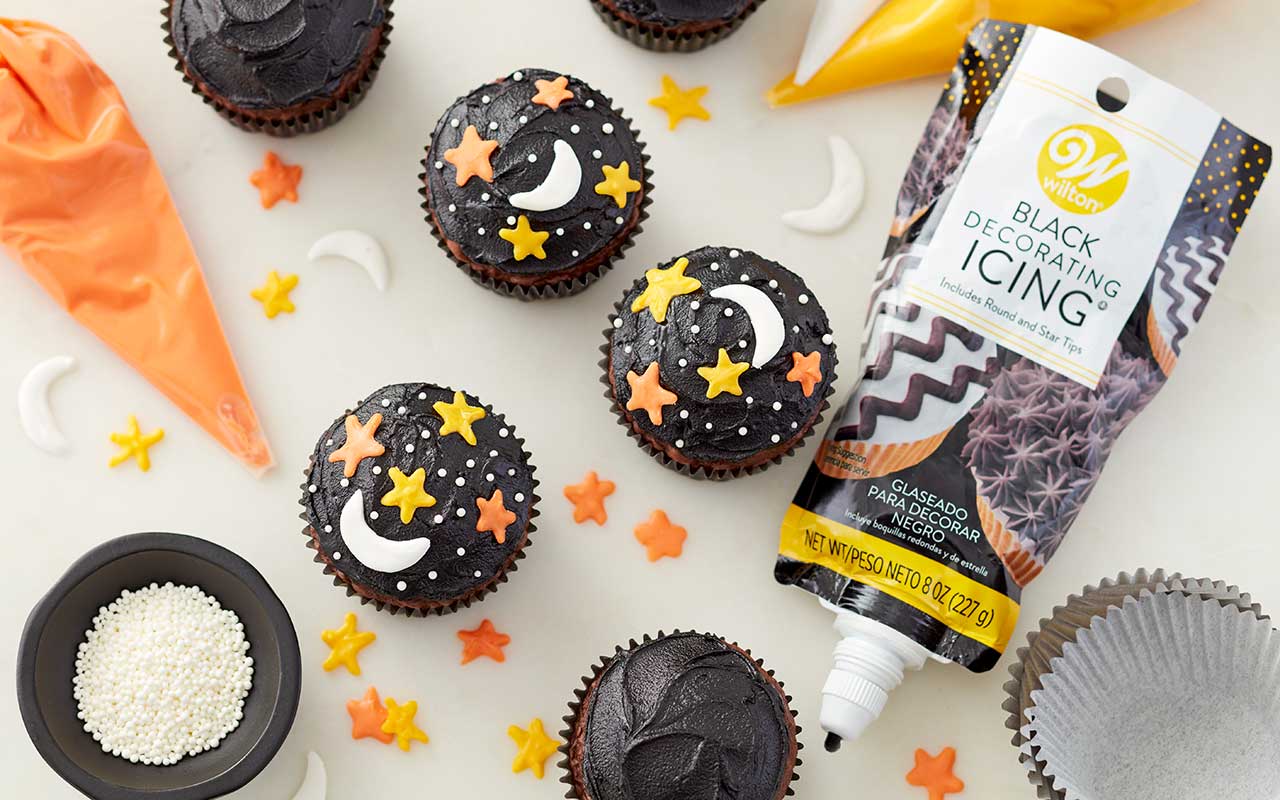 Piping Other Candy Decorations
Sweet dreams are made of these Night Sky Cupcakes! Topped with candy stars and moons, these rich, chocolate cupcakes are a great addition to any Halloween or space-themed party.
Welcome fall with this stunning Pull-Apart Fall Wreath Cupcake Cake. Topped with piped candy leaves, this amazing dessert is great for seasoned candy decorators looking for their next project.
For a delightful autumn treat, use Candy Melts candy to pipe trees, like on these Festive Fall Candy Tree Cupcakes. Add leaves by sprinkling your trees with Halloween nonpareils. You could also make a Christmas or winter version by using white nonpareils for snow!
Have you ever piped decorations with Candy Melts candy? If so, we'd love to see them! Share a picture of your candy treats on social media and tag us @wiltoncakes!