From how to grease a cookie sheet to common sizes and styles, this 101 guide on cookie sheets is all you need to make awesome batches every time!
When it comes to baking great cookies, a lot of it has to do with how you prepare your pan. From how to grease your pan to helpful tips for washing and caring for your bakeware, this guide on How to Clean Cookie Sheets and More will walk you through how to use, clean and prepare your pans for great bakes every time!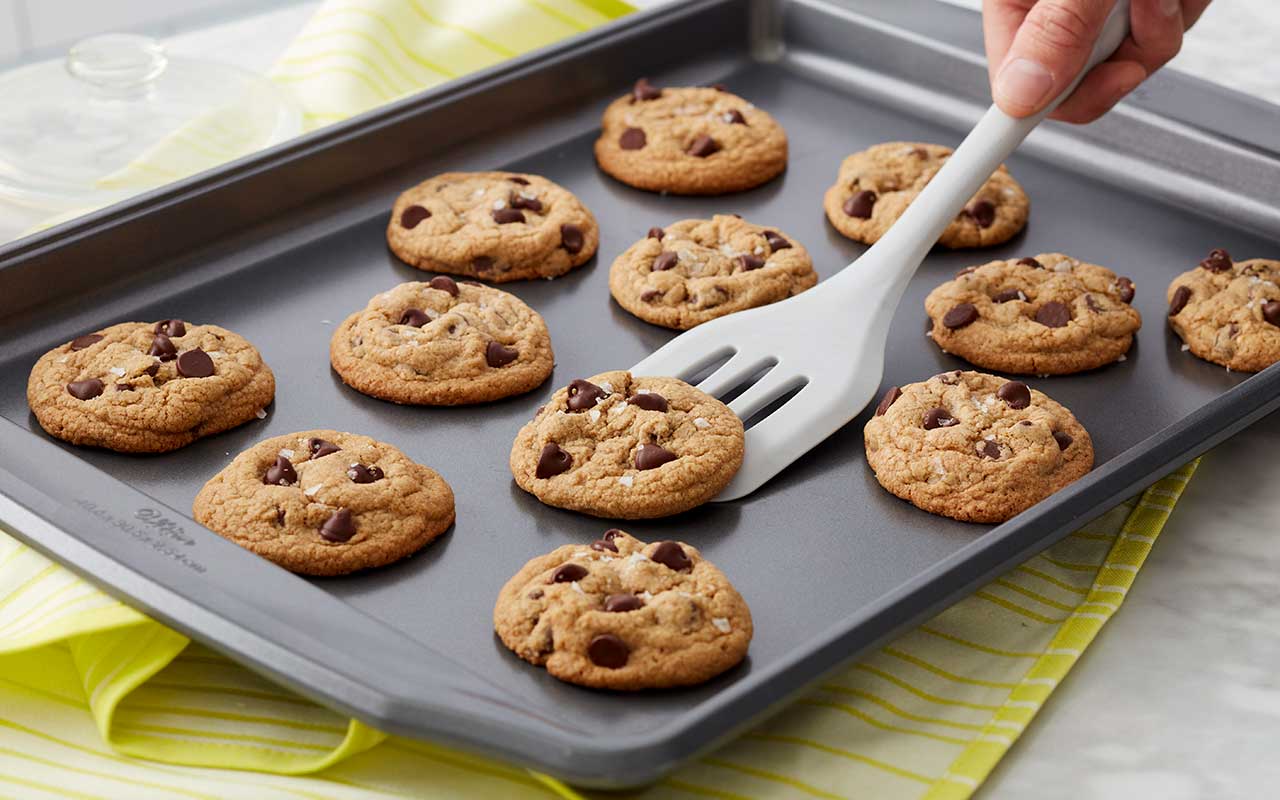 How big is a standard cookie sheet?
Most cookie sheets are 9 x 13 in., 10 x 15 in., or 11 x 17 in., though they also come in a variety of other sizes.
The 9 x 13 in. pans are great for smaller batches. They can hold anywhere from 9 to 12 cookies, depending on the size of your dough. Most standard ovens are able to hold two of these pans on one rack and they will fit in most standard dishwashers.
The larger 10 x 15 in. pans can hold 12 to 15 cookies and are also great for roasting vegetables for family dinners. Most standard ovens will only fit one of these pans at a time on each rack.
For bigger batches, we suggest the 11 x 17 in. pans, which can hold 15 to 20 cookies. These larger pans can also be used to roast meat and vegetables or cook up appetizers.
If you want to bake all your cookies at once, the Mega Cookie Pan, which measures 15 x 21 inches, is a must! Non-stick and easy to clean, this extra-large cookie sheet is great for knocking out big batches of cookies, appetizers or one-pan meals.
The Mega Cookie Pan will fit most standard ovens, but may be too big for smaller apartment ovens.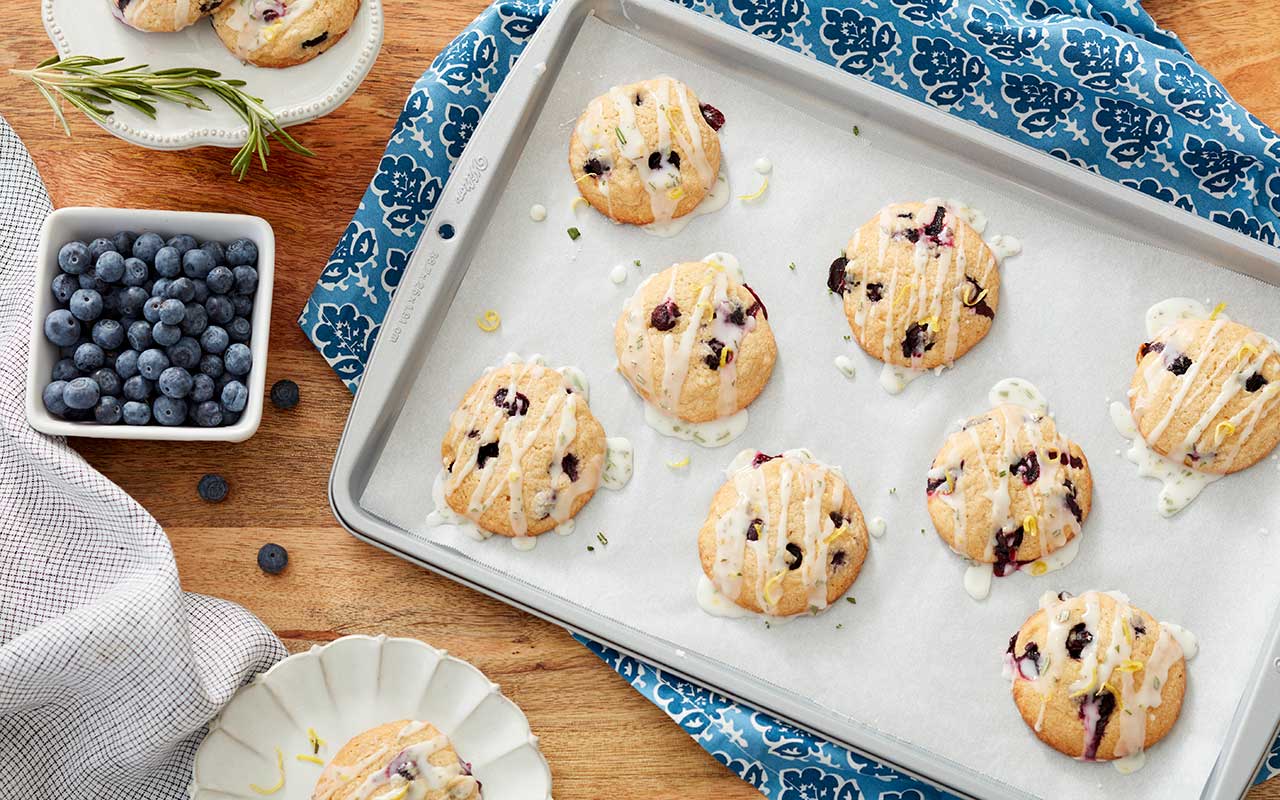 How to grease a cookie sheet
Cookie sheets can be greased with a non-stick cooking spray, butter and flour or lined with parchment paper or a silicone mat to prevent sticking.
If your pan has a non-stick coating, you may not need to grease it at all. Adding a non-stick cooking spray to a non-stick pan might cause your cookies or baked goods to spread even more…so be sure to read your recipe for instructions on how to prepare your cookie sheet.
If you're using a cookie sheet to bake a Swiss roll cake or brownies, you can butter and flour your pan to prevent sticking. To do this, simply use your fingers to coat the inside of your cookie sheet with soft butter, then sprinkle the pan with flour. Shake and rotate the pan to make sure flour gets into all the corners.
Once coated, lightly tap the pan to remove any excess flour before adding your batter. This technique also works really well on shaped aluminum pans and shaped fluted tube pans with several nooks and crannies.
Of course, the best way to prevent sticking on any pan is to use a silicone mat or a sheet of parchment paper. Silicone mats help evenly distribute the heat, allowing a better, even bake, especially on cookies sensitive to heat, like sugar cookies.
Parchment paper is perfect for cookies with a high sugar content or elements that may burn, like fruit-filled cookies or cookies containing caramel or sprinkles in the dough. The parchment paper prevents those elements from burning and sticking to your pan, making cleanup much easier!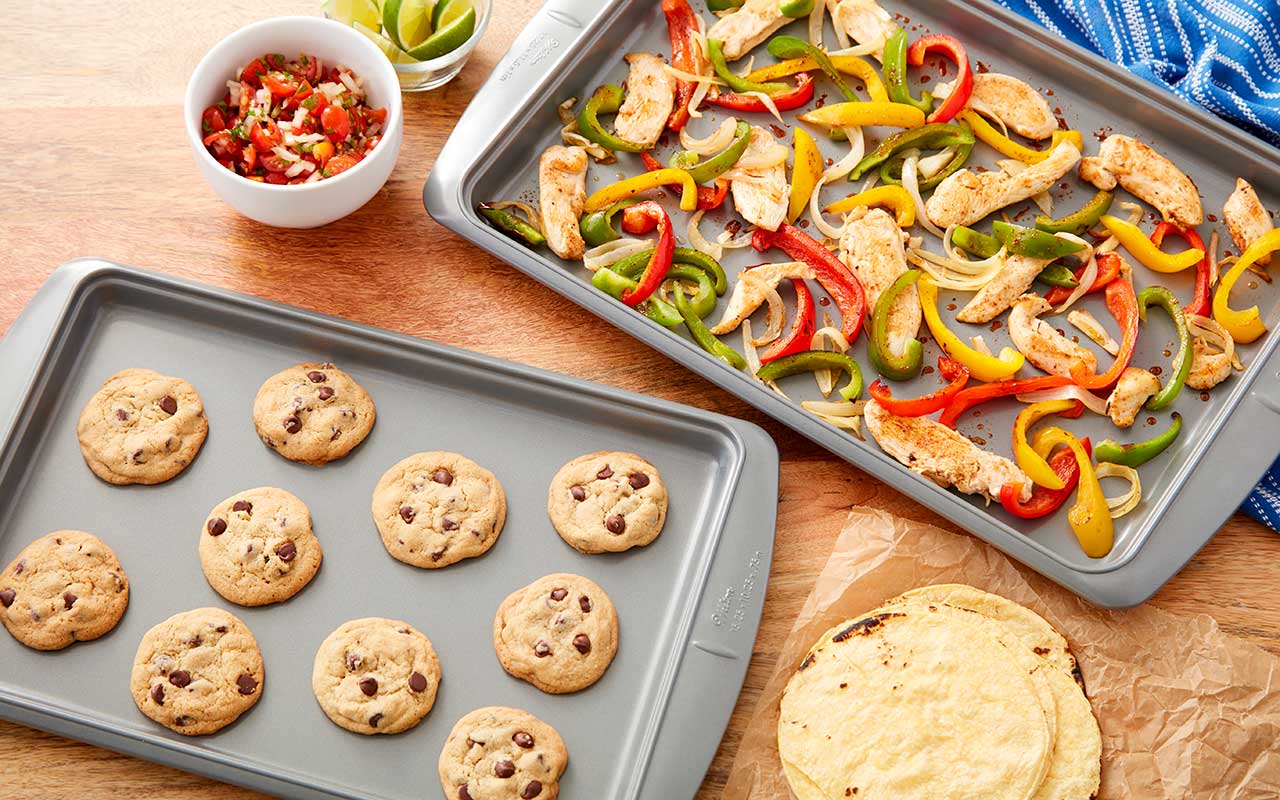 Can you use a cookie sheet as a griddle?
We do not suggest using a cookie sheet as a griddle. The coatings on Wilton bakeware are not formulated for this use and could cause damage to your pan.
 Our coating is also developed to work under a more indirect heat source, such as an oven. A direct heat source, like a stovetop, could not only ruin the non-stick coating, but could make your pan unusable in the future.
When it comes to stovetop cooking, use pots and pans formulated for that type of heat source.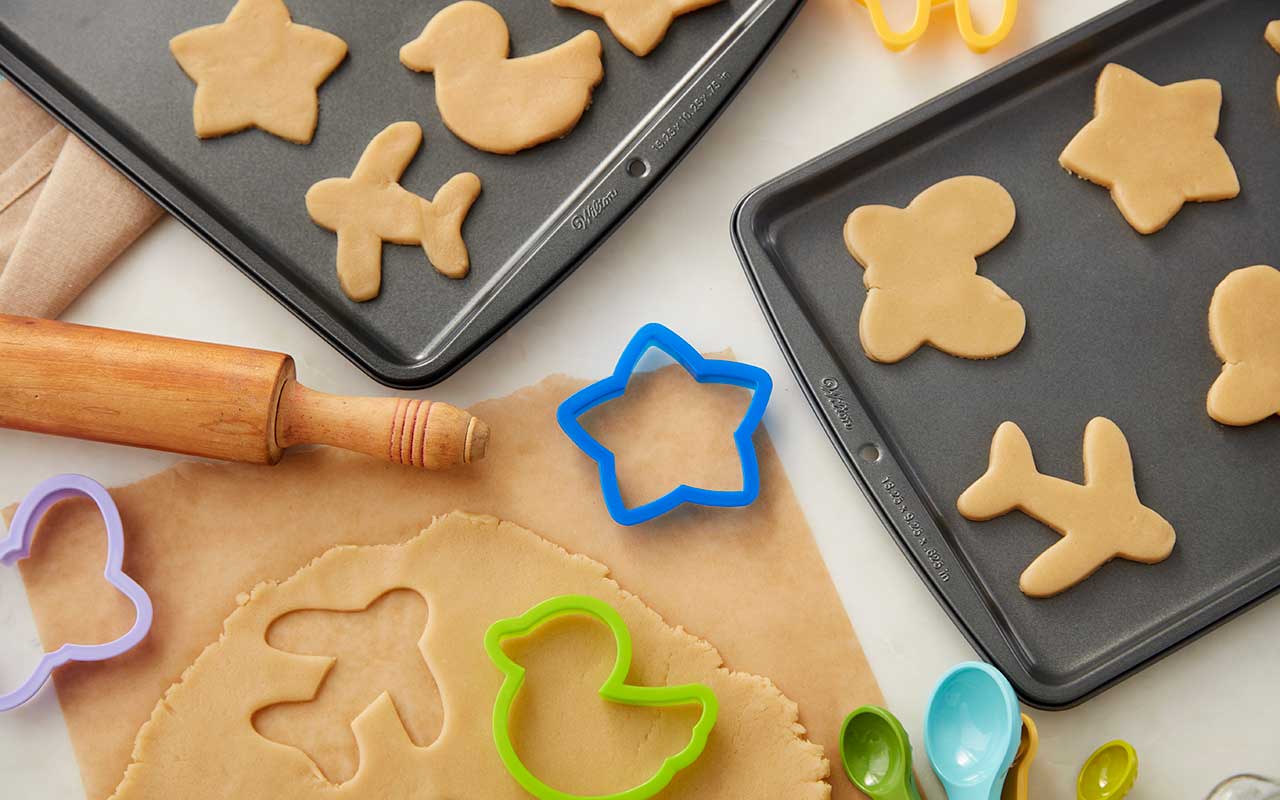 How to keep cookie sheets from warping
Warping is often caused by a rapid change in temperature, either cold to hot (as in the freezer to the oven), or hot to cold (as in oven to the sink). To prevent your cookie pans from warping, be sure to let them cool or warm up to room temperature before subjecting them to cold or heat.
For example, most warping happens from washing pans that are still too warm after being pulled from the oven. After you remove your cookies from the cookie sheet, let your pan cool to room temperature before washing it.
Likewise, if you're moving a cookie sheet from the fridge or freezer into the oven, let it sit at room temperature for a minute or two before placing it in the hot oven.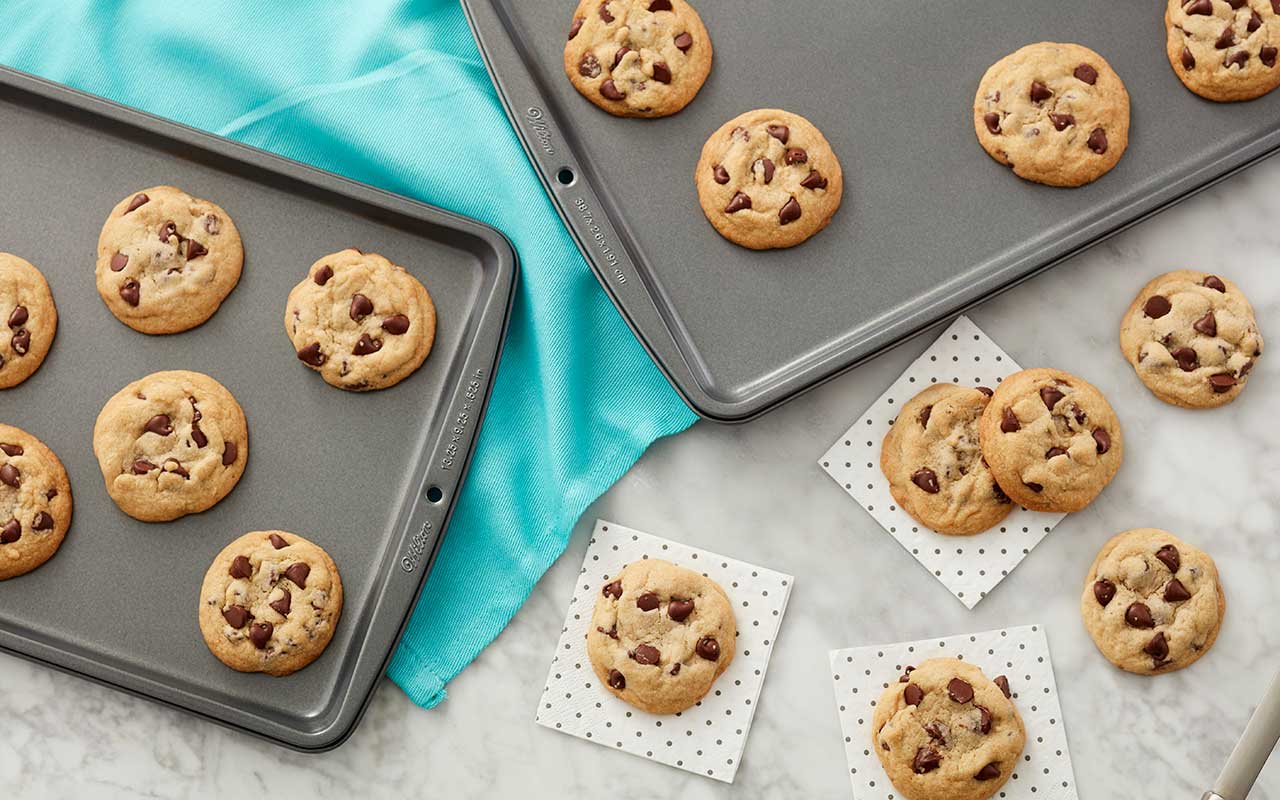 How to clean cookie sheets
For best results, we suggest hand washing non-stick and aluminum cookie sheets with warm, soapy water and a soft cloth. Most bakeware is also dishwasher safe, however some dishwasher detergents will discolor your pans, particularly aluminum. They will still be useable, just not as attractive.
For stubborn stains and burns, let your pan sit in warm, soapy water for a few minutes to help loosen the residue. A food-safe cleaning solution, like vinegar and baking soda, might also help remove burnt-on food.
And don't forget to check out 11 Creative Ways to Clean Bakeware for more helpful tips and tricks!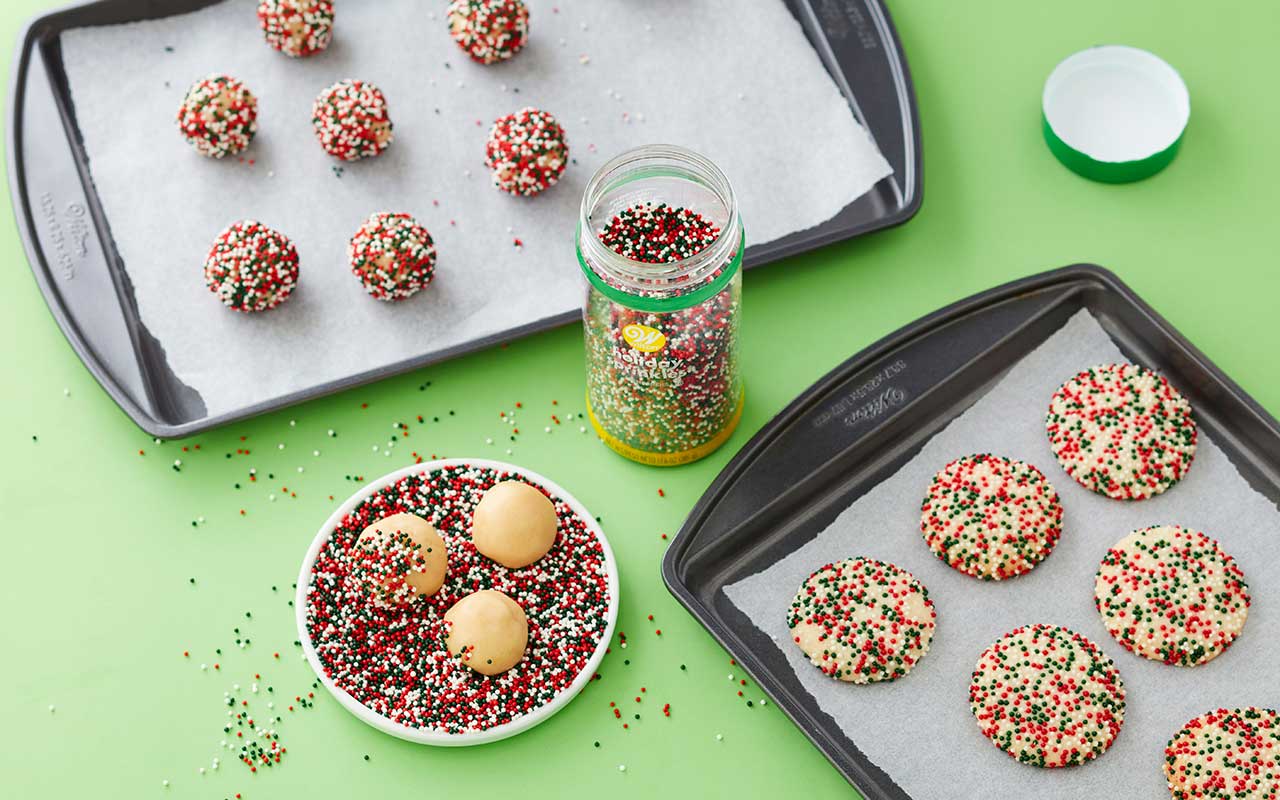 When do I need to replace my cookie sheets?
Normal wear and tear is common with bakeware. Some recipes may stain your pans, but that shouldn't affect their performance. However, if your pan has deep scratches or rust, it's time to go shopping!
To extend the life of your cookie pans, avoid using sharp knives on non-stick pans. Hand wash your cookie sheets and make sure they're completely dry before storing them. If cared for properly, cookie sheets have the potential to last for years!
What was the latest thing you made with your cookie sheets? Share a picture on social media and tag us @wiltoncakes so we can see!