Lunar New Year is a colorful, traditional holiday celebration in many Asian countries and around the world, beginning with the first shiny new moon on the lunar calendar. Each year is represented by a special animal of the Chinese Zodiac, in a twelve-year cycle of repetition.
Your year of birth will tell you which animal sign you are born under – 2021 is the Year of the Ox, so let's hope it head-butts out the bad luck of 2020. The Chinese Zodiac animals are Rat, Ox, Tiger, Rabbit, Dragon, Snake, Horse, Goat, Monkey, Rooster, Dog and Pig. Each animal possesses certain traits which you may or may not relate to!
Lunar New Year is a time for gathering together with family and loved ones to feast and celebrate, festooning homes with bright red and gold decorations – red symbolizes good fortune, happiness, vitality and joy, while gold represents prosperity. Prior to the New Year, it's customary to power clean the home and get it shiny and ready to welcome all the incoming good fortune.  A fresh haircut and new clothes may also be in order – a tidy, clean appearance will welcome the luck and prosperity coming your way. Cleaning the home or getting your hair cut on New Year's Day itself is a no-no – this can be seen as bad luck, as you might sweep or snip away your good fortune. Lion dances, dragon dances and fireworks round out the celebrations, loud and raucous to ward off any evil spirits or bad luck.
Like all holidays, food plays a deliciously vital role in celebrating and bringing everyone together. Lunar New Year brings with it many traditional dishes and desserts, each with their own meaning.
Growing up as a Chinese kid in Vancouver, Canada, my sisters and I would gather with our grandparents, cousins, aunties and uncles for our New Year celebration. We'd either celebrate at a family home, or be crammed around two giant round tables piled with steaming dishes at a Chinese restaurant. Some customary dishes for Chinese New Year include steamed whole fish, whole chicken (symbolizing togetherness), longevity noodles (long noodles, long life!), and dumplings shaped like gold ingot, or money bags. Lucky money would be distributed to us excited children – crisp, fresh-from-the-bank bills folded into tidy red envelopes called lai see. As we politely accepted our lai see bags, visions of comic books or candy danced in our heads as we imagined what we might spend our special money on. We were told not to open them right away (both impolite and unlucky) but I was never sure of the proper amount of time to keep my lucky money sealed in its crisp red pouch.
Chinese desserts are for the most part "not too sweet" – with plenty of chewy, crispy and creamy textures. For Chinese New Year, my mom usually goes down to Chinatown to pick up boxes packed with charsiu bao (BBQ pork buns – and veggie bao for the vegetarians), fresh apple tart, bac tong gao (steamed sweet white glutinous flour cake), egg tarts and sesame balls. We also enjoy almond cookies, year cake, pineapple buns and light-as-air sponge cakes. Oranges, and specifically kumquats are beloved, with their golden tangerine hue representing wealth and fortune.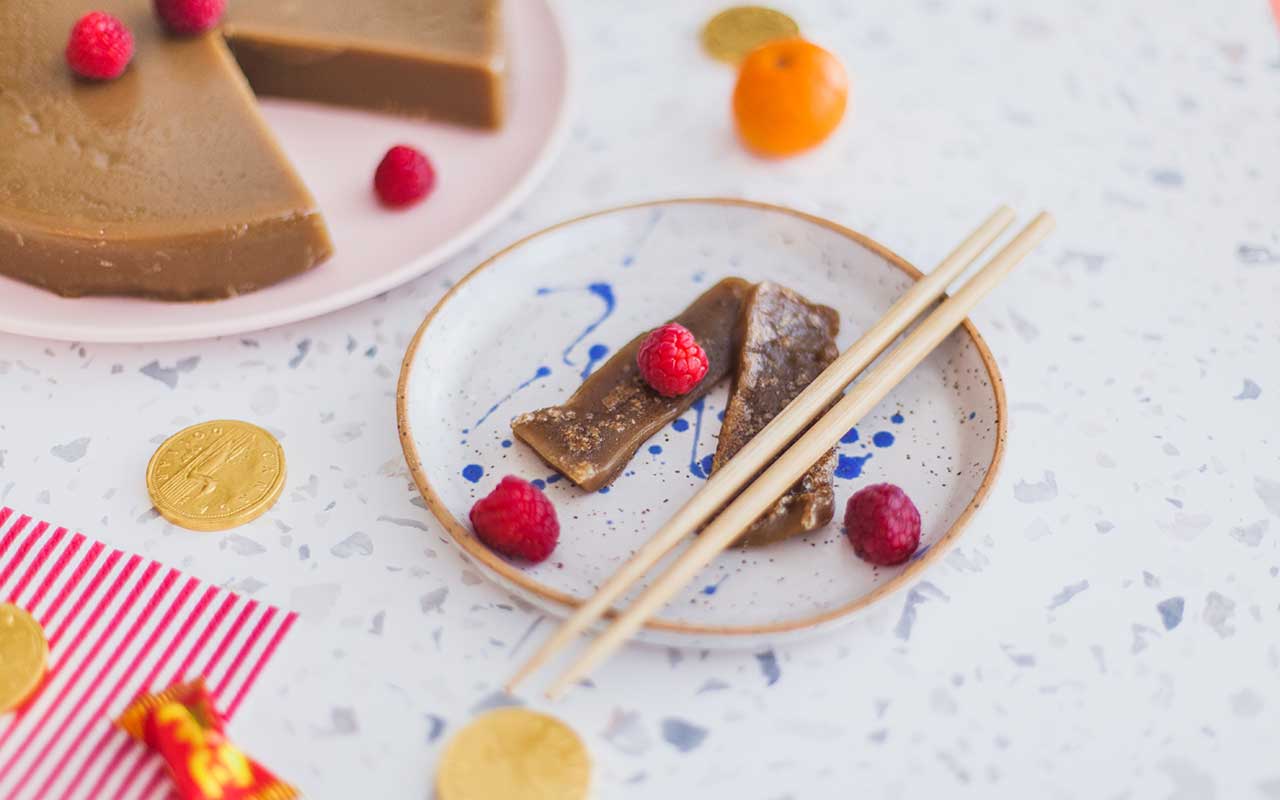 Nian Gao – New Year Cake!
Nian gao is a homonym for "higher year" – We Chinese love a homonym. Higher year refers to raising one's stature – bringing prosperity. Nian gao is a dense, sweet cake made with rice flour and brown sugar, cooked by steam. Freshly made, it is soft, sweet, warm and chewy. Once refrigerated, it firms up quite densely. It is then meant to be sliced thinly and fried up in a hot pan into warm, delightfully chewy, browned and soft pieces.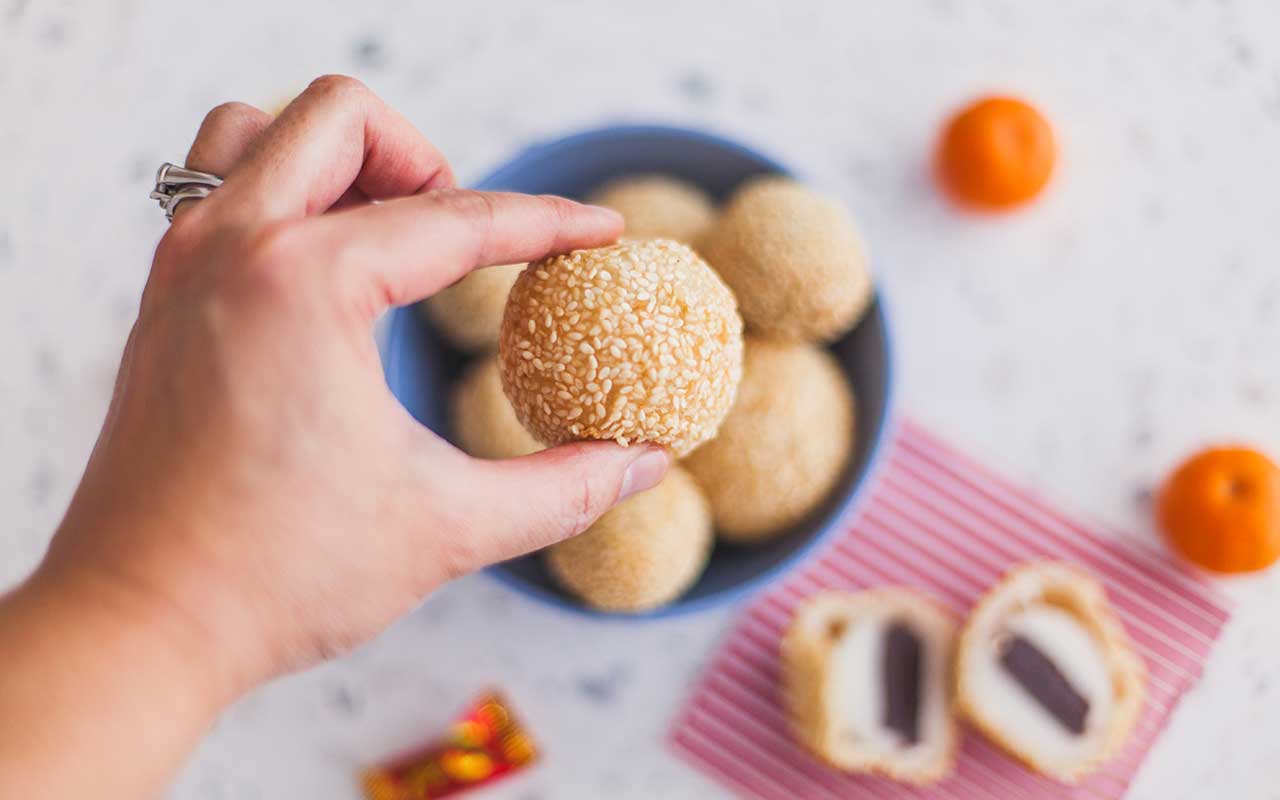 Gin Duey
Sesame Balls, made of sweet glutinous rice flour dough filled with sweet red bean paste, rolled in sesame seeds for texture and deep fried until golden (lucky color!) – they're crispy and chewy as you bite into them, with a smooth sweet filling. A still-warm gin duey is a thing of beauty.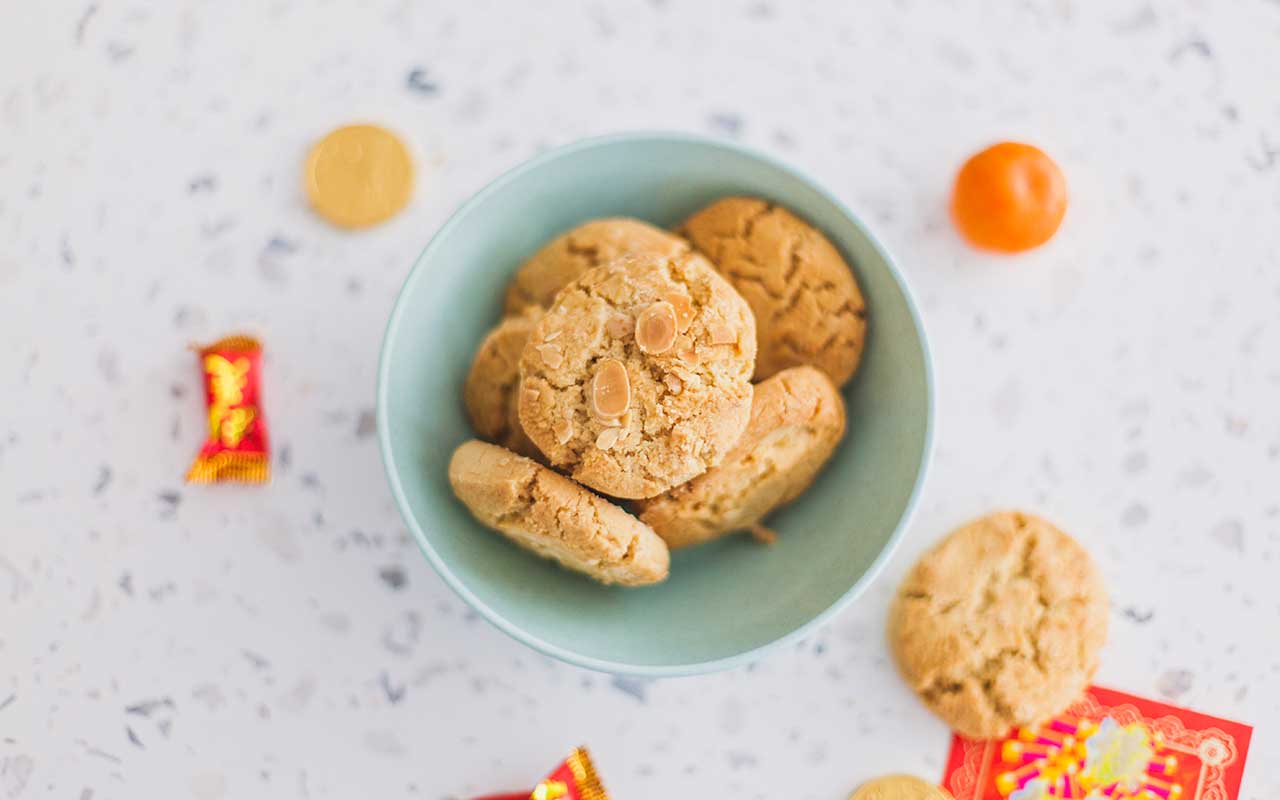 Almond Cookies
Almond cookies are round in shape, baked golden in color, and symbolize gold coins. They have a sandy texture and a buttery flavor that melts in your mouth, often brushed with egg wash to achieve their shiny golden appearance, then topped with almond slices.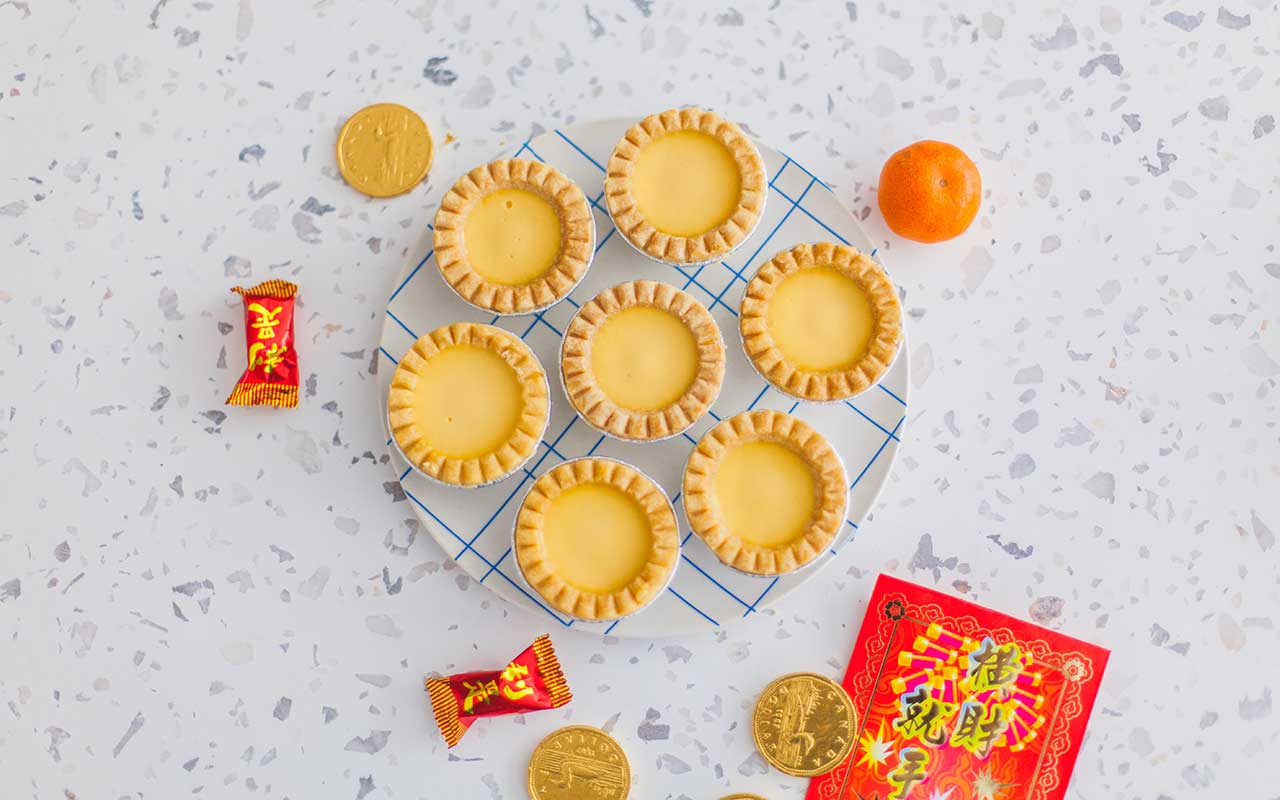 Dan Tat
Chinese egg tarts have a flaky pastry crust and barely-sweet, smooth golden custard filling. Yes, there is a trend happening here – gold and round!
Strawberry Candy
Any sort of candy symbolizes wishes for a "sweet" life. Candies are also featured in Tray of Togetherness, a tray of sweets and treats usually containing eight different items.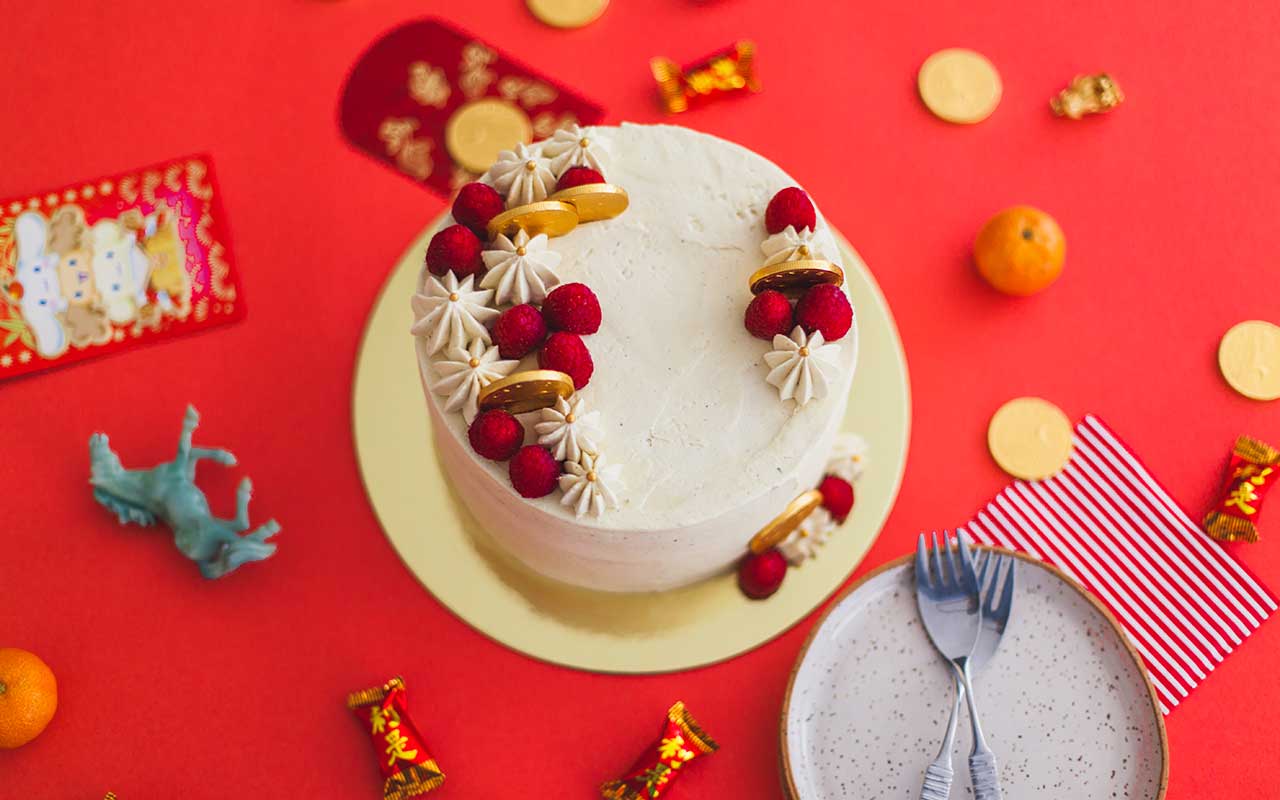 Milk Tea Buttercream Cake
For Lunar New Year, I wanted to make a dessert that reflected both my love of Chinese New Year and my personal cake decorating style – milk tea is one of my favourite flavours and I wanted to infuse the cake with as much milk tea as possible! I decorated it with bright red raspberries, chocolate gold coins and gold sprinkles to reflect the lucky colours and symbols of the New Year.
My mom likes to make a simple dessert dish that her mom, my Poh-Poh, always made – "almond float." Almond flavored gelatin cut into squares, floating in syrupy juice amongst lychee, mandarin oranges, sliced peaches and maraschino cherries, like a dessert soup. You could easily make this vegetarian by using almond tofu instead of gelatin.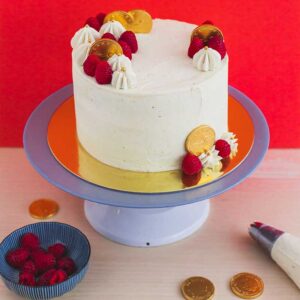 Milk Tea Buttercream Cake
Ingredients
Ingredients for the Cake:
2

cups

All-Purpose Flour

(300 g)

2 ½

teaspoons

Baking Powder

½

teaspoon

Salt

4

large

Eggs

(50 grams each – 200 grams) at room temperature

2

cups

Granulated Sugar

(300 g)

½

cup

Unsalted Butter

(115 g)

1

cup

Whole Milk

(250 mL)

⅛

cup

Loose Black Tea of Your Choice

(16 g)

1

tablespoon

Vanilla Extract

1

tablespoon

Vegetable Oil
Ingredients for the Milk Tea Soak:
1 ½

cups

Evaporated Milk

(354 mL can)

⅛

cup

Loose Black Tea of Your Choice

(16 g)

¼

cup

Sweetened Condensed Milk
Ingredients for the Swiss Meringue Buttercream:
2

cups

Unsalted Butter

(454 g) Room Temperature

¼

cup

Loose Black Tea of Your Choice

(32 g)

1 ¼

cup

Sugar

½

cup plus two tablespoons

Egg Whites

(150 mL)

1 ½

teaspoons

Vanilla Extract

3

tablespoons

Milk Tea Soak
Instructions
Step 1: Make the Cake
Preheat the oven to 350°F/180°C. Butter three 7x2 inch round pans and line with parchment paper circles.

Ina medium bowl, sift together the flour, baking powder and salt.

Start the steeped milk and butter mixture: place a small saucepan on the stovetop and heat the milk and butter together until liquefied and hot, but not boiling. Add the loose tea and steep on low for five minutes.

In the bowl of a stand mixer fitted with the whisk attachment, whisk together the eggs and white sugar on medium high speed until tripled in volume and light yellow in color, about five to seven minutes.

When the egg mixture is whipped, add the flour in short bursts on low speed to incorporate, careful not to overmix.

Pour the steeped tea hot milk mixture, vanilla extract and vegetable oil into a medium bowl. Carefully add two cups of the egg batter into the milk mixture, whisking to combine. Add this mixture slowly back into the rest of the egg batter on low speed until just combined, scraping down the bowl if needed and doing a few folds with a spatula to finish.

Distribute batter evenly into the three prepared cake pans.

Bake for 23-25 minutes until tanned and golden, and a toothpick inserted in the middle comes out with moist crumbs. Be careful not to overbake.
Step 2: Prepare Steeped Butter for Buttercream Frosting
While the cake is in the oven, begin to prepare the Swiss Meringue Buttercream steeped butter. In a small saucepan set on the stovetop over medium heat, melt one cup of butter with the 1/4 cup of loose black tea leaves. Turn the heat down to low and simmer for five minutes, steeping the tea in the butter. Remove from heat, and allow to steep for five minutes further before straining butter through a fine mesh strainer into a bowl. Little flecks of tea may remain but not to worry. Refrigerate the melted steeped butter for 20 minutes or so to firm it up to the consistency of room temperature butter. It may appear to be a shade of green at this point but will change to light tea color once whipped.

Let cake cool completely before frosting.
Step 3: Make the Milk Tea Soak
Ina small saucepan set on the stovetop over medium heat, combine the evaporatedmilk and loose tea leaves until hot but not boiling, a low simmer. Steep theleaves for ten minutes in the milk then strain into a liquid measuring cup. Add3 tablespoons of sweetened condensed milk, or more to taste. Set aside to soakcake layers and use for Swiss meringue buttercream.
Step 4: Make the Buttercream
Placet he egg whites and sugar in the bowl of a stand mixer, whisking to combine. Set the bowl on top of a medium saucepan filled with a few inches of water on the stovetop – creating a bain-marie to gently heat together the egg whites and sugar, heating on medium-high heat, whisking throughout, until mixture registers 160 degrees F (70degrees C) on a candy thermometer.

Carefully remove the bowl from the saucepan and place back into stand mixer fitted with the whisk attachment. Beat the egg white mixture on high speed until stiff peaks form, about 8 to 10 minutes. Stop the mixer, and swap out the whisk for the paddle attachment.

With the mixer on low speed, add the tea-steeped butter and other cup of butter a tablespoon at a time. Add the vanilla extract, increase the speed to medium high and beat until thickened and silky smooth. Add the steeped milk mixture, one tablespoon at a time, continue beating another minute to incorporate.
Step 5: Assemble and Decorate the Cake
I used a gold 10-inch round cake board for the cake to add some Lunar New Year flair. Place a cake board or plate on your cake turntable. Add a dab of buttercream to the center and add the first cake layer. Using a serrated knife, evenly level your cake by trimming off dome shape. Using a spoon, evenly soak the first layer of cake with around six tablespoons of steeped milk mixture. 

Fill your first layer with milk tea buttercream.

Trim the second layer, and carefully soak the top and bottom of the cake layer with the milk tea mixture. Place cut-side-down on top of the first layer. Repeat with the third layer.

Using an offset spatula, frost the entire exterior of the cake, using a cake bench scraper to smooth your first layer of buttercream. Chill the cake in the fridge or freezer for 15 minutes to set. Frost the cake with a second layer of milk tea buttercream, using the cake bench scraper to smooth to your liking.

Time to decorate! Fill a piping bag fitted with a large multi-pronged open star tip, such as Wilton 6B, with remaining milk tea buttercream. Decorate the top and sides of the cake with alternating drop stars with fresh red raspberries or any other red berry, along with gold foil chocolate coins. Place a gold ball dragée sprinkle on top of the piped drop stars or dust the cake with gold sprinkles. You could also decorate with mini sesame balls, mini almond cookies or edible gold leaf.

The Milk tea buttercream cake is best enjoyed fresh, but it can be covered well and refrigerated for up to three days. Bring cake to room temperature to enjoy! Serve with hot cups of sweet creamy milk tea and an array of Chinese bakery treats for a truly delightful Lunar New Year dessert spread.
Notes
You will need a fine mesh strainer to prepare this cake, as we are about to get our tea steep on! We will be steeping a milk and melted butter mixture for the cake. We will also be making a milk tea soak to soak into the baked cake layers once cooled. Finally, we will be making a tea steeped butter for the Swiss meringue buttercream! Maximum milk tea flavor from all angles!
Cake recipe adapted from the wonderful RecipeTin Eats.
Swiss meringue buttercream recipe adapted from Layered cookbook by the amazing Style Sweet.
Tried this recipe?
Take a picture and tag us @WiltonCakes on Instagram