Kwanza is short for the Kiswahili phrase "matunda ya kwanza", which means "first fruits". It is a holiday observed from December 26th to January 1st.
Some may mistake Kwanza for a religious holiday, but in fact it is a cultural celebration. It is meant to help bring the African American community together in celebrating their African heritage, by incorporating the African tradition of celebrating the harvest.
Kwanza is a way to celebrate unity, family, heritage, thanksgiving, and hard work that is symbolic of bringing a bountiful harvest into fruition. There are seven principles to Kwanza, each celebrated on a different day, which leads up to the feast called Karamu, held on New Year's Eve.
Families celebrate Kwanza in many different ways, including song, dance, storytelling, family discussions, gift giving, and the lighting of one candle a day on the Kinara. The candles are colored red, black and green to represent the colors of the pan African, or African American flag.
The seven principles are celebrated in order and include Umoja (unity), Kujichagulia (self-determination), Ujima (collective work and responsibility), Ujamaa (cooperative economics), Nia (purpose), Kummba (creativity), and Imani (faith). As a child, I remember celebrating Kwanza in my family by gathering together each day to discuss one of the seven words, what it meant to us, and how we would incorporate it into our lives for the coming year.
The final feast and gift giving were my favorite part, as both my grandparents were chefs and cooking has always been a highlight in my family!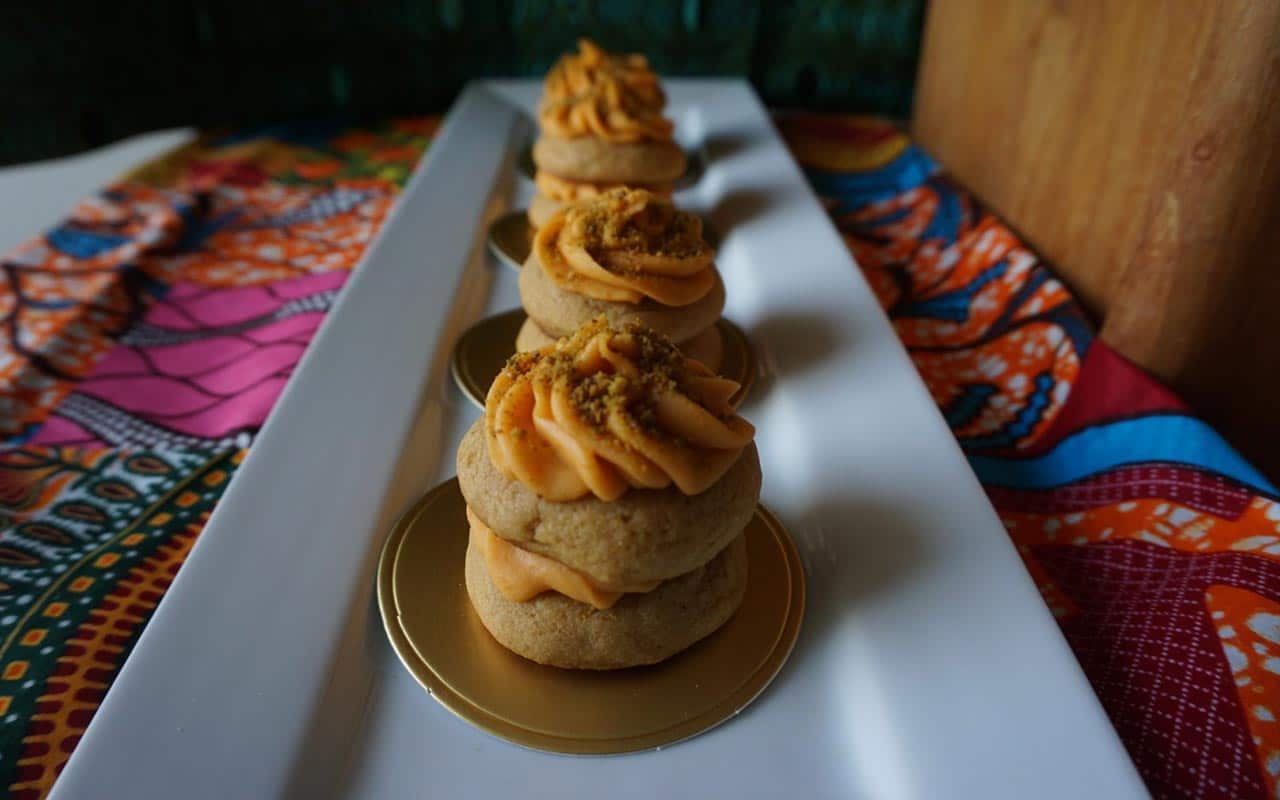 I want to celebrate Karamu with you by adding two desserts to the feast! The first dessert is the sweet potato cookie.
Sweet potatoes were used by enslaved Africans as their main dessert in the Americas because:
Sweet potatoes were easy to grow and could be roasted over a fire without the need for cooking utensils.
They were very similar to the yam (nyami), commonly used in African dishes.
The sweet potato cookie is a perfect bridge between the yam of our African heritage and the staple American treat, a cookie!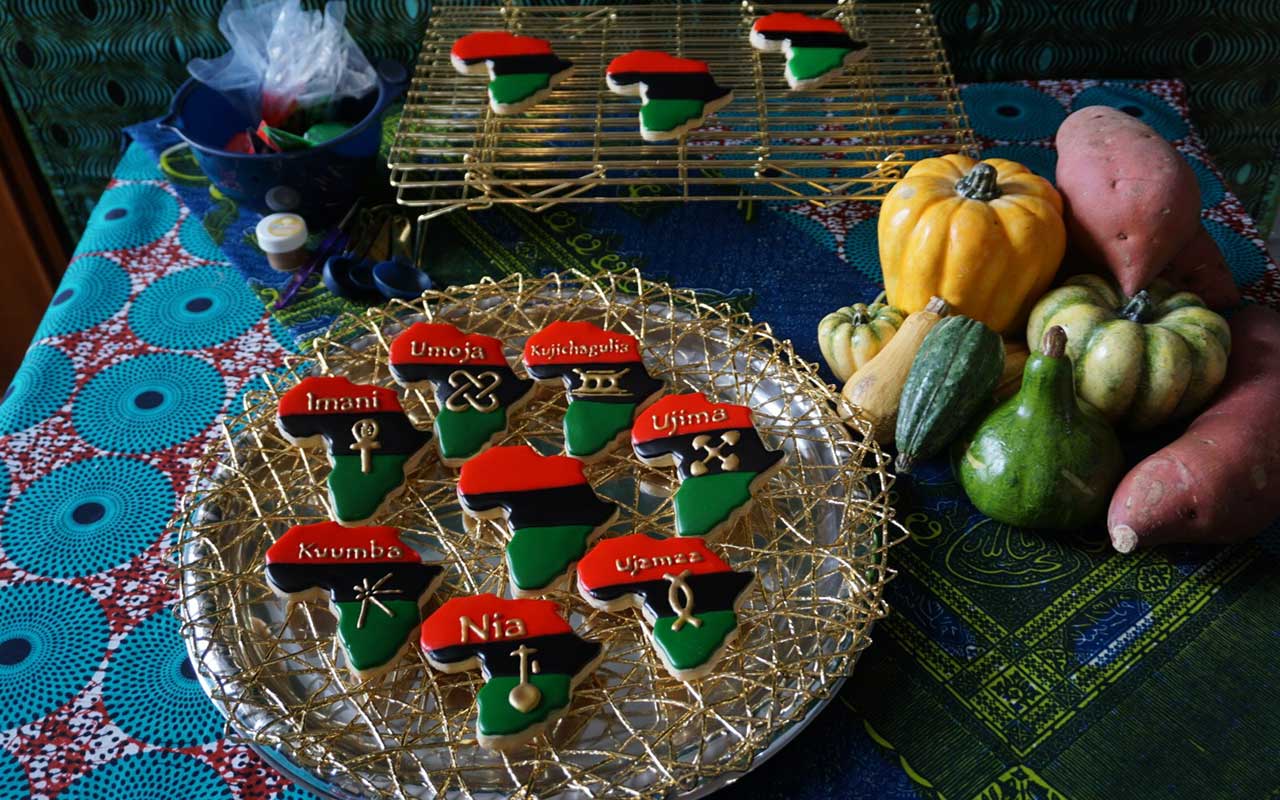 African Sugar Cookie
The second dessert I'll share with you is a  sugar  butter cookie, cut into the shape of the African continent and colored with the 3 colors of the African American flag, which is  common decoration and color scheme during Kwanza.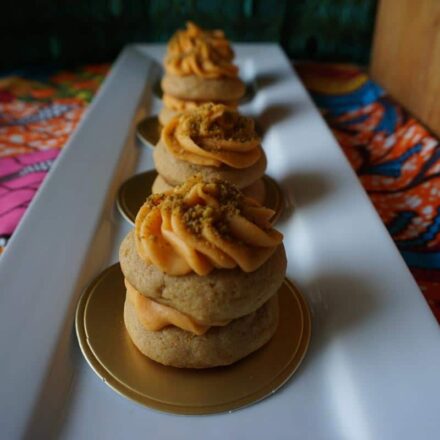 Sweet Potato Cookie Recipe
Ingredients
Sweet Potato Puree
1

medium

sweet potato

baked and peeled

1

tablespoon

Brown Sugar

¼

teaspoon

lemon extract

¼

teaspoon

Ground Cinnamon

⅛

teaspoon

Nutmeg
Cookies
1

cup

Butter

(2 sticks)

1

cup

Brown Sugar

⅓

cup

Granulated Sugar

2

large

Eggs

1

teaspoon

Vanilla Extract

⅛

teaspoon

lemon extract

2 ½

cups

Flour

1

teaspoon

Baking Soda
Frosting
3-4

cups

confectioners' (powdered) sugar

1

teaspoon

Vanilla Extract

½

tablespoon

Butter

softened
Garnish
ground pistachios

optional
Instructions
Mash the sweet potato (or blend in a food processor) to make a smooth puree; stir in the brown sugar, lemon extract, cinnamon and nutmeg. Measure 1/3 cup plus 2tablespoons puree for the cookie batter; reserve the rest (about 1/2 cup) for the frosting.

For the cookies, mix the butter with the brown and granulated sugars together in a large bowl  until creamy. Add the 1/3 cup plus 2 tablespoons sweet potato puree, eggs, and vanilla and lemon extracts; mix to blend.

Mix the flour together with the baking soda in a separate bowl. Slowly beat flour and baking soda mixture into the batter until well mixed.

Heat the oven to 325 degrees. Scoop cookies, using small cookie scoop, onto parchment paper-lined baking sheets. Bake for 8-10 minutes per batch.

For the frosting, mix the remaining sweet potato puree (about 1/2 cup) with 4-5cups powdered sugar, just until mixture is slightly firm. Add more powdered sugar if needed. Mix in vanilla and butter.

Spoon frosting into a pastry bag or plastic food bag fitted with a star tip. Pipe the frosting onto the cooled cookies in a decorative swirl using a number 1tip.  Top cookies with ground pistachios.
Tried this recipe?
Take a picture and tag us @WiltonCakes on Instagram