Every-bunny will love this cute buttercream bunny cake! Decorated with cute flowers and a fun candy bunny pattern this sweet spring treat is perfect for your Easter table or springtime get-together.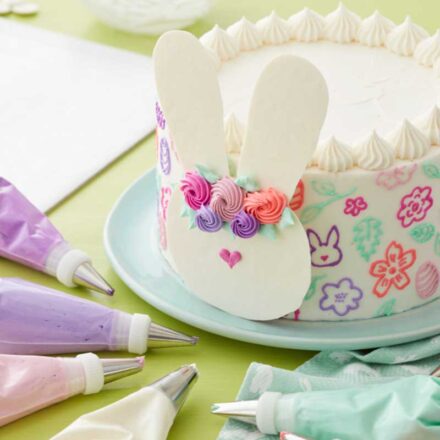 Easter Bunny Buttercream Cake Recipe
Equipment
8 x2 in. Round Cake Pan

Bunny Head Template

Cake board

Waxed Paper

Round Decorating Tip

6 needed

Star Decorating Tip 4B

Star Decorating Tip 32

Star Decorating Tip 21

2 needed

Star Decorating Tip 18

2 needed

Leaf Decorating Tip 352

Round Decorating Tip 3

Other helpful tools:

Tape, scissors, toothpicks
Instructions
Step 1: Bake the cake.

Prepare your cake batter following the recipe instructions. Bake and cool two 8 in. cake layers.

Step 2: Make candy bunny.Download and print the free Bunny Head template.

Tape the template to a cake board. Cover template with waxed paper. You can tape the waxed paper to the board as well for stability.

Melt about 4 oz. Bright White Candy Melts candy according to package instructions. Transfer your melted candy to a decorating bag (you can also melt the candy in a decorating bag, if you prefer). Cut about ½ in. off the tip of the bag.

Use the melted candy to pipe your bunny face, following the template. Smooth out any lines using a toothpick.

Place bunny face in the refrigerator to set, about 15 to 20minutes.

Step 3: Assemble cake. Once your cake layers have completely cooled , level, fill and stack your layers for a 4 in. high cake. Using an icing smoother, ice the outside of your cake smooth with white buttercream

Step 4: Tint buttercream.

Use icing colors to tint 1 cup buttercream in each color:

Dark Purple (combine Violet and Rose icing colors)

Light Pink (combine Pink and Aster Mauve icing colors)

Dark Pink (combine Rose and Violet icing colors)

Light Purple (combine Violet and Pink icing colors)

Peach (combine Pink and Orange icing colors)

Green (combine Teal and Leaf Green icing colors)

Reserve the remaining buttercream white.

Prepare six decorating bags with a coupler and attach tip 1.Fill bags with dark pink, dark purple, light pink, light purple, peach and green buttercream.

Step 5: Decorate cake.

Using all the piping bags with tip 1, pipe a variety of bunny heads, eggs, and various flower and leaf designs around the cake. We just did this free-hand, but you can certainly use a toothpick to lightly sketch out your designs, then pipe over them with the buttercream.

Prepare a decorating bag with tip 4B and remaining white buttercream. Pipe stars around top edge of cake.

Carefully remove the candy bunny from the waxed paper. Using the remaining white buttercream, place the bunny, bottom side out, onto the front of the cake.

Step 6: Decorate bunny.

Prepare same decorating bags with the following tips:

Tip 32 and light pink buttercream

Tip 21 and peach buttercream

Tip 21 and dark pink buttercream

Tip 18 and light purple buttercream

Tip 18 and dark purple buttercream

Tip 352 and green buttercream

Using light pink buttercream, pipe a large rosette in the center of bunny crown. Using peach and dark pink buttercream, pipe two medium rosettes, one on each side of the large rosette. Using light and dark purple buttercream, pipe two small rosettes at the base of the pink rosettes.

Using green buttercream, add leaves around the rosette crown.

Attach tip 3 to dark pink bag. Pipe heart for nose.

Let the completely decorated cake sit for at least 20-minutes & enjoy!
Tried this recipe?
Take a picture and tag us @WiltonCakes on Instagram