Welcome the coming of a new season with these adorable and easy Easter cake ideas. Whether you're looking for a cute bunny cake or something to wow your friends and family, these cute Easter cake recipes are sure to sweeten your celebration.
1. Pastel Bunny Cake
This is one cake every-bunny will love! Decorated with light pink, purple, white and yellow stars, this pastel bunny cake is perfect for Easter dessert or spring baby showers.
2. Herb and Lemon Spring Cross Cake
Decorated with lovely sprigs of fresh thyme, sliced lemons and mini carnations, this Herb and Lemon Cake makes a lovely addition to your religious celebration.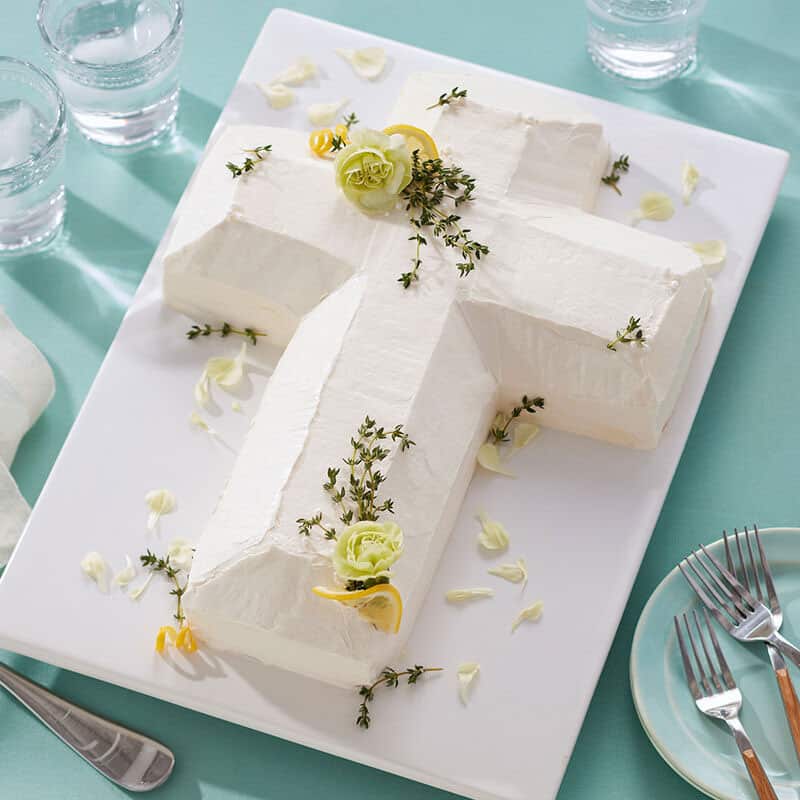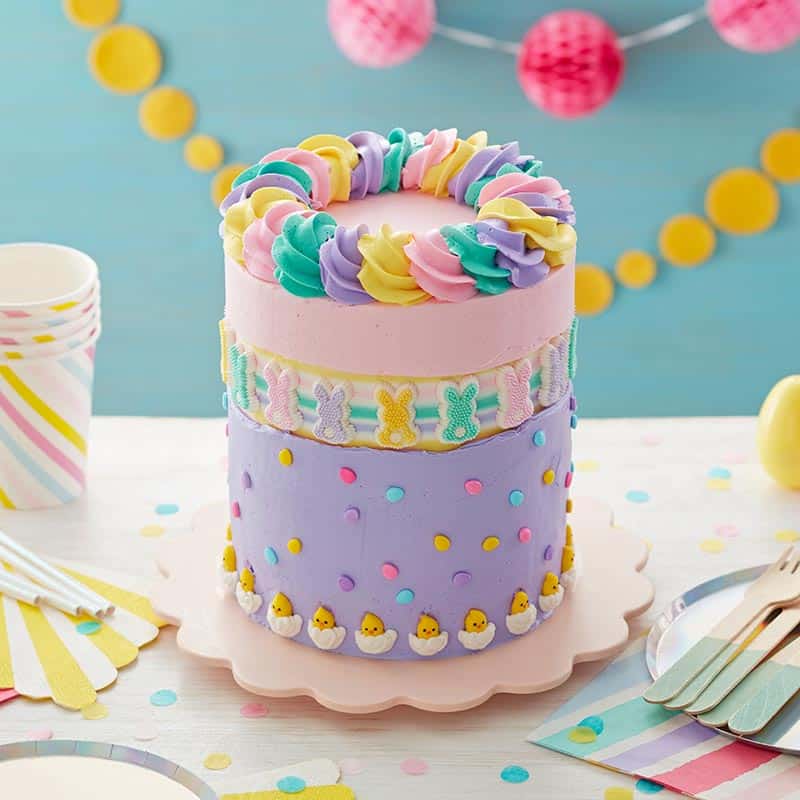 3. Easter Faultline Cake
This Easter faultline cake is simply egg-straordinary! Decorated with shades of yellow, pink, teal and purple icing, as well as bunny and chick icing decorations, this Easter-themed layer cake is sure to be a showstopper!
4. Easy Blooms Sweet Roll Cake
Sweet rolls aren't just for Christmas anymore! This lovely sweet roll cake is decorated using the Easy Blooms tips, which allow you to pipe flowers with just one squeeze.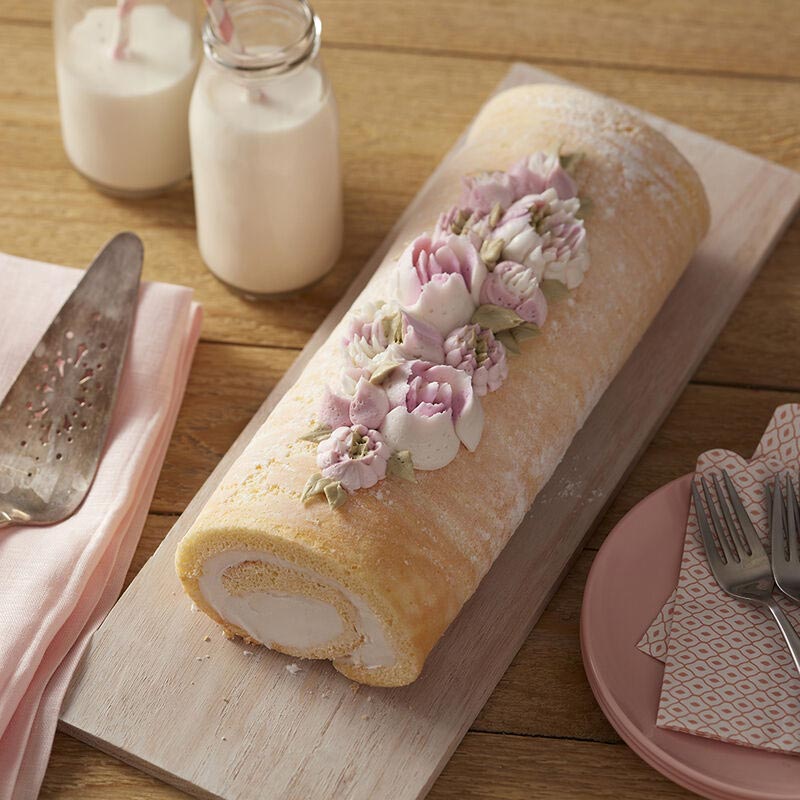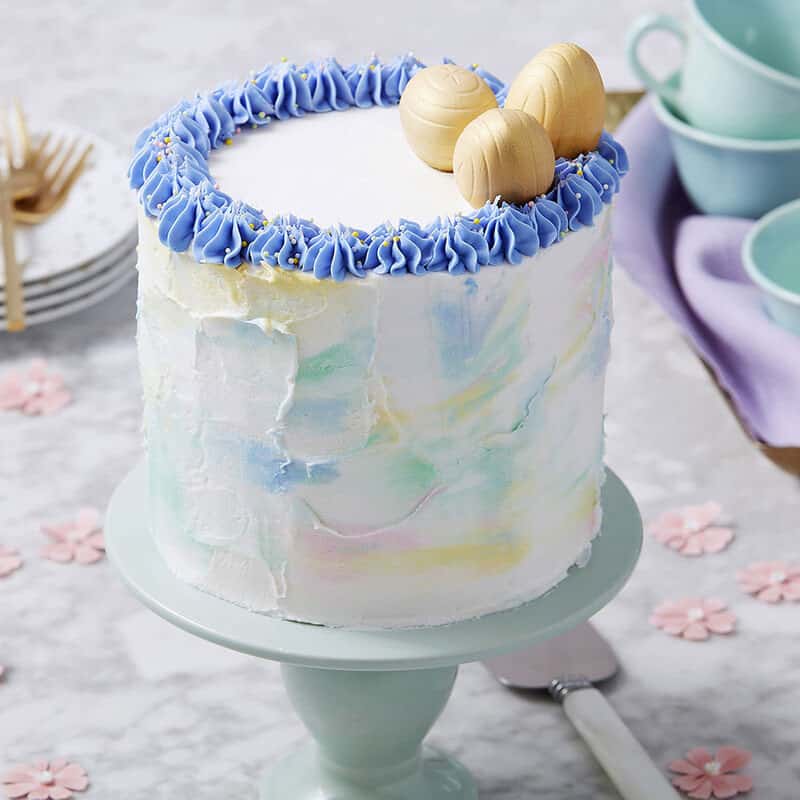 5. Golden Egg Cake
Topped with golden chocolate eggs, this pastel cake also features a lovely watercolor print around the sides. Add candles for a spring birthday or customize your cake with a Happy Easter message.
6. Sweet Chocolate Lamb Cake
No Easter table is complete without a lamb cake. Made using your favorite chocolate cake recipe, this cake is a simple project for beginning decorators.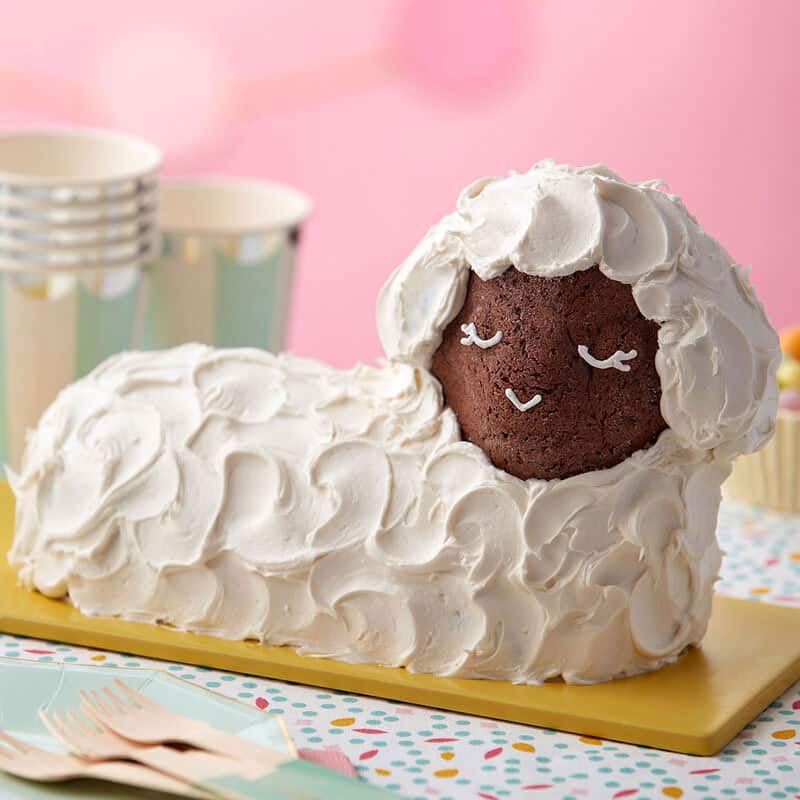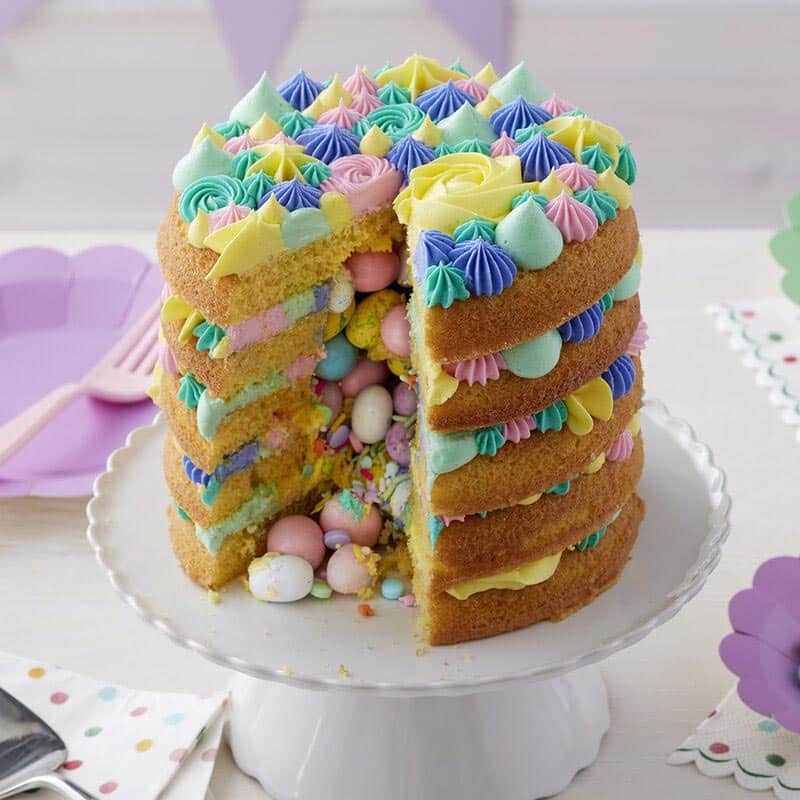 7. Surprise Inside Easter Cake
This cake is made even sweeter with a surprise candy filling. Packed with colorful chocolate eggs and sprinkles, this surprise cake would also be great for a baby or wedding shower.
8. Mini Confetti Angel Food Cakes
A lovely dessert for Easter brunch, these mini confetti cakes are best served with a dollop of whipped cream and some fresh strawberries.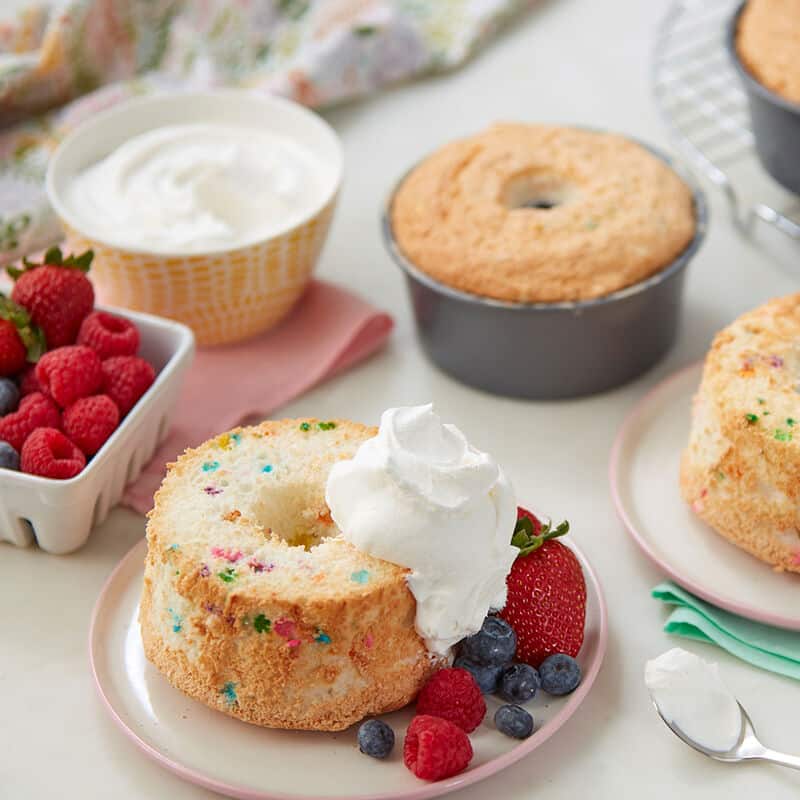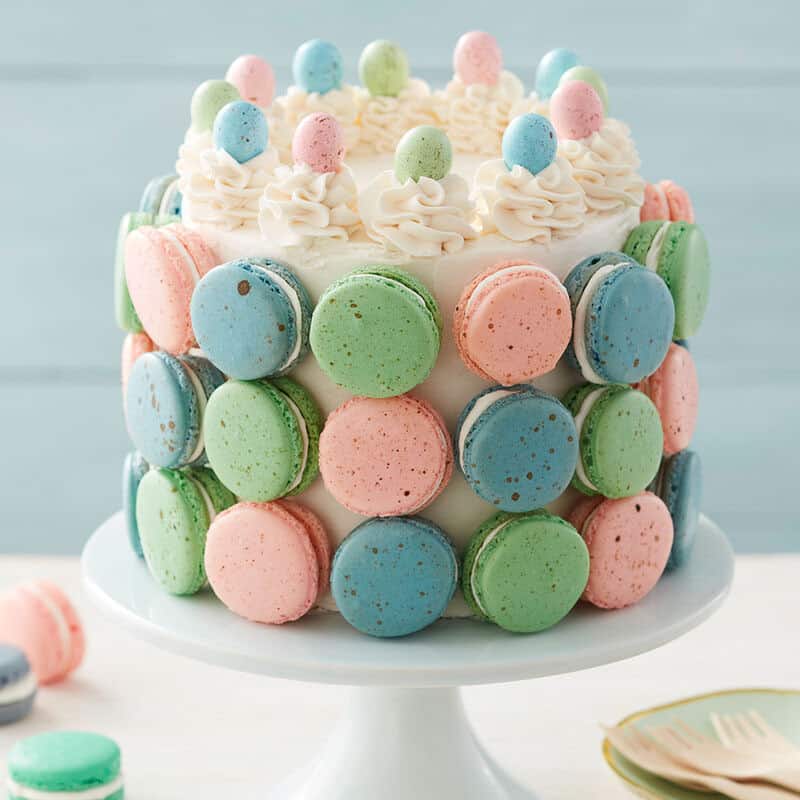 9. Pastel Macaron Cake
Add flavor and fun to your cake with decorative pastel macarons. A simple yet stunning cake for your spring celebration, this pastel macaron dessert is almost too pretty to eat.
10. Bunny Face Easter Cake
Made using the Bunny Cake pan, this cake is decorated with icing pouches and nonpareils for a quick and easy treat for families on the go.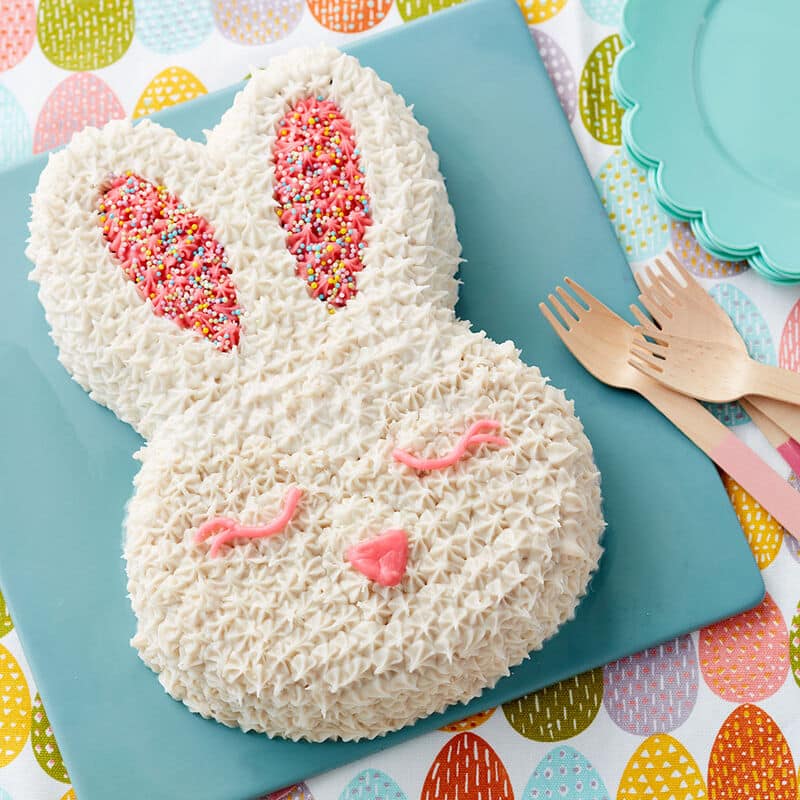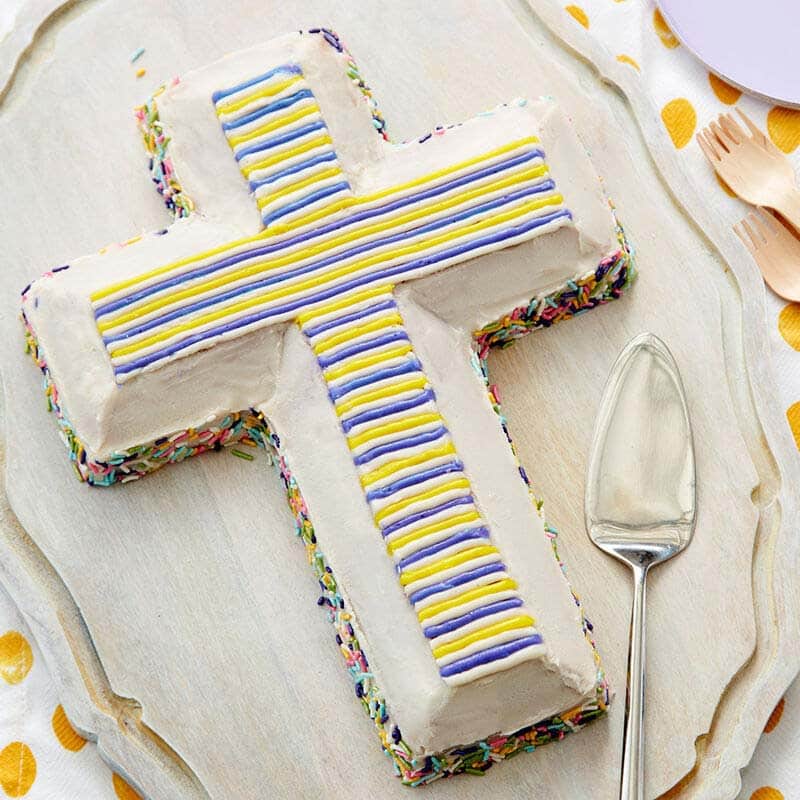 11. Pastel Cross Cake
Celebrate baptisms, christenings or Easter celebrations with this lovely pastel cross cake. Simply decorate your cake with lines of violet, white and yellow frosting, then add a sprinkle border for the perfect finishing touch.
12. Watercolor Bunny Cake
Do you spot the little white rabbit hiding in this colorful watercolor cake? Decorated with pastel pink, teal, yellow and purple icing, this treat is a beautiful way to finish your Easter meal.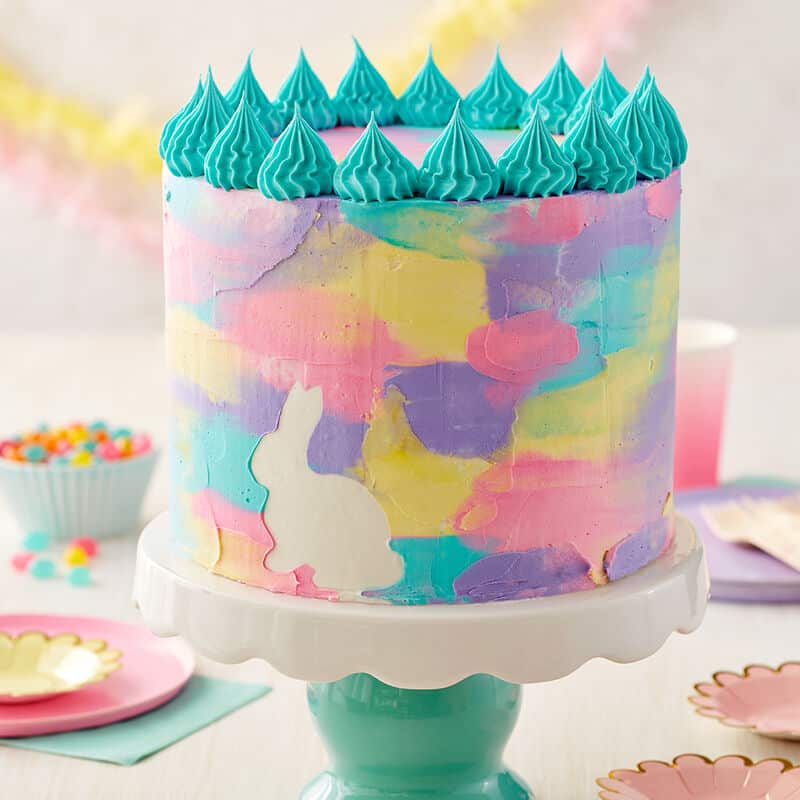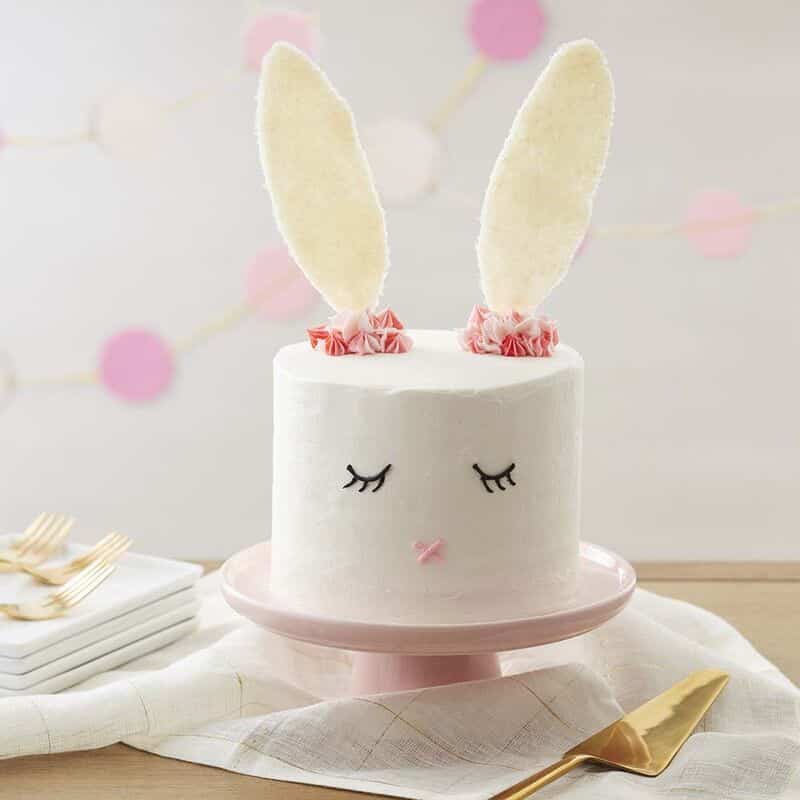 13. Sweet Easter Bunny Cake
With dreams of jellybeans, chocolates and colorful candy eggs, this sweet bunny cake can't wait for your Easter celebration!
14. Fluffy 3D Lamb Cake
No lamb cake is complete without fluffy icing fur. Made using tip 150, this lamb cake is sure to make Easter just a little bit sweeter!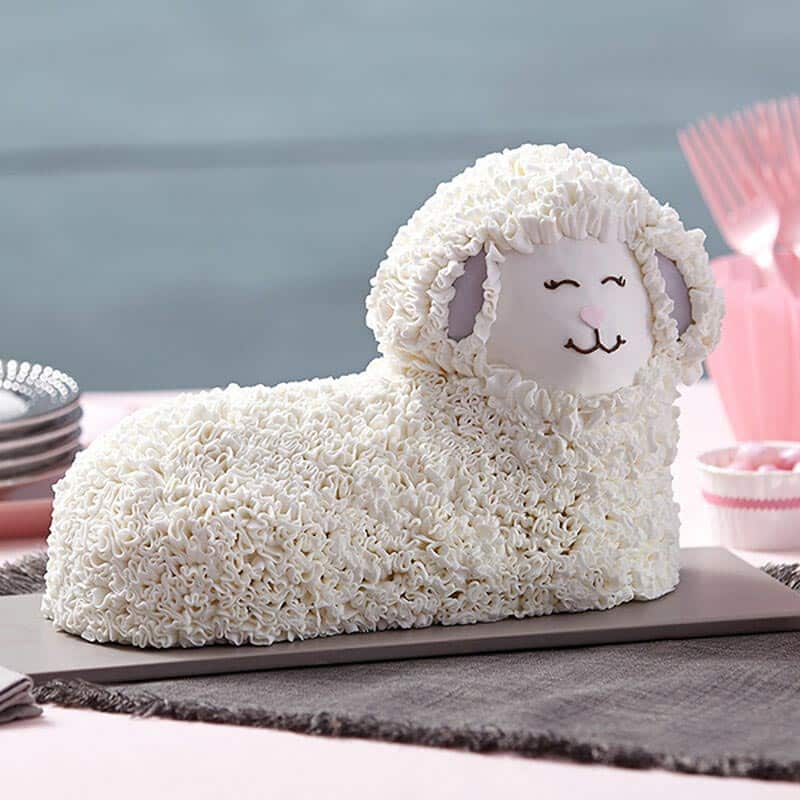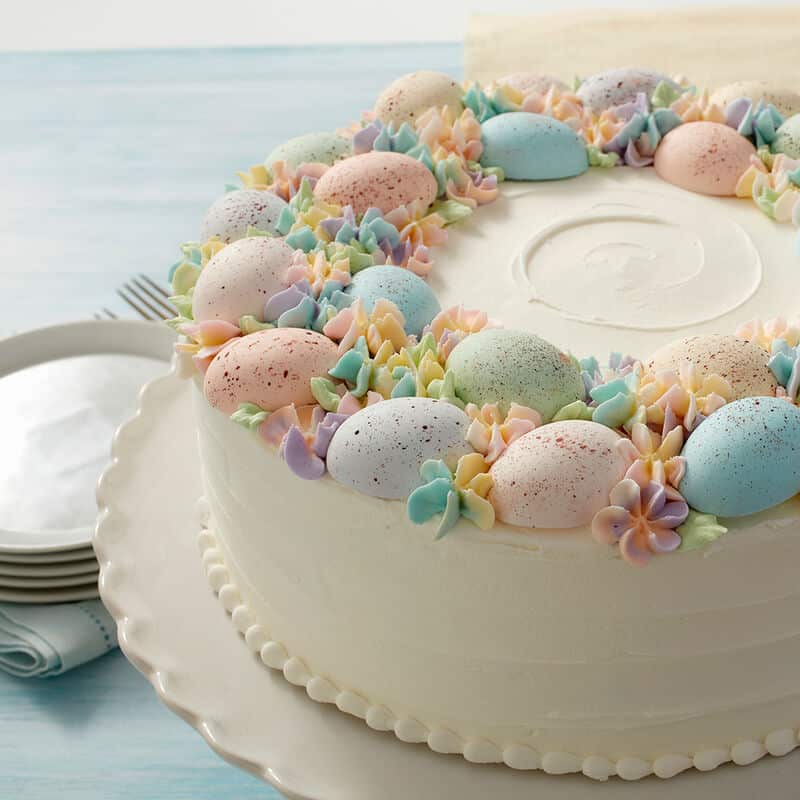 15. Speckled Egg Statement Cake
Soft pastel colors and easter eggs make this springtime cake just as beautiful as it is delicious. Simple and classic, this cake is sure to be the crowning touch to your Easter brunch.
16. Fluffy Bunny Cake
Use the specialty grass tip to make the fur on this fluffy bunny cake. A simple treat for all levels of decorators, this bunny cake is quick, easy and fun to make.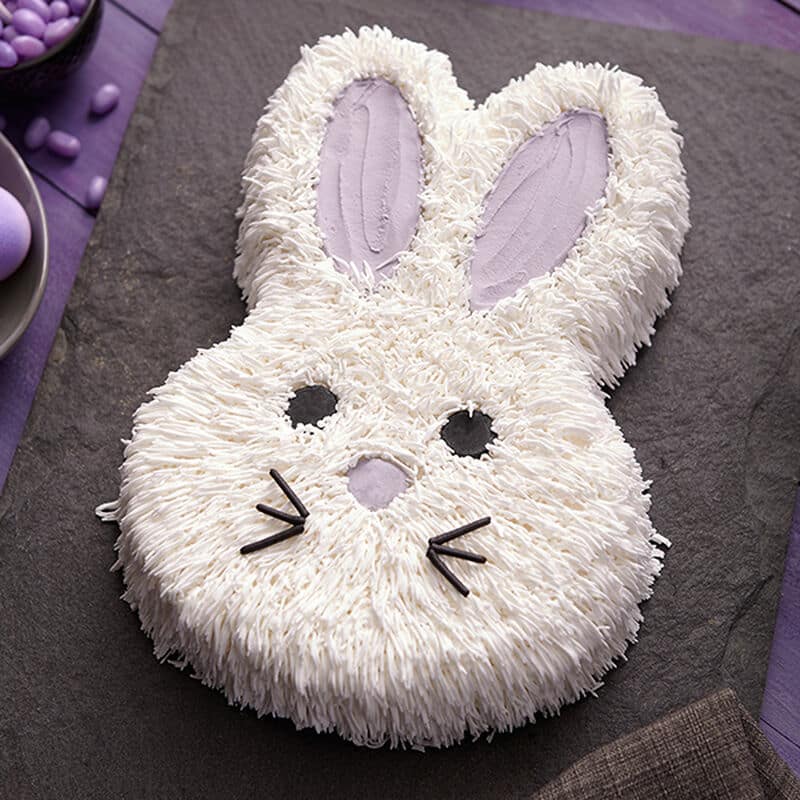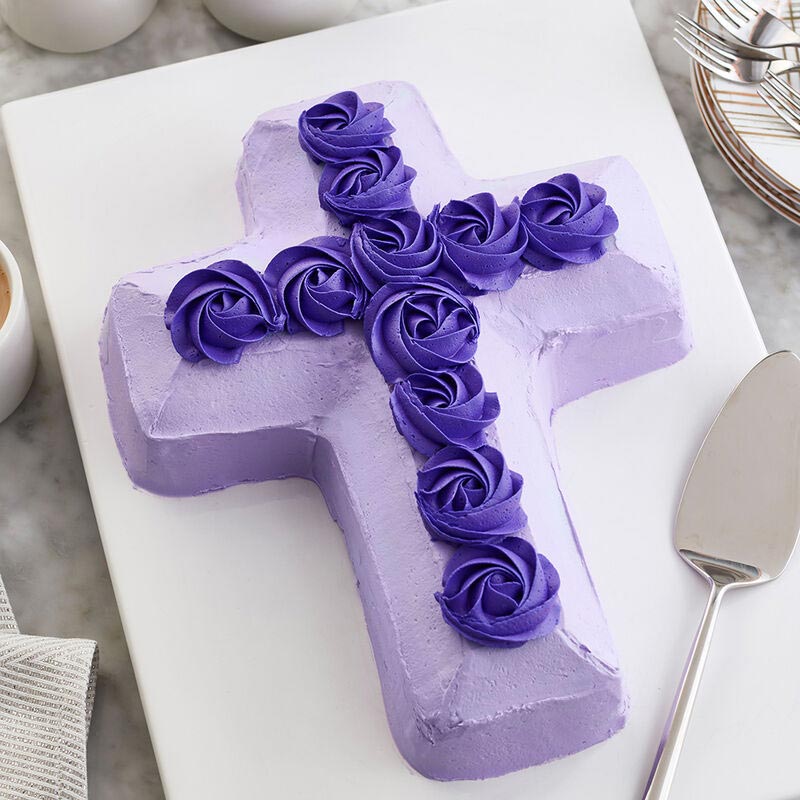 17. Purple Rosette Cross Cake
With only two shades of icing, you can create this lovely cross cake for Easter, baptisms, weddings or christenings. We used light and dark purple, but you could also use shades of blue, yellow or green.
18. Blossoming Spring Flowers Cake
Show off your piping skills with this blooming spring flowers cake. Featuring roses, daisies, pansies, mums, violets and more, this cake is certainly a garden of eatin'!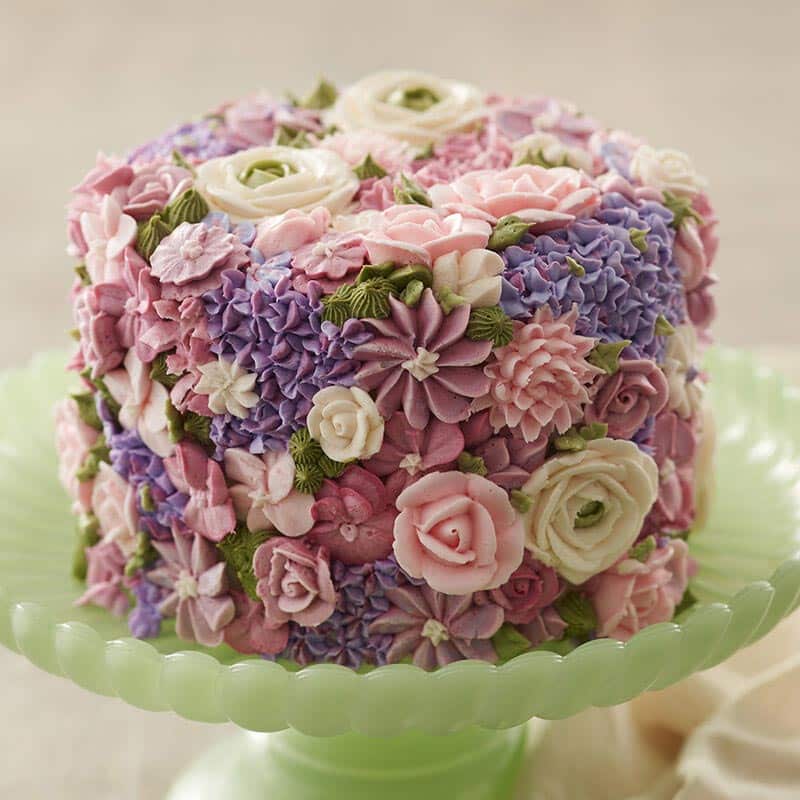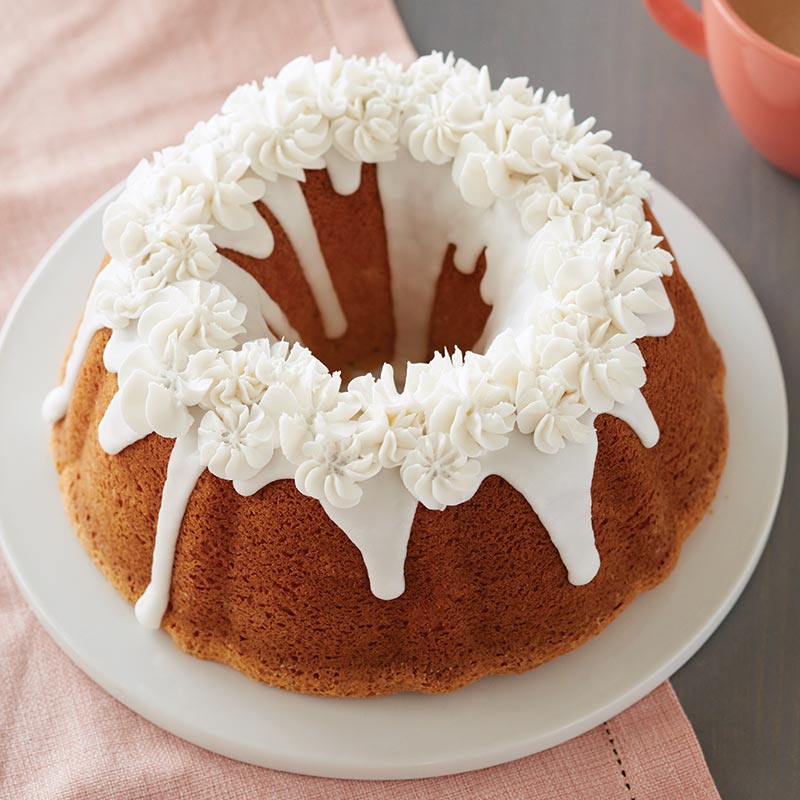 19. Swirl Drop Flower Cake
Kick brunch up a notch with this swirl drop flower cake. Use your favorite cake recipe, then top your dessert with lovely swirl drop flowers, made using a variety of decorating tips.
20. Herb Crown Lamb Cake
Adorned with a crown of fresh herbs, this lamb cake is ready for spring. Best of all, you can decorate this cake with just a spatula and a couple of round decorating tips.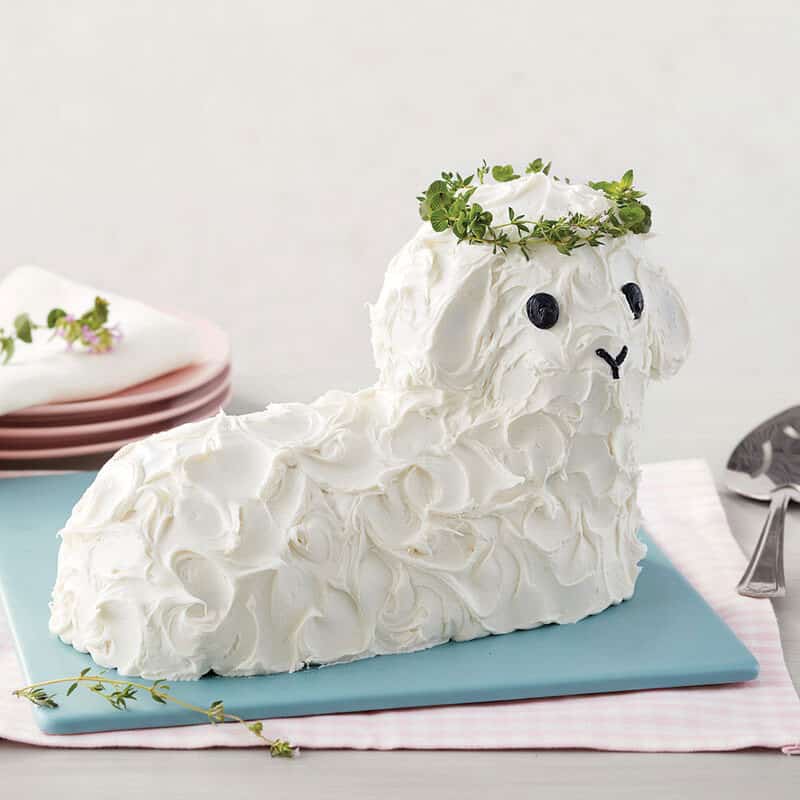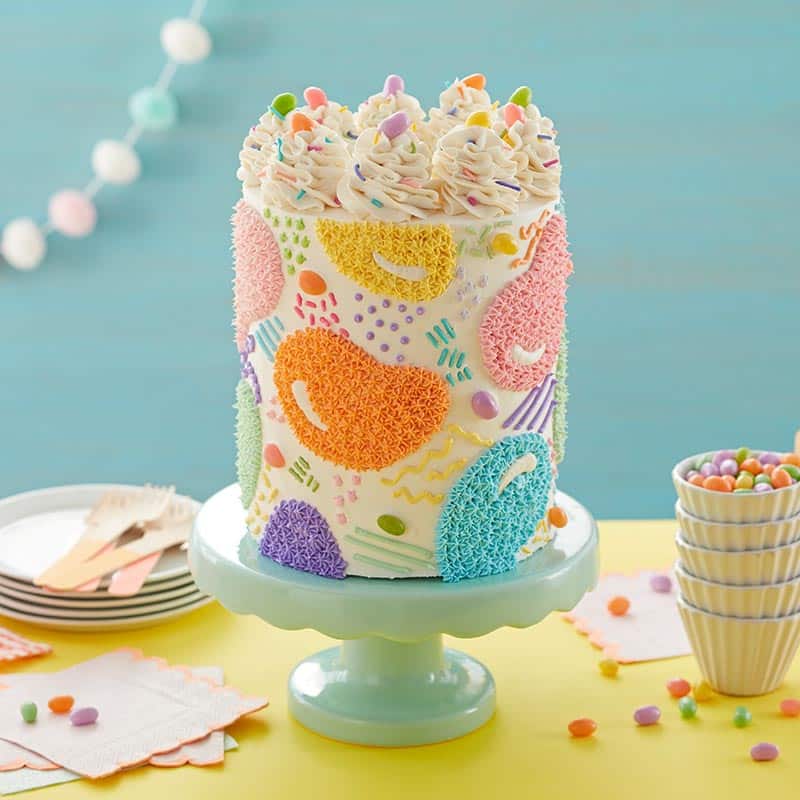 21. Jellybean Cake
Go crazy for jellybeans with this fun jellybean cake. Decorated using the star fill-in technique, this cake is a bright and vibrant way to put the perfect finishing touch on your Easter celebration.
22. Breath of Spring Floral Cake
Soft and feminine, this spring cake is a wonderful way to celebrate the coming of a new season. Use a toothpick to sketch out your design, then have fun piping flowers and leaves in a variety of shapes and colors.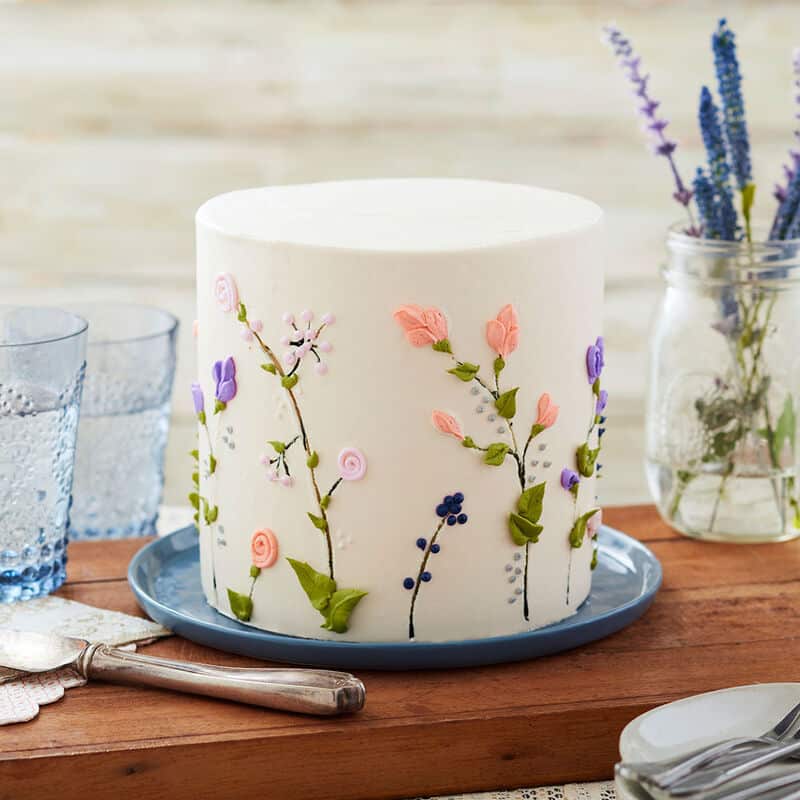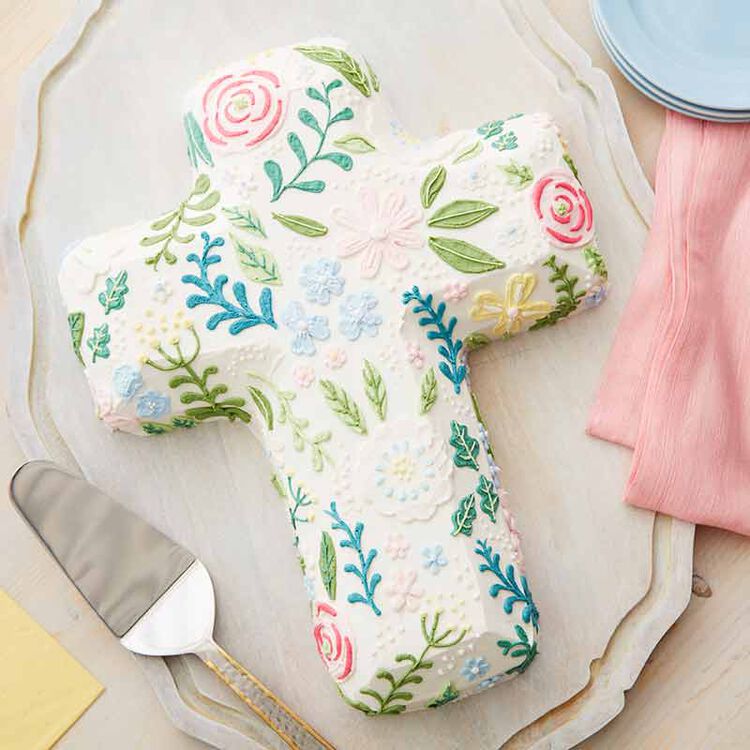 23. Floral Cross Cake
Create a stunning cake for Easter or a baptism with this beautiful Floral Cross Cake. Made using our cross-shaped cake pan, this lovely Easter cake uses muted nature-inspired colors to create a floral design that looks embroidered.
24. Floral Inlay Roll Cake
Use our simple tile design (or draw your own) to make this lovely Floral Inlay Roll Cake. Inspired by the traditional Japanese roll cakes, this simple Easter cake idea can be customized with your favorite colors or your own unique design. Fill your cake with buttercream or sweet whipped cream for the perfect spring treat.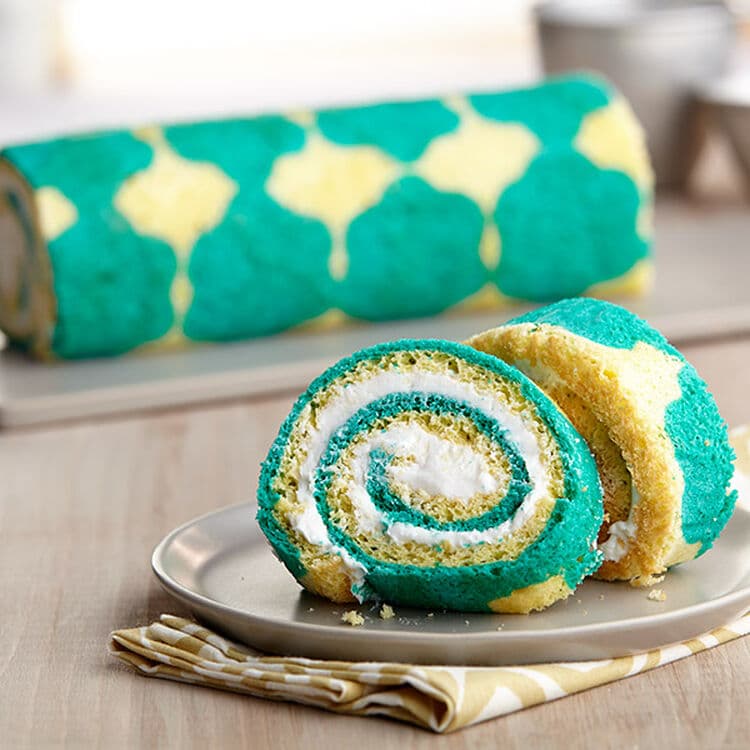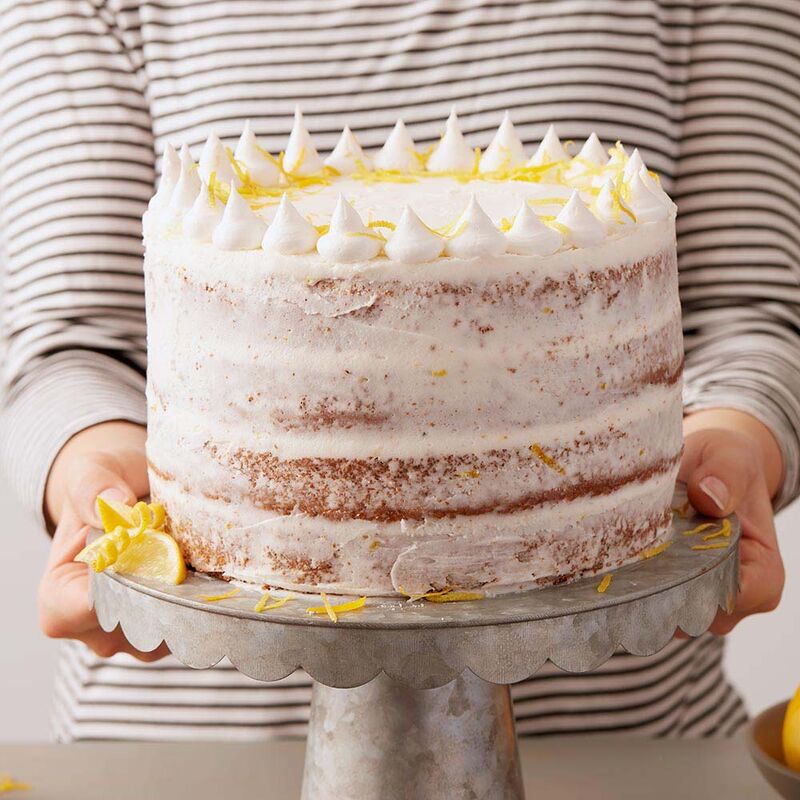 25. Lemon Poppy Seed Cake with Lemon Buttercream
Bright and citrusy, this Lemon Poppy Seed Cake is a tasty Easter cake idea you and your family will love. Topped with a zesty lemon buttercream, this flavorful cake is also great for birthdays or any spring or summer celebration.
26. Chocolate Cake with Easter Kabobs
Looking for a cute Easter cake to make with the kids? Look no further than this Chocolate Cake with Easter Kabobs. Stacked high with Easter fun, this cake features candy kabobs made of jellybeans and bunny-shaped icing decorations.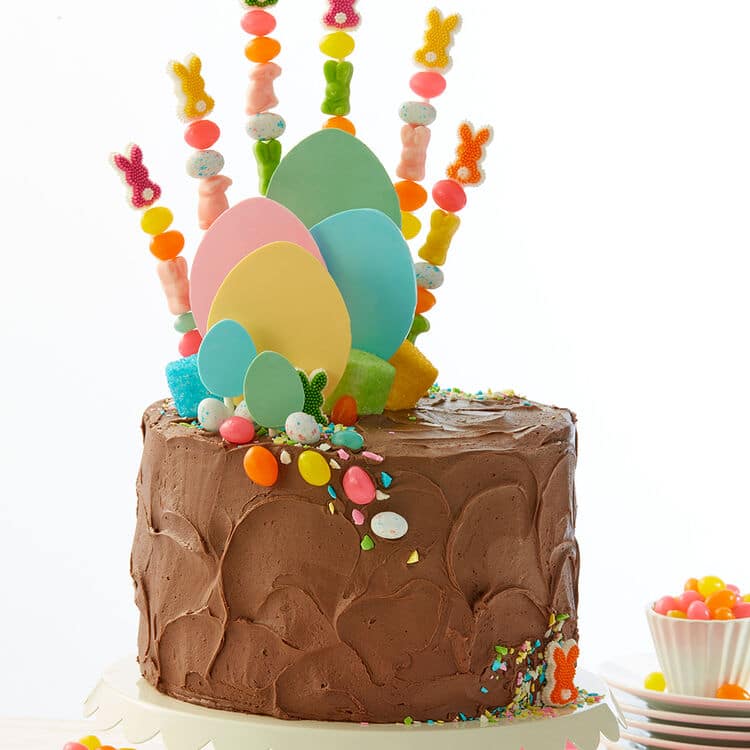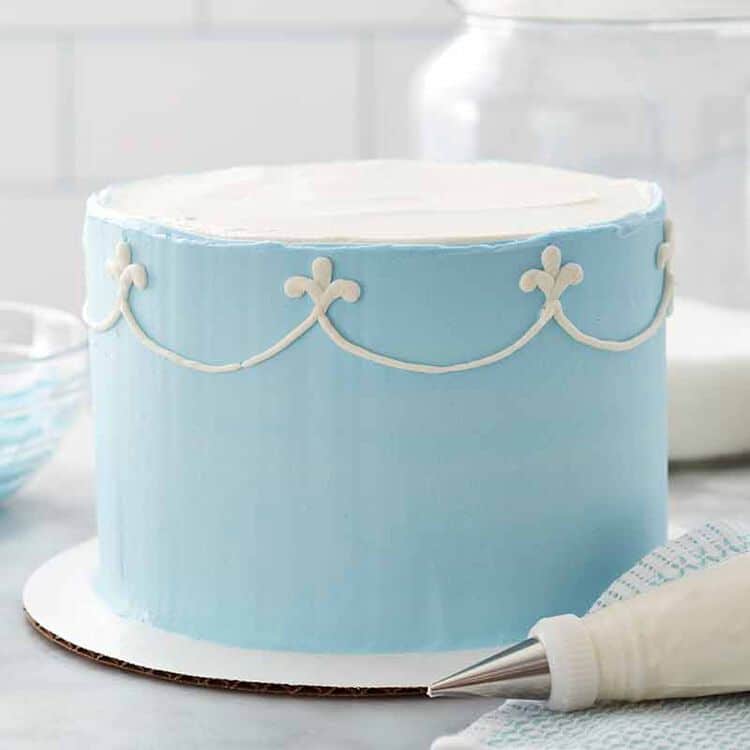 27. Light Blue Fleur de Lis Cake
Ohh lah lah! Featuring the simple Fleur de Lis piping technique, this simple spring cake is great for Easter, baby showers, wedding showers and more. Top your cake with candles for a birthday or leave it plain for a simple Easter cake.
28. Easy Lemon Cake Recipe
Looking for some Easter cake ideas to share with the family this year? This Easy Lemon Cake recipe is just the thing. Made using fresh lemon juice and zest, then topped with a lemony icing, this lemon cake is exploding with bright citrus flavor! Top it with raspberries or blueberries for added color and texture.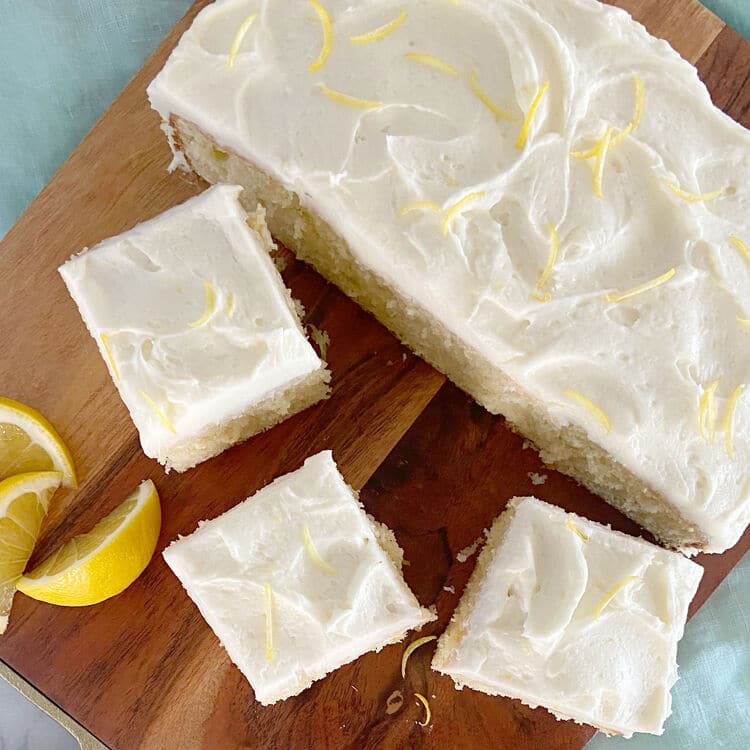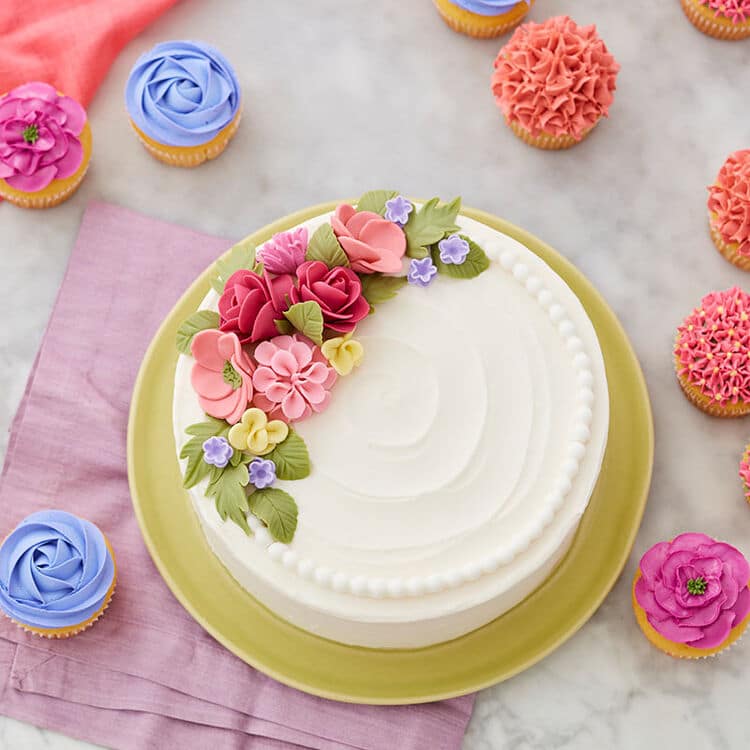 29. Fondant Flower Cake
Celebrate the beauty of spring with this Fondant Floral Cake. A simple white cake is topped with colorful fondant roses, fantasy flowers and dahlias for a treat that looks (almost) too pretty to eat!
30. 2-Tier Gladiola Cake
Whether you're hosting a large Easter celebration, a baptism or a spring wedding shower, this 2-Tier Gladiola Cake is a showstopper every time. With a beautiful blooming gladiola that runs up the center of this cake, you can create a stunning 2-tier cake that is sure to impress.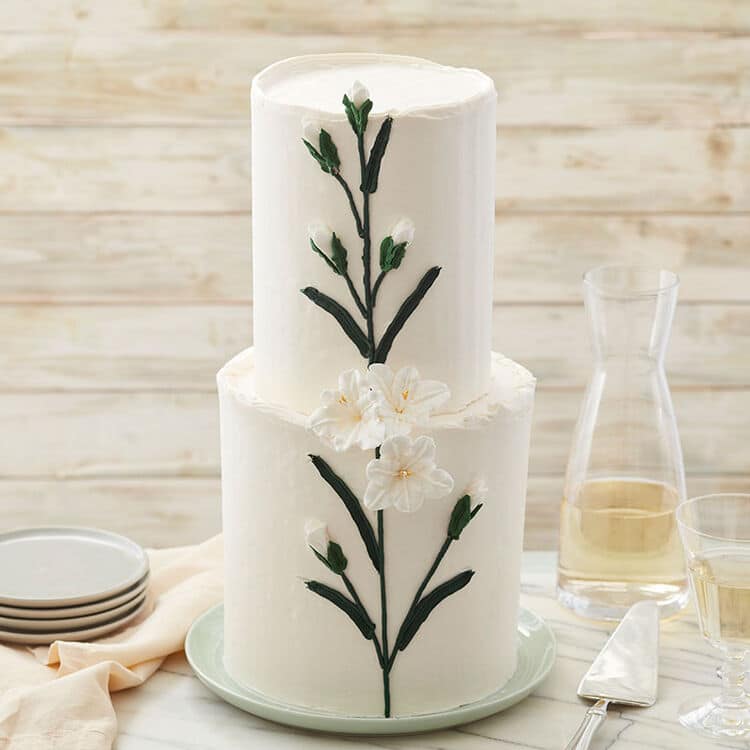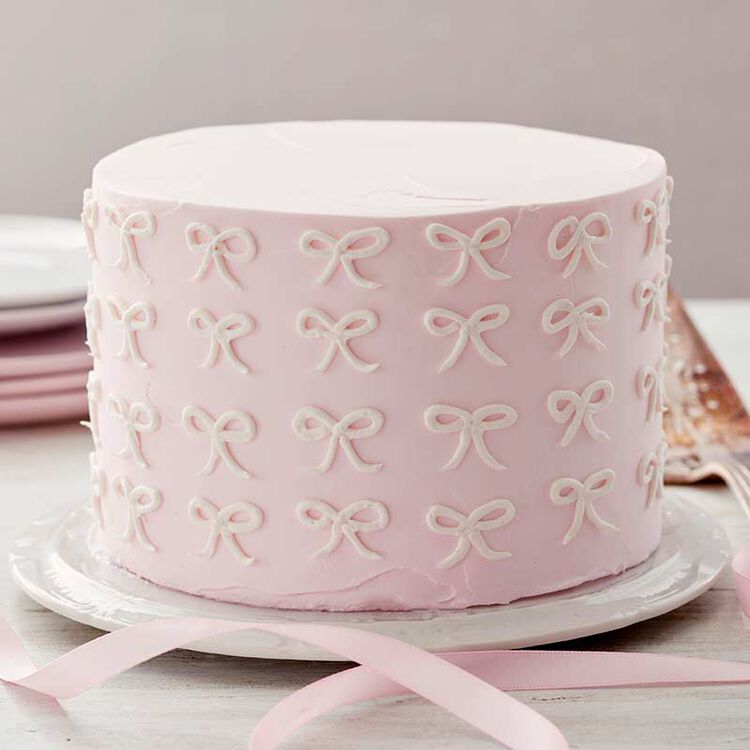 31. Pink Buttercream Bow Cake
Easy Easter cakes don't get much cuter than this! Iced with a soft pink buttercream, then decorated with sweet little white bows, this Pink Buttercream Bow Cake is a lovely spring treat. Also fun for baby showers or first birthdays, this cute cake is simple enough for decorators of all skill levels.
32. Lovely Lilac Flower Cake
You can almost smell the flowers with this pretty purple lilac cake. Rustic and natural, this cake is great for Easter, birthdays, wedding showers and more. Topped with a swag of royal icing lilacs, this cake can also be customized with a message or left as is for a lovely spring dessert.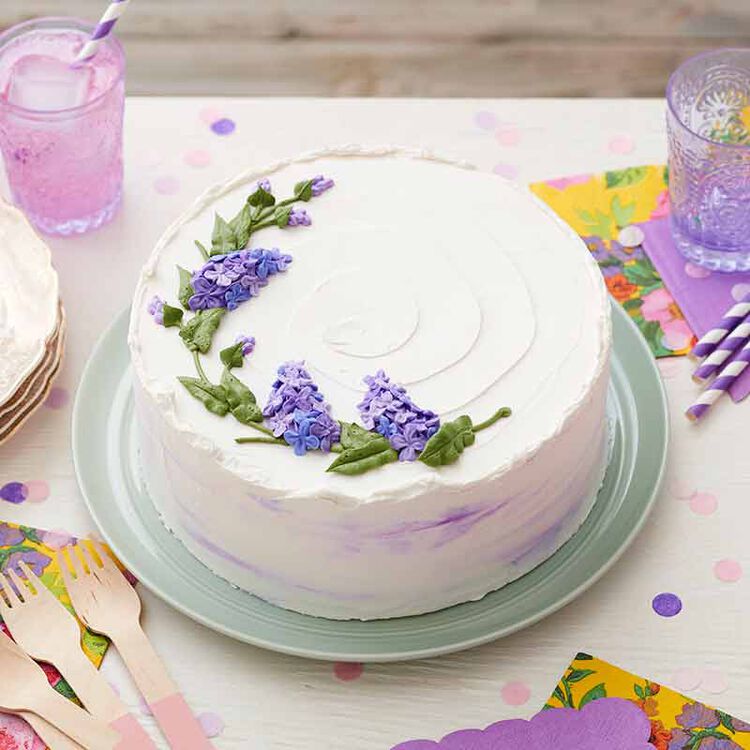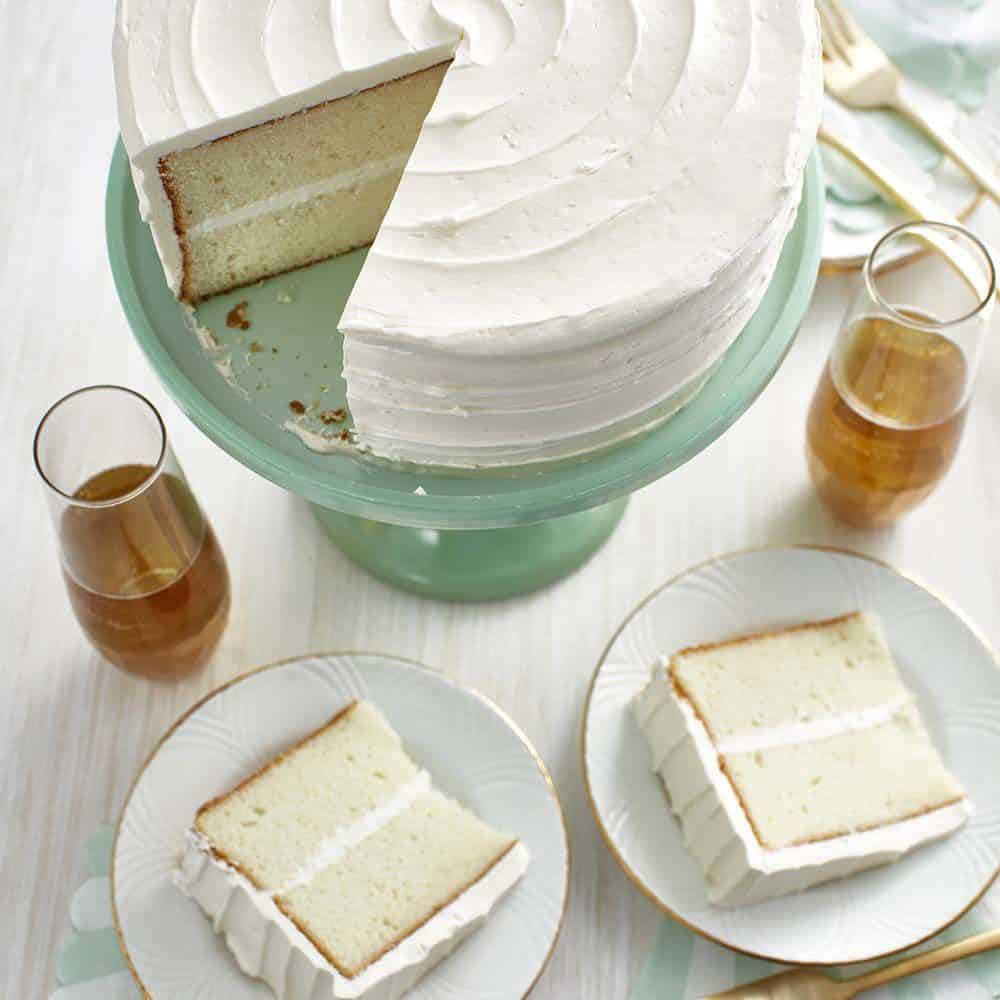 33. Classic White Cake Recipe
Simple Easter cakes start with a simple recipe. This Classic White Cake is perfect for personalizing with your favorite Easter decorations. It pairs perfectly with vanilla or chocolate buttercream and its light and fluffy texture makes it a lovely base for berry fillings or garnishes.
34. Periwinkle Bunny Cake
Whether you're making Easter cakes for kids or celebrating a new addition to the family, this Periwinkle Bunny Cake is a sweet way to celebrate! Using the easy rosette piping technique, this cake uses light purple buttercream and the large 1M star decorating tip to pipe a row of sweet bunnies around this buttercream cake.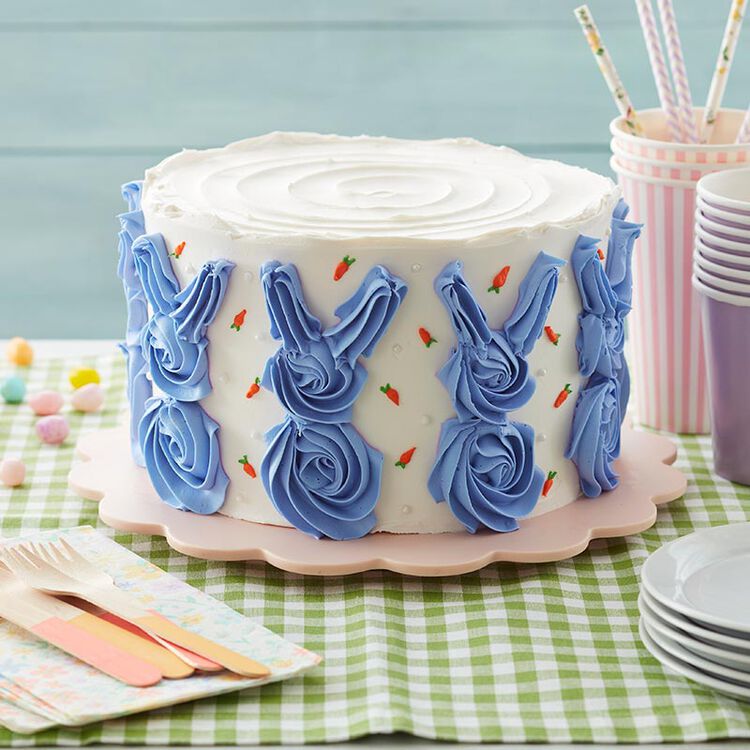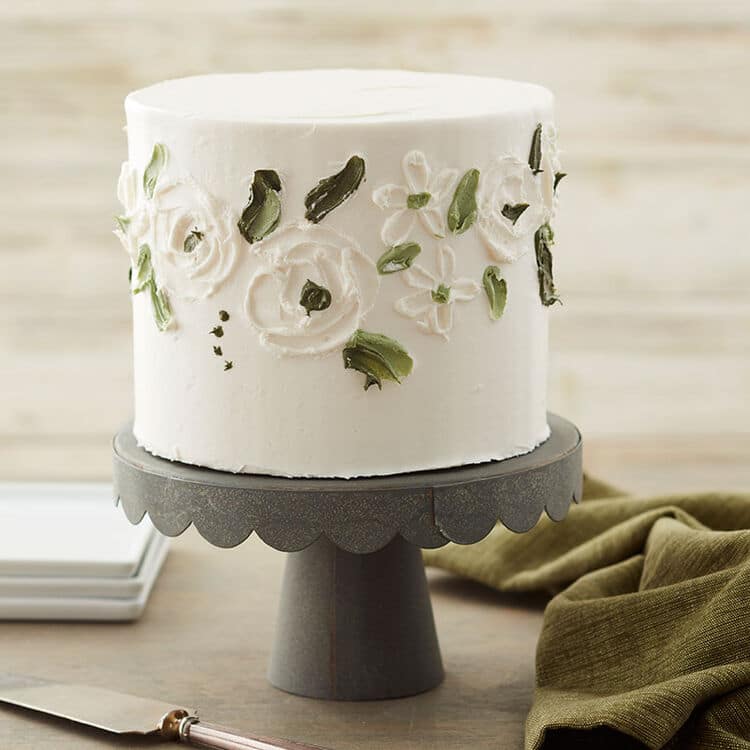 35. Elegant White Rose Buttercream Cake
No bag and tip needed for this cake! With a tapered spatula and some white and green buttercream, you can create this Elegant White Rose Buttercream Cake for your next Easter or spring celebration. Simply use the spatula like a paint brush to create lovely designs on your edible canvas!
36. Rosebud Cake
Great for anyone who loves flowers, this beautiful Rosebud Cake is a lovely way to end your Easter celebration. Decorated with buttercream rosebuds and topped with tall swirls, this cake is a testament to the beauty of the new spring season.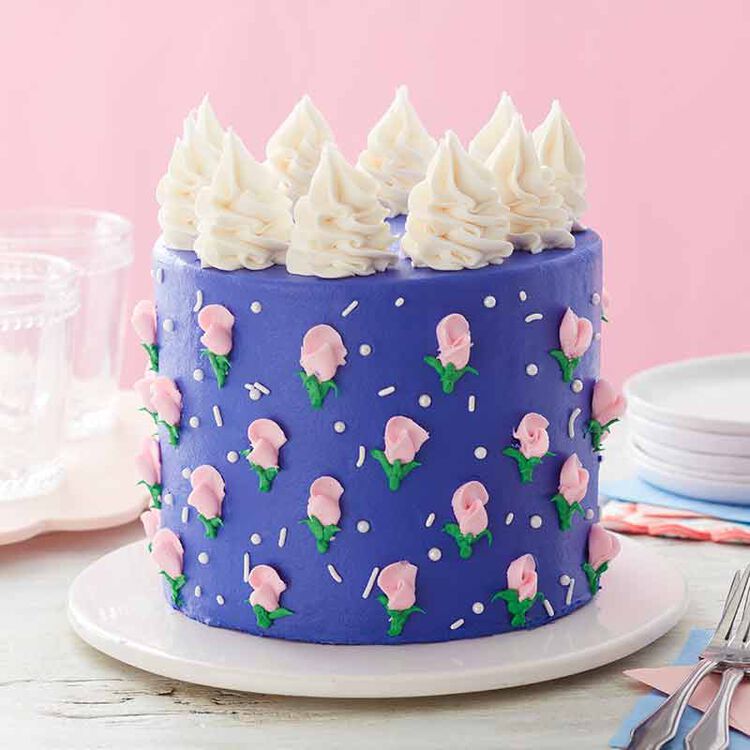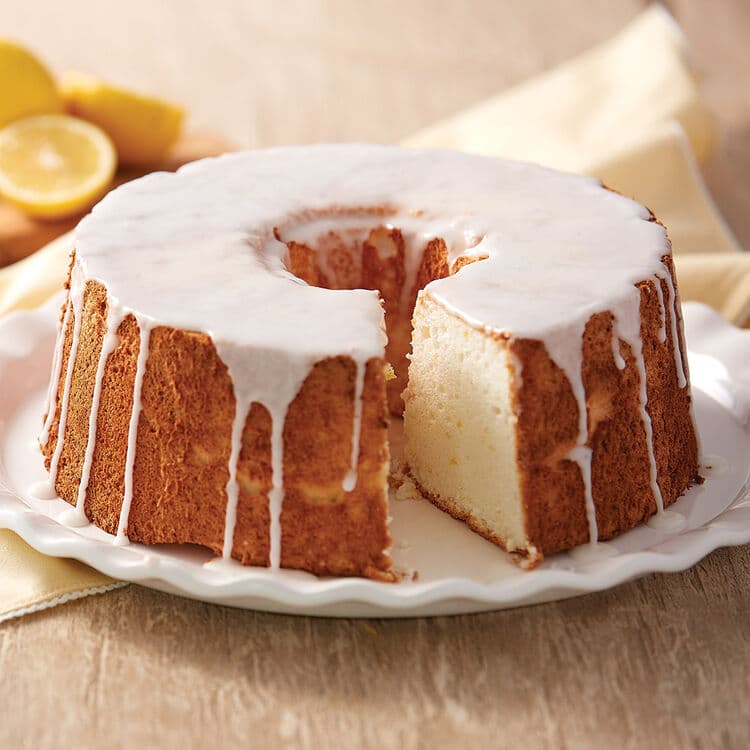 37. Lemon Angel Food Cake
Looking for a simple but impressive homemade dessert? This cake is everything you've been looking for. Light, sweet and absolutely heavenly, this angel food cake is topped with a warm, lemon glaze for just the right amount of sweetness.
38. Classic Pound Cake
Made using pantry staples (flour, butter, sugar and eggs), this Classic Pound Cake is a wonderful dessert for Easter, Mother's Day, or any spring celebration. Top it with a warm confectioners' sugar glaze or serve it with whipped cream and fresh berries for a dessert that won't weigh you down.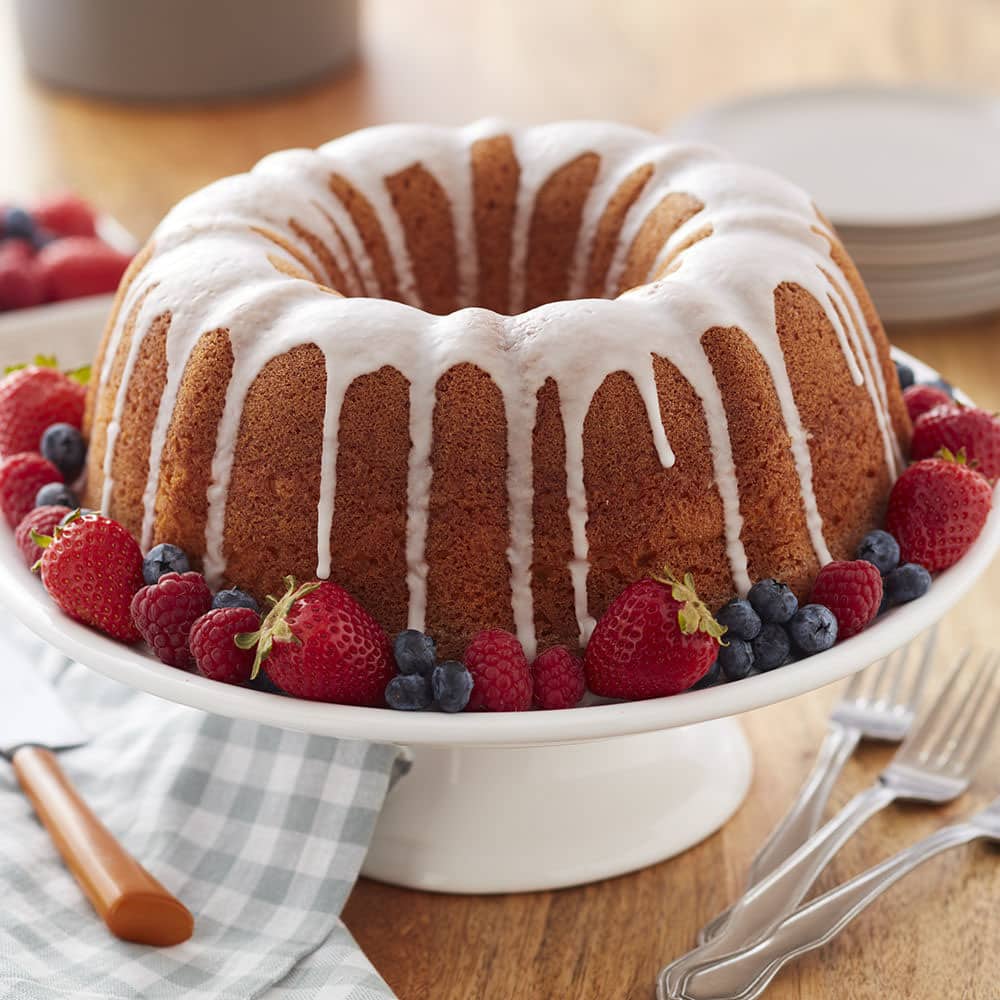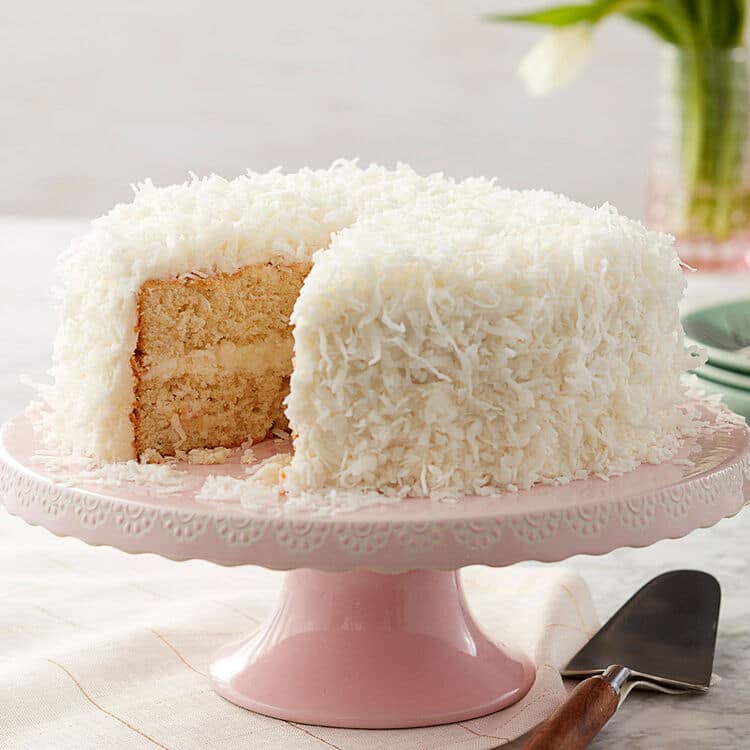 39. Coconut Cake
Are you nuts for coconut? Then you're going to love this Coconut Cake. Not only is there coconut in the cake batter, but it's covered with a coconut topping for an added punch of flavor.
40. Confetti of Fun Striped Cake
This cute Confetti of Fun Striped Cake is ready to party! Featuring stripes of white and blue buttercream, then topped with a pink rope border and a spray of confetti sprinkles, this cute and easy cake is great for birthdays, showers or Easter brunch!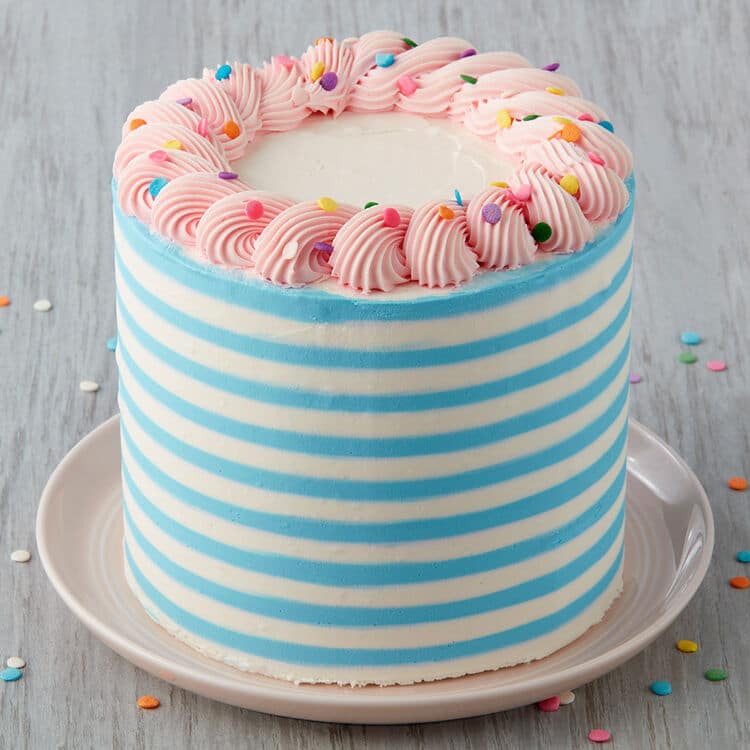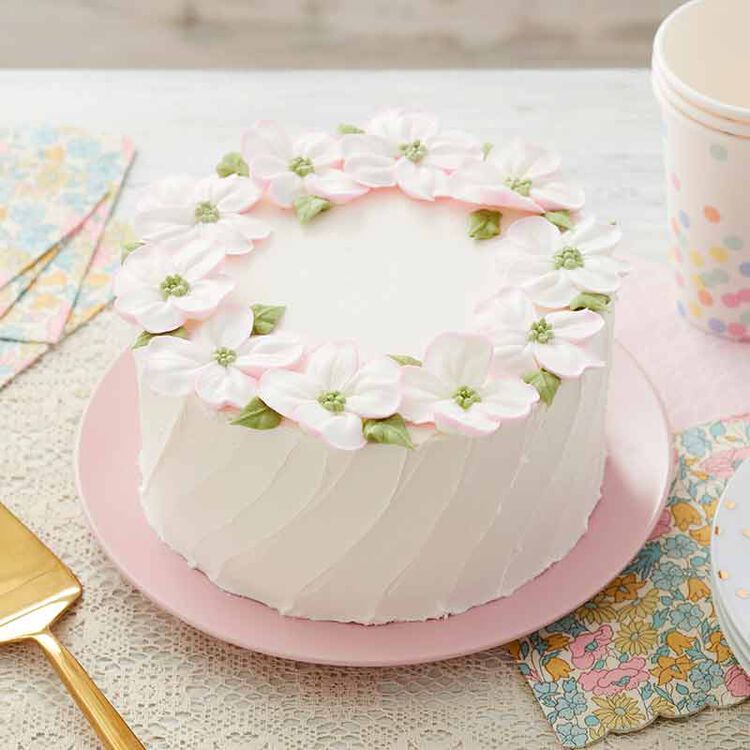 41. Dogwood Blossom Cake
Whether you're celebrating Easter or a spring wedding shower, this Dogwood Blossom Cake is a lovely way to cap off your party. The dogwood flowers are made using royal icing, so they can be prepared days in advance for easier and quicker decorating.
42. Banana Cake with Cream Cheese Frosting
You'll go bananas for this sweet and simple sheet cake. Filled with warm and comforting flavors and topped with a luscious cream cheese frosting, this Banana Cake makes a lovely dessert for Easter dinner or brunch.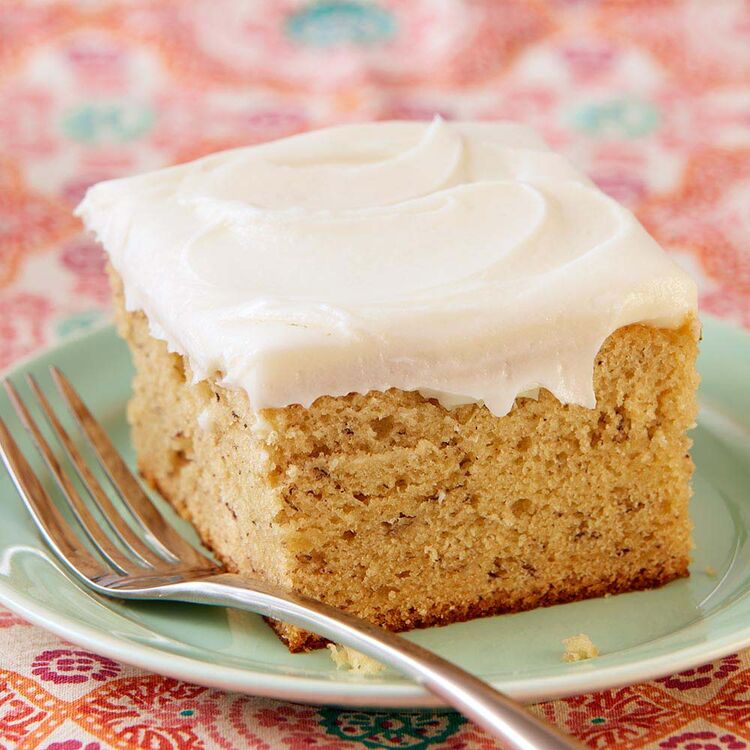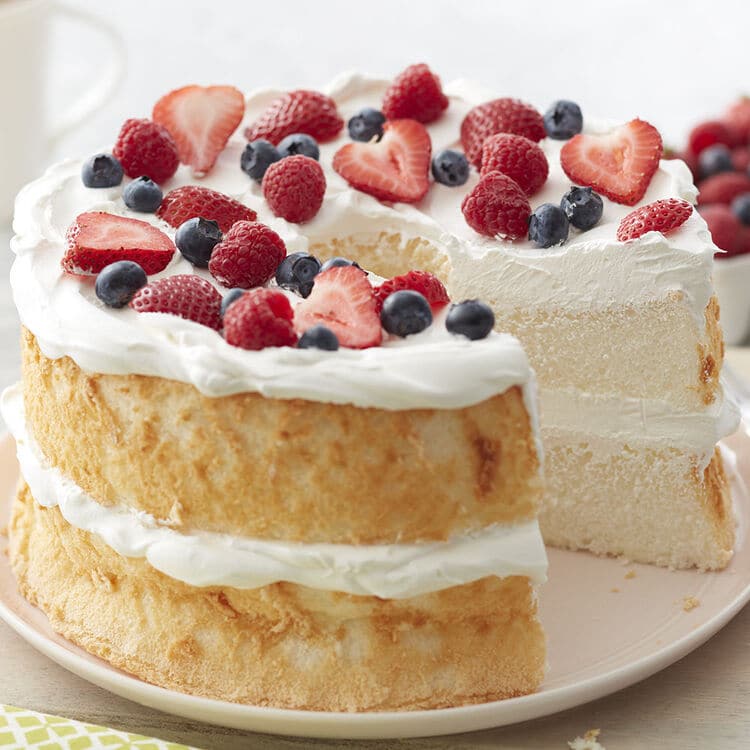 43. Angel Food Cake with Whipped Cream and Berries
Light and airy, this Angel Food Cake is the perfect spring dessert. Iced with whipped cream and topped with colorful, fresh berries, this cake is perfect for holidays, parties, or just weeknights with the family.
44. Tip 352 Cakes
One tip can go a long way when you use your imagination! All decorated with petal tip #352, these three cakes are perfect for your Easter celebration. Use a shell technique to cover your cake in a textured pattern or use the 352 tip to make colorful ruffles around your cake. You can also use this tip to add a lovely leaf border on the top of your treat for a simple design.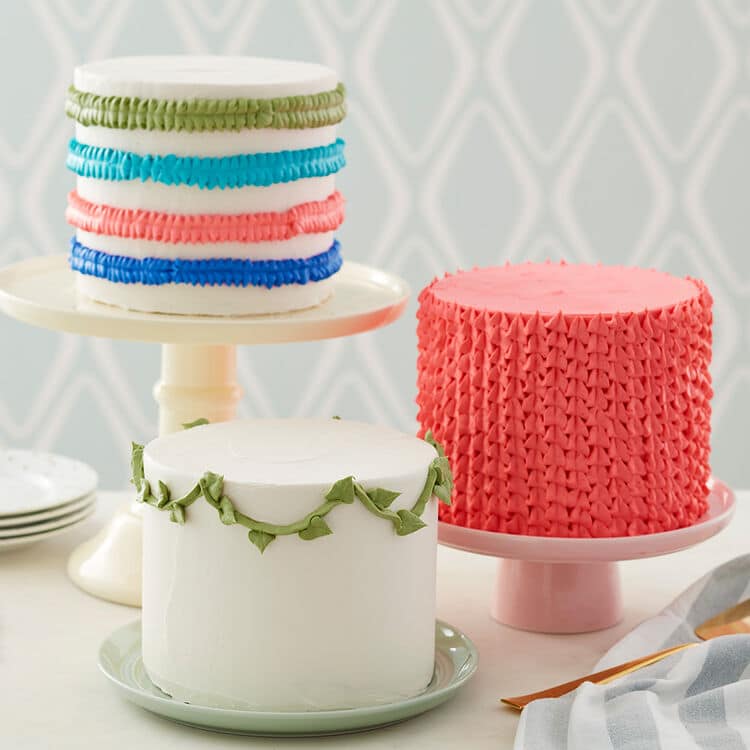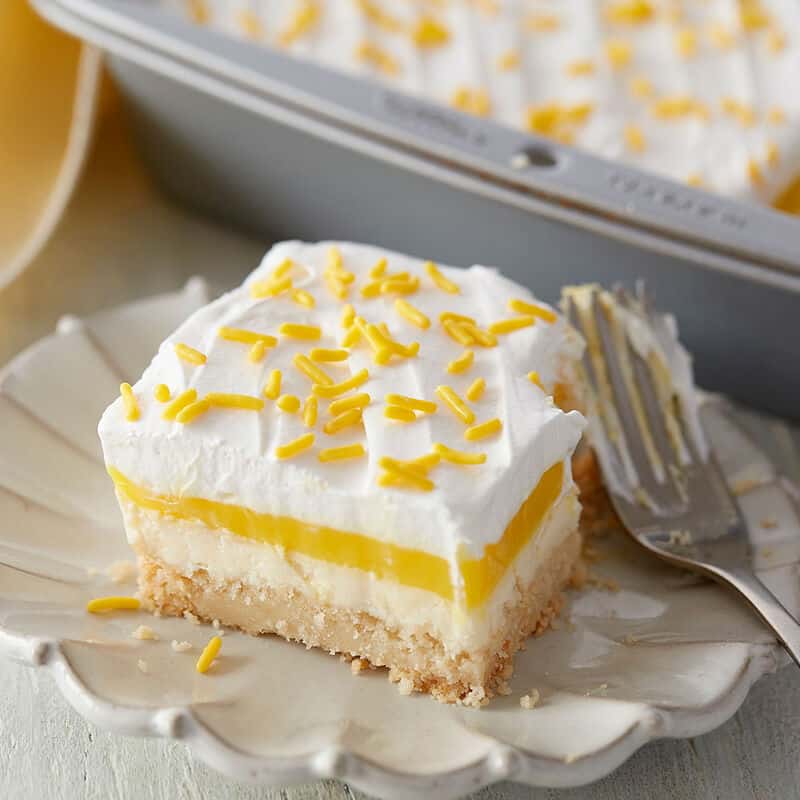 45. Lemon Lush Cake with Coconut and Macadamia Nut Crust
Spring just got a whole lot sweeter! A cool and refreshing dessert for holidays and celebrations, this Lemon Lush cake features a coconut and macadamia nut crust, a layer of sweet cream cheese filling and a layer of tangy lemon pudding for the ultimate family favorite!
46. Summer Blooms Buttercream Flower Cake
This Summer Blooms Buttercream Flower Cake looks like a work of art. With a watercolor background and buttercream flowers made using the tip of a spatula, this is one edible arrangement you'll be proud to show off!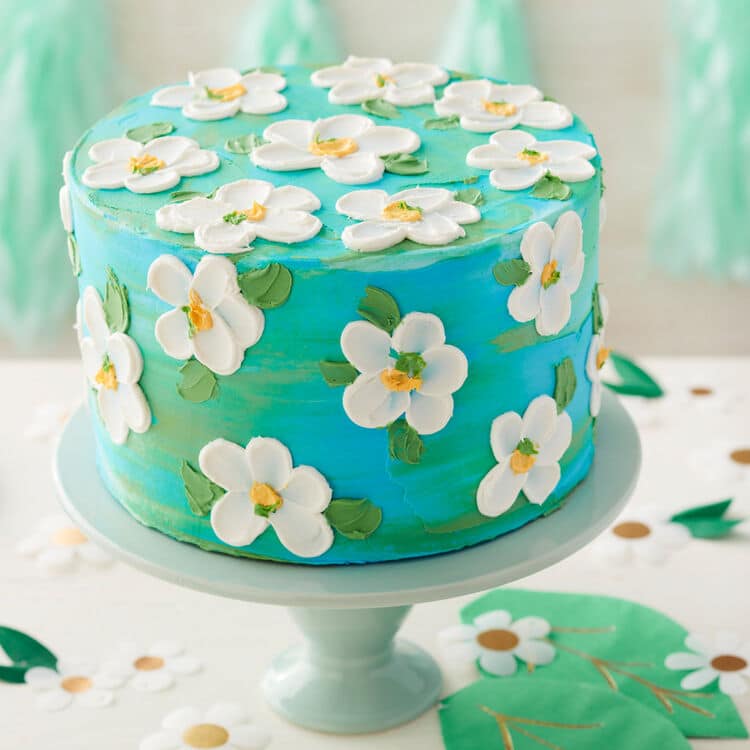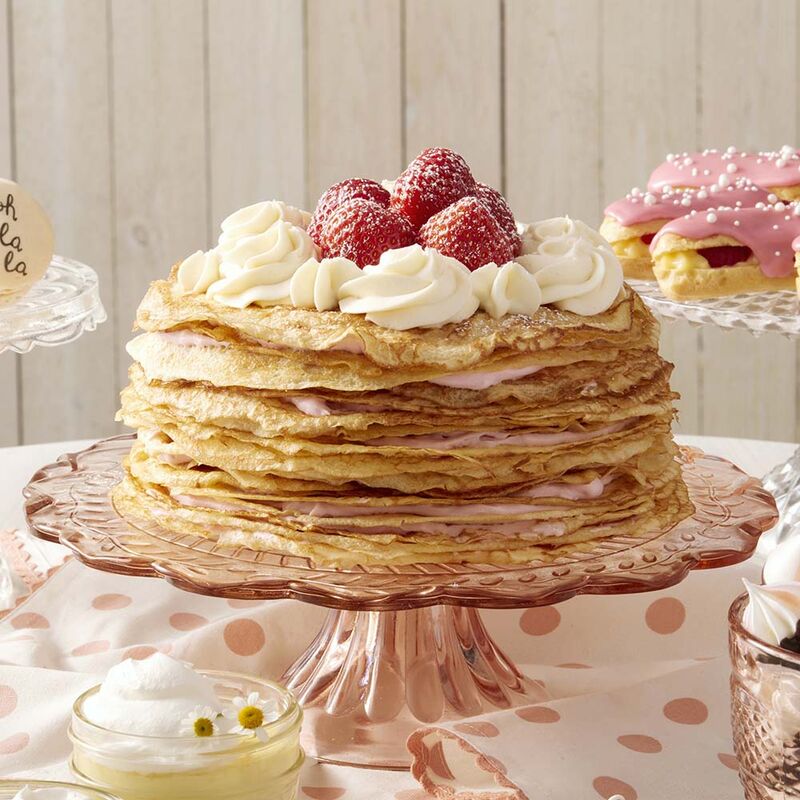 47. Strawberries and Cream Crepe Cake
We've all heard of breakfast for dinner, but what about breakfast for dessert? Topped with whipped cream and fresh strawberries, this lovely crepe cake is stacked high with delicious flavor.
48. Pink Grapefruit Cake
Add a little zip to your Easter celebration with this Pink Grapefruit Cake. A refreshing and flavorful treat your guests will love, this cake bakes up quickly and is easy to assemble and decorate. Top your cake with a few edible flowers and some grapefruit peel for an elegant (and easy) finishing touch.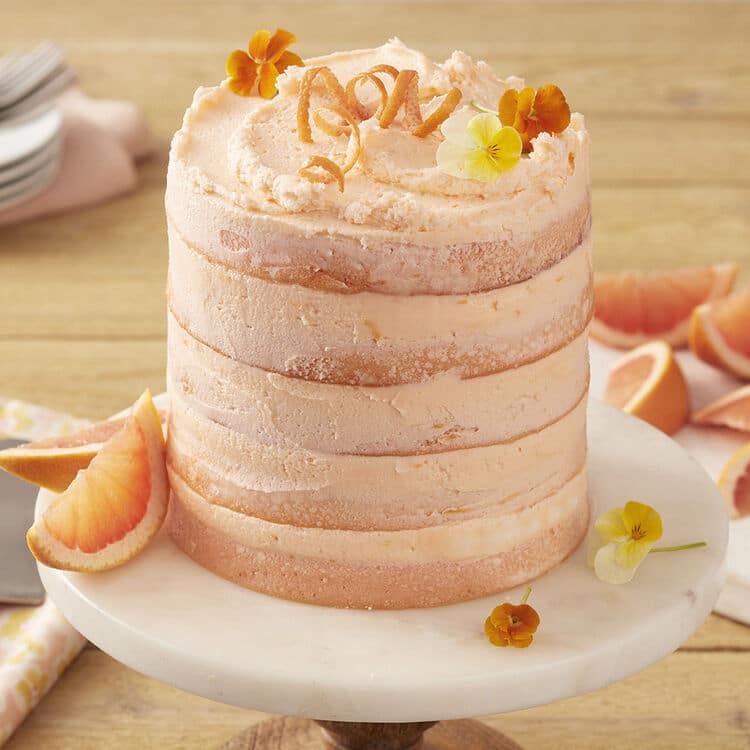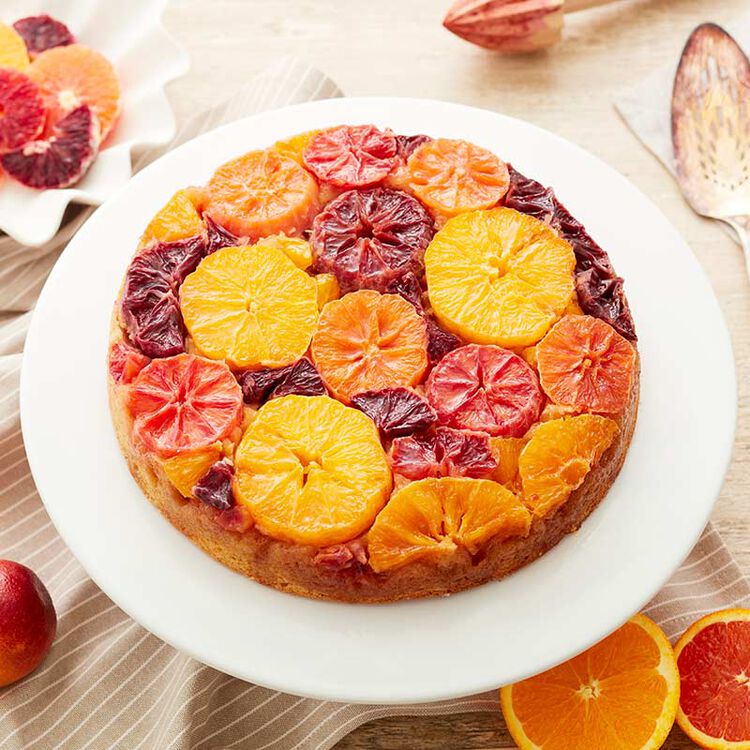 49. Triple Orange Upside-Down Cake
Finish your Easter meal on a colorful note with this Triple Orange Upside-Down Cake. Made using three varieties of oranges, this citrus-packed cake is a bright and bold way to highlight the flavors of the season.
50. Layered Blueberry Lemon Pavlova
As sweet and light as a cloud, this Layered Blueberry Lemon Pavlova is the perfect addition to your Easter celebration. Made using meringue, fresh fruit and fresh whipped cream, this delicate dessert is a dream come true!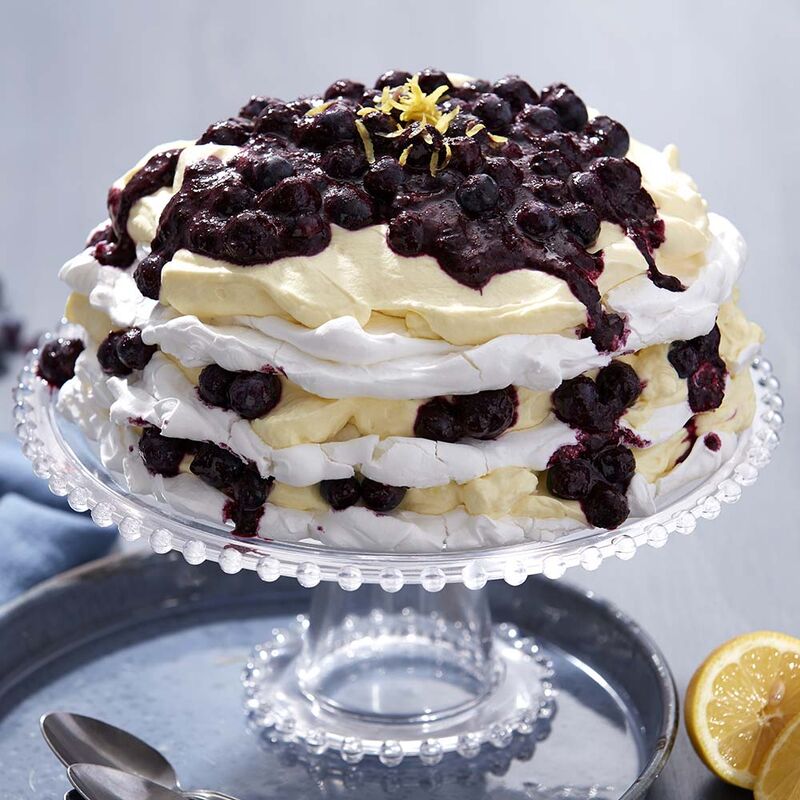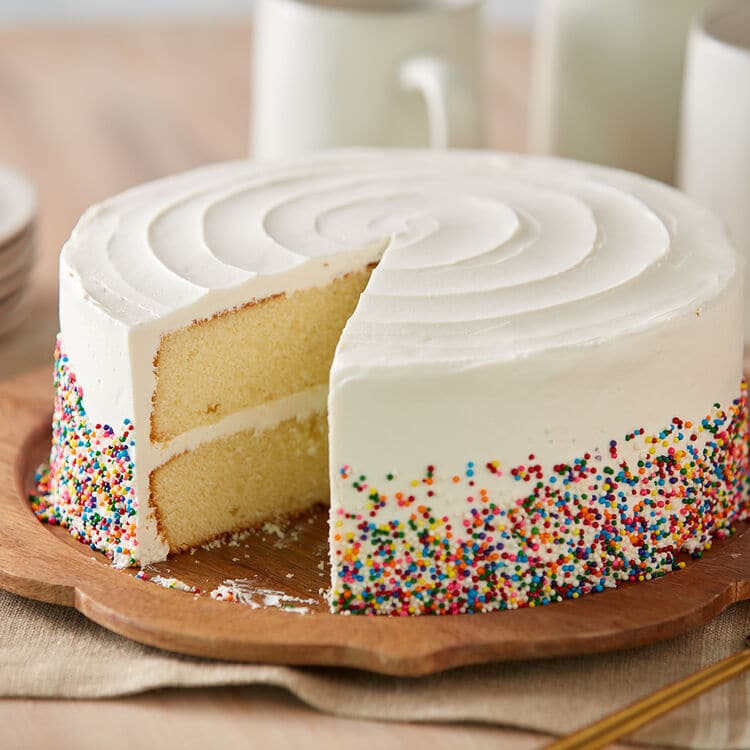 51. Fluffy Yellow Cake
Keep it simple and sweet with this Fluffy Yellow Cake. Featuring simple decorations, this cake is easy enough for the kids to make, too. Don't have nonpareils? Sprinkle your cake with jimmies, instead – or use your favorite variety of Easter sprinkles for something seasonal and fun!
52. Celebration Angel Food Cake
Everything is better with sprinkles, including this classic Angel Food Cake recipe. This festive treat has sprinkles added to the batter for fun pops of color baked right into the cake. Serve with a dollop of whipped cream for a delicious dessert that's sure to be well-loved by kids and adults alike.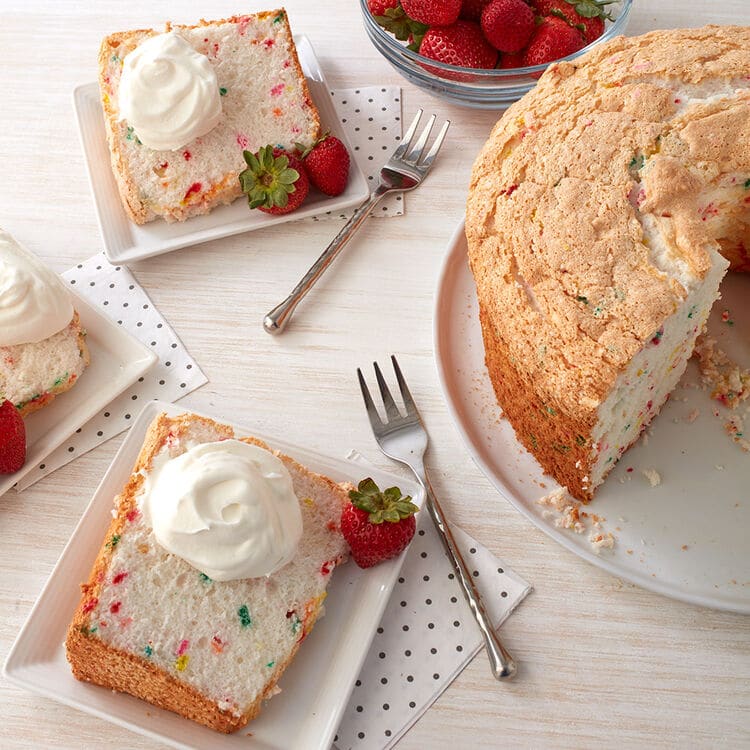 Looking for more Easter dessert decorating ideas? Check out our other Easter blog posts:
Which of these cakes would you like to make for Easter dessert? Let us know in the comments below or post a picture of your cake on Instagram and tag us ​@wiltoncakes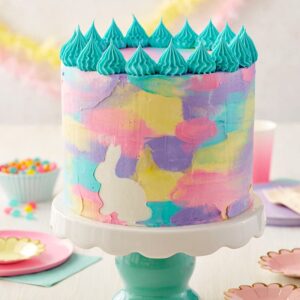 52 Easter Cake Ideas
Make a dessert that's worthy of the holiday dessert table with some inspiration from these 52 Easter cake ideas!
Tried this recipe?
Take a picture and tag us @WiltonCakes on Instagram