Whether you're celebrating with family or friends, Easter brunch is the perfect time to bring your loved ones together and show off your finesse in the kitchen.  Between creating the perfect menu to making sure everything is beautifully displayed, it's easy to get caught up in the details and lose sight of being present with your favorite people. That's why we're sharing our favorite tips for hosting an elegant-yet-simple Easter brunch. Cheers!
Greet arriving guests with a mimosa and Bloody Mary bar
Get the fun started by welcoming your guests with a mimosa or Bloody Mary bar. You can put the finishing touches on brunch, greet people and wrangle little ones while guests are distracted with creating their beverage. Pour juices into pretty pitchers, set out vegetables and garnishes on a tray and have glassware within reach. A customizable breakfast cocktail bar lets guests choose whether or not to make it a mocktail, too!
Prep make-ahead dishes for a stress-free party
Breakfast casseroles are a great way to satisfy everyone with minimal effort. These Easter-appropriate egg dishes are easy to make and and can be effortlessly adapted for guests with special diets. Now you can focus on whipping up Easter staples like deviled eggs and your famous hot cross buns.
Hide macarons in your flowers
It's no surprise that we're big fans of sweet things here at Wilton. We like to add an edible component to our table centerpieces. Arrange your favorite fresh-cut flowers in clear glass vases and place in the center of your table. Add spring-hued macarons to little glass dishes and display them among the flowers for an unexpected, sugary surprise. Check out our recipe here to make your own!
Use white tableware to show off your colorful dishes
From pastel linens to vibrant Easter foods, we know this holiday is a feast for the eyes. Up your brunch's Instagrammable factor by placing dishes on white tableware. White dinnerware will allow you to layer multiple colors without looking messy and create a fresh, springtime vibe.
Send kids (and adults) off with little goody bags
When guests are ready to depart, send them off with sweet memories of your party in the form of Easter candy bags. Fill the bags with Easter-themed candies and colorful jelly beans. Elevate your goody bags with these Candy Easter Eggs.
What are your secrets for pulling off the ultimate Easter brunch? Share your tips with us in the comments! Wishing you a Happy Easter and a beautiful spring from your friends at Wilton.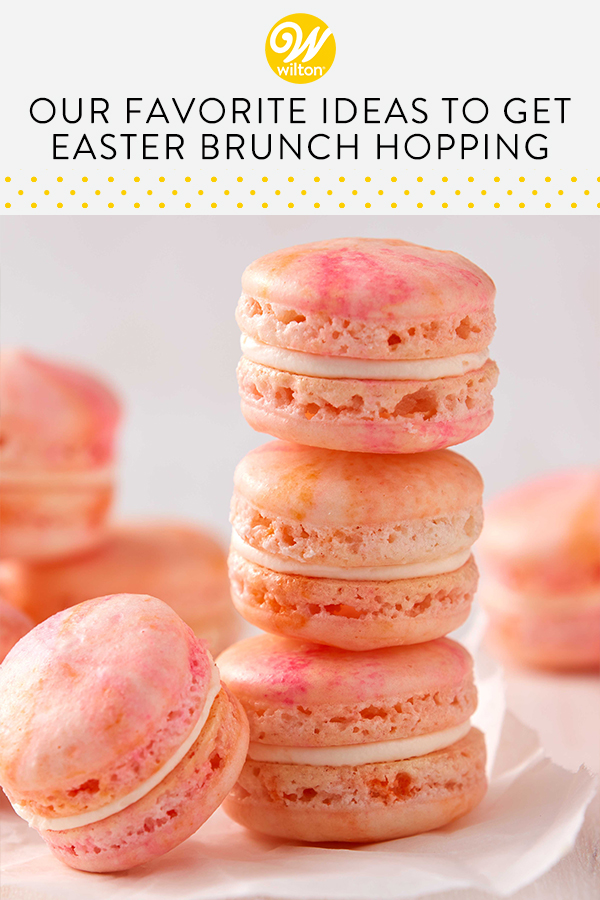 Share Your Treats!
Be sure to tag your photo
#BakeYourWorldHappy