These cute candy Easter egg cupcakes are pastel colored and made using Candy Melts Candy. Great to serve at your upcoming Easter celebration or spring shower, these pretty pastel treats are simply egg-trordinary!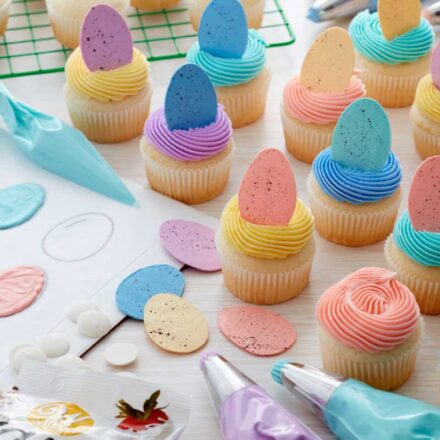 How to Make Easter Cupcakes
Equipment
Easter Egg Template

Cake board

5-PieceDecorating Brush Set

Star Decorating Tip 6B

Other helpful tools:

small microwave-safe mixing bowls (5), toothpicks, tape, scissors
Instructions
Step 1: Bake the cupcakes.

Prepare your cake batter following the recipe instructions. Bake and cool cupcakes in the white cupcake liners.

Step 2. Make candy eggs.

When your cupcakes bake and cool, you can start on the candy egg toppers. Start by dividing one 12 oz. bag of Bright White Candy Melts candy into 5 bowls. Melt candy in the bowls following package directions.

Using candy colors, tint one portion of candy each color:

Pastel Teal(combine Yellow and Blue candy colors)

Pastel Pink(combine Pink and Yellow candy colors)

Pastel Purple(combine Violet and Pink candy colors)

Pastel Blue(combine Blue and Pink candy colors)

Pastel Yellow(Yellow candy color)

Prepare 5 decorating bags, separately, with melted candy. Cut a ¼ in. tip at the end of each bag.

Print out the Easter egg template and place it on a cakeboard. Tape a piece of parchment paper over the template. Using cut bags, pipe eggs on the parchment paper. Use toothpicks to help smooth out the candy.

Place your candy eggs in the refrigerator to set, about 10to 15 minutes.

Step 3: Decorate eggs.

Once the candy is set, remove the eggs from the parchment paper and flip them over, with the smooth side facing you.

Mix together a small amount of Brown Color Dust and Lemon Extract to create an edible paint. Using the large flat decorating brush, flick color onto your candy eggs.

Let your speckled eggs dry, about 5 to 10 minutes.

Step 4: Tint buttercream.

Use icing colors to tint ¾ cup buttercream in each color:

Pastel Teal (Teal icing color)

Pastel Pink (combine Rose and Lemon Yellow icing colors)

Pastel Purple (combine Violet and Rose icing colors)

Pastel Blue (combine Royal Blue and Violet icing colors)

Pastel Yellow (combine Golden Yellow and Lemon Yellow icing colors)

Step 5: Decorate cupcakes.

Now we can put everything together! Prepare 5 decorating bags with tip 6B. Fill separately with pastel teal, pink, purple, blue and yellow buttercream.

Alternating colors, pipe a rosette on each cupcake.

Place a speckled egg on each cupcake, mixing colors as desired.
Tried this how-to?
Take a picture and tag us @WiltonCakes on Instagram!