Silicone or plastic chocolate molds are great for making your own candies. Available in a variety of styles and shapes, molds can be used with almost any chocolate or candy wafer to create cute, edible treats for gifting and decorating.
Great for packaging in gift bags or using to top cupcakes, molded chocolate is a fun and easy way to surprise your friends and family. Whether you're using a plastic or a silicone mold, there are a couple of chocolates you can use to make solid or filled treats.
Candy Melts Candy
Candy Melts are perfect for using with either plastic or silicone molds. They come in a range of colors and flavors and are easy to melt and pour.
To use Candy Melts candy with your mold, simply melt your candy in the microwave or in a double boiler (follow the instructions on the packaging for melting your candy).
For easier filling, we suggest transferring your melted candy to a decorating bag so you can pipe the melted candy into the mold.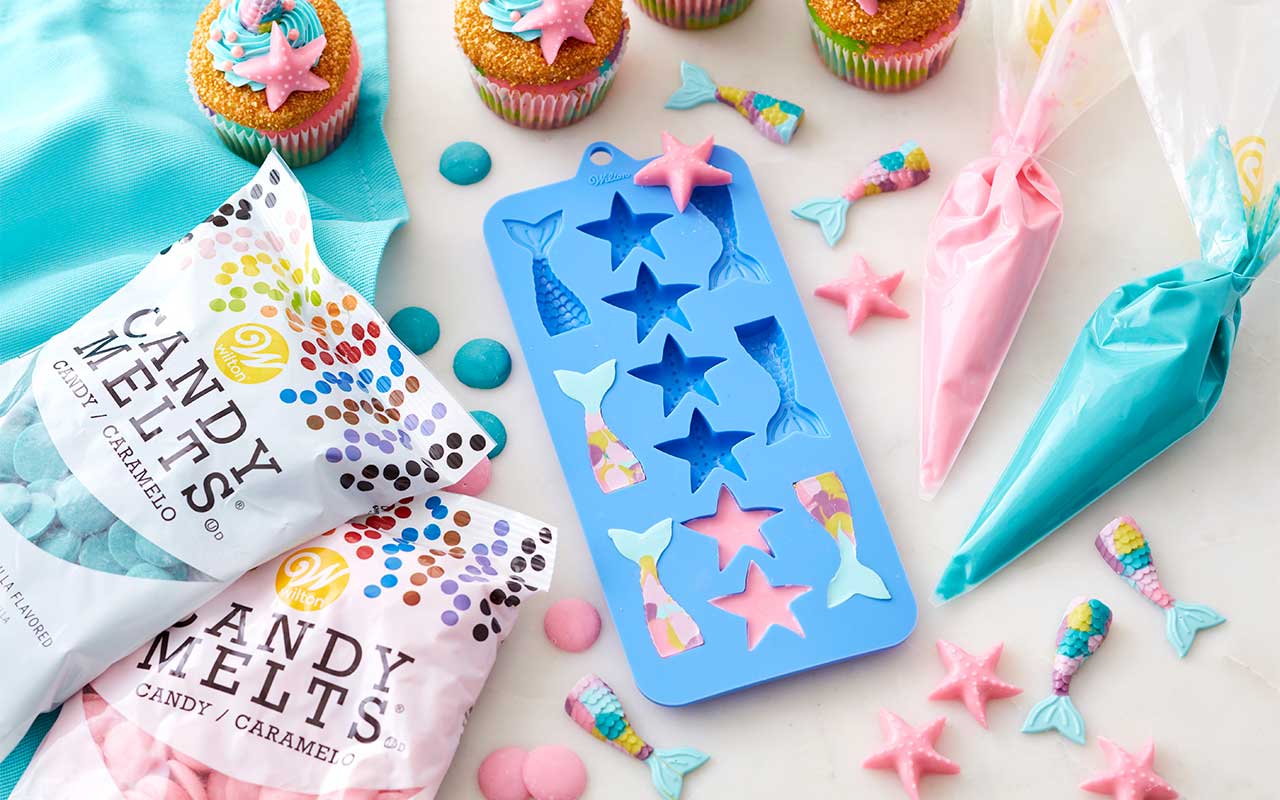 You can either fill your candy mold entirely with melted candy, or create a candy shell by filling the cavities, then pouring out the excess candy, leaving a thin coating around the inside of each cavity. These shells can be filled with peanut butter, ganache, nuts or even another color of Candy Melts!
Once your mold is filled, simply place it in the refrigerator to set the candy. Anywhere from 10 to 20 minutes should do it!
If you're using a silicone mold, place your mold on a flat surface, such as a cookie sheet or a cake board, so your candy sets evenly.
Once set, remove from the mold and use as desired. Candy Melts candy will keep its shape at room temperature, so extra refrigeration isn't necessary. If your kitchen is particularly warm, you can keep your molded candy in the refrigerator until you need it.
White, Milk or Dark Chocolate
You can also use silicone and plastic molds with white, milk or dark chocolate chips, wafers or bark. Follow the instructions on your chocolate for melting, then use a decorating bag to pipe the melted chocolate into your individual molds.
Chocolate will set at room temperature, but you can speed up the process by placing it in the refrigerator to set.
Once set, remove from the mold and use as desired. Unlike Candy Melts, chocolate will melt at warm temperatures, so it's best to keep your molded chocolate in the fridge if your kitchen is warm or you're not going to be using it right away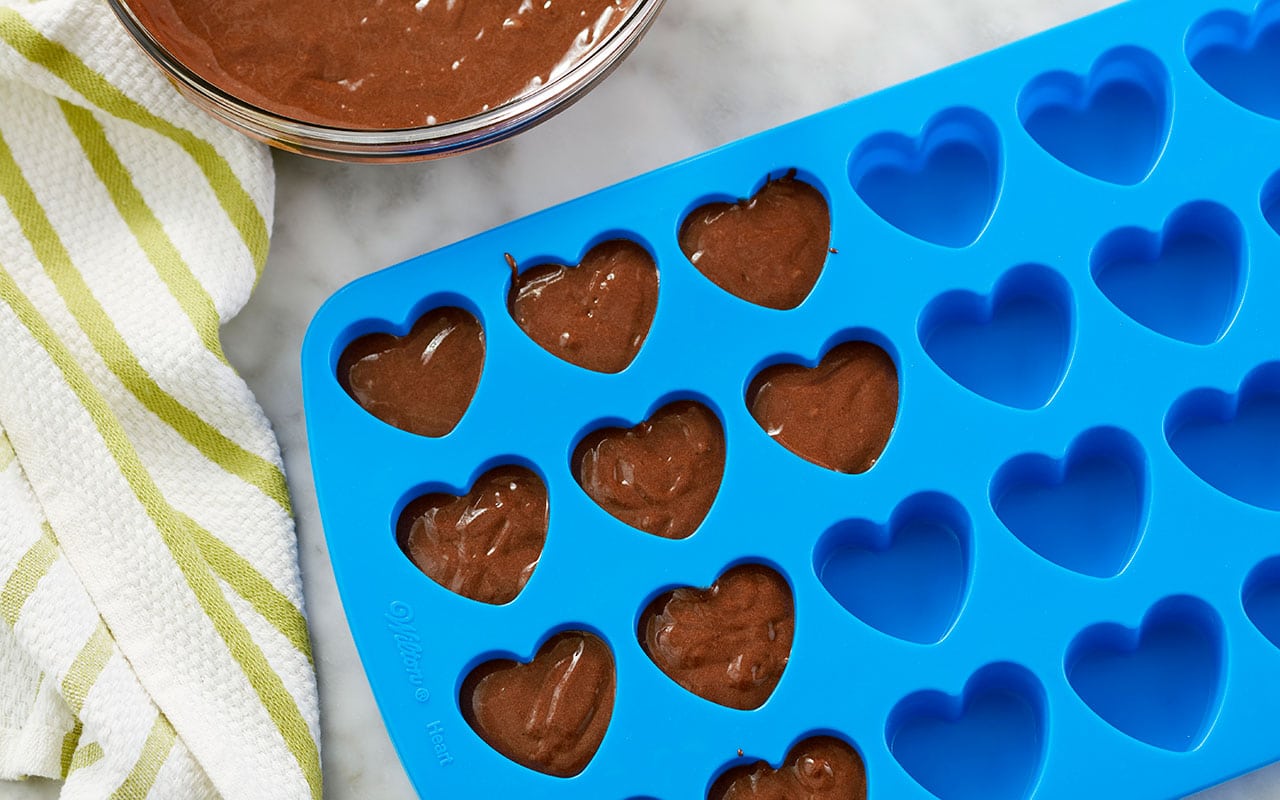 Candy Molds: We have a variety of plastic and silicone candy molds for any and all occasions! All Wilton candy molds can be used with melted chocolate or Candy Melts candy. The silicone molds can also be used with other ingredients, such as gelatin.
Piping Bags: Some candy molds have small cavities, which can be hard to fill. For easy filling, transfer your melted candy or chocolate to a disposable decorating bag, then pipe the candy into the molds.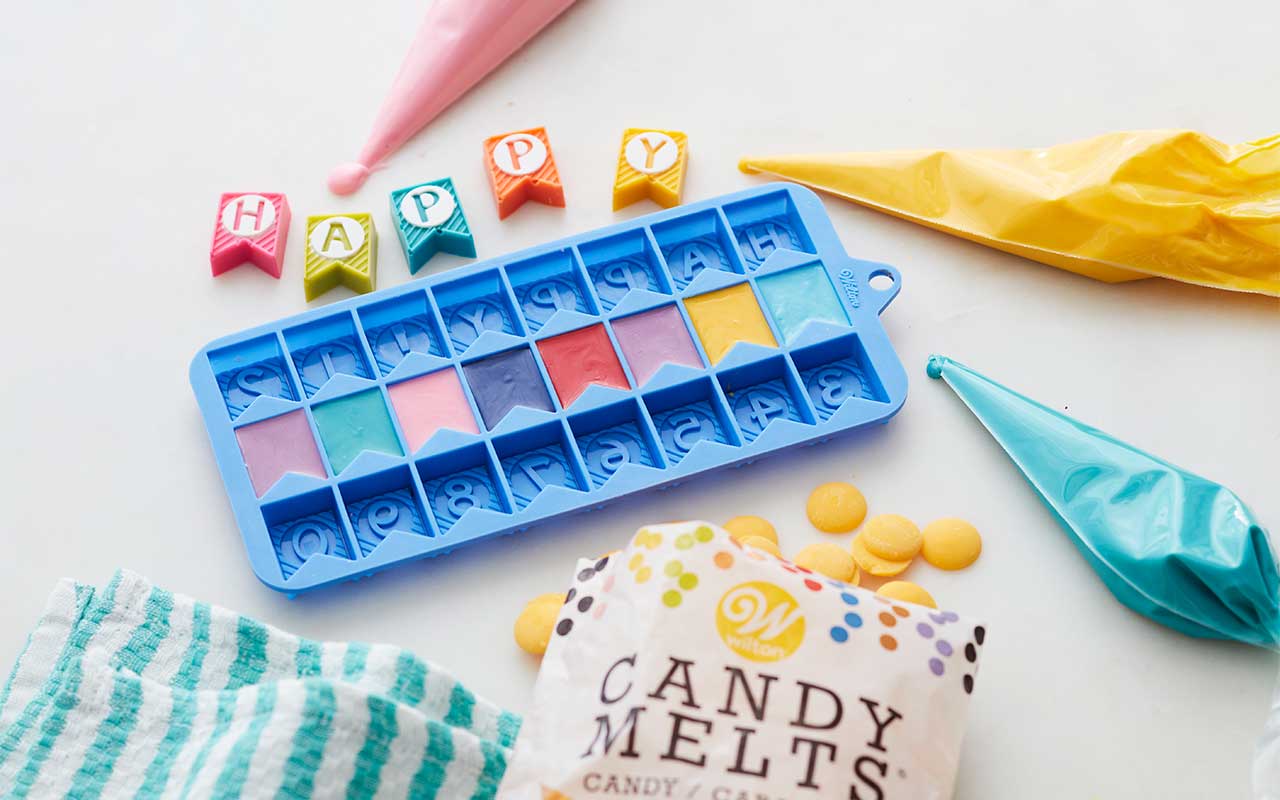 Food-Safe Brushes: Create neat candy effects with this set of food-safe brushes. You can use these brushes to create candy shells or add decorative elements to your molded chocolate.
Candy Colors: Can't find the candy color you need? You can create your own shades of Candy Melts candy using white or bright white melting wafers and this set of Candy Colors. Designed to work specifically with Candy Melts candy, these candy colors can be used individually or mixed together to create new shades.
Cookie Sheet: A small cookie sheet is great for transferring your molds in and out of the refrigerator, especially if you're using a silicone mold.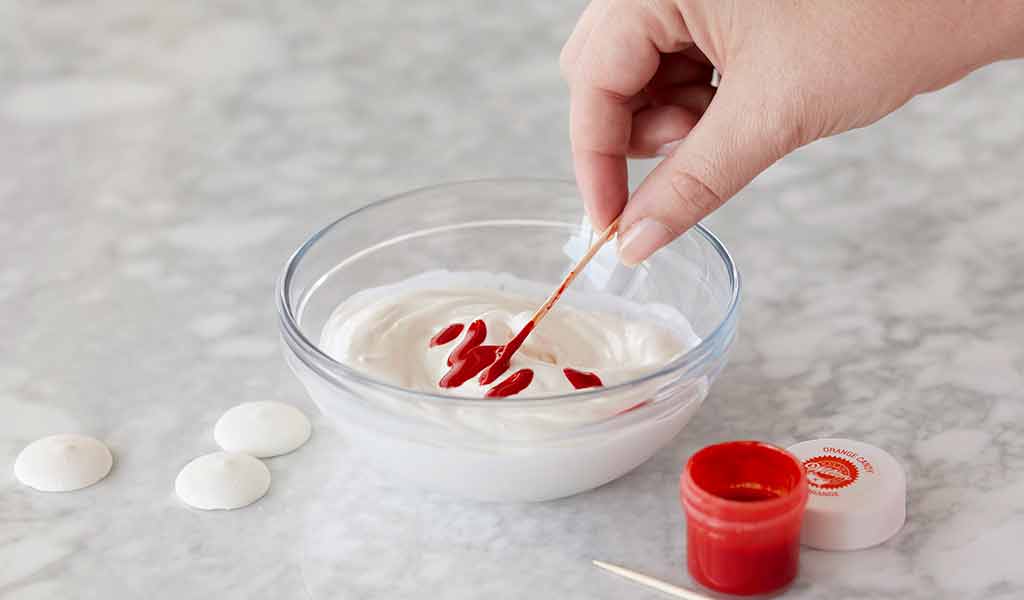 How to Use Molded Chocolate
You can use your molded chocolate to decorate cupcakes, cakes, cookies, brownies and more! They're also great for gifting! Package them in little favor bags or boxes and hand them out at your next party or celebration.