Eid Al-Adha is a Muslim festival that marks the pilgrimage to Mecca, Saudi Arabia. Every year millions of Muslims from around the world travel to Mecca to perform Hajj. The day after Hajj is when the Muslims celebrate Eid Al-Adha, which is celebrated for four days, with the first day typically packed with the most festivities.
Every year, the day before Eid Al-Adha, my family decorates the house with lights and star and crescent-shaped decorations. My two kids, who are 4 and 7 years old, are always excited to help out with the decorations and to wrap the gifts we bought them and their cousins. We usually have gift exchanges on the first day of Eid at my parents' house after we perform the Eid prayer.
My best childhood memories for Eid are getting henna designs on my hands and being excited to wear new outfits. I also remember helping my mom prepare the food for Eid. She likes to keep it traditional and cook Pakistani food, which has also influenced my baking.
This year, I have prepared two desserts for Eid . The first is a traditional and common Pakistani Eid dessert called Sheer Khurma and the second is a slightly cross-cultural Eid cake.
Today I will share with you my Sheer Khurma (vermicelli pudding) recipe. Sheer Khurma a rich milk-based dessert that is commonly made in South Asia on Eid.  It is simply toasted vermicelli and nuts cooked in milk. My secret is to add condensed milk instead of sugar. 
Sheer Khurma Recipe
Ingredients
4 cups of milk
5-6 small cardamoms (whole)
25 grams vermicelli (broken in roughly half inch pieces)
10 pistachios (blanched)
10 almonds (blanched)
5 dry dates (optional)
10 golden raisins (optional)
3 tablespoons ghee
1 can condensed milk
Few saffron strands (optional)
½ teaspoon rose water
Directions:
Boil dry fruits in water for 5 minutes.
Meanwhile, put milk, cardamom and saffron strands in a medium-sized pot over a low flame. Let it simmer slightly.
Strain dry fruits from water and pat dry.
Thinly slice dry fruits.
In a separate pan melt ghee. Toast the dry fruits in the melted ghee for a few minutes.
Add dried fruits to the milk, leaving behind a little bit of ghee.
In the same pan as the ghee, add vermicelli and toast for a 2-3 minutes on low heat.
Add the vermicelli and the left over ghee from the pan into the simmering milk.
Add condensed milk to the milk mixture.
Start boiling milk mixture over medium high heat, stirring constantly for 8-10 minutes until desired consistency. I like Sheer Khurma thicker than usual.
Add rose water and mix.
Dish it out and serve chilled. Decorate with thinly sliced almonds and pistachios.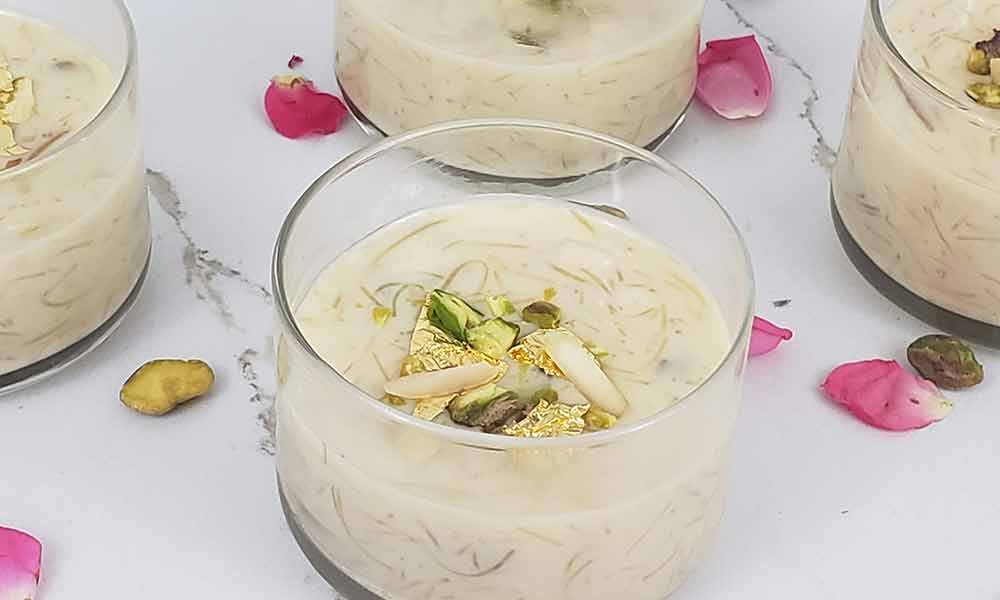 Eid Cake
My Eid cake includes rose, cardamom and pistachios, which are commonly used flavors in South Asian and Middle Eastern desserts. I think they go so well together in cakes too. I like to add half a teaspoon of cardamom powder, a teaspoon of rose water and a few strands of saffron to my vanilla cake batter. I add rose water to my buttercream too and crushed pistachios between the cake layers for a bit of crunch.
Learn how to make this beautiful Eid cake and more @glazinsweet.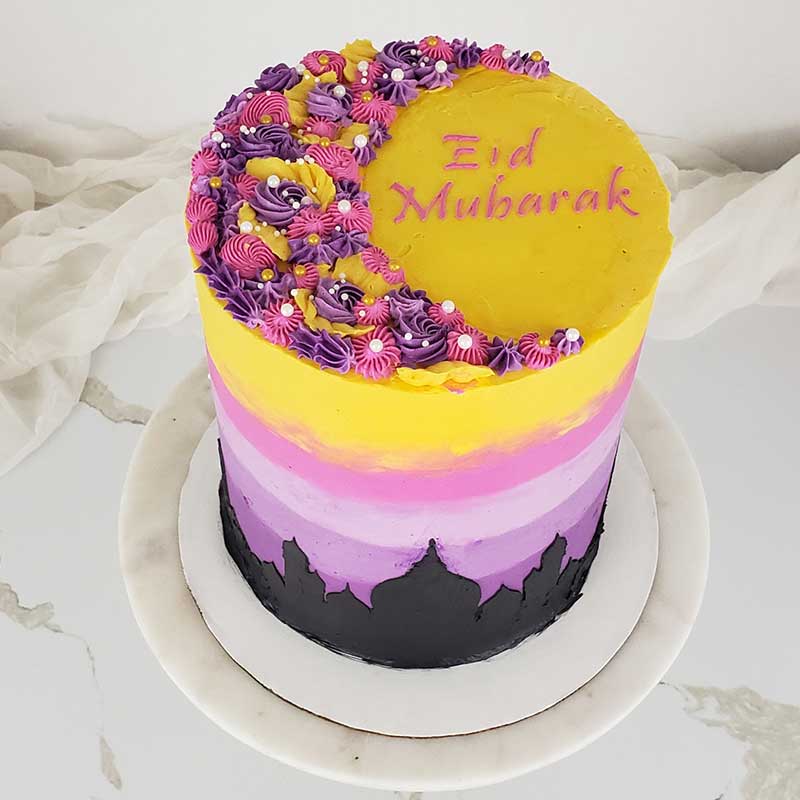 Do you have a favorite go-to Eid-Al-Adha dessert? Let us know what it is in the comments below!