Ever wonder what sprinkles are made of or how to make sprinkles at home? Look no further! This FAQ guide will answer all your questions.
Sprinkles are a quick and easy way to add color and texture to your treats, but ever wonder how to make homemade sprinkles or if they expire? Maybe you want to know how to make them yourself or are looking for some creative ways to use up the ones you have at home…well, we're here to help!
From how they're made to how to use them, this FAQ guide will walk you through everything you need to know!
What are sprinkles made of?
Sprinkles are made from a combination of sugar, corn starch, corn syrup and water. They can also contain artificial flavors or colors, depending on the type.
Do sprinkles expire?
Yes, sprinkles do expire. Most of them have a 'best by' date stamped on them, so try to use them within that time frame to enjoy them at their freshest!
Why do some sprinkles say, "not for baked application"? Are they edible?
Yes, your sprinkles are edible. If the container suggests "not for baked application", this just means we would recommend applying the sprinkles to a finished treat. If you apply the sprinkles prior to baking, they will melt while baking and lose their shape.
How to make sprinkles
Sprinkles are easy to make using our royal icing recipe. Prepare royal icing to stiff consistency, then color as desired. Using a piping bag and a round tip, pipe long lines of icing on parchment paper, then set aside to dry. Once dried, break or cut up into small pieces and sprinkle away!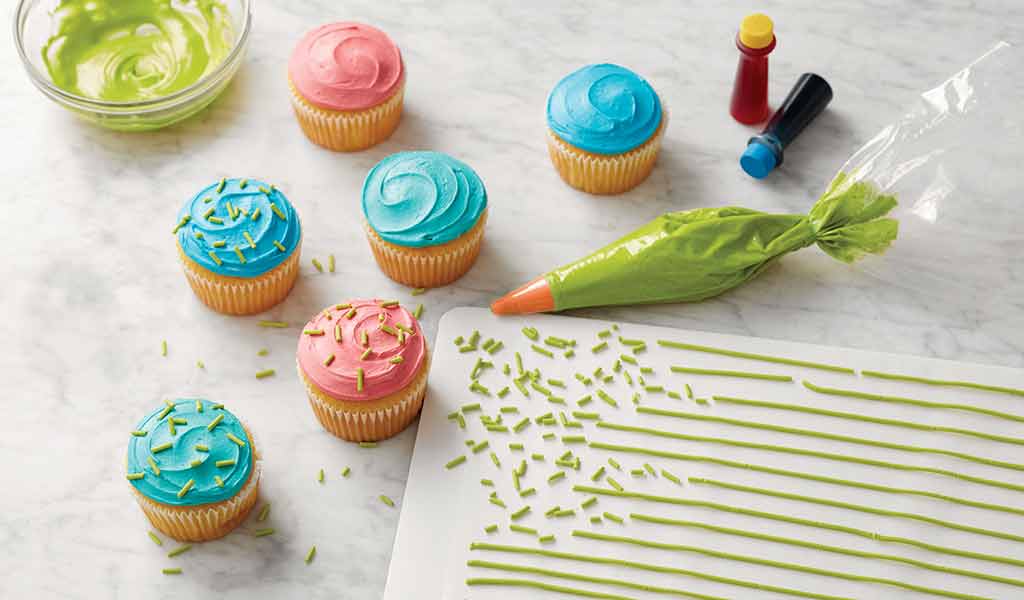 Are sprinkles gluten free?
Sprinkles are generally made from gluten free ingredients; however, there's always a risk of cross contamination if the manufacturing facility also processes wheat.
If you have a gluten intolerance, we suggest shopping for sprinkles that are made in a gluten free facility or making your own with royal icing!
How to decorate a cake with sprinkles
When it comes to putting sprinkles on a cake, there's no wrong way to do it! Add them gingerly to the top of your dessert or use them to completely cover your cake from top to bottom.
Looking for inspiration? Check out these colorful cakes!:
How to get sprinkles on the side of a cake
There are a couple ways to cover the side of your cake with sprinkles. You can pour them onto a baking sheet and roll your cake in them or you can use your hand to gently scoop and press them into the side of the cake.
The rolling method is great if you're decorating with sanding sugar or want to cover your entire cake. Place a cake board on the top and bottom of your cake, then gently roll it through the sprinkles mix. This Summer Watermelon Cake uses this technique to quickly make a watermelon using sanding sugar.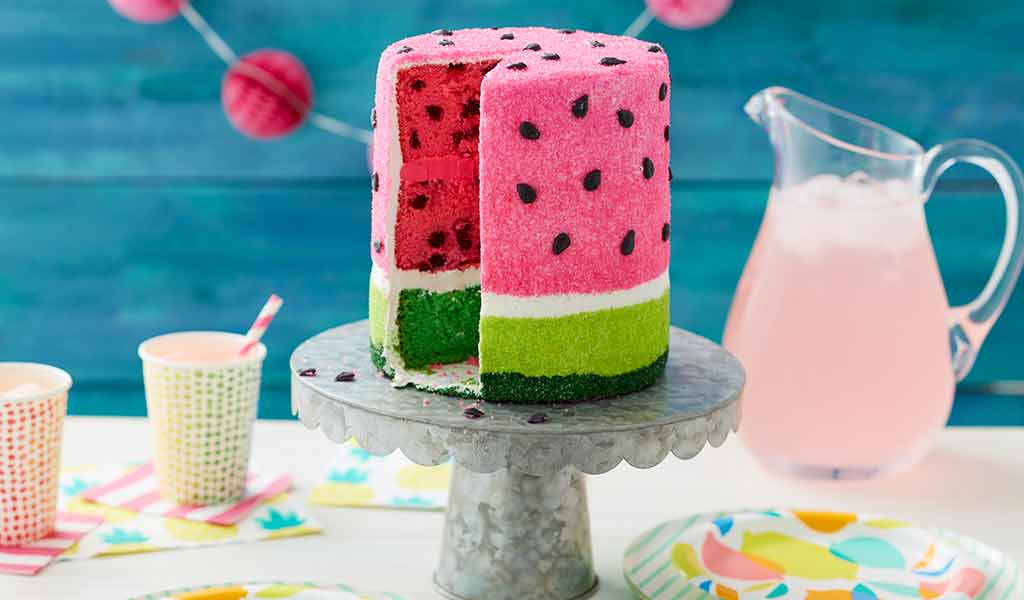 For sprinkle borders or to cover the sides of your cake, you can use your hand to gently press the sprinkles into the frosting. This Pastel Birthday Cake features a simple border using this technique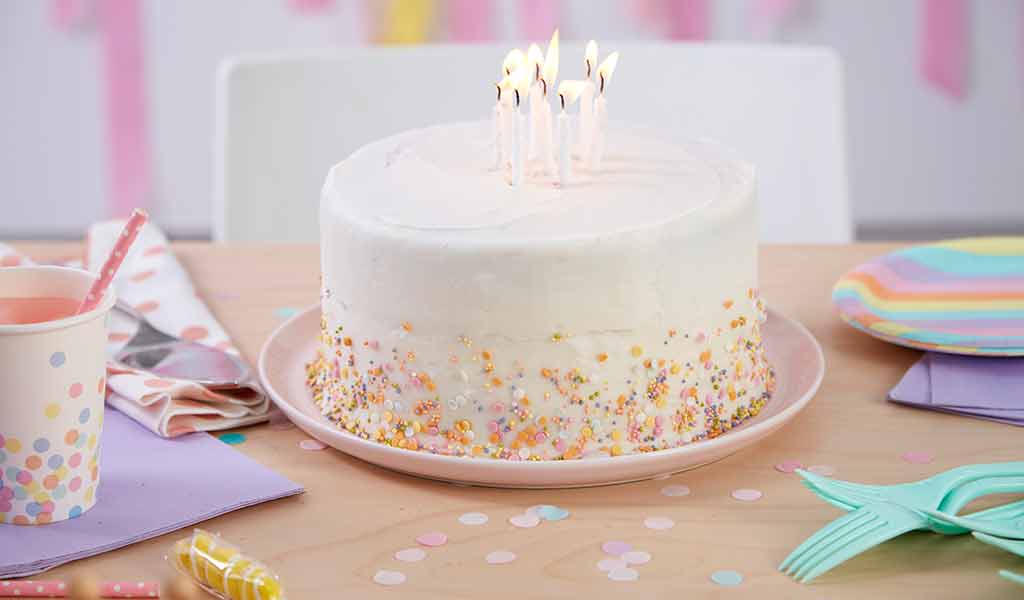 You can also elevate your cake above a cookie sheet, then use your hands to completely cover the sides of your cake (the cookie sheet will help catch the sprinkles that fall). This Sprinkle on the Fun Birthday Cake can be made using this method.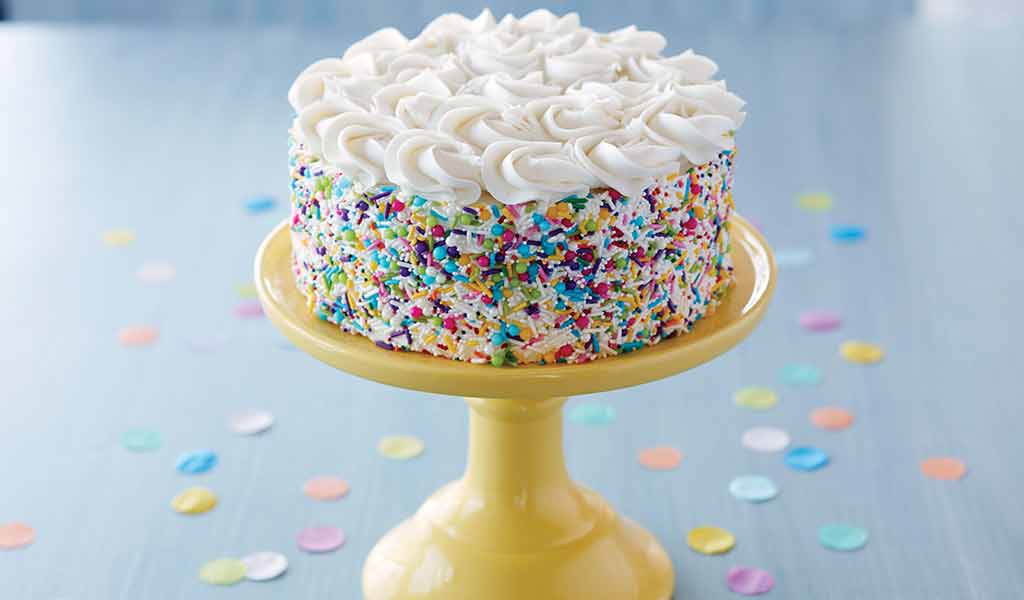 How to decorate sugar cookies with sprinkles
When it comes to sugar cookies, sprinkles can be used to decorate after baking or can be mixed into the dough for colorful confetti cookies.
When do you put sprinkles on sugar cookies?
If you're planning to decorate baked cookies, sprinkles can be added after the cookies have been iced in buttercream frosting. If you're decorating your cookies with royal icing, we suggest omitting the sprinkles, since the water in the royal icing could cause them to bleed.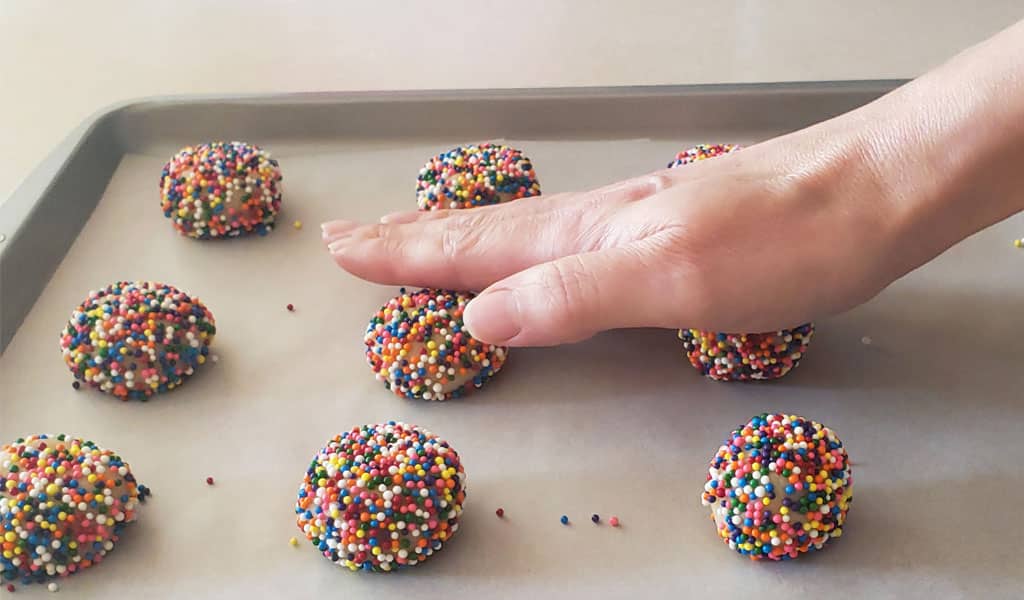 Do you put sprinkles on sugar cookies before baking?
If you want to make confetti cookies, you can add jimmies to your cookie dough before baking for added pops of color. You can also roll balls of dough in jimmies before baking so the sprinkles bake into the cookie.
Though it may be tempting to add shaped sprinkles to your dough, we suggest sticking with jimmies. Shaped sprinkles can melt and lose their shape if baked, so leave those for final decorating! Jimmies won't bleed when added to batter or dough, so they're great for making confetti cookies and cakes.
How to get sprinkles to stick to cookies
If your cookies have been baked, you can use frosting to help them stick to your treat. If you don't want to add frosting, you can also use a thin layer of piping gel. If your cookies have not been baked and the jimmies are not sticking, a light egg wash should help.
What other questions do you have about sprinkles? Let us know in the comments below!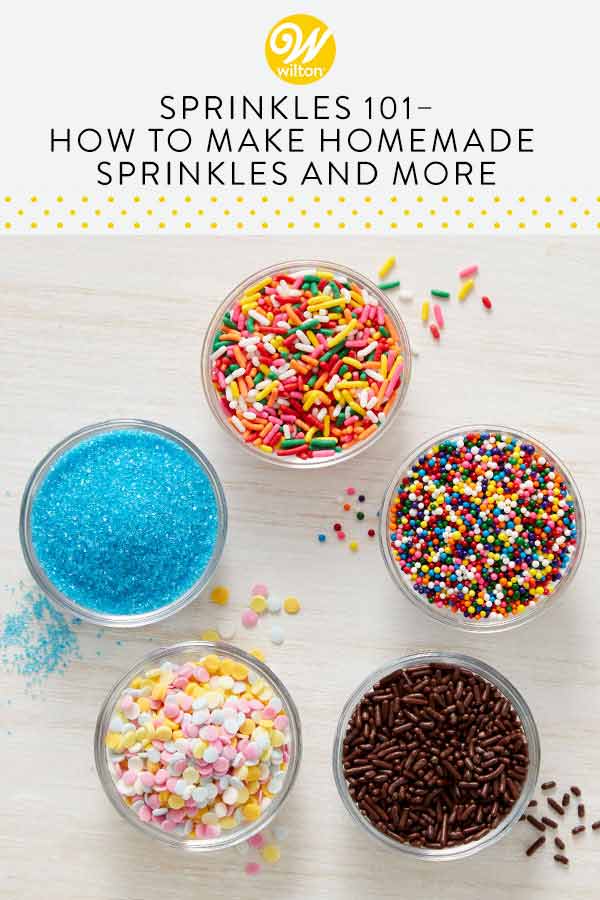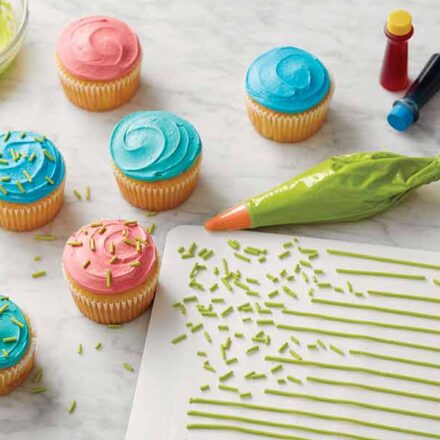 Easy Homemade Sprinkles
Skip the trip to the store with this simple and delicious sprinkles recipe. Made with only 3 ingredients in 20 minutes, these sprinkles are the perfect decorating quick fix.
Equipment
Electric Hand Mixer or Stand Mixer

Large Bowl

Spatula

Small spoon
Instructions
Prepare Royal Icing
Beat all ingredients until stiff peaks form (7-12 minutes)

Let icing sit for 15 minutes to let air bubble rise

Color as desired
Make Sprinkles
Pipe long lines of icing on parchment paper with a piping bag and round tip. Set aside to dry for about 12 hours.

Once dried, break or cut up into small pieces.
Tried this recipe?
Take a picture and tag us @WiltonCakes on Instagram