Learn how to bake cookies from scratch with this cookie baking guide. From using the right cookie sheet to finding the best soft and chewy cookie recipe, we'll walk you through the process step by step.
When I'm in need of a sweet treat, nothing hits the spot like a freshly baked cookie! Fresh out of the oven, an ooey, gooey chocolate chip cookie is just what I need to put me in a better mood.
Best of all, cookies are a breeze to make when you're prepared with the right tools and ingredients! From how to prepare your pan to how to freeze your cookie dough for later, this guide on how to bake cookies will take you through the process step by step, so you'll have soft, moist, delicious cookies ready for dunking!
Step 1: Preparing your cookie sheet
When it comes to pans, bake your cookies on a
non-stick cookie sheet
(unless the recipe says otherwise). The non-stick coating provides better release and makes the pan easier to clean! If you're making cookies with sprinkles, candies or lots of chocolate in them, you can also add parchment paper to your non-stick pan. This will help prevent the candy or sprinkles from burning. If you have an aluminum pan (which does not have a protective coating), prepare it with non-stick vegetable spray or a layer of parchment paper before baking so your cookies are easy to remove.
Other must-have cookie tools
Cookie Scoop
: Cookie scoops are great for getting uniform cookies that bake evenly.
The Really Big Spatula
: Every cookie lover needs this spatula in their kitchen! Wide and durable, this spatula makes it easy to remove several cookies from the pan at once (it's also great for flipping pancakes!).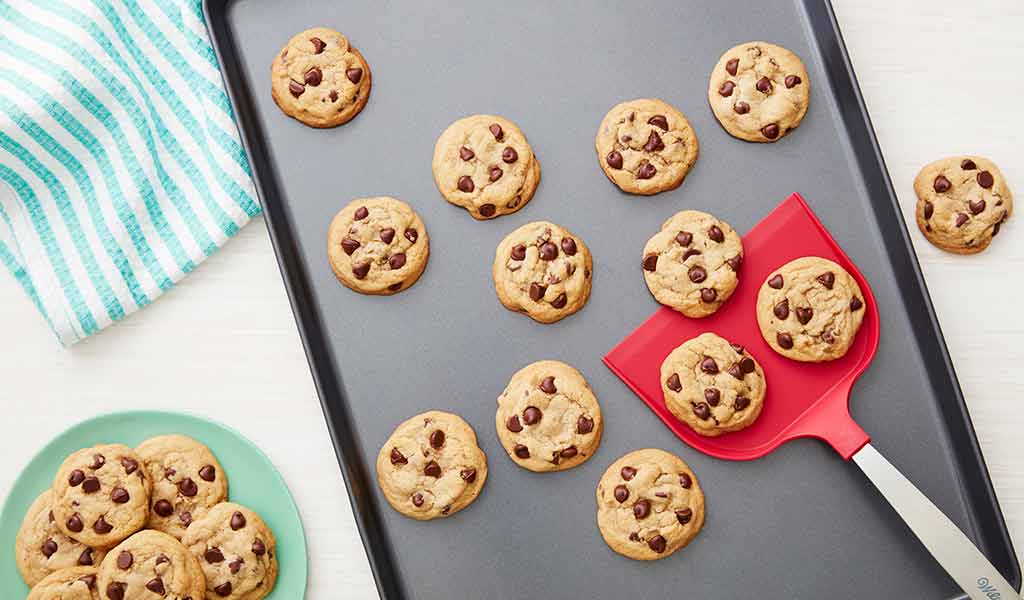 Step 2: Preparing your cookie dough recipe
Looking for soft and chewy sugar cookies or the best chocolate chips for chocolate chip cookies? These tips and tricks will help you bake the cookie of your dreams!
How to make cookies soft and chewy
It all comes down to the ingredients! For a moist, soft cookie, use brown sugar instead of granulated white sugar in your recipe. Brown sugar contains more moisture and will keep your cookies soft. Granulated white sugar is great for thin, crispy cookies, as it helps your dough spread on the pan. Another cookie secret from our Test Kitchen – chill your dough on the cookie sheet before putting it in the oven. This will slow down the spreading of your dough, resulting in thick, chewy, dunkable cookies!
How to make chocolate chip cookies from scratch
For a delicious chocolate chip cookie recipe, check out our blog post on
how to make homemade chocolate chip cookies
. With step-by-step instructions (and lots of helpful tips along the way!), this recipe is easy enough for bakers of all skill levels.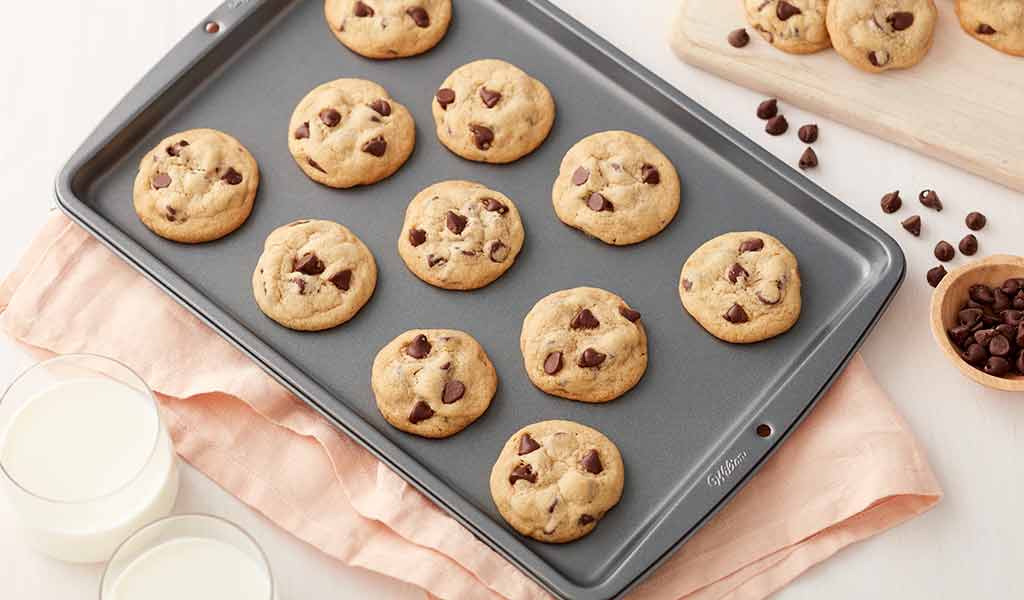 How to make gooey chocolate chip cookies
For a soft and gooey chocolate chip cookie, pay attention to the bake time. Remember, your cookies will continue to set after you pull them from the oven, so as soon as the edges start to brown, remove them from the heat. You can also stuff the middle of your cookie with a little piece of chocolate for an extra gooey center! Add a few more chocolate chips or even a piece of your favorite chocolate candy bar for the perfect soft center.
Best chocolate chips for chocolate chip cookies
This really comes down to a matter of taste, but for a gooey, sweet cookie, we suggest milk chocolate. Milk chocolate has added milk fats, so it's creamy and smooth when melted. Semi-sweet is another great option if you don't like the added sweetness of milk chocolate.
Easy sugar cookie recipe
This buttery and sweet
sugar cookie recipe
is just the thing to satisfy your sweet tooth! Roll these cookies in sprinkles before baking for added color and texture.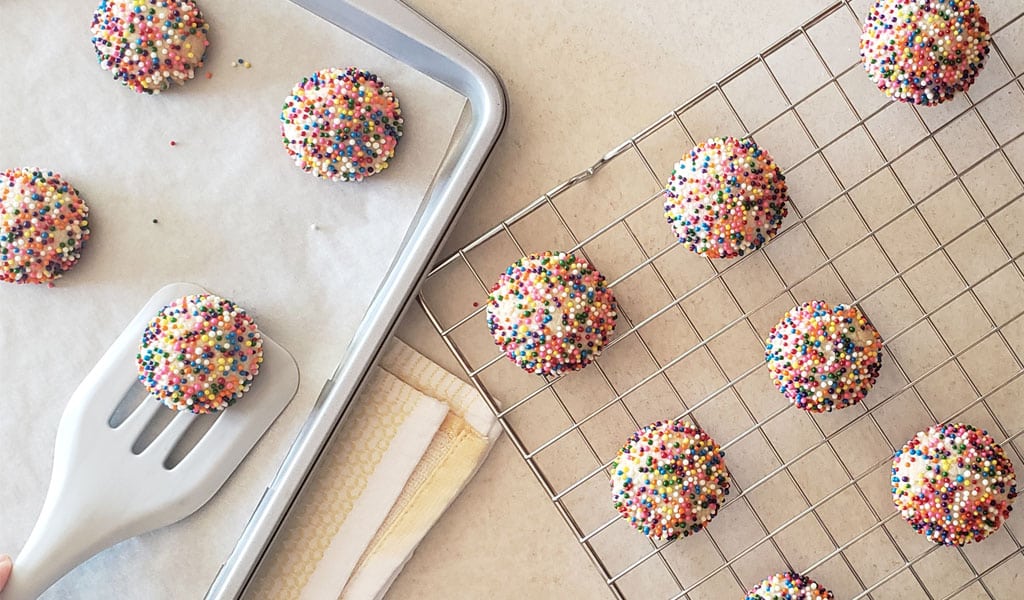 Step 3: Bake your cookies
Bake time for your cookies will depend on your recipe. Most recipes give a range, so lean towards the smaller number for softer cookies or the higher number for crispier cookies. Darker pans will also cause your cookies to bake faster, so if you're using a dark non-stick pan, check your cookies a few minutes before the bake time is up to see if they're done.
How to tell when cookies are done
Generally, your cookies should be firm to the touch and have a light brown edge. If the edges of your cookies are firm and don't make an indent when lightly pushed, they're done.
Why are my cookies flat?
Flat cookies are often a result of too much butter in your recipe. If your butter is too soft or even melted when you prepare your cookie dough, your cookies will spread in the oven. To prevent butter-heavy cookies from spreading, place them in the refrigerator to chill before baking, about 15 minutes should do it. This will help the butter firm up a bit and help the dough keep its shape.
Step 4: How to store cookies
After baking, make sure your cookies are completely cooled before storing. Place them in an airtight container or bag and keep at room temperature. You can also freeze them for several months. Wrap them in plastic wrap, then aluminum foil, and freeze until ready to eat. When ready to eat, remove cookies from the plastic wrap and foil and spread out at room temperature to defrost.
How to freeze cookie dough
If you're not ready to bake right away, you can freeze raw cookie dough by wrapping it tightly in plastic wrap, then placing it in a freezer bag. Stored this way, your dough should last several months. For slice and bake cookies, shape your dough into a log before freezing for easier cutting. For drop cookies, like chocolate chip cookies, form cookie dough into small balls and place in a reusable freezer bag.
How to bake frozen cookie dough
If your cookie dough is already formed and ready to bake (sliced or shaped into balls), you can place the frozen cookie dough on your baking sheet and bake it straight from the freezer (it may take 2 to 3 minutes longer to finish baking). If your dough is not formed and needs to be scooped or shaped, let it defrost in the refrigerator for 24 hours before using.
How to keep cookies fresh
Most cookies will stay fresh when stored in an airtight container at room temperature for about 3 days. If you're planning to keep them longer than 3 days, store them in the freezer to help them maintain their freshness!
What other cookie tips and tricks do you have? Let us know in the comments below! And if you're baking cookies this weekend, don't forget to post a picture on social media and tag us 
@wiltoncakes
so we can see!
​Looking for some delicious cookie recipes?  Check these out: