Is it macaron or macaroon? If you've ever wondered what the difference is between these two cookies, you've come to the right place!
Though their names are almost identical, macarons and macaroons are two very different cookies. One is a light sandwiched treat while the other is a rich and dense drop cookie. They not only differ in ingredients, but also taste, preparation and texture.
The confusion likely came from the similar spellings and shared history – both cookies are descendants of an Italian cookie made with egg whites, almonds and sugar. Today, the only thing connecting the two is their use of egg whites – and how delicious they both are! Let's take a deeper dive into what separates macarons from macaroons.
What is a macaron?
A macaron is a Parisian-style sandwich cookie made from ground almond flour, egg whites and confectioners' sugar. The batter is piped and baked, resulting in a cookie with a smooth surface, hollow center and trademark "feet".
These light and airy meringues are then formed into sandwich cookies, often filled with ganache, jam or buttercream frosting. They have a sweet, chewy center and a crunchy shell-like surface.
How to pronounce macaron
Macaron is pronounced "mac-ar-ON", with the accent on the last syllable of the word.
How to make macarons
Macarons are made using almond flour, egg whites and confectioners' sugar. Batter can also be colored using gel food coloring.
When it comes to preparation, macarons are a bit finicky. Though they do require some patience and practice, they're by no means impossible to make. Check out our guide on how to make macarons, which walks you through the process step by step.
Still feeling a little intimidated? Find answers to all your macaron questions in our macaron troubleshooting guide, which guides you through common macaron issues, such as hollow shells, cracked tops and macarons that don't have feet.
More macaron recipes
Since macarons are piped, they lend themselves well to fun designs and shapes. However, even the smallest amount of liquid can alter the consistency of these cookie shells.
We suggest only adding food coloring to the macaron batter. Leave the flavor additions for the filling! Try your cookies with buttercream, jam, ganache, lemon curd, peanut butter and more!
These Cute Kitty Macarons are puuur-fect for your next birthday party or celebration. A sweet buttercream filling holds these sandwiches together, but you could easily use ganache or jam instead.
Take a walk on the wild side with these Animal Print Macarons. Decorated with edible markers and decorating powder, these cookies are great for packaging and gifting to family and friends.
When life gives you limes, make macarons! Filled with a zesty key lime buttercream, these Key Lime Macarons are a little bite of summer that pairs well with a sweet summer margarita!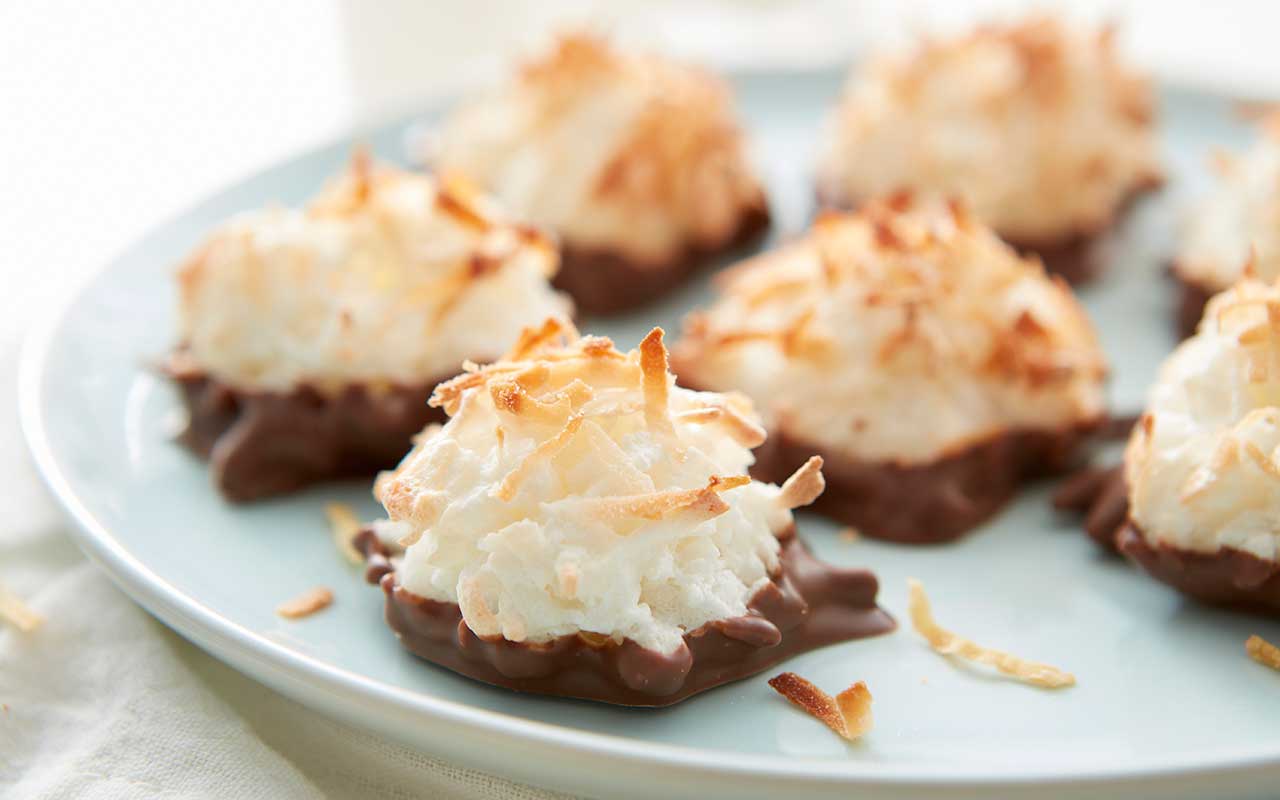 What is a macaroon?
A macaroon is a drop cookie made from shredded coconut and held together with egg whites and granulated sugar. They are very dense and chewy and often dipped or drizzled in chocolate for added sweetness.
These tasty treats look more like coconut mounds than traditional cookies. They are much easier to make than macarons and can be customized with other flavorful add-ins, such as chocolate chips, nuts or dried fruit.
How to pronounce macaroon
Macaroon is pronounced "mac-ar-OON". The last syllable should rhyme with "noon" or "tune".
How to make macaroons
Macaroons are made using shredded coconut, egg whites and granulated sugar. All the ingredients are combined in a bowl, then cookies are dropped onto a baking sheet by the tablespoon to bake.
Once baked and cooled, cookies can be left as is or dipped and drizzled with melted chocolate for added sweetness.
Since these cookies are leavened with egg whites instead of flour or baking powder, macaroons are often served during the Jewish celebration of Passover.
If you're nuts for coconut, you can try making these sweet treats using our Easy Chocolate Coconut Macaroon recipe, great for beginners and seasoned bakers.
More macaroon recipes
Once you have a standard macaroon recipe, you can create any number of tasty macaroons! Try adding in some mini chocolate chips, or dip your macaroons in white or dark chocolate for added flavor.
For a bigger bite of chewy coconut flavor, try these Chocolate Macaroon Bars. They start with a buttery shortbread crust, then layers of chocolate and coconut are added for a sweet dessert that's perfect for any celebration.
Are you team macaron or macaroon? Let us know in the comments below!