Raising two little princesses brings to my world lots of joy, glitter and, let's face it, drama.
I can share with you the specific details of how, during Christmas/Hanukkah time, they feel "left out" that Santa is not coming for a visit for the obvious reason: we're Jewish. But instead I'm just going to share my way of spreading the joy during the Festival of Light​
​
The fact that Hanukkah shares a time slot with Christmas means overload of sprinkles, gingerbread cookies and lots of baking fun. And it is a great way to show my girls what the holidays are truly about. Ugly sweaters.
JK, JK, JK (it's also about cookies) but the generous aunt who loves to knit sweaters is a universal phenomenon and 'ugly sweater' is ugly no matter what  holiday you are celebrating, which continent you're living in  or what language you are speaking.
And thankfully it is so much fun to turn into a cookie.
​
Ugly Hanukkah Sweater Cookies
To bake these cookies, I used a traditional Gingerbread recipe. I love that it is an unusual treat from what you would normally expect during Hanukkah, like stuffed donuts and latkes. For the shapes, I simply printed sweater and a dreidel images and traced it over the cookie dough.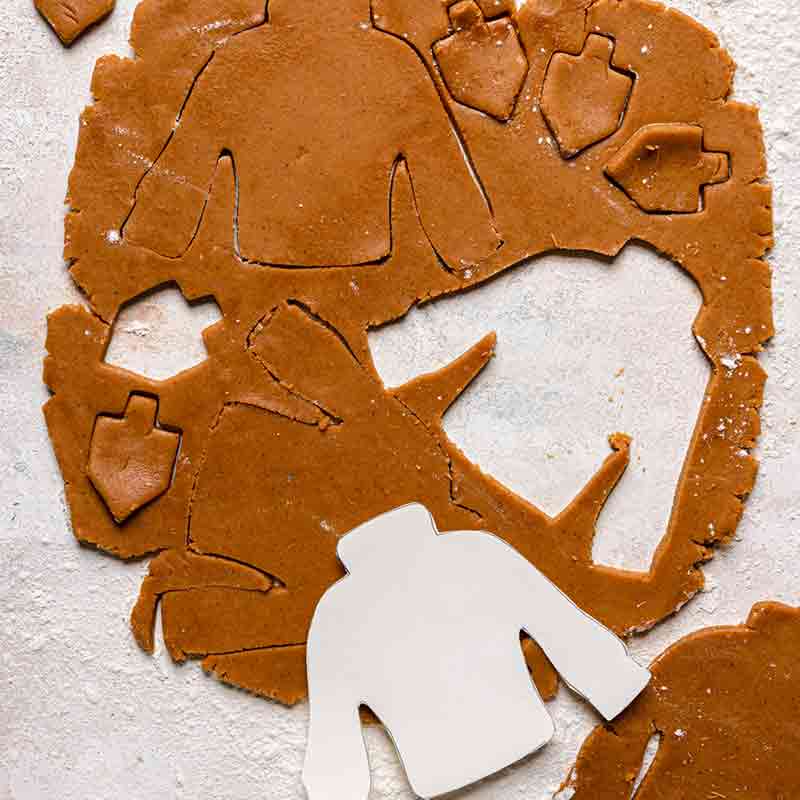 Once the cookies have cooled, I just imagined which designs would make my loved ones look super "festive" and just decorated the cookies with that design in mind.
The best part is that you can't go wrong! With ugly sweaters, the way to "perfect" is by doing the complete opposite. Remember that this is an UGLY sweater cookie and I highly recommend the following:
Go heavy on the blue, white and gold
Don't be shy with the dreidels
Remember, there is always room for some more sprinkles!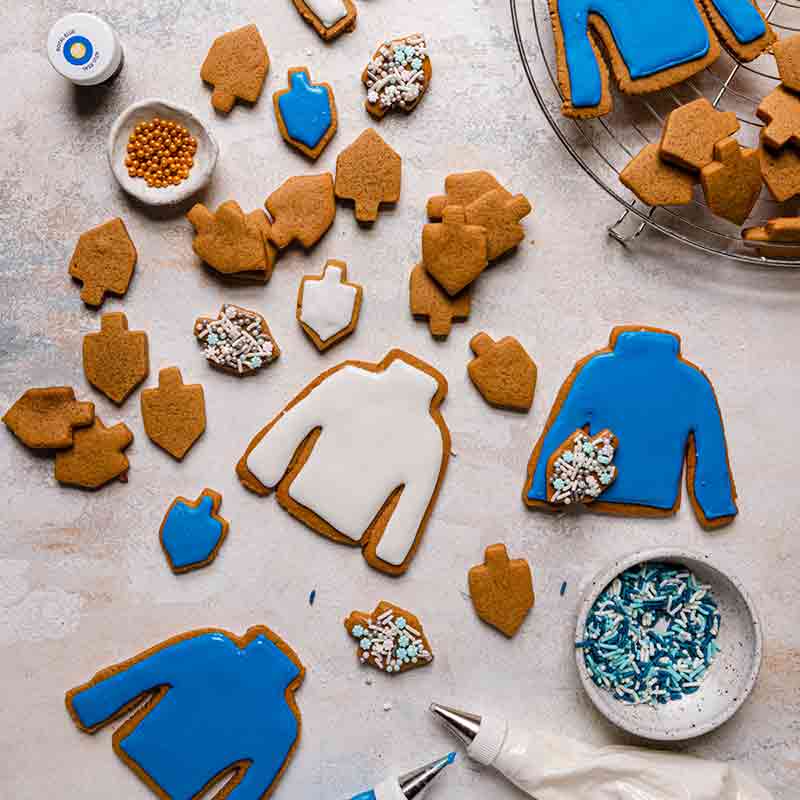 Here are some more tips and pointers:
To decorate these cookies, I used royal icing – which I colored with Royal Blue icing color – but you can also use buttercream.
Another way to apply sprinkles on the cookies is to brush the cookies with some warm milk then press the sprinkles on top.
To "glue" a dreidel on the sweater, allow the icing on the sweater cookie to dry. Place a small amount of icing on the back of the dreidel and gently press onto the sweater cookie.
When using royal icing, I like to use tips #1 and #2 for the borders and tip #5 to fill.
Links to the products I used: