A sweet poem to welcome the festival of lights, Diwali.
​
​
Our hearts are glowing with happiness and cheer.
Our homes illuminated with light and color.
New hopes of luck and prosperity we aspire.
It is time to share love & embrace each other.
2020, you're tough, but our spirits aren't any less bright.
Light a lamp of hope, as Diwali is here. 
​
What is Diwali
Diwali symbolizes the victory of good over evil.  According to the Hindu mythology, Diwali is the day when Lord Rama and his wife Goddess Sita returned to their homeland, after defeating evil king Ravana.
People lit oil lamps to guide them on their way and celebrate the victory. Ever since then, the tradition of lighting diyas continues.
Diwali usually falls in October or November every year, depending on the moon cycle.  It's a five-day long festival. Each day holds its significance. People across various regions of India celebrate it differently.
How is Diwali Celebrated
Diwlai is a five-day long festival. Each day holds its significance. People across various regions of India celebrate it differently.
The 3rd day is the main Diwali day. It's a new moon day, the 15th day of Kartik (the holiest month in Hindu Lunar calendar).
On this day, prayers are offered to Goddess Lakshmi and Lord Ganesha, as they are believed to bring good fortune, wealth, and prosperity.
We clean our homes, illuminate it with diyas and make colored sand art (Rangolis). The sky filled with fireworks is a treat to eyes. We wear new clothes, meet our loved ones, feast and exchange gifts.
It's a good time to start new ventures, buy jewelry, donate and appreciate everyday heroes. The 5th day is dedicated to celebrating sister-brother bond.
I have some beautiful childhood memories of Diwali holidays. I and my sister made beautiful Rangolis. We were always excited to wear new clothes. We would decorate our house doors with marigold garlands. It was always fun to meet our cousins.
Diwali Desserts
My mom made some yummy diwali treats like Ghujiya, Gajar Halwa, shakkar paras, Chakris, rice puff chivdas, and papadums.
Diwali would be incomplete without the mention of yummy Indian sweets like Gulab-Jamun, Rasmalai, Jalebi and laddoo.
This year, despite what is going on, I am excited. I have a new dessert addition for my sweet family.  A colorful Diwali cake inspired by Indian dessert Rasmalai.
​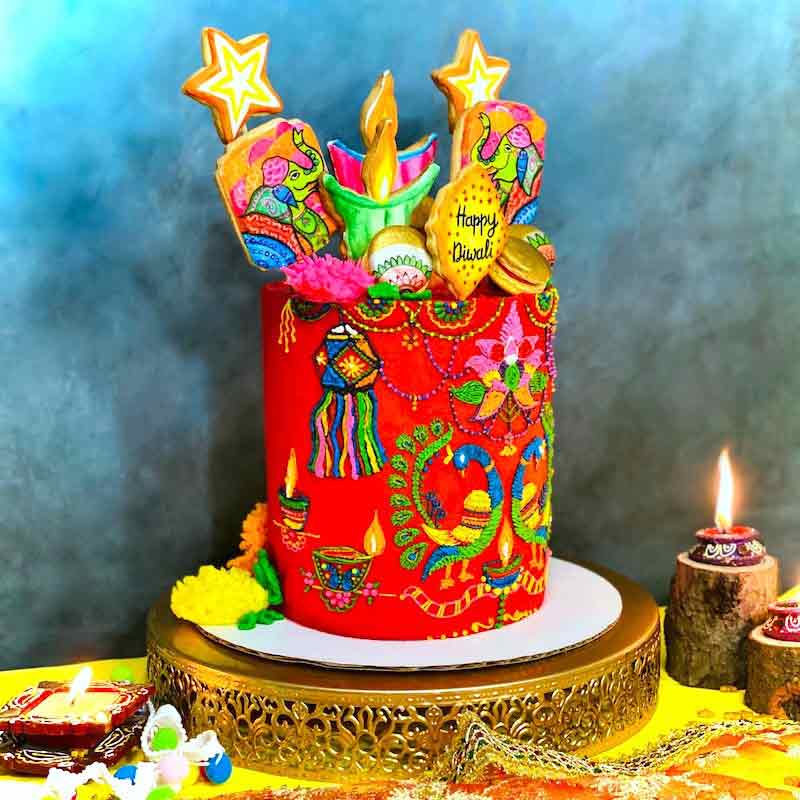 The saffron and cardamom flavored cake sponges are soaked in Rasmalai milk and filled with Gulkand (rose petal jam) whipped cream and mini Rasgullas.
Trust me, these flavors taste amazing in a cake. The top of the cake is adorned with cardamom and rose flavored cookies and macarons.