Eid ul-Fitr is one of the major Muslim holidays and marks the end of the holy month of Ramadan, when Muslims fast from dawn until sunset. The Islamic calendar follows the lunar cycle, and Eid begins at sunset on the night of the first sighting of the crescent moon.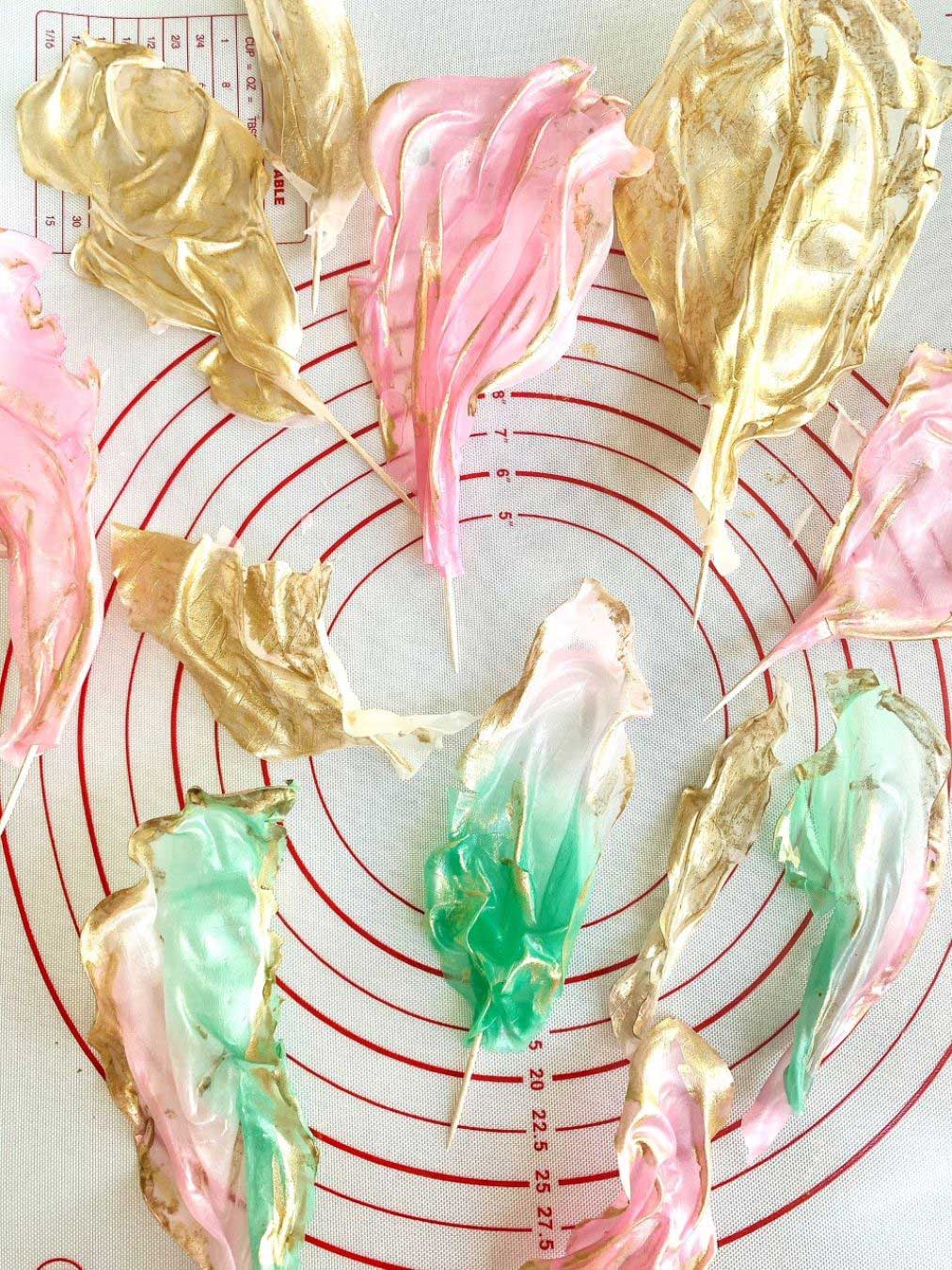 Eid day starts with a congregational prayer, with wishes of "Eid Mubarak!" ("Blessed Eid!") heard all around. During Ramadan, Muslims donate generously to the less fortunate, and carry this generosity into Eid by giving a charity, Zakat-ul-Fitr, to the poor and needy of the community.
Eid also celebrates cultural clothing and food. Growing up as a Pakistani child in Ottawa, Canada, my maternal grandmother in Pakistan would mail new shalwar kameez, traditional outfits, as Eid gifts for me and my siblings; brightly colored and adorned with beautiful embroidery and sequins. The night before Eid, my mother would apply henna to my hands and I would show off the dark stained designs the next day to everyone.
On Eid morning, my mother spent hours preparing traditional foods, and the fragrant aromas of biryani, haleem, sheer kurma, gulab jamun, and other dishes would waft through the house. Pakistani desserts are often accented with hints of cardamom, and rosewater.
Mango Kulfi Cake
With my interest in fusion desserts, I like combining the traditional flavors of mango kulfi (a frozen dessert) – cardamom and mango- with Western cake decorating techniques. My mango kulfi cake (pictured here) consists of mango-cardamom cake layers and mango buttercream filling. The sprinkle décor is reminiscent of sequins found on Pakistani shalwar kameez. The rice paper sails add some extra flair!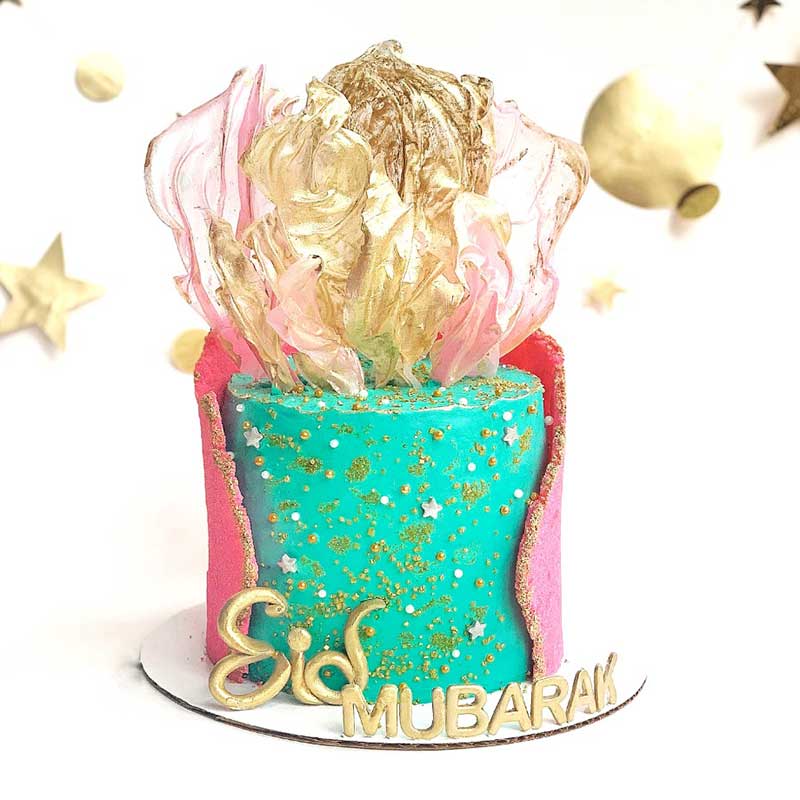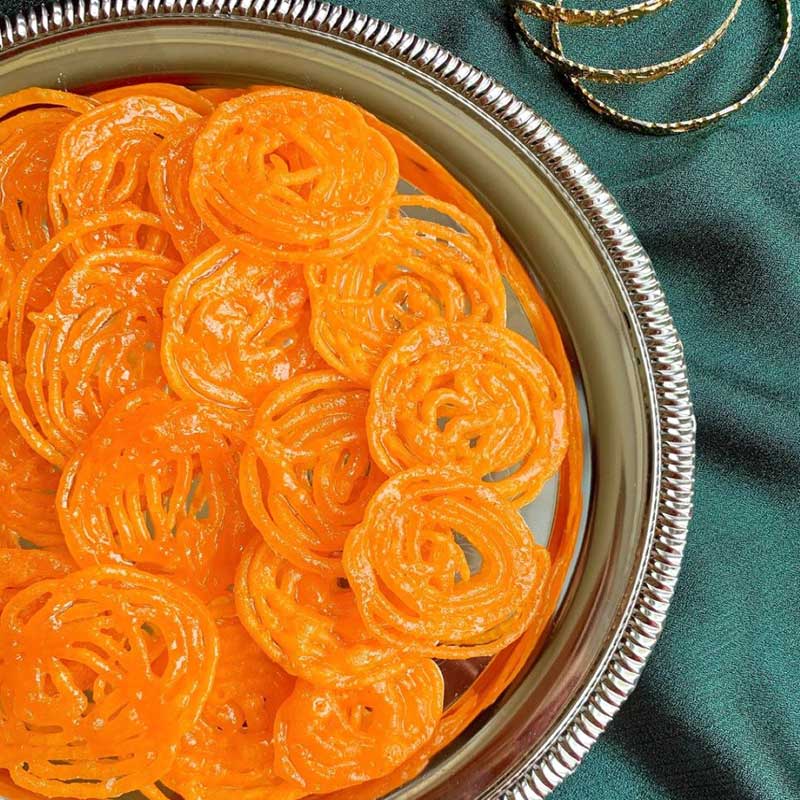 Jalebi
Jalebi is a traditional Pakistani dessert eaten during Eid. It is made by deep-frying flour in a circular twisted shapes, and then soaking it in sugar syrup. It is delicious eaten cold or warm!
Check out the recipe below!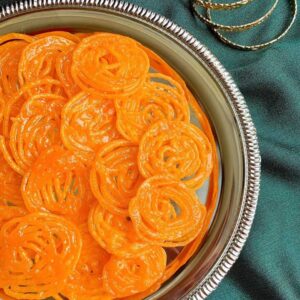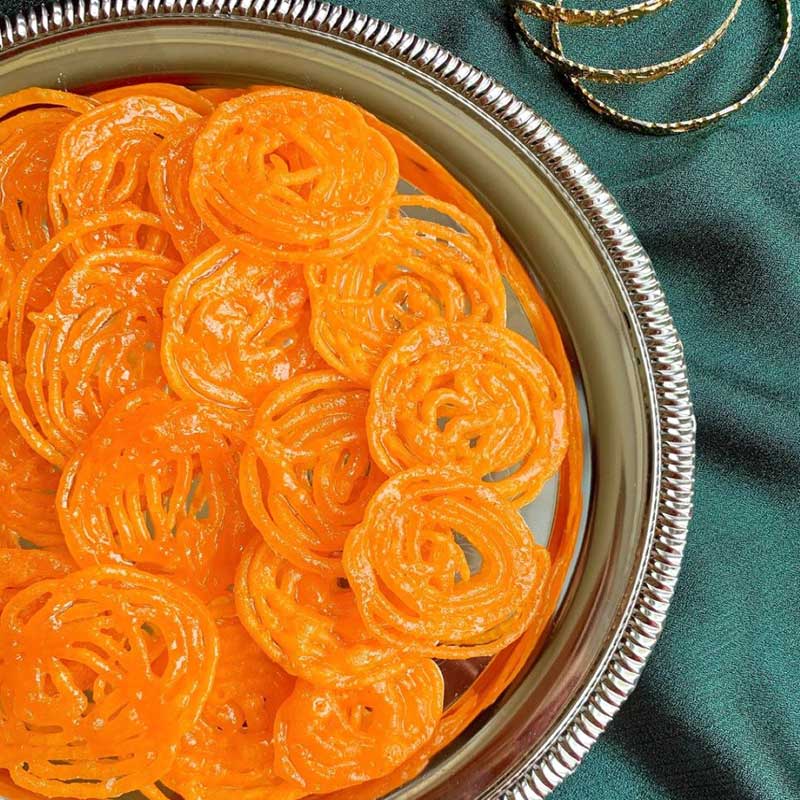 Jalebi Recipe
Jalebi is a traditional Pakistani dessert eaten during Eid. It is made by deep-frying flour in a circular twisted shapes, and then soaking it in sugar syrup. It is delicious eaten cold or warm!
Ingredients
Sugar Syrup
1 ½

cup

Granulated Sugar

1

cup

Water

½

teaspoon

Lemon Juice

Pinch

Cardamom

(optional)
Jalebi Batter
1

cup

All-Purpose Flour

1

tablespoon

Oil

2

tablespoon

Yogurt

¾

teaspoon

Baking Powder

½

teaspoon

Yellow Color Food Powder

(can also substitute food gel)

½

cup

Water

plus 2 tablespoons
For Frying
½

cup

Ghee

¼

cup

Canola or Vegetable Oil
Instructions
Prepare your sugar syrup:
In a large frying pan, add your sugar and water. Give it a stir until the sugar dissolves on medium heat.

When the sugar is dissolved, add a pinch of cardamom and 1/2 teaspoon of lemon juice.

Bring mixture to boil, then set your heat to medium. You will know the sugar syrup is ready when it reaches 1 string consistency.

Keep this pan of sugar syrup on medium heat. Now it is time to prepare the batter and fry the jalebis.
Prepare your Jalebi batter:
Combine the first five ingredients.

Add the water, adding a little bit at a time until you have made a thick smooth batter that can flow freely (you want it a little runny, but slightly thick so it can hold shape).

Place the batter into a squeeze bottle, or plastic bag with one end snipped off.
Fry the Jalebi:
In a separate pan, add the oil and ghee to a pan and set it on medium heat.

Check your oil/ghee mixture to make sure it is hot enough to start frying. Place a few drops of the batter into the pan, if it rises quickly without browning,your oil is now ready!

Make one test jalebi. If it is too thick, add some water to thin out the batter a little bit. If the batter is too runny and can't hold its shape, add some flour.

Prepare all of your jalebis by squeezing the batter into circular twisted shapes in the pan.

Fry until jalebis are crisp and golden, flipping once if necessary.

Once you have finished frying all of your jalebis, place them in the pan of sugar syrup.

Soak the jalebis in the syrup for 2-3 minutes. Serve warm or cold!
Tried this recipe?
Take a picture and tag us @WiltonCakes on Instagram