Last week, Cayla Gallagher of pankobunny took over our Instagram page to show us how to make a heart-shaped geode cake for Valentine's Day. Don't feel limited to V-Day, though — these trendy, nature-inspired cakes are perfect for birthdays, weddings and any celebration that calls for a little extra sparkle. Want to try your hand at the cake that broke the internet? Check out the steps below from Cayla!
Sparkly Heart Geode Cake
You'll need:
1 heart-shaped cake
Plenty of cream cheese frosting
Wilton Color Dust – Brown, Bronze Pearl, Pink Pearl
Rock candy in purple, pink and white (or colors of your choosing!)
Spatula
Decorating brushes
Prep the cake
Bake a cake in a heart-shaped pan (we like red velvet!) with Wilton Cake Release and let cool. Slice the cake into two layers, and spread cream cheese frosting between them. Carve a shallow, heart shape crevice into the top of the cake.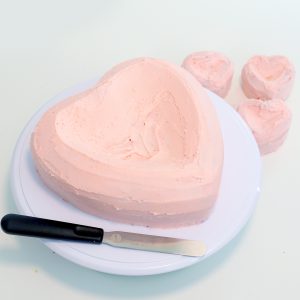 Add the Icing
Crumb coat your cake (think of this as a base coat). Refrigerate for 20 minutes until the frosting is stiff. Generously coat the entire cake with a thick layer of frosting.
Create Your Geode
Using Wilton Color Dust in Brown, paint a border around the crevice. Repeat with Bronze Pearl Dust, creating another ring that extends a little more toward the center of the cake. Paint one more ring using Pink Pearl Dust.
Gently spread Wilton Sparkle Gel in Pink and White in the center of the cake. Arrange rock candy in a heart shape on top of the Sparkle Gel. Place purple (or your deepest shade) in the middle, then pink, then white to create the geode illusion.
Fill any extra space with a sprinkle of pink and white Sparkling Sugar on top.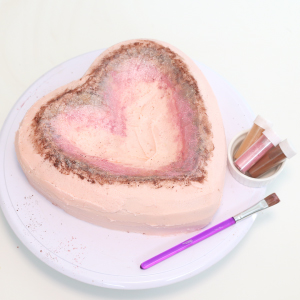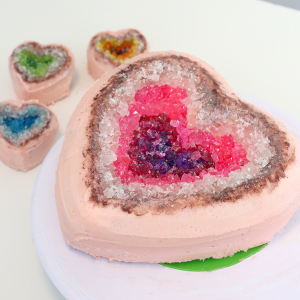 Now it's your turn! Make your own sparkly geode cake, snap a pic and tag us on Instagram at @wiltoncakes. Check out our Sparkling Geode Heart Cookies recipe and head over to the pankobunny blog for more heart-shaped inspiration.
Photos by Cayla Gallagher.