This tasty pretzel bark is perfect for those who love the salty/sweet combo! Topped with freeze-dried strawberries, granola and pretzels, this chocolate strawberry bark is great for gifting to friends, family and Valentines!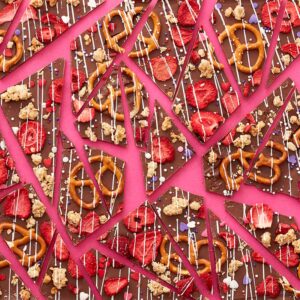 Strawberry Bark for Valentine's Day
Forget the store-bought candy – this year, treat your Valentine to this homemade strawberry bark. Topped with freeze-dried strawberries, pretzels and granola, this delicious pretzel bark is perfect for those who love the taste of something salty and sweet!
Equipment
Other Helpful Tools: Scissors, Spatula, Sharp Knife
Instructions
Using a double boiler or the microwave, melt both bags of Light Cocoa Candy Melts candy.

Check out our post on How to Melt Candy Melts Candy for tips and tricks!

Pour the melted candy into your 9 x 13 in. cookie pan.

If needed, use a spatula to smooth out the melted candy.
Step 2: Top the Bark
Top the melted candy with pretzel twists, freeze-dried strawberries and granola. For a little color and texture, sprinkle on some nonpareils, confetti and heart sprinkles.

Place your bark in the fridge to harden, about 10 minutes.

Prepare a decorating bag with 1 oz. (about 2 tablespoons) Bright White candy. Melt the candy in the microwave following the instructions on the packaging.

Cut a tiny tip off the end of the bag and drizzle the melted candy over your bark. Place it back in the fridge to set, about 5 minutes.
Step 3: Cut and Serve
Once everything has set, remove the bark from the pan. Cut it into pieces and enjoy!
Tried this recipe?
Take a picture and tag us @WiltonCakes on Instagram