Nothing says "I Love You!" quite like a freshly baked Valentine's Day treat. So this year, skip the store bought bakes and try one of these quick and easy Valentine's Day desserts instead!  
We've put together a huge list of delicious desserts to try whipping up in your kitchen this year, including heart-shaped cakes, cute cupcakes topped with chocolate covered strawberries, rich chocolate cake paired with ice cream, angel food cake topped off with whipped cream, edible dark chocolate shot glasses filled with raspberry cream cheese frosting and fresh raspberries, and much, much more!
1. Sweet and Salty Valentine's Candy Bark
We've got a candy crush on this bark! Made using Candy Melts candy and pretzel twists, this chocolatey candy bark is great for anyone who loves the sweet and salty combination.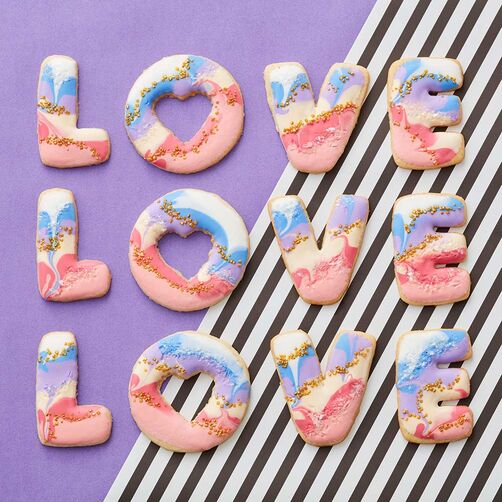 2. Swirls of Love Cut-Out Cookies
You won't need a bag and tip to decorate these cookies. Simply dip them in royal icing and sprinkle with gold sugars for a fun and easy project everyone will enjoy.
3. Buttercream Transfer Heart Cake
Wrap your cake in a buttercream hug with this Valentine's Day cake. With space to write a message to your Valentine, this cake is a fun (and delicious) way to show someone how much you care.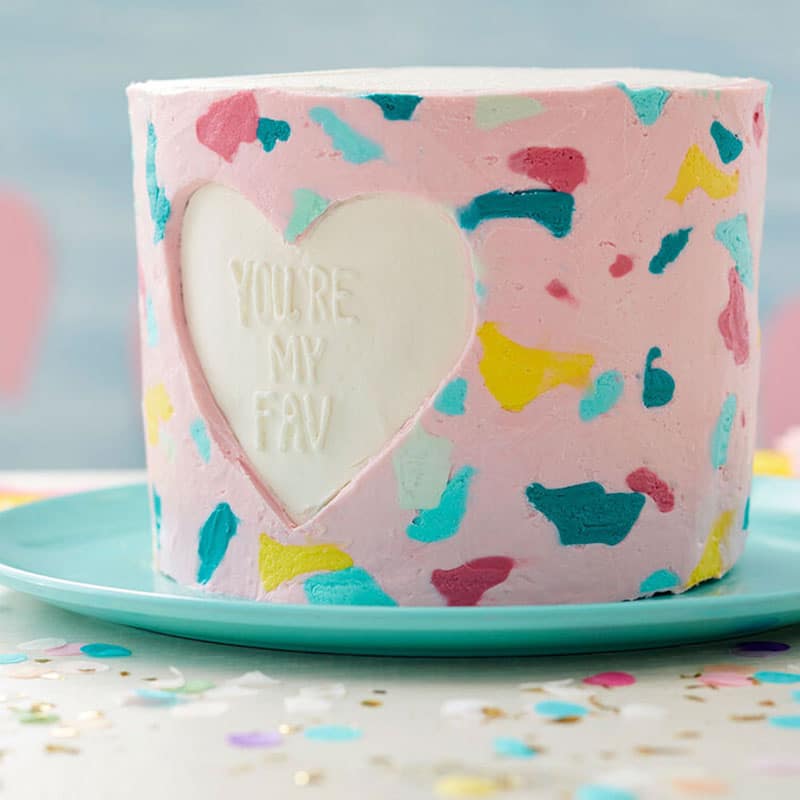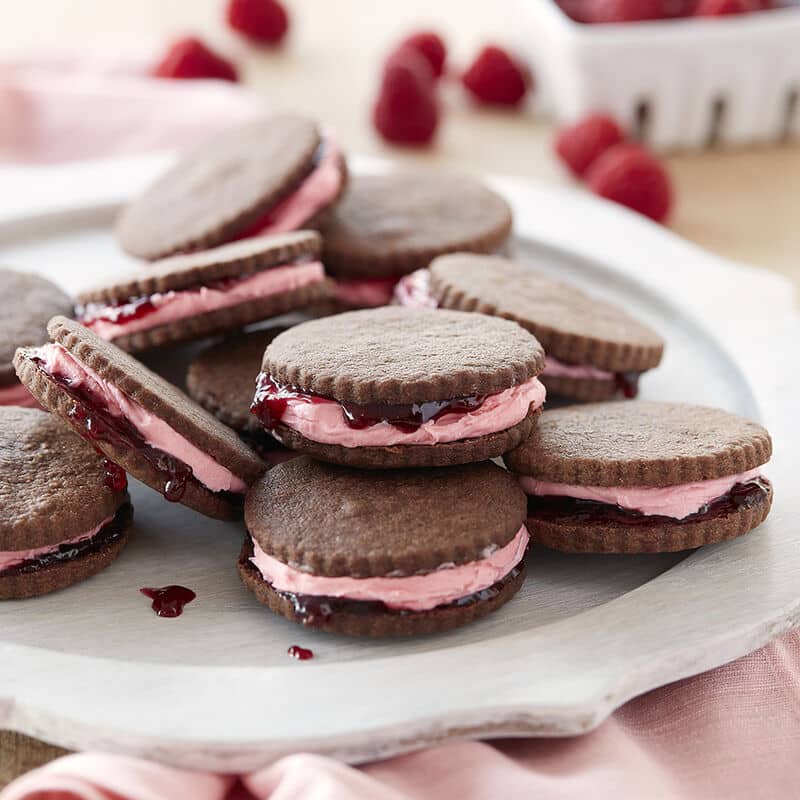 4. Raspberry Jam Shortbread Cookies
Buttercream frosting and raspberry jam are sandwiched between two tasty chocolate shortbread cookies for a yummy sweet treat kids will love.
5. Red Velvet Donuts with Cream Cheese Glaze
There's no guilt in having cake for breakfast with these Red Velvet Donuts! A sweet way to start off your morning, these donuts are perfect for bringing into the office to share with your co-workers.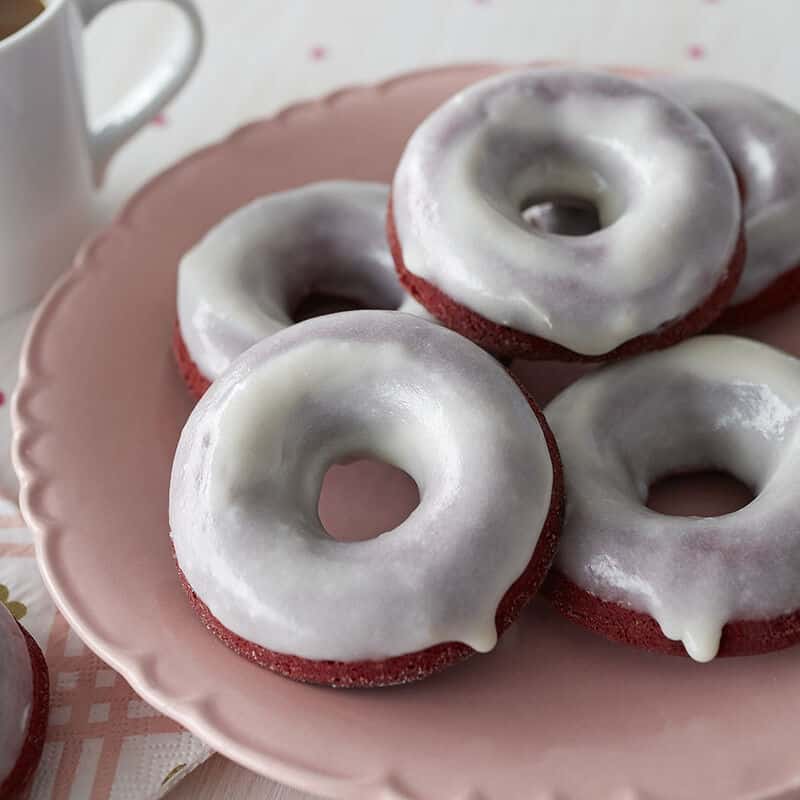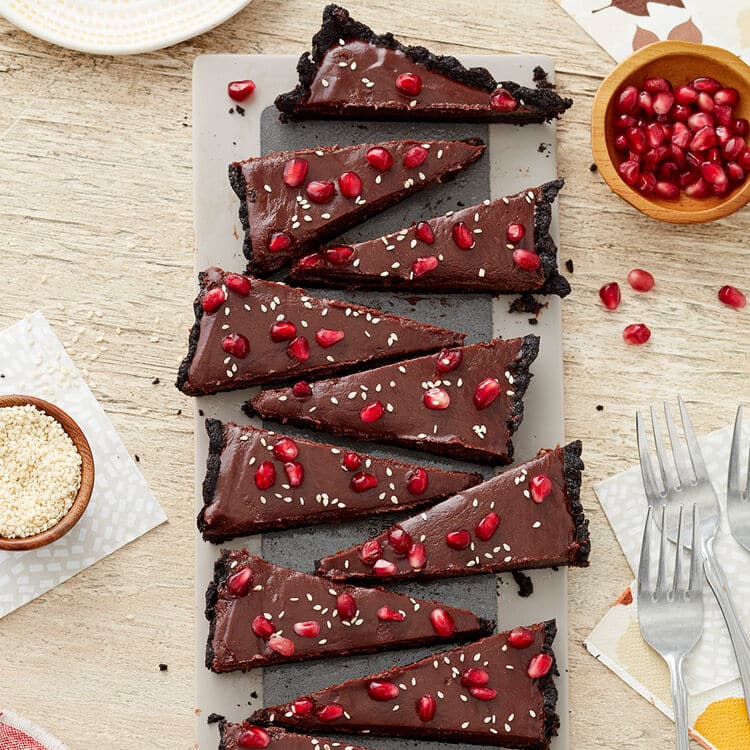 6. Chocolate Tahini Tart
Featuring a chocolate honey crust and a filling made with tahini and chocolate, this decedent tart is the perfect crowning touch to your Valentine's Day dinner.
7. Angel Food Cupcakes with Berries and Whipped Cream
Topped with fresh whipped cream and berries, these angel food cupcakes are light as a feather and offer a little something sweet without the guilt.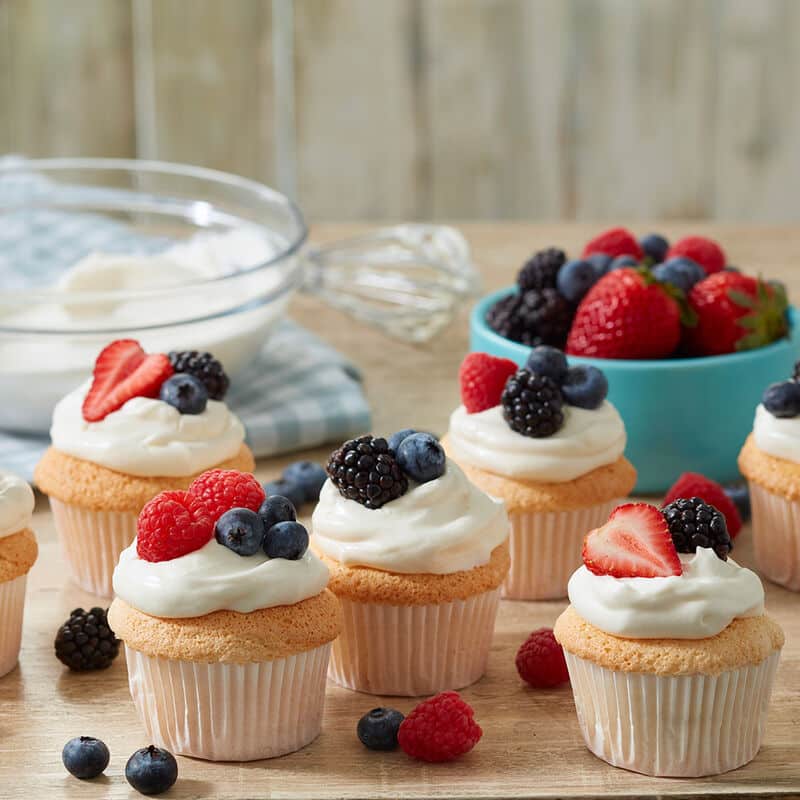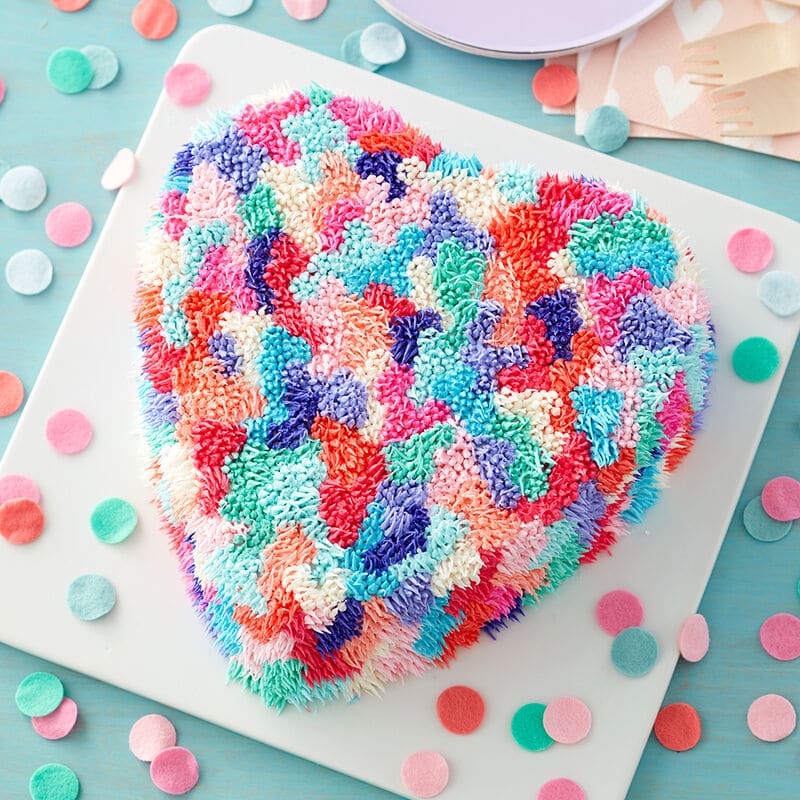 8. Shaggy Heart Valentine's Day Cake
Create a fun, texturized treat this Valentine's Day with this Shaggy Heart Cake. Decorated using tip 233 and a variety of icing colors, this fun and colorful cake has serious eye-catching power!
9. Raspberry Cheesecake Brownies
Up your brownie game with these raspberry cheesecake brownies. Swirls of cheesecake batter and fresh raspberries make this Valentine's Day dessert a showstopper!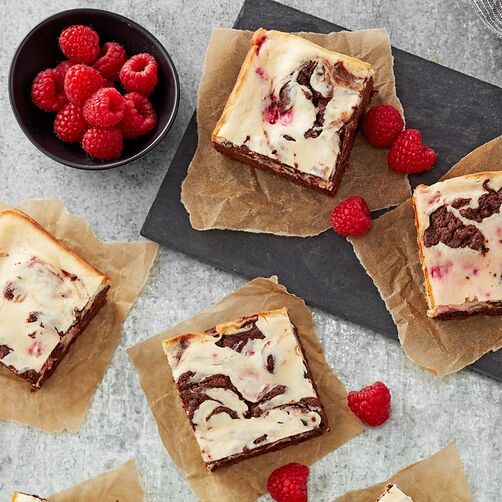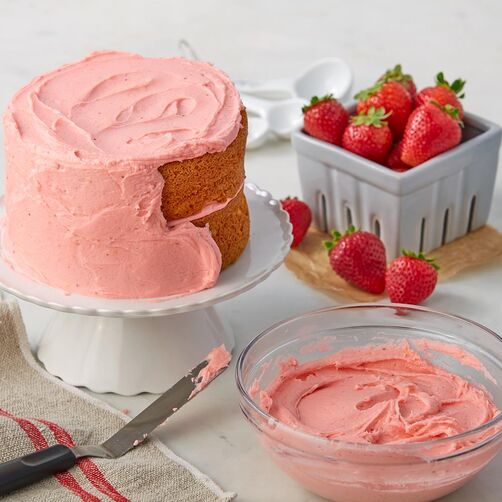 10. Strawberry Buttercream Icing
Flavored with real strawberries and stabilized with meringue powder, this homemade buttercream frosting is an easy twist on an old favorite that contrasts beautifully with a rich chocolate cake.
11. Candy Confetti Cookies
Sprinkle your cookies with candy confetti with these colorful Valentine's Day cookies. A fun project to do with the kids, these cookies make great gifts for neighbors, teachers and friends.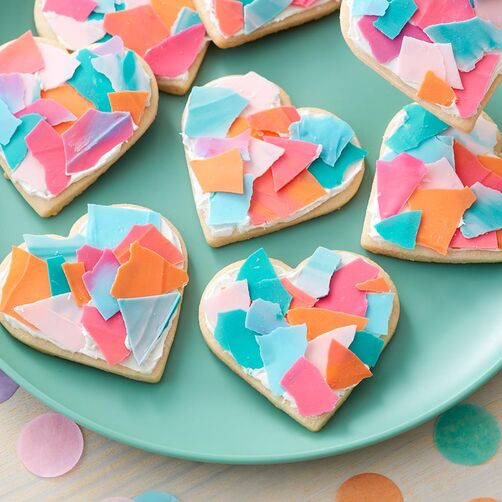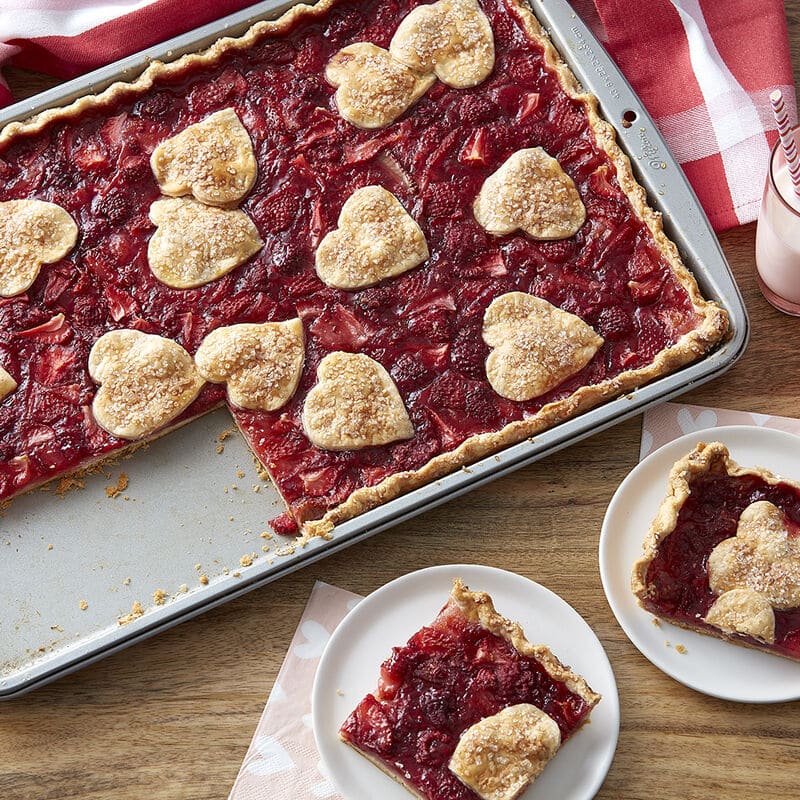 12. Strawberry Raspberry Slab Pie
Filled with strawberries, raspberries and a dash of orange zest, this slab pie can be served for breakfast or topped with a scoop of vanilla ice cream for a tasty dessert.
13. Happy Valentine's Day Cupcakes
Show off your piping skills with these cute Valentine's Day cupcakes. Featuring stars and rosettes, these cute cupcakes are perfect for sharing with classmates and friends.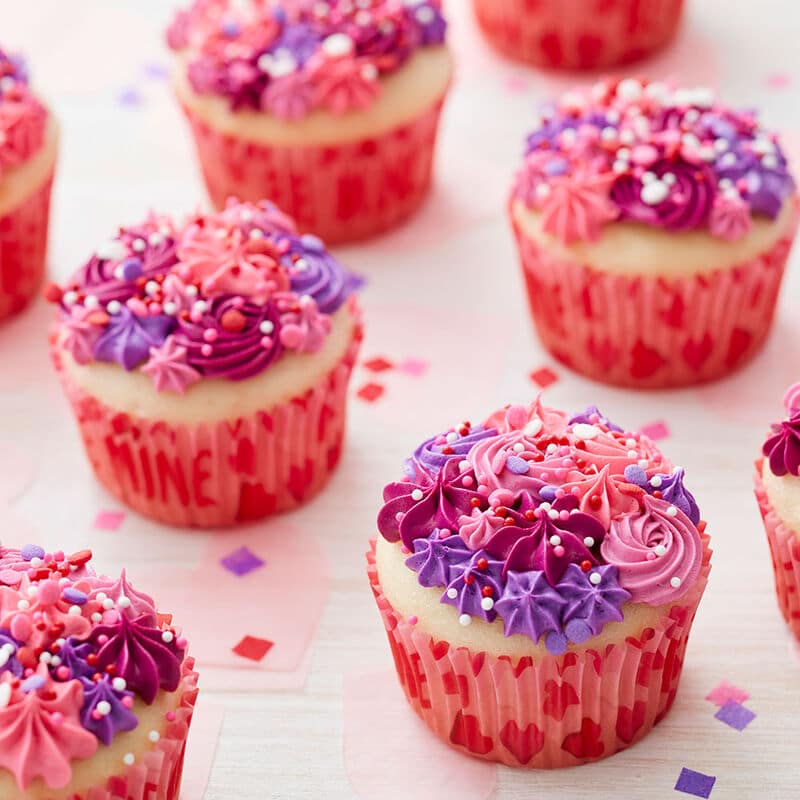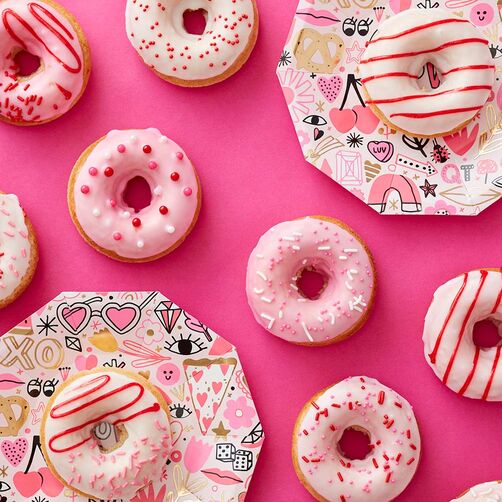 14. Valentine's Day Donuts
Topped with a variety of colorful sprinkles, nonpareils and icing, these Valentine's Day donuts are a sweet way to show some love to the whole family!
15. Mini Round Heart Cookies
Looking for a fun treat to bring into work on Valentine's Day? These cute mini round cookies are just the thing! Package them in little party bags or arrange them on a platter for a tasty grab n' go snack.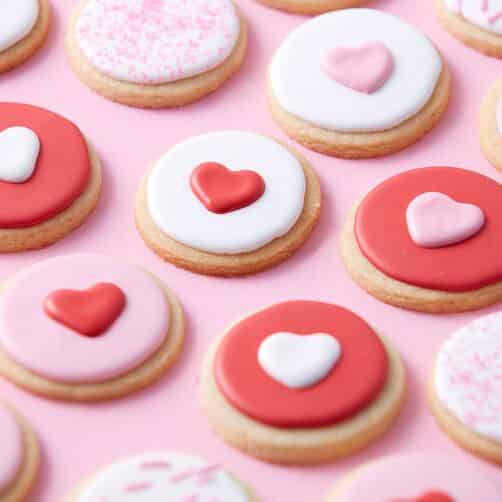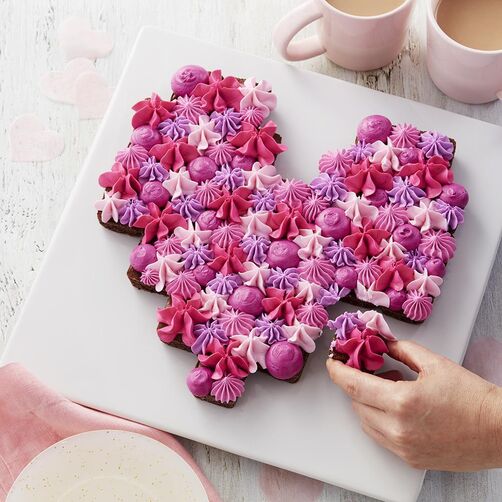 16. Pull-Apart Brownie Heart
Forget the box of candies…give your sweetie a treat they'll love to eat with this pull-apart brownie heart. Topped with pink and purple stars, this treat is sure to become a favorite.
17. Shades of Love Valentine's Day Cookies
Wow your Valentine with these Shades of Love cookies. Decorated using various shades of fondant, these cookies are almost too pretty to eat!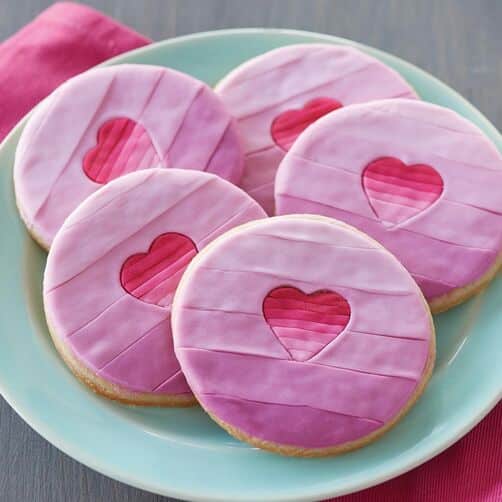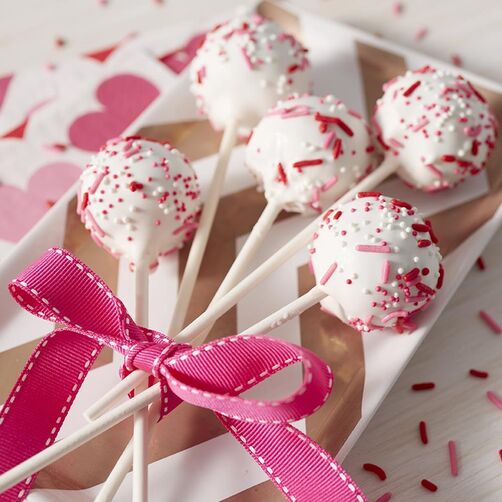 18. Valentine's Day Cake Pops
Use your favorite vanilla, chocolate or red velvet cake mix to make these tasty Valentine's Day cake pops. Topped with jimmies and nonpareils, these cake pops make great edible Valentine for friends and classmates.
19. Valentine's Day Baked French Toast
Start Valentine's Day morning off right with this baked French toast recipe. Made using a Wilton heart pan, this tasty breakfast recipe features a tasty crumble topping and a sweet sugar glaze.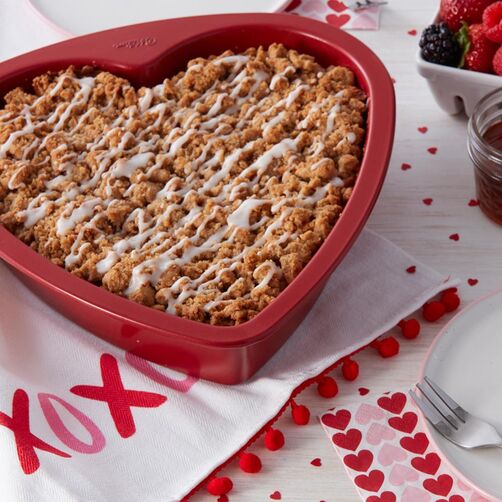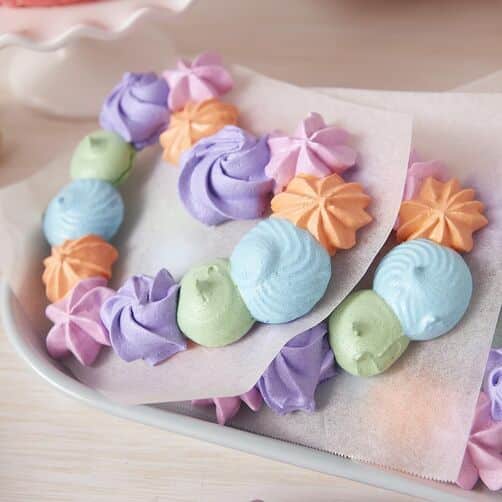 20. Light and Delicate Meringue Heart Wreaths
Use various shades of meringue and your favorite piping tips to make these light and delicious meringue cookies. They pair nicely with a cup of tea or a glass of sparkling wine!
21. One in a Melon Cookies
Tell someone they're "One in a Melon" with these cute watermelon cookies. Fun to give to friends and co-workers, these cookies are easy to package and gift.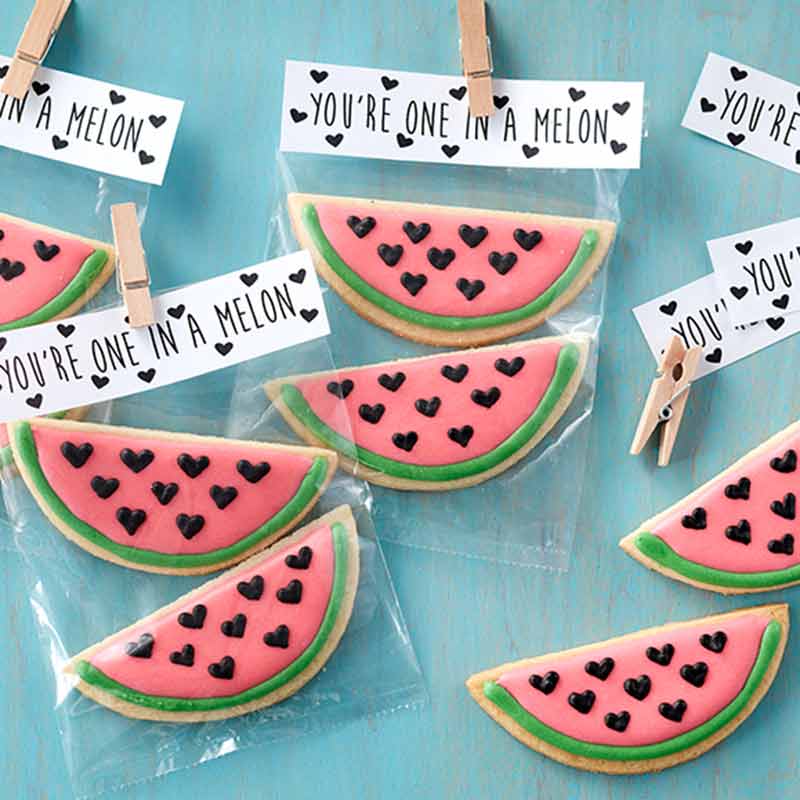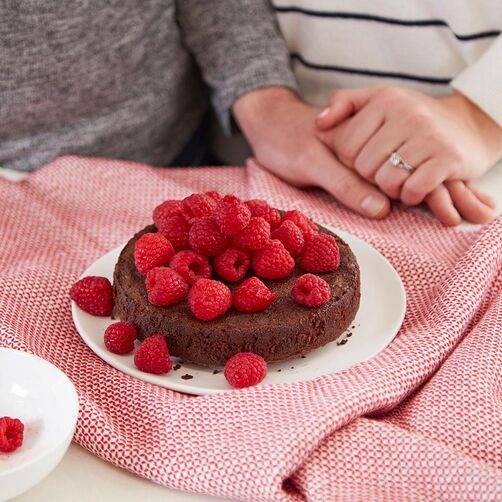 22. Lava Cake for Two
What's the perfect ending to a perfect Valentine's Day? A lava cake for two, of course! This romantic dessert is bursting with rich chocolate and is just the right size for sharing with your sweetie.
23. Chocolate-Covered Strawberry Cupcakes
Cupcakes and chocolate-covered strawberries combine to create the best Valentine's Day dessert! Serve these at a Galentine's Day brunch alongside a glass of sparkling Champagne.
24. Cherry Heart Pies
Filled with tasty cherry pie filling and topped with a sweet pink glaze, these cherry-filled hand pies are great for breakfast or slipping into school lunches.
25. Sweet Treat Valentine's Day Kabobs
Forget the veggies, these Valentine's Day kabobs are made with all the good things, including donuts, gummy candies, rice cereal treats, brownies and marshmallows!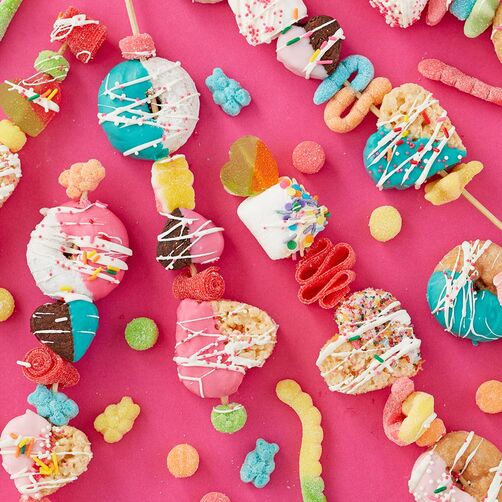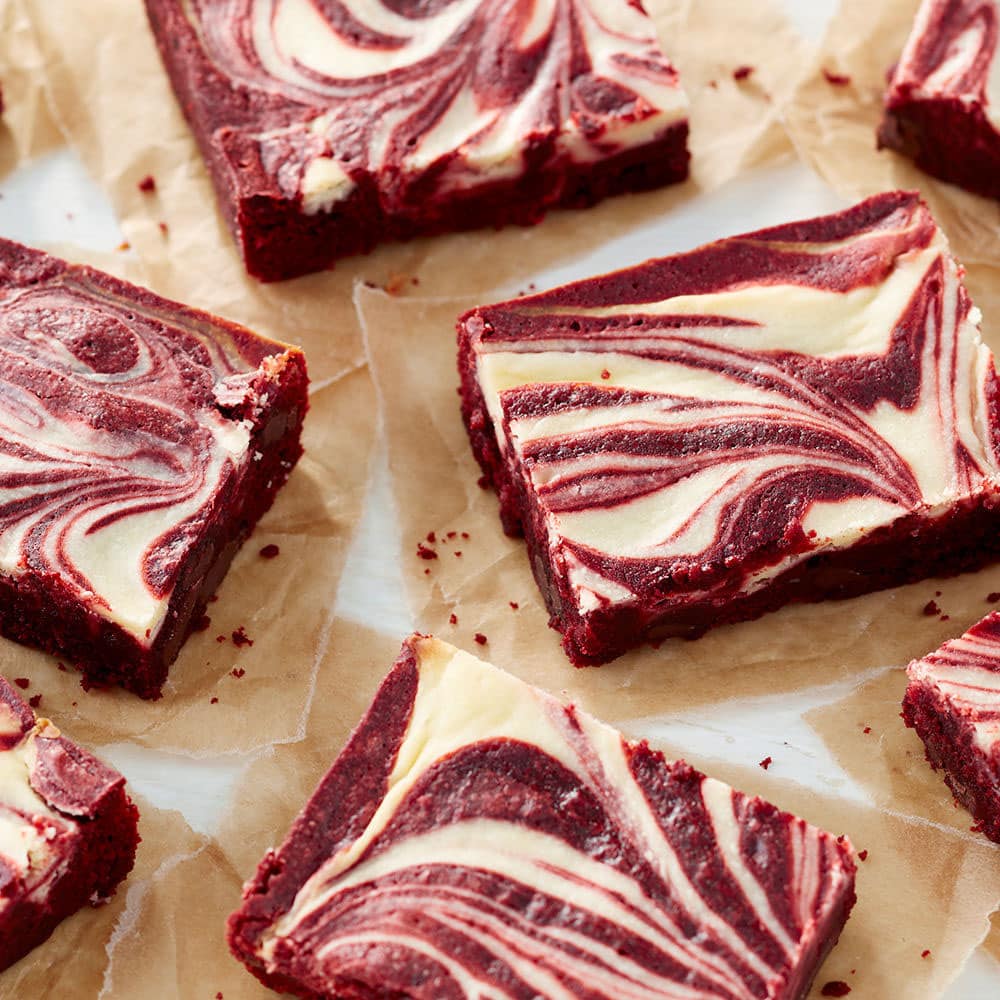 26. Red Velvet Brownies with a Cheesecake Swirl
This delicious cheesecake recipe combines rich, tasty brownies with a sweet cream cheese layer to create a dessert that is perfect for sharing with someone special.
27. Elegant Champagne Cupcakes
Featuring tasty Champagne-flavored cake and creamy icing, these delicious cupcakes are a treat for all the senses.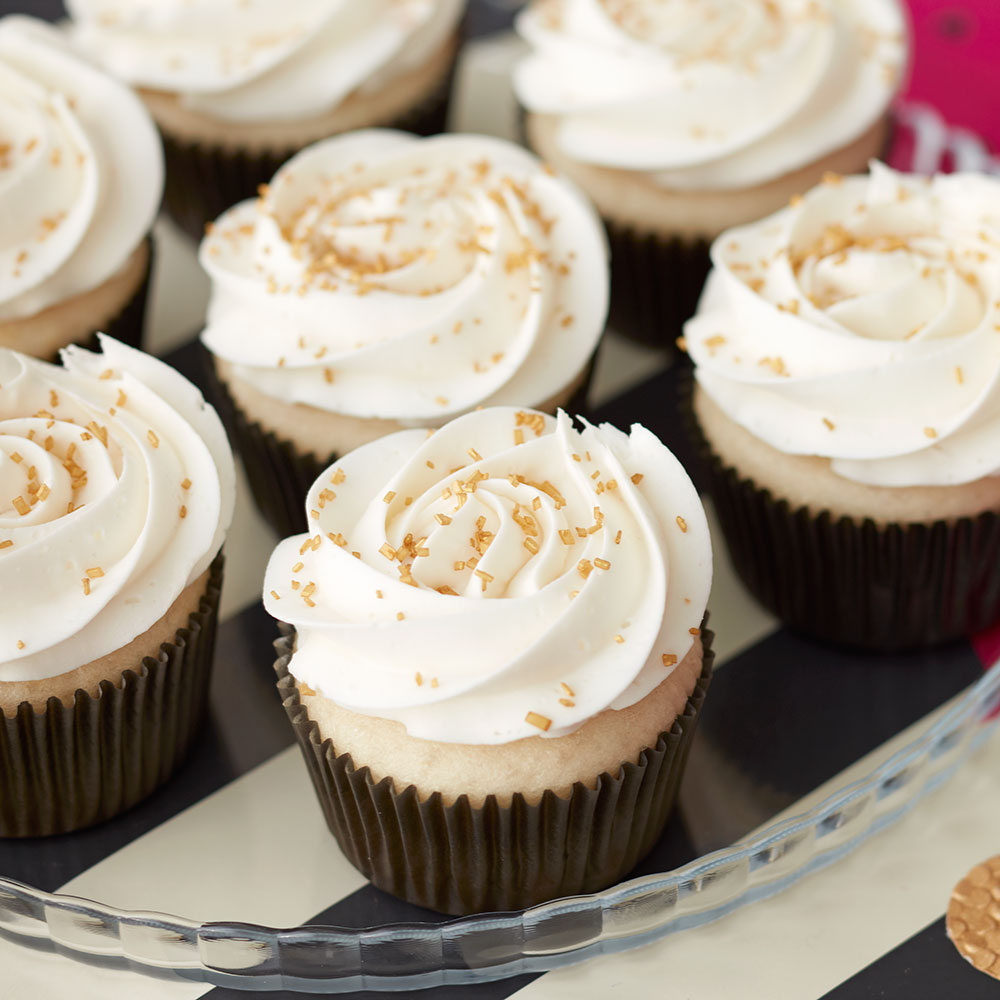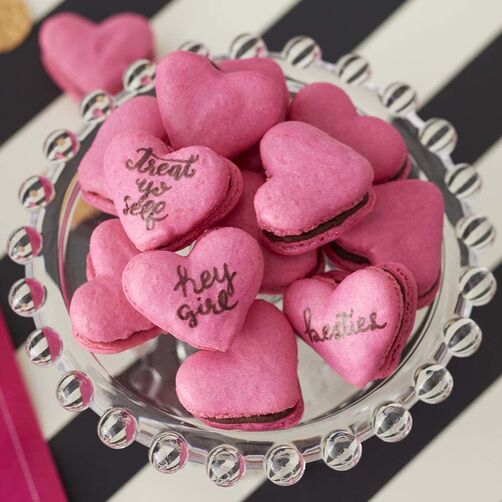 28. Heart Macaron Cookies
What better way to show all your BFFs how much you love them than with these cute personalized macaron cookies? Add fun messages using a FoodWriter marker. Bon Appetit!
29. Cupid's Heart Cake
This easy Valentine's Day cake will make a big impression on anyone you love! Just add buttercream frosting to your favorite vanilla, chocolate or red velvet cake and top with fresh raspberries for an easy dessert you'll want to serve every year.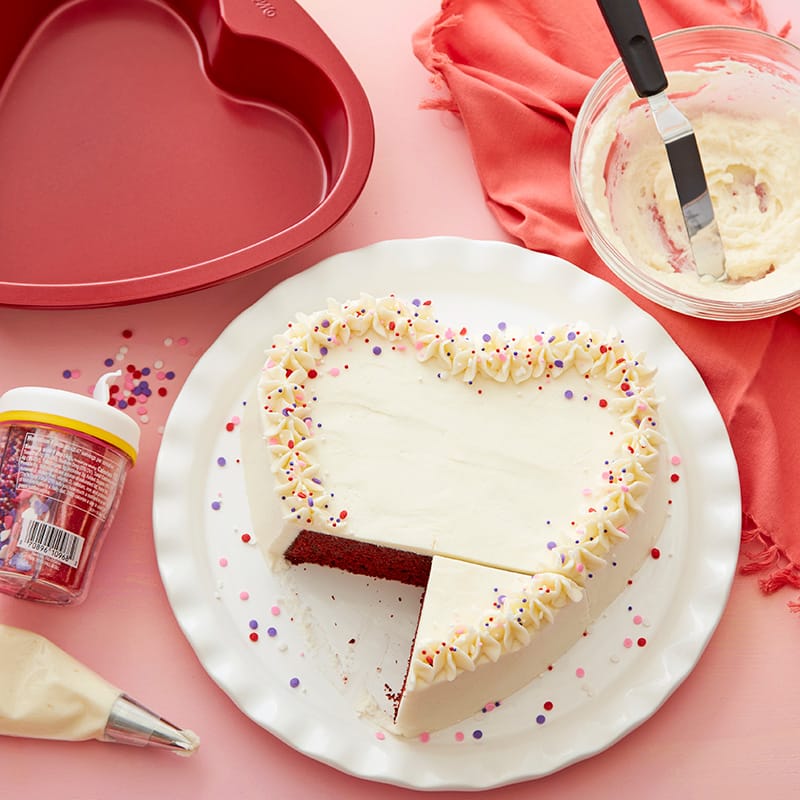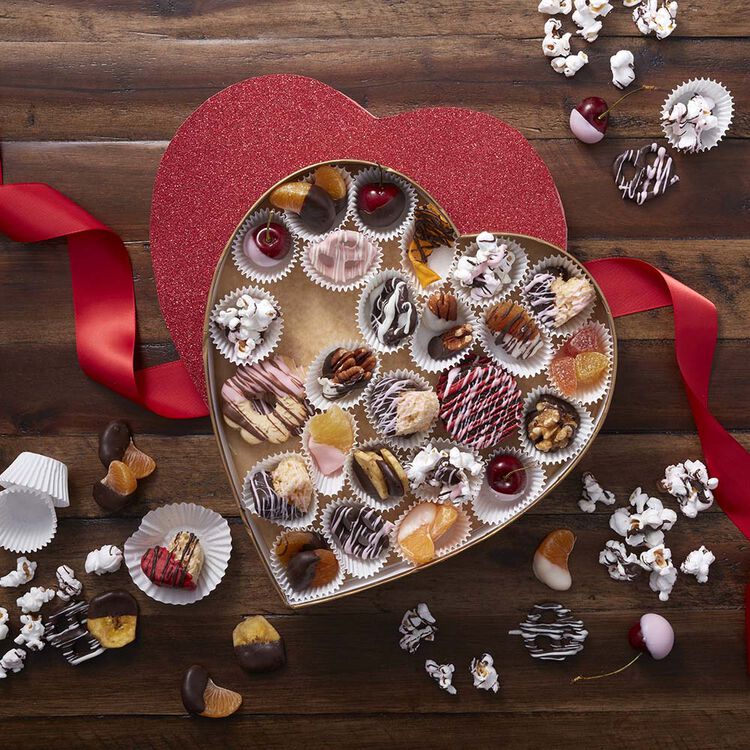 30. Valentine's Day Homemade Candy Box
Guys, here's your chance to impress! Make a box full of homemade sweets using Candy Melts candy, fruit, cookies, pretzels, popcorn, nuts and more.
31. Red Velvet Sandwich Cookies
Have your favorite cake in cookie form with these red velvet sandwich cookies. Super fluffy and soft in texture, these sandwich cookies also feature a layer of cream cheese frosting for the ultimate treat!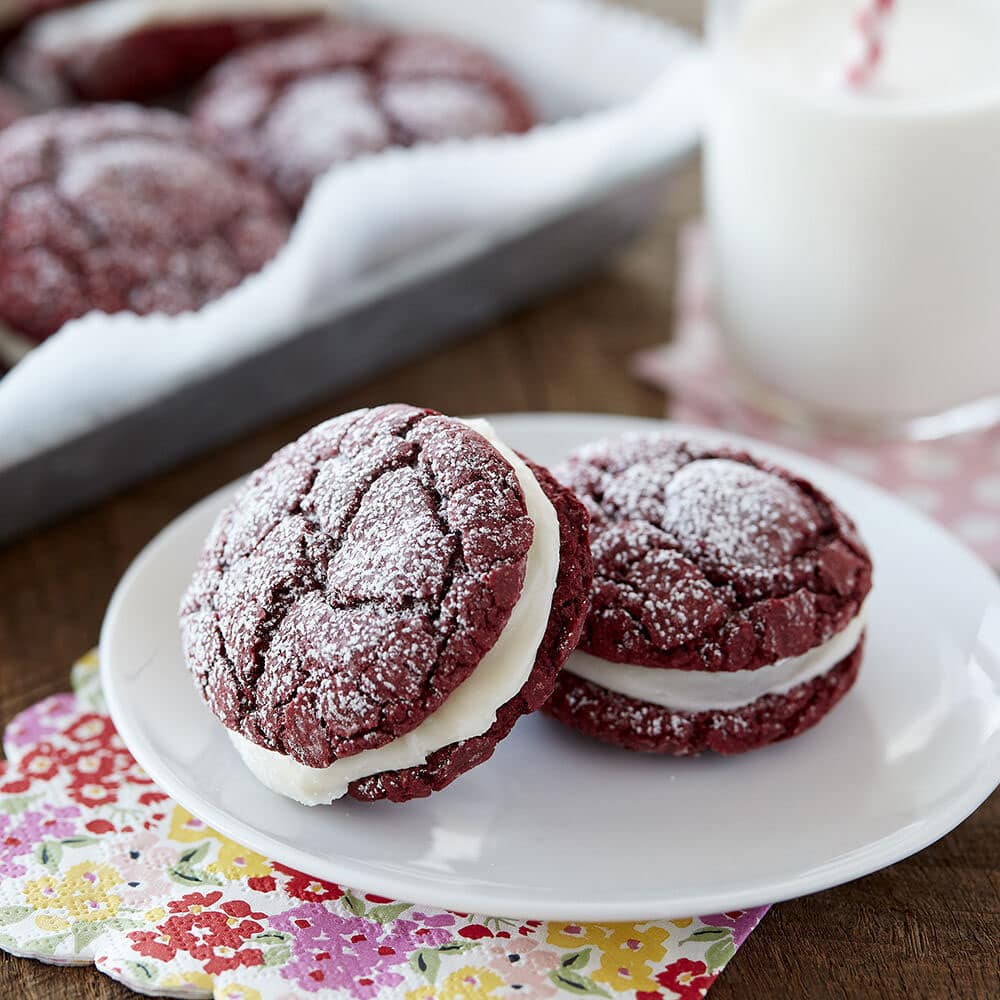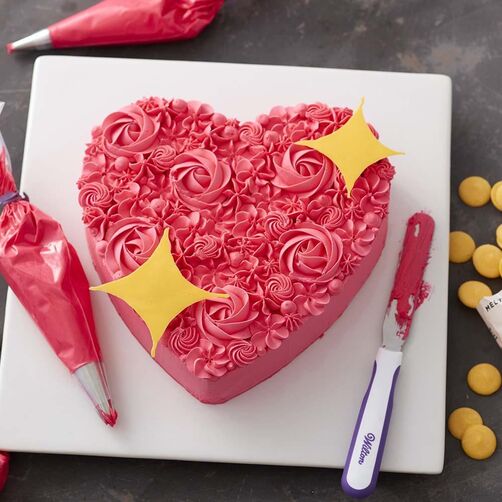 32. Sparkling Heart Cake
Use rosettes, stars, drop flowers and dots to cover a heart-shaped cake. Easy for decorators of all skill levels, this cake is a great way to show your love.
33. Conversation Heart Shot Glasses
Go all out with your sweet talk this Valentine's Day with these candy shot glasses. Fill them with your favorite liquor or chocolate milk and whipped cream.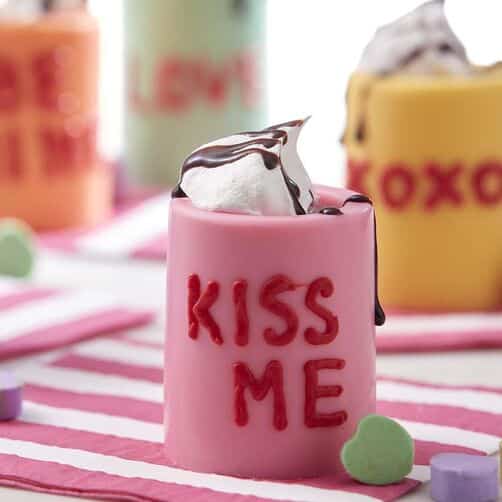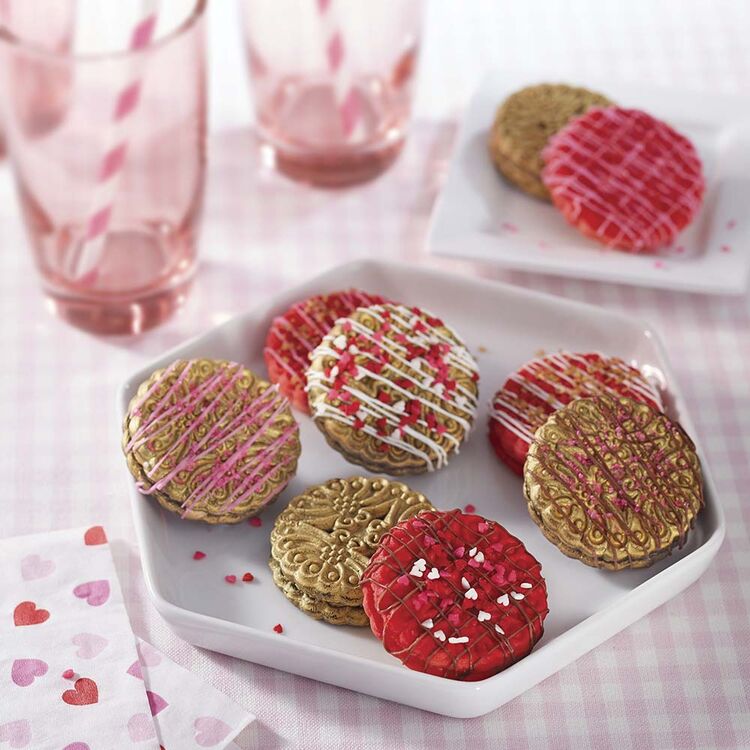 34. Sprinkled with Love Sandwich Cookies
Use Color Mist food color spray to add color to your favorite store-bought sandwich cookies. You'll love how easy these are to decorate and kids will love how fun they are to eat.
35. Penguin Valentine's Day Cupcakes
Sweet and simple, these adorable penguin cupcakes are sure to steal your heart!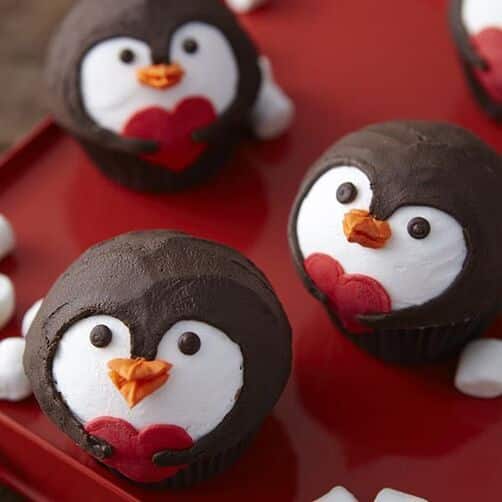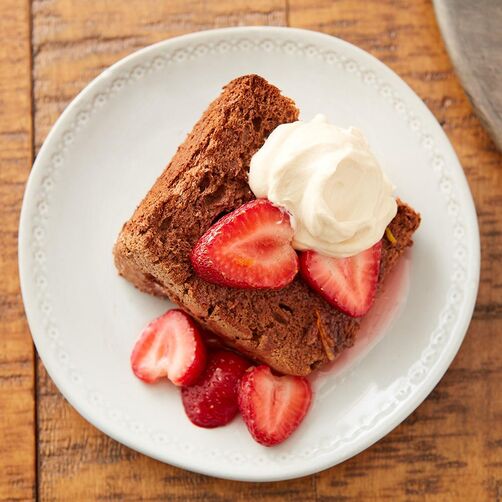 36. Chocolate Angel Food Cake with Strawberries and Caramel Whipped Cream
This decedent combination of chocolate, caramel and strawberries makes this cake a delicious Valentine's Day dessert.
37. Big Batch of Chocolate Donuts
This big batch of chocolate donuts are made with Dark Cocoa Candy Melts candy and topped with a sweet pink glaze for a delicious treat your family will love. You may even have extras to bring into the office!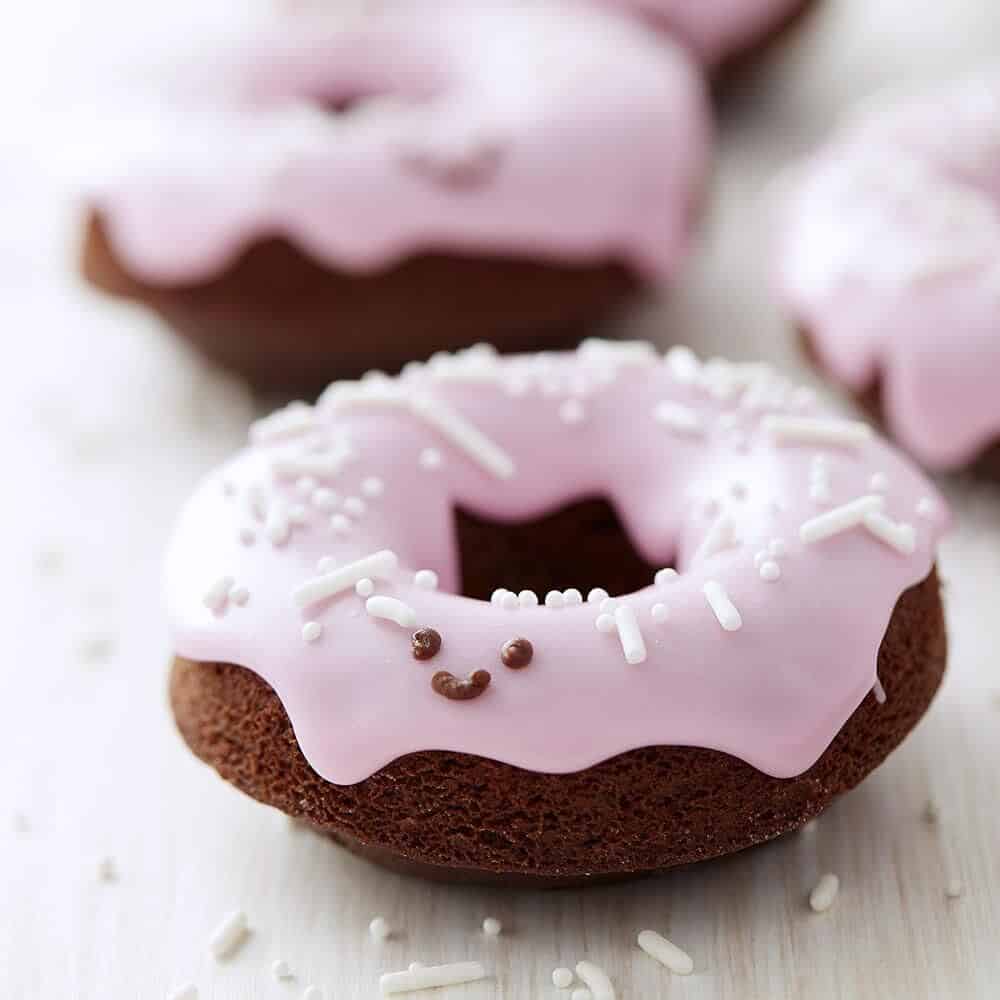 38. No-Bake Chocolate Raspberry Cheesecake Shots
Featuring a crushed cookie crust and filled with raspberry-flavored cheesecake, these dessert shots are perfect for those moments when you just need a little taste of something sweet.
39. Mini Cranberry Pound Cakes
These delicious mini pound cakes are the perfect dessert (or breakfast) for Valentine's Day. Garnished with sugared cranberries, these mini cakes are bursting with flavor.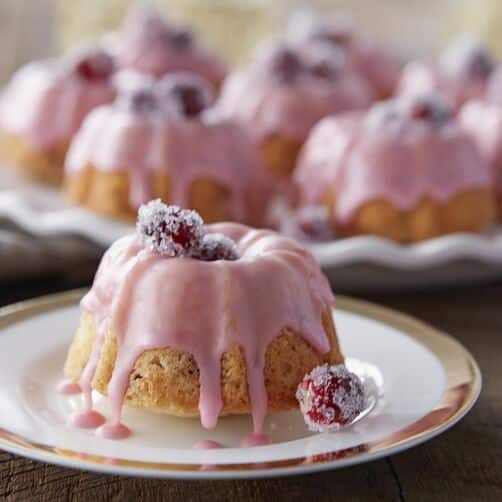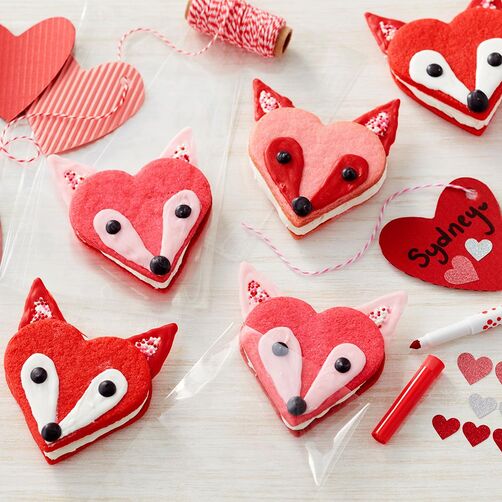 40. Foxy Cookie Sandwiches
Give your foxy Valentine a little something sweet with these sugar cookie sandwiches. A simple decorating project for beginners, these cookies are sure to bring a smile to everyone's face.
41. Candy-Dipped Sandwich Cookies
Don't have time to bake for Valentine's Day? Dress up your favorite store-bought sandwich cookies with Candy Melts candy and heart-shaped icing decorations.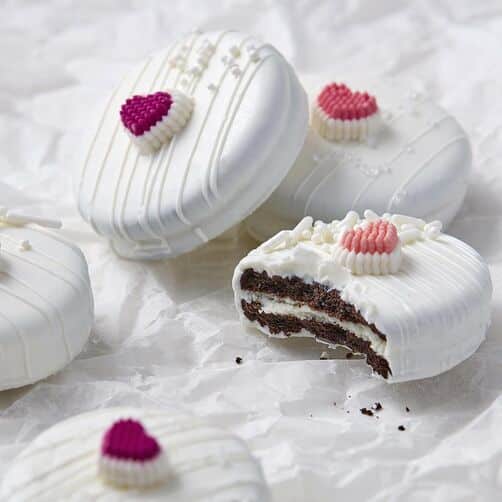 42. Super Rich Red Wine Brownies
Use chocolate and your favorite cabernet sauvignon to make these decadent brownies. Add a drizzle of melted candy or top with ice cream for the perfect sweet treat.
43. Lovely Line Heart Cookies
Use a spatula to "paint" icing on these cookies. For best results, start with darker colors in the middle, then get lighter and lighter as you move towards the edges.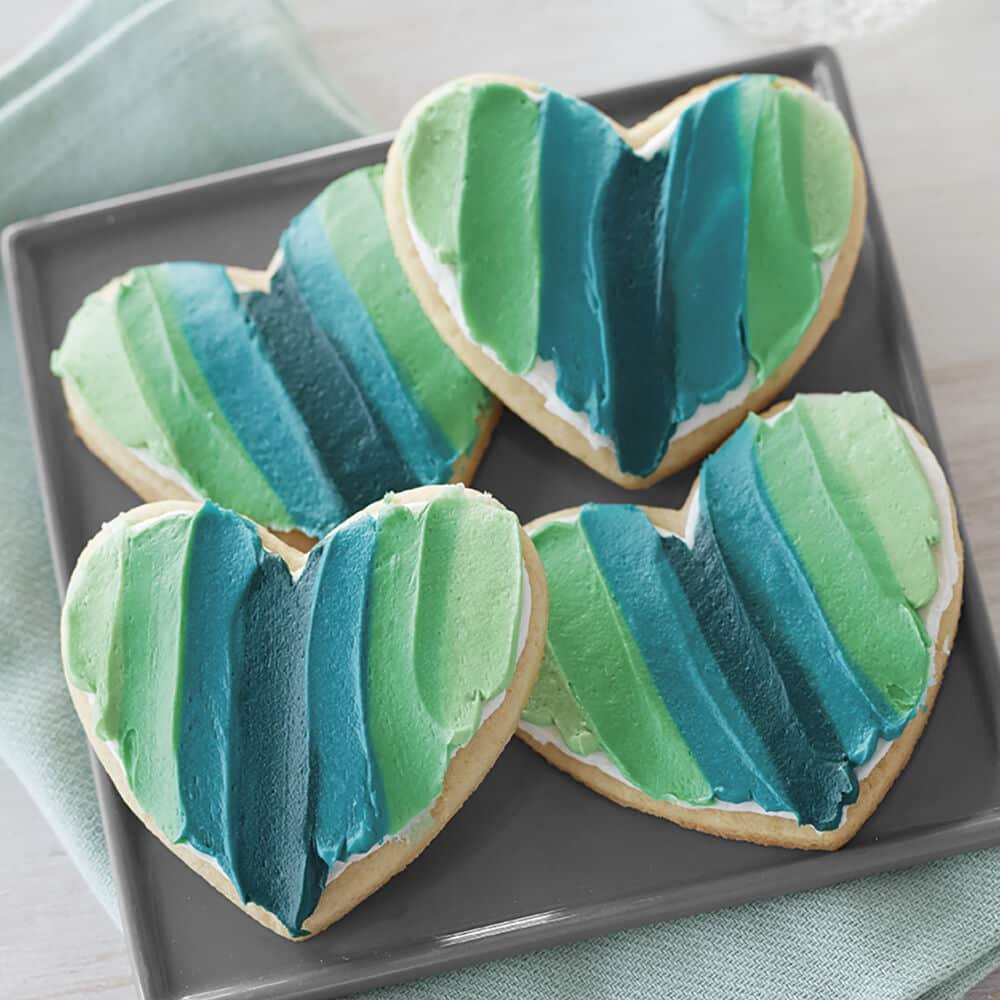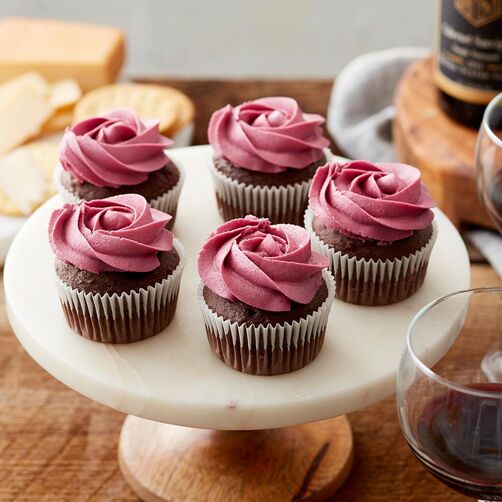 44. Red Wine Buttercream Recipe
Uncork some fun with this red wine buttercream frosting. The perfect combination for chocolate cake or brownies, this buttercream works best with your favorite merlot or fruity red blend.
45. Stackable Ombre Heart Cookies
The only thing better than one cookie is three cookies! These roll-out heart cookies are decorated using royal icing and can be packaged in treat bags for easy gifting.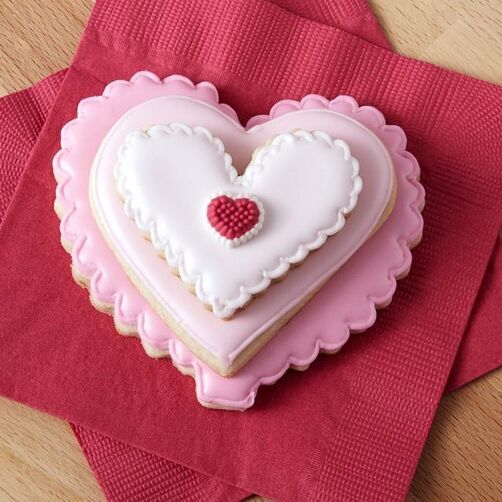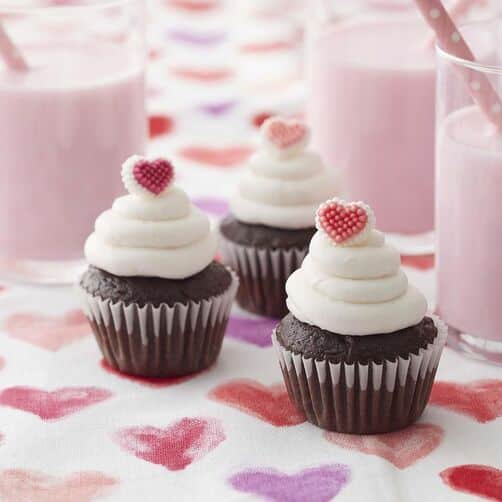 46. Mini Valentine Cupcakes
Kids and adults alike are sure to love these sweet Mini Valentine Cupcakes. Quick and fun to make, these mini cupcakes feature simple decorations for even the most novice of decorators.
47. Scalloped Heart Cookies
Shades of pink, red and white icing make these roll-out cookies perfect for your Valentine's Day celebration. Use decorating tip 102 to create a fun pattern on your cookies.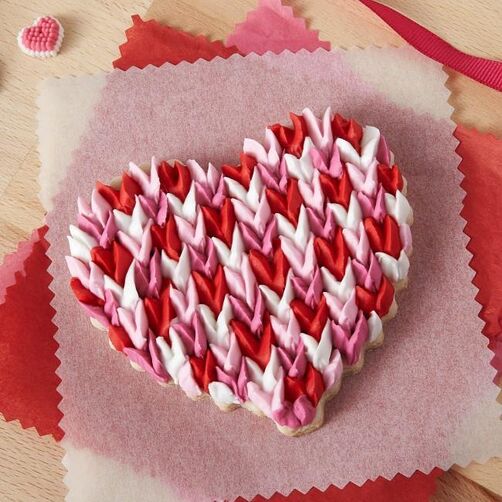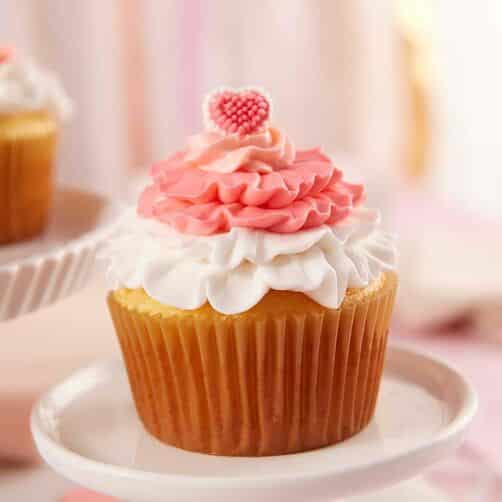 48. All Ruffled up Valentine's Day Cupcakes
Piled high with ruffles and rosettes, these sweet Valentine's Day cupcakes are a great way to say "I love you!" A little candy heart makes for the perfect finishing touch.
49. Color Block Heart Cookies
Love comes in all colors and these Color Block Heart Cookies are a great way to show it! Use a variety of sprinkles to easily decorate these heart cookies with your favorite colors.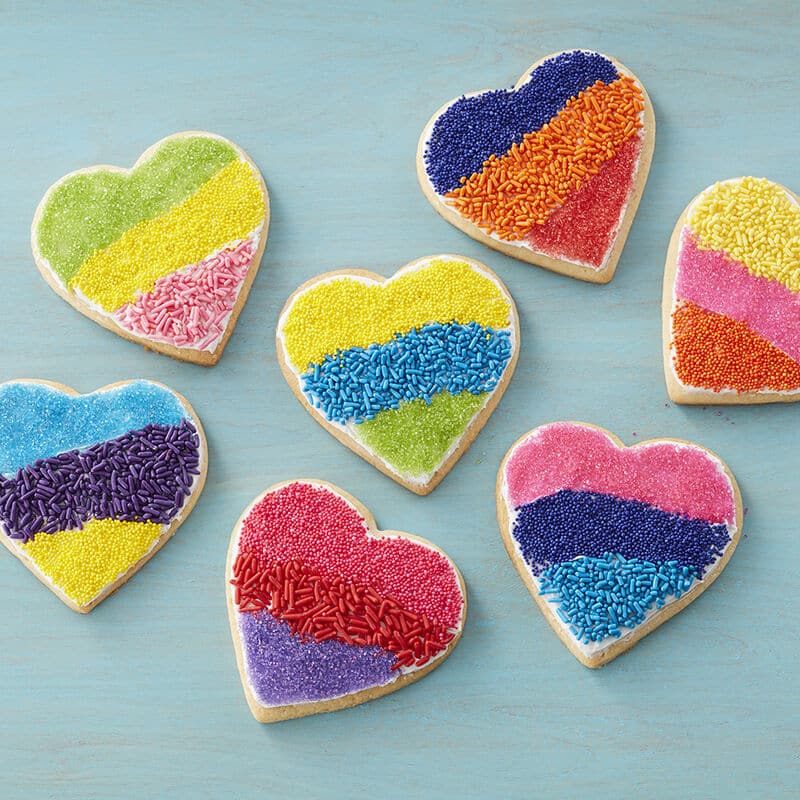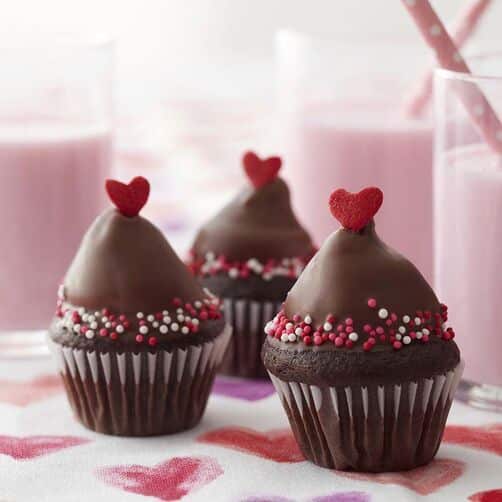 50. Made with Love Mini Valentine Cupcakes
Topped with tasty cocoa-flavored candy and Valentine's Day sprinkles, these mini cupcakes are great for kids' parties, office parties or even bridal showers.
51. For the Love of Stripes Valentine's Day Cake
Surprise your Valentine with this cute striped buttercream cake. Lines of white and purple buttercream are topped with 1M hearts and sprinkles for a sweet treat you can share with your loved ones.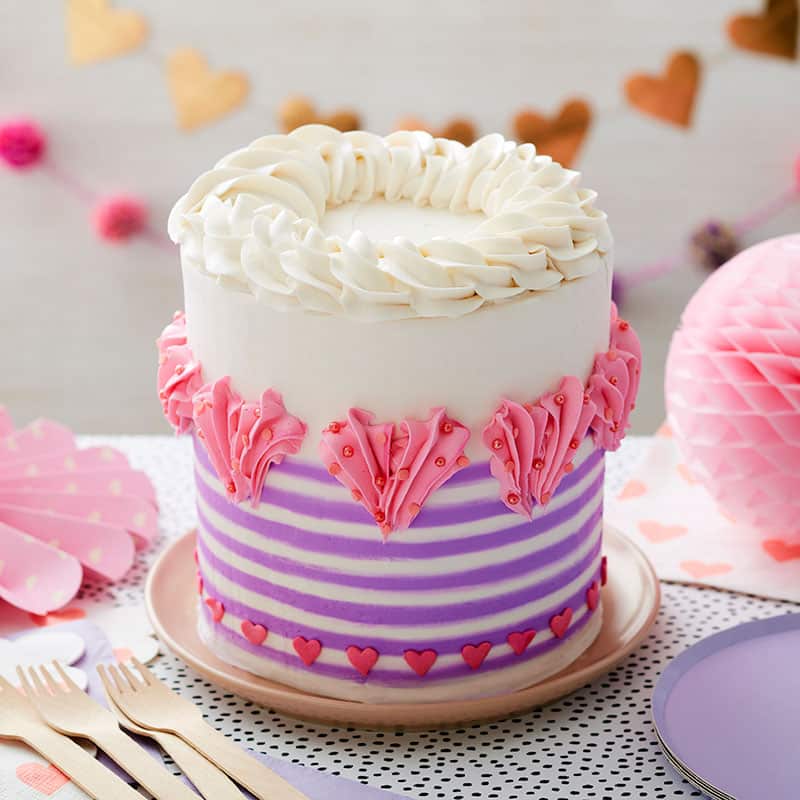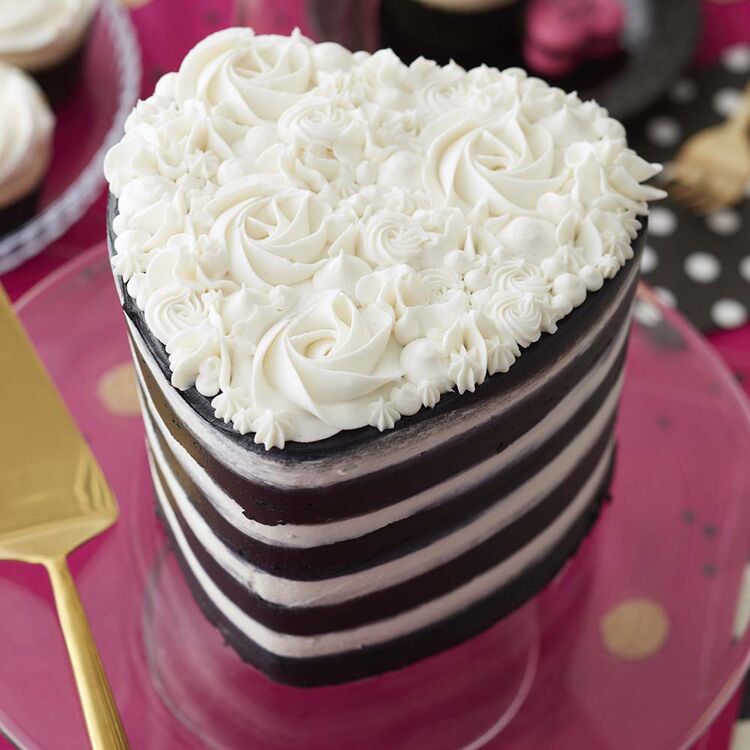 52. Easy Layers Heart Cake
This striking 5-layer chocolate cake is made using the Easy Layers! Pan Set. The great thing about this pan set is that you can bake all your cake layers at once, so you can get to the fun part (eating) faster! Top your heart cake with a variety of stars, swirls, rosettes and dots for a simple and elegant treat you can enjoy with your Valentine.
53. Valentine's Day Marshmallow Pops
These quick and easy marshmallow pops make a fun treat for the kids. Simply dip store-bought marshmallows in melted candy and sprinkles, then use a FoodWriter marker to add a message of LOVE to each pop.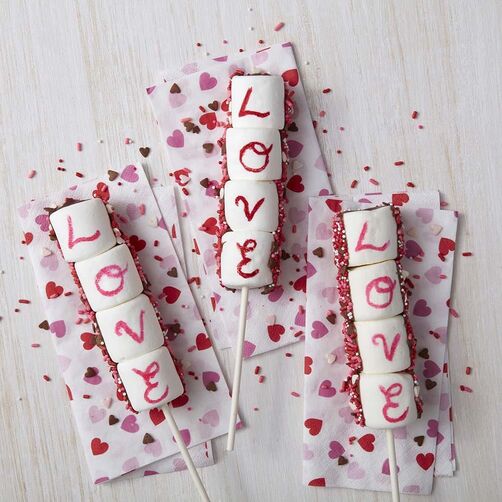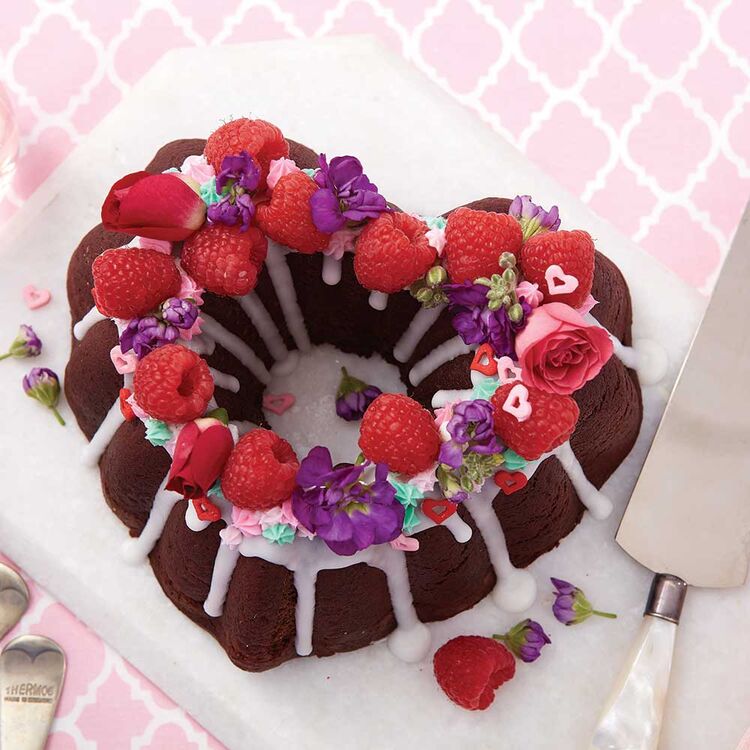 54. Valentine's Day Heart Chocolate Pound Cake
Great for dessert or brunch, this Chocolate Heart Pound Cake is a lovely addition to your Valentine's Day celebration. A simple chocolate pound cake is topped with fresh raspberries and edible flowers, then finished off with a dash of heart-shaped sprinkles.
55. His and Hers Valentine's Day Cupcakes
Looking for something fun to make your Valentine? These cute His and Hers Valentine's Day Cupcakes are a fun treat for kids, parents, or even newlyweds!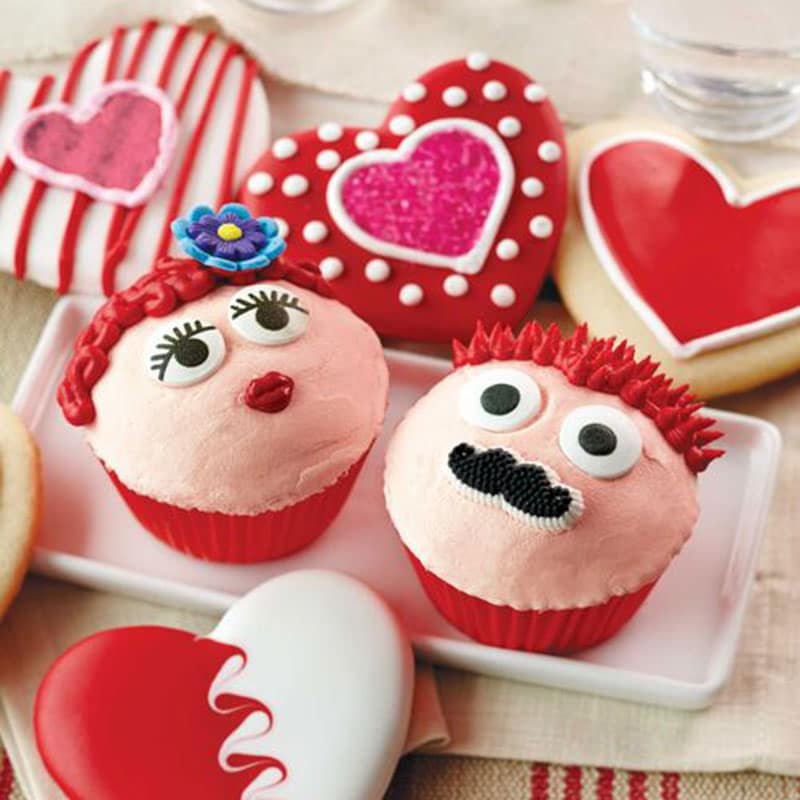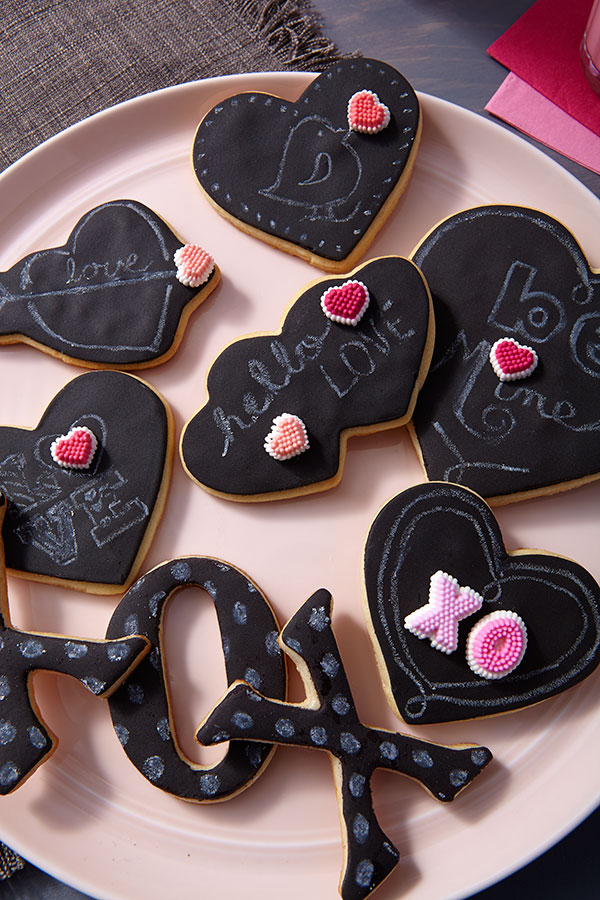 56. Chalkboard Love Note Cookies
Let the cookies be your canvas with these Chalkboard Love Note Cookies. Great for sneaking into lunch bags or backpacks, these cookies are easy to customize and decorate with Bright White Candy Melts candy.
57. Truffle-Topped Chocolate Cake
With layer upon layer of chocolate, this Truffle-Topped Chocolate Cake is perfect for all you cocoa lovers out there! Topped with homemade chocolate truffles, this decadent cake is great for Valentine's Day, but could also be used for birthdays, anniversaries or just because.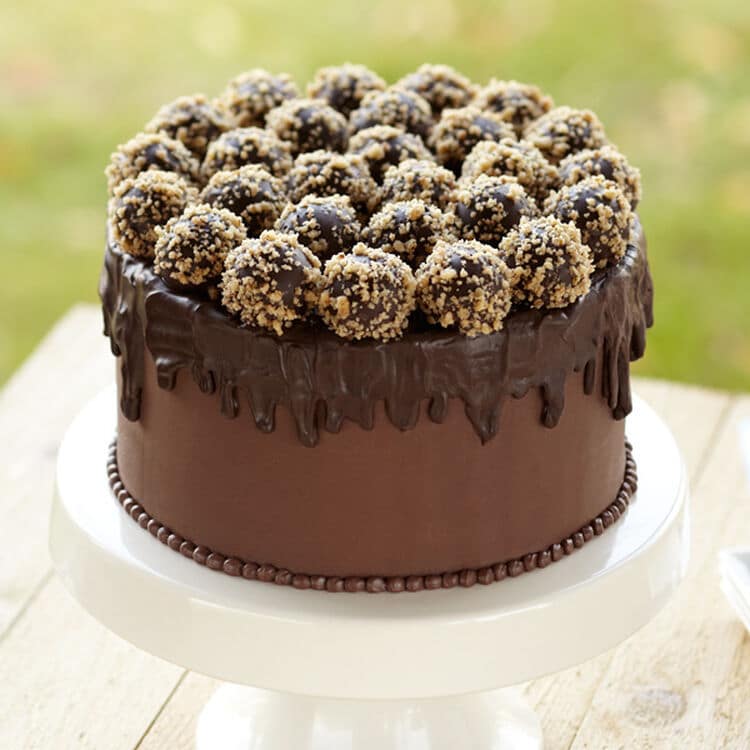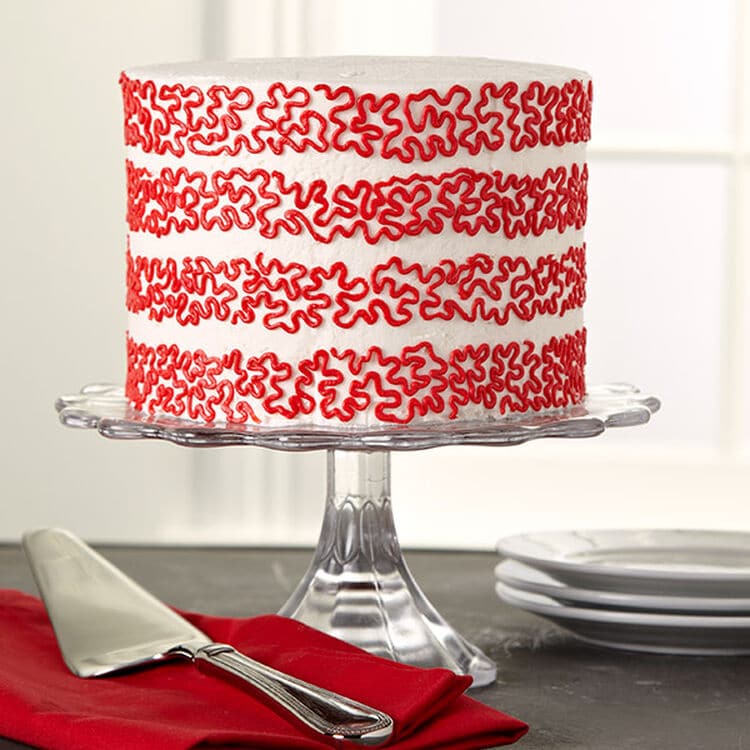 58. Red Hot Red Velvet Cake
Your favorite red velvet cake is all dressed up for Valentine's Day with a Cornelli lace pattern piped on the side. A simple and elegant Valentine's Day dessert, this cake can also be topped with a sweet message or cake topper.
59. Layered with Love Fondant Cake
All you need is love (and fondant) to make this cute Layered with Love Fondant Cake. Perfect for Valentine's Day or even a wedding shower, this simple cake is one you'll just LOVE to show off!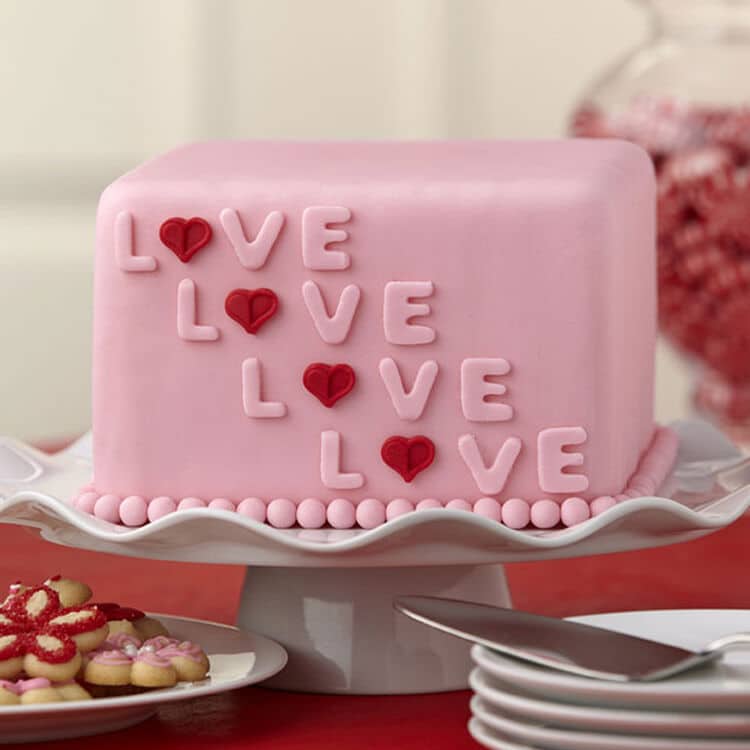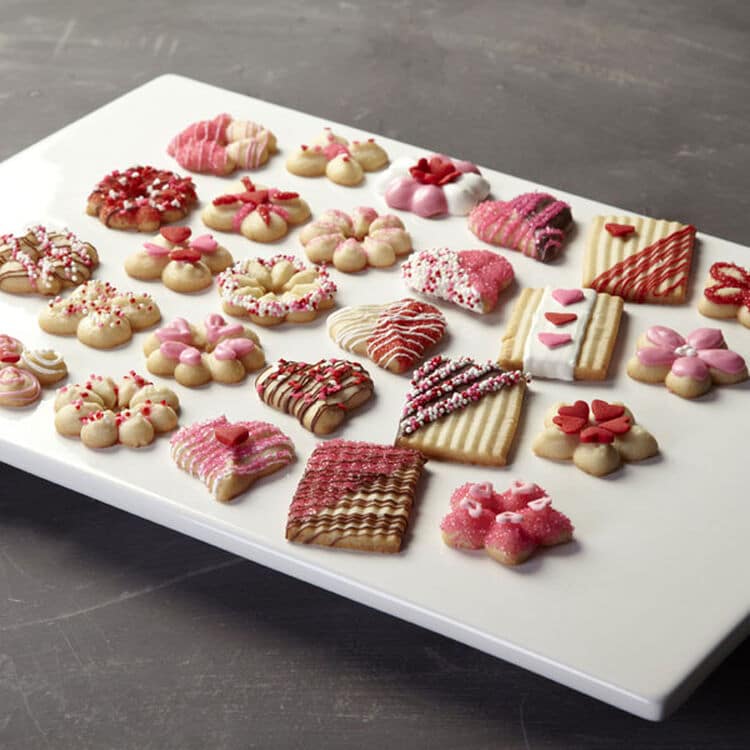 60. Valentine's Day Spritz Cookies
Spritz cookies aren't just for Christmas anymore! Give your Valentine a little bite of buttery goodness with these simple and festive Valentine's Day Spritz Cookies. Topped with colorful candy and sprinkles, these cookies are a sweet way to show how much you care.
61. Hearts of Blue Cake
Use the marbled fondant technique to make these beautiful blue and white hearts, perfect for placing on cakes of almost any size. We used teal for this cake, but you can marbleize fondant using any color combination you'd like. Try pink or red for a more traditional look, or have fun experimenting with your favorite color.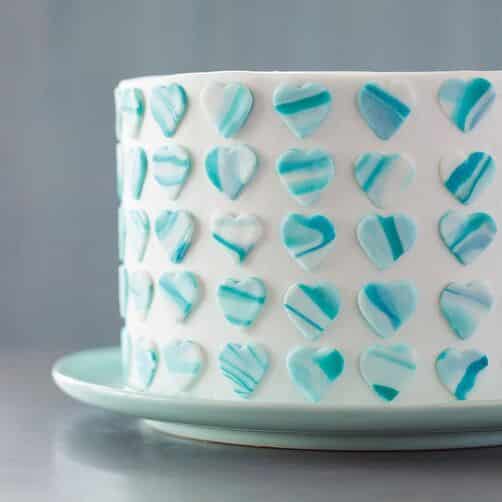 62. Heart in Bloom Giant Cookie
More of a cookie person than a cake person? Well, this Heart in Bloom Giant Cookie Cake is for you! With a cookie base, this Valentine's Day treat is filled with buttercream flowers, made using the Easy Blooms tip set which allows you to pipe decorative flowers with just one squeeze.
63. Triple Chocolate Merveilleux
This classic meringue-based mini cake is an elegant and decadent dessert you can share with your sweetheart. Layers of chocolate meringue and whipped cream are topped with shaved Candy Melts candy, then frozen for a light and airy chocolate dessert that pairs perfectly with a cup of cocoa or espresso.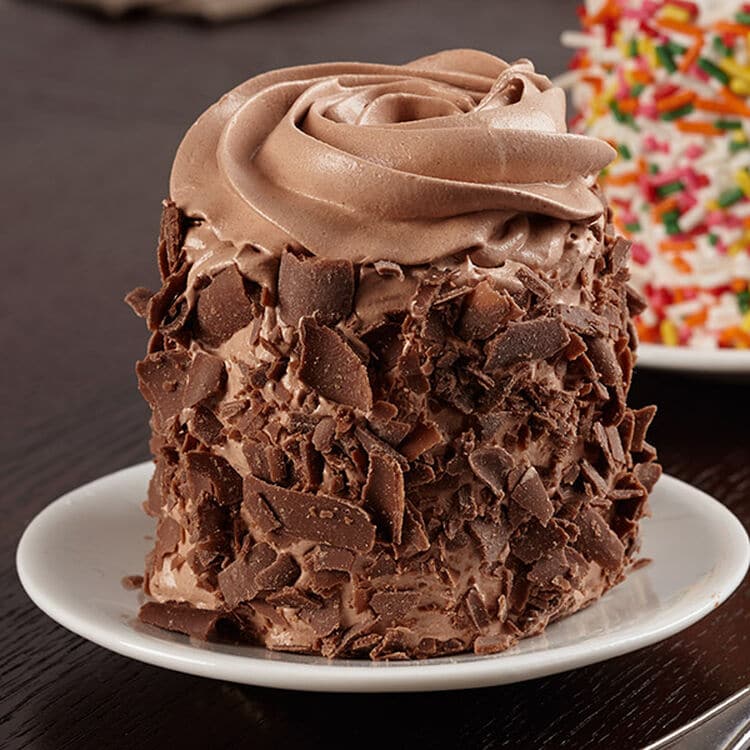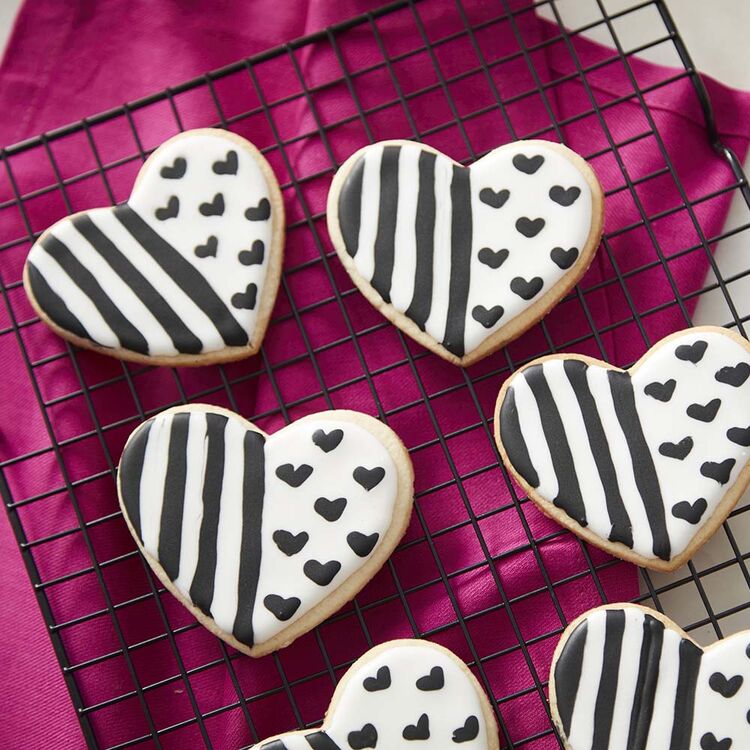 64. Black and White Heart Cookies
Black and white can make a strong impression, and these Black and White Heart Cookies are no exception. Decorated with stripes and hearts, these Valentine's Day treats are simple, yet stunning.
65. Sparkling Purple Geode Cookies
No need to go digging for diamonds – these Geode Heart Cookies will make your kitchen sparkle and shine! Decorated with rock candy and icing colors, these sparkling treats are a hidden gem you'll love sharing with family and friends.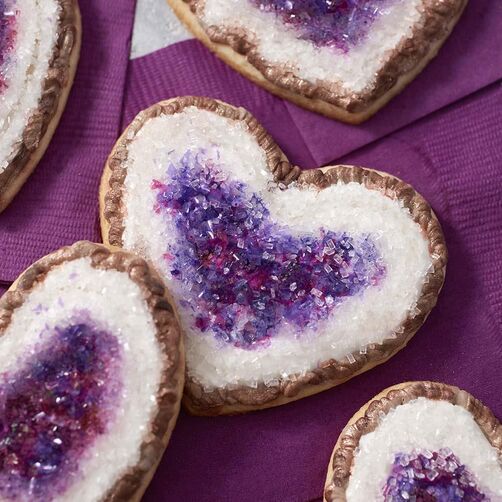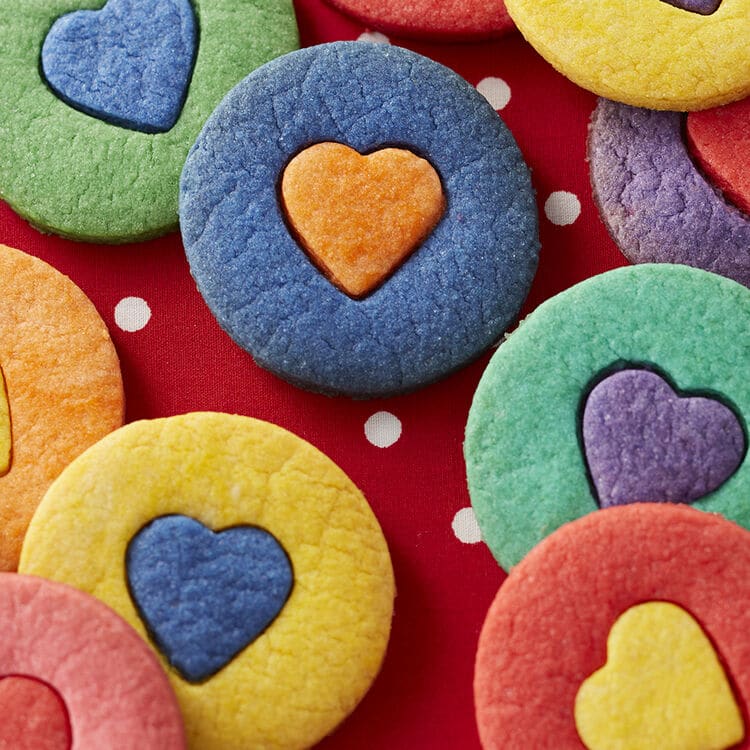 66. Cookies Filled with Love
These cookies are literally filled with love! A fun project for kids to do with the whole family, these cookies are made by tinting cookie dough, then using cut-outs to make inlay shapes. Add some icing or sprinkles if you'd like, or just leave them as is for a colorful Valentine's Day treat.
67. Chocolate-Chocolate Cupcakes
These chocolate cupcakes are so nice, we've said it twice! Packed with double the chocolate flavor, these simple cupcakes make a tasty dessert for Valentine's Day. Top them with sprinkles for a little more fun!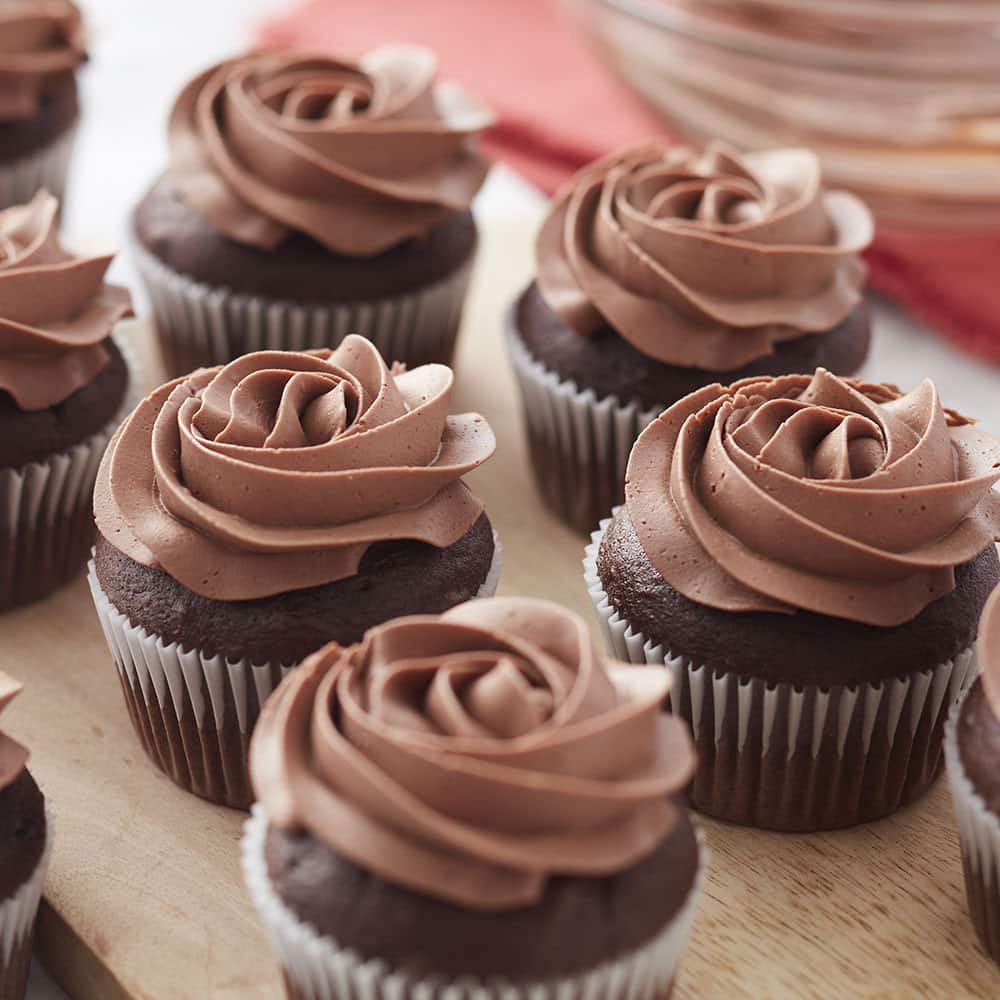 Need some more inspiration this year? Check out our other Valentine's Day-themed dessert posts to pair with a romantic dinner in or to drop off on a doorstep:
So, which of these delicious dessert recipes are you going to make for that special someone on Valentine's Day? Let us know in the comments below or share a picture of your carefully crafted bake on Instagram and be sure to tag us @wiltoncakes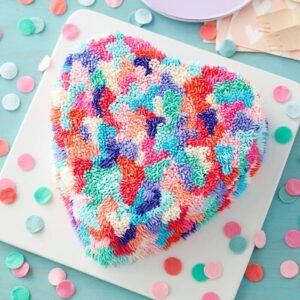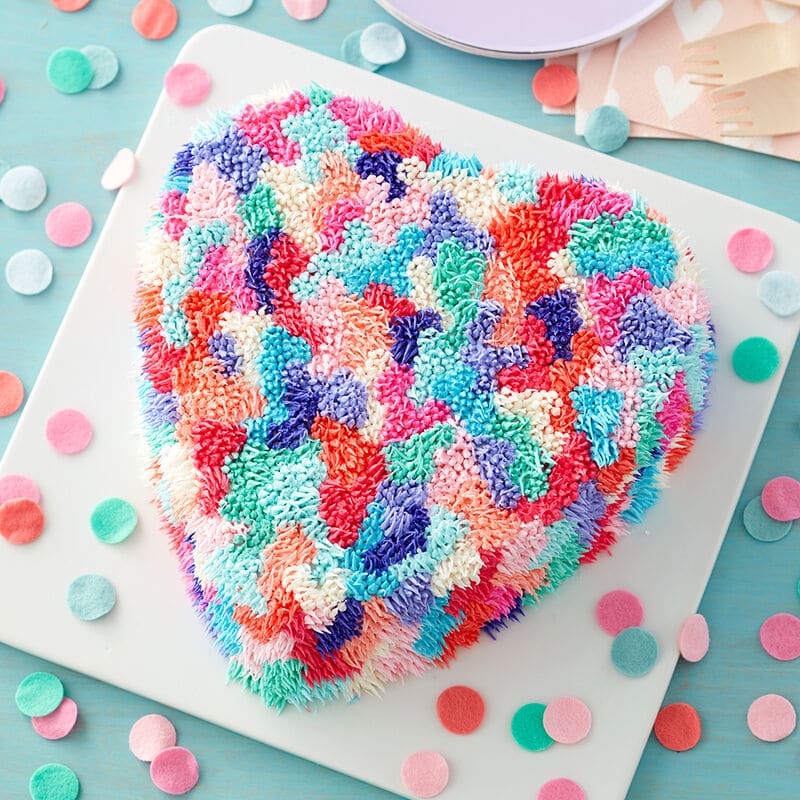 65+ of Our Best Valentine's Day Dessert Recipes
Forget about store-bought candies and desserts this year. Bake one of these delicious Valentine's Day desserts instead to share or gift to that special someone to show them just how much you care!
Tried this recipe?
Take a picture and tag us @WiltonCakes on Instagram