Make your Valentine's Day the best ever with these great Valentine's Day treats! From luscious cakes to decadent brownies, these sweets are the perfect way to show your Valentine how much they're loved!
Forget the box of chocolates, put away the chocolate fondue fountain and ditch the store-bought sweets this year because nothing says "You're someone special!" like a homemade Valentine's treat! We've put together a huge list of sweets that are perfect for a romantic Valentine's Day date or dropping off for family and friends. However you choose to share them, these easy Valentine's treat ideas are a great way to tell someone just how you care!
1. Valentine's Day Heart-Shaped Chocolate Pound Cake
Surprise your sweetie this Valentine's Day with a rich, chocolatey pound cake that's shaped like a heart. Topped with a confectioners' sugar glaze, piped stars, ripe red raspberries, cut-out heart sprinkles and gorgeous fresh flowers, this dessert is sure to make them fall in love with you even more.
2. Penguin Valentine's Day Cake
This cute penguin cake has lots of heart and will delight every kid on your Valentine's Day list. Super simple to decorate using vanilla, chocolate and a bit of orange frosting, along with red fondant cut out in the shape of a heart for the center. An adorable treat that's fun to eat!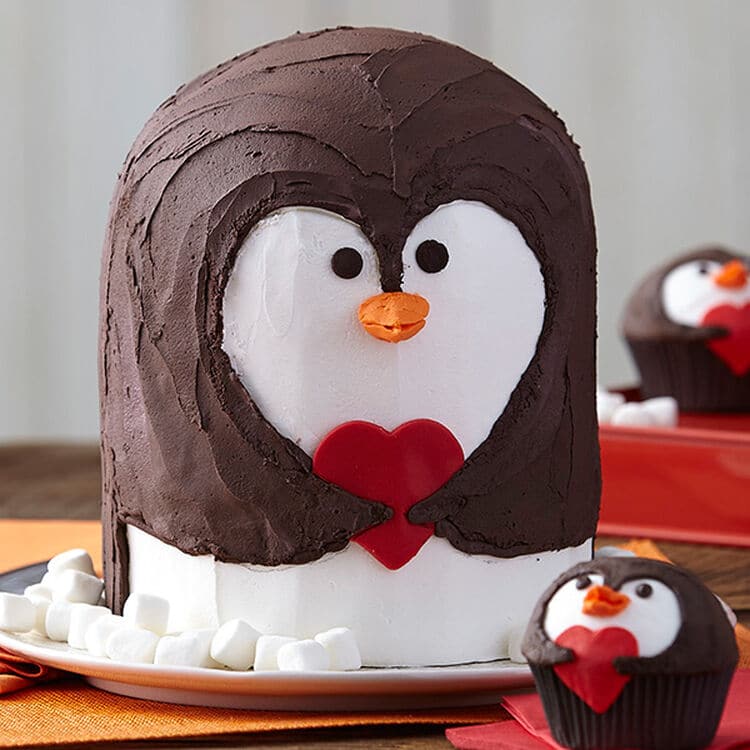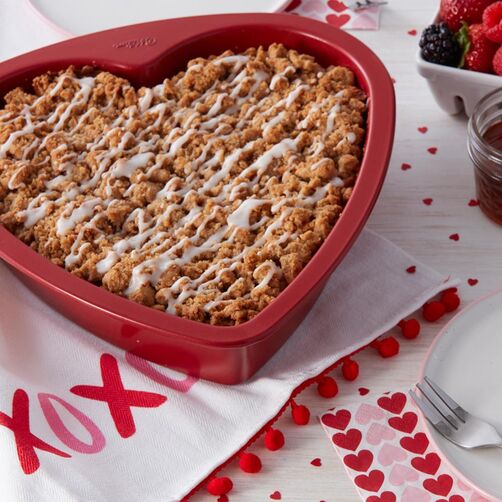 3. Valentine's Day Baked French Toast
Start their morning off with a Valentine's Day breakfast they won't soon forget. Using our heart-shaped cake pan, this baked French Toast recipe is simple and easy to make. Topped with streusel and a confectioners' sugar glaze, it's the perfect way to say "I love you" and send them on their way for the day.
4. Red Velvet Brownies with a Cheesecake Swirl
What do you get when you combine red velvet, chocolate and cheesecake together? The ultimate Valentine's Day dessert. Brownie batter is tinted red, topped with a cheesecake mixture, then swirled with more brownie batter and baked. Your Valentine will have a hard time deciding which they love more – you or these decadent bars of deliciousness.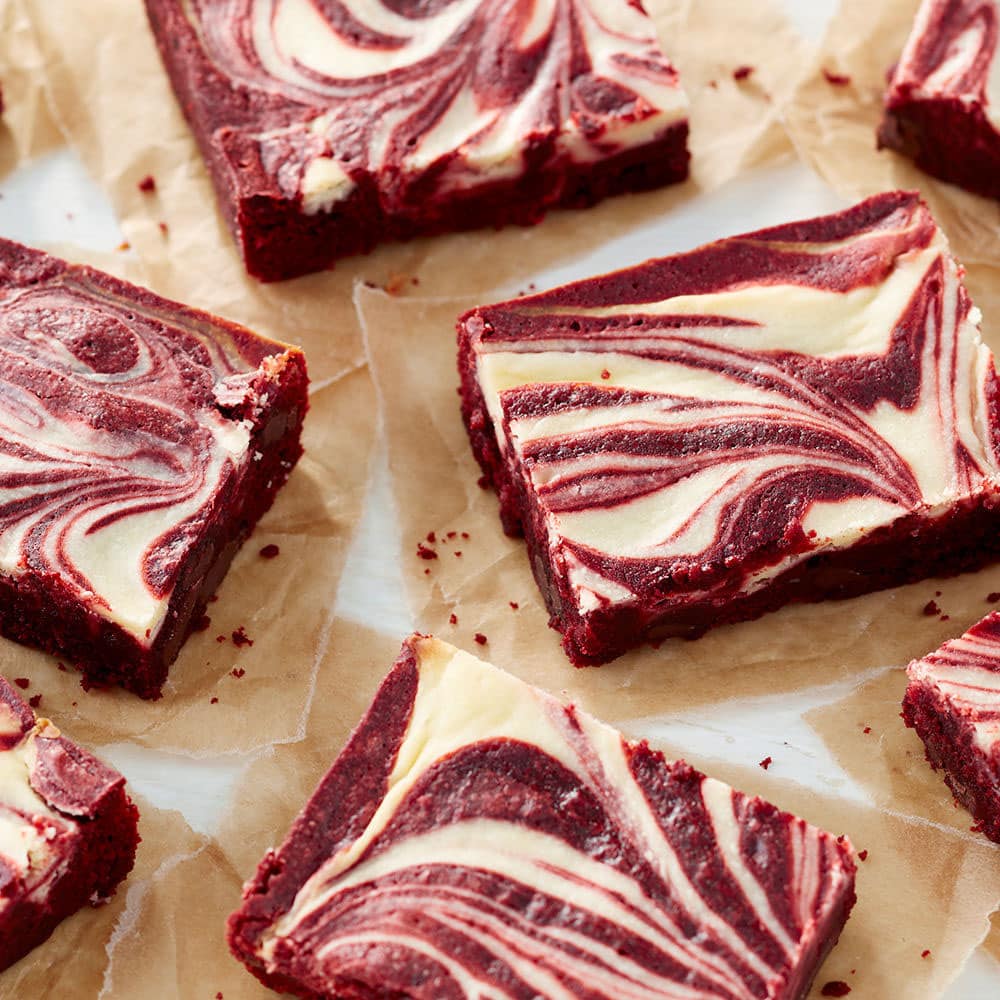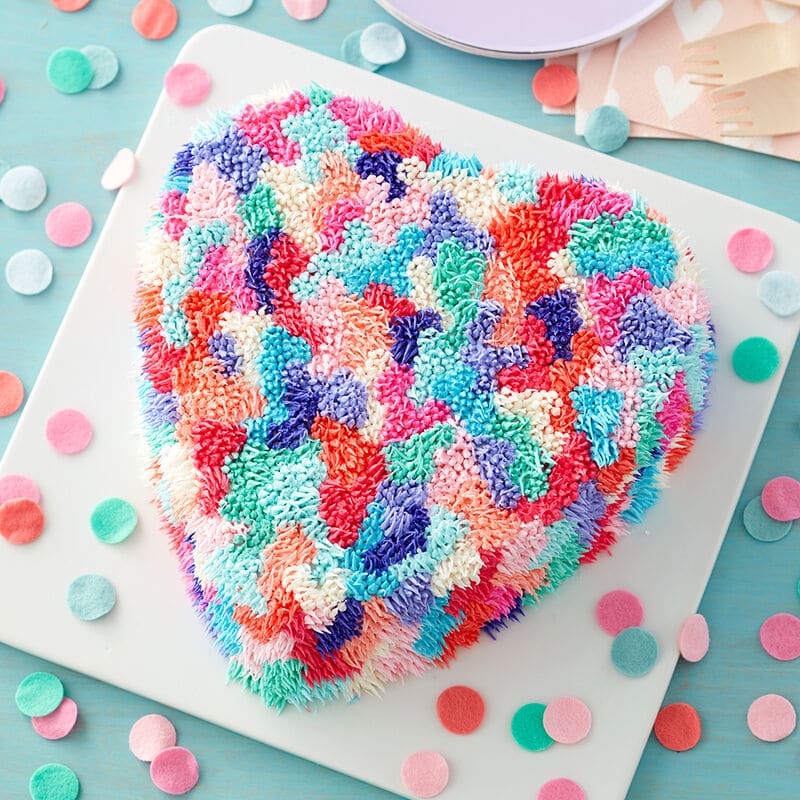 5. Shaggy Heart Valentine's Day Cake
Not your traditional Valentine's Day dessert, this heart-shaped cake is full of fun and texture. It's easy to achieve this look with tip 233 and different colors of icing. Great for a children's party, a Galentine's celebration or an after dinner treat on Valentine's night.
6. Foxy Cookie Sandwiches
These sly sandwich cookies are the perfect treat to hand out on Valentine's Day. Sneak them into kid's lunch bags or onto a coworker's desk for a sweet afternoon surprise.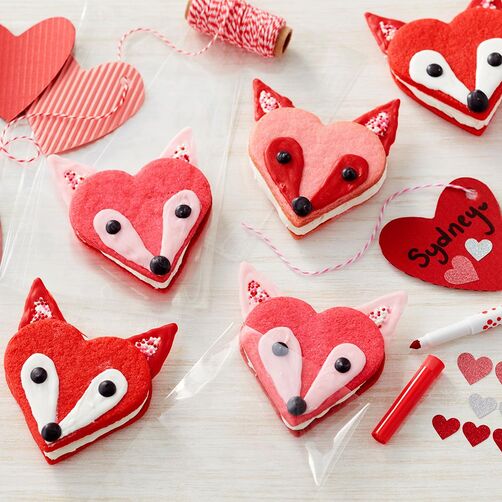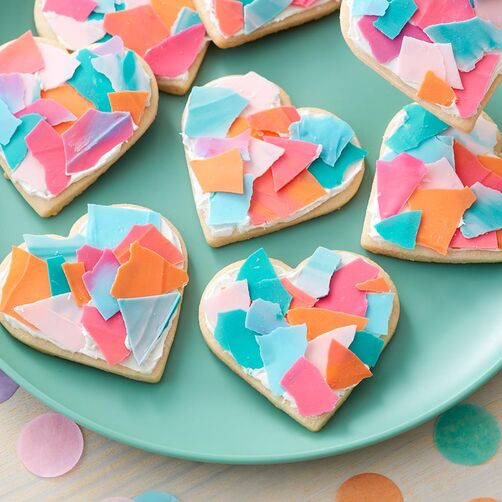 7. Heart-Shaped Candy Confetti Cookies
Celebrate the ones you love with heart-shaped cookies topped with brightly colored candy bark made with Candy Melts candy. A fun treat for all your pint-sized Valentine's, and kids will love breaking up the bark to create the confetti!
8. Mini Round Heart Cookies
As simple as they are sweet. These mini cookies are made using our Roll-Out Cookie Recipe then decorated with pink, white and red cookie icings, some with hearts in the center. Add sprinkles for a fun touch, then serve these bite-size treats to your favorite Valentines.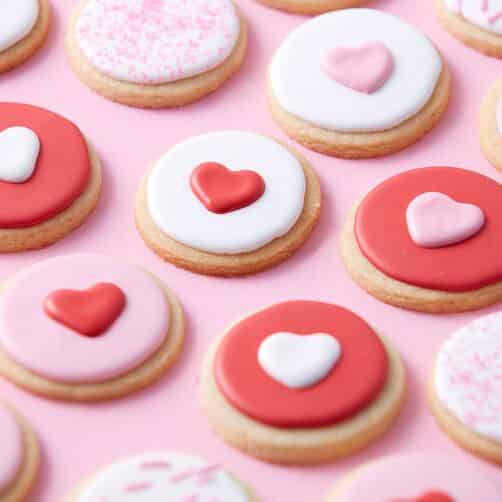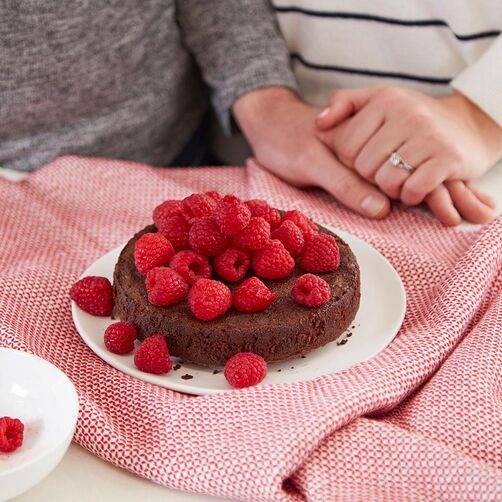 9. Lava Cake for Two
A romantic dinner sets the stage for what comes after – a dessert just for two. This velvety rich chocolate cake topped with a hint of red from fresh raspberries is the perfect ending to your Valentine's Day date night. You can even add some ice cream if you or they would like 😉
10. Pull-Apart Brownie Heart
Give each of your Valentines a piece of your heart with this pretty pull-apart dessert. Bite-size brownie squares are arranged in the shape of a heart then decorated with piped stars, flowers and dots in Valentine's Day colors.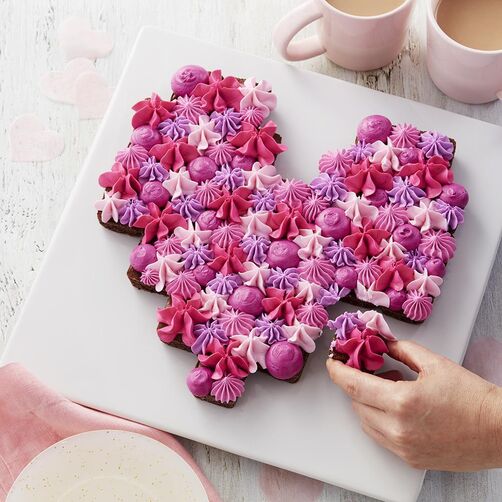 11. Chocolate Covered Strawberry Cupcakes
We've taken a Valentine's Day staple and perched it atop a rich chocolate cupcake for a doubly delicious Valentine treat! This two-in-one dessert can be enjoyed between lovers or loved ones alike!
12. Red Wine Brownies
Our red wine brownies are the definition of decadent and topped with a chocolate wine glaze. Add this blissfully boozy dessert to this year's Valentine's Day dinner to help make things even more memorable.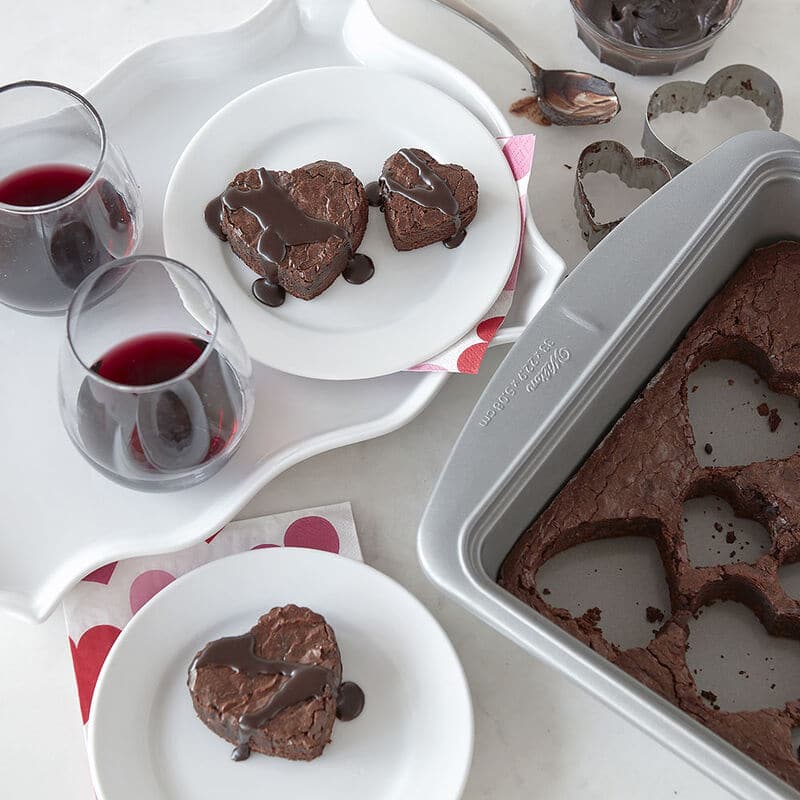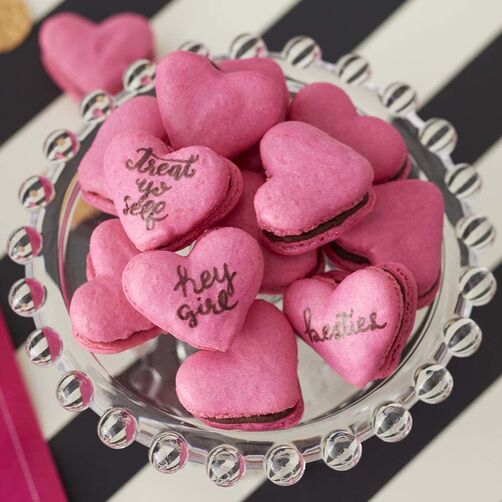 13. Heart Shaped French Macarons
C'est la vie, c'est l'amour! These bite sized beauties are both vibrant in color and flavor, and make for a perfect party plate for Valentine's Day or any celebration of love!
14. Red Velvet Donuts with Cream Cheese Glaze
Red velvet cake takes a new shape with this dessert recipe. These donuts – topped with a scrumptious cream cheese glaze – start your Valentine's Day off on a sweet note.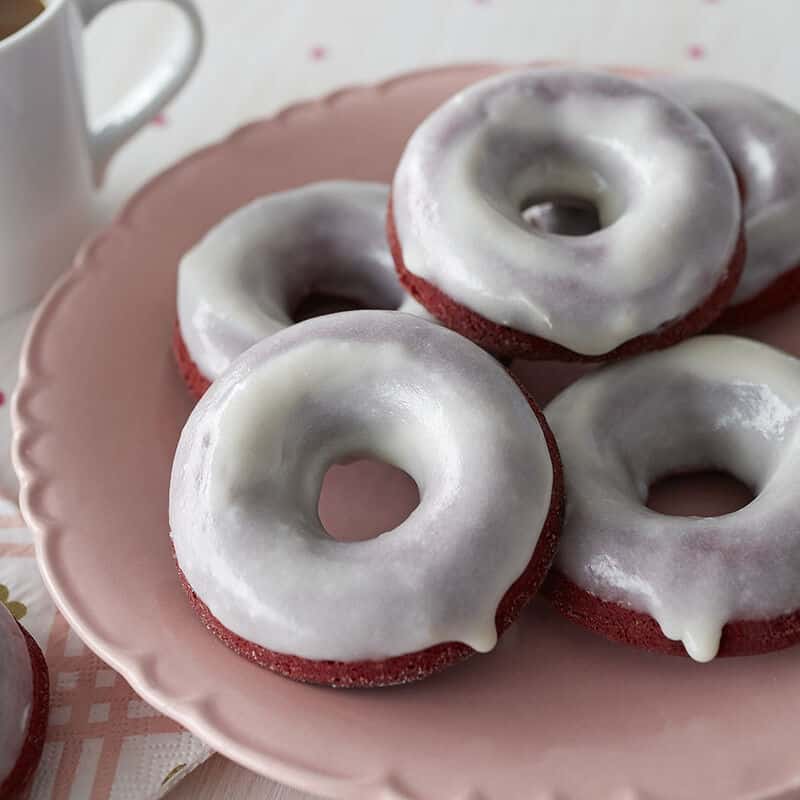 15. Chocolate Dipped Strawberry Cake
With all due respect to Valentine's Day recipes that manifest in bite sized form, this recipe takes the cake. Chocolate cake layers wrapped in strawberry buttercream – inside and out! – topped with chocolate ganache make for an indulgent Valentine's dessert.
16. Mini Cherry Heart Pies
This Valentine's recipe takes the cherry from the top and puts it in the middle! Our Cherry Heart Pies are the perfect size for a kid's party or an adult's soiree, as timeless as love itself.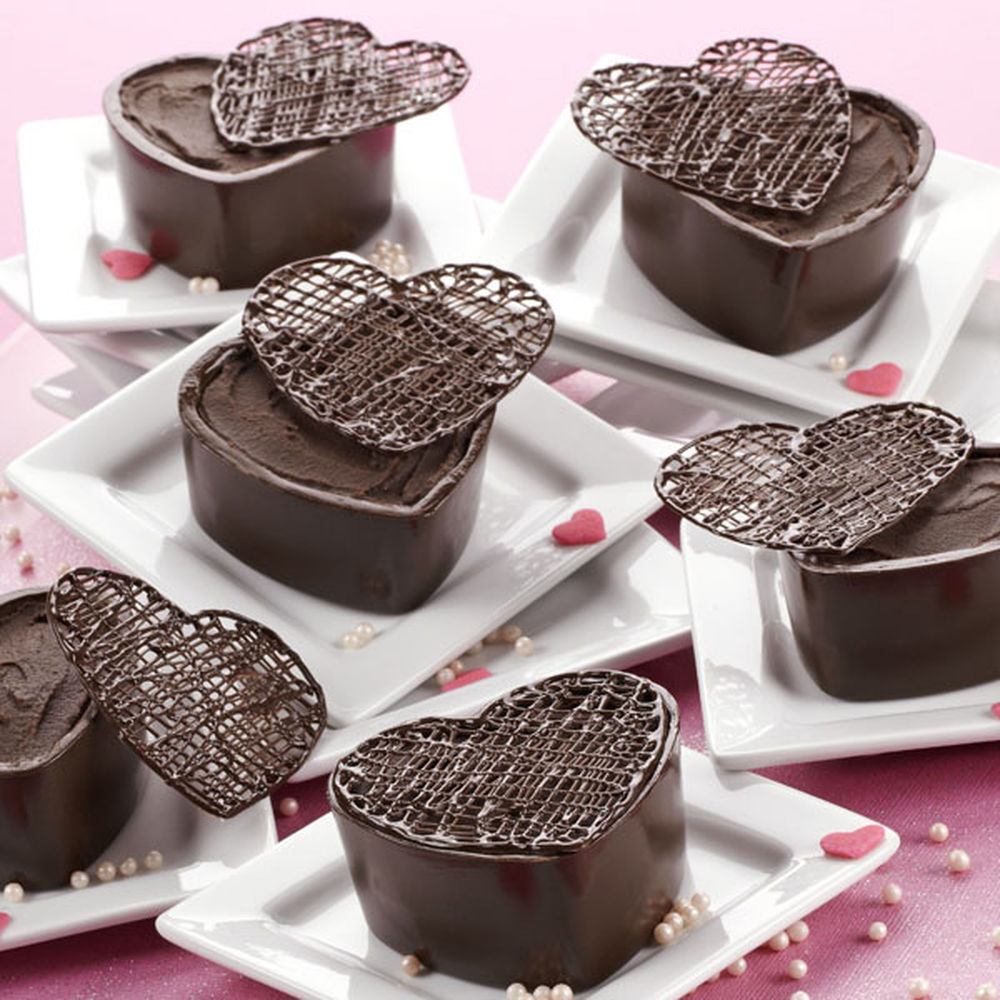 17. Chocolate Raspberry Mousse Hearts
Mousse Hearts for your dear hearts! These delightful chocolate raspberry mousse hearts are ripe for the picking of your favorite Valentine's dessert.
18. For the Love of Stripes Valentine's Day Cake
Decorated with buttercream stripes and hearts, this colorful Valentine's Day cake is a great treat to make for your Valentine. Use purple and pink buttercream as we did here, or try your own favorite color combinations (black and white stripes with red hearts would be a striking variation!).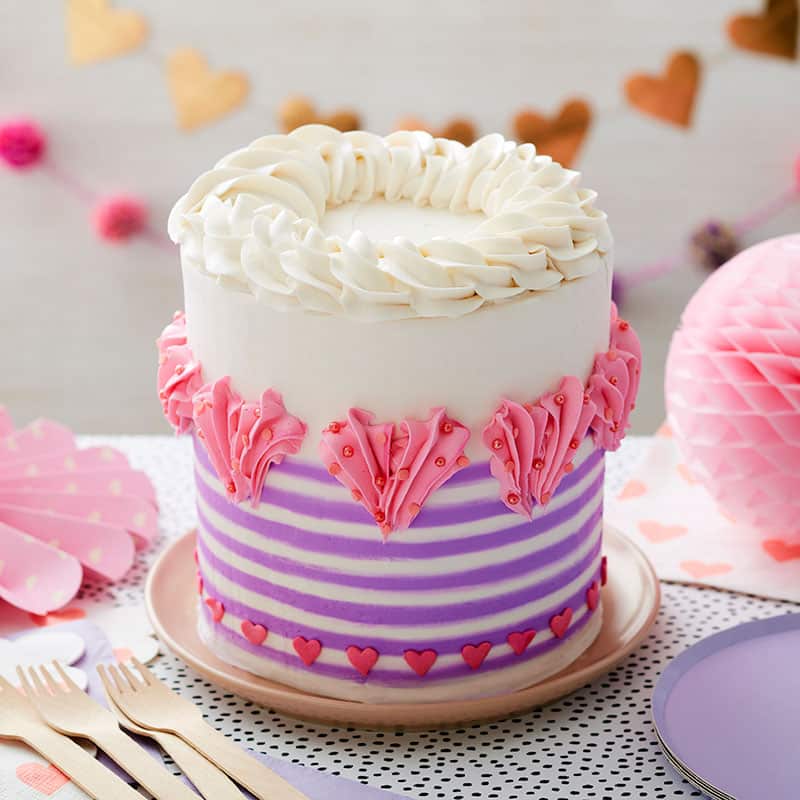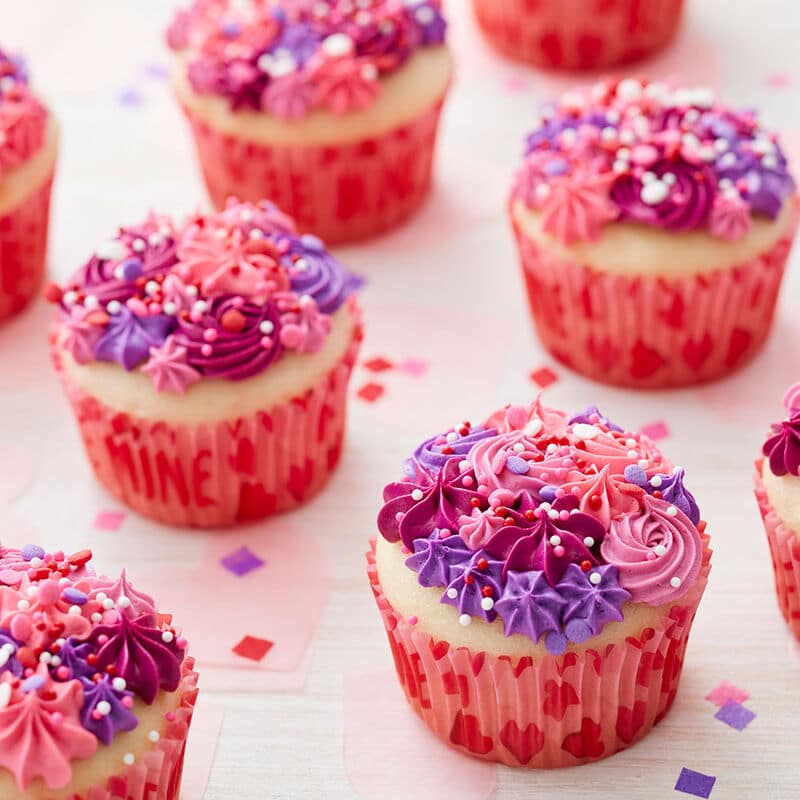 19. Happy Valentine's Day Cupcakes
Topped with fun stars and rosettes, these Happy Valentine's Day Cupcakes are a great way to show someone how much you care. Easy enough for beginning decorators, these cupcakes combine a variety of piping techniques to create something truly eye-catching.
20. Cupid's Heart Cake
This easy Valentine's Day cake will make a big impression on anyone you love! Simply make a heart-shaped cake using our shaped pan and your favorite cake recipe, then ice it with light pink buttercream and top it off with a sweet raspberry border. Great for weeknight desserts, this quick and easy cake can also be served for Mother's Day or wedding anniversaries.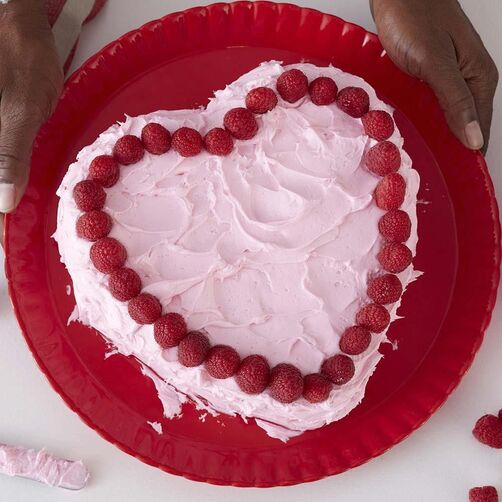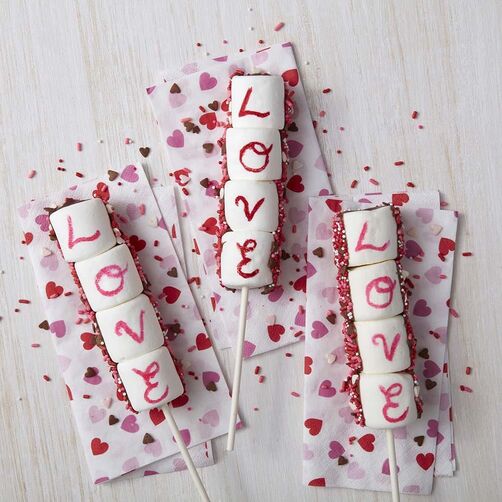 21. Valentine's Day Marshmallow Pops
Looking for a cute edible Valentine to sneak into your kids' lunch bags? These Valentine's Day Marshmallow Pops are the perfect solution! Use store-bought marshmallows to form the pop, then dip it in melted Candy Melts candy and fun Valentine's Day sprinkles. Finally, add a message of LOVE (or whatever message you'd like to write) with edible FoodWriter markers.
22. Scalloped Heart Cookies
Give someone a piece of your heart this Valentine's Day with these colorful Scalloped Heart Cookies. Decorated using a standard petal tip, this cookie looks like a cozy knit pattern, great for warming hearts (and tummies) of all ages!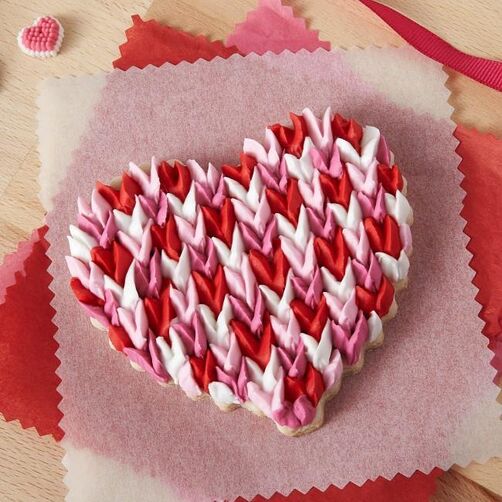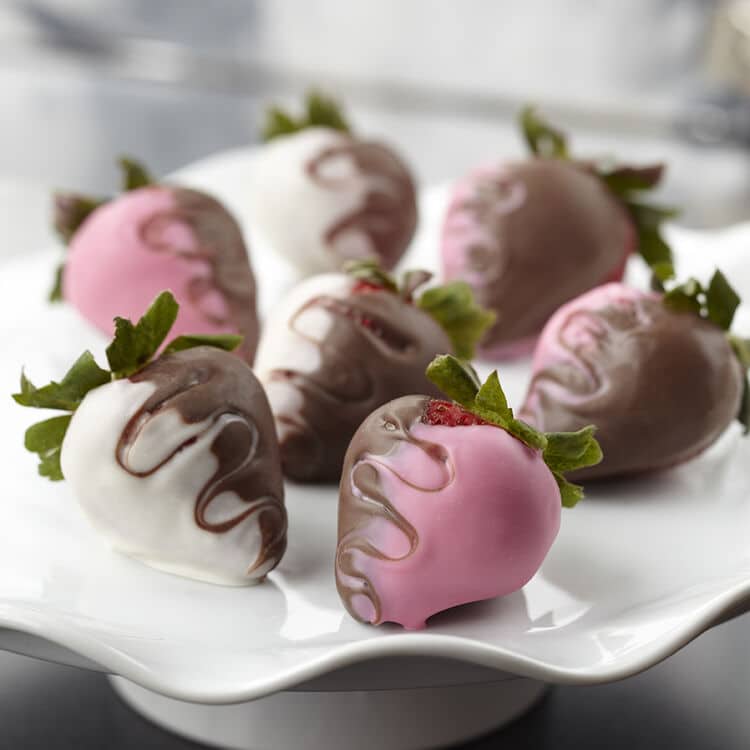 23. Half-and-Half Swirled Strawberries
Nothing says Valentine's Day quite like candy-coated strawberries! Combining two colors with a simple swirl, these candy-dipped strawberries make a quick and easy treat for your sweetie.
24. Confetti Cake Batter Cookies
Sprinkle your Valentine with love – and these fun Confetti Cake Batter Cookies! Topped with colorful buttercream and jimmies, these soft and cakey cookies are crowd-pleasers no matter what the occasion.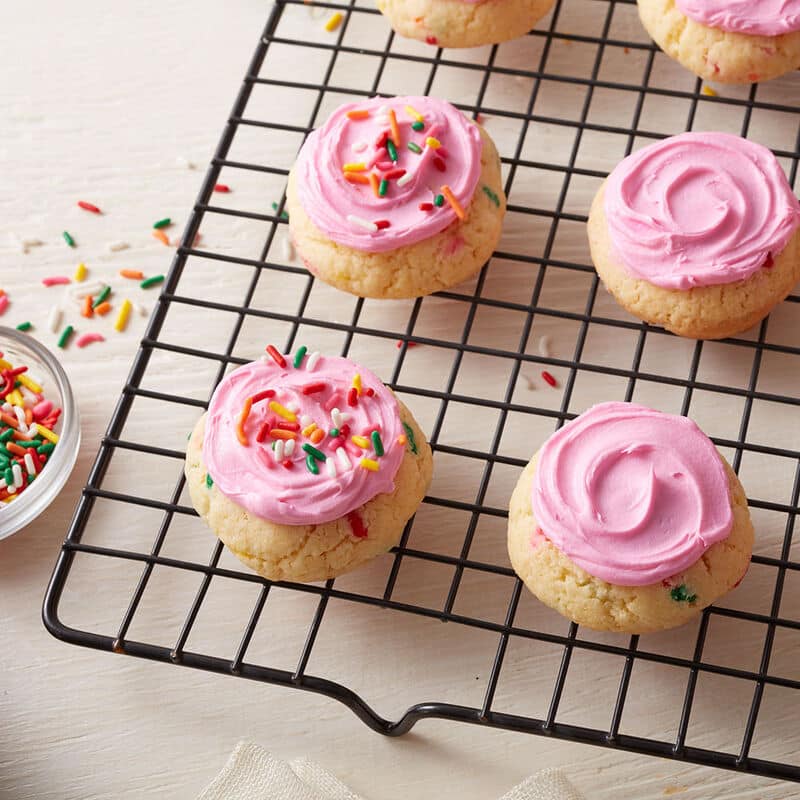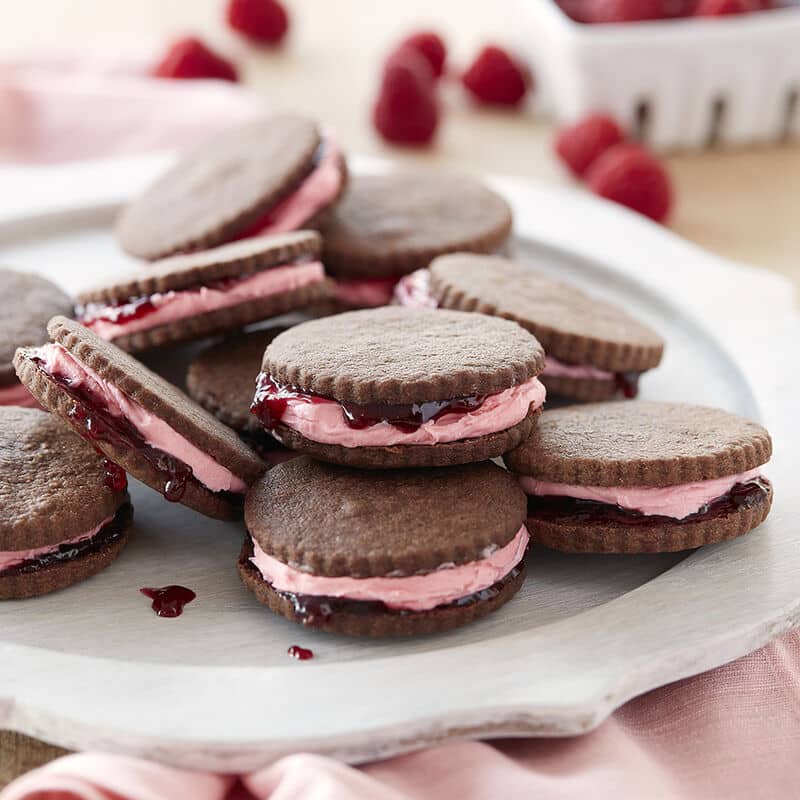 25. Raspberry Jam Shortbread Cookies
Chocolate and raspberry are a classic combination, and these Raspberry Jam Shortbread Cookies are the best way to celebrate these two flavors. A chocolate salted caramel shortbread adds richness to these cookies, while the raspberry buttercream and jam adds just the right amount of sweetness for a balanced and delicious treat.
26. Strawberry Champagne Thumbprint Cookies
Pop a bottle of bubbly and share a plate of these Strawberry Champagne Thumbprint Cookies with your Valentine! This is an elegant celebration cookie, with the bright, clean flavor of Champagne and the sweetness of strawberry preserves. Add some pearlized sugar on the outside to mimic the bubbly fizz of sparkling wine!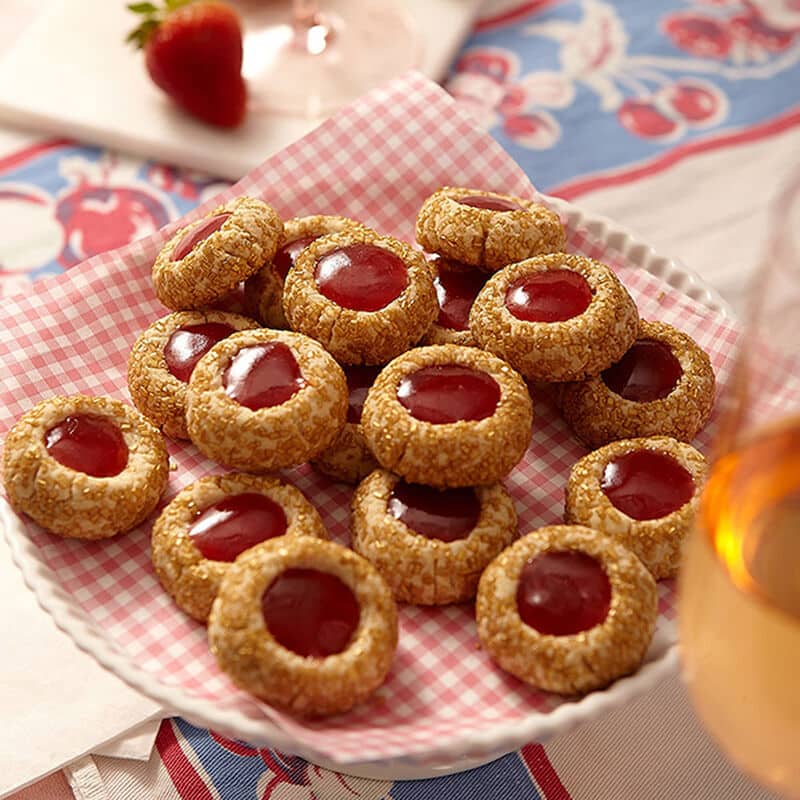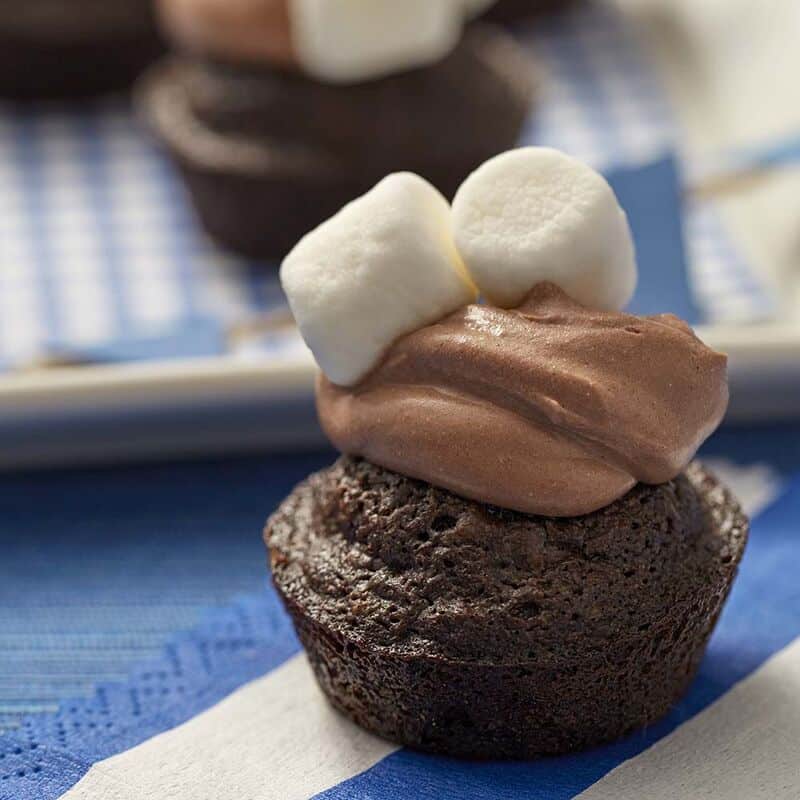 27. Mini Hot Chocolate Brownies
Any chocolate lover is sure to love these adorable Mini Hot Chocolate Brownies. Topped with hot cocoa whipped cream and mini marshmallows, these bite-sized treats are best served with a big cup of hot chocolate or a rich chocolate mocha.
28. Candy Clusters
Forgo the store-bought chocolates and make your own candies for your Valentine this year. Filled with dried fruits, coconut, raisins, mini marshmallows and more, these quick and easy candy clusters are great for gifting to friends and neighbors….plus, they're easy to pack in treat bags or gift boxes!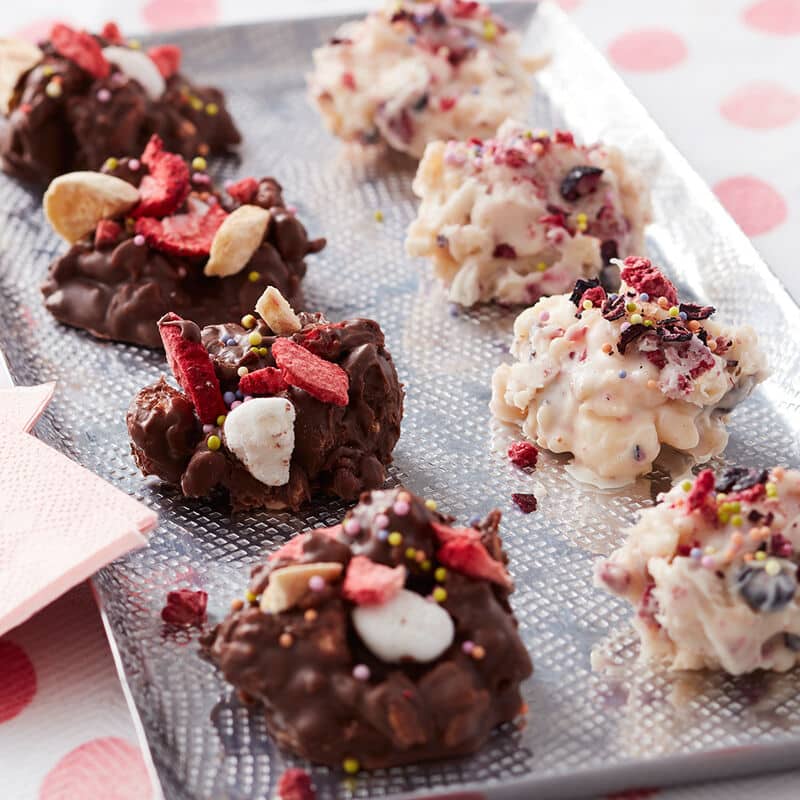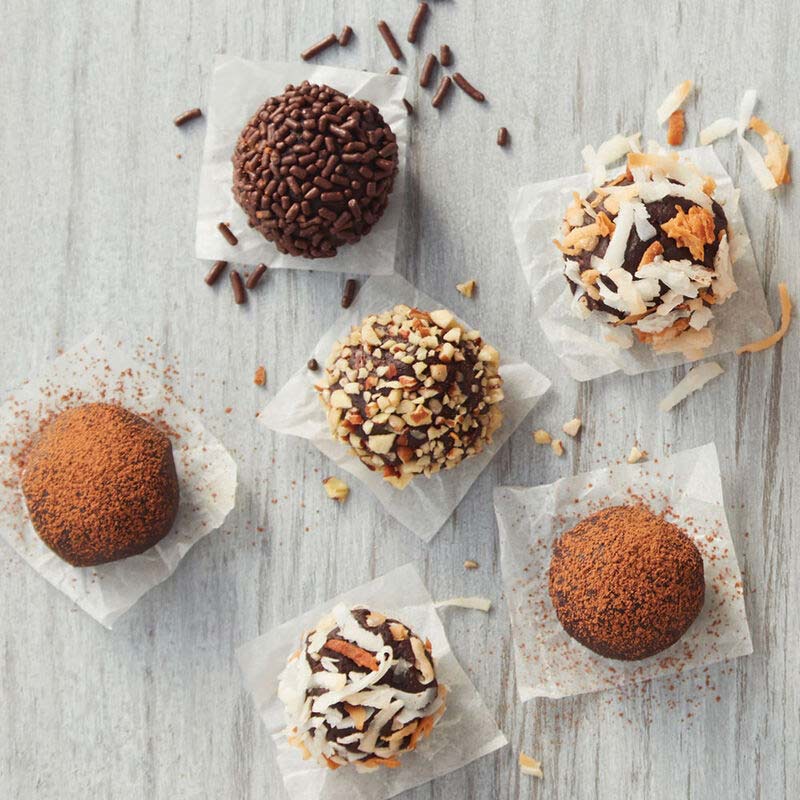 29. Chocoholic Truffles
Nothing says I love you like a homemade treat, and these Chocoholic Truffles are sure to get the message across with your Valentine! Easy to make and fun to top with your favorite add-ins (we suggest jimmies, nuts, coconut and cocoa powder, but you can use whatever you'd like!), these rich and chocolate truffles are sure to be a hit with all your loved ones.
30. Galentine's Day Waffle Cake
No Galentine's Day brunch is complete without waffles! Piled high with pretty pink waffles and whipped cream, this waffle cake is great for breakfast with the girls, but can also be served for a lighter Valentine's Day dessert.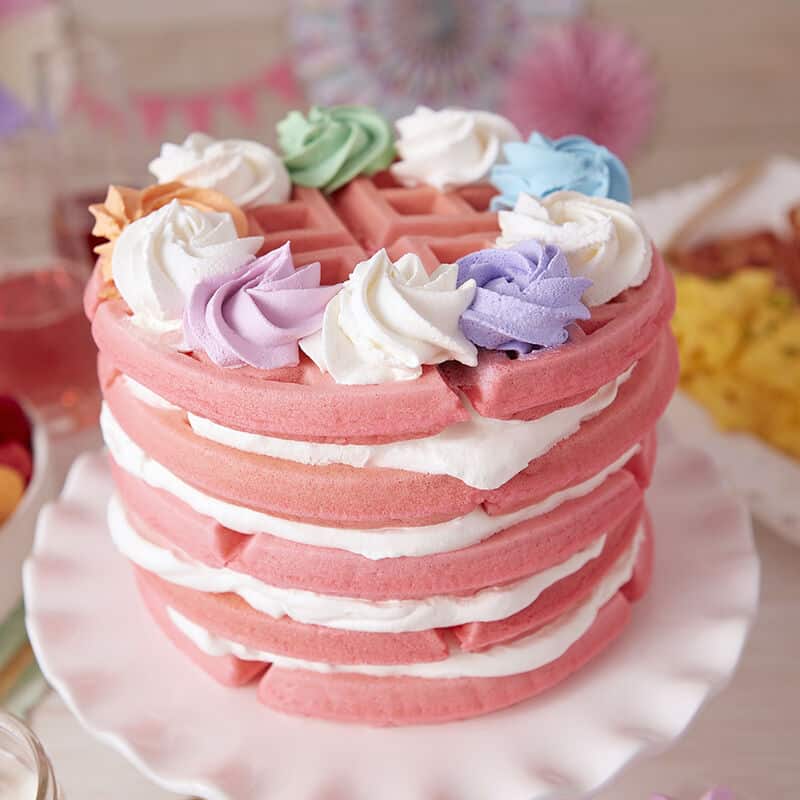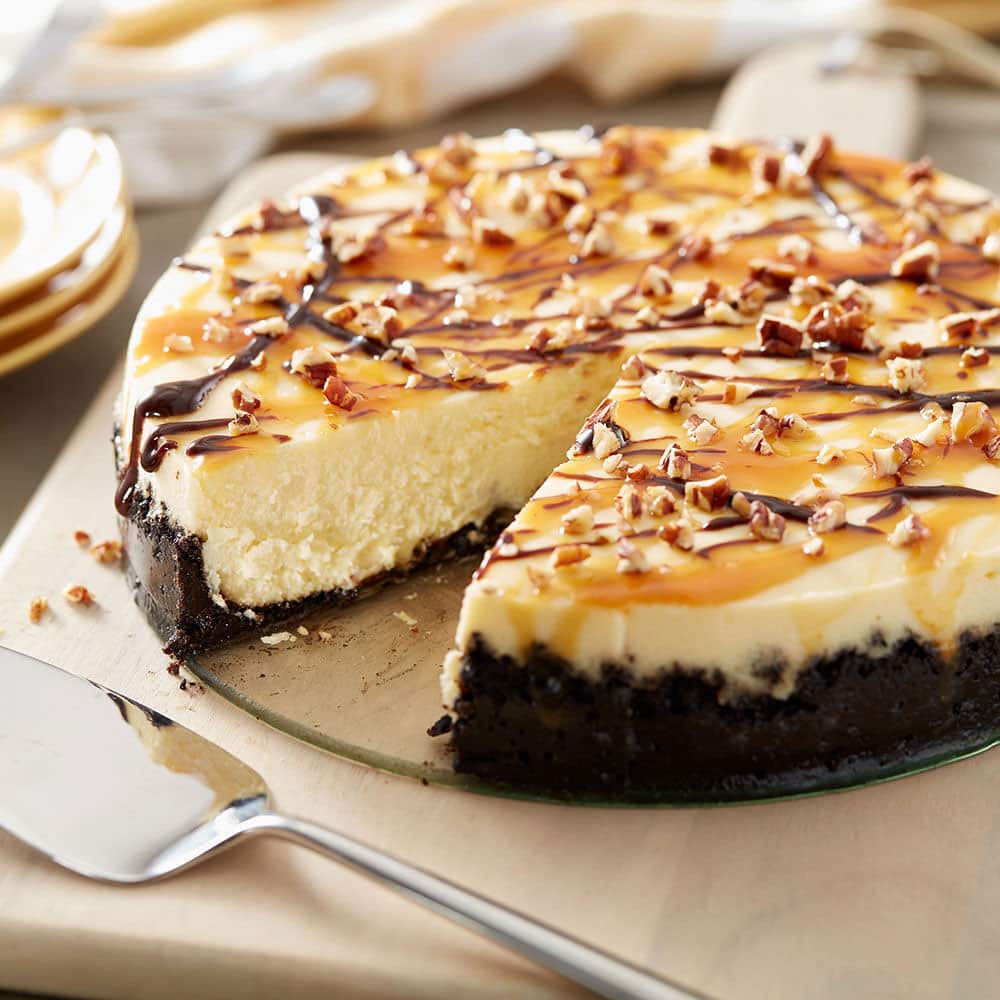 31. Classic Turtle Cheesecake
This Classic Turtle Cheesecake has all the right ingredients for a decadent dessert. Start with a chocolate cookie crust, then make a sweet and tangy cream cheese filling. Finally, top the whole thing off with a drizzle of hot fudge and caramel and a sprinkle of salty pecans. Be sure to save a slice of this for yourself because this one goes fast!
32. No-Bake Chocolate Raspberry Cheesecake Shots
If there's just no room for dessert but you need a little something sweet, these No-Bake Chocolate Raspberry Cheesecake Shots are just the thing. A chocolatey cookie shot glass is filled with a sweet raspberry cheesecake filling. A little drizzle of chocolate syrup and a fresh raspberry tops the whole thing off. Best of all, no baking required! These edible shot glasses set up in the freezer.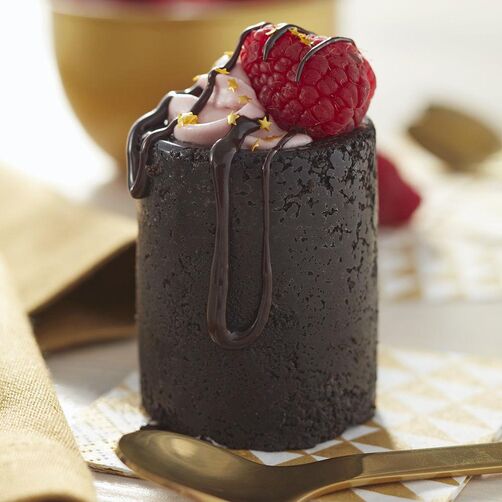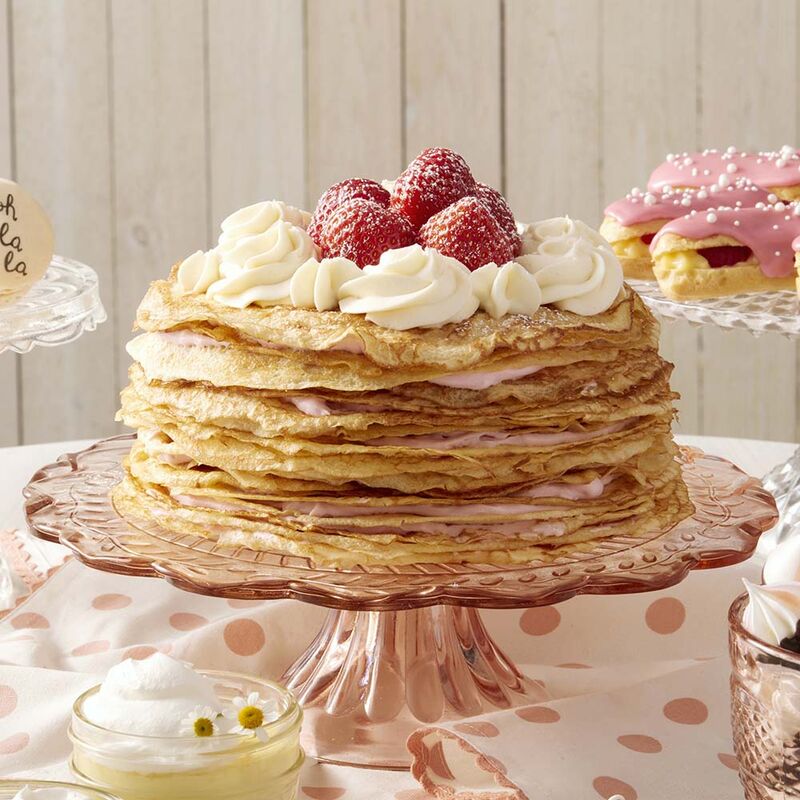 33. Strawberries and Cream Crepe Cake
We've all heard of breakfast for dinner – but what about breakfast for dessert? Topped with whipped cream and fresh strawberries, this delicious crepe cake is a lovely Valentine's Day treat.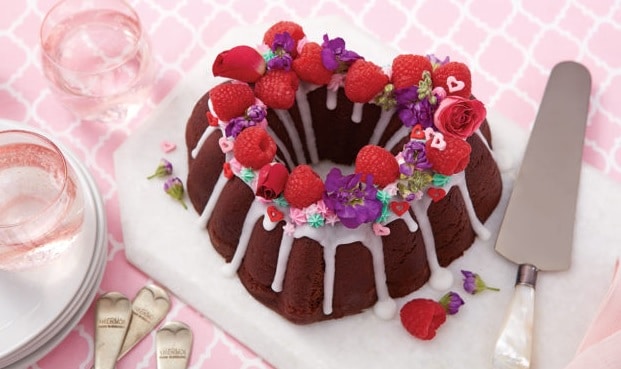 33 of Our Best Valentine's Day Treat Recipes to Share
Nothing says "You're someone special!" like a homemade Valentine's Day treat! We've put together a huge list of sweets that are perfect for a romantic Valentine's Day date or dropping off for family and friends.
Tried this recipe?
Take a picture and tag us @WiltonCakes on Instagram