Whether you're baking for the family or a whole bunch of kids, these Valentine's Day cupcakes are a great way to show your love. Not only are cupcakes great for beginners, they're also easy to transport and decorate, making them the ideal treat for classroom parties, office gatherings or brunches out with the girls.
From traditional to modern, chocolate covered to wine-infused, these Valentine's Day treats really take the (cup) cake!
1. Happy Valentine's Day Cupcakes
Topped with colorful stars and rosettes, these Valentine's Day cupcakes are a quick and easy project for beginning decorators.
2. Chocolate-Covered Strawberry Cupcakes
Make chocolate cupcakes even better by topping them with a candy-coated strawberries. Serve these cupcakes with a glass of sparkling Champagne for the perfect Valentine's Day dessert.
3. Mini Caramel Chip Cupcakes
Caramel lovers rejoice! These mini bite-sized delights feature caramel flavoring in the cake and the frosting for a delicious treat you'll love.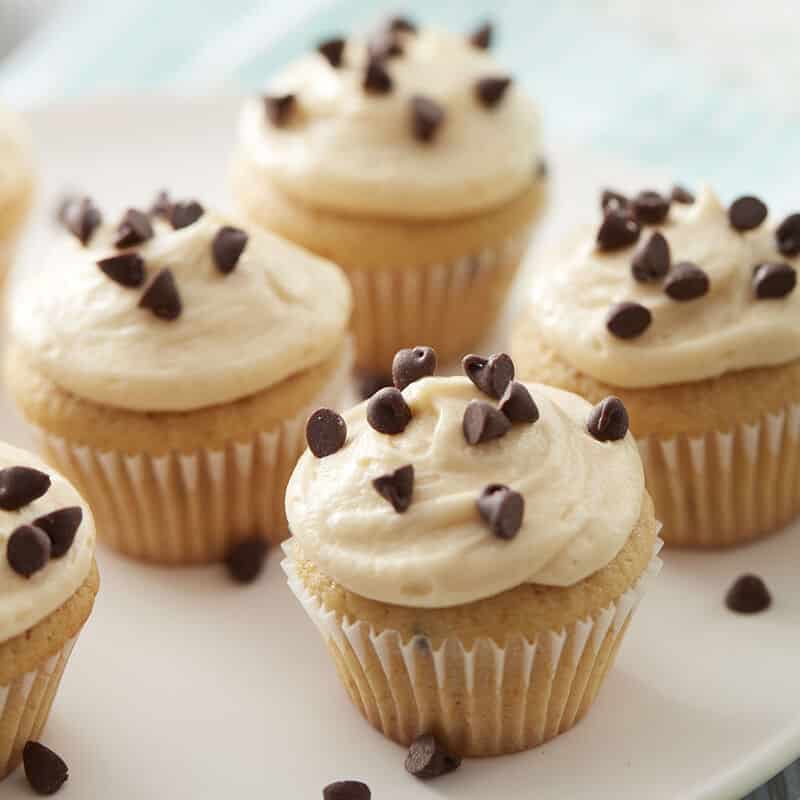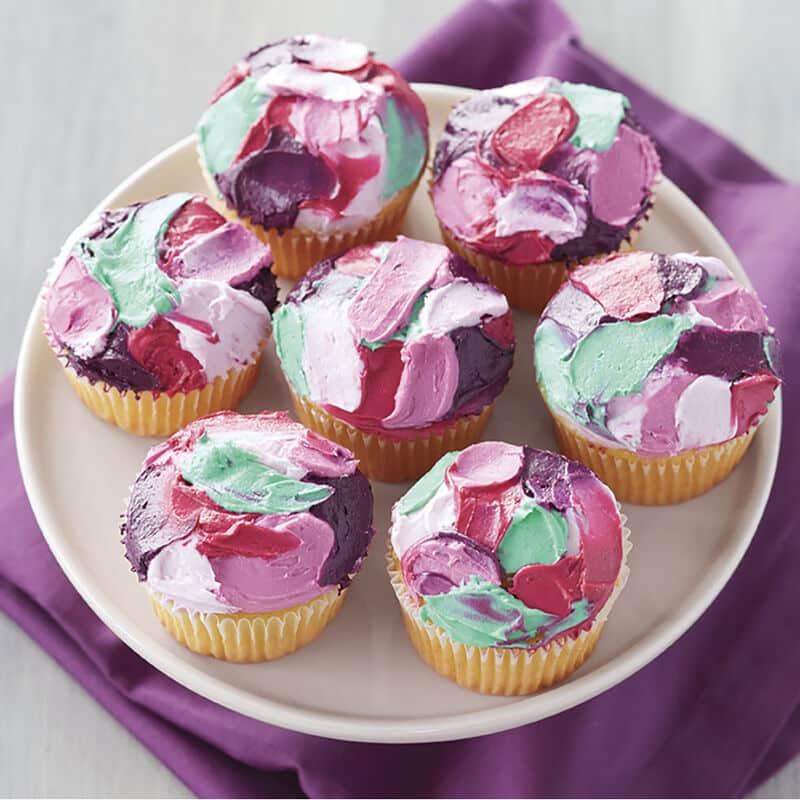 4. Artsy Painted Cupcakes
No bag and tip needed here. With the tip of a spatula, you can "paint" your cupcakes with icing in shades of pink, purple and green.
5. Red Velvet Cheesecake Cupcakes
Combine two classic desserts into one with these red velvet cheesecake cupcakes. Topped with crushed pecans, these cupcakes are sure to become a favorite.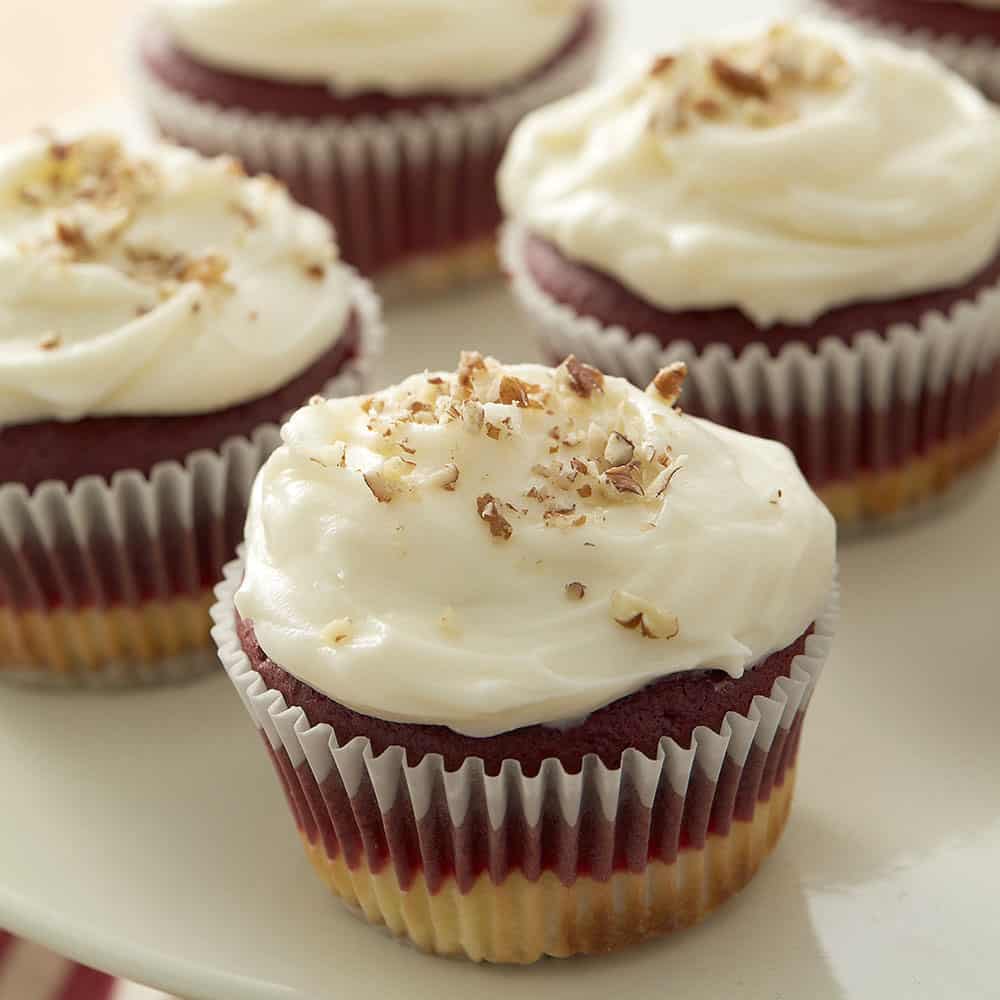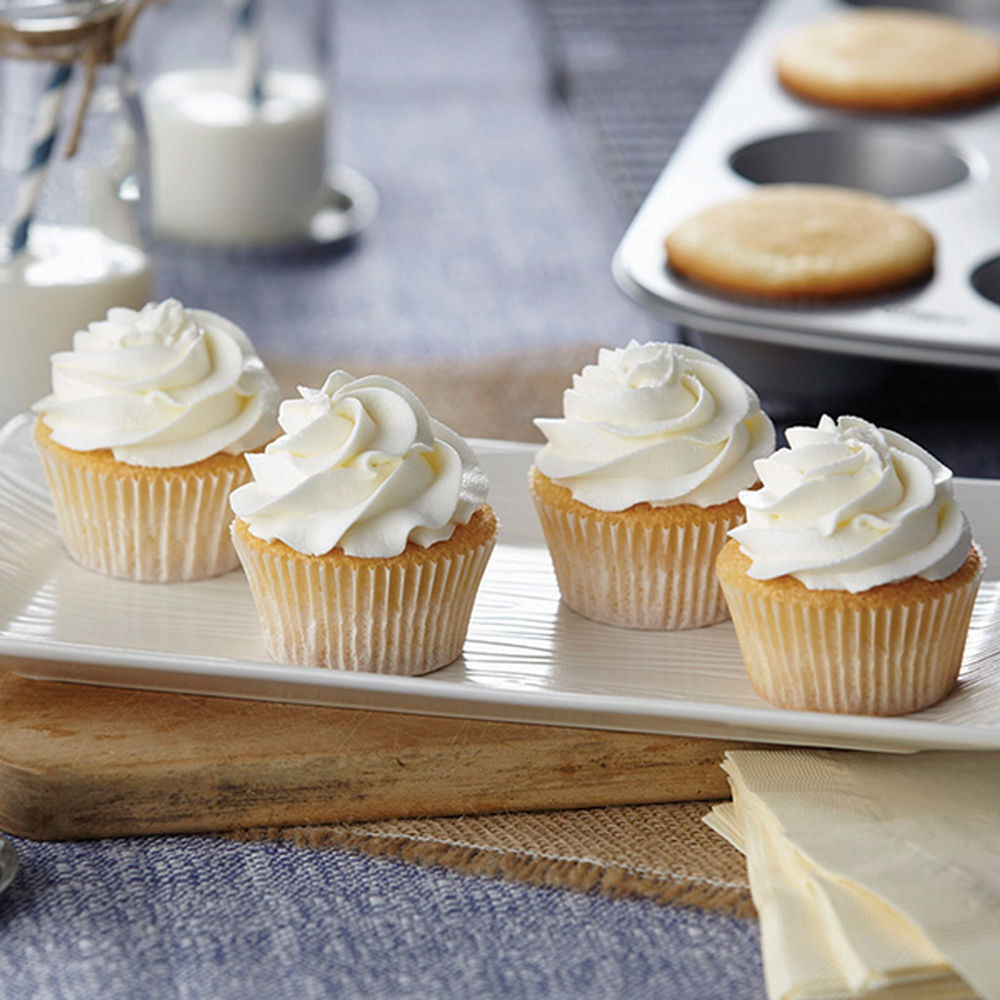 6. Creamy Vanilla Custard Cupcakes
Rich and delicious, these cupcakes are anything but 'vanilla'! Using flavors from the Treatology Flavor System, these cupcakes taste just a good as they look.
7. Chocolate-Chocolate Cupcakes
The chocolate in these cupcakes is so nice that we said it twice! A decadent chocolate cupcake is topped with a creamy chocolate frosting for a dessert that will please kids and adults alike.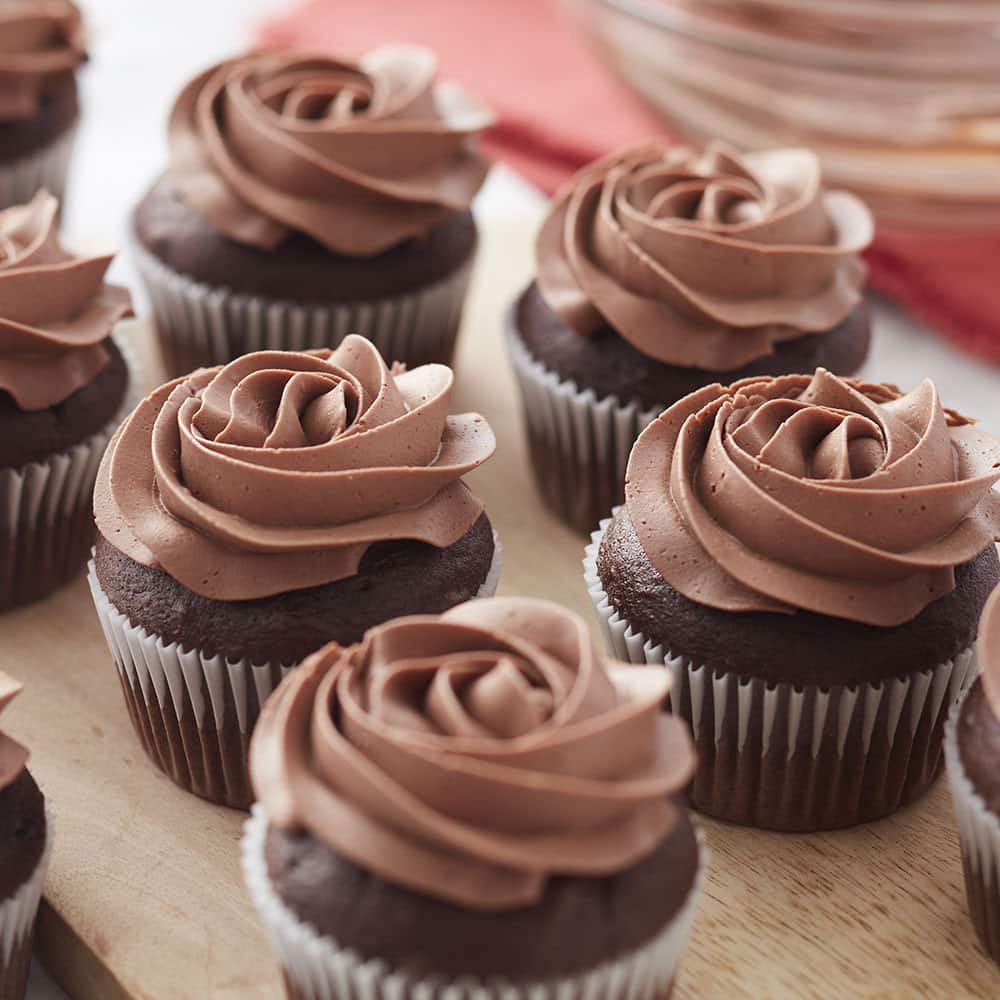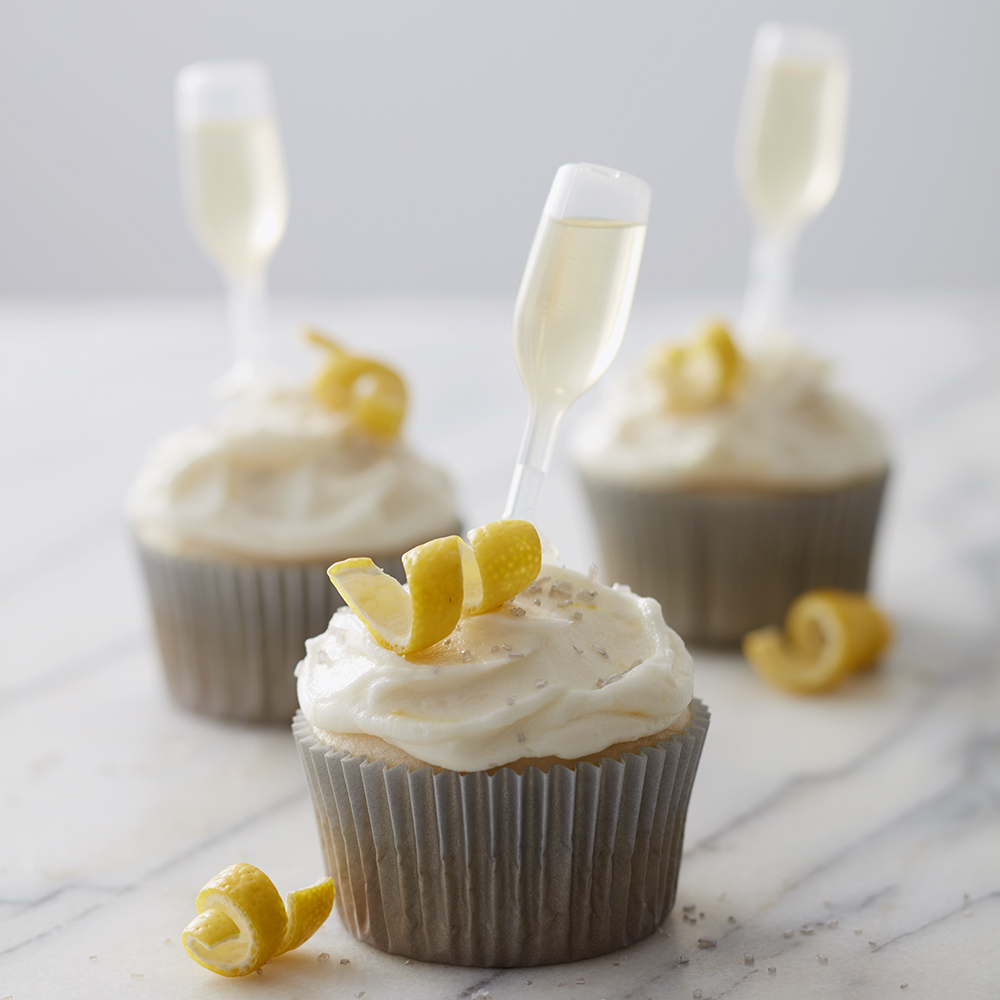 8. French 75 Champagne Cupcakes
A play on the classic cocktail, these tasty cupcakes are made with Champagne and gin for a zesty treat you'll love to eat!
9. Made with Love Mini Valentine Cupcakes
Topped with cocoa-flavored candy and Valentine's Day nonpareils, these mini cupcakes also feature a cute heart sprinkle as the perfect finishing touch.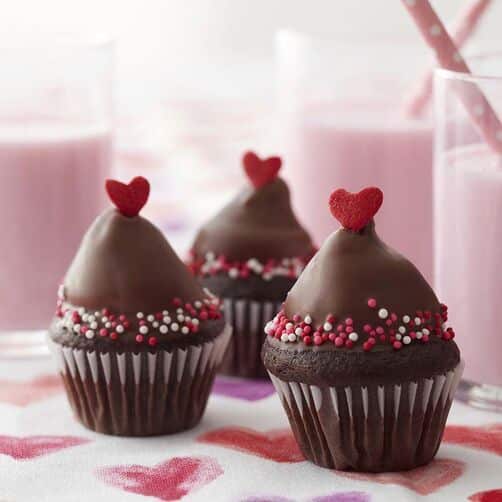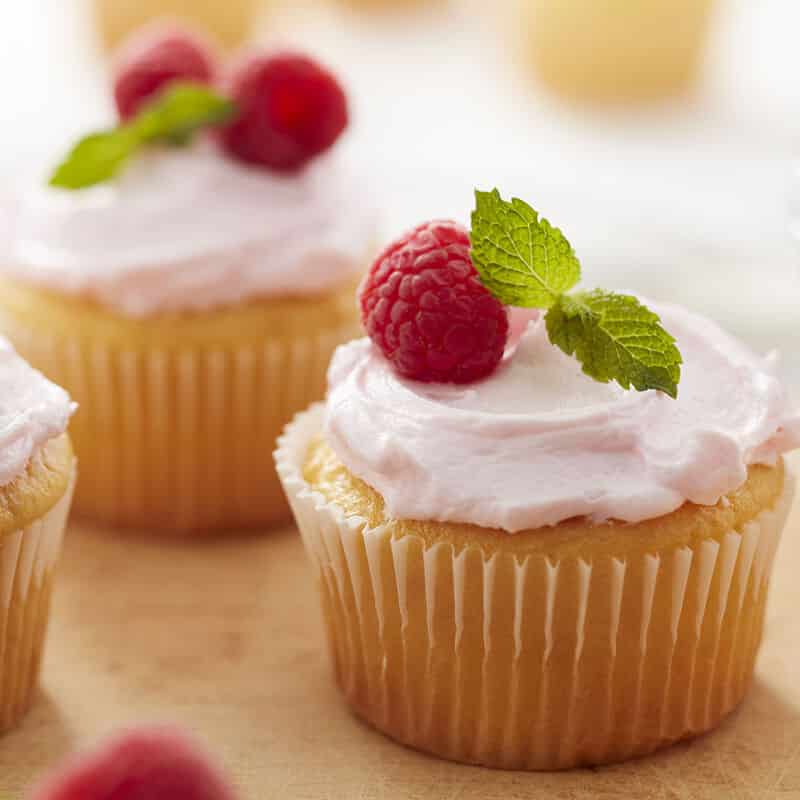 10. Yellow Cupcakes with Raspberry Buttercream
These yellow cupcakes get a blast of flavor from raspberry preserves mixed into the icing. Top your cupcakes with a fresh raspberry and you're good to go.
11. Vegan Vanilla Cupcakes
Made with vegan-friendly ingredients, these cupcakes are good enough to fool even the pickiest eater. Top them with sprinkles or leave as is for an elegant sweet.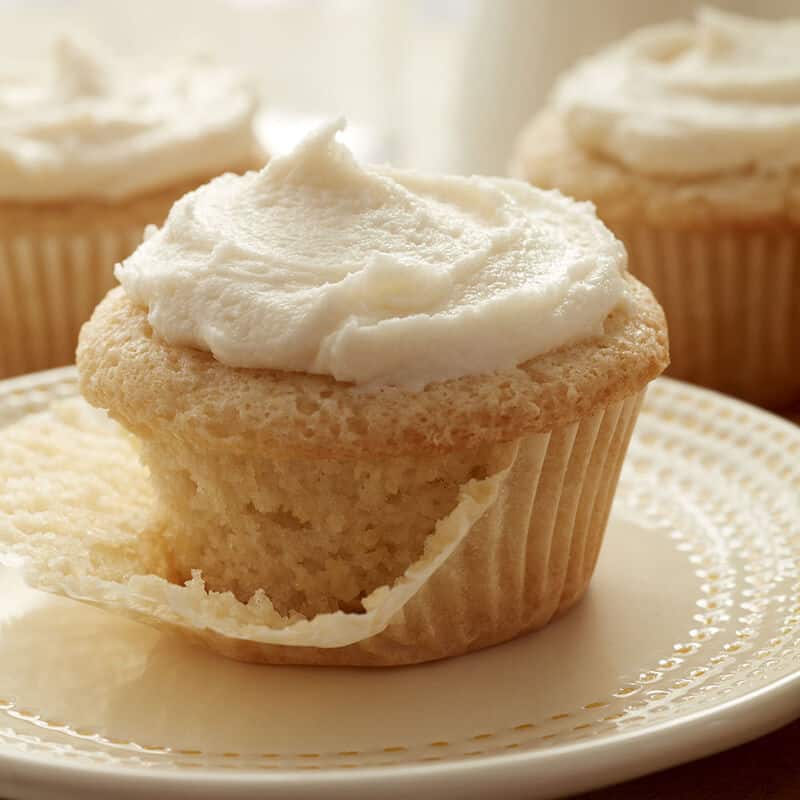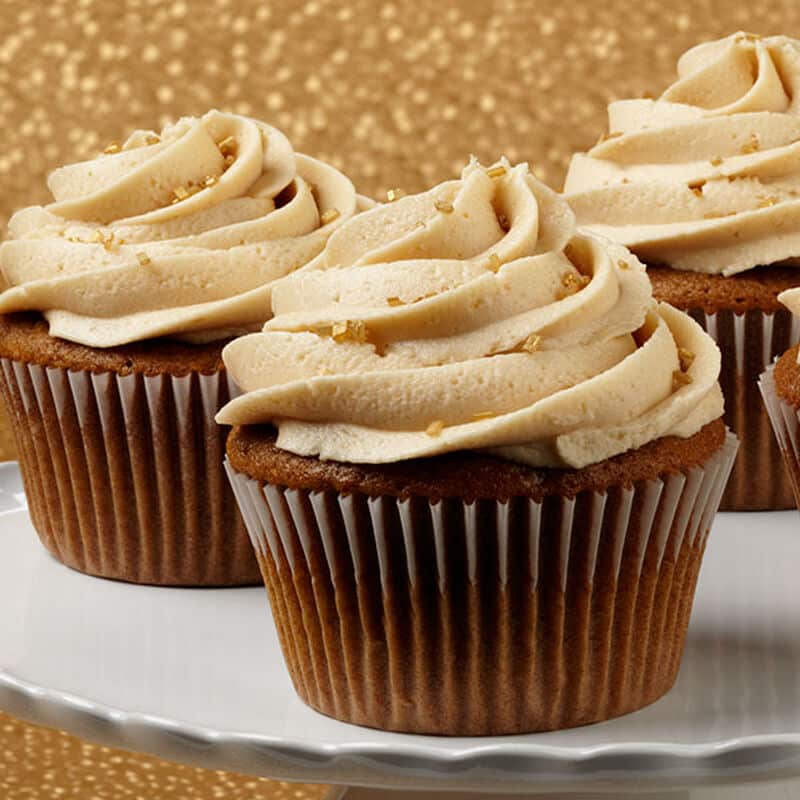 12. Mudslide Cupcakes
These mudslide cupcakes are best served alongside a hot beverage. Featuring the flavors of Irish cream liqueur and coffee, these cupcakes are great for brunches with the girls.
13. Penguin Valentine's Day Cupcakes
All you need is buttercream to decorate these cute Valentine's Day cupcakes. Perfect for kids' Valentine's Day parties, these cupcakes are almost too cute to eat!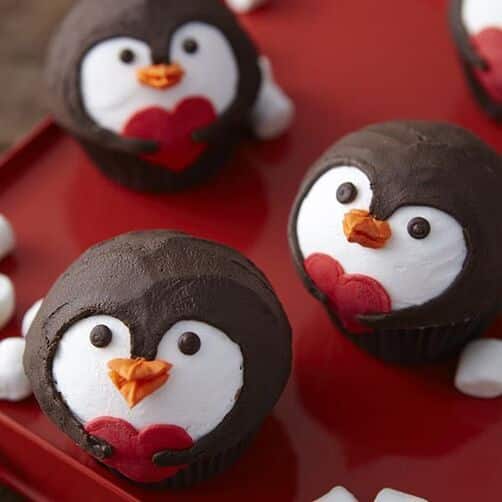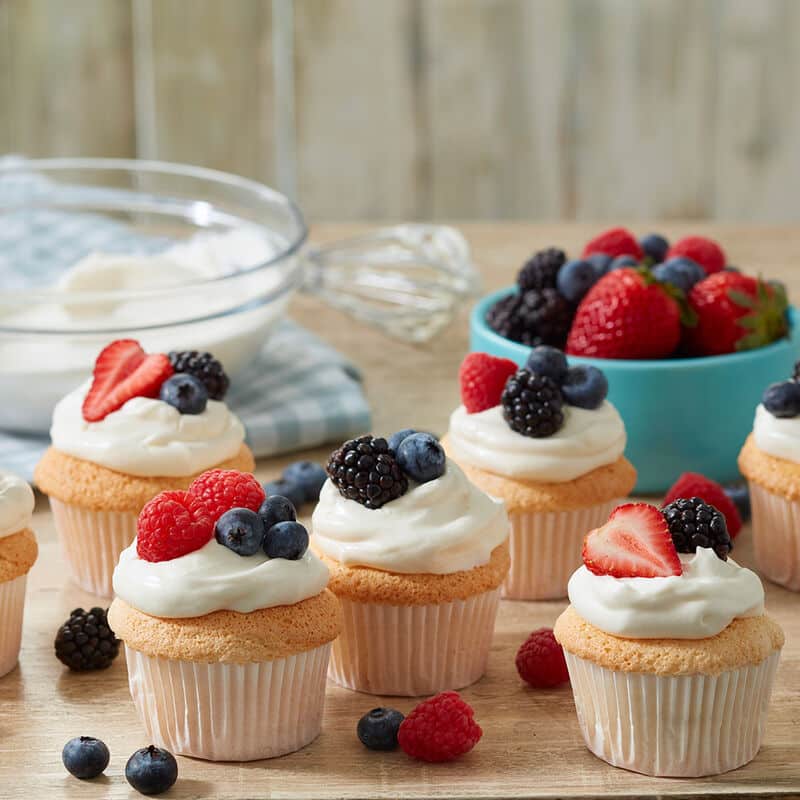 14. Angel Food Cupcakes with Fresh Berries
Light and airy, these angel food cupcakes are a delicious dessert that won't weigh you down. Top them with fresh berries for a little dash of color and flavor.
15. Mini Valentine Cupcakes
These little cupcakes are a great project for beginners. A simple chocolate cake is topped with buttercream icing and a candy heart for the perfect edible Valentine.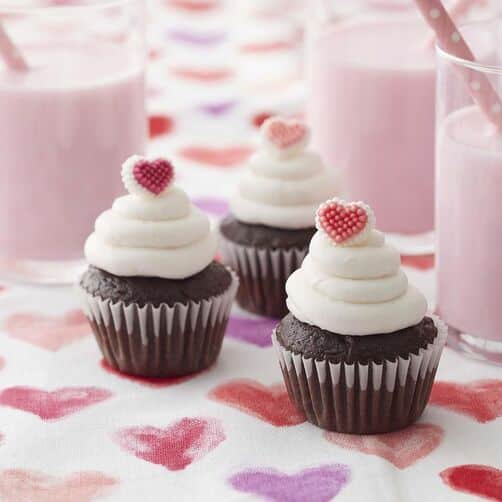 17. Peanut Butter Cupcakes
Peanut butter lovers, this one's for you! These rich peanut butter cupcakes are infused with a chocolate filling for an after-school sweet your kids will love.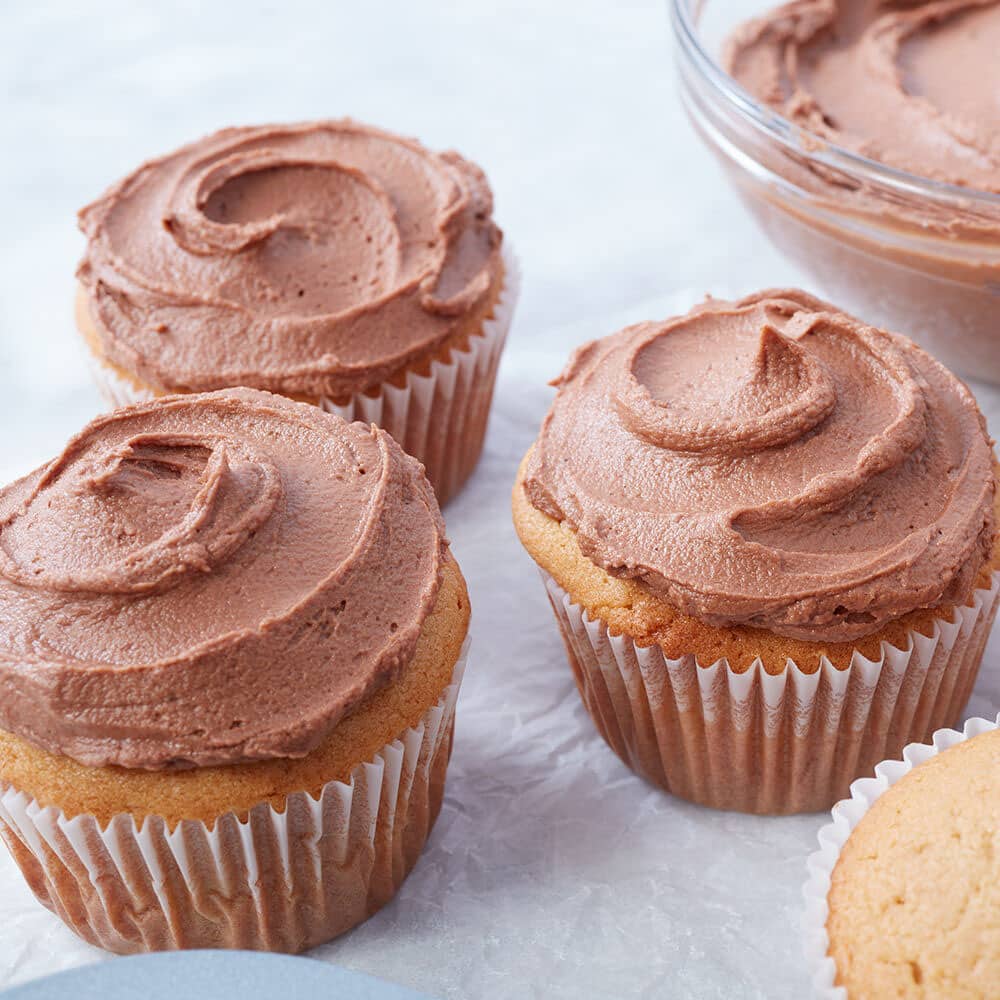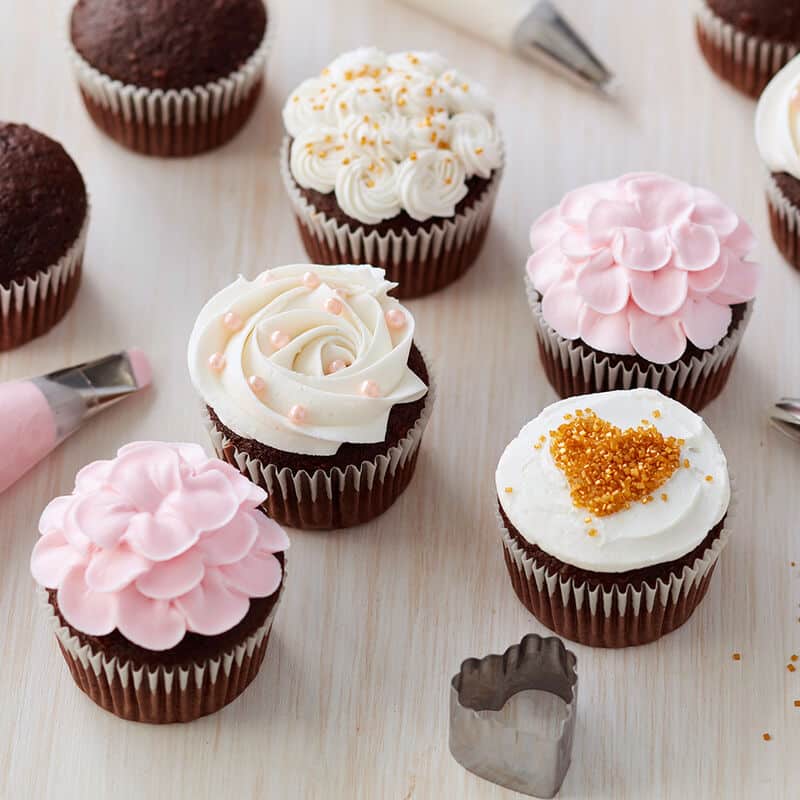 18. Pink, White and Gold Cupcakes
Classic rosettes, pink ruffles and sprinkles made of hearts top these simple, yet beautiful cupcakes. With several techniques to choose from, this is a great project for practicing your piping skills.
19. Blooming Ribbon Rose Cupcakes
Don't worry about piping an intricate buttercream rose, with these ribbon rose cupcakes, you can make lovely roses without the use of a flower nail.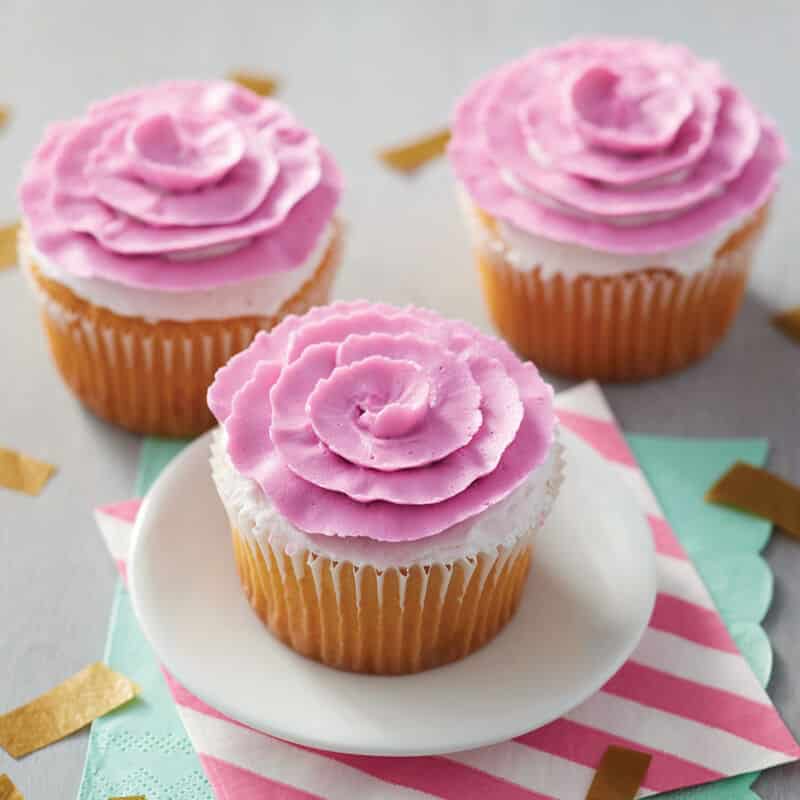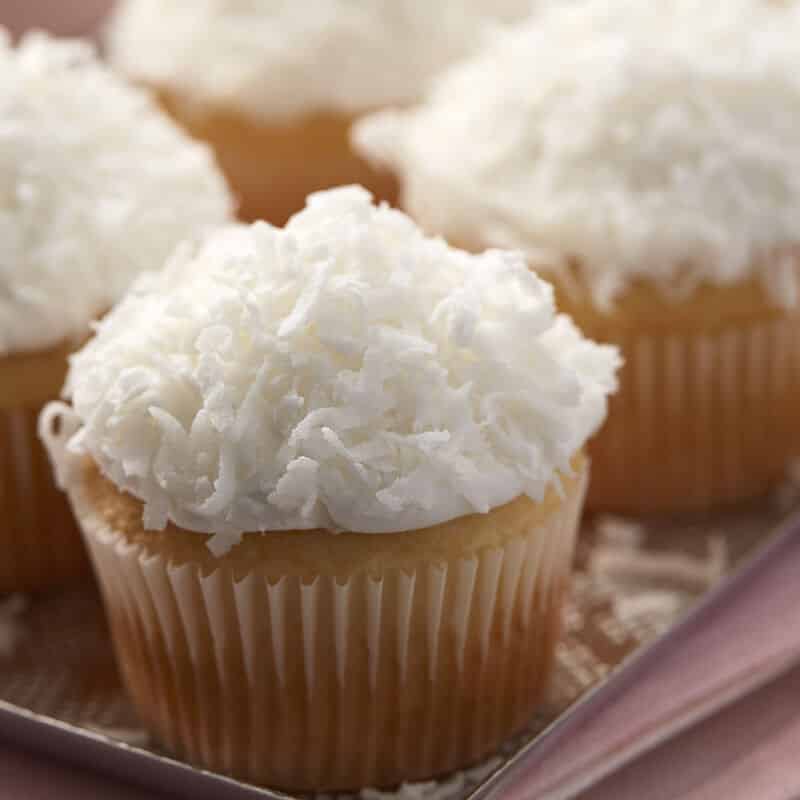 20. Almond Coconut Cupcakes
If you go nuts for coconuts, these almond coconut cupcakes are just for you. Add a drizzle of melted chocolate for a little something special!
21. Classic Copper Cupcakes
For something a little more elegant, try these copper-colored cupcakes, featuring metallic sprinkles and candy roses.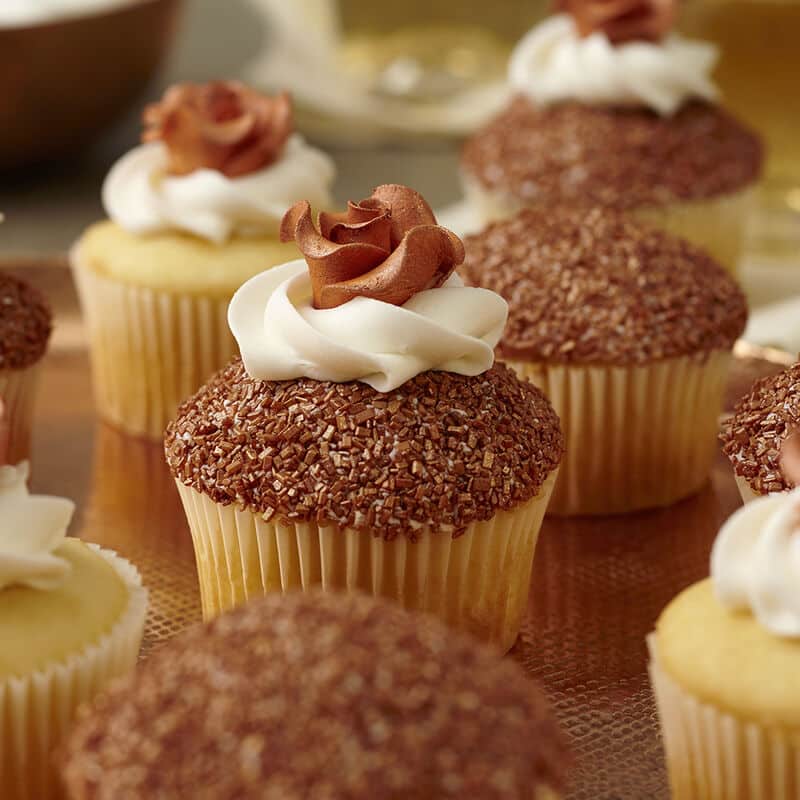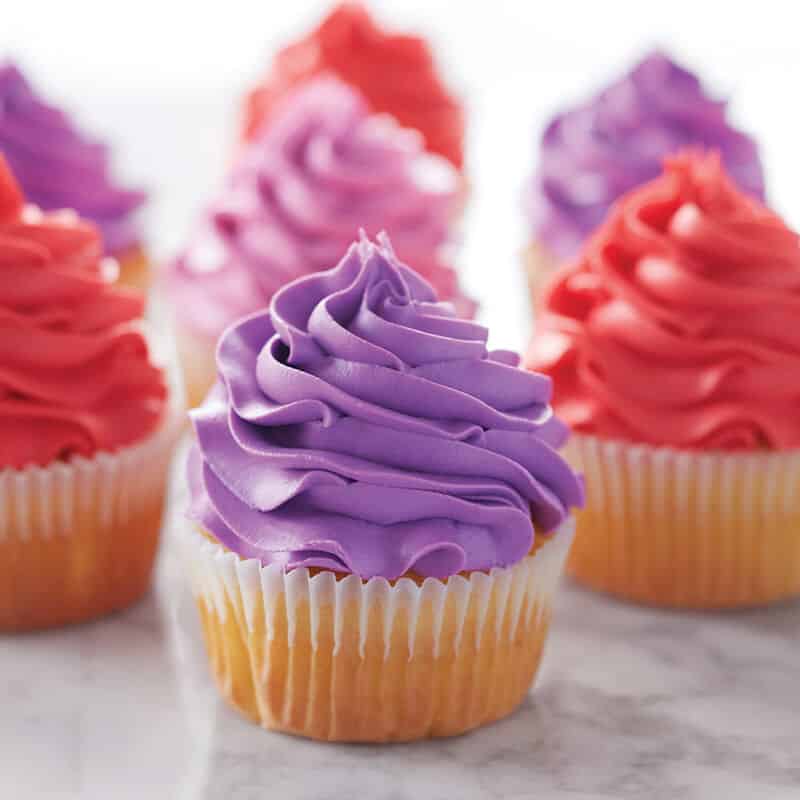 22. Bold Jewel Tone Swirl Cupcakes
Sweet and simple, these bright and bold cupcakes are easy to customize with your favorite jewel-toned colors.
23. Pink and Purple Ribbon Rose Cupcakes
Making decorative fondant flowers doesn't have to be complicated. These simple ribbon roses are great for topping your pink and purple cupcakes.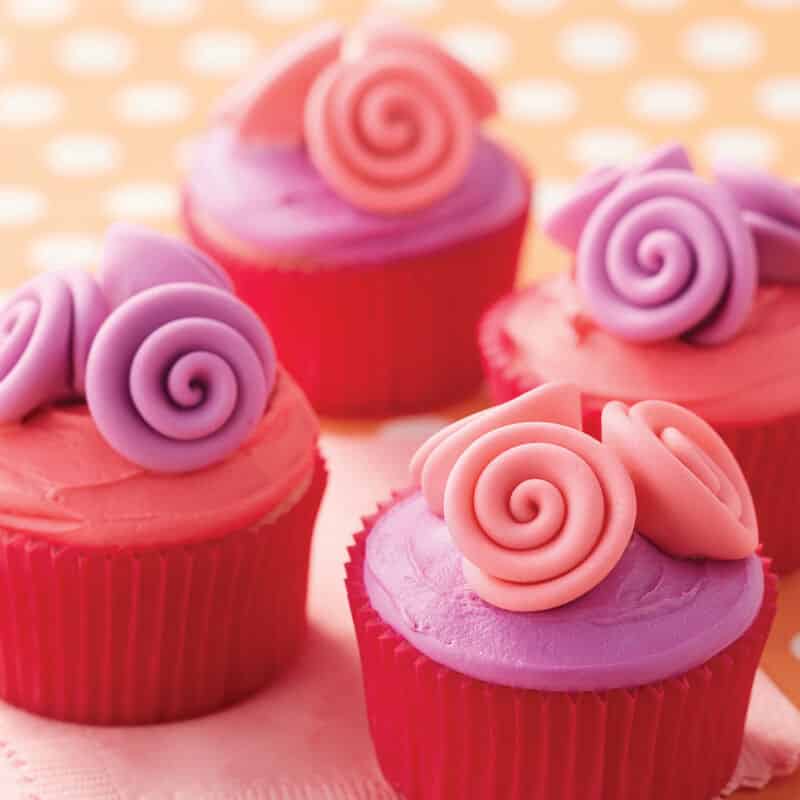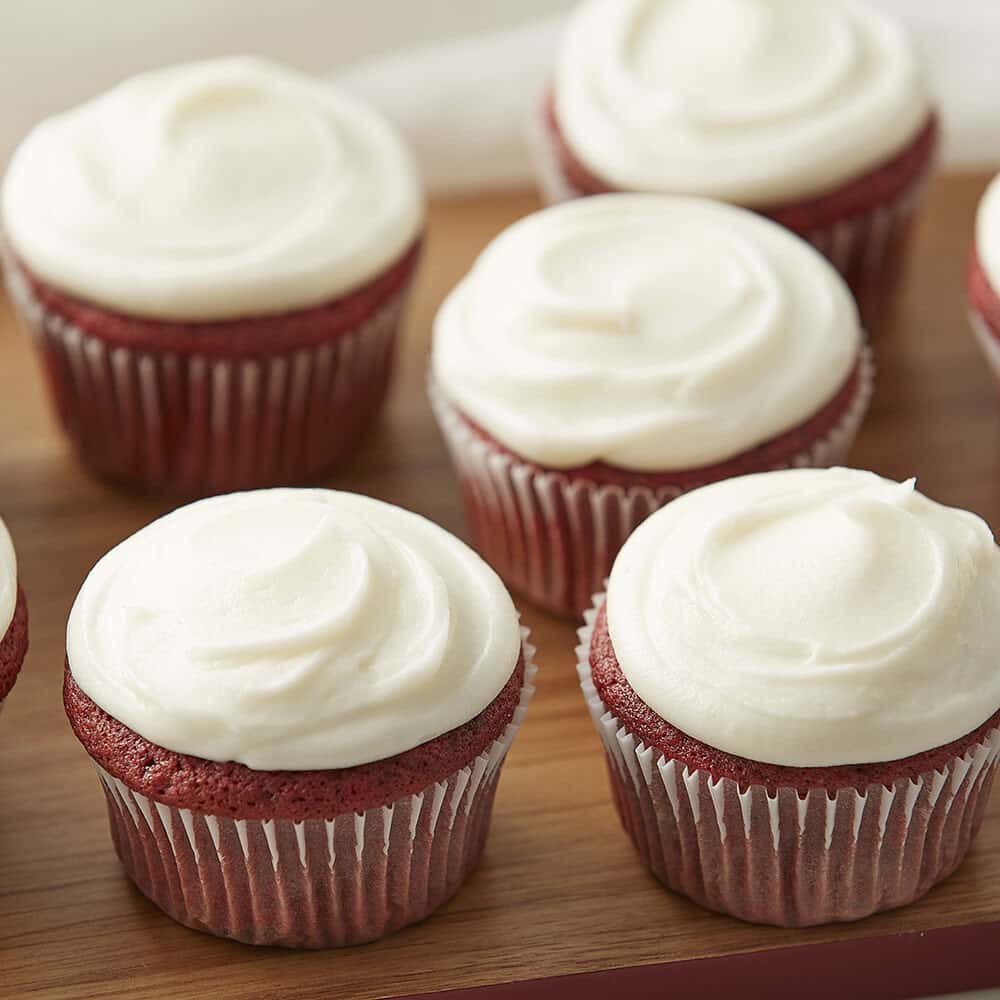 24. Red Velvet Cupcakes
Can't go wrong with a classic! Use No-Taste Red icing color to get red cake without affecting the flavor, then top these cupcakes with cream cheese frosting for a tasty treat you'll come back to again and again.
25. Butter Cupcakes
One bite of these cupcakes and you'll understand why butter makes everything better. With a velvety texture, these cupcakes make the perfect base for a rich, homemade chocolate buttercream.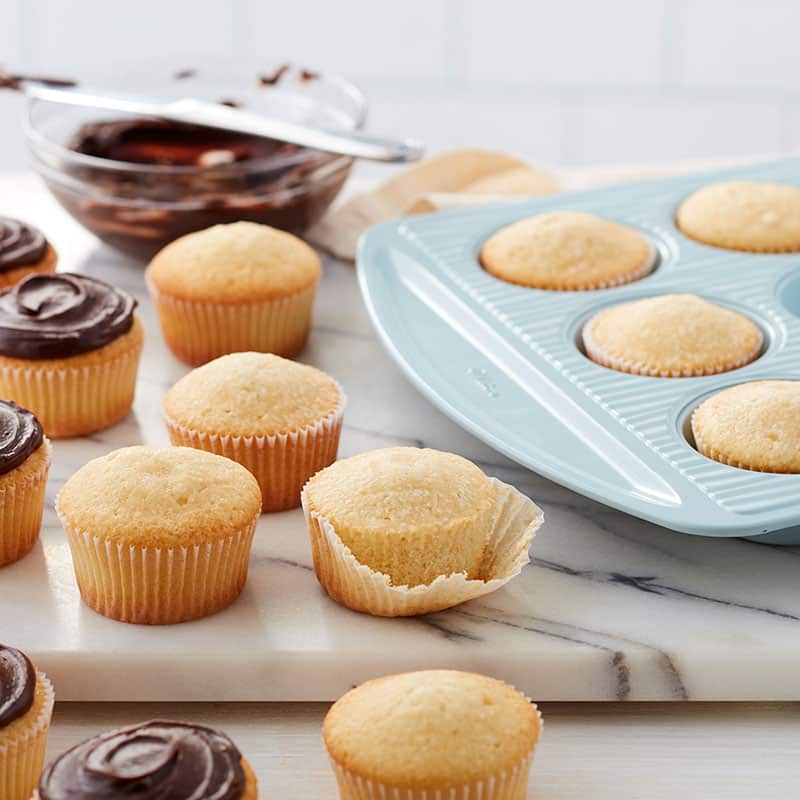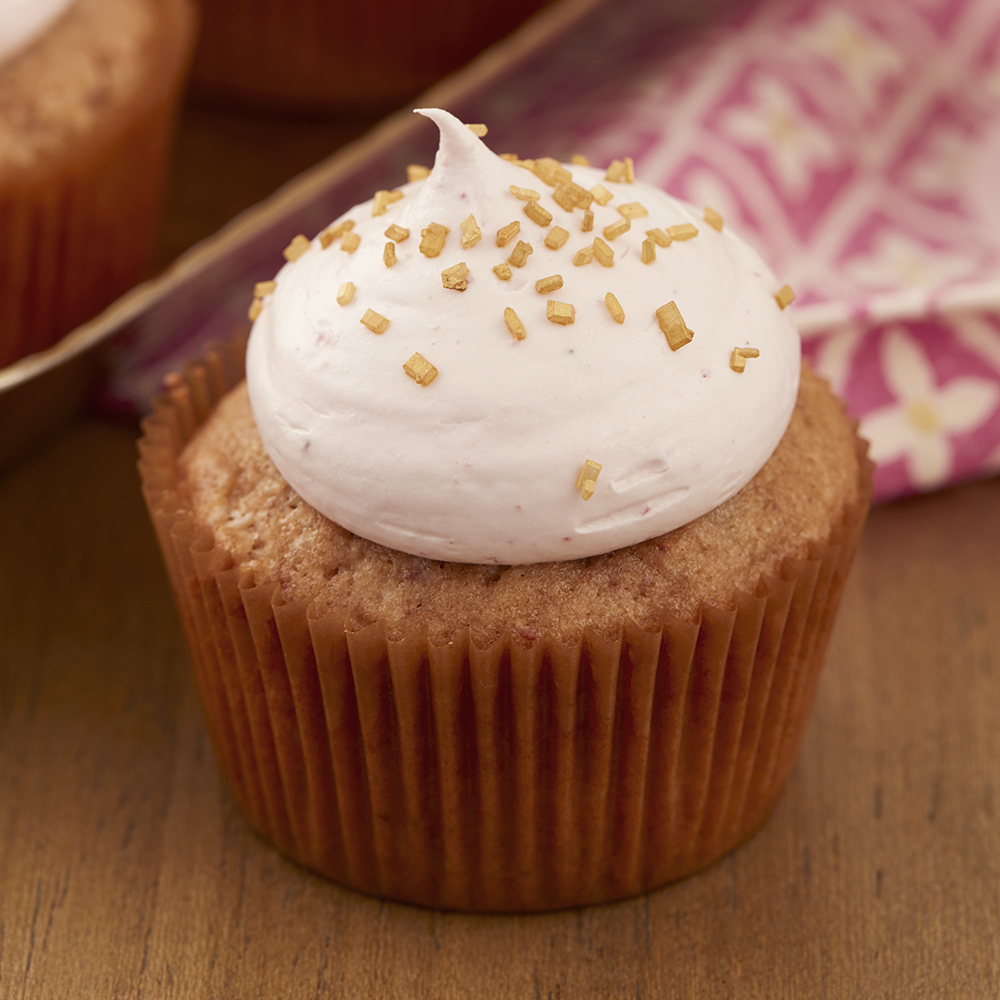 26. Strawberry Chardonnay Cupcakes
These strawberry cupcakes are topped with a dollop of chardonnay-infused whipped icing for a cupcake you'll love to serve at a Valentine's Day brunch with friends.
27. Vegan Pink Lemonade Cupcakes
These cupcakes taste so great that no one will even realize they're vegan. Make them for Valentine's Day, then try them again at your next summer BBQ or picnic.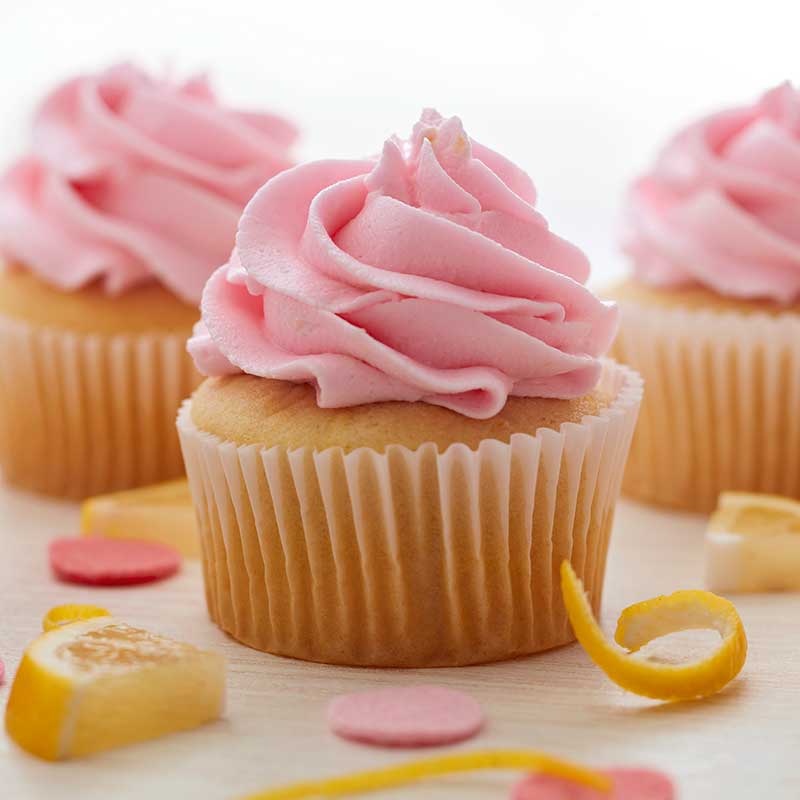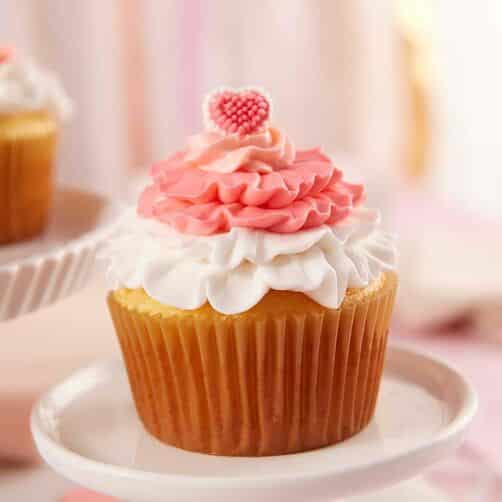 28. All Ruffled Up Valentine's Day Cupcakes
Piled high with ruffles and rosettes, these Valentine's Day cupcakes are a great way to share your love. In different shades of pink, these cupcakes also sport a little candy heart for a perfect crowning touch.
29. Elegant Champagne Cupcakes
What's the perfect accompaniment to a glass of Champagne? A Champagne cupcake, of course! Bright and bubbly, these cupcakes are a treat for all the senses.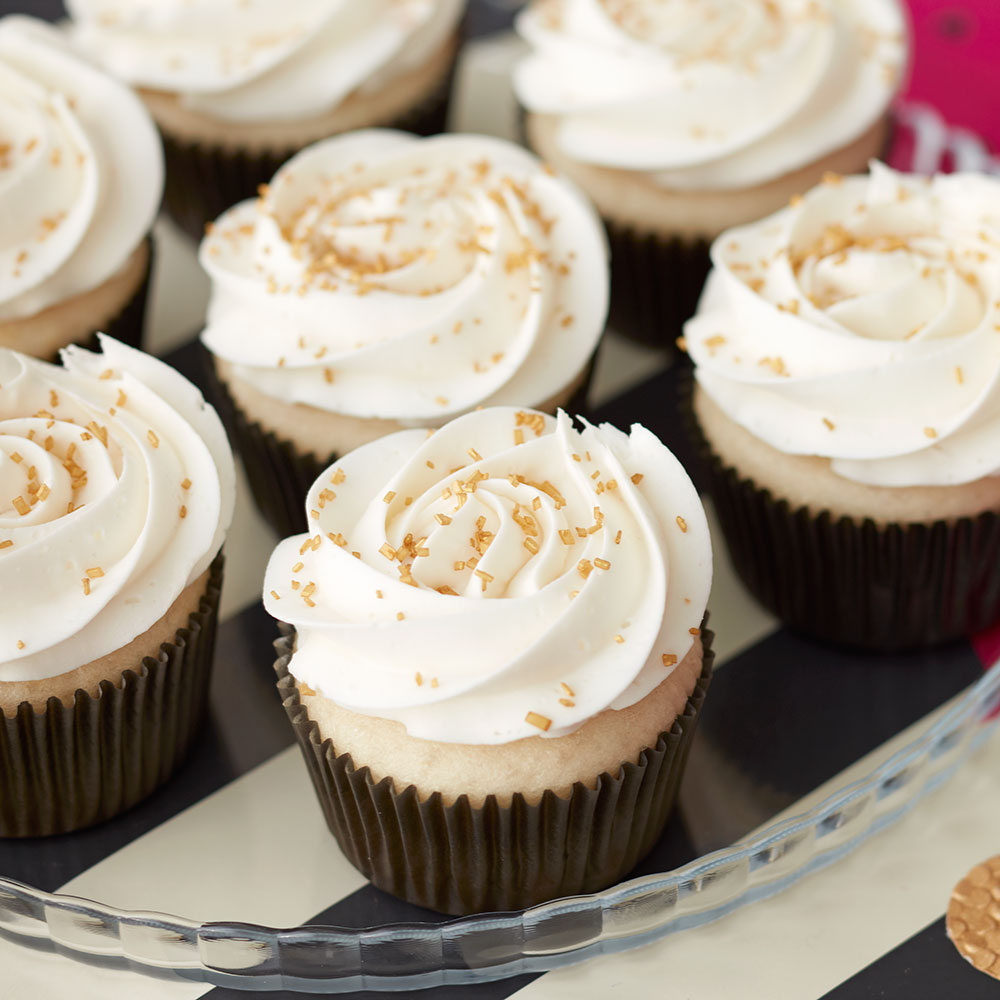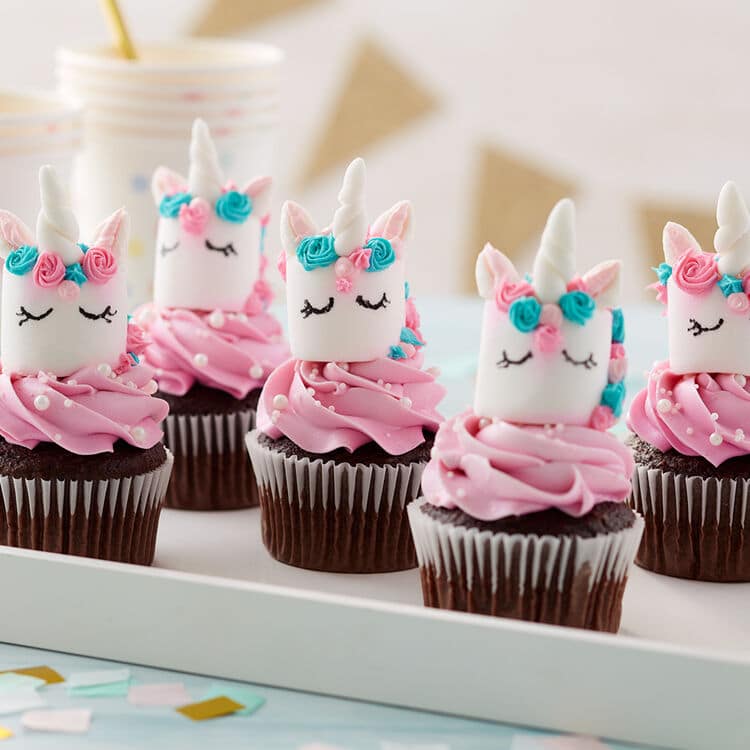 30. Magical Marshmallow Unicorn Cupcakes
The kids are sure to love these cute Marshmallow Unicorn Cupcakes. Decorated with store-bought marshmallows and simple piping techniques, these easy Valentine's Day cupcakes are magical in every way.
31. Easy Blooms Mini Cupcakes
Forgo real flowers this Valentine's Day and treat your special someone to a bouquet of floral cupcakes. Decorated with colorful mums and roses made using the Easy Blooms tip set, these cupcakes make a great gift for moms, sisters, wives and friends!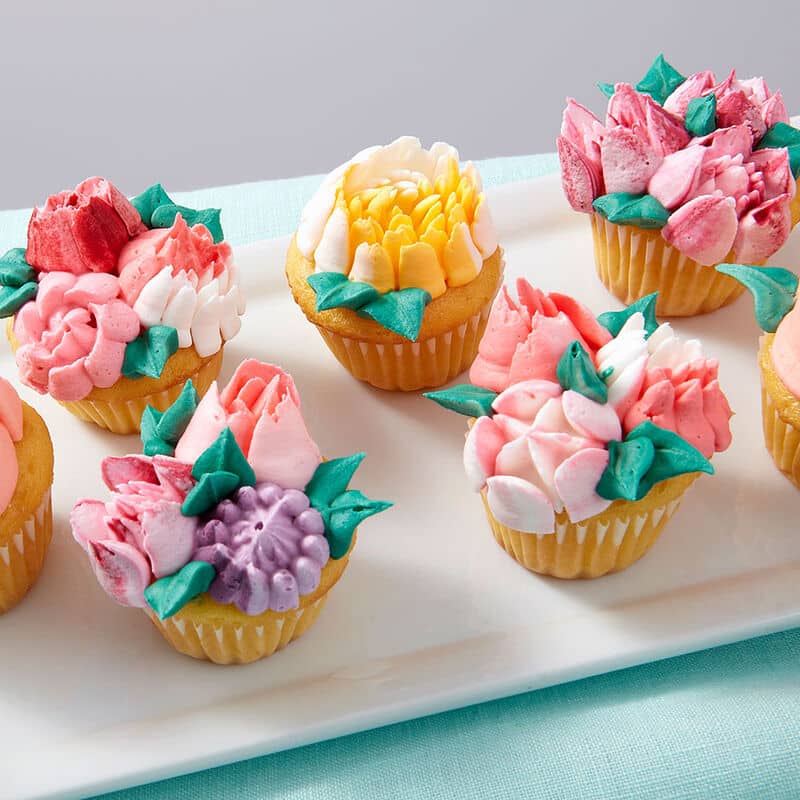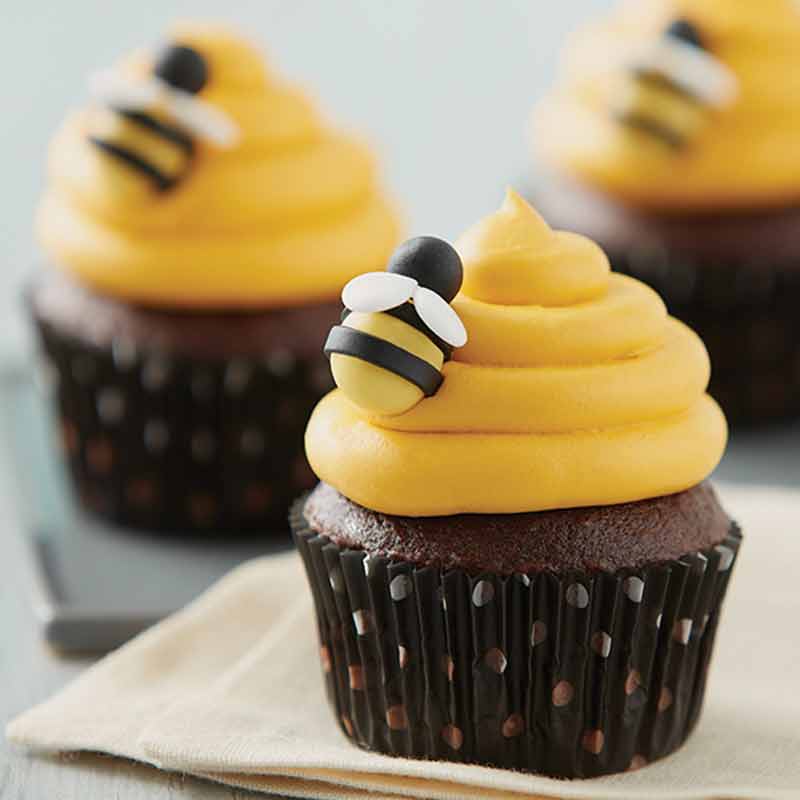 32. Bee Mine Valentine's Day Cupcakes
Create a buzz with these cute Bee Mine Valentine's Day Cupcakes. A tasty chocolate cupcake is topped with a swirl of yellow buttercream, then finished off with a little fondant bee. A cute, edible gift you can make for kids and loved ones, these chocolate cupcakes are just sweet as can bee!
33. Lacy Heart Mini Valentine Cupcakes
These mini cupcakes look lovely in lace! Simple fondant hearts are topped with a doily, then spray painted with Color Mist Food Color Spray, which gives each heart a unique lacy design. Use these lacy hearts to top homemade (or store-bought) cupcakes, cookies, cakes and more.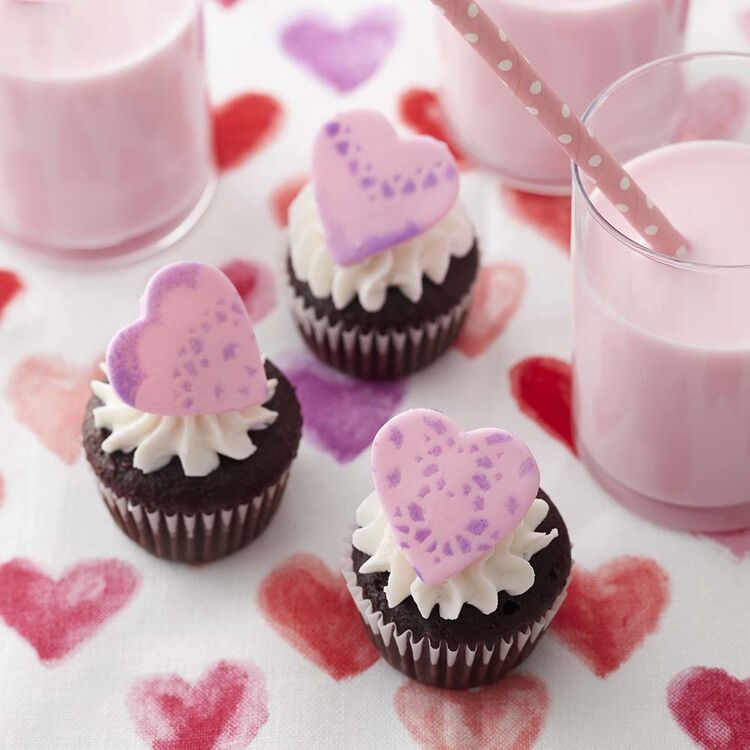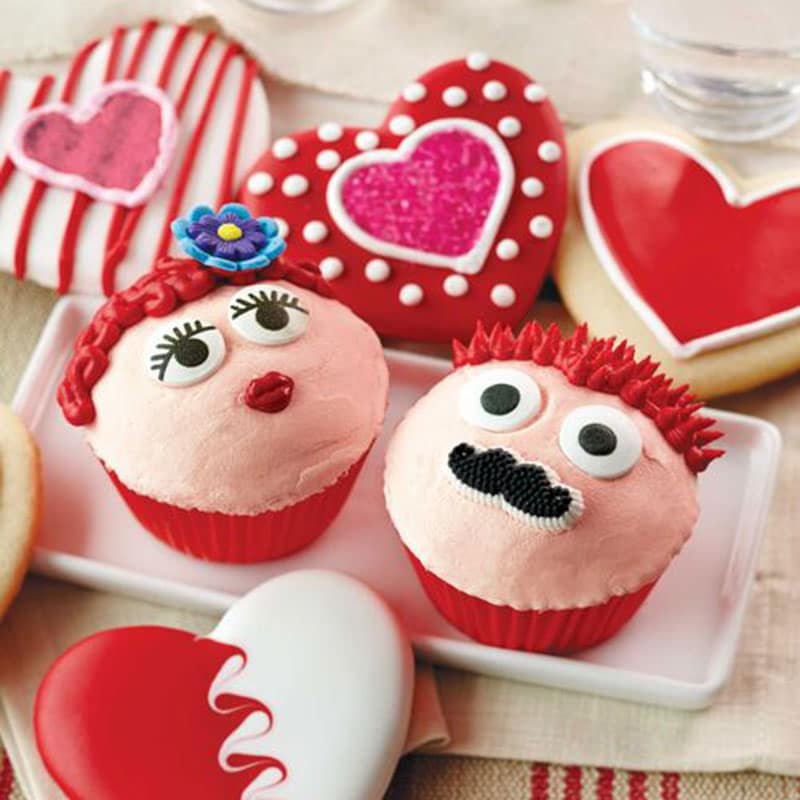 34. His and Hers Valentine's Day Cupcake
Looking for Valentine cupcake ideas with a little humor and fun? Look no further than these personalized His and Hers cupcakes, great for parents, kids or even newlyweds.
35. Fun and Foxy Cupcakes
Give your foxy Valentine a little something sweet with these Fun and Foxy Cupcakes. Decorated using simple buttercream techniques, this cupcake project is great for beginners and those new to piping.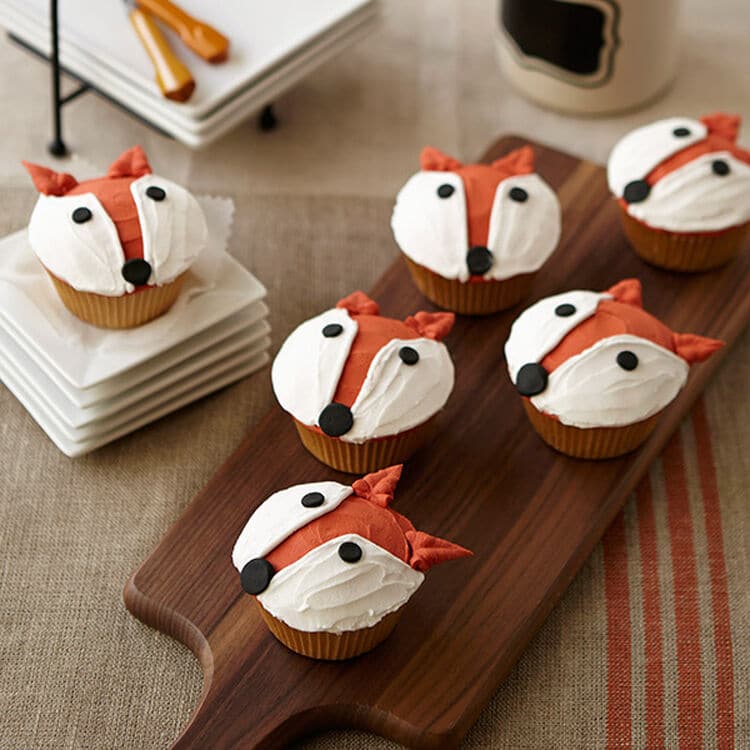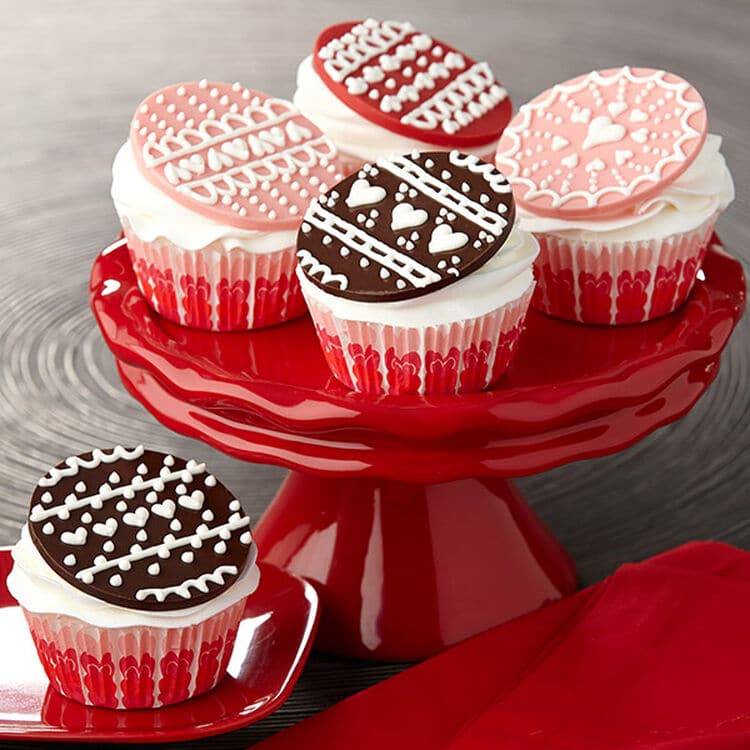 36. Candy-Topped Valentine Cupcakes
For an edible Valentine sure to impress, try these Candy-Topped Valentine Cupcakes. Start by making circles using Candy Melts candy, then top each disc with an intricate lacy pattern. Though they may look difficult, these toppers are made using very basic piping shapes, such as dots, lines, waves and hearts.
37. One Sweet Love Letter Cupcakes
A love letter is sweet, but an edible letter is better! These quick and easy Valentine's Day cupcakes are great for giving to family and friends. Use your favorite cupcake recipe or try this decorating technique on store-bought cupcakes to save time.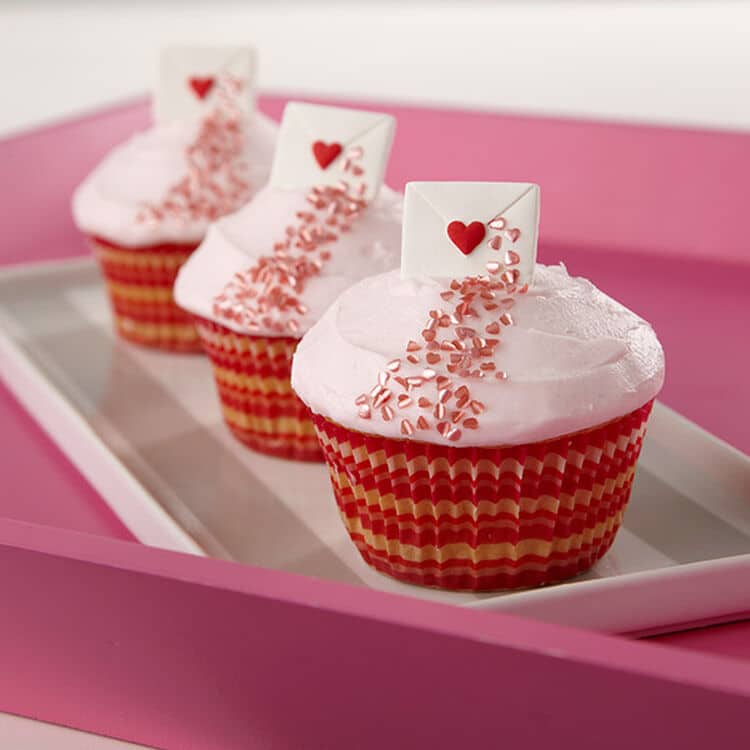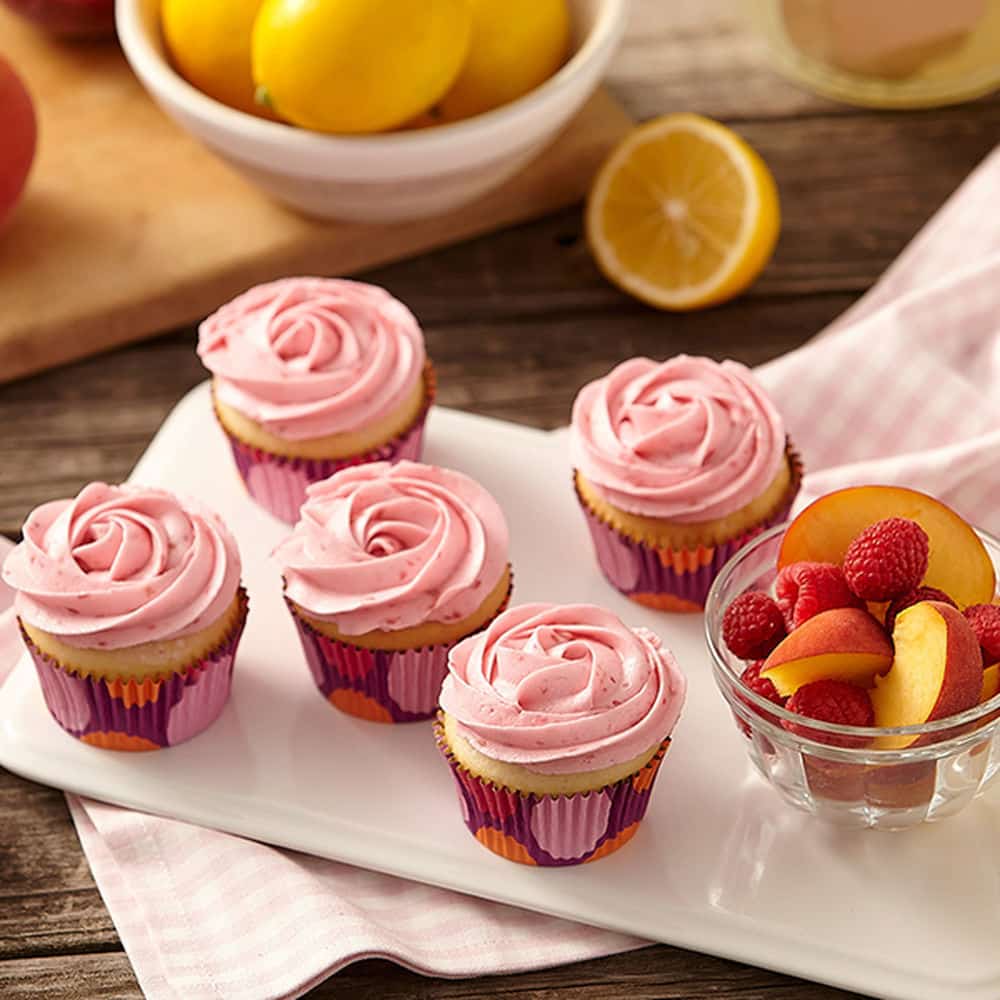 38. Peach Melba Cupcakes
Even if you can't find fresh peaches, you can still make these Peach Melba Cupcakes using our delicious Treatology Flavorings. Based on the classic dessert, these Peach Melba Cupcakes are a sweet and refreshing treat for Valentine's (or Galentine's) Day!
Don't forget to check out our other Valentine's Day dessert ideas!
Which of these Valentine's Day cupcakes are your favorite? Let us know in the comments below! And if you're baking cupcakes for Valentine's Day, don't forget to share a picture on Instagram and tag us ​@wiltoncakes.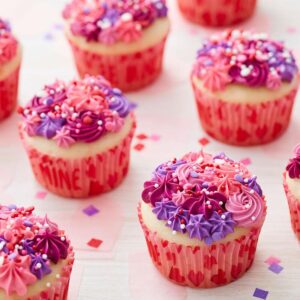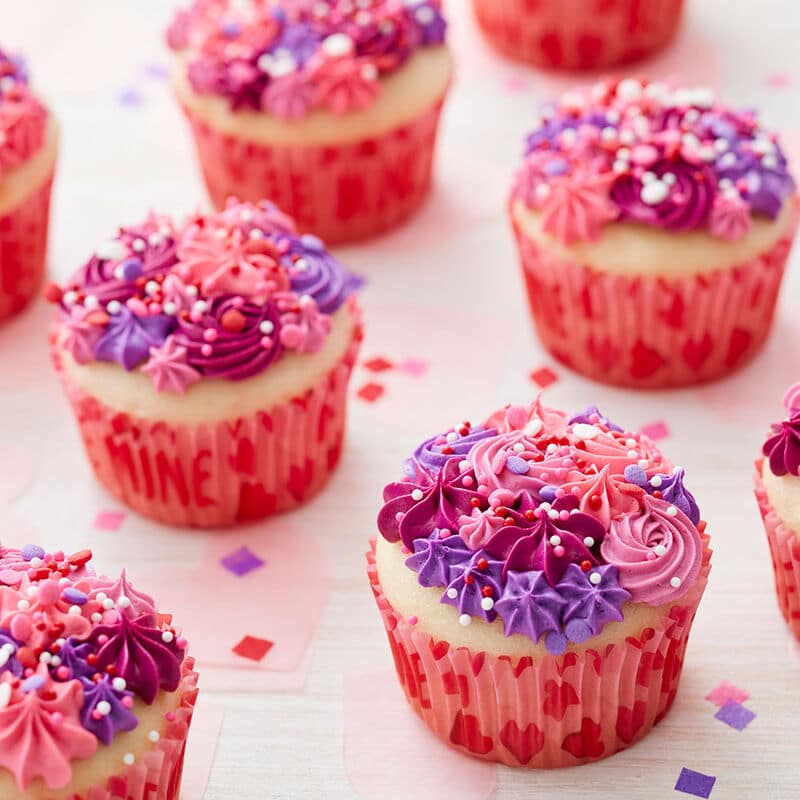 38 Valentine's Day Cupcakes
Get inspired by our list of some of the best Valentine's Day cupcakes you can make in your kitchen! Whether you're looking to make batches for someone special, the kids or some friends, you're sure to find a recipe in this list!
Tried this recipe?
Take a picture and tag us @WiltonCakes on Instagram