​Thinking about flipping through some dessert recipes to find the perfect Valentine's Day Cookie idea to bake this year to show someone just how much you care?
​Nothing says 'I love you' quite like a batch of homemade cookies. This year, skip the store-bought stuff and bake up a batch of Valentine cookies your sweetheart will love.
1. Conversation Heart Sugar Cookies
Tell your Valentine how you really feel with these super cute Heart-Shaped Valentine's Day Sugar Cookies. Made using a homemade cookie dough and royal icing, these conversation heart cookies are great for decorators (and cookie lovers) of all ages!
2. Swirls of Love Cut-Out Cookies
No need for a bag and tip with these cookies, simply dip them in icing and top with sparkling gold and silver sugars.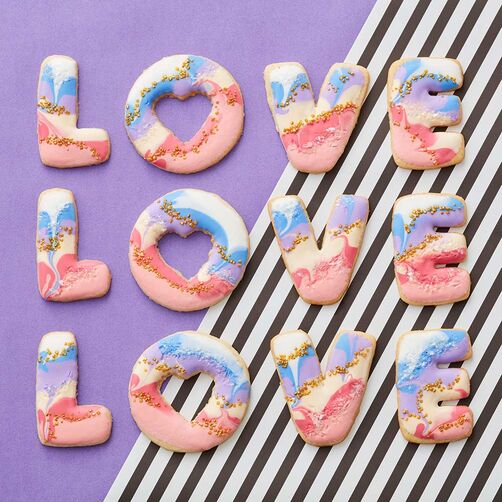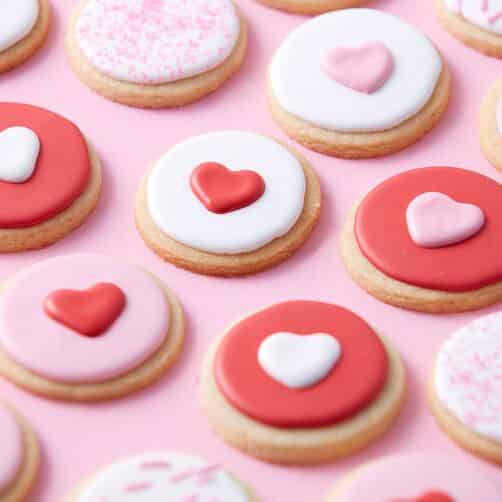 3. Mini Round Heart Cookies
Decorated with red, white and pink cookie icing and topped with sprinkles and nonpareils, these cookies are a fun Valentine's Day treat for kids and adults.
4. Light and Delicate Meringue Heart Wreaths
Made with a combination of decorating tips and icing colors, these meringue cookies give you a little taste of something sweet without being too heavy.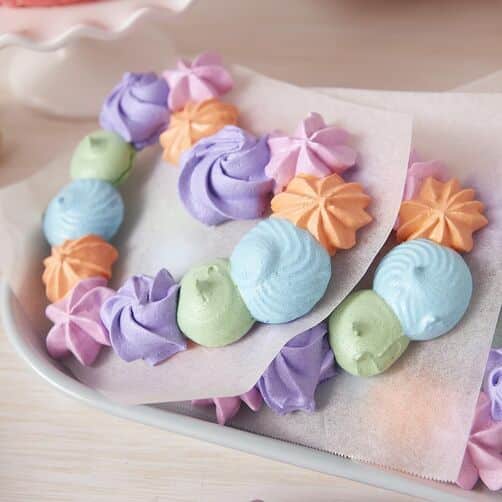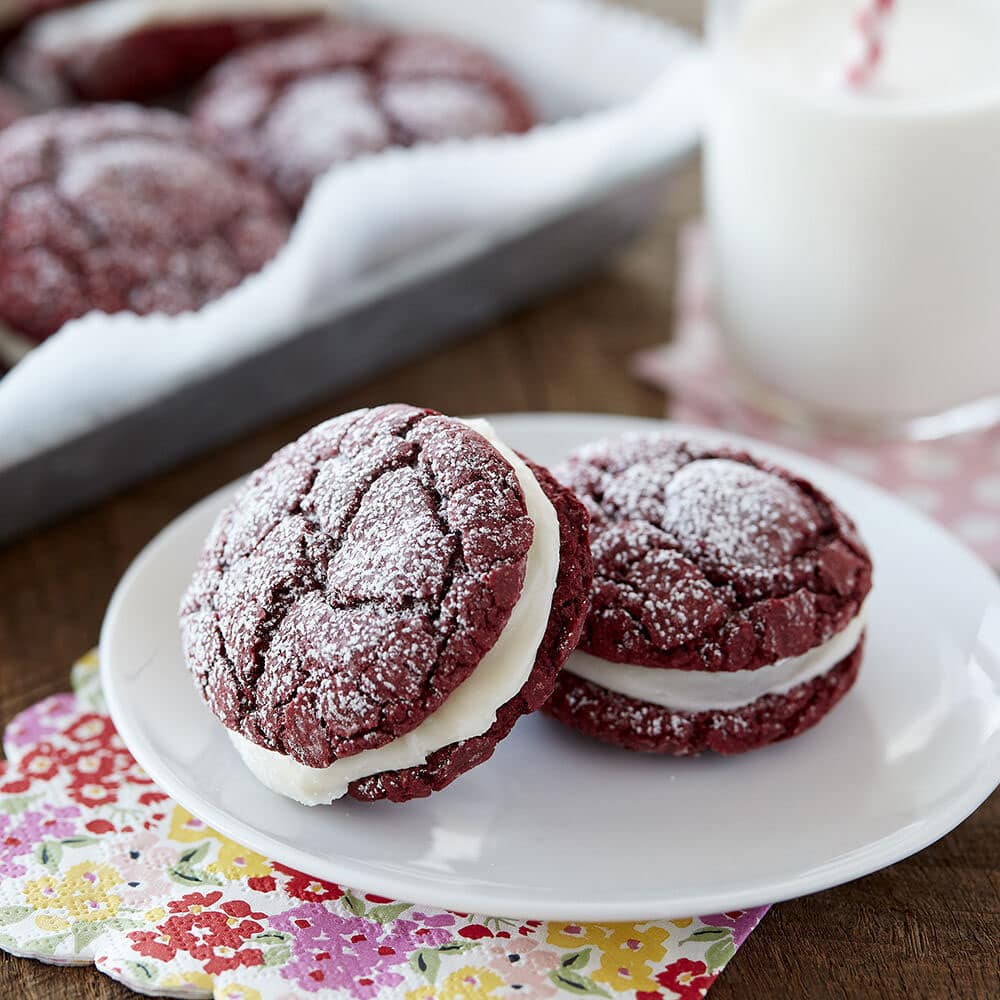 5. Red Velvet Sandwich Cookies with Cream Cheese Filling
Made using a red velvet cake mix, these cookie cake sandwiches feature a layer of delicious cream cheese filling for the ultimate sweet treat.
6. One in a Melon Cookies
Fun for handing out to co-workers or packing in school lunches, these cute watermelon-shaped cookies are a fun way to tell someone they're one in a melon!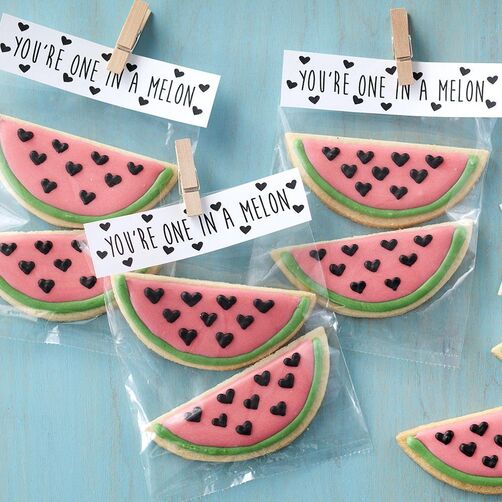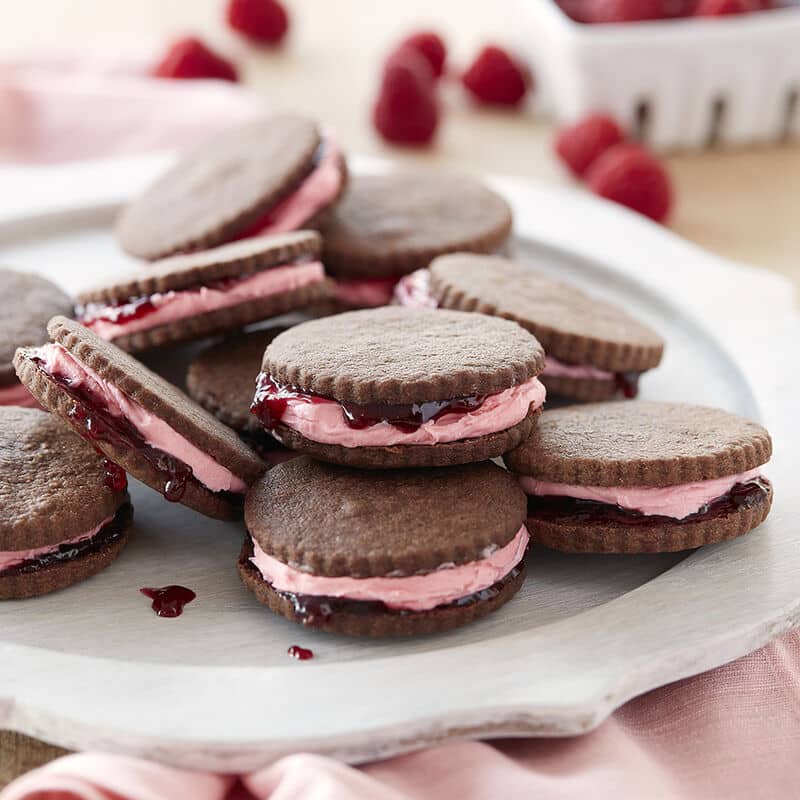 7. Raspberry Jam Shortbread Cookies
Buttercream and raspberry jam combine for a tasty chocolate shortbread cookie sandwich that kids and adults will love.
8. I Lava You Cookies
Great for beginners, these adorable cookies make a wonderful edible Valentine for someone you lava!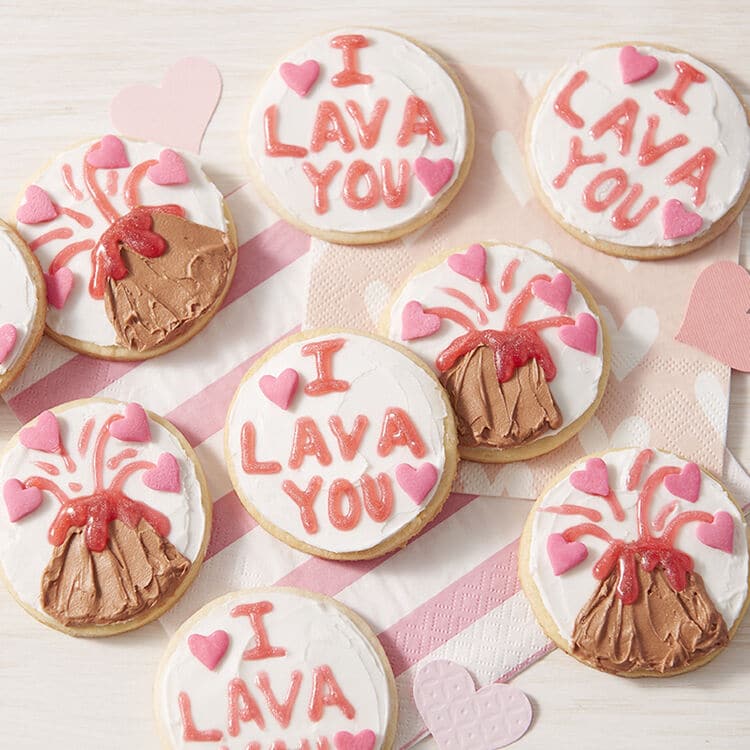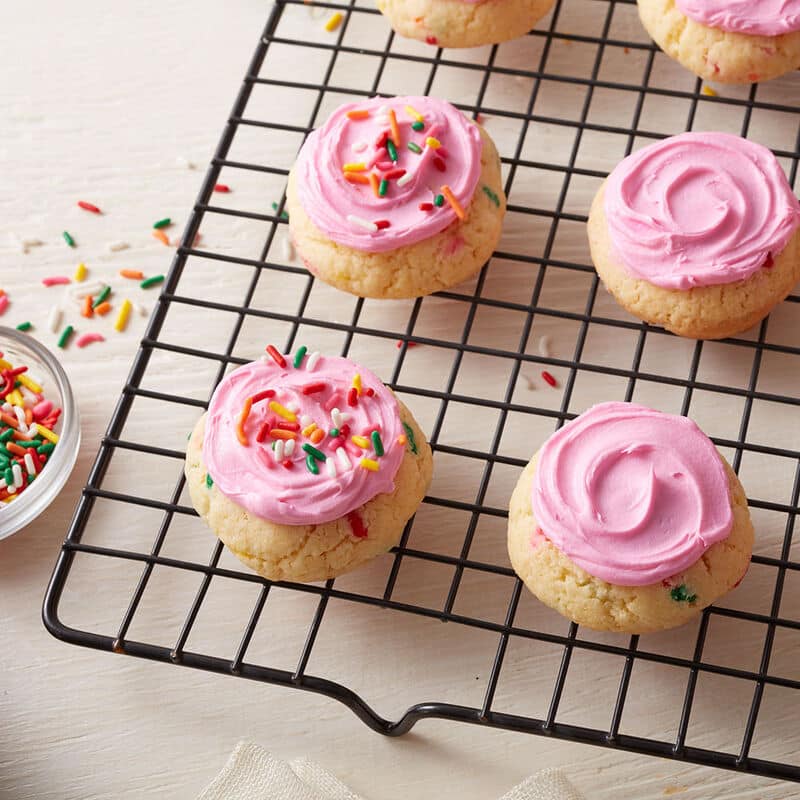 9. Confetti Cake Batter Cookies
Made with your favorite boxed white cake mix and a few colorful sprinkles, these confetti cake cookies are a sweet Valentine's Day treat.
10. Strawberry Champagne Thumbprint Cookies
The clean flavor of Crisp Champagne and the sweetness of strawberry preserves make these cookies simply irresistible!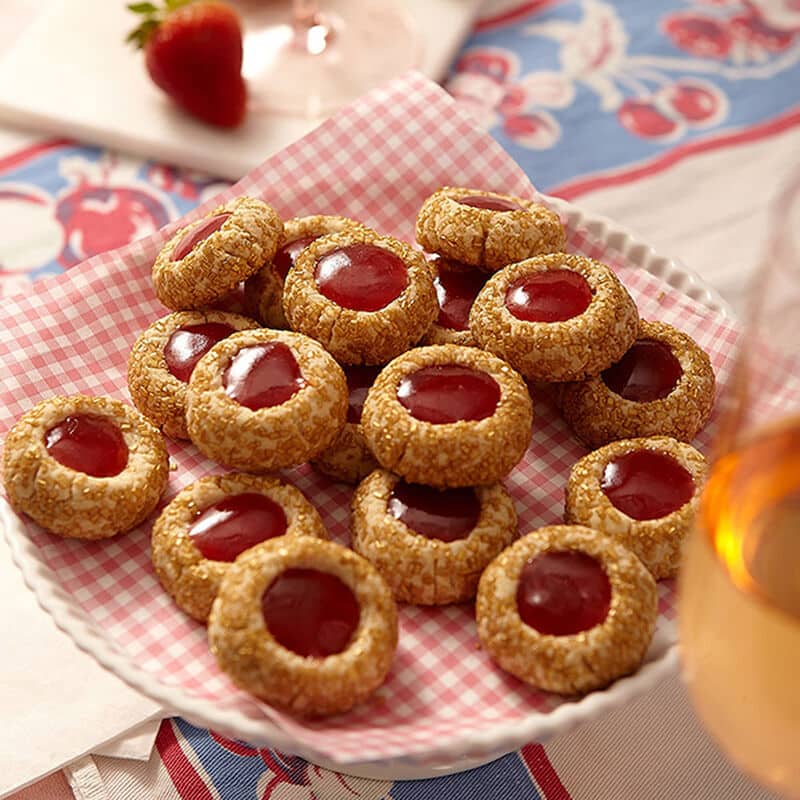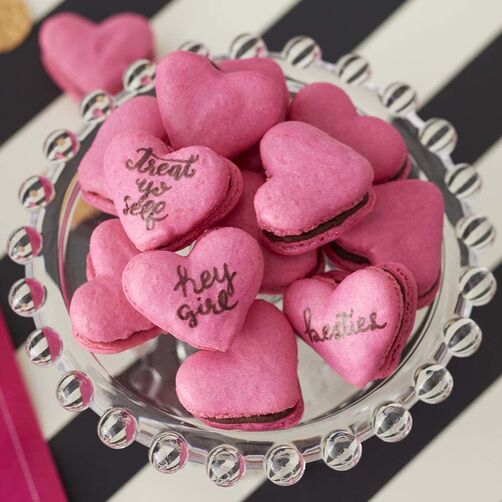 11. French Macaron Cookies
These adorable French macarons are great for Galentine's Day celebrations with your favorite gal pals! Customize them with names or messages for a sweet addition to your brunch or breakfast.
12. Chewy Almond Cookies
Chewy and sweet, these almond cookies are a tasty sweet for your Valentine's Day spread. Roll your cookies in chopped almonds for added texture and flavor.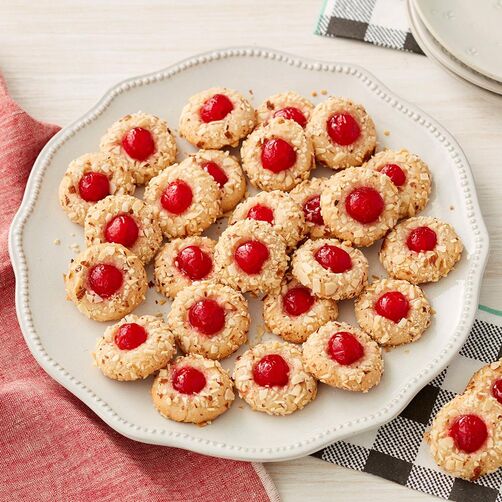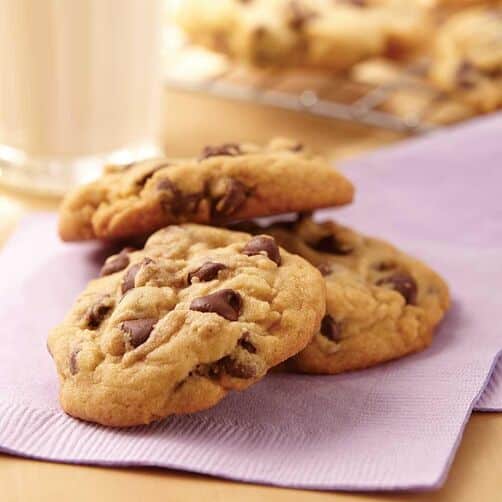 13. Chocolate Chip Cookies
Tell someone how much you care with a fresh batch of chocolate chip cookies! This easy recipe bakes about 2 dozen cookies and will make your kitchen smell amazing!
14. Candy Confetti Cookies
Sprinkle your cookies with a generous helping of candy confetti with these Valentine's Day cookies. A fun project to do with the kids, these treats make great gifts for mom, neighbors and friends.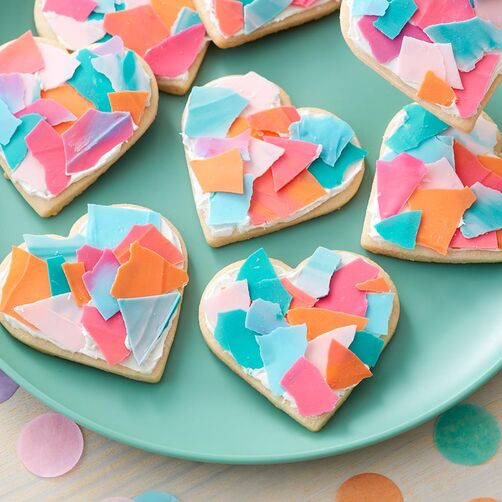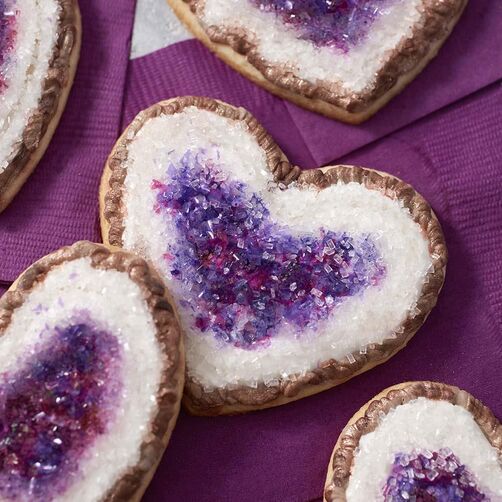 15. Sparkling Purple Geode Cookies
No need to buy diamonds this Valentine's Day, these Geode Heart Cookies will make your kitchen sparkle!
16. Champagne Meringue Cookies
Light and delicate, these Champagne Meringue cookies are crisp on the outside and chewy on the inside. These cookies are not only great for Valentine's Day, but also perfect for weddings and bridal showers.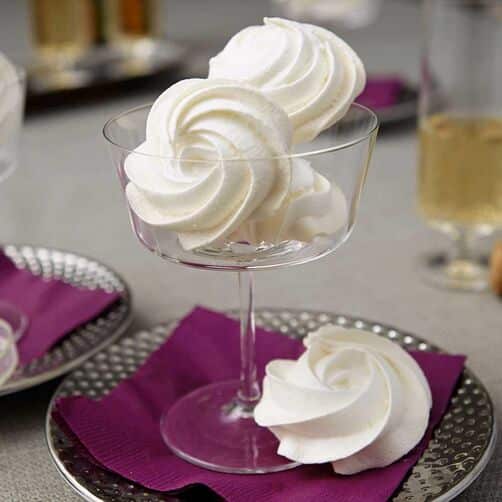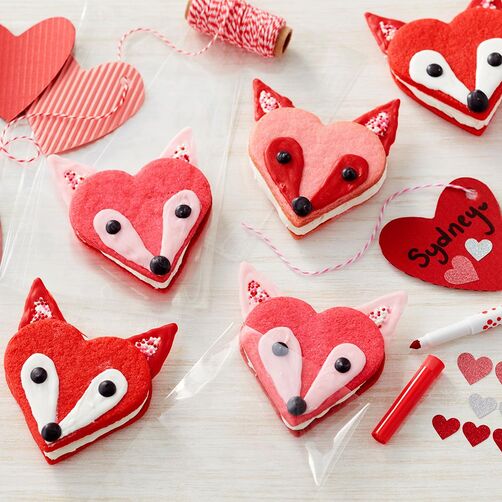 17. Foxy Cookie Sandwiches
Give your foxy Valentine a little something sweet with these adorable cookie sandwiches. Decorated using Candy Melts candy, these cookie sandwiches are easy for decorators of all skill levels.
18. Cut-Out Sugar Cookies
This roll-out cookie dough recipe is great for making cut-out cookies of all shapes and sizes. Easy to roll and cut, these cookies can be customized with your choice of sprinkles or icing.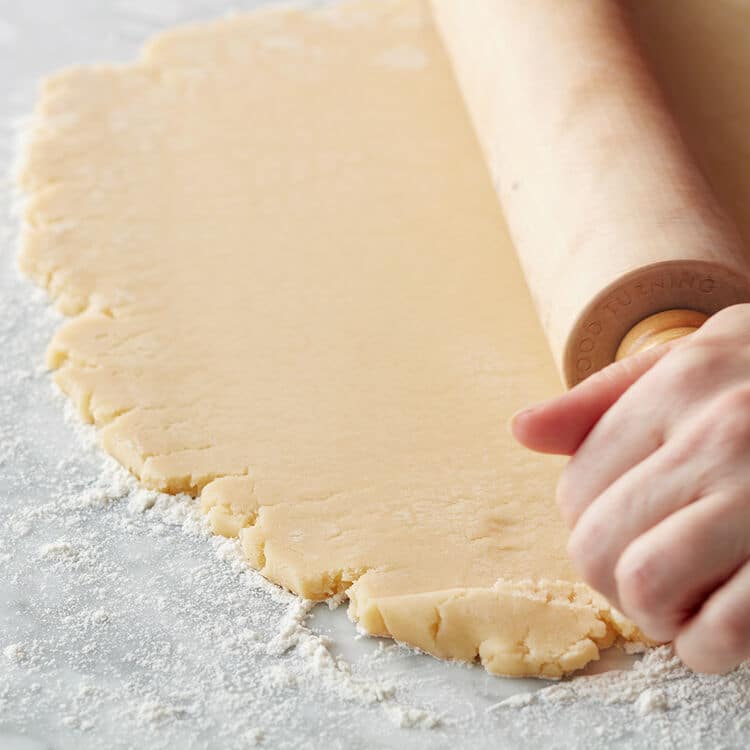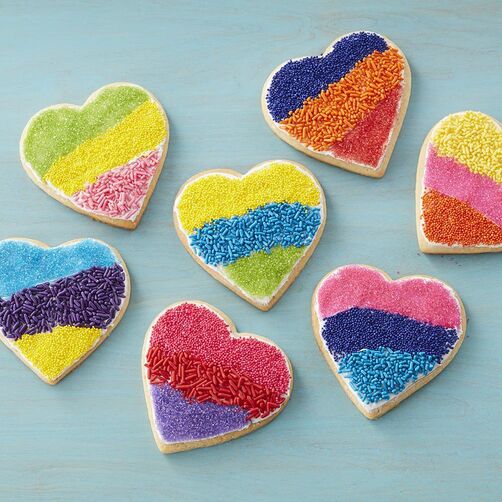 19. Color Block Heart Cookies
Love comes in all colors, and these Color Block Heart Cookies are a great way to show it! Kids will also love decorating these sprinkle-covered sweets!
20. Black and White Heart Cookies
Black and white will never go out of style! Decorated with stripes and hearts, these heart-shaped cookies are a trendy treat everyone will love.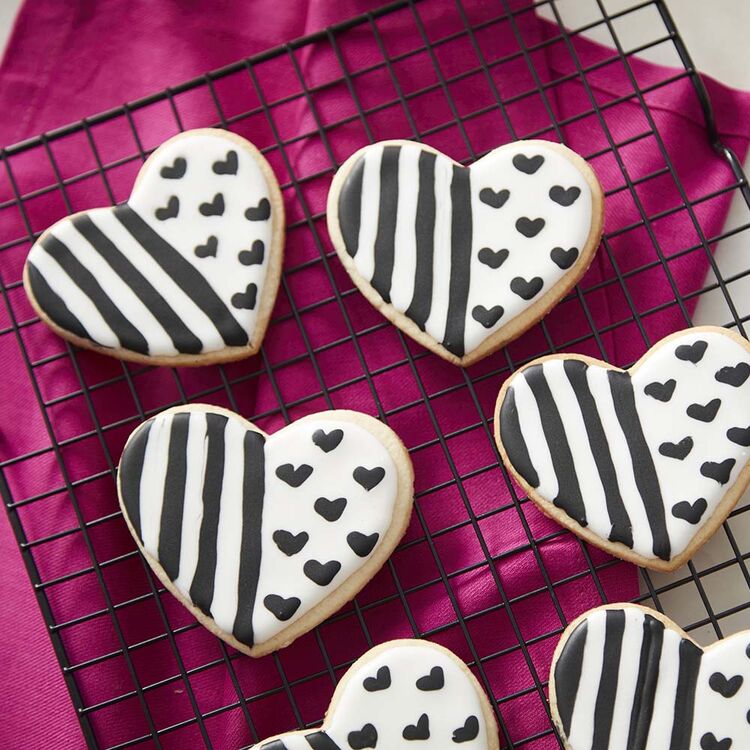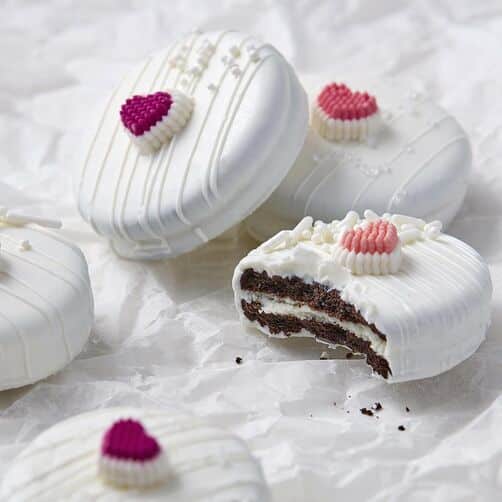 21. Candy-Dipped Sandwich Cookies
No time to bake this Valentine's Day? Use Candy Melts candy and heart-shaped icing decorations to dress up your favorite store-bought sandwich cookies with this tasty recipe.
22. Heart Cut-Out Cookies
Use royal icing in shades of white, red and pink to make these cute cut-out cookies. The marbleized technique is as easy as using a toothpick to swirl your icing.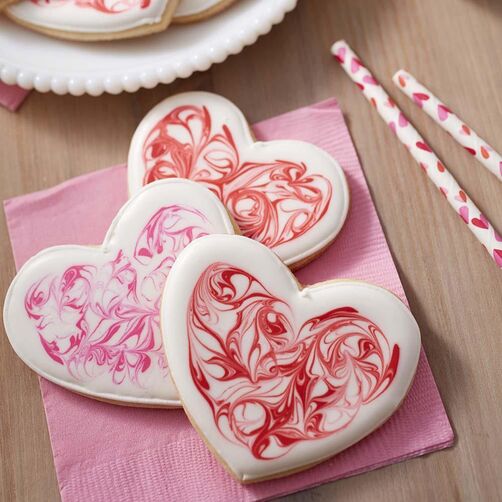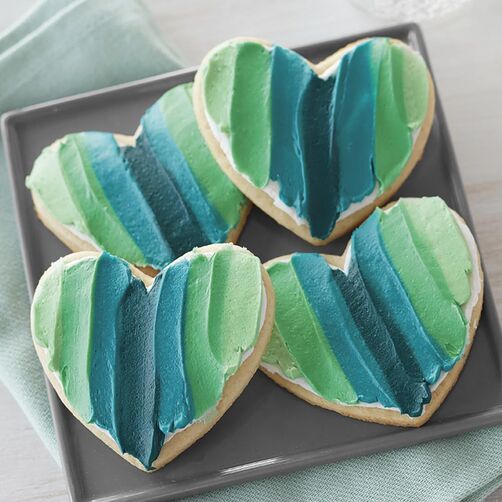 23. Lovely Line Heart Cookies
These Lovely Line Heart Cookies use a spatula to "paint" icing on your cookies. Use icing in traditional red and pink hues or mix and match your favorite colors.
24. Scalloped Heart Cookies
These cookies are easy to make but look so impressive. Start with your favorite roll-out cookie dough recipe, then pipe details using decorating tip 102.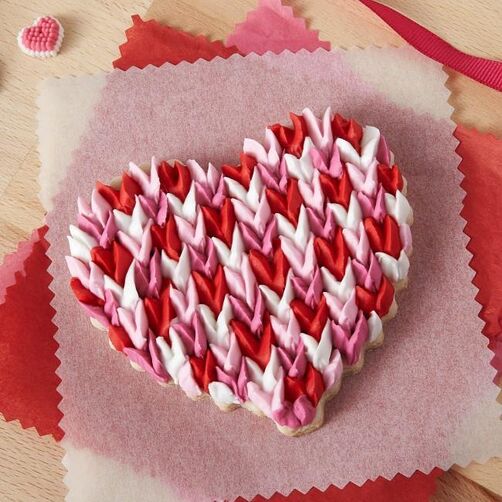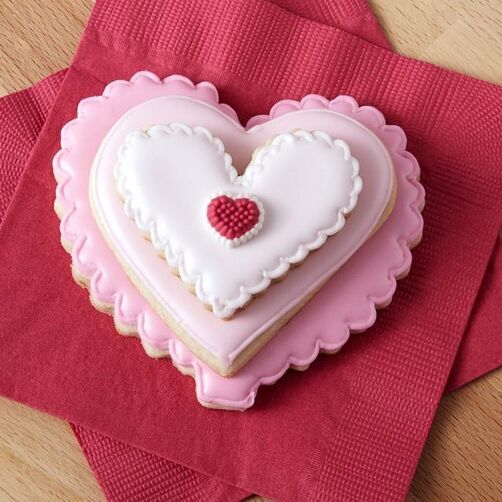 25. Stackable Ombre Heart Cookies
What's better than one cookie? Three cookies! These stacked ombre cookies make a great gift for friends, family and co-workers.
26. Chocolate Salted Caramel Shortbread Cookies
When it comes to flavor combos, it's hard to beat chocolate and caramel. Combining nutty caramel with bittersweet chocolate, these Chocolate Salted Caramel Shortbread Cookies are great for sharing with your Valentine. Add a dash of salt to enhance this already amazing flavor combination.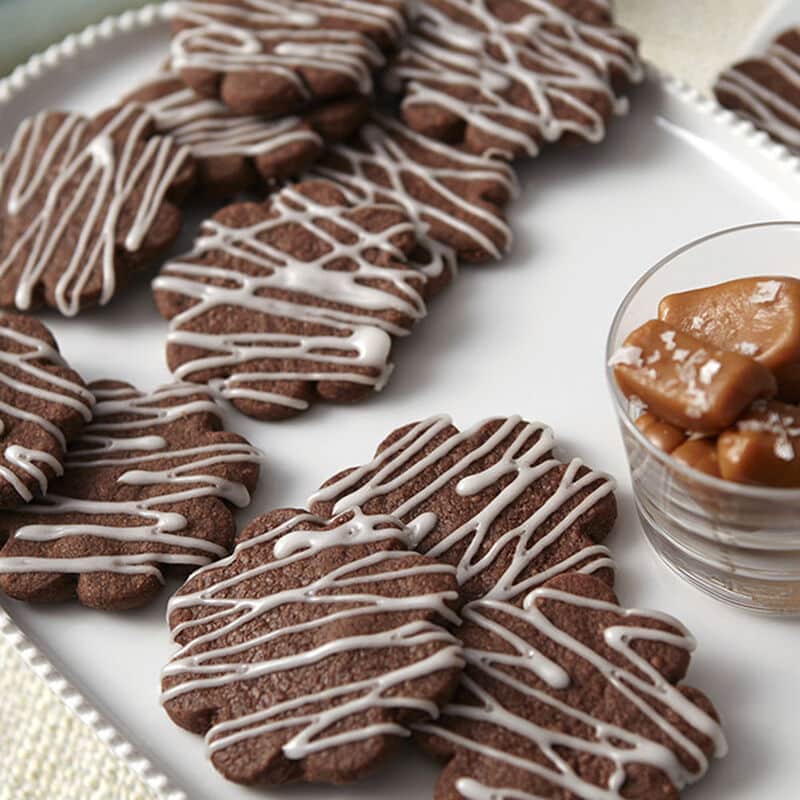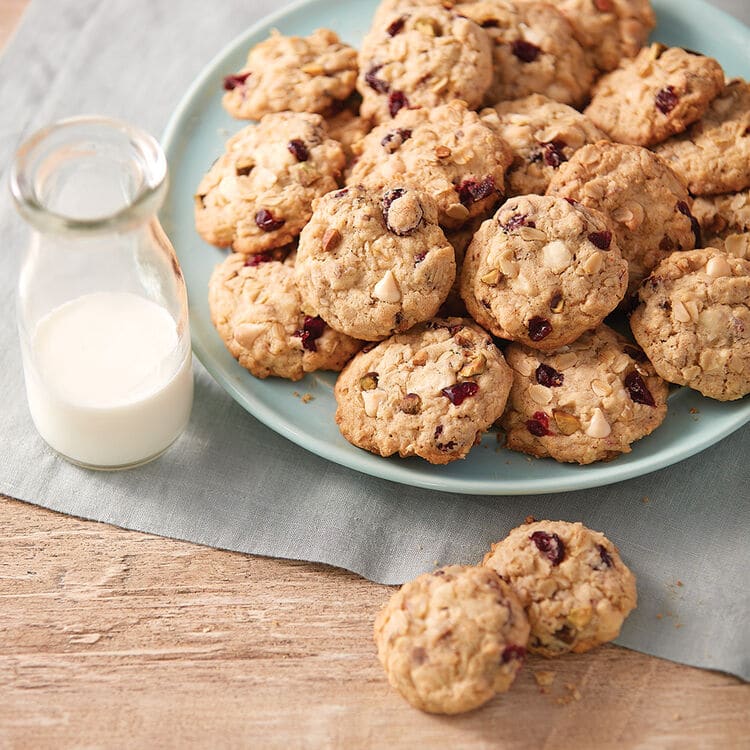 27. White Chocolate Cranberry Pistachio Oatmeal Cookies
No flavor is left behind in these White Chocolate Cranberry Pistachio Oatmeal cookies. A fun twist on a classic recipe, these cookies are sure to become seasonal favorites.
28. Rosy Rosette Cookies
Dress up your favorite homemade sugar cookies with a blooming magenta rosette. Easy to make with any large star or drop flower tip (we used tip 2C but you could also use 1M or 1B), these Rosy Rosette Cookies look great when arranged on a platter and make the perfect Valentine's gift for wives, moms, friends and everyone in between!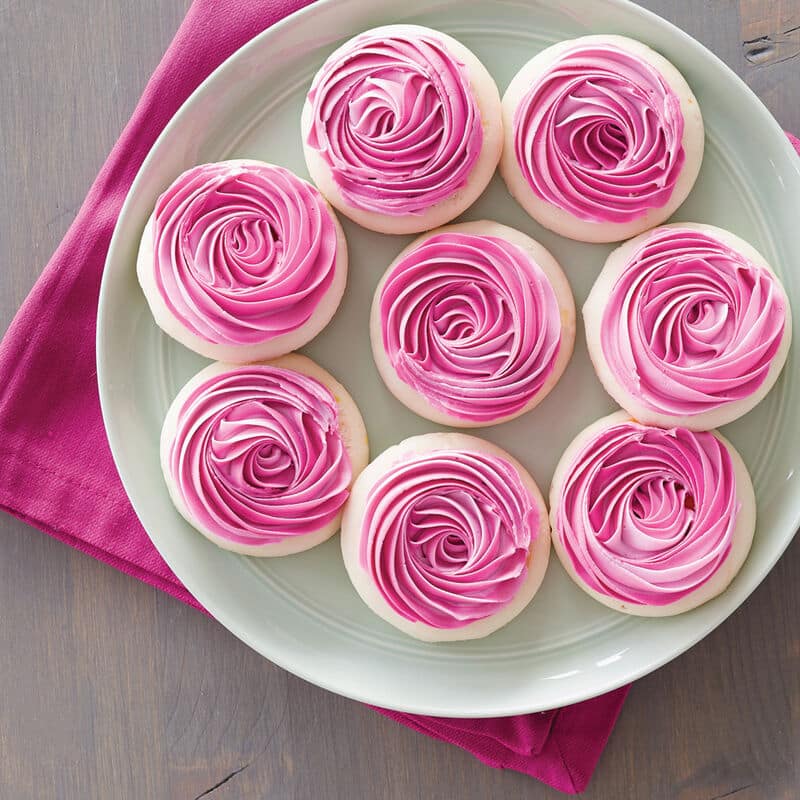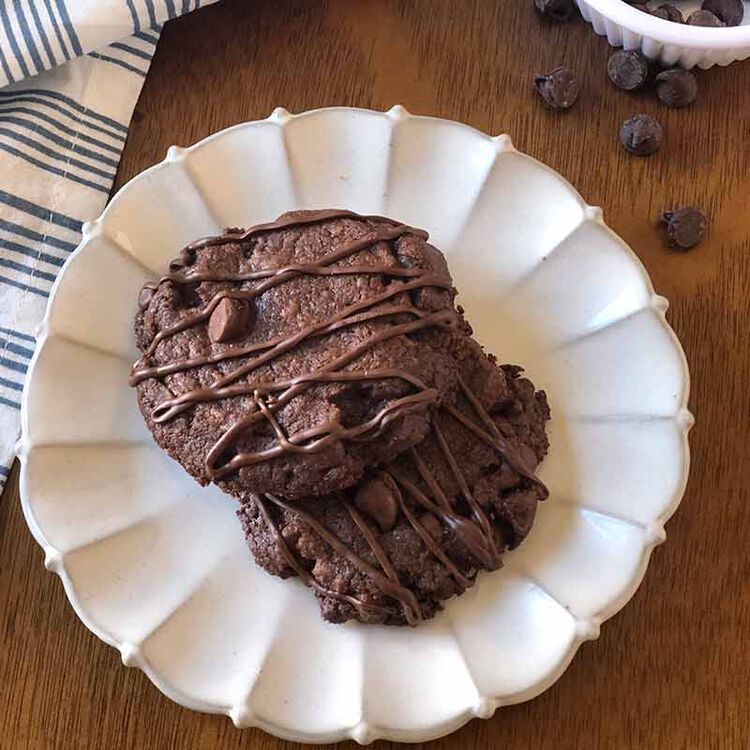 29. Brownie Cookies
Forget the chocolates – this year you can surprise your Valentine with a box of homemade chocolate Brownie Cookies! Loaded with chocolate chips, then topped with a cocoa drizzle, these cookies pair perfectly with a glass of cold milk or a cup of hot cocoa.
30. Sprinkled with Love Sandwich Cookies
Dress up your favorite store-bought sandwich cookies with colorful melted candy and fun Valentine's Day sprinkles. A quick and easy treat you can make for the kids or share with friends, these Sprinkled with Love Sandwich Cookies are easy to decorate and customize.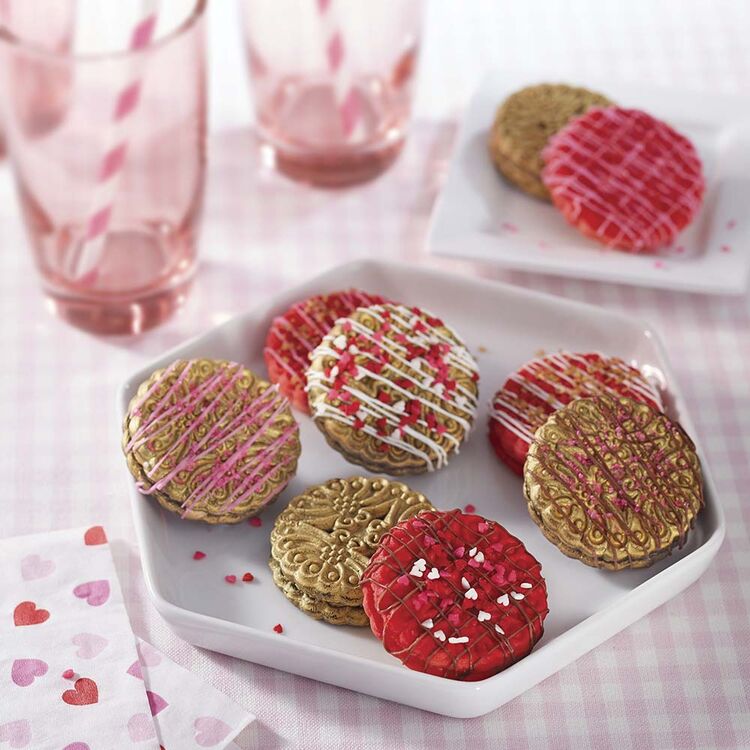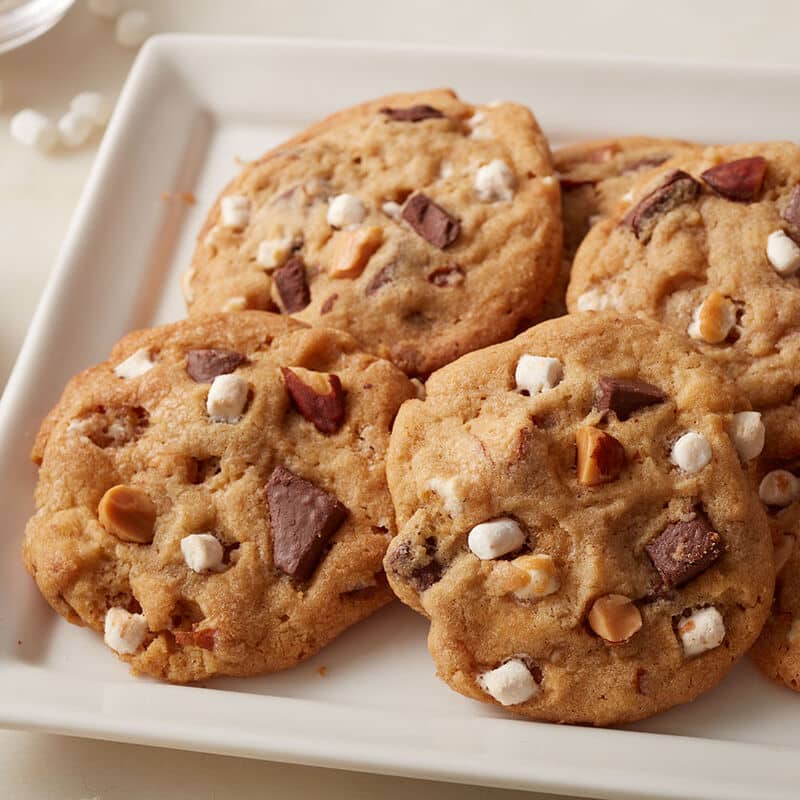 31. Rocky Road Cookies
Turn your favorite ice cream flavor into a tasty cookie with these Rocky Road Cookies. Packed with chocolate, almonds and mini marshmallows, these simple drop cookies are great for everything from birthdays to book clubs.
32. Bright and Bold Meringues
For a Valentine's Day cookie that won't weigh you down, try these Bright and Bold Meringues. Light and airy, these crispy cookies are piped in a variety of shapes using star, drop flower and round piping tips. Tint your meringue batter any color you'd like using Color Right concentrated food coloring, then have fun making swirls, rosettes, drop flowers and stars to present to your Valentine this year!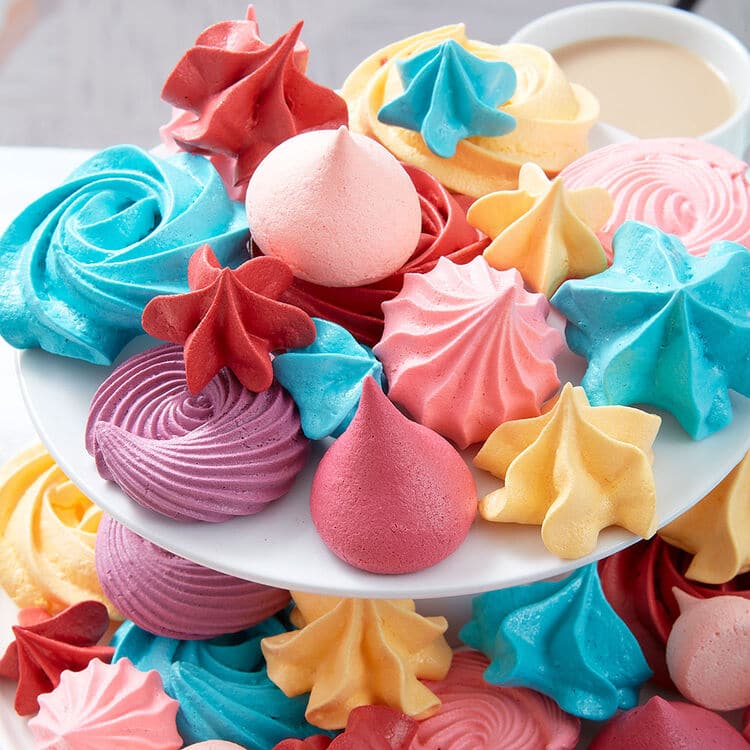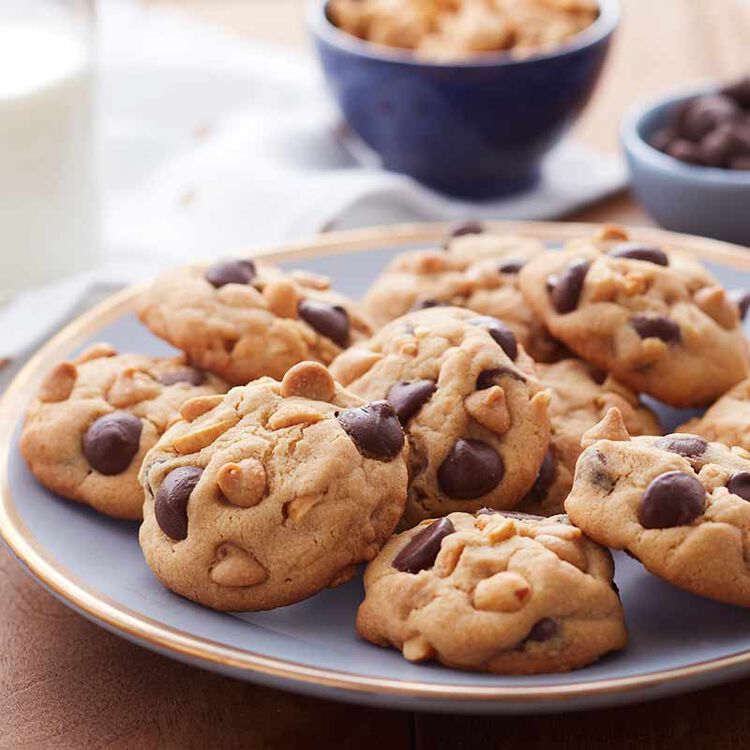 33. Peanut Butter Chocolate Chip Cookies
If peanut butter and chocolate are your favorite flavor match-up, you're going to love these Peanut Butter Chocolate Chip cookies. Soft and sweet, these cookies are great for dunking in a glass of milk or sharing with your favorite peanut butter lover for Valentine's Day!
34. Pink and Coral Macarons
Show your Valentine some amore with these Pink and Coral Macarons. A fun baking challenge that makes a great gift for your sweetie, these macarons can be filled with buttercream, jam, chocolate spread, ganache or lemon curd.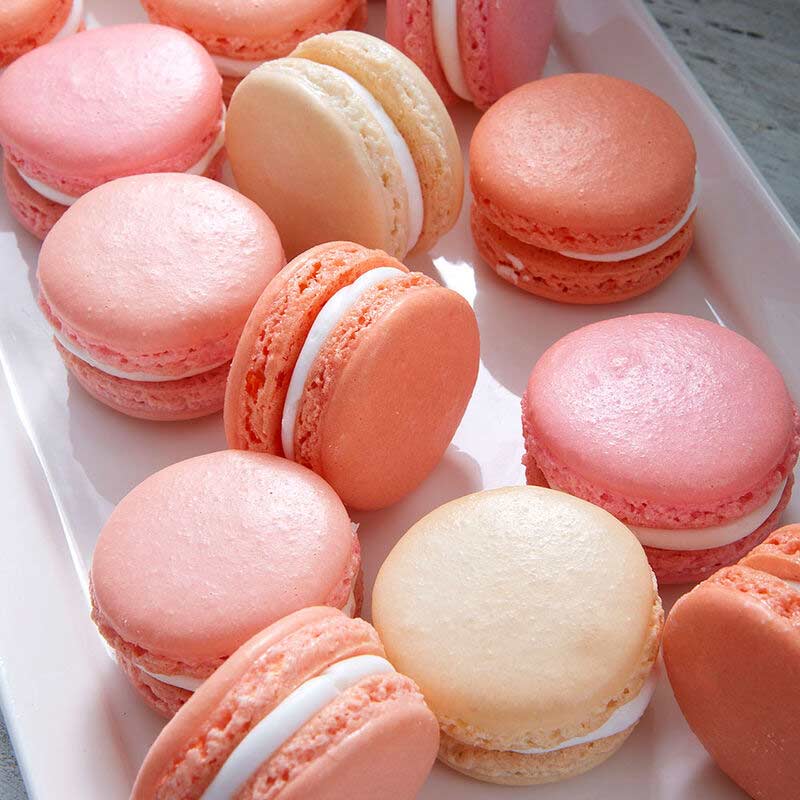 Need even more V-Day inspiration? Take a look at all the cupcakes, desserts and mini desserts we can help you make at home this year. 
Looking for something with a little less red and pink? Try making a pie crust from scratch and filling it with that special someone's favorite filling, so they can enjoy it after a romantic dinner at home.
Is your Valentine this year actually a bestie? Check out this great list of 6 Galentine's Day Ideas for Brunch!
Can't make anything with chocolate? Our Favorite Non-Chocolate Desserts For Valentine's Day is just what you need to find the right recipe.
Regardless of the sweets you choose to send or share, we want you to share your work with us! Let us know in the comments below or take a picture on Instagram and make sure to tag us ​@wiltoncakes so we can see how your bake turned out!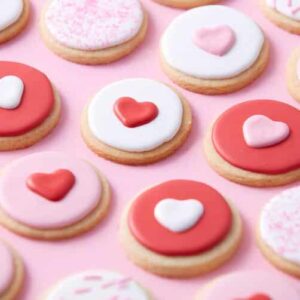 34 Valentine's Day Cookie Recipes to Help Show Some Love
Check out our fabulous list of cute Valentine's Day cookies recipes and ideas that will help you skip the store-bought stuff this Valentine's Day!
Tried this recipe?
Take a picture and tag us @WiltonCakes on Instagram
Find all the supplies you need to make Valentine's Day sweet!