There's nothing quite like gathering the family together and decorating a gingerbread house as a part of your treasured holiday traditions.
Often purchased as a kit with several decorating supplies included, gingerbread houses give you the freedom to follow the instructions or make the house your own. And whether you're a by-the-book, classic gingerbread house decorator or a creative, open-minded non-traditional gingerbread artist filled with whimsical ideas, there's no denying that this is where holiday memories are built.
And just like building any sturdy house, it's important to start with a strong foundation. With these simple tips and tricks, you can design and decorate an eye-catching house that will stand the test of time during the holiday season.
First, let's start off with some basic decorating tips:
Gingerbread House Tips:
Extra Icing: It's always a good idea to have some extra icing on hand. Not only is it great for decorating, but it's also used as an adhesive for attaching all your fun decorations. No need to make your own, our tub of pre-made royal icing is ready to use when you are! You can also use Wilton icing colors or Color Right Concentrated Food Coloring to tint your icing any shade you'd like. If you'd like to make your own icing, we have a recipe for the perfect gingerbread house icing, great for decorating and assembling.
Use a Turntable: Decorating your house on a turntable gives you the ability to turn your house as you go. This will make piping things like icicles and garland MUCH easier!
A Tip on Tips: While most gingerbread house decorations are made with round or star tips, you can customize the look of your house by changing your tip size or style. Try a drop flower tip instead of a star tip, or play around with round tips of different sizes for a fun layered look!
Gather up Soup Cans: Large aluminum cans are great for holding panels in place as your icing dries.
Think Outside the Gingerbread Box:

When it comes to decorating, let your imagination run

wild! Each gingerbread kit comes with a few candies and sprinkl

es for decorating, but you can

also

use your favorite candies, snacks and cereals to add your own creative touch!
Now that we've covered the general basics, let's get down to the nitty gritty. Here are some helpful tips for piping everything from the front door to the trimmings to help make your house a home!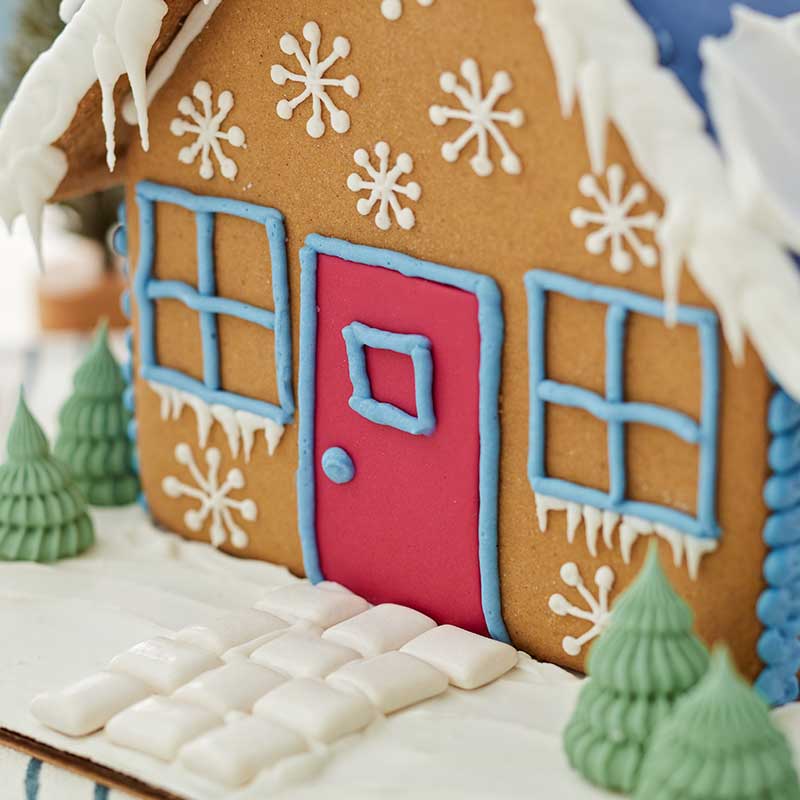 Every gingerbread house needs a colorful door! Before you outline your design, use a spatula to fill in the shape of the door with icing.
To outline your door, we suggest using a smaller round tip, like a tip 2 or 3. Keep the tip close to the surface to prevent the icing from falling off your house. Try piping the outline in a contrasting color to help your door stand out.
Use this same technique as above with windows. Use a spatula to fill in the shape of the window beforehand, then outline the window with a small round tip.
Gingerbread House Icicles
Turn your gingerbread house into a winter wonderland with some "icing-cles"! For a natural look, use a bag with a round tip to pipe pull-out dots around the roof of your house. Just vary the pressure to make icicles of different sizes.
You can also use a variety of round tips to create your icicles.
Helpful Tip: Rather than preparing several bags with round tips, prepare one bag with a coupler. This will allow you to easily switch between standard-sized tips as you decorate.
For a quicker decoration, use a round tip to pipe a tight zigzag around the edges of your house.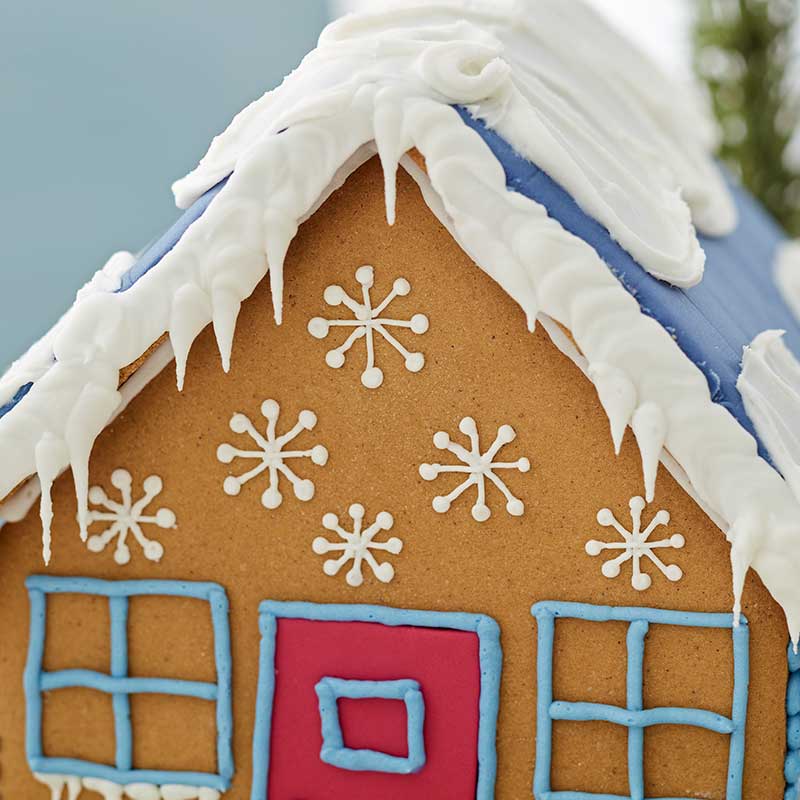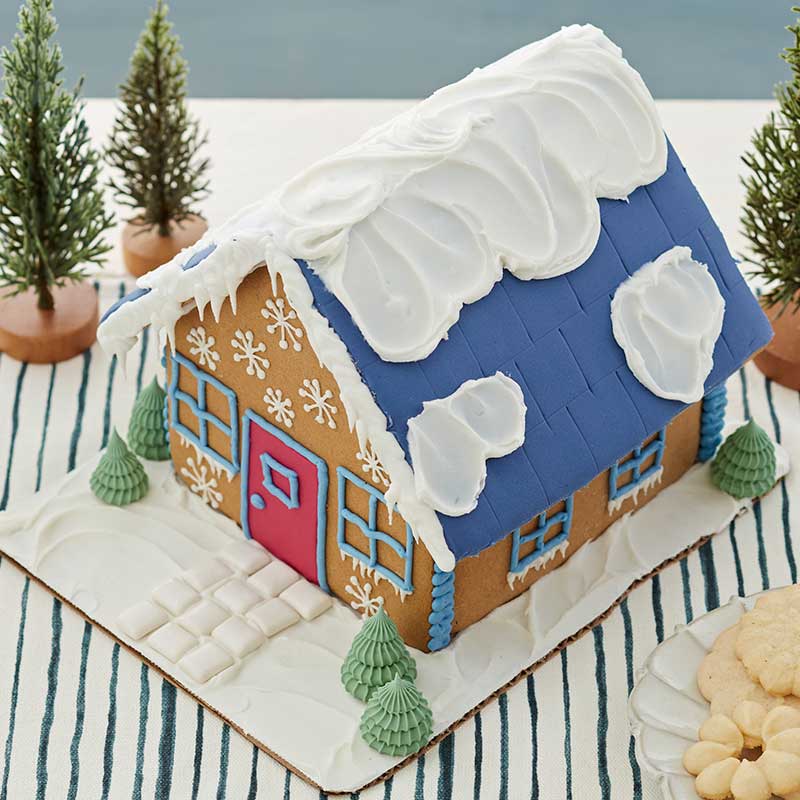 You can have all kinds of fun customizing the roof of your gingerbread house. Use a spatula to ice the roof smooth with icing. Then cover it with sparkling sanding sugar or sprinkles to create a fun design.
If you're feeling extra creative, you could even pipe zigzag garland on the roof for a more festive look.
Don't forget to add fun holiday trimmings! Festive wreaths and garlands are great for adding extra details, textures and color to your gingerbread house.
Garlands can be used to decorate the roof or you can use them to dress up your side or front windows.
Go more modern with your décor with a cute pom-pom wreath. Use a variety of round tips to pipe dots of icing in the shape of a wreath. You could also use round candies or jumbo nonpareils to achieve a similar effect.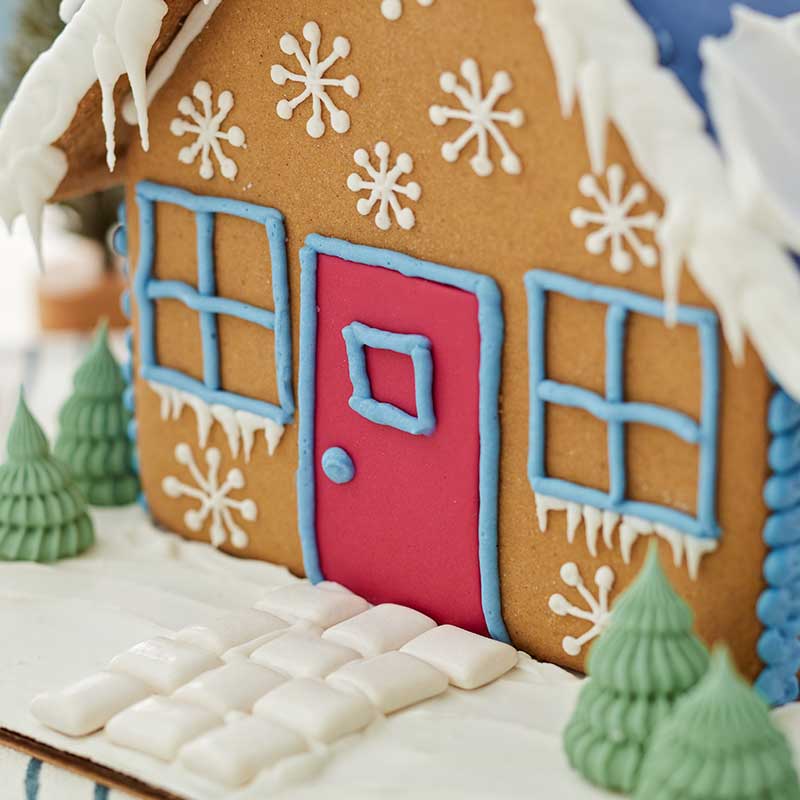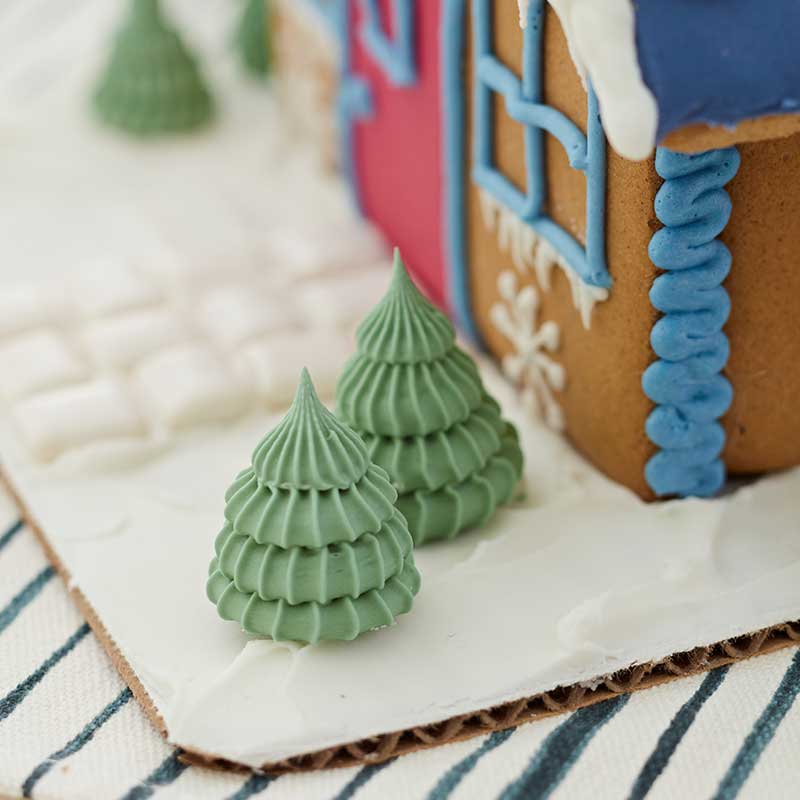 Gingerbread House Christmas Trees
Icing trees help complete your holiday gingerbread house. While you can pipe the trees directly on the board of your display, we recommend making them ahead of time so they can dry completely. It works best if they're made at least a day in advance. This also gives you the ability to play around with placement as you arrange your gingerbread house.
Use drop flower tips or star tips to pipe small trees for your display. Start by piping a large dot on a sheet of parchment paper that's about the size of a quarter. Then pipe smaller dots on top of that until your Christmas tree is complete.
For taller or more decorative trees, use a star tip to pipe stars and pull-out stars on sugar cones. Use different shades of green icing for a cool and artistic tree. You can also use candies and sprinkles to add a little more holiday merriment to your foliage.
For smaller sugar cone trees, use a wet brush to mark a trim line on the wide end of the cone. Use a serrated knife to cut along the dampened line.
No gingerbread house is complete without snow! Icing makes magical snow, in that it helps everything stay in place. Use a spatula to make snow drifts and banks, or spread icing smooth on the board for a light, even dusting.
For defined snow details, like frosted windows or sparkling snow, pipe the icing directly onto the window pane. Then top it with sparkling white sanding sugar.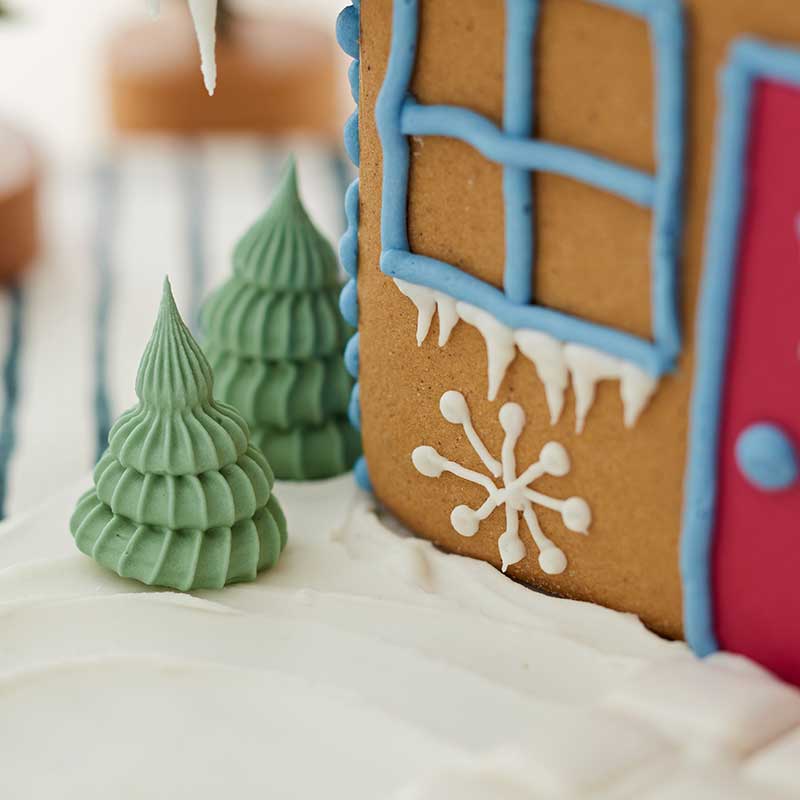 Sugars, Candy and Sprinkles
If you feel like your gingerbread house still needs a little something special, go wild and add some additional sprinkles and candy.
Add ornaments to your icing trees, add lights to your holiday garland or create a cute walkway out of jumbo sprinkles.
If only decorating our real house for the holidays was that easy!
Whether you're following the instructions in your kit or just seeing where your imagination takes you, taking the time to build and decorate a gingerbread house for the holidays is a wonderful tradition to share with family and friends. And with a few simple supplies and some simple decorating techniques under your belt, you'll be able to turn four cookie panels into home sweet home.
If you're more of a visual learner, head over to Wilton's YouTube Channel and watch our video on Easy Gingerbread House Decorating Techniques.
What's your favorite memory of decorating gingerbread houses with your family? Let us know in the comments below or show us your gingerbread creations by tagging us on Instagram @WiltonCakes. For more inspiration, or to see our gingerbread decorating ideas, check out Wilton Gingerbread!