Filled with warm fall flavors and topped with a sweet cream cheese frosting, this pumpkin spice cake recipe is great for autumn birthdays and celebrations
Whether you're baking for a birthday or for Thanksgiving dessert, this pumpkin cake is just what you need to spice up your party! This pumpkin spice cake topped with a delicious cream cheese frosting is sure to get you in the Holiday spirit.
The great thing about this recipe is that you can use it to make a sheet cake, a shaped cake or even cupcakes. Go the traditional route and serve it with cream cheese frosting, or try one of our other delicious buttercream frosting recipes for even more fun flavor combinations.
But before we start baking this pumpkin spice cake, let's take a closer look at two of the most important ingredients – pumpkin pie spice and pumpkin puree.
How do I make pumpkin pie spice from scratch?
Pumpkin pie spice is a great ingredient to have on hand during the fall. You can make pumpkin pie spice from scratch by combining about 3 tablespoons cinnamon, 2 teaspoons ginger and nutmeg and 1 teaspoon allspice and cloves.
Besides adding it to baked goods, you can also add pumpkin pie spice to gingerbread cookies, coffee or hot cocoa! You can even alter the spice amounts to suit your taste. Omit the allspice if you don't like it or add more cinnamon for a spicier blend.
Pumpkin puree vs. pumpkin pie filling
Pumpkin puree and pumpkin pie filling serve very different purposes in baking. Pumpkin puree is plain, roasted pumpkin. Pumpkin pie filling is designed to be used as a quick pie filling and often has added spices and sugars.
Though they both contain pumpkin, pumpkin pie filling is much sweeter and will alter the taste of this cake. Be sure you're using plain pumpkin puree in this recipe for a tasty, fluffy and delicious pumpkin cake!
Ingredients:
2 1/3 cups all-purpose flour
1 tablespoon pumpkin pie spice
2 teaspoons baking powder
1½ teaspoons baking soda
1½ teaspoons salt
1 teaspoon ground cinnamon
½ teaspoon ground ginger
1 can (15 oz.) pumpkin puree
1 cup buttermilk
¾ cup (1½ sticks) unsalted butter, softened
2½ cups granulated sugar
3 eggs
Step 1: Preheat your oven to 325 degrees F. Prepare a 9 x 13 in. pan (or whatever pan you're using) with nonstick vegetable pan spray.
Step 2:  a medium bowl, combine the flour, pumpkin pie spice, baking powder, baking soda, salt, cinnamon and ginger.
Using a whisk or a fork, stir the dry ingredients together until combined. Set aside.
Step 3: In a separate mixing bowl, whisk together the pumpkin puree and the buttermilk until smooth.
Step 4: In a large bowl, beat the butter and sugar together with an electric mixer on medium speed until light and fluffy.
Step 5: Once your butter mixture is ready, add the eggs, one at a time, mixing well after each addition.
Step 6: Alternate adding the flour and pumpkin to the butter mixture, beginning and ending with flour.
You can use a mixer on low speed to do this, or mix it by hand to prevent gluten from overdeveloping.
Step 7: Pour your batter into the prepared 9 x 13 in. pan and bake for 48 to 52 minutes, or until a toothpick inserted in the middle comes out clean.
Step 8: Once baked, transfer your cake to a cooling grid. Let it cool completely in the pan.
Keep in mind that bake times will differ if you're using a different shaped pan. For example, cupcakes will take about half this baking time and a round pan for layer cakes might take even less.
Follow the instructions on your pan for proper bake times and be sure to check your cake with a toothpick for doneness.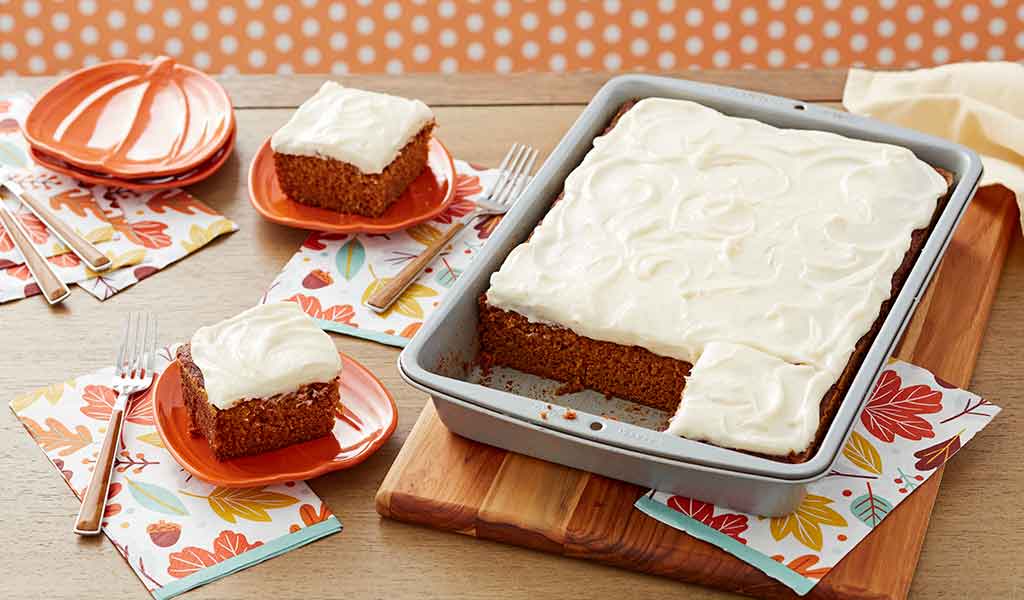 How to make cream cheese frosting
To make this delicious cream cheese frosting, you'll need three simple ingredients: cream cheese, confectioners' sugar and vanilla extract. It pairs perfectly with this pumpkin cake and is sure to become a family favorite!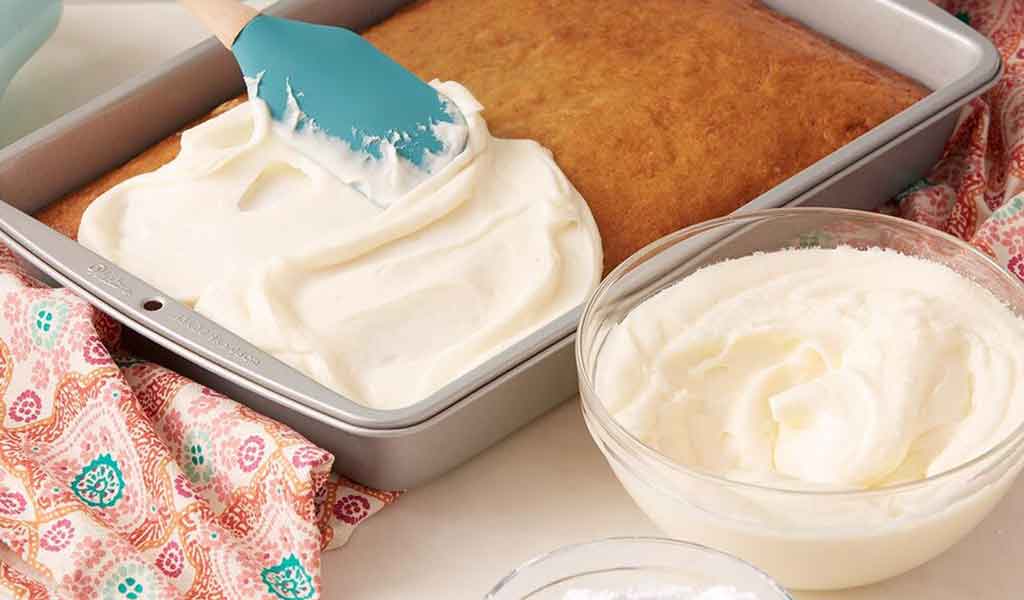 Ingredients:
2 packages (8 oz. each) cream cheese, softened
3 cups confectioners' sugar
½ teaspoon vanilla extract
Step 1: In a large bowl, beat the cream cheese with an electric mixer on medium speed until creamy.
Step 2: Add the confectioners' sugar, 1 cup at a time, beating well after each addition. Continue mixing until your icing is nice and smooth. Beat in the vanilla.
Step 3: Spread your icing on your cooled cake or cupcakes and enjoy!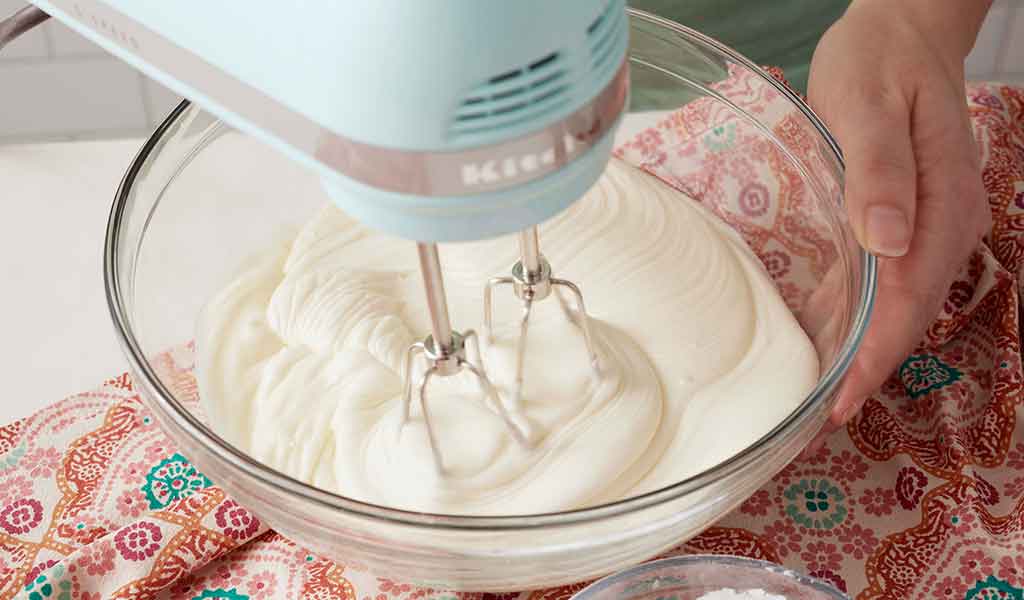 How to soften cream cheese
Like butter, cream cheese can be softened on the counter if you're not planning to bake right away. Take it out about an hour before you're planning to use it to let it come to room temperature.
You can also cut the cream cheese into smaller cubes to quicken the softening time.
For a quicker option, place the unwrapped cream cheese on a microwave-safe plate and microwave for 15 to 20 seconds.
How to pipe with cream cheese frosting
If you want to pipe cream cheese icing on your cake or cupcakes, try our Easy Cream Cheese Frosting recipe. This cream cheese is made using milk and butter which help add stability to your frosting.
While this recipe is great for spreading cream cheese icing on your cake, it's not stable enough for piping decorations
How to store pumpkin spice cake
Since this cake features cream cheese frosting, we suggest storing it in the fridge. This cake can be stored in the fridge for about a week in an airtight container or wrapped in plastic wrap.
You can also freeze this cake (undecorated) for later. To freeze it, wrap your cooled cake in plastic wrap, then aluminum foil. Stored this way, your cake should stay fresh in the freezer for about a month.
When ready to eat, let it thaw completely in the refrigerator, then decorate as desired.
How to decorate a pumpkin cake
Looking for a fun and creative way to decorate your cake? Forgo the cream cheese frosting and try one of these other tasty buttercream recipes:
For something a little lighter, try this Stabilized Whipped Cream recipe. Made using fresh heavy whipping cream, this frosting is delicious on cupcakes or layer cakes.
Pump up the pumpkin with this Pumpkin Spice Buttercream Frosting. For pumpkin lovers of all kinds, this sweet buttercream will take your cake from ordinary to extraordinary!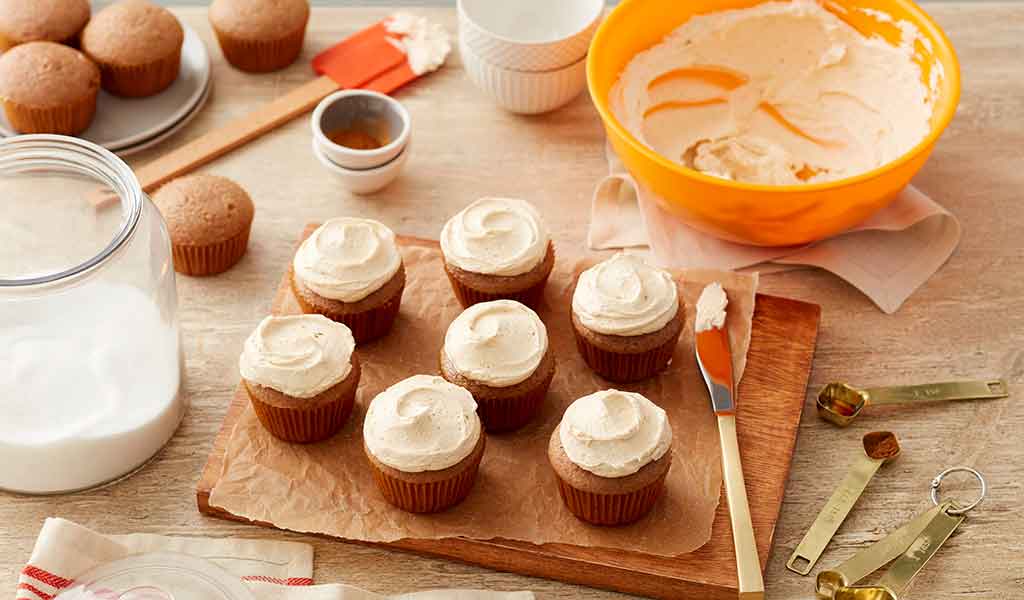 If you have a sweet tooth, you'll love this Fluffy Marshmallow Buttercream. A delicious frosting that is great for piping and filling, this is a tasty addition to almost any spice-based cake.
Adventurous cake eaters will love this buttery Ermine Frosting. With a texture and taste similar to cream cheese frosting, this cooked icing takes a little extra time, but is well worth it in the end!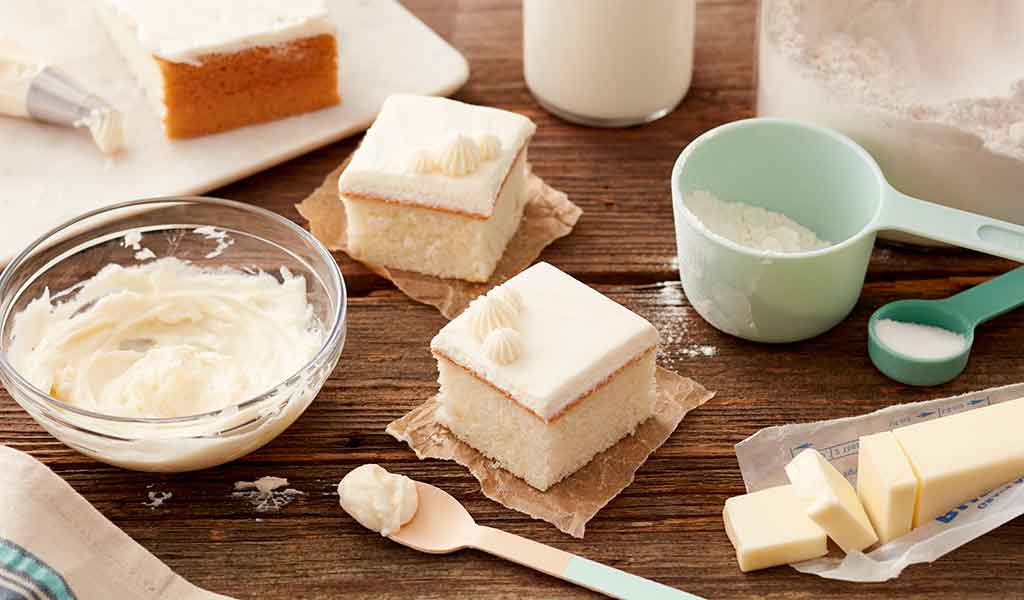 Rich and buttery, this Caramel Buttercream Frosting is sure to add a punch of flavor to your pumpkin cake. Great for using on cupcakes or as a filling between cake layers.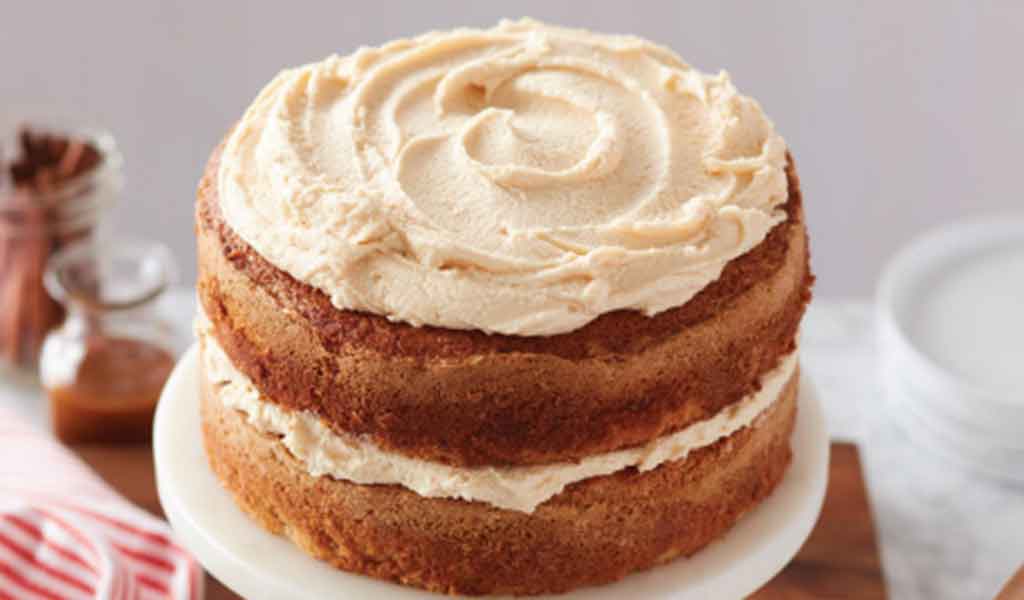 What are some of your favorite pumpkin desserts? Let us know in the comments below, or share a picture of your baked goods on Instagram and tag us @wiltoncakes!. For even more inspiration, be sure to check out our post on Pumpkin Desserts for Fall.