Dia de los Muertos, or Day of the Dead as it is known here in the U.S., is a Mexican holiday but it is celebrated all around the world by people of Mexican heritage.  
​
Day of the Dead Traditions
This unique and colorful holiday, most widely recognized and represented by its hallmark ornate calaveras (skulls), is celebrated from October 31st to November 2nd.
Traditionally, friends and family members create an ofrenda, or altar, for their dead loved one(s) to honor and remember them. 
The ofrendas are often decorated with photographs, highly prized possessions, and favorite foods of the dead. 
Growing up in a Mexican family and attending a Mexican arts and culture-centered elementary school, I was introduced to and embraced Dia de los Muertos and its vibrant traditions.
Every year in late October, my entire school would take a field trip to the National Museum of Mexican Art to see the Dia de los Muertos exhibit which consisted of beautifully curated altars created by artists for their dead loved ones and even some dead celebrities and icons. 
We were also able to see the sugar skull making process and purchase the colorful sugar skulls at the museum which was always a treat. 
At home, my siblings and I created our own miniature altars for Dia de los Muertos which were usually dedicated to our grandfather.
Day of the Dead Desserts
Other staples in Dia de los Muertos altars are Pan de Muerto, a Mexican sweet bread, and Cempasuchitl (Mexican marigolds), the flower of the dead.
In recent years, I've personally noticed the rise in popularity of Dia de los Muertos here in America.  Our mainstream culture now recognizes and promotes the traditions of this holiday, whether it's through sugar skull Halloween costumes or Dia de los Muertos calacas (skeletons) decorations.
As Dia de los Muertos becomes more well known, so does its most traditional dessert: Pan de Muerto, an anise- and/or orange-flavored sweet bread that is decorated to look like it is topped with a skull and crossbones.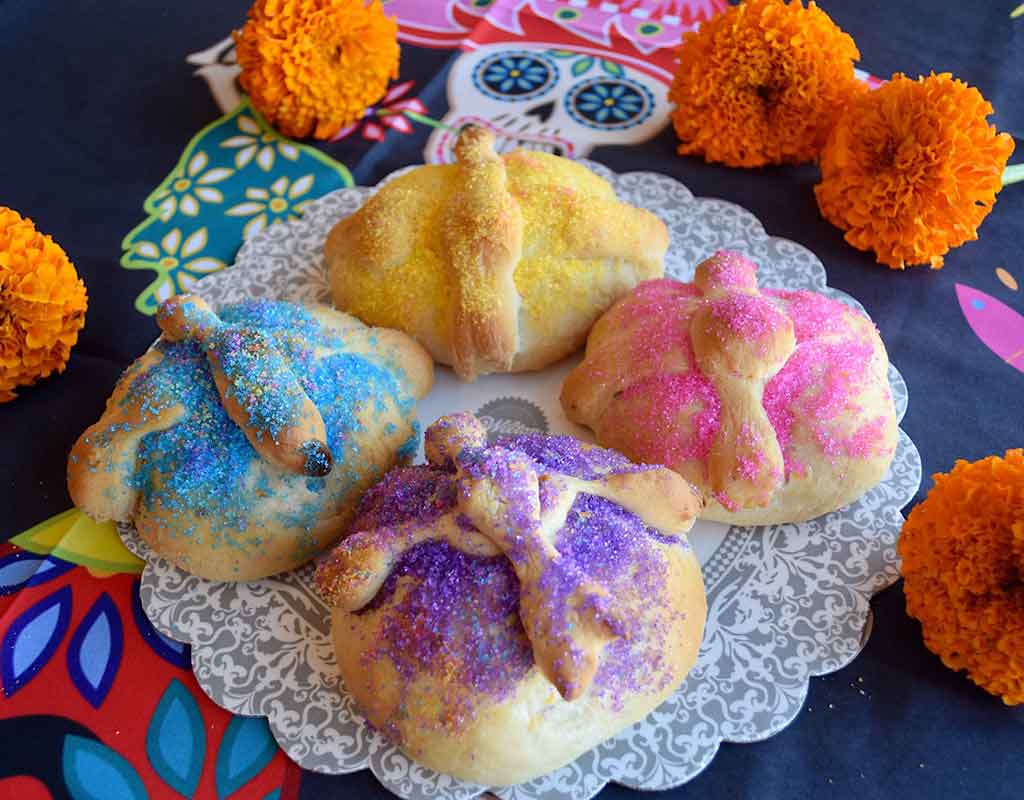 My family has always enjoyed this seasonal and deliciously comforting pan dulce and last year, I learned how to make it myself!  Making Pan de Muerto is definitely a new Dia de los Muertos tradition that will be practiced and cherished in my family for years to come.
To celebrate Dia de los Muertos, I made some colorful orange- and anise- flavored Pan de Muerto and a Dia de los Muertos sugar skull cake flavored with orange zest, just like Pan de Muerto!​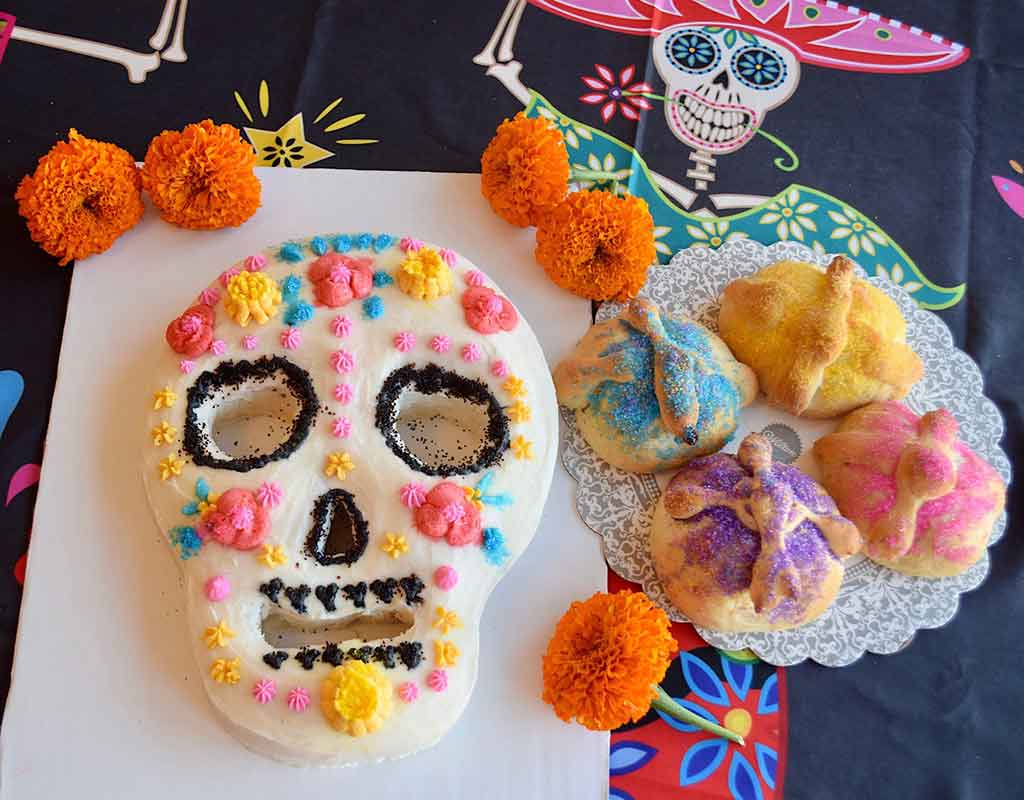 Learn how to make this beautiful Dia de los Muertos sugar skull cake and more @pinkpastelbakery