If you love banana bread and carrot cake, you're going to love this moist and delicious tropical dessert! Filled with the flavors of pineapple, banana, cinnamon and pecans, this Hummingbird Cake recipe is great for pretty much any celebration. Don't forget to top it off with some tangy cream cheese frosting!
Have you heard? Humminbird's the word! Filled with all the best tropical flavors, this Hummingbird Cake is a traditional southern staple for a reason – it's delicious! With a consistency similar to carrot cake, this amazing, tropical dessert is perfect for Easter, birthdays, or really a plain ol' Friday night!
And don't forget the frosting – we've topped our cake with our creamy homemade cream cheese frosting, which offers the perfect flavor balance. Finally, add a border of toasted pecans for a totally game-changing dessert!
How to Toast Pecans
While optional, toasting your pecans adds amazing flavor to your hummingbird cake. To toast, spread the chopped pecans evenly on a non-stick cookie sheet. Bake in an oven at 350°F for 5-8 minutes, shaking the pan occasionally.
Let the pecans cool completely before adding to your batter.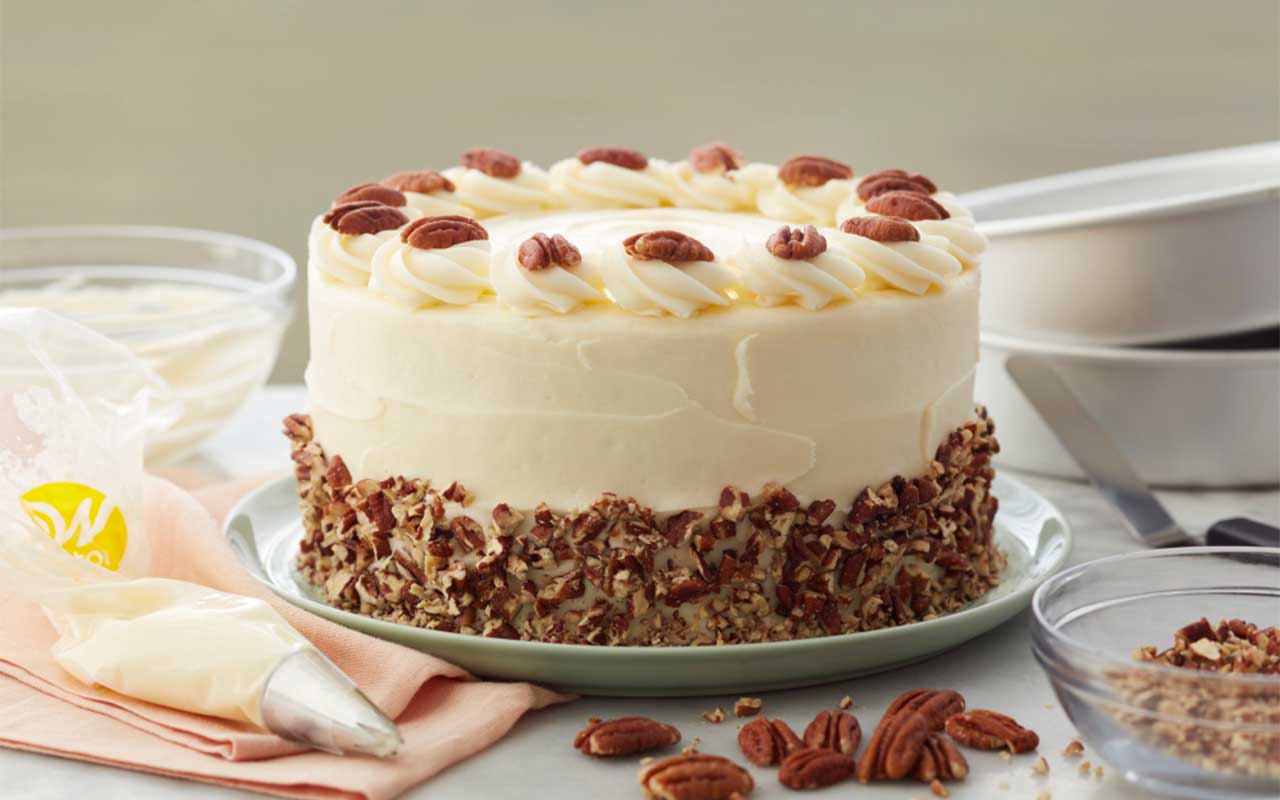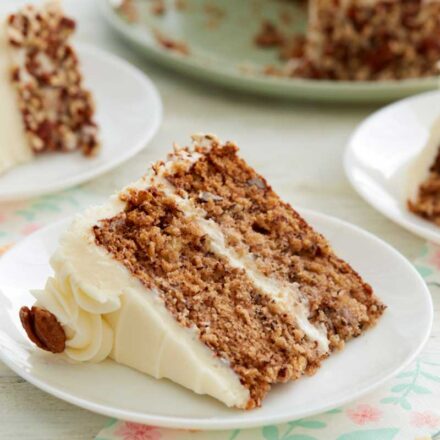 Hummingbird Cake Recipe
Filled with the flavors of cream cheese, pineapple,banana, cinnamon and pecans, this Hummingbird Cake is great for any celebration.
Ingredients
3

Cups

All-purpose flour

1 ¾

Cups

Granulated sugar

2

Teaspoons

Baking Soda

1

Teaspoon

Salt

1

Teaspoon

Ground Cinnamon

3

Eggs

1-1/4

Cup

Vegetable Oil

1

Teaspoon

Vanilla Extract

2

Cups

Mashed Riped Bananas

(about 5 to 6 large bananas)

1

Can

Crushed Pineapples (8 oz.)

drained

1 ¾

Cups

Chopped toasted pecans

divided

13-15

Pecan Halves, for garnish

Optional
Instructions
Step 1: Prepare the Dry Ingredients

Begin by preheating your oven to 350°F. Spray two 8 in. round cake pans with non-stick vegetable spray.

In a large bowl, stir together the flour, sugar, baking soda, salt and cinnamon. Set this aside for later.

Step 2: Prepare the Wet Ingredients

In a large bowl, combine the eggs, vegetable oil and vanilla extract. Mix with an electric mixer on medium speed until well combined.

Step 3: Combine Ingredients

Add all the flour mixture at once to the egg mixture. Beat until combined.

Add the mashed banana, pineapple and 1 cup of the toasted pecans. Beat until everything is combined. Divide the prepared batter evenly between the prepared pans.

Step 4: Bake your Cake Layers

Bake both cakes in the oven for 50 to 55 minutes, or until a toothpick inserted into the center comes out clean.

Once baked, let your pans cool for 10 minutes, then remove the cakes and let them cool completely on a cooling grid before decorating.

Step 5: Make the FrostingAs your cakes cool, prepare the Cream Cheese Frosting, which tastes AMAZING with this cake! If you don't like the taste of cream cheese, you can also use Ermine Frosting, which tastes similar but doesn't contain any cream cheese.

Step 6: Decorate!

Once your cakes have completely cooled, trim the tops of both layers so they are leveled. Fill and frost with your cream cheese frosting.

Use the remaining ¾ cup of toasted pecans to press around the sides of the cake.

Finally, top your cake with swirls (we used a 1Mtip) and a pecan half.
Tried this recipe?
Take a picture and tag us @WiltonCakes on Instagram