While many believe that cookies are the king of Christmas desserts, Christmas cakes are giving cookies a run for their money. With the holiday season upon us, we've compiled our best easy Christmas cake ideas and recipes of the season, all sweet enough to warm even the Grinch's heart.
If your sweet tooth is hankering for more sweet Christmas goodness to get you in the holiday spirit, check out some of our favorite Christmas cookies, cupcakes, gingerbread houses and other treats!
1. All Spruced Up Christmas Tree Cake
This All Spruced Up Christmas Tree Cake is the perfect dessert table centerpiece, featuring a full forest of frosting evergreens.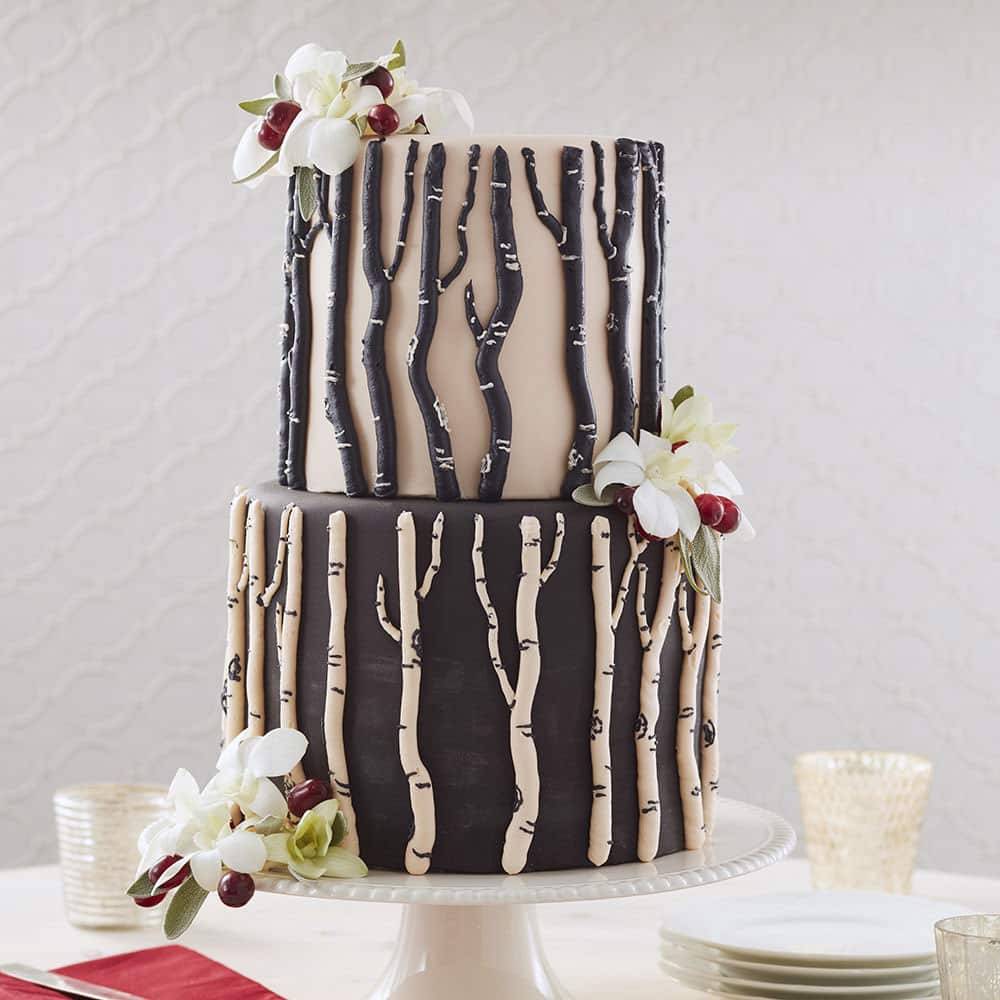 2. Winter Berry Birch Bark Cake
Here for a classy Christmas party or an elegant holiday wedding, this Winter Berry Birch Cake is a true winter show-stopper. Make this sophisticated cake easily using White Decorator Preferred Fondant.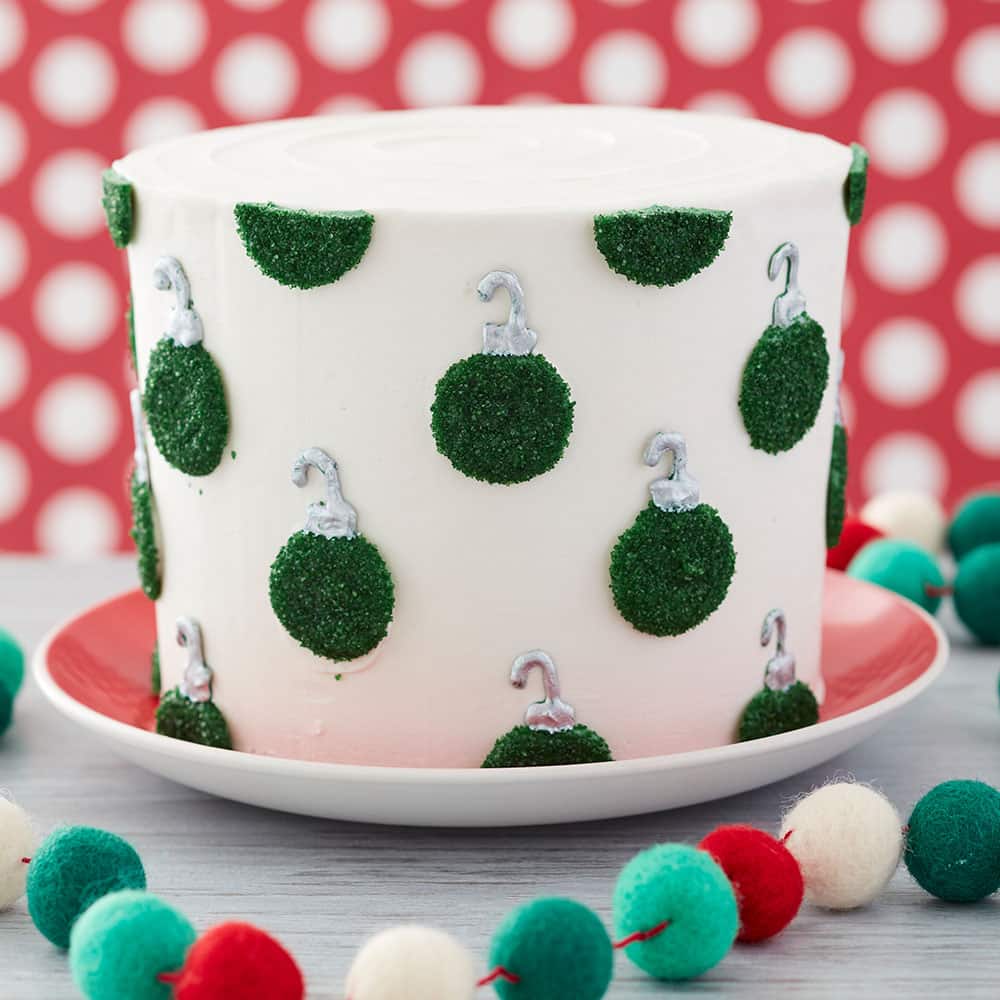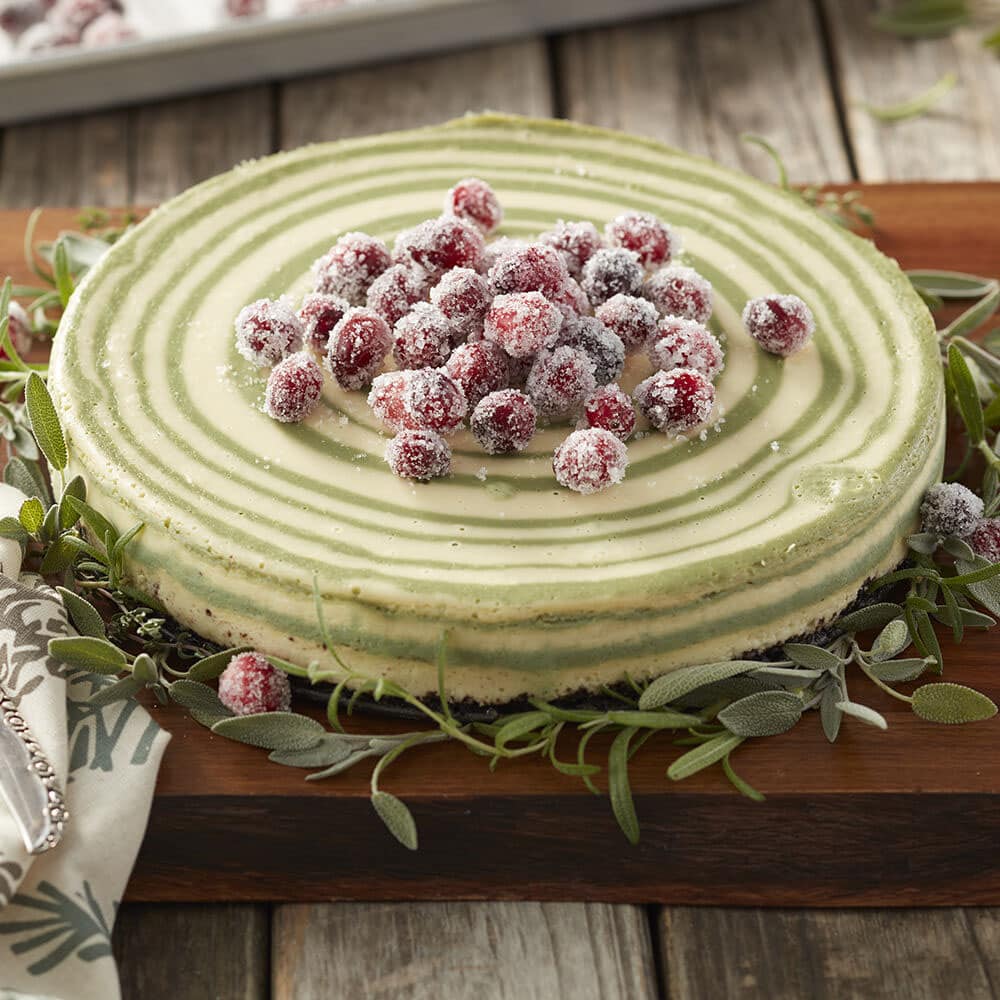 4. Candied Cranberry Cheesecake
Add a touch of sophistication to your Christmas celebration with this beautiful Candied Cranberry Cheesecake. Make this cheesecake the perfect shade of green with Juniper Green icing color.
5. Chocolate Hazelnut Yule Log
Yule Logs are a Christmas staple in so many households, so we made sure to make this one perfect. Made with decadent chocolate and Light Cocoa Candy Melts candy, this Yule Log will be a recipe to hold onto for years to come.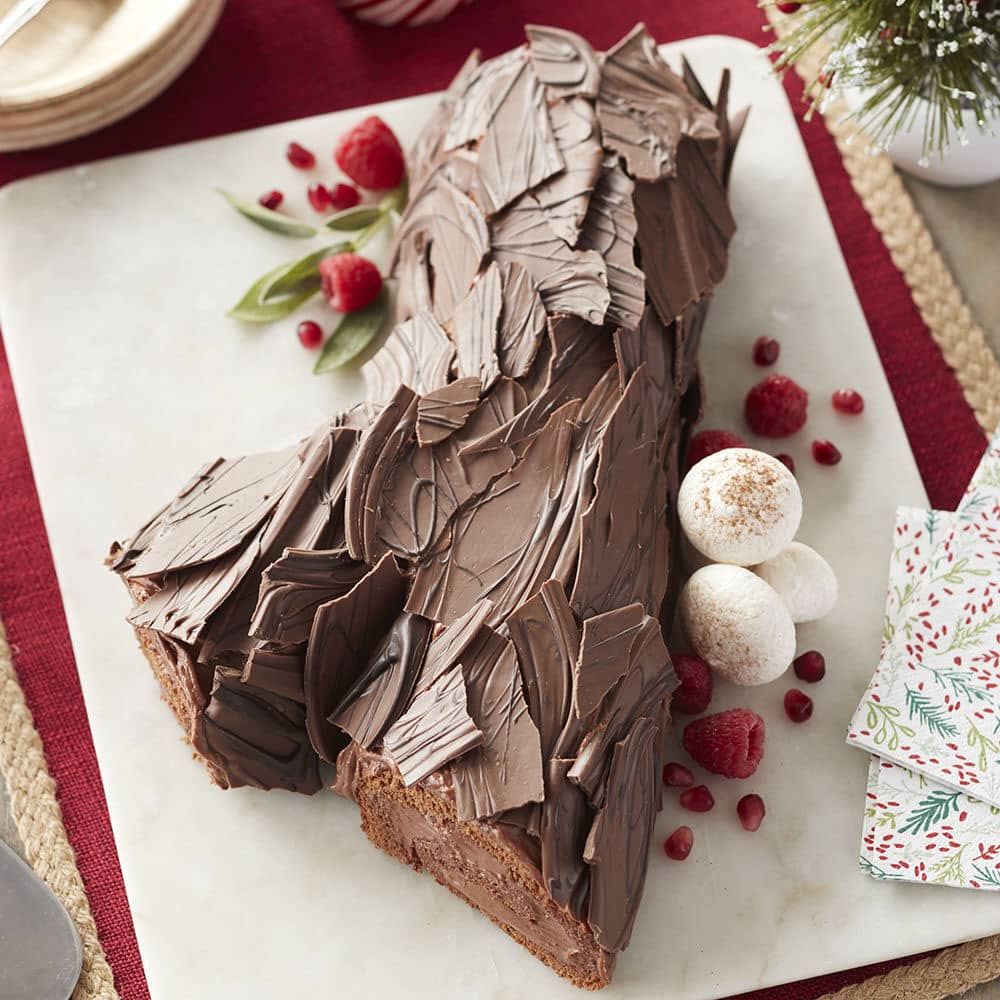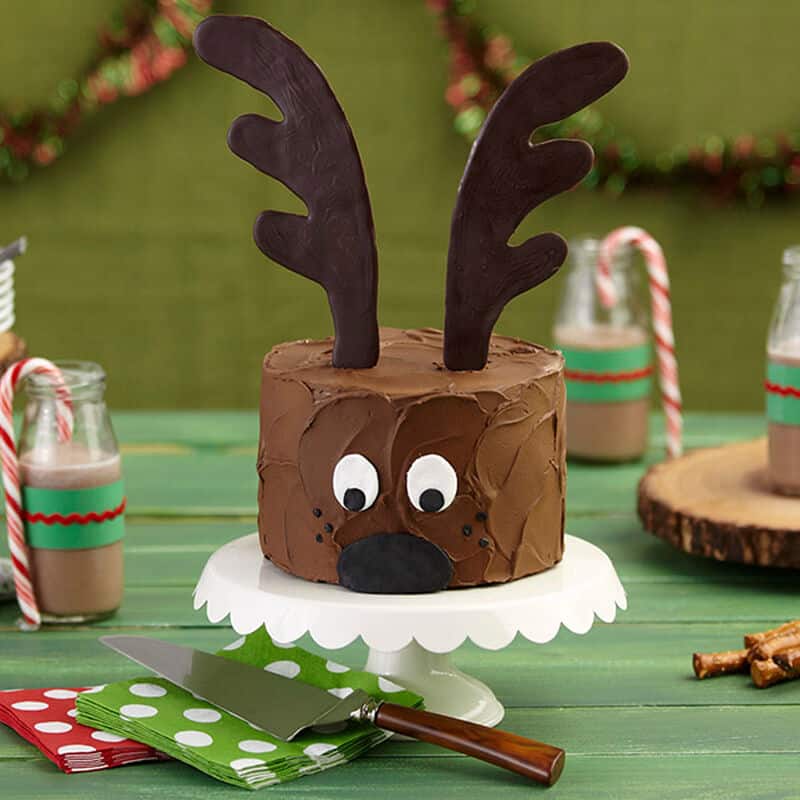 6. Christmas Reindeer Cake
Honor Santa's trusty steeds with this adorable Christmas Reindeer Cake. Use Dark Cocoa Candy Melts candy to create the perfect reindeer antlers.
7. Happy Little Trees Cake
Made to imitate a fresh coat of snow over a forest of Christmas trees, there's no better way to celebrate a white Christmas than with this Happy Little Trees cake.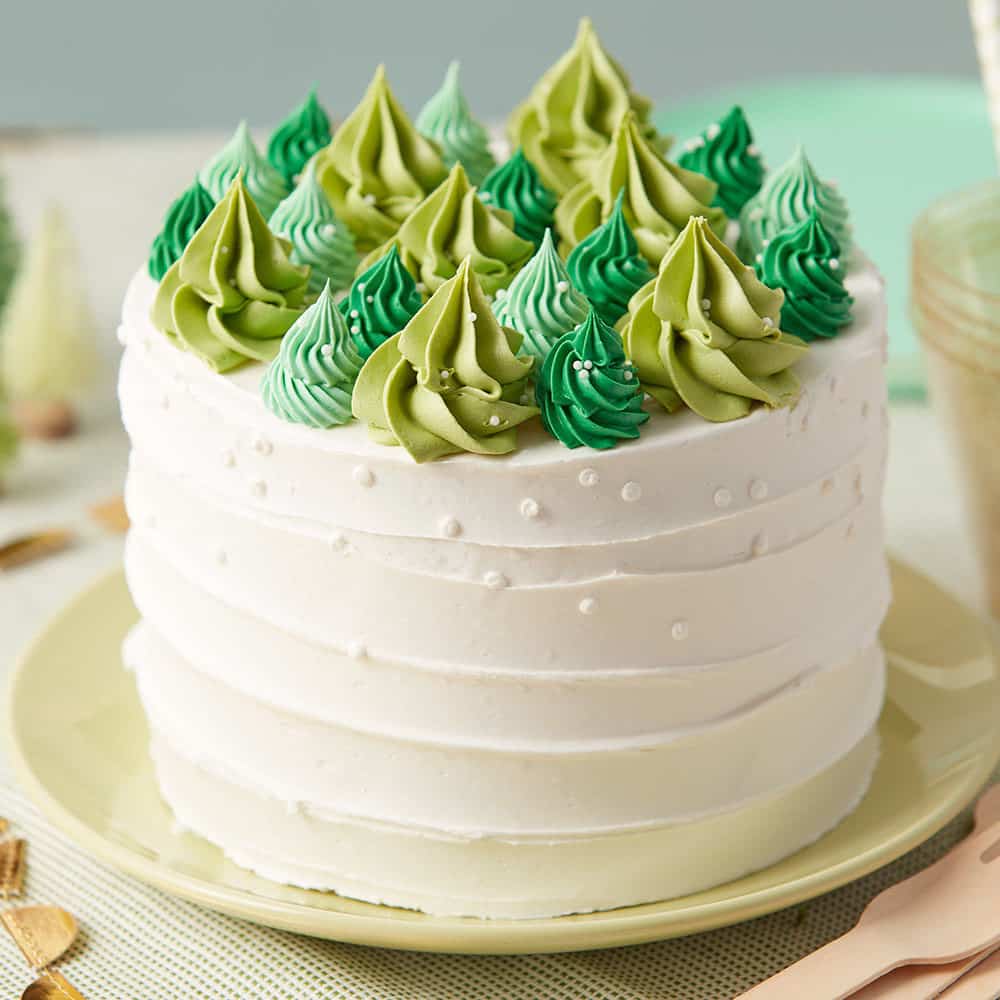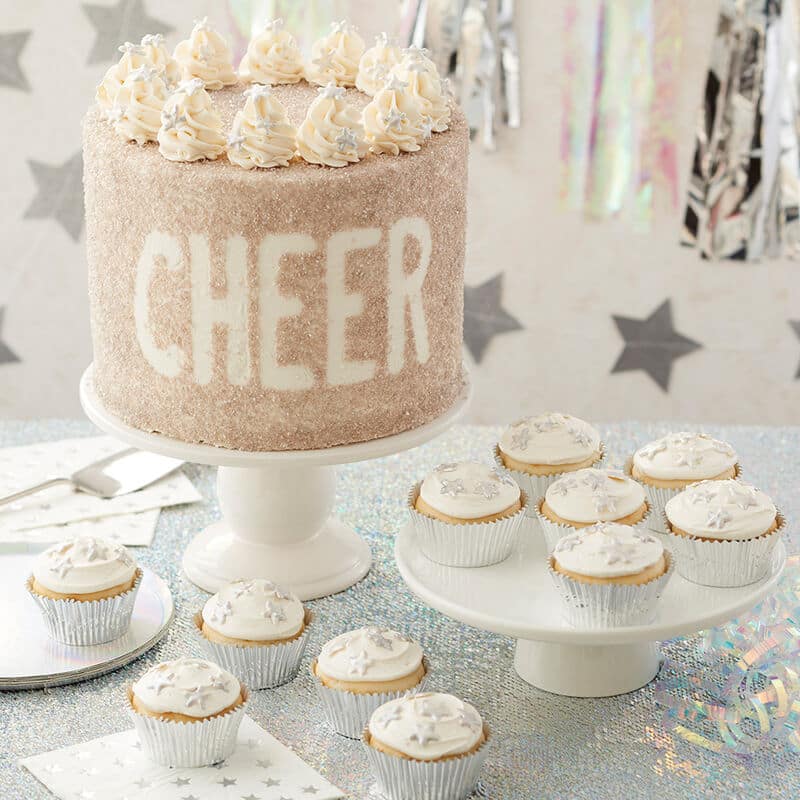 8. Silver Cheer Cake
Show off your Christmas cheer with this adorable cake! Made easily with Silver Pearlized Sugar, this cake is a festive show-stopper.
9. Classic Turtle Cheesecake Recipe
Made with a dark chocolate crust and topped with fudge, caramel and pecans, this beautiful Turtle Cheesecake is the perfect holiday recipe.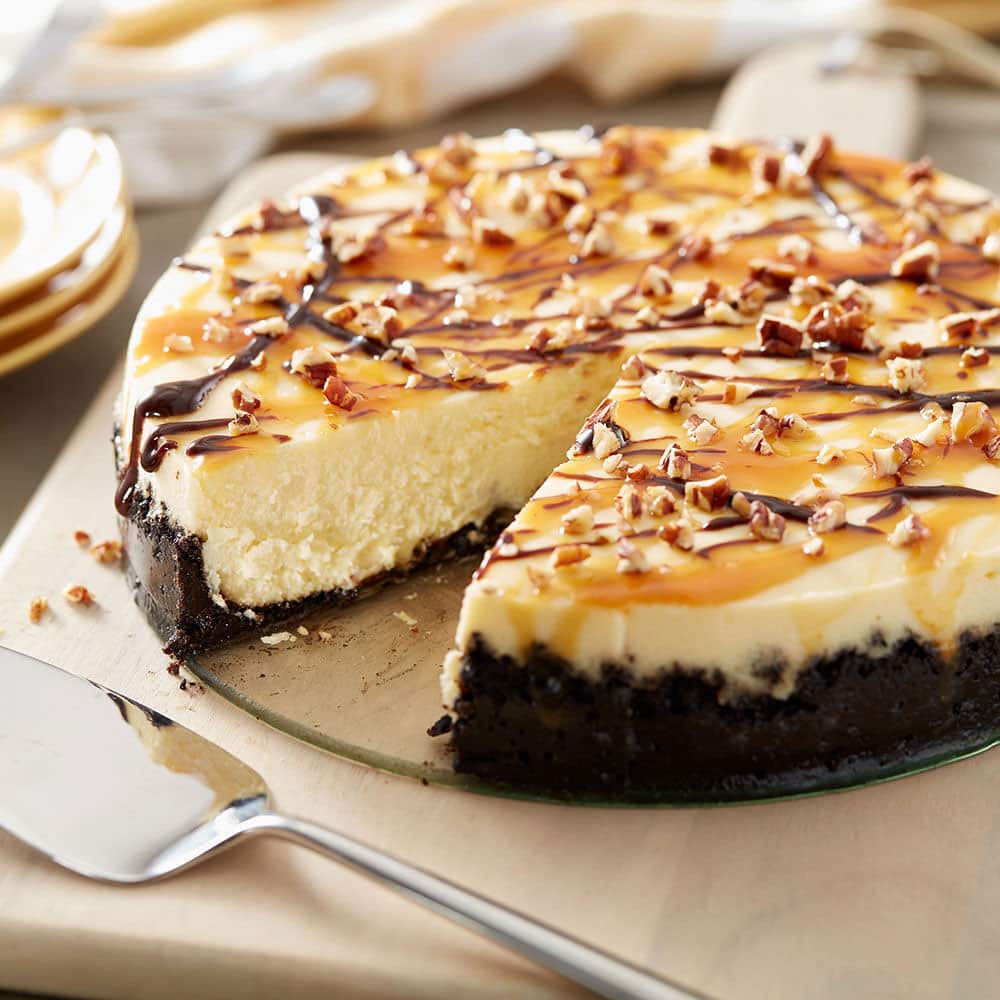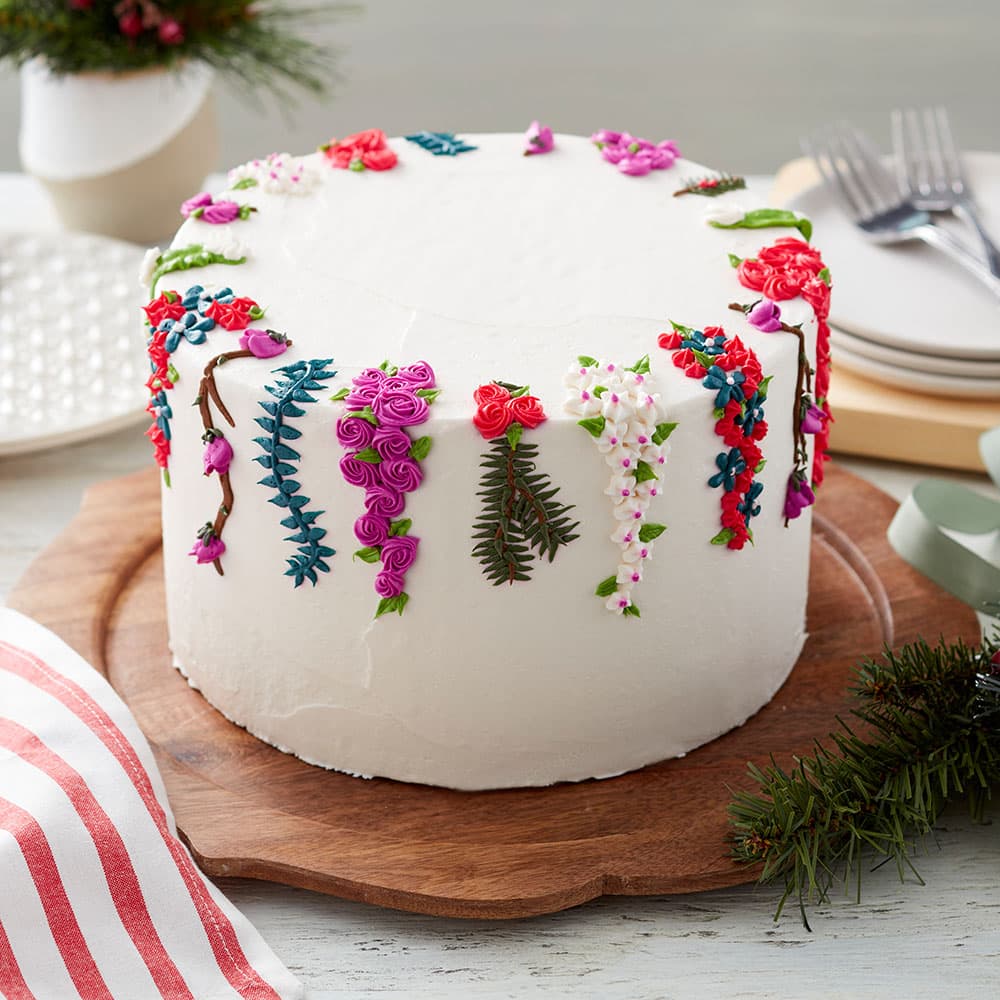 10. Christmas Floral Cake
Go the classy Christmas route with this colorful and elegant Floral Christmas Cake.
11. Gingerbread Cake with Mocha Buttercream
Combine your favorite morning treat with the sweet spice of gingerbread to create this delicious Gingerbread Cake with Mocha Buttercream.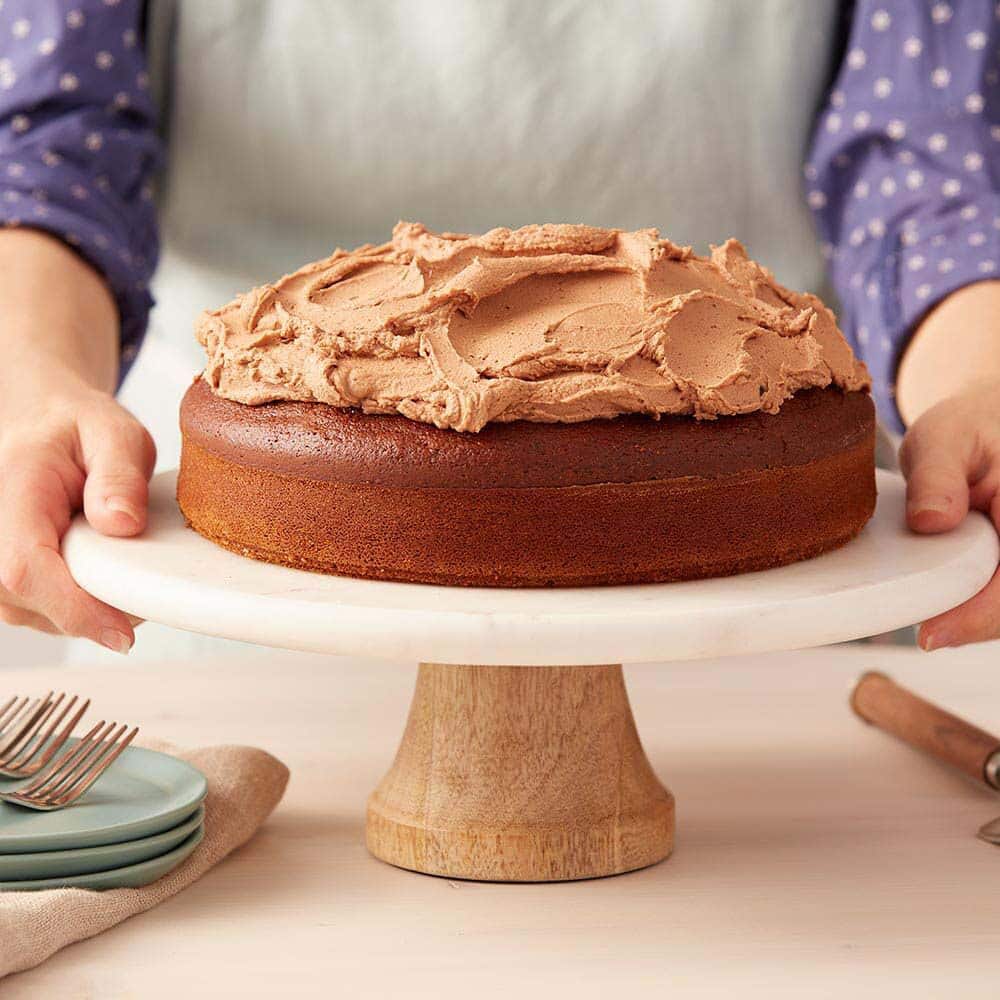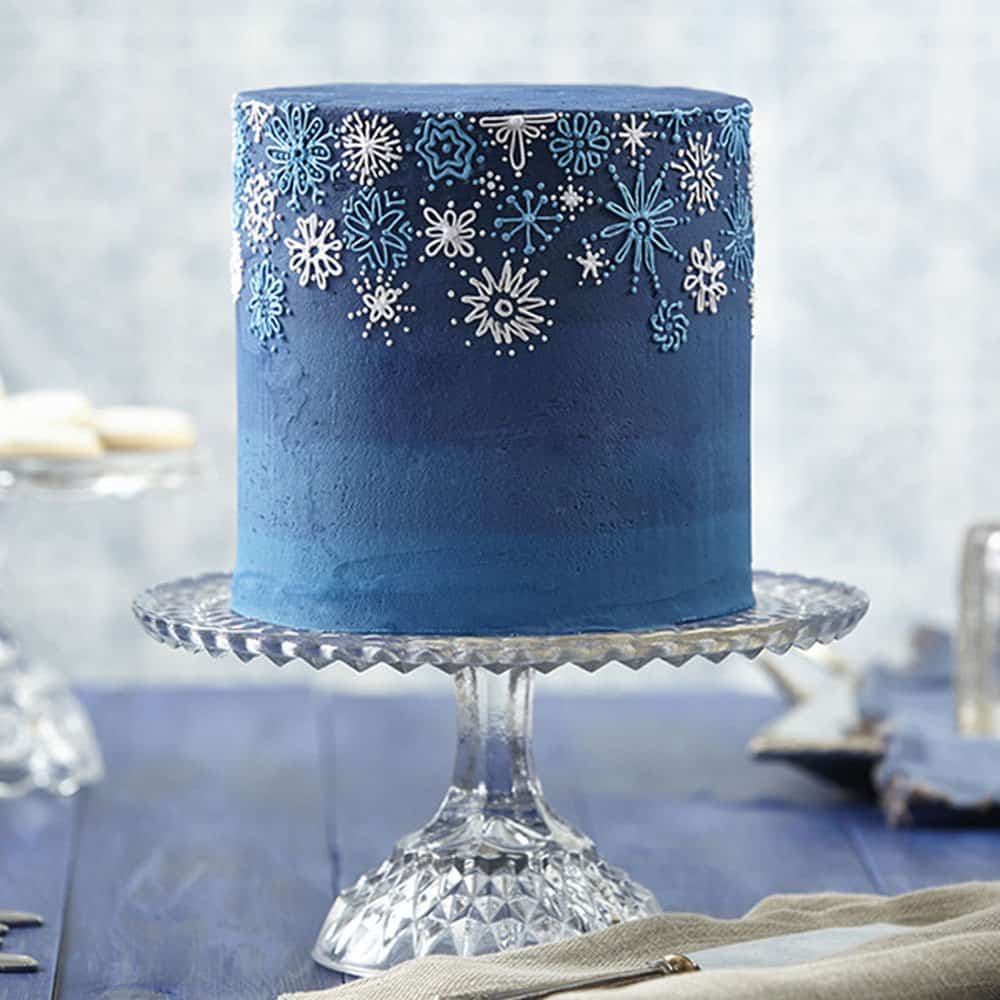 12. Snowfall Celebration Buttercream Cake
Celebrate a snowy holiday season with this elegant Snowfall Celebration Buttercream cake, made with beautiful deep blues using icing colors.
13. Delightful Winter Deer Cake
Whether your favorite reindeer is Dasher or Dancer or Prancer or Vixen, you're sure to love this adorable Delightful Winter Deer Cake. Make this cute deer cake easily with White Decorator Preferred Fondant and gel food coloring.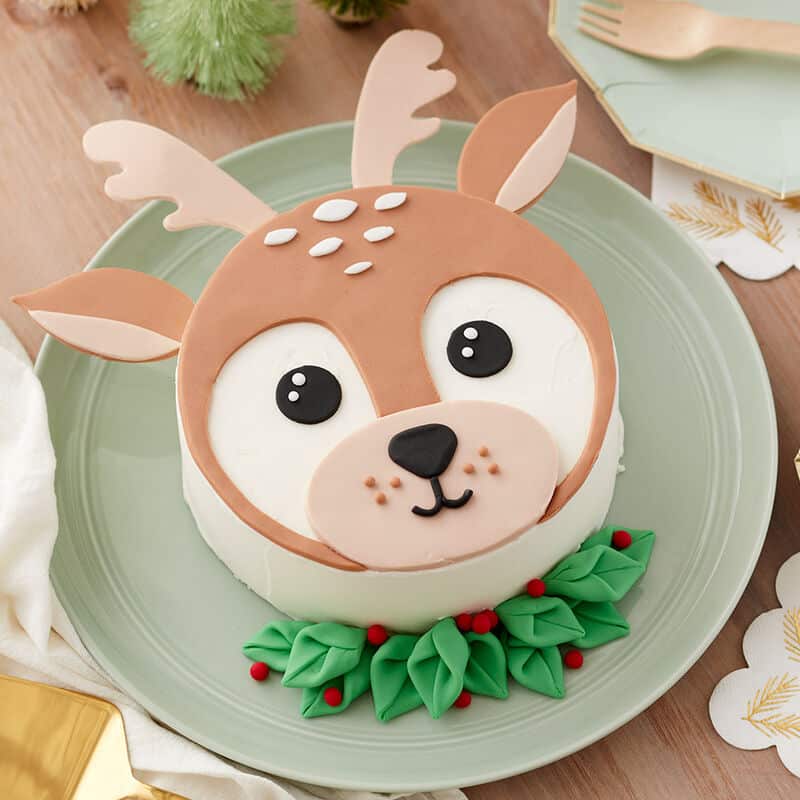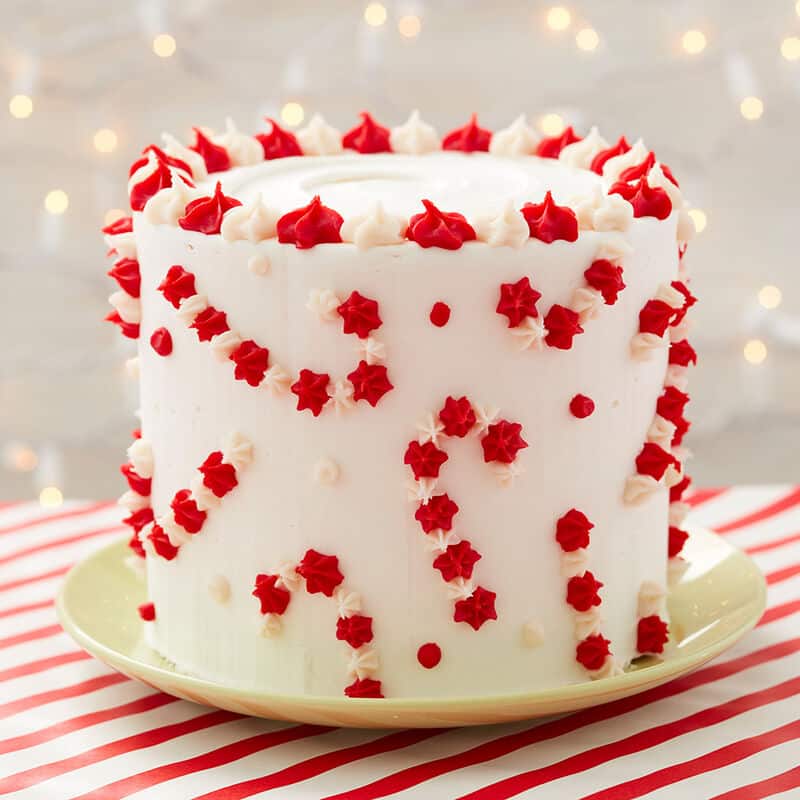 14. Candy Cane Cake
Beautiful yet fun, this simple Candy Cane Cake is a Christmas staple.
15. Pumpkin Apple Spice Cake
Celebrate the holiday season with the delicious combination of warm pumpkin and sweet apple flavors. This Pumpkin Apple Spice Cake is tasty and easy to make all winter long.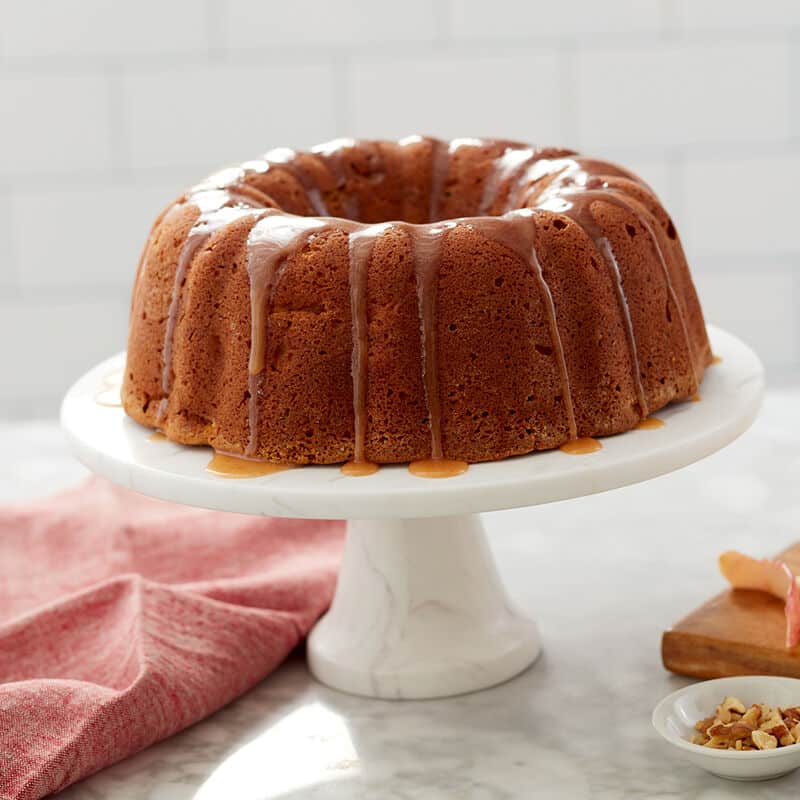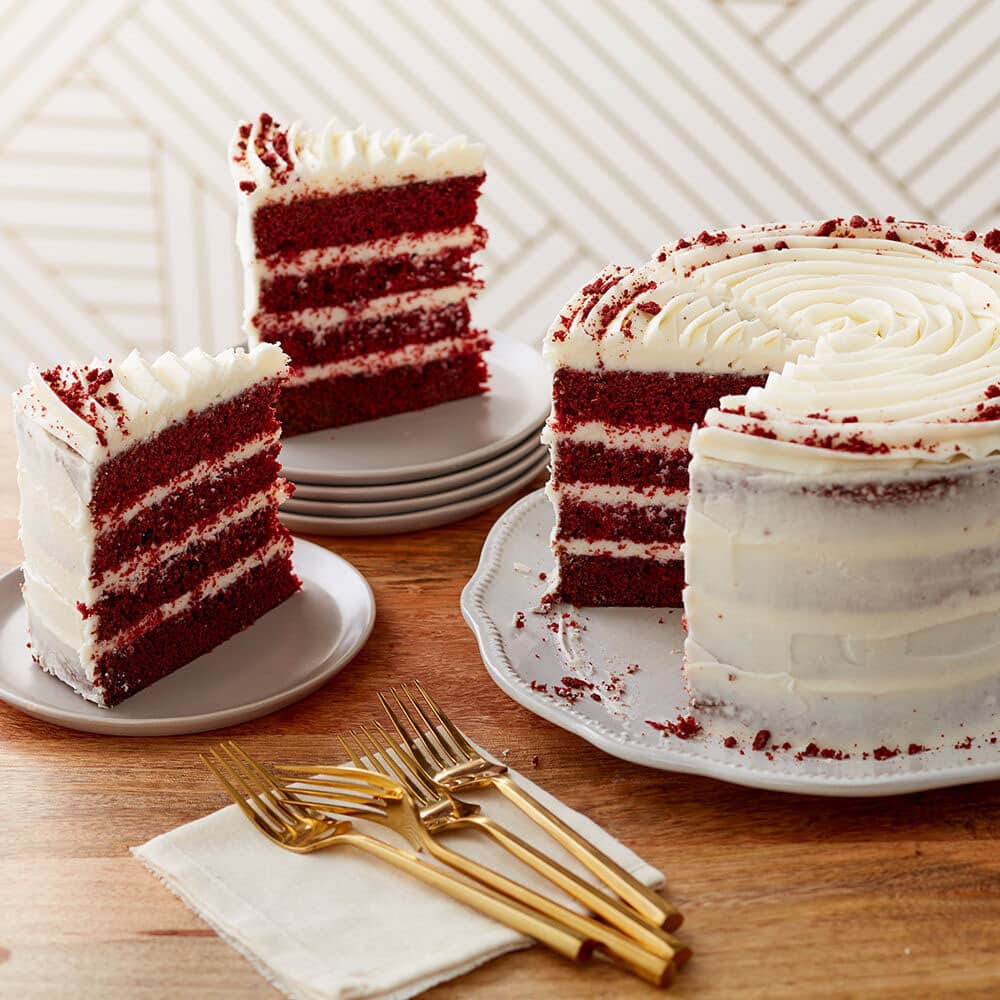 16. Red Velvet Cocoa Cake
While red velvet cake is always in season, it's particularly perfect for Christmas time with its deep red pigment and rich flavor.
17. Vanilla Buttercream Cake
Replicate the crisp white of a fresh Christmas snowfall with this delicious Vanilla Buttercream Cake.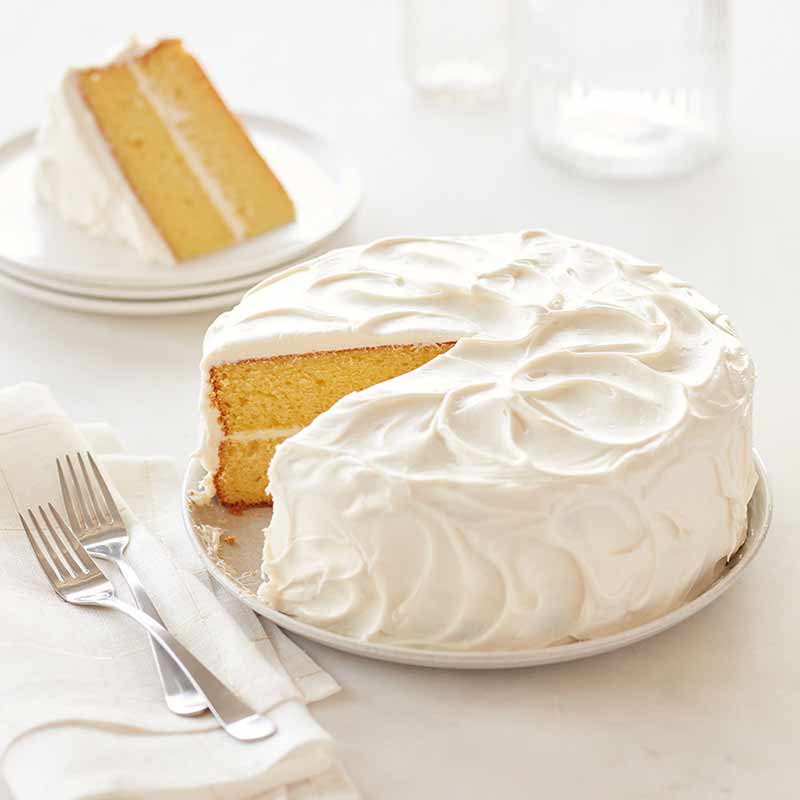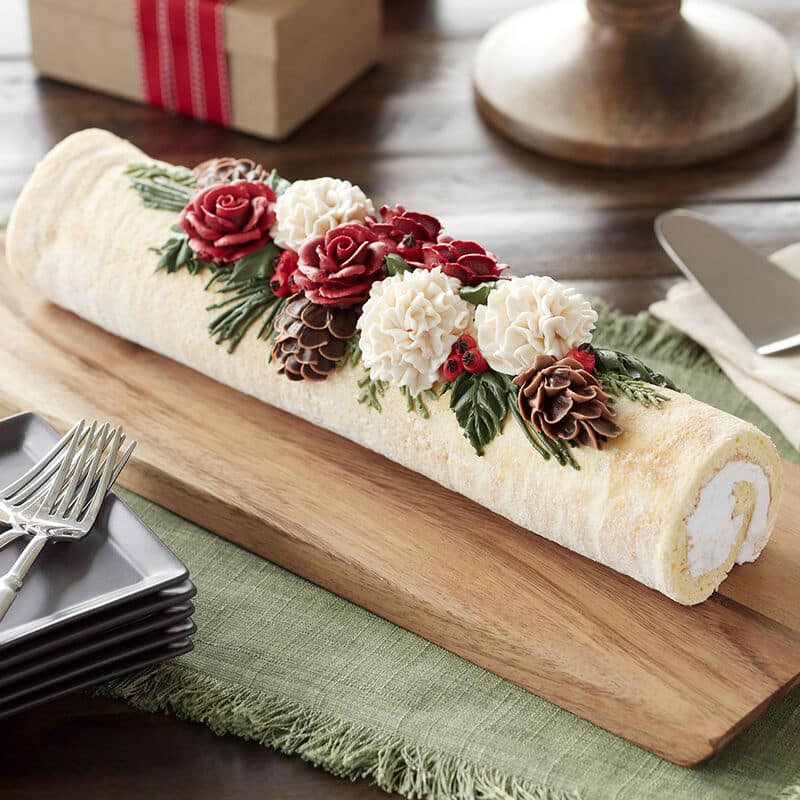 18. Vanilla Yule Log
Here's a fun twist on the classic yule log cake. Made from vanilla cake instead of chocolate, this Vanilla Yule Log Cake is like something out of a winter dreamland. Topped with buttercream flowers, roses, pinecones and leaves, this stunning Christmas dessert is almost too pretty to eat!

19. Chocolate Yule Log
 A holiday staple at most tables, the Classic Yule Log cake is inspired by the large logs that were traditionally burned on Christmas Eve. This festive rendition is iced with chocolate buttercream, then topped with candied cranberries and leaves.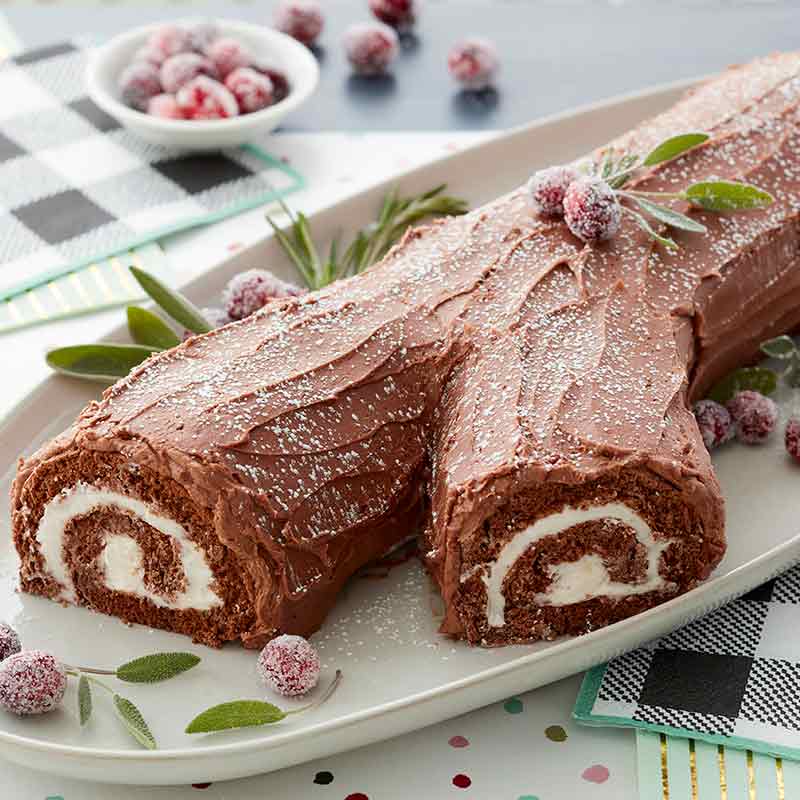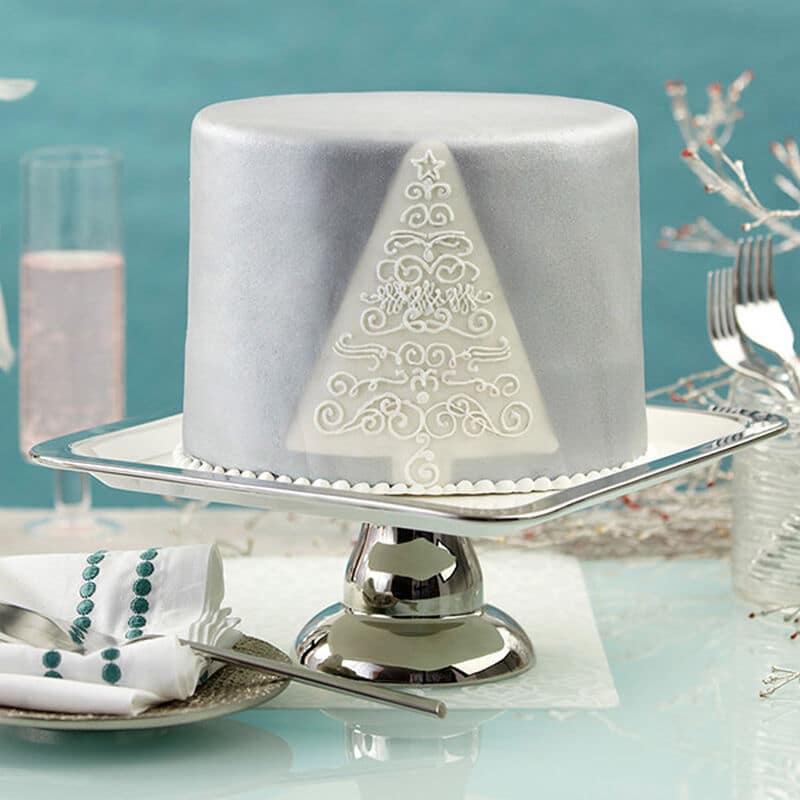 20. Christmas Fondant Cake
Make the cake your canvas with this Christmas Fondant Cake. A simple tree-shaped stencil is placed on the cake first, then the whole cake is given a smooth, silver finish using Color Mist food color spray. Once the stencil is removed, you can have fun piping various swirls, stars and dots to decorate your tree. Here's a helpful tip: use a toothpick to outline your tree design first, then pipe over it for no-fear decorating!
21. Snowman Cake
Celebrate winter birthdays, weddings and even baby showers with this cute Winter Wonderland Snowman Cake. Topped with meringue snowmen cookies and sugar cone trees, this cake is a fun way to announce a new engagement or family member! Want a little more color? Add some colorful sprinkle ornaments before the royal icing on the trees sets.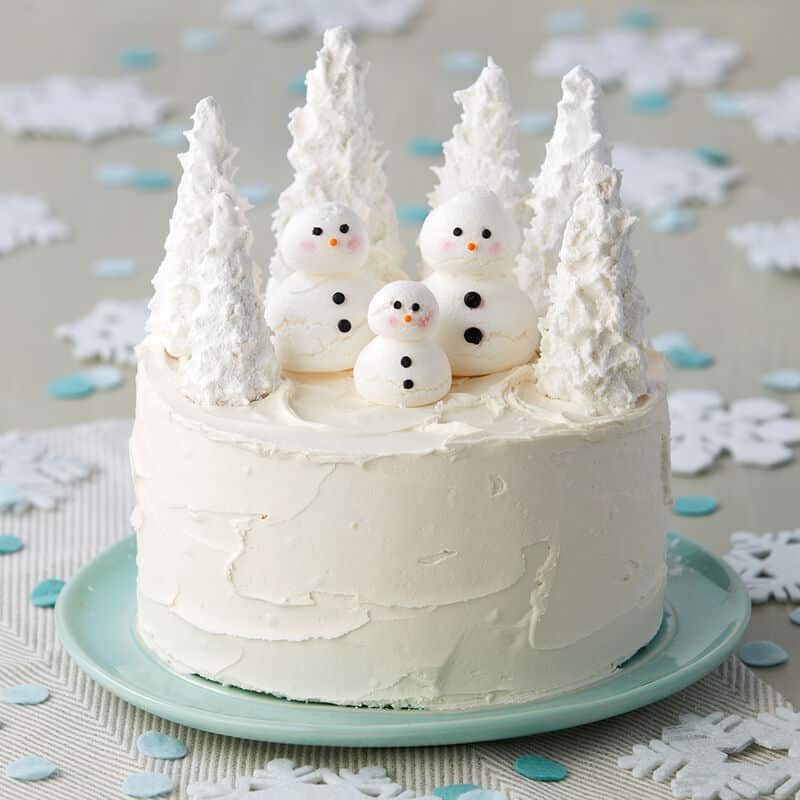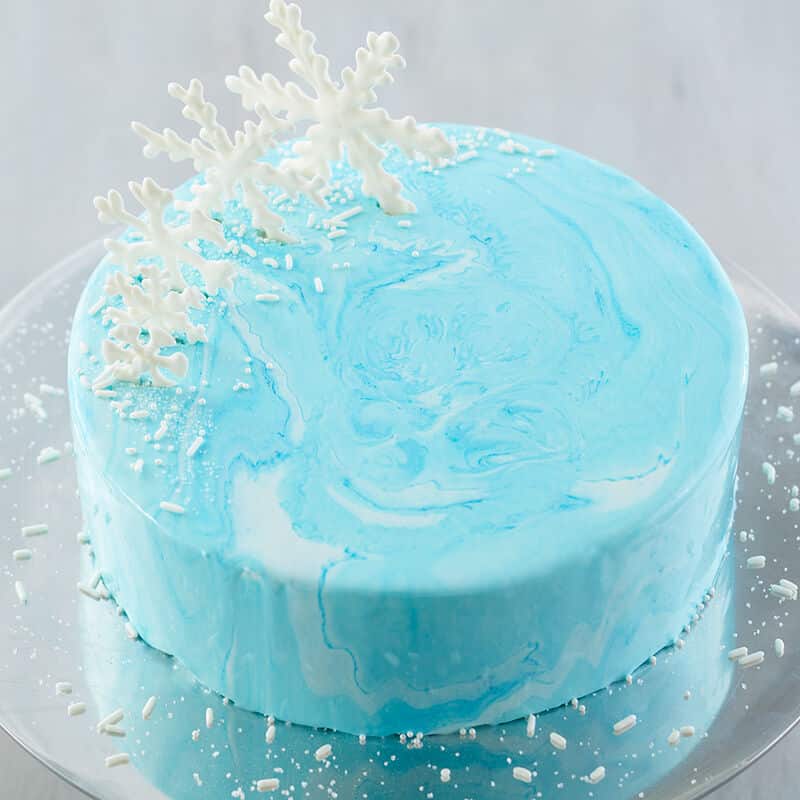 22. Mirror Glaze Cake
 It's a beautiful winter wonderland with this stunning Mirror Glaze Snowflake Cake. Topped with a bright blue glaze and sweet candy snowflakes, this winter cake is perfect for Christmas, Hanukkah or even a December birthday.
23. Merry Moose Cake
Who doesn't love a merry moose, eh? Dressed up for the holidays with a cute plaid bow, this Merry Moose Cake is perfect for celebrating everything from Christmas Eve to Canada Day! Made using gum paste, the large antlers of this festive moose will need to dry for about 3 days, so plan ahead if you're making this cake for a party or get-together.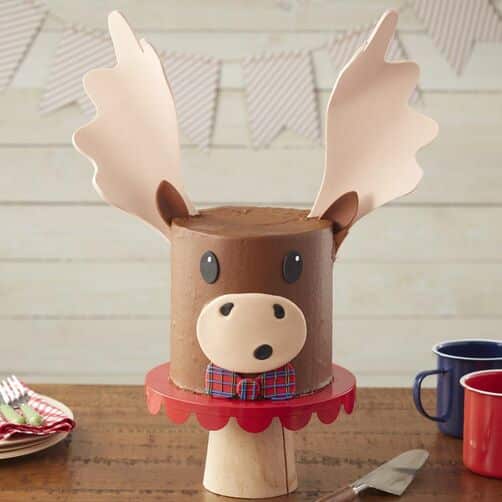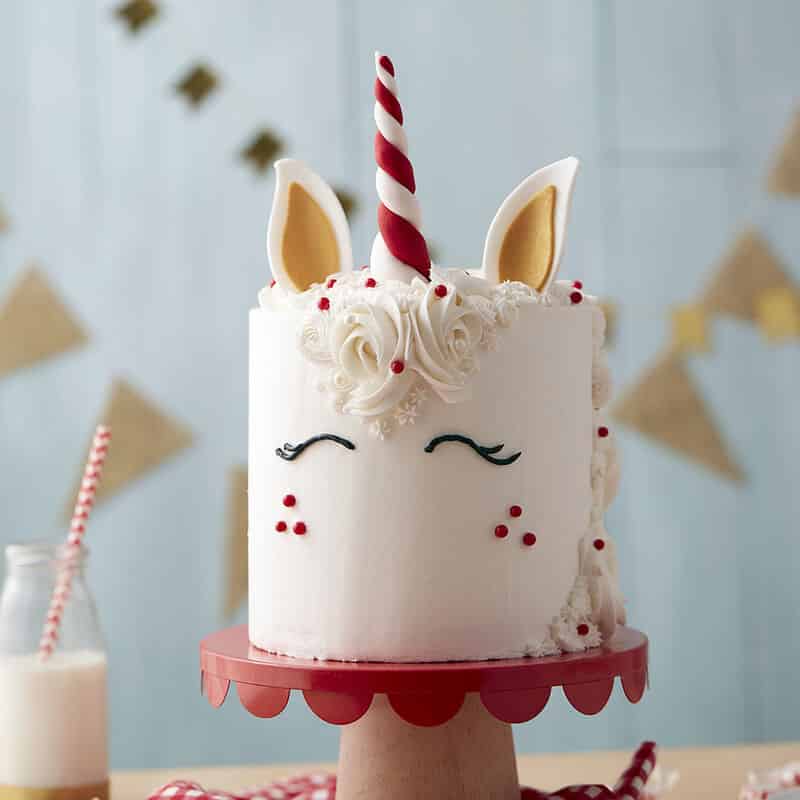 24. Magical Peppermint Unicorn Cake
Create a magical ending to your holiday celebration with this Peppermint Unicorn Cake. Make the mane of the unicorn using simple piping techniques, like stars, rosettes and dots. Then add fun fondant accents to bring your cake to life!
25. Chocolate Peppermint Cake
Peppermint lovers rejoice! Iced with peppermint buttercream and decorated with peppermint crunch cookies and candy-coated cookies, this indulgent Chocolate Peppermint Cake only gets better when paired with a hot peppermint mocha! Great for Christmas or any December celebration, this cake is deceptively easy to make and even easier to eat!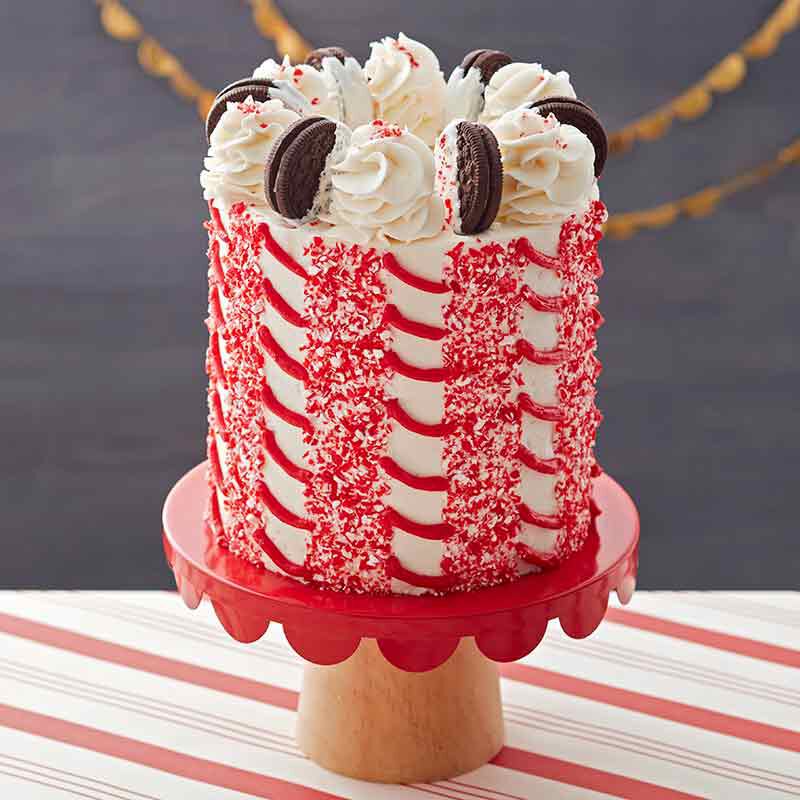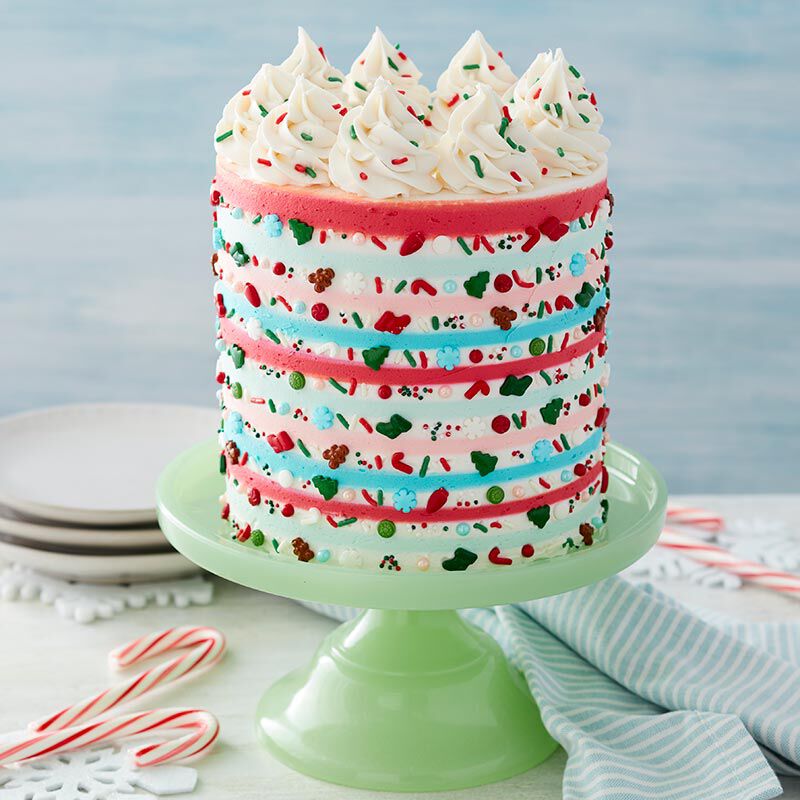 26. Holiday Stripes Christmas Cake
Give the gift of Christmas dessert with this Striped Christmas Gift Cake. Decorated using red, white and green fondant, this cake is a fun project for beginners and intermediate decorators alike. You could even make this cake for a birthday or other celebration by changing the fondant colors to suit your occasion.
27. Rice Cereal Treat Cake
Looking for a quick and easy Christmas dessert you can make in no time? Look no further than this Rice Cereal Treat Cake. Decorated with puffs of white buttercream, this no-bake cake is perfect for winter celebrations or cozy gatherings with friends.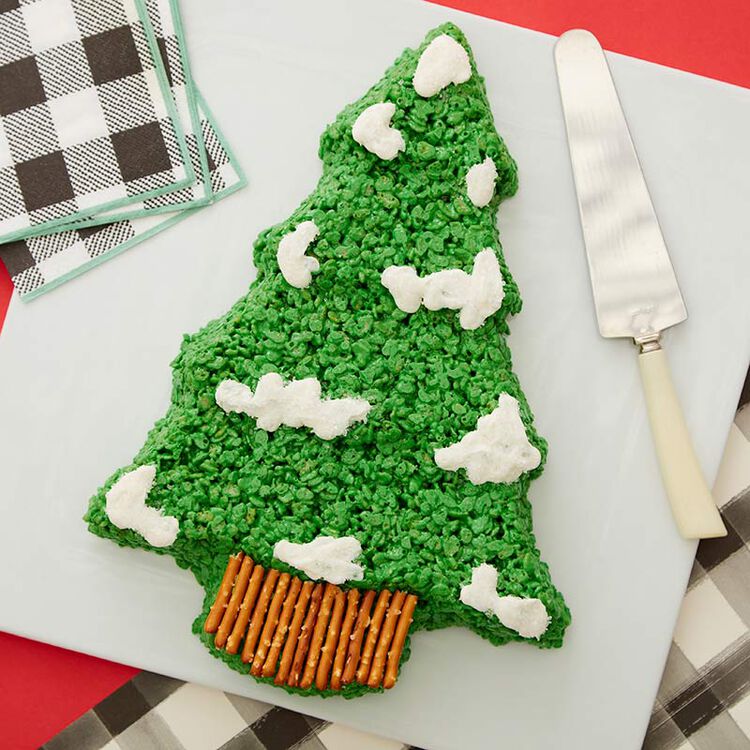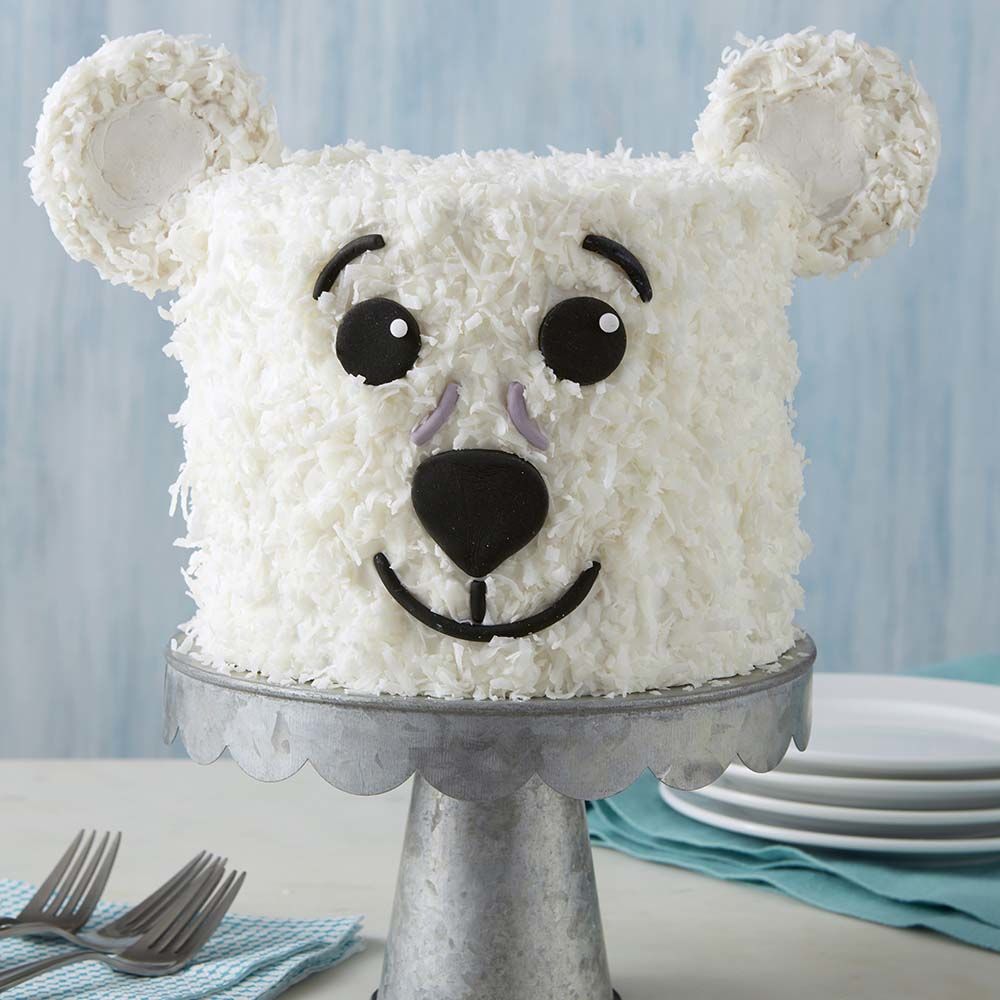 28. Polar Bear Cake
Need some easy Christmas cake ideas for kids? Try this adorable Polar Bear Cake! Decorated using flaked coconut, this winter treat is almost too cute to eat!
29. Easy Brownie Layer Cake
Decadent layers of rich brownie are surrounded by fresh whipped buttercream frosting and topped with chocolate and caramel sauce. This is one holiday dessert sure to satisfy anyone's sweet tooth!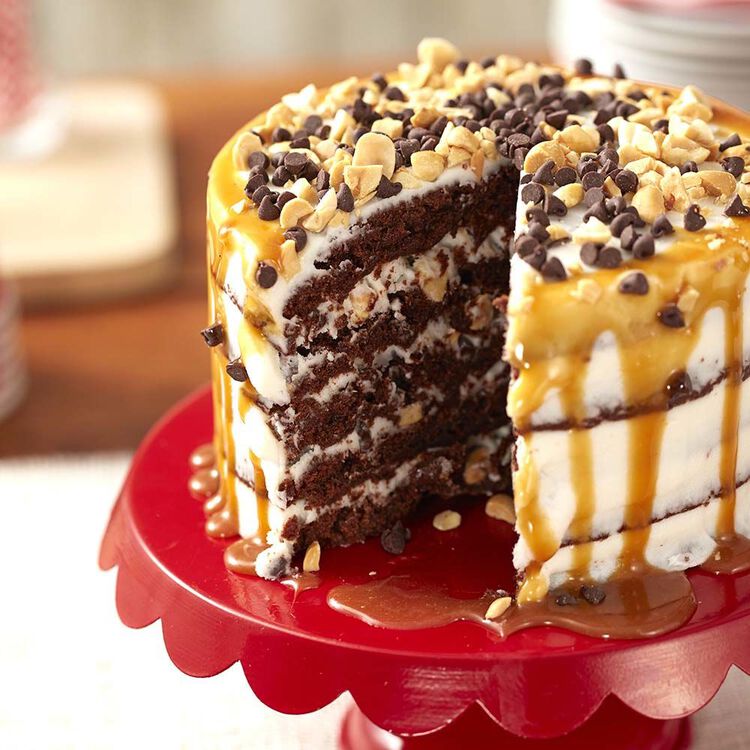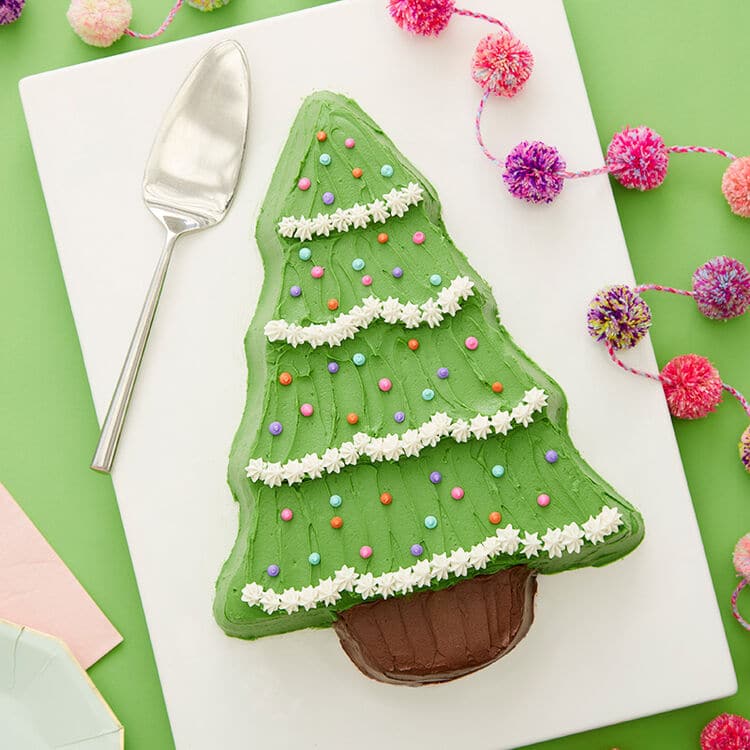 30. Simple Christmas Tree Cake
Get ready for one tree-mendous celebration! Great for beginning decorators, this Simple Christmas Tree Cake is perfect for holiday parties with family and friends. Use your favorite cake recipe or box mix to start, then decorate using simple easy-to-learn piping techniques.
31. Sprinkled in a Snap Cake
Quick and easy doesn't get better than this! Great for a small holiday gathering, this Sprinkled in a Snap Cake is a tasty addition to any celebration. Give your cake a classic look with gold sprinkles, or go with something a little more festive to suit your occasion.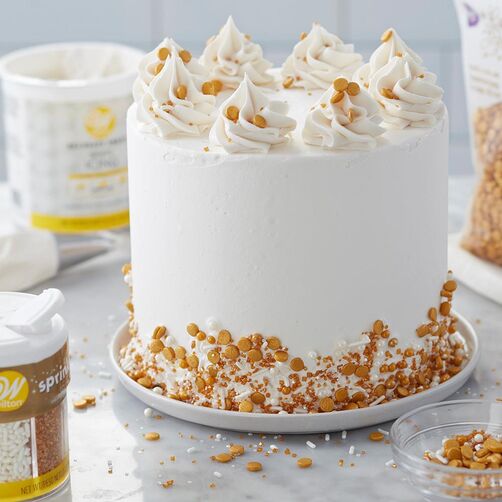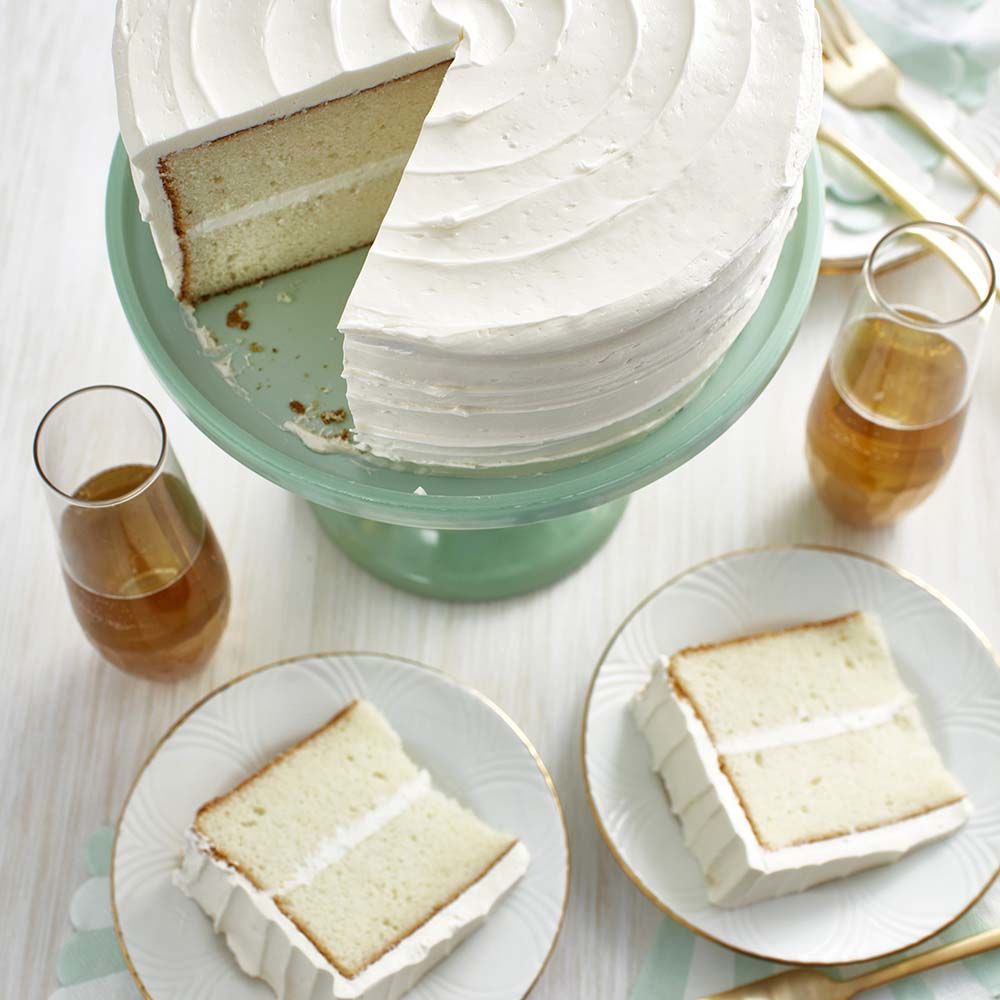 32. Classic White Cake
The delicate crumb of this Classic White Cake pairs perfectly with any type of filling or frosting. Light and fluffy in texture, this bright white cake is great for winter or Christmas cakes. Pair with a sweet peppermint buttercream for a delicious holiday treat!
33. Holiday Stars and Rosette Cake
Liven up your holiday table with this stunning Holiday Stars and Rosettes Cake. Using two simple piping techniques and a variety of decorating tips, you can create a blooming dessert perfect for Christmas or a winter shower or wedding.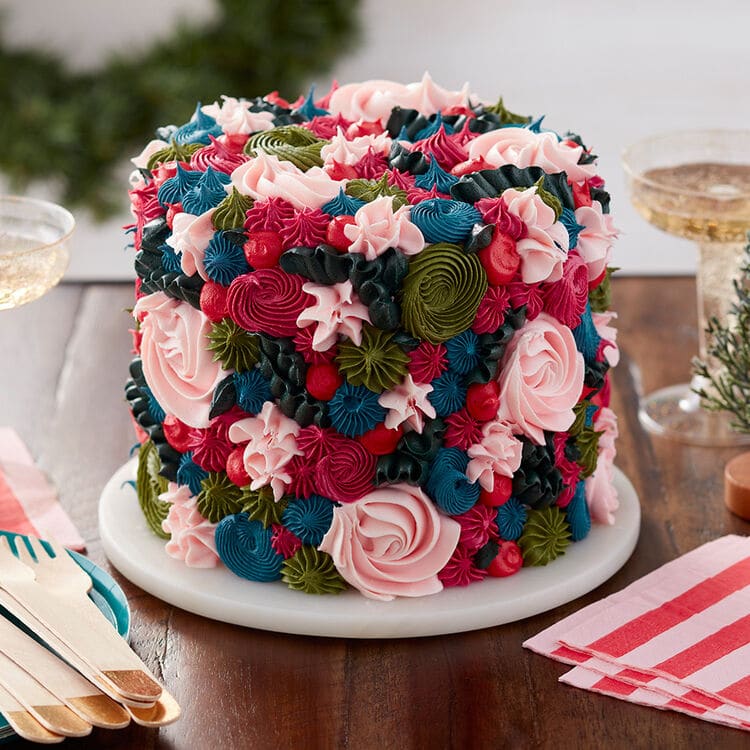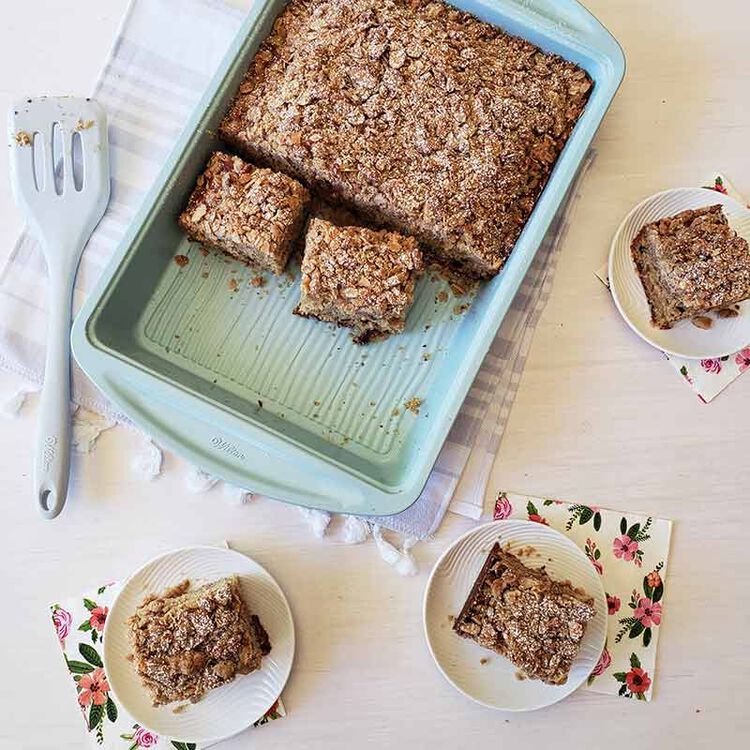 34. Cranberry Chocolate Coffee Cake
Perfect for Christmas morning, this cranberry chocolate coffee cake combines all the best flavors into one treat! A buttery, sweet topping made with rolled oats, almonds and brown sugar adds texture and crunch to this delicious coffee cake, and cranberries and chocolate, worked right into the cake batter, provide tartness and sweetness for the perfect balance.
35. Christmas Cake with Peppermint Decorations
Whether you're enjoying dreams of sugarplums or peppermint candies, this Christmas Cake with Peppermint Decorations is enough to make all your Christmas wishes come true!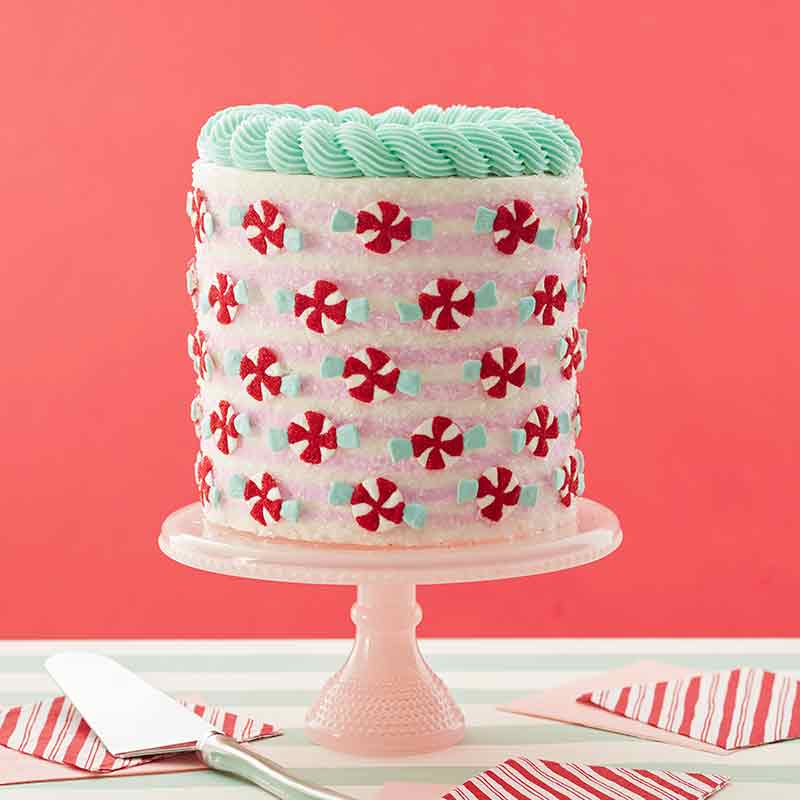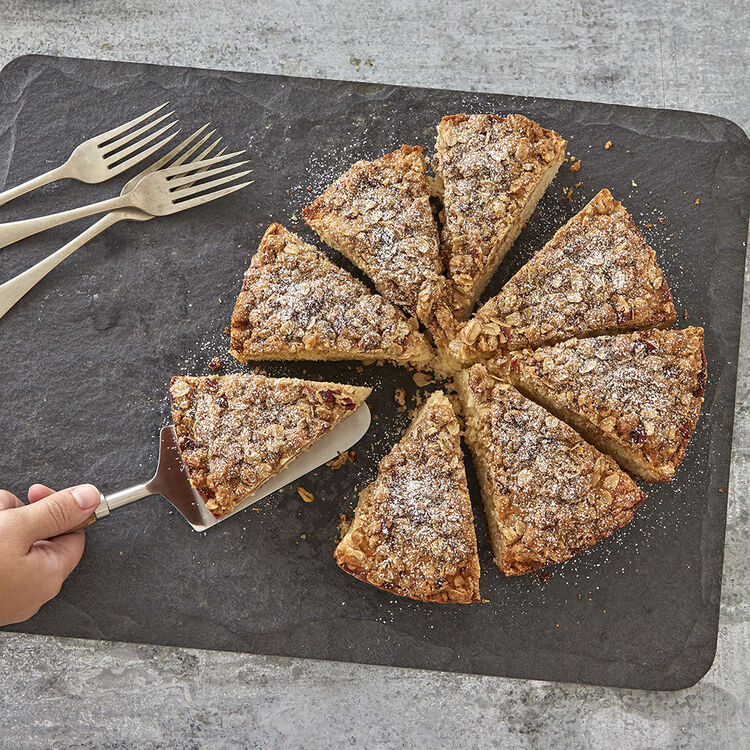 36. Cinnamon-Pecan Streusel Coffee Cake
Just as easy to make as it is to eat, this Cinnamon-Pecan Streusel Coffee Cake is just as tasty in the morning as it is in the evening. Serve with a cup of hot coffee or cocoa to warm up on a cold winter day.
37. Two-Tiered Poinsettia Cake
Poinsettia royal icing decorations do most of the work for you with this Two-Tiered Poinsettia Cake. Make the flowers a day or two in advance, then attach to your cake for a lovely holiday dessert your friends and family will love.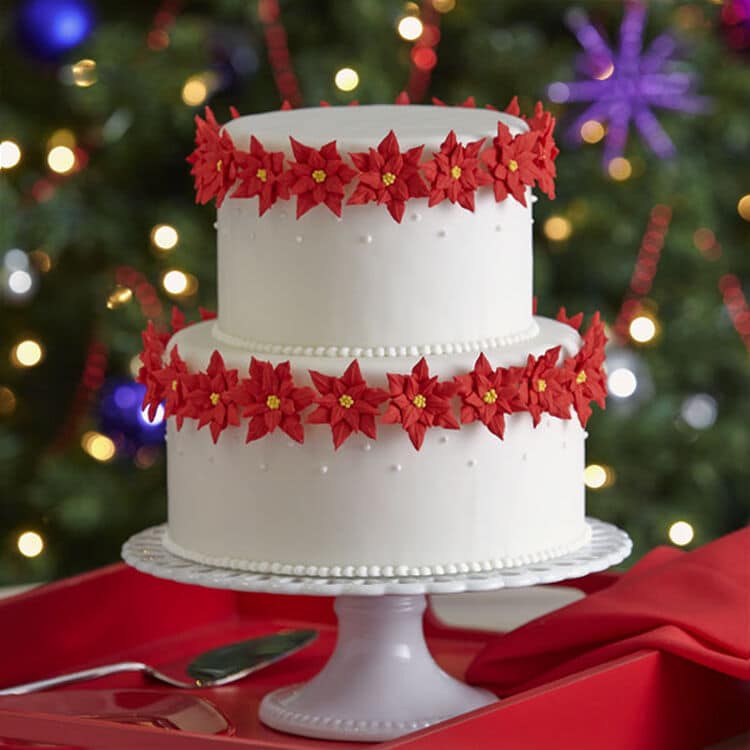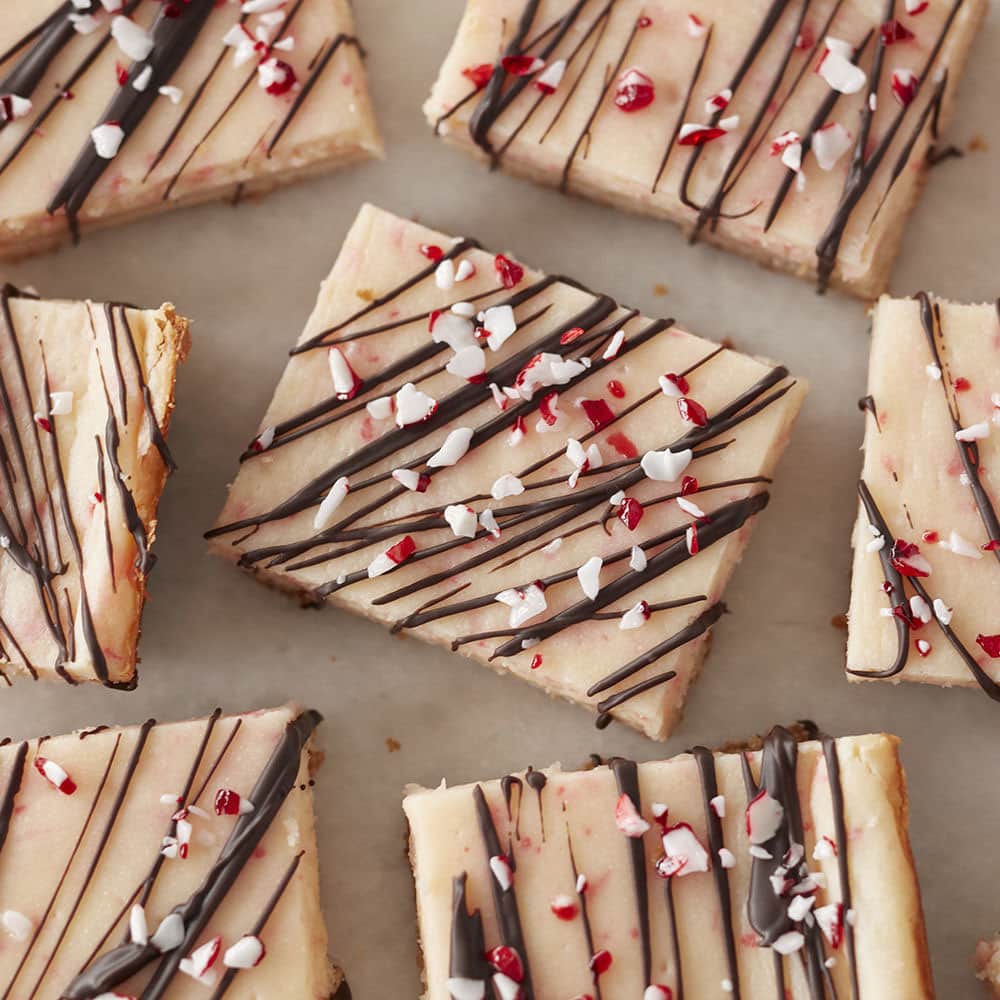 38. Candy Cane Cheesecake Bars
Try this classic cheesecake bar recipe with a (peppermint) twist! Drizzled with Cocoa Candy Melts candy and sprinkled with Peppermint Crunch candies, these cheesecake bars are easy to slice and serve, perfect for a party!
39. Stars and Rosettes Christmas Tree Cake
Trim the tree with buttercream stars and rosettes with this fun Christmas Tree Cake recipe. Fun for Christmas and December birthdays, this cake can be made using your favorite chocolate cake mix or recipe. Add some red jimmies for more color and texture.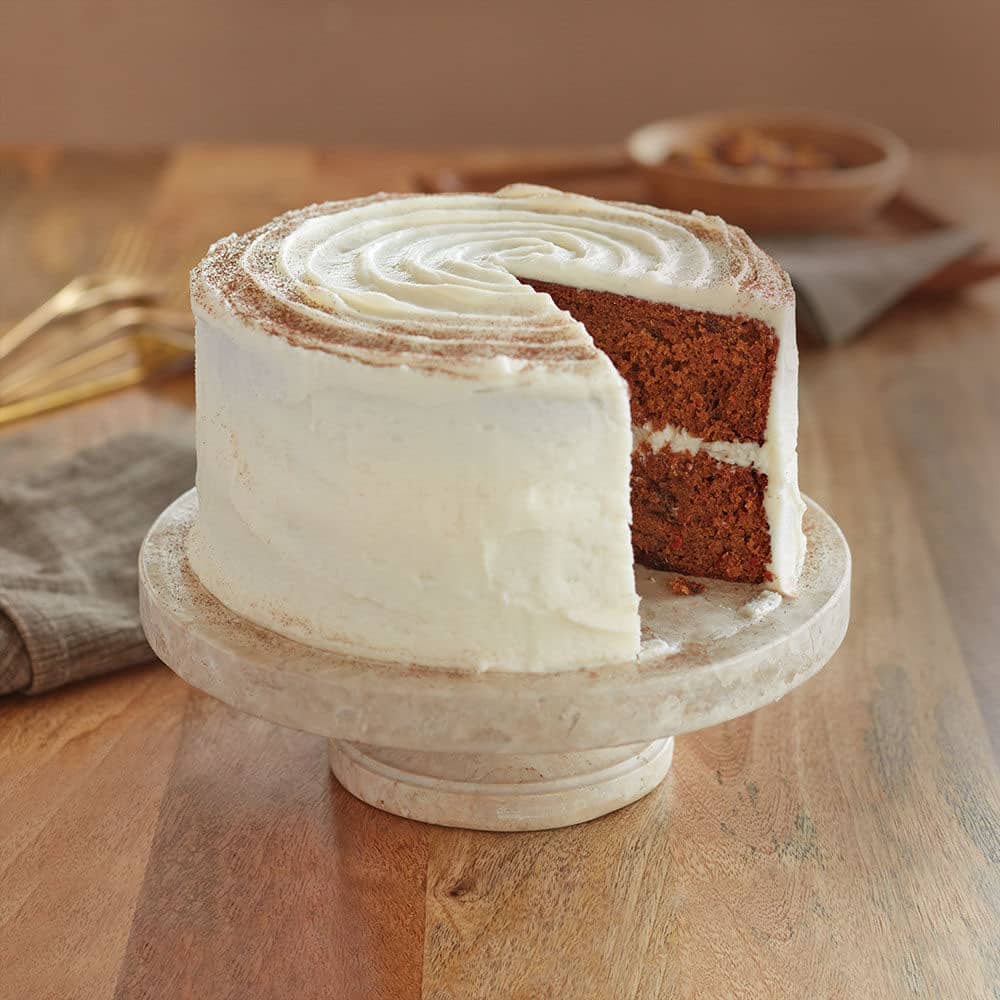 40. Perfectly Moist Homemade Carrot Cake
Fill your kitchen with the warm flavors of cinnamon, carrots and raisins with this Perfectly Moist Homemade Carrot Cake. Topped with a rich cream cheese frosting, this is one decadent dessert sure to sweeten your holiday table.
41. Cappuccino Cheesecake
Coffee lovers rejoice! This Cappuccino Cheesecake is the perfect ending to a Christmas dinner. Topped with cocoa powder and chocolate curls, this rich and creamy cheesecake is made even better when served alongside a mocha or cappuccino.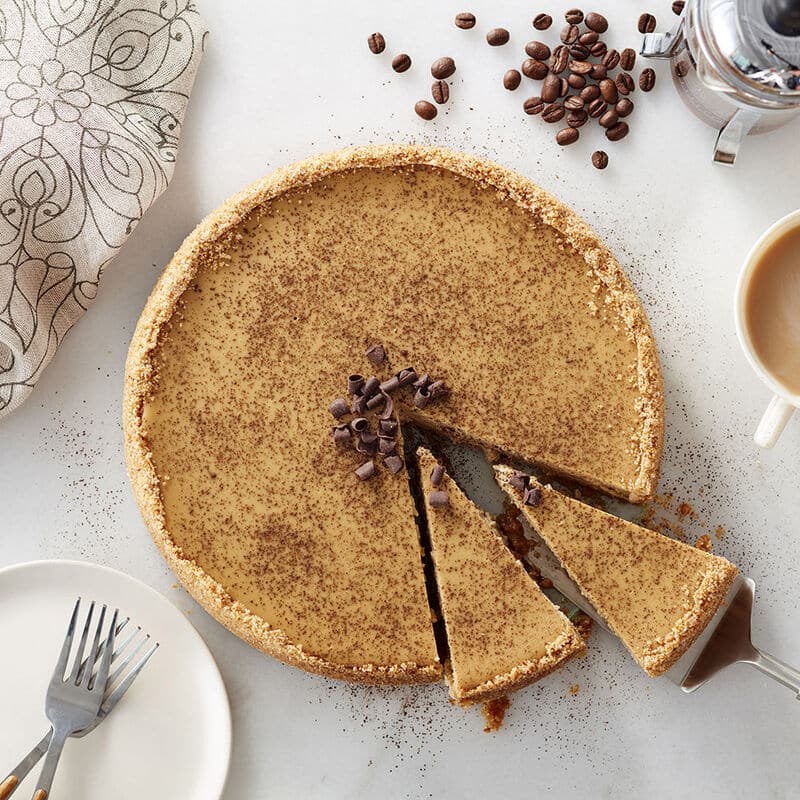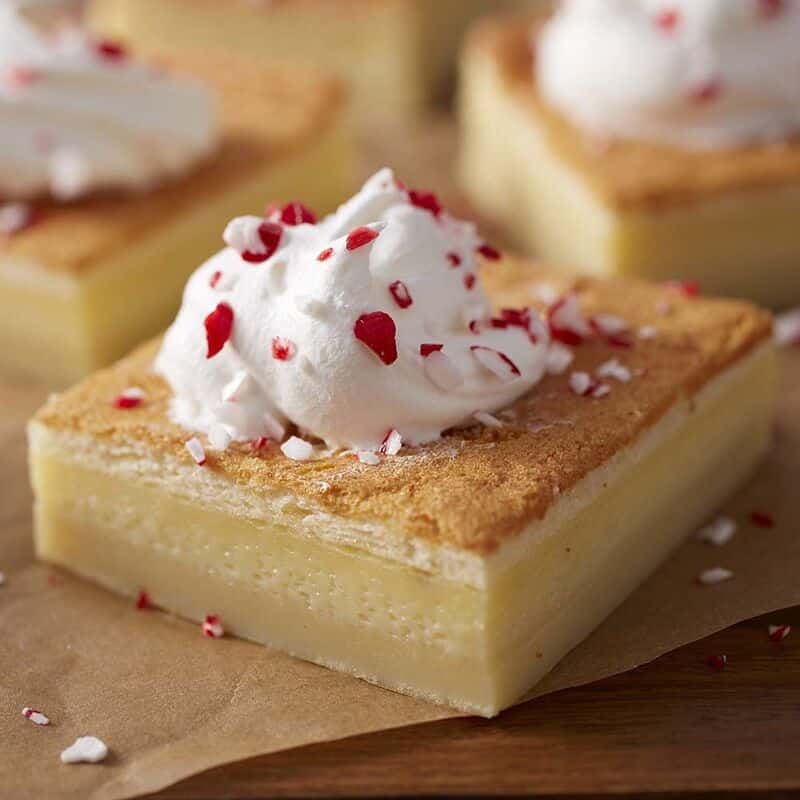 42. White Chocolate Peppermint Magic Cake
With three layers of peppermint flavor, this White Chocolate Peppermint Magic Cake is a sweet treat for anyone who loves the smell and taste of peppermint. A cake best served chilled, this is the perfect accompaniment to a cup of hot cocoa or peppermint mocha.
Baking something a little smaller and need to know how to make the perfect sweet and festive topping? Try using our Christmas cookie icing recipe for a comprehensive guide on using royal icing on Christmas cookies.
Need to feed a small army of family and friends? Check out our collection of Christmas cupcake ideas before preheating the oven.
Want to see some options that are a little more subdued, but still perfect for celebrating the holidays? Check out our winter wonderland themed cakes for added inspiration.
How about adding a real decorative showpiece to the holiday table? Pick out one of our cute gingerbread houses and get baking!
And whatever you're baking for your holiday table this year, let us know how it comes out in the comments below or take a picture of your inspiring cake or other bake and tag us on Instagram @wiltoncakes.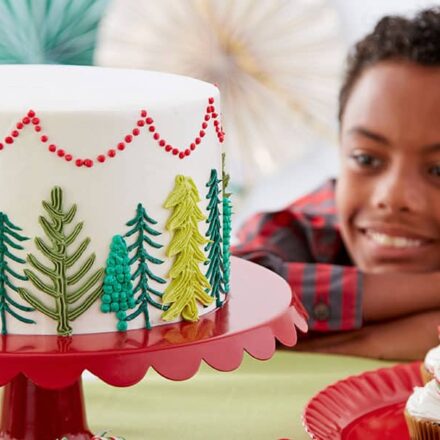 42 Cheerful Christmas Cake Recipes
Whether you're naughty or nice, if you bake one of these amazing Christmas cakes, you're sure to have a holly, jolly holiday season!
Tried this recipe?
Take a picture and tag us @WiltonCakes on Instagram