If you love rich, creamy cheesecake look no further. We've rounded up our best holiday cheesecake recipes! We've got classics, chocolate delights and seasonal flavors to dazzle your senses.
Perfect for a nighttime treat or to end a delicious dinner, these holiday cheesecake recipes will have you pulling out your springform pan over and over again.
Interested in baking a truly classic and traditional holiday treat? Pick out one of our cute gingerbread houses and get going!
Need some help decorating other festive treats this season? Take a look at our Christmas cookie icing recipe for some essential tips on using royal icing on Christmas cookies.
In the mood for a more traditional cake to help put you in a merry mood? Browse through our list of easy Christmas cake ideas to get your baking juices flowing.
If you're sticking with cheesecakes, check out our Springform Pan 101 guide and our all in one introduction to making Easy and Delicious Homemade Cheesecake
So, which of these delicious desserts do you want to try putting out on your holiday table this year? Let us know by commenting below or sharing some pics of your latest Christmas dessert bake this holiday season on Instagram and tagging @WiltonCakes.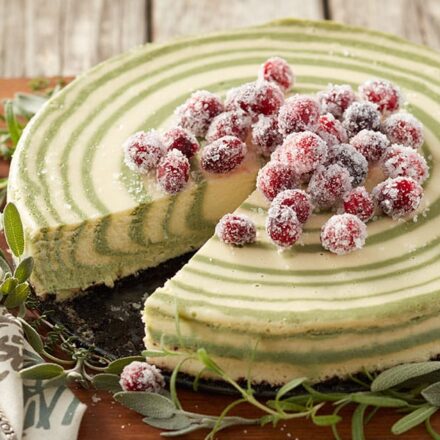 24 of the Best Indulgent Holiday Cheesecake Recipes
Feel festive by baking a beautiful holiday-themed cheesecake. From rich red velvet cheesecake to caramel-dripped pumpkin cheesecake, find the perfect cheesecake to bake this season with help from Wilton!
Tried this recipe?
Take a picture and tag us @WiltonCakes on Instagram