Springform pans are great for making cheesecakes, tarts, pies and even frozen desserts. The benefit of this pan is that it disassembles for easy removal of your treat. This guide will teach you how to prepare, use and care for this must-have kitchen staple.
If you've ever made a cheesecake or ice box pie, chances are you've used a springform pan. This pan features a small latch on the side, which causes the sides and bottom of the pan to separate. Unhooking the latch releases the bottom of the pan, so you can easily remove and serve your dessert.
Though it's most often used for cheesecake, you can also use it to bake deep dish pizza, quiche, pie and much more! This guide will explain how to use a springform pan, as well as give you a few recipes so you can make the most of this awesome bakeware staple in your own kitchen!
What is a springform pan?
A springform pan is a round baking vessel that features a latch on the side, causing the bottom and sides of the pan to separate. This allows for easier removal of your baked goods and creates a tall, straight side edge for elegant presentation.
Can you bake a cake in a springform pan?
We don't suggest using cake batter in a springform pan. Since the bottom and sides of the pan do not have a strong seal, there's a chance your batter can leak out and all over your oven.
What else can I make in a springform pan?
Thankfully, there are tons of other things you can make using your springform pan! It's great for cheesecakes, frozen desserts (like ice cream cake), tarts, even deep-dish pizza. You can also use it for savory dishes, such as chicken pot pie or pasta casseroles.
How to measure a springform pan
To check the size of your pan, place a ruler on the top of the pan and measure from one inside edge to the other. Do not measure from the outer edge, as that will include the lip of the pan. Most springform pans are either 8 in. or 10 in., though they can come in smaller or larger sizes. To measure the sides, place the ruler inside the pan and measure from the bottom to the top of the lip.
Do I need to grease a springform pan for cheesecake?
If your springform pan is going in the oven, we do suggest greasing it to prevent sticking. A non-stick vegetable spray works perfectly for this. If your pan is going in the refrigerator or freezer, you don't need to grease it, unless the recipe states otherwise. In most cases, a layer of plastic wrap is used to prevent any sticking that may happen.
How to line a springform pan with parchment paper
To make a parchment paper circle, tear off a sheet of parchment paper slightly bigger than the springform pan you're using.
Fold it in half, from side to side. Fold it in half again, from top to bottom. It should resemble a square now.
Fold bottom right corner to top left corner, forming a triangle.
Fold left edge to right edge; repeat once more. You should have a long, thin triangle now, almost resembling a carrot.
Turn your pan over so the bottom is facing upwards. Place the point of the triangle in the center of the pan.
Trim the parchment paper at the edge of the pan. Unfold for the perfect circle!
How to keep a springform pan from leaking
To prevent your pan from leaking, you can wrap the outer bottom edge of the pan with heavy duty aluminum foil. If you're making cheesecake, this will also help prevent water from leaking into your pan when placed in a water bath.
Keep in mind that this is not a fail-safe for thinner batters, however. Even if wrapped in foil, thin cake batters may still leak out. When it comes to cake layers, a traditional cake pan works best.
How to remove a cheesecake from a springform pan
Before removing your cheesecake from the springform pan, make sure it has cooled and chilled completely. Unhook the latch, then remove the side band from the pan. If your cheesecake doesn't release from the bottom, carefully run a knife under it to loosen. Next, transfer it to your serving tray or platter. You can also serve your cheesecake on the bottom of the springform pan.
How to clean a springform pan
For best results, disassemble your pan and hand wash the sides and bottom in warm, soapy water. Let dry completely. Our non-stick springform pan is also dishwasher safe.
Springform pan recipes
Here are a few of our favorite recipes using a springform pan!
Classic Cheesecake
This Classic Cheesecake Recipe is a must for cheesecake fans! It's easy to make and customize with your favorite toppings.
Mocha Cheesecake
This rich, creamy Mocha Cheesecake is sure to satisfy your cravings for chocolate, cheesecake and coffee every morning—or evening.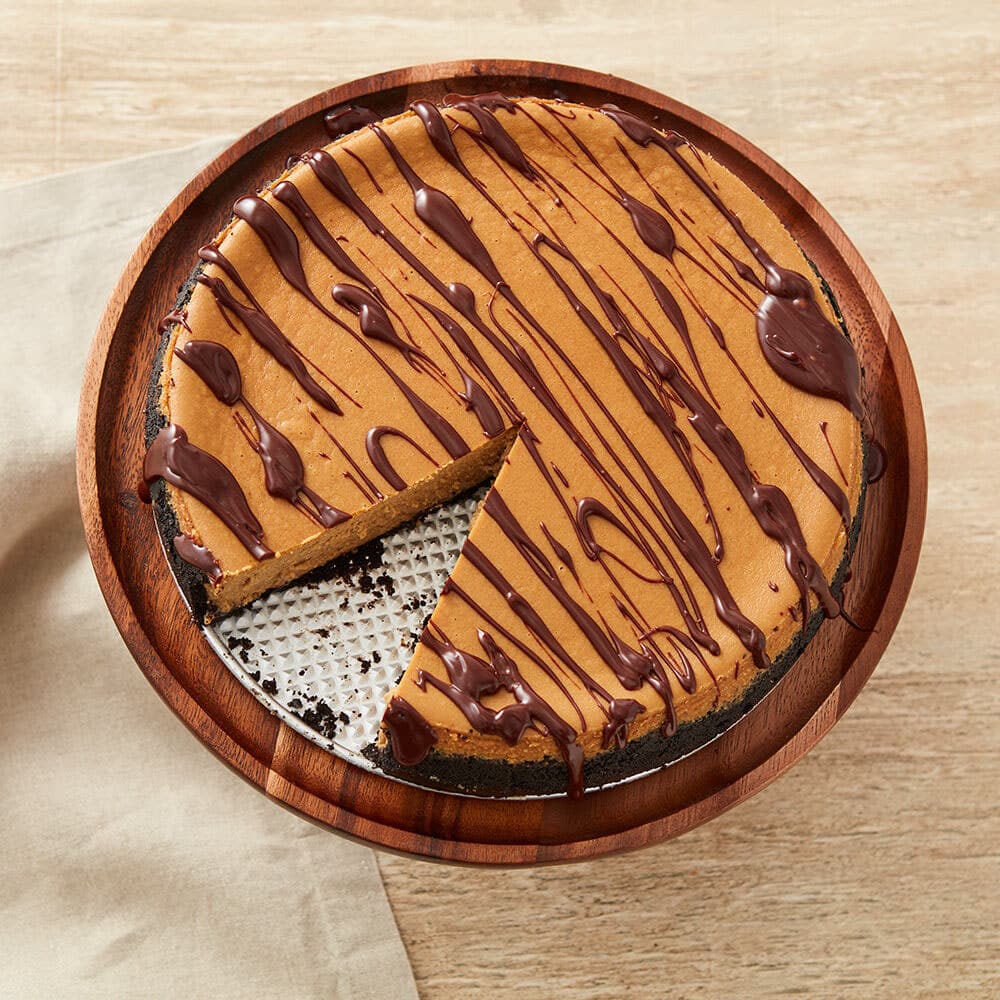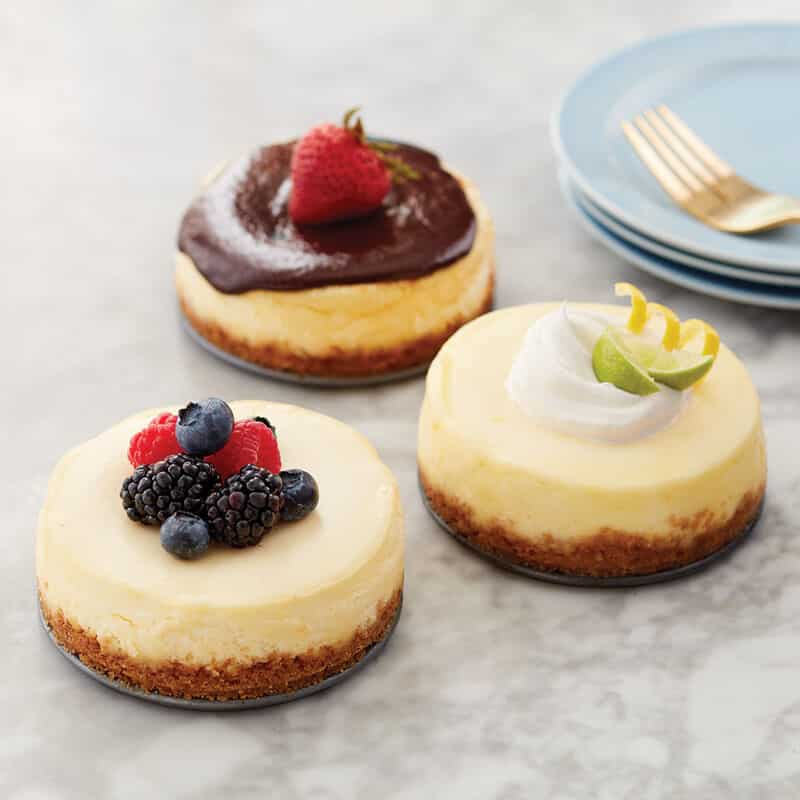 Mini Cheesecakes
Use our mini springform pans to make these cute Mini Cheesecakes. These are great for picky eaters, as everyone can decorate their own with whatever toppings they prefer.
Turtle Cheesecake
Indulge your taste buds with this Turtle Cheesecake Recipe. Topped with chocolate, caramel and nuts, this decadent dessert is the perfect way to finish almost any meal.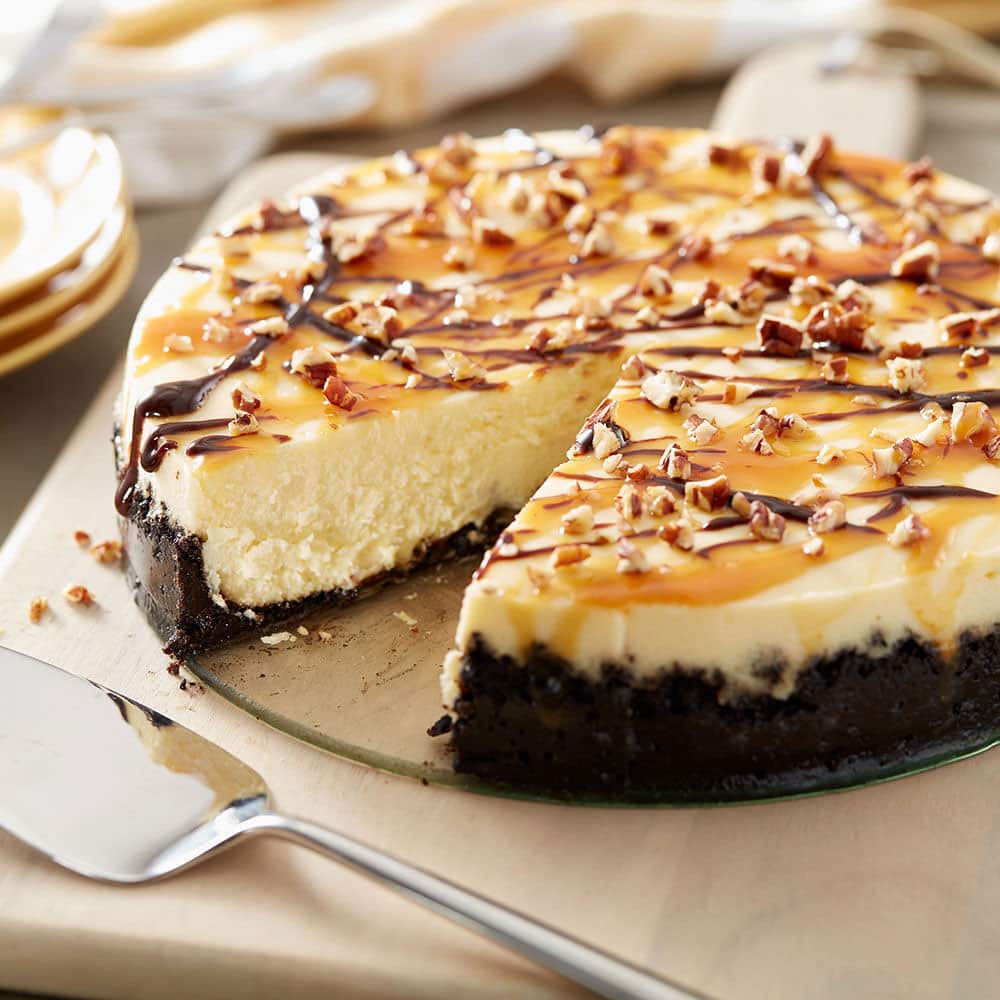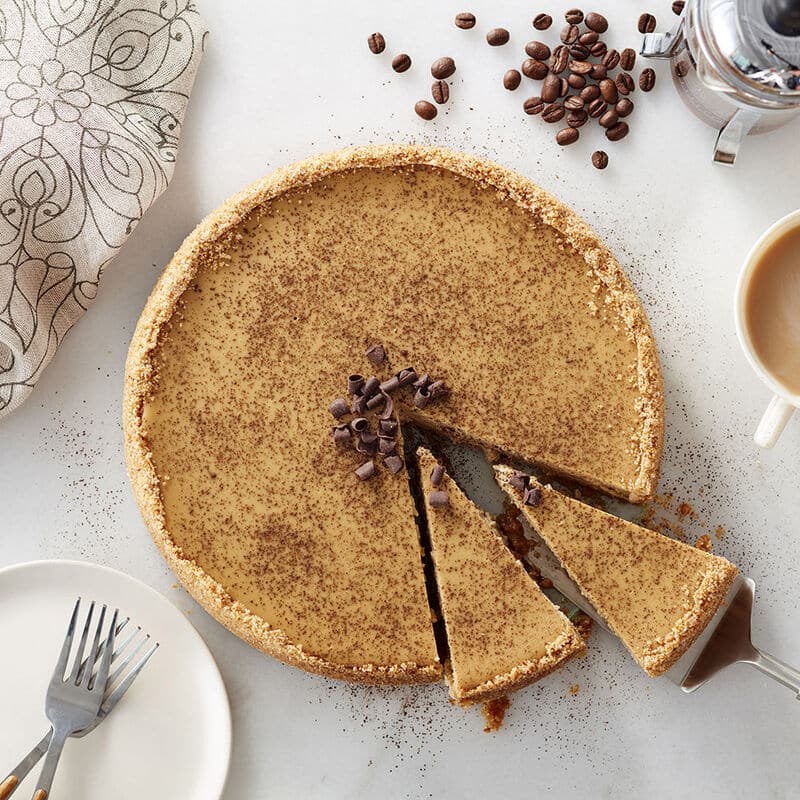 Cappuccino Cheesecake
Coffee lovers will love this Cappuccino Cheesecake. A lovely dessert that pairs well with your favorite hot drink, this cheesecake is sure to become a favorite!
Do you have any tips and tricks for using a springform pan? Let us know in the comments below!