There is a wide variety of tips classified as "specialty", and rightfully so, because each tip in this family is unique in its own way. From basketweave to grass tips, these specialty piping tips are great for adding fun character to your cake.
Specialty tips are in a class all their own because of their one-of-a-kind characteristic. Whether you want to make beautiful flowers with a single squeeze of the decorating bag, pipe grass and fur, or create a basketweave pattern, there's a specialty tip that can do just that.  There are even tips for left-handed decorators, filling pastries and smoothing cakes!
Basketweave Tips
Create all types of basketweave designs, both smooth and textured, with tips in this family. Some tips, such as 44 and 45, produce only smooth stripes, while others, like tip 47, have both smooth and ridged sides.
Great for adding texture and style to your cakes, the basketweave tip helps you create a fun pattern by layering vertical and horizontal lines. Once you see how the pattern is created in this video, you'll quickly find it's much easier than it looks!
Use the basketweave technique around the sides of your cake to create the look of a basket, like in this Floral Basketweave Cake, or combine a basketweave pattern with stars or dots for a completely different look.
But basketweave tips can do so much more than that. For example, it's almost hard to believe that these cupcakes were all created using the same tip. You can see how it's done by checking out the video, 7 Ways to Decorate Cupcakes Using Tip 47.
Cake Icing Tip 789
Tip 789, also known as the cake icing tip, is an extra large basketweave tip, designed to help you apply icing to the sides and top of your cake quickly and easily. It has both a smooth side and textured side.
If you find it challenging to keep the crumbs out of your icing when you are using a spatula to ice your cake, check out the video, How to Ice a Cake with Tip 789, to see how much easier it can be to apply icing and achieve crumb-free, smooth coverage with this time-saving tip.
Grass Piping Tips
Tips 233 and 234 create some of the most celebrated and easily accomplished decorations. These finely cut multi-opening tips, often referred to as grass tips, pipe a number of pull-out lines simultaneously and are ideal for creating quirky textures like hair, grass, fur and flower centers.
Whether you need green turf for your team cake or a grassy field for your flowers to grow wild, tip 233 has you covered. Check out the step-by-step video to see just how easy it is to pipe grass and fur with this fun tip.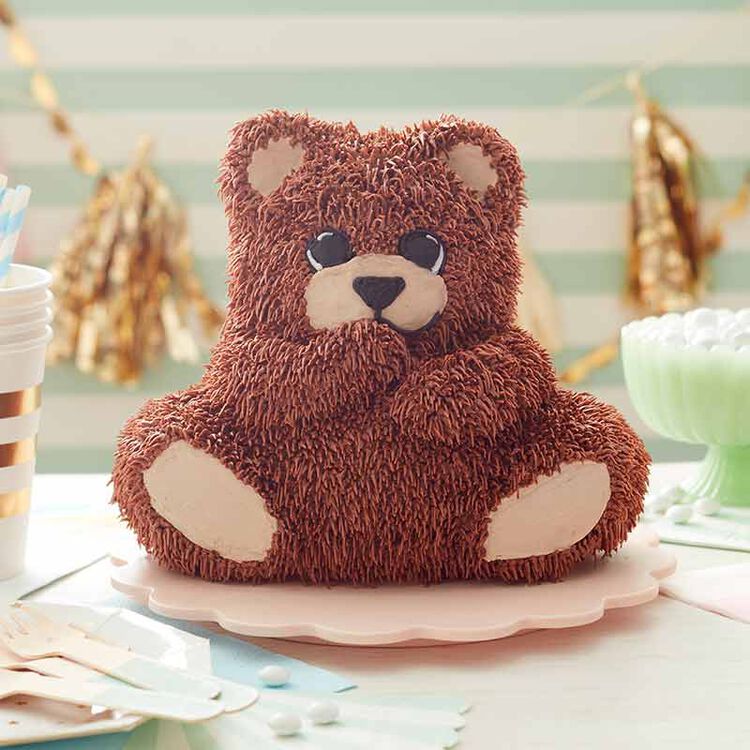 Tip 233 also makes it easy to decorate furry friends, such as this adorable Stand-Up Cuddly Bear Cake, perfect for a baby shower or 1st Birthday party.
Pipe your tip 233 strands a bit longer for a shaggier look, like the fur on this Friendly Monster Cake, or add some colorful shag to any cake shape for a fun and trendy texturized look.
Cheer on your team with these adorable Peppy Pom Pom Cupcakes, a quick and easy decorating project for beginners. Use tip 234 and variegated color buttercream in your team colors to show your support at the next home game or cheerleading competition.
Multi-Opening Tip 134
This multi-opening tip includes six round openings, enabling you to make multiple rows of dots or beads at once. Tip 134 is the go-to tip any time you need several even lines, like musical scales or crisscross designs, as part of your decoration. 
The Triple Star Tip
Tip 2010, also known as the triple star tip, allows you to add clusters of small stars faster than using a traditional single star tip.
Use tip 2010 to pipe the white stars on this Pretty in Purple Unicorn Cake in half the time, freeing up time to focus on all the other details to make your little princess's day even more magical.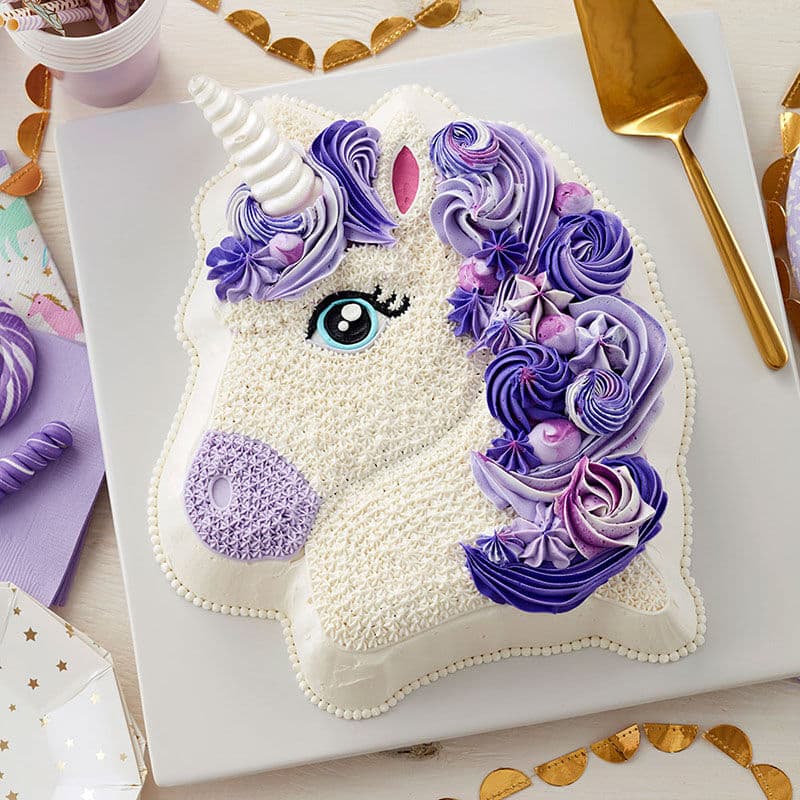 Drop Flower Tips
Drop flower tips are identifiable by their star or flower-shaped opening. Some of the small and medium sized tips even have a little rod in the middle to keep each petal separate. Beginner decorators love this type of tip because they are perfect for piping one-squeeze flowers.
Star drop flowers are piped the same as you would for a regular star, using a simple straight up motion, and can be used as an accent, filler flower or to cover an entire cake.
The petals of a swirl drop flower appear to be piped one at a time, yet all it takes is one squeeze and a simple, simultaneous twist of your wrist. The added twist motion helps to create a bit more flair and dimension to your flowers.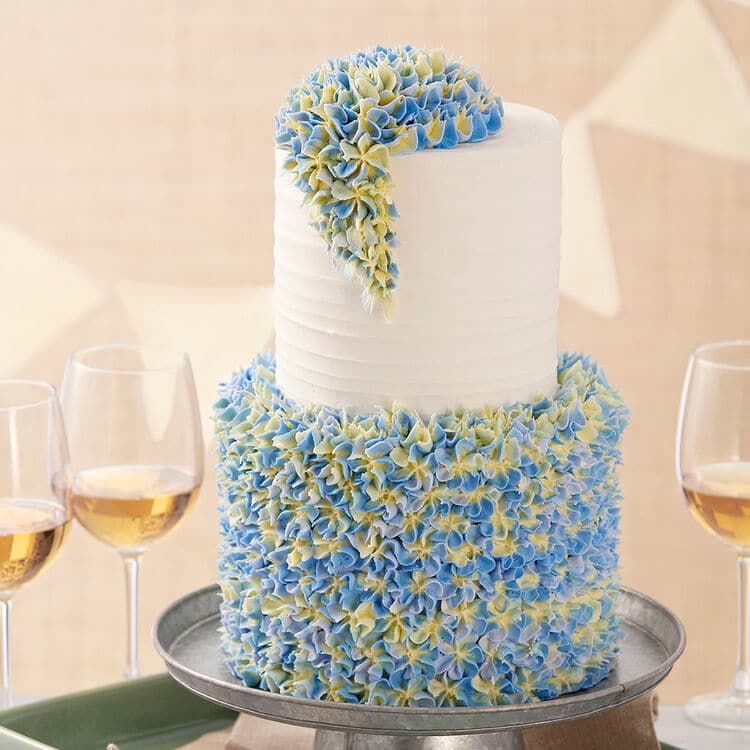 A cluster of swirl drop flowers piped with tip 1B and variegated icing makes a gorgeous hydrangea. This Elegant Hydrangea Cake is simply blooming with these swirl drop flowers! This Cascading Drop Flower Cake is another way to play around and experiment with this fun family of piping tips.
Drop flowers can be piped directly on your treat surface with buttercream or can be made ahead of time using royal icing.
Specialty Petal Tip 81
Tip 81 is a unique petal-shaped tip with a "U" curve. It's most often used to pipe chrysanthemums and lily of the valley flowers.
Chrysanthemums are easier to pipe than you would think with the curved opening of tip 81 and a simple leaf-making motion. Although most commonly found on fall cakes, mums can be used year-round using seasonal colors.
You can also use this tip to make a succulent decoration for your cake or cupcakes. These Stunning Succulent Cakes use a variety of fun tips to make colorful cacti and plants that look almost too good to eat! Try spatula striping your decorating bag with a dark mauve color before filling it with a dark green icing to give your succulent a realistic look.
I love how the simple arrangement of dahlias dresses up this Buttercream Dahlia Cake, perfect for a bridal shower or a Sunday brunch. Also piped very similar to the chrysanthemum, tip 81 enables you to create the stand-up petals, giving the appearance that these flowers are blooming.
Tip 81's unique shape also makes it easy to add fun texture and dimension. Position the tip so the rounded side is against the cake to create scallops, perfect for a mermaid-themed party. Pipe clusters of "dots" around the cake, pointing the curve of the tip inward towards the center of the cluster to resemble a flower. Go vertical with Tip 81 and cover the entire side of the cake to kick up the texture a notch. You can watch step-by-step how each of these techniques are done by checking out 3 Ways to Use Tip 81.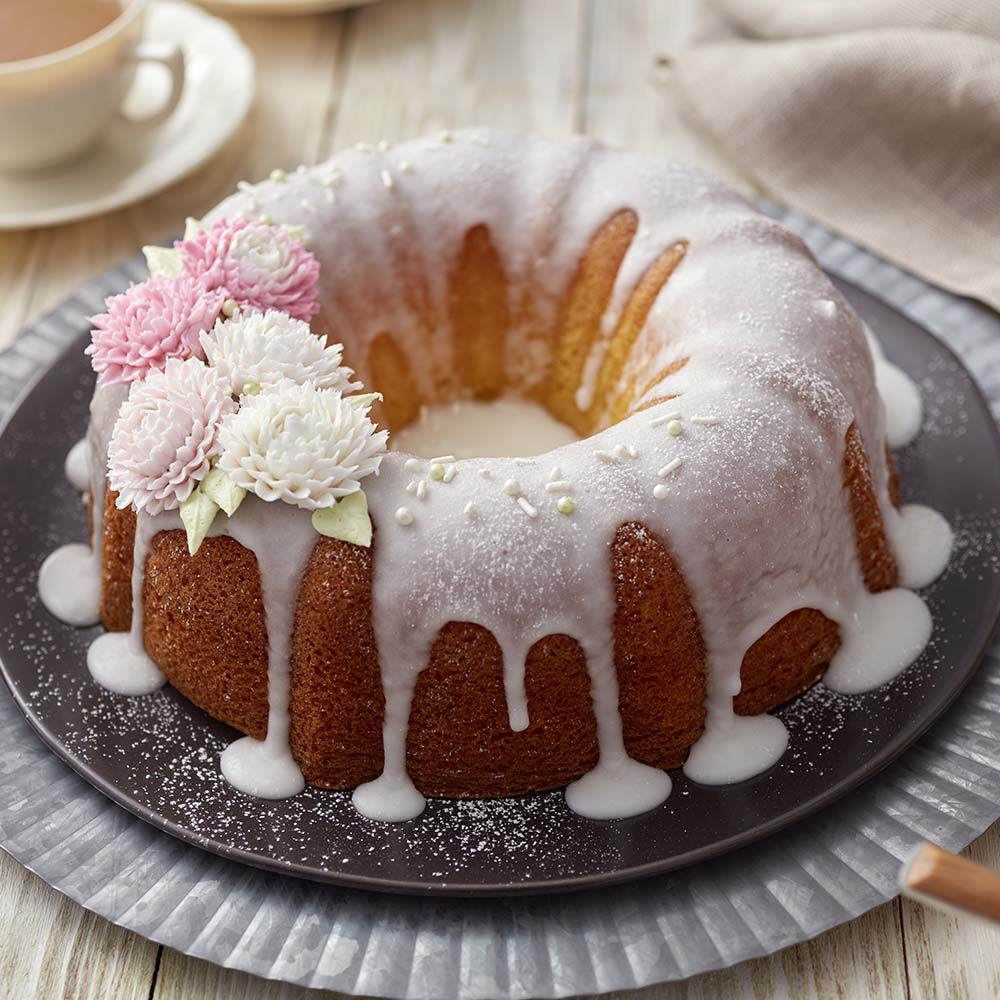 Specialty Tip 83
Commonly used to pipe little "X" shapes, you might be surprised that tip 83 can also pipe zigzags, rosettes and shells. Check out these 8 Ways to Decorate with Tip 83 for additional clever ways to use this fun specialty tip.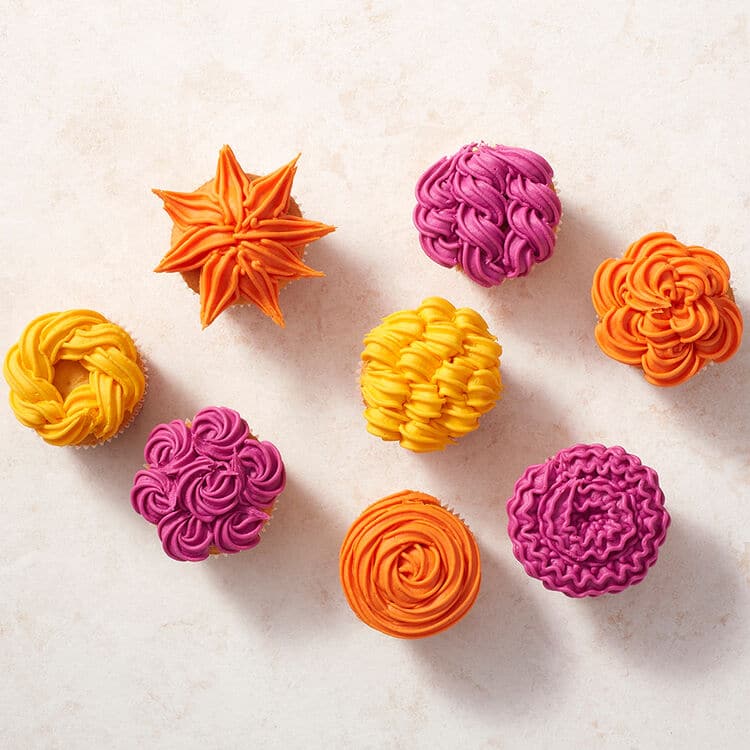 Specialty Tip 105
Tip 105 may look a bit like a star tip but, once you pipe with it, you'll notice the grooves produce greater definition. Swap out your traditional star tip for this specialty tip to give your shells, rosettes and zigzags a new look that boasts texture and style.  Discover 8 brilliant ways to top cupcakes using tip 105 with these Bright and Bold Cupcakes.
Easy Blooms Tips
You can pipe life-like flowers with just one squeeze using the Easy Blooms Tips.  This plastic tip set includes four tips: one large and one small mum tip; and one large and one small rose tip.
The large tips are big enough to cover one cupcake, while the smaller tips are perfect for creating smaller clusters of flowers.
These tips are bigger than the standard decorating tips, so it's recommended that you use them with a 16 in. piping bag (no coupler), along with stiff consistency icing to create well-defined flowers. Since these flowers get piped directly onto your treat, there's also no need for flower nails or waxed paper squares. Piping the flowers on an iced surface will help the flower to attach, so consider icing your treat with buttercream before piping with an Easy Blooms tip.
These Easy Blooms Mini Cupcakes are a true treat for spring showers or birthdays. Or use all the Easy Blooms to make this Heart in Bloom Giant Cookie Cake, perfect for Mother's Day or a bridal shower.
To see these tips in action, check out the video, How to Use Easy Blooms.
Left-Handed Tips (Tip 59L, Tip 97L and Tip 116L)
The direction of the curve in this group of tips is designed specifically for left-handed decorators.  Lefties can use tip 59L for violets and tips 97L or 116L for Victorian roses, which will give the petals more dimension.
If you are a left-handed decorator, in addition to using these tips, you may want to check out these helpful left-handed piping hints for great results every time.
Bismark Filling Tip
The Bismarck tip, also known as tip 230, is easily identifiable by its elongated shape. It's used to fill pastries, such as donuts, eclairs, and cream puffs. It can also be used to add fillings to cupcakes.
This tip is not used with a coupler; just cut the end of the decorating bag, drop the tip in, and fill with your favorite filling. Check out this video on How to Fill a Cupcake to see how easy it is to infuse more flavor and fun into your treats.
So, as you can see, specialty tips are anything but ordinary. With so many options for adding texture, dimension, and fun to your treats, as well as a variety of time-saving tips, it's almost impossible to choose a favorite one!
What dessert designs have you made using one or more of these specialty tips? Inspire us by posting a picture of them on Instagram and tag us @Wiltoncakes.