Fondant is a fun and versatile medium for covering and decorating cakes; however, it can be tricky to work with. Weather, temperature and environment can all affect the texture and performance of your fondant. You can avoid these problems before they start with these helpful fondant tips and tricks!
From how to use fondant to the best ways to store it, these tips for working with fondant are great to keep in mind before starting your next project.
Can You Eat Fondant?
Yes, you can eat fondant! Most of our Decorator Preferred fondant is vanilla flavored, which compliments almost any cake.
You can also try our assortment of Flavored Fondants, which contain natural ingredients and no artificial flavors. These Flavored Fondants come in milk chocolate, white chocolate and caramel flavors.
How to Work with Fondant
Dust your workstation with powdered sugar, cornstarch or vegetable shortening
Fondant can be sticky and has a tendency to pick up crumbs and dirt, so make sure your work surface is clean before you start rolling. Prevent fondant from sticking to your counter by lightly dust your work surface and fondant roller with confectioners' sugar or cornstarch. You can also use solid vegetable shortening to prevent sticking if you live in a very dry climate or if your fondant is already a little dry.
Coat clean hands in vegetable shortening or wear food-safe gloves
Before rolling, take some time to knead your fondant until it's soft and pliable. Make sure you wash your hands before you start so nothing sticks to the fondant. You can also coat your hands with a thin layer of solid vegetable shortening or wear food-safe gloves.
Keep fondant moving
It's important to keep fondant moving as you work. Never flip it over after you start to roll. Just turn it about a quarter of the way to prevent sticking and help ensure the thickness of your fondant is even.
How to Soften Fondant
If your fondant is too hard, add about 1/8 teaspoon of water for every 24 ounces of fondant to soften it. If your fondant is too soft, add a small amount of confectioners' sugar or Gum-Tex powder to help strengthen it. Soft fondant is usually caused by kneading too much or adding too much liquid.
How to Color Fondant
Color fondant with food coloring
Gel food coloring, such as icing colors or Color Right concentrated food colorings, are great for tinting your fondant. They produce bold, bright colors without changing the consistency. Make sure to wear food-safe gloves to mix in the color so it doesn't stain your hands.
We suggest avoiding liquid-based food colorings, as too much liquid can soften your fondant.
Combine colored fondant for more colors
You can also mix more than one color of fondant together to get a whole rainbow of shades! Add a small amount of dark teal fondant to white fondant to get a lighter teal, or combine red and blue fondant for purple. This is a great way to use up any leftover fondant you may have from another project, so don't throw your scraps away!
How to Make Black Fondant
For super rich colors, like black or red, you may need to add quite a bit of color to get the shade you need. This might affect the consistency of your fondant. For those instances, we suggest buying pre-colored Decorator Preferred fondant, which comes in a variety of shades, including black.
If you can't find black fondant, you can use black icing color to tint brown fondant black.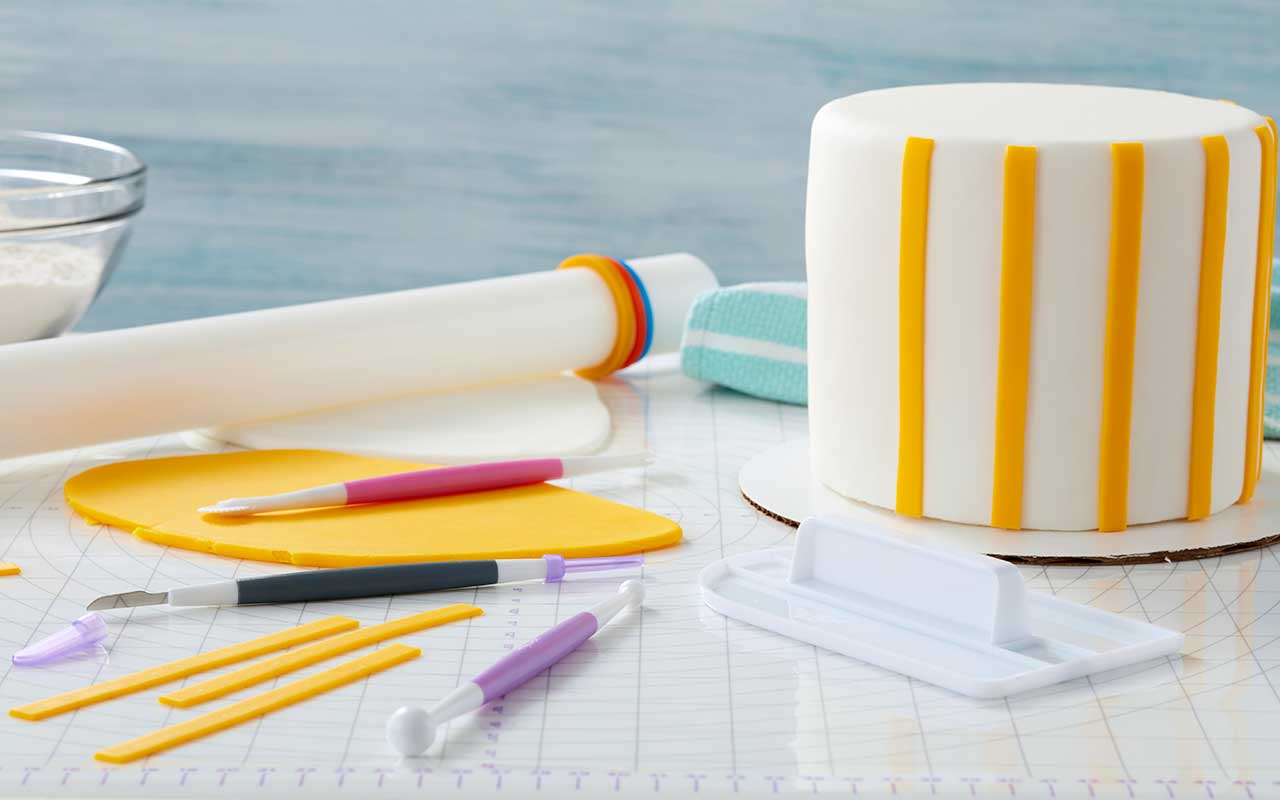 How to Cover a Cake with Fondant
To get a nice, clean finish to your fondant cake, make sure you frost your cake smooth with a thin layer of buttercream frosting. This will prevent any imperfections on your cake from poking through the fondant.
If you're using a lighter shade of fondant, frost your cake with white buttercream. Using white buttercream is a good rule all around unless you're using black fondant, in which case chocolate frosting works just as well.
How to Roll Out Fondant
Lightly dust your surface with cornstarch or confectioners' sugar. Using a fondant roller or rolling pin, roll out your fondant. Turn it about a quarter of the way after every roll to prevent it from sticking and ensure the thickness of your fondant is even.
When your fondant is at the desired thickness, use a rolling pin to help drape the fondant over your cake. Once draped, work quickly to smooth out the fondant using a Fondant Smoother for the top and your hand to smooth the sides.
Any excess fondant on the base of your cake should be cut off with a knife or Fondant Trimmer.
How to Fix Fondant Cracks
As you roll and mold fondant, you might find that it tends to crack, especially on edges and corners. If you notice that your fondant is cracking, rub some solid vegetable shortening over the crack in a circular motion to smooth the cracked area together. We suggest not using water to do this, as too much liquid can break down your fondant.
For a more in-depth look into how to cover a cake with fondant with complete step-by-step instructions, check out our How to Cover a Cake with Fondant post!
How to Make Fondant Shiny
There are a few methods for adding a shiny finish to your fondant. Steam is the most common way (using a hand-held steamer). Steam helps remove excess confectioners' sugar and cornstarch and gives your fondant an instant gloss. However, you want to be careful with steam, as too much could cause melting.
You can also give your fondant a smooth, satin finish with a little solid vegetable shortening.
How to Make Fondant Cake Decorations
Fondant is great for making little figurines or cutting out decorations for cakes, cupcakes and cookies. For assembling figurines and fondant decorations, you can use water or buttercream frosting to adhere pieces together. Be sure to read our article on How to Apply Fondant to Fondant to learn more about how to assemble fondant decorations.
Fondant will also start to dry as it sits out. If you need your fondant decorations or figurines to be hard, make them at least two days ahead of time and let them sit at room temperature to dry.
How to Store Fondant
Fondant dry out quickly, so be sure to keep it covered or wrapped in plastic wrap when not being used. After decorating, roll unused fondant into a ball and coat with a thin layer of solid vegetable shortening. Wrap tightly in plastic wrap and store at room temperature in an airtight container. Stored this way, your fondant should last about a month.
Can You Freeze Fondant?
No, fondant should not be frozen. In fact, it should avoid any contact with your freezer or refrigerator. Store leftover fondant at room temperature. If you're using fondant to cover a cake, store your cake at room temperature, as well.
Where Can I Buy Fondant?
You can find all our Decorator Preferred Fondant, as well as our flavored fondant, on Wilton.com.
Other Fondant Tips & Tricks
Fondant picks up dirt and lint easily so be sure to avoid wearing fuzzy sweaters or clothing when working with fondant
Check out our Fondant Coverage Chart to find out how much fondant you'll need to cover your cake
For fondant decorations that need to keep a shape, add a small amount of Gum-Tex to prevent drooping
Use guide rings on your fondant rollers to help get an even thickness when rolling out your fondant
You can find even more fondant tips in the below video.
What are a few of your go-to fondant tips? Let us know in the comments below and don't forget to share your favorite fondant cakes on Instagram. Tag us @wiltoncakes so we can check them out!