If you think a leaf tip is only for piping leaves and floral sprays, think again! While it's traditionally used to accent flowers with leaves, it is also used to pipe petals, succulents, borders, trailing cascades, vines, and unique designs that can cover an entire cake.
Leaf piping tips are more versatile than you may think. Often used for piping leaves, these tips can also be used to make flower petals, add decorative detailing and much more.
Leaf piping tips come in two basic designs:
The tip with the flat opening pipes a veined broad rounded shape leaf, perfect for longer leaves and petals.
The tip with the "V" shaped opening, which looks like a bird's beak, pipes a veined leaf with a broad base that thins out to a sharp point.
Depending on how you hold the decorating bag and the amount of pressure you apply to it, you can create leaves, petals, and decorations in a variety of styles. Use either type of tip to pipe flat, ruffled or stand-up leaves to suit your design.
Leaf-Shaped Petals
Tip 352 is the perfect sized leaf tip for piping these bright Sunflower Power petals on cupcakes. It's also used to pipe an abundance of leaf shaped petals on these Firework-inspired cookies. The icing petals appear to explode off the cookie!
Pipe these tiny Festive Poinsettia flowered cupcakes with a tip 349 or 352. Easily up-size the flowers by using larger tips, like 353 or 366. A delicate Water Lily makes a statement all by itself! Pipe these flowers in decadent buttercream using leaf tips 352 and 366.
Gladiolas can be piped in a rainbow of colors to match any occasion. These pristine white gladiolas are piped up the side of the cake using a tip 68 and 70 to create different sized petals. The spikey gladiola leaves are also piped with a tip 70. To pipe larger long leaves, try using a tip 113.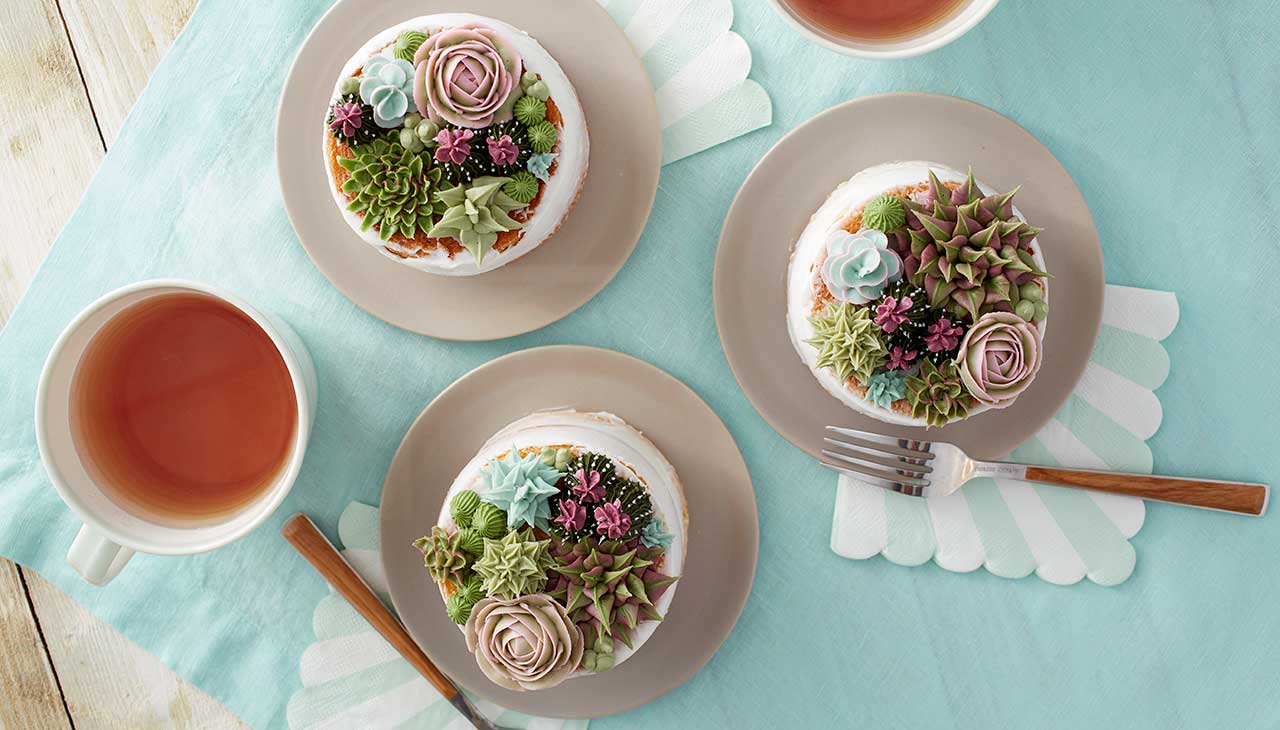 Leafy Succulents
Pipe a succulent garden featuring the Echeveria. Use tip 349 for small plants and 352 for larger ones. These sweet little Winter Succulent brownies are piped with tip 352. The decorating bag is spatula striped with a light purple icing, then filled with green icing to create this unique multi-colored effect.   
This eye-catching succulent garden uses lots of different tips, including leaf tips 366 and 352.
If you are loving the look of leaf-shaped petals and succulents, you will want a full assortment of leaf tips in your tip collection. Make it happen with the 55-piece Master Cake Decorating Tips Set! This tip set includes leaf tips 66, 67, 68, 70, 74, 349, 352 and 366, along with an assortment of other tips, couplers and flower nails decorators frequently use.
How to Pipe Borders with a Leaf Tip
Leaves make simply beautiful borders! Pipe this Climbing Leaf border, topped off with wild roses or a leafy garland at the top edge of a cake.  
Why stop with just the bottom or top of a cake?  Take border piping one step further using a leaf tip 113 to pipe rows of ruffles around the side of a cake.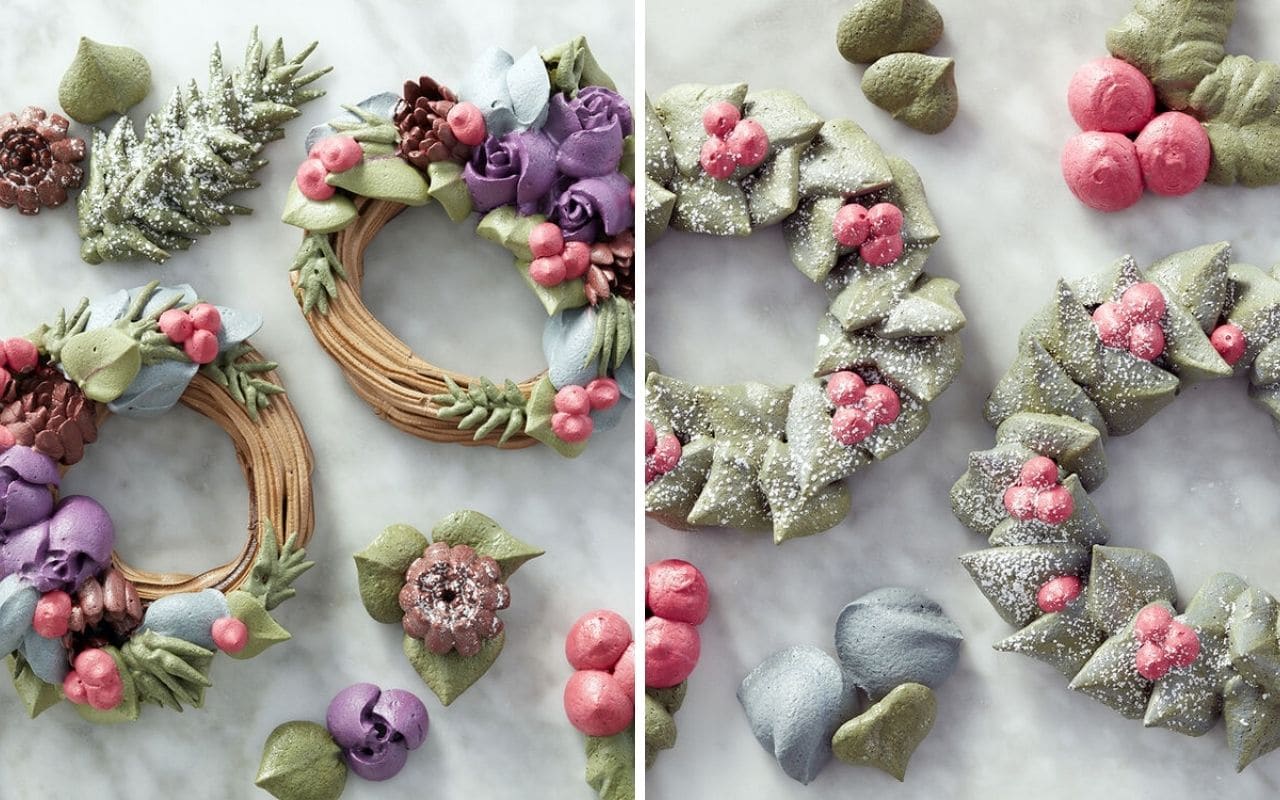 How to Pipe Cascades, Vines and Wreaths
This cascade of variegated leaves is stunning! Remember, leaves don't have to be green or all the same size. Have some fun trying out the different leaf tips on a cake like this one.
If a cascade of leaves isn't quite enough, pipe random vines and leaves with tip 366 all over the cake. For that extra touch, add fresh raspberries to make the cake pop. Are you feeling like heading to the kitchen to make this raspberry cake right now?   
Wreaths for any season require leaves. These Christmas Leaf Meringue Cookies are piped with a tip 366.  Pipe leaves in various sizes to fill in the spaces around these pretty meringue Easy Blooms Wreaths. 
All Over Leaves
If you just can't get enough of leaves, or you want an easy way to decorate a cake, then this style cake is for you! While this ombre leaf cake looks difficult, it's just row after row of staggered leaves piped with tip 366.
The Green Leaf Square cake is piped with a tip 366 using a shell piping motion in rows around the cake.  
These Fall Mum cupcakes are piped in a palette of green, gold and purple. It's hard to believe, but the variety of textures on these cupcakes are all piped using a tip 113!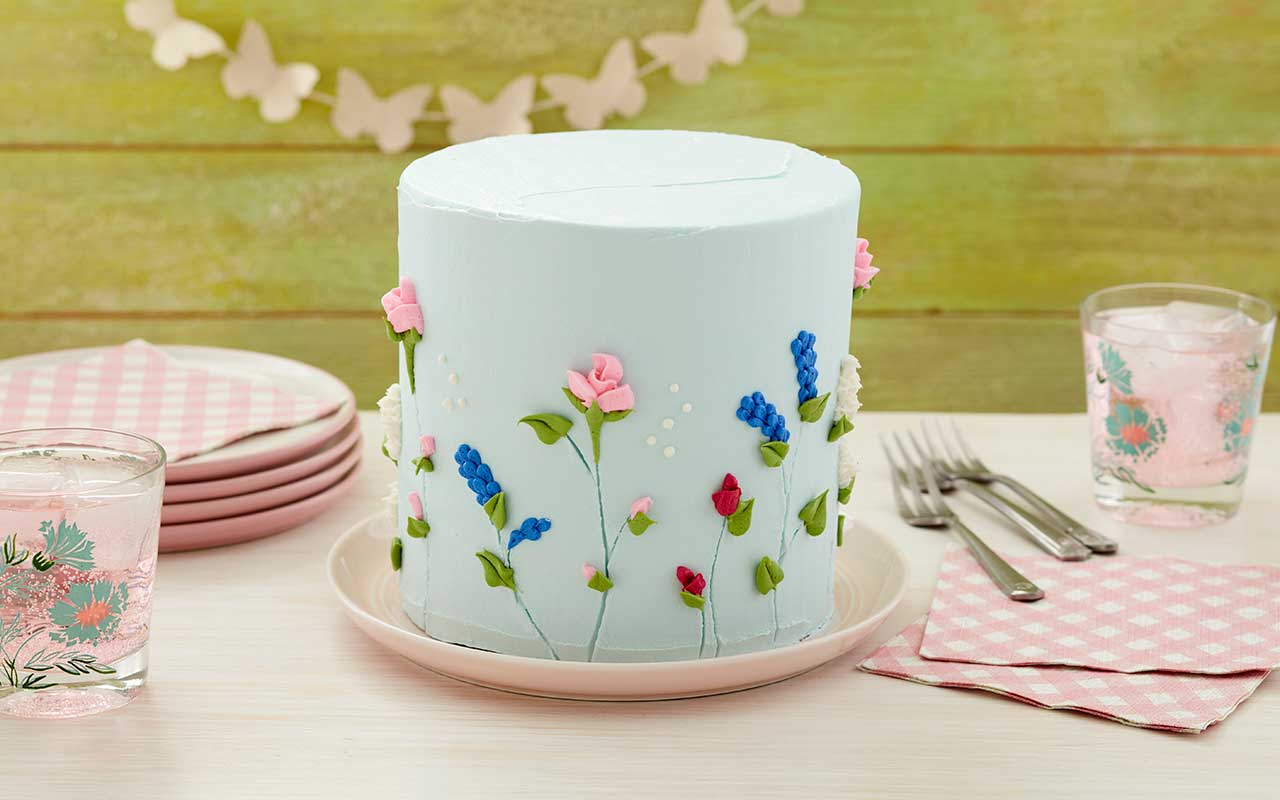 Leaf Accents
Where there are flowers, there are leaves. Leaves bring icing flowers to life and are a great fill-in for little spaces in your cake and treat designs.
This easy flower trimmed sheet cake is accented with lots of little leaves and includes a few ferns here and there. These fern fronds are piped with tip 67 leaves, which gradually get smaller as you approach the top of the frond.
Another easy accent is the holly leaf, piped on this Holiday Cake Roll. Just pipe a leaf with a tip 70, then while the icing is wet, pull out tiny points around the edge with a toothpick, starting near the center vein.
Use various leaf tips and piped leaf styles to enhance the buds, blossoms and stems on this delicate Breath of Spring cake,  perfect for a garden party or shower!
As a decorator, I am dazzled by all the possible decorations and designs leaf tips can help me achieve. Clearly, these tips are not just for piping leaves!  Since piping a leaf is a basic skill, these are decorations anyone can master. Inspire us with your leaf tip creations by posting a picture of your cakes and treats on Instagram and tag us @wiltoncakes.