Perfect baked goods start with the right pan – and Wilton has you covered no matter what you're making! With a great variety of sizes, shapes, materials and finishes, we have the right pan to match your project, skill level and budget.
Each piece of Wilton bakeware starts with a base material, such as aluminum, steel or silicone. It's then given a coating to enhance the look and performance. Each type of pan has specific benefits for bakers and the key is to pick the right one for you and your recipe.
To get a better idea of the type of pan you'll need, let's break down our bakeware categories to better highlight their functionality.
Bakeware Type
Aluminum
Non-Stick
Specialty Non-Stick
Silicone
Disposable
Wilton Products
Performance Pans™ bakeware & Decorator Preferred™ bakeware
Recipe Right™ bakeware, Perfect Results Premium Non-Stick Bakeware™, Ever-Glide™ bakeware & Easy Layers!™ bakeware
Ceramic Coated, Texturra Performance™ bakeware & Diamond-Infused
Silicone
Bake and Bring™ bakeware & Disposable
Cost
Starting at $8.99
Starting at $4.49
Starting at $9.99
Starting at $10.39
Starting at $3.19
Perfect For

Pastry chefs
Home bakers
Layer cakes
Decorated cakes

Home bakers
Everyday baking and cooking
Easy release

Home bakers
Sharing photos on social media
Oven to table baking

Experienced baker
Crafters
Light baking, molding and crafting

Home bakers
Gifting
Take to party, family get together or potluck

Construction
Anodized aluminum
Steel with non-stick coating
Cold-rolled steel with ceramic to diamond-infused coating
Silicone
Tinplate steel or 98% biobased materials
Use & Care

Dishwasher safe; for best results wash in warm soapy water before first and after each use

Dishwasher safe
Place on metal cookie sheet to move to and from oven
Use in oven, freezer, microwave, refrigerator

Bake and Bring - Hand wash only
Bake and serve in pan
No need for cleanup after

Helpful Tips

Heats and cools quickly
Avoid metal utensils
Best for a light even baked surface
Follow recipe instructions on greasing the pan

Avoid metal utensils
Handles for easy handling in and out of the oven

Cut carefully if using metal utensils
For best results, wash in warm, soapy water before first and after each use

Generally, will not brown baked goods
Flexible so foods pop out easily
Oven safe up to 375° F
Recommend using pans for food or craft, not both

Oven safe up to 375° F for Bake and Bring, 400° F for Disposable
Aluminum Bakeware
Available in a wide variety of shapes and sizes to fit any budget, aluminum bakeware is a great choice for pastry chefs and home bakers alike. With lines that include Wilton Performance PansTM and Decorator PreferredTM pans, aluminum bakeware is lightweight and thin. Traditional aluminum pans also have straight sides for easier decorating and stacking.
Made from anodized aluminum, these pans are rust-resistant for longer lasting use and are excellent conductors of heat, so you get an even, light-golden finish. Aluminum bakeware is safe for most foods, but it's best to avoid using them for anything acidic, such as tomatoes, vinegar and citrus. The pan could alter the food's flavor and the acid could damage your bakeware.
Because aluminum pans are not topped with a non-stick coating, they should be hand washed. For best results, follow the instructions on your recipe for how to grease (or not grease) your pan.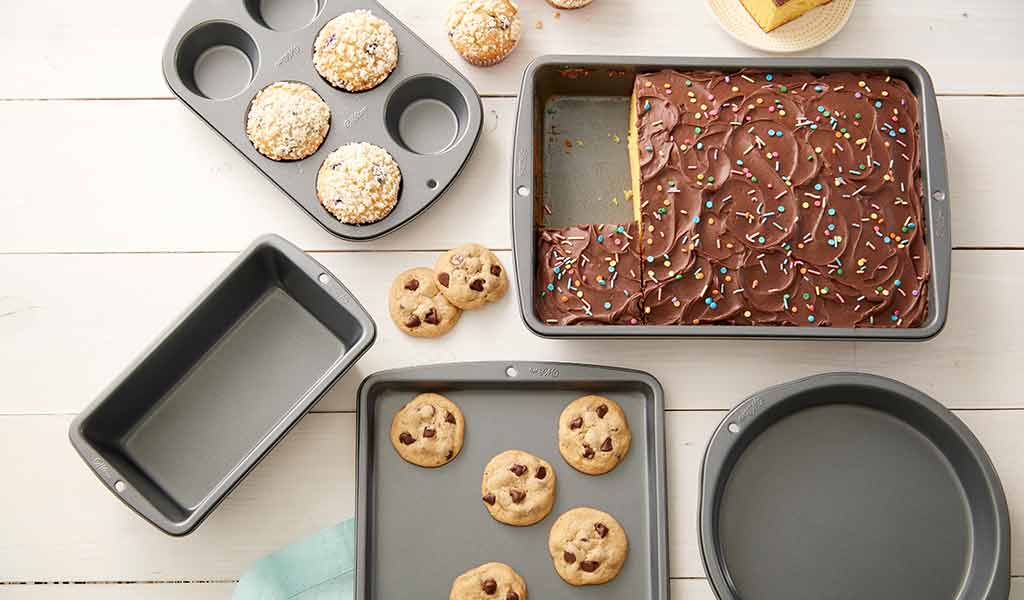 Novelty and Character Pans
Aluminum is also the material of choice for most novelty and character pans. Whether you're looking for something generic, like a star or a book, or something more fun like a beloved character, these pans are great for making any celebration something special!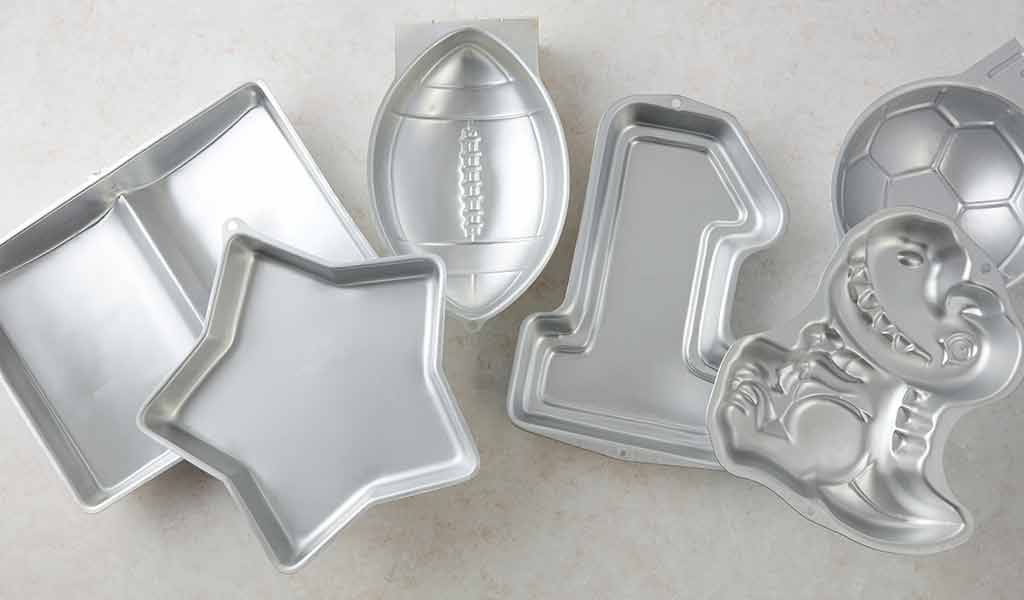 Non-Stick Bakeware
One of the most popular choices with most bakers and decorators is non-stick bakeware. Durable and scratch resistant, non-stick bakeware comes in a variety of colors, shapes and sizes.
When selecting non-stick bakeware, take note that the darker the coating, the faster your baked goods will brown. Recipes often recommend lowering the baking temperature if using a darker non-stick pan.
Are Wilton pans with a non-stick coating dishwasher safe?
Because of their non-stick coating, these pans offer quicker and easier cleanup than aluminum pans. They're dishwasher safe (though we still recommend hand washing them for longer use) and include a warranty in case anything goes wrong. We recommend using a liquid detergent. Dishwasher pods or tablets can be too harsh and damage the coating. Hand wash for best results and longevity of your pan.
What is the non-stick coating on Wilton pans made of?
Our non-stick coating is silicone polyester, and our non-stick pans are made of cold-rolled steel. Here is some additional information regarding the coating on our pans:
 Wilton does not use Teflon non-stick coatings.
Wilton does not use any non-stick coatings manufactured by DuPont.
Wilton coatings have no intentionally added BPA, Lead, Cadmium, PFOA or PTFE
All Wilton non-stick coatings are safe up to 450 degrees F unless otherwise specified on product labeling
All our products are thoroughly tested and verified to meet applicable laws and regulations.  In addition, each product undergoes extensive review by a team of safety experts and is tested by an independent lab.
Ceramic-Coated Non-Stick Bakeware
Our ceramic-coated steel pans have extra durable non-stick ceramic coating for easy release and quick cleanup. They're dishwasher safe and feature a lovely gold finish, making them pretty enough to go from oven to table.
Each pan also features easy-cut guides on the sides, allowing you to get perfect portions every time. No matter what you're baking, these pans clean up easily and are sure to become well-loved for years to come.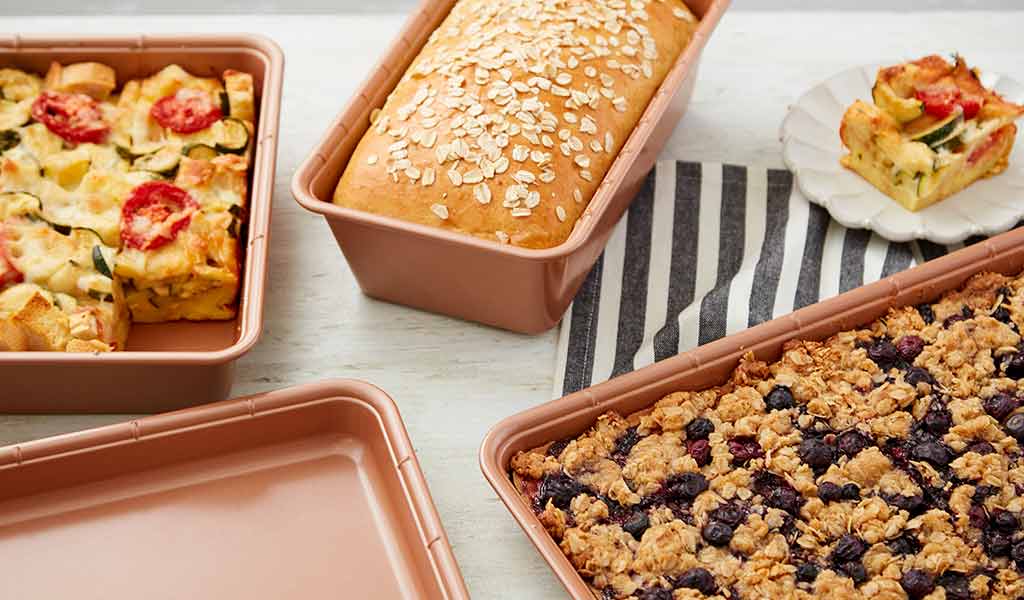 Texturra PerformanceTM Bakeware
The unique texture of our Texturra PerformanceTM Bakeware encourages airflow during baking. The non-stick coating helps food release easily for simple and quick cleanup. Plus, the light blue color makes these pans great for baking and serving.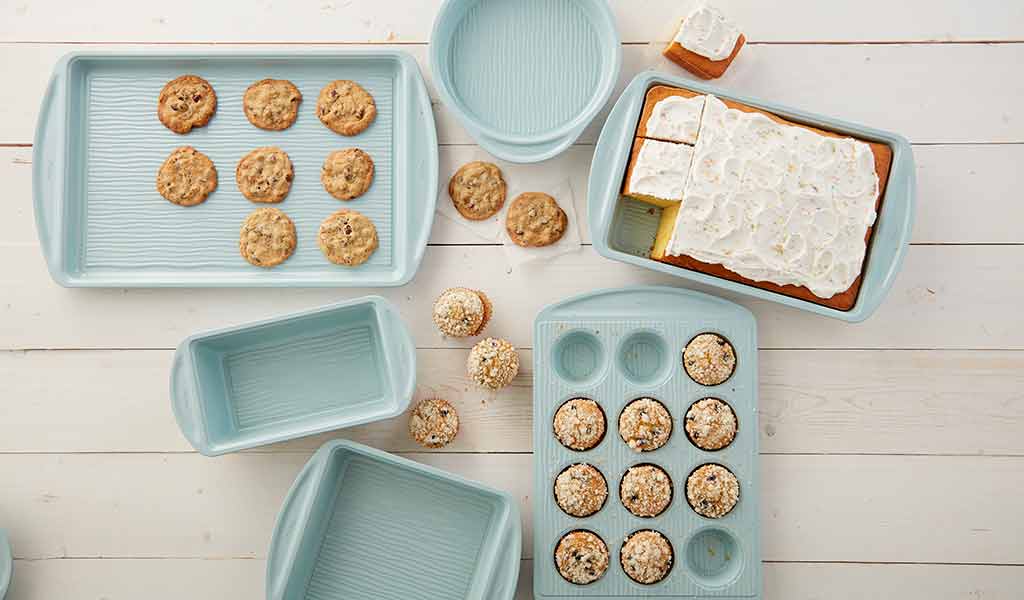 Navy Diamond-Infused Non-Stick Bakeware
Our Diamond-Infused pans takes non-stick bakeware a step further. Trendy and functional, this is one bakeware line you'll want to show off to family and friends!
Great for gifting to new bakers and decorators, these pans are durable and long-lasting. The diamond-infused coating allows you to use any type of utensil for cutting and serving, including most metal ones. They're also dishwasher safe for easy cleanup.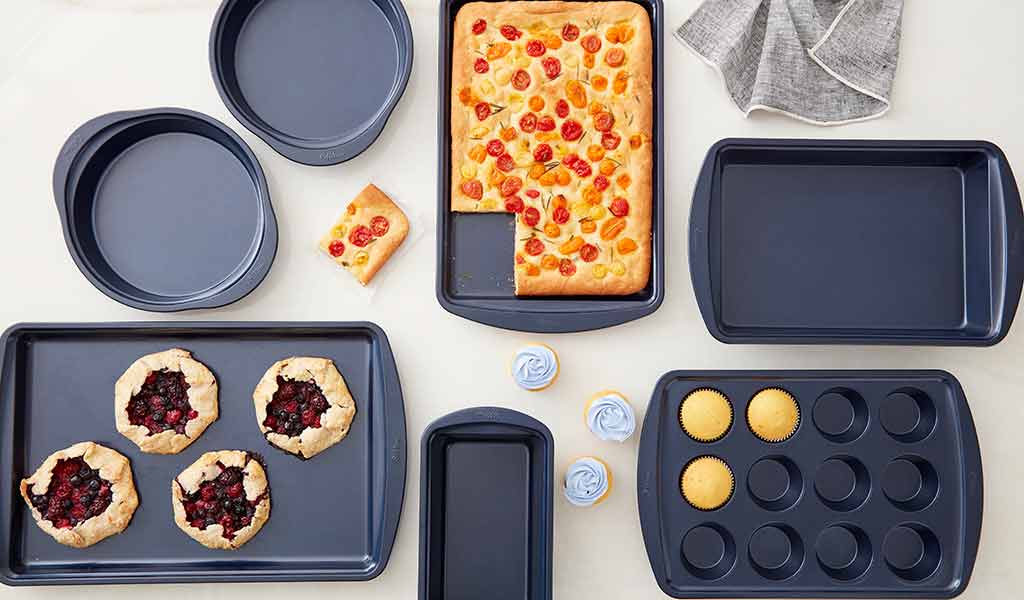 Silicone Bakeware
Available in a wide variety of shapes, sizes, colors and styles, silicone bakeware belongs in every kitchen! Since these pans are extremely flexible, anything you make pops right out.
Great for baking muffins, cupcakes, mini pies, egg cups or even to mold gelatin, candy and ice cream, silicone bakeware can be put in the oven, microwave, refrigerator or freezer – and pans are oven safe up to 375 degrees F.
When using your silicone in the oven, it's best to place it on a metal cookie sheet so it's easier to move from the oven to the table (and so it stays sturdy in your oven, too!). It's also important to keep in mind that silicone is not a great conductor of heat, so treats baked in silicone pans tend to be less brown around the edges.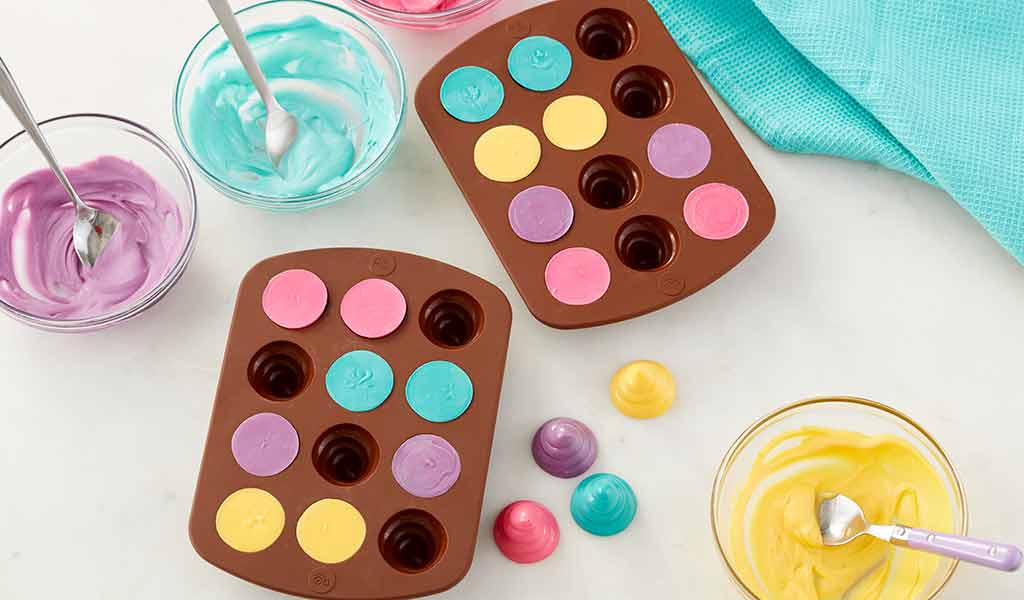 Disposable Bakeware
One of the best things about baking is sharing what you made with others, and one of the easiest ways to do that is to use disposable bakeware. Ideal for one-time use, these bakeware lines are perfect for gifting a homemade pie, cake or casserole!
Bake and BringTM Bakeware
Made of lightweight tin steel, our Bake and Bring pans are great for taking your baked goods on the go. Oven safe up to 375 degrees F, these pans can be used to bake almost any sweet or savory recipe. They come in a variety of styles and patterns to suit any celebration or holiday.
The other great thing about Bake and Bring pans is that they're very budget friendly, so no need to worry about getting your pan back – just bake it and bring it!
If hand washed, these pans can be used again, but we suggest sticking to a one-time use. Performance may decrease after the first use and could damage the outcome of your recipe.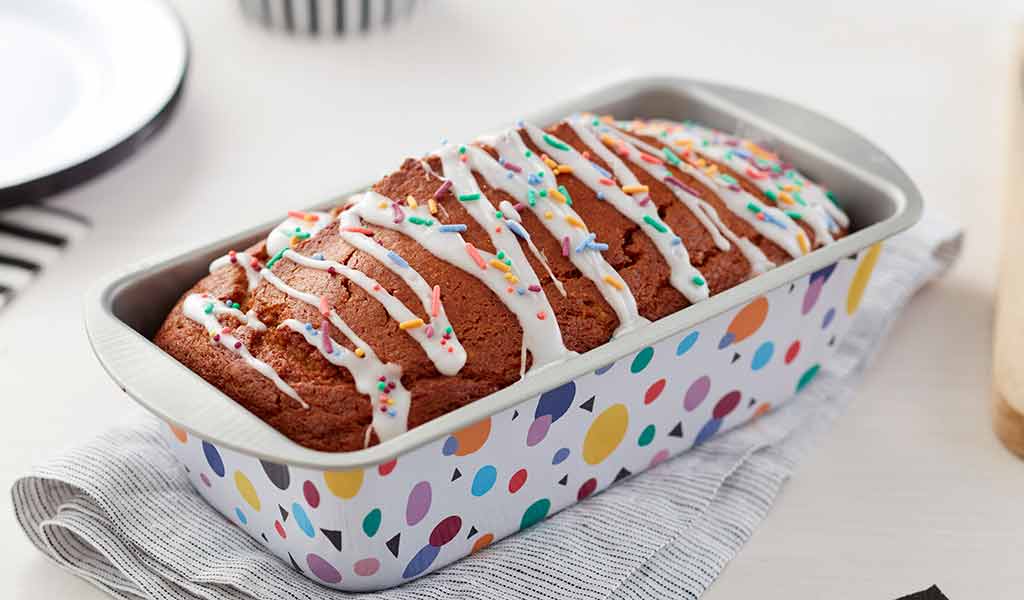 Disposable Bakeware
For virtually no cleanup, try our disposable bakeware pans. Made from 98% biobased materials, these pans are very eco-friendly. Each pan comes with a clear lid (which can be recycled) and can be used to bake most sweet and savory dishes.
Without the lid, these pans can be placed in the oven (up to 400 degrees F) or the microwave, then just toss it in the garbage when you're done!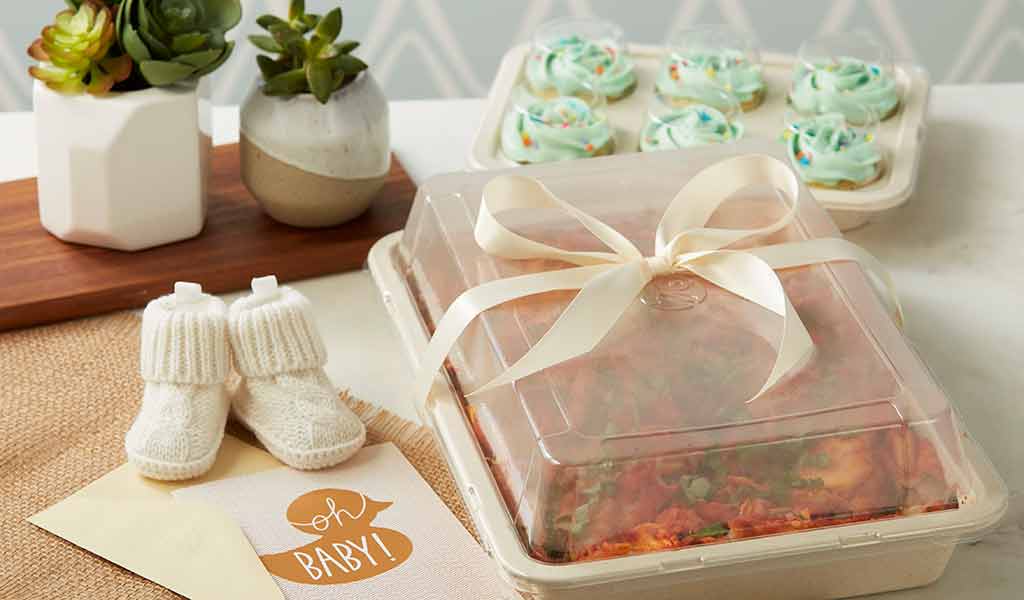 No matter what you're baking, sweet or savory, there's a perfect pan for you! Sill undecided? Check out our Bakeware Comparison Chart to see a side-by-side comparison of the features and benefits of each bakeware line.