Can't decide between pecan and pumpkin pie? Get the best of both worlds with this pumpkin pecan pie recipe. A flaky crust is filled with a sweet pumpkin pie filling, then topped with a crumbly pecan pie topping for the ultimate Thanksgiving dessert!
When it comes to the great Thanksgiving pie debate, it can be hard to choose between pumpkin and pecan pie. Thankfully with this recipe, now you don't have to!
Sweet, creamy, flavorful and oh so delicious, this pecan pumpkin pie recipe combines the best of both worlds for the ultimate holiday dessert.
We started ours off with our flaky pie crust recipe (but you can easily use store-bought), then filled it with a pumpkin pie mixture featuring cinnamon and pumpkin pie spice. The crunchy, sweet pecan topping offers the perfect combination of flavor and texture for a dessert worthy of every indulgent bite!
Pumpkin Filling Ingredients:
½ recipe

Flaky Pie Crust

or ½ package (14.1 oz.) refrigerated pie crust

1 (15 oz.) can solid pack pumpkin

 

2/3 cup granulated sugar

 

2/3 cup heavy whipping cream

2 eggs, lightly beaten

1 teaspoon ground cinnamon

¾ teaspoon pumpkin pie spice

 
Pecan Topping Ingredients:
1/3 cup firmly packed dark brown sugar

1/3 cup light corn syrup

2 eggs

2 tablespoons butter, melted

1 teaspoon vanilla extract

 

¼ teaspoon salt

2/3 cup pecans, chopped
Part 1: Make the pie crust
To begin, preheat your oven to 425 degrees F. Line a large cookie sheet with aluminum foil and place it in the oven.

This will not only keep your pie from wobbling but will provide even heat distribution for a beautiful crust (no soggy bottoms here!).

Prepare ½ recipe of Flaky Pie Crust, or gently unroll your store-bought pie crust. Press crust into the bottom and up the sides of a 9 in. pie pan. Flute the edges of your pie as desired.
How to flute a pie crust
There are several ways to flute a pie crust. The easiest way to make the traditional scalloped edge is to make an upside-down 'v' with one hand. Place the 'v' on the outside of the crust, then use the index finger of your other hand to push the crust through the 'v' shape. Repeat around the entire pie.
You can also use items in your kitchen to decorate your pie crust. The back of a spoon or a fork can provide a decorative edge, or use a toothpick to create your own pattern.
Part 2: Make the pumpkin filling
To make the pumpkin pie filling, whisk together the pumpkin, sugar, heavy whipping cream, eggs, cinnamon, pumpkin pie spice and salt. 

Pour the filling into your prepared pie shell.
Part 3: Make the pecan topping
For the pecan topping, whisk together the brown sugar, corn syrup, eggs, butter, vanilla and salt. Using a spatula, carefully stir in the chopped pecans.

Gently spoon the pecan topping on top of the pumpkin layer. You can use the back of the spoon or an angled spatula to spread the topping evenly over the pie, if needed.
Part 4: Bake the pie
Place your pie on the prepared cookie sheet and bake for 10 minutes. Reduce the oven temperature to 350 degrees F and continue baking for 55 to 66 minutes, or until the outside of the pie is well browned and the center jiggles only slightly.

Let the pie cool completely on a cooling grid before cutting and serving.
How to serve pecan pumpkin pie
To serve this pie, let it cool completely, then cut it into slices (you should get about 8 from a 9 in. crust). You can serve it as is, or top it with a scoop of vanilla ice cream or a dollop of homemade whipped cream!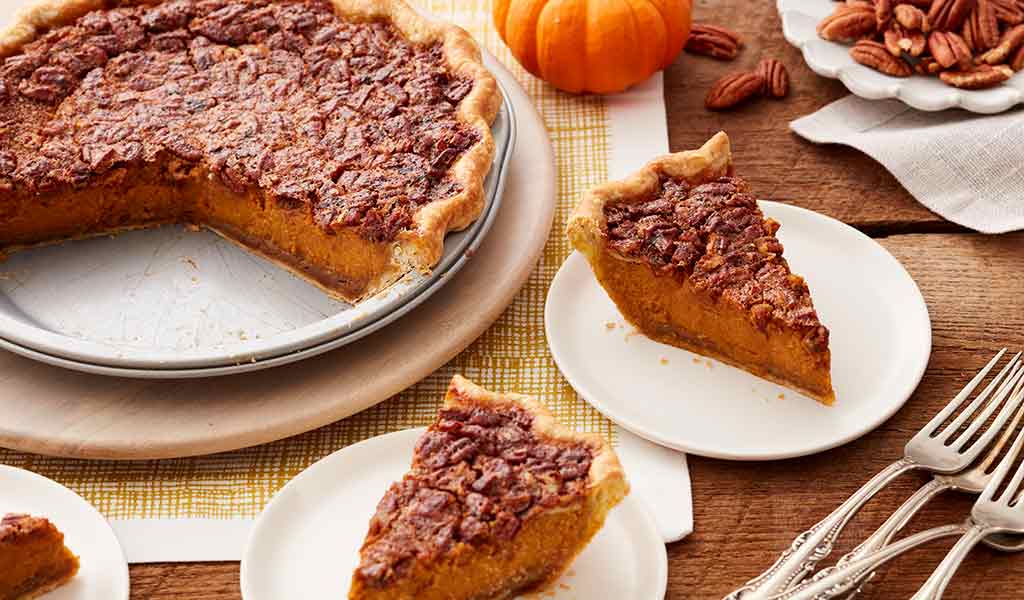 How to prevent soggy crust: No one likes a pie with a soggy bottom! To prevent this, we like to preheat a cookie sheet in a hot oven (we set ours for 425 degrees F). Place the pie on the cookie sheet and allow it to bake for about 10 minutes, then lower the temperature to 350 degrees F to continue baking.
This blast of hot air helps set and crisp the bottom crust, which is especially important for wetter pies, like pumpkin and pecan.
How to prevent pie crust from burning: To keep your lovely fluted edges crispy and not burned, cover them with a silicone pie crust shield or carefully wrap the edge of your pie with aluminum foil before placing it in the oven.
Check the crust about 10 to 15 minutes before your pie is supposed to be done. If the edges still need a little color, remove the shield and continue baking.
How to prevent cracks in your pie: Cracks are often the cause of overbaking or drastic changes in temperature. To prevent cracks, avoid opening the oven door, especially within the first few minutes of baking.
To prevent overbaking your pie, give it a little jiggle. If it wobbles slightly like a gelatin mold (and doesn't slosh around like raw batter), it's done. Your pie will continue to cook and set as it cools.
It's also important to keep in mind that eggs hold air, which could rise up and cause cracks in your pie. Mix the eggs as little as possible once they're added to avoid unnecessary air bubbles in your mixture.
Looking for a few more dessert ideas? Check out these other delicious pie recipes, perfect for Thanksgiving, Christmas and everything in between!
Forget the lattice work – use cream cheese frosting to pipe a fun decoration on this Decorative Pumpkin Pie.
For a taste of nostalgia, try this cool and refreshing Butterscotch Meringue Pie.
This rustic Plum Pistachio Galette is a twist on a traditional fruit-filled pie. It's delicious served with a scoop of vanilla ice cream or a dollop of whipped cream!
Use small cookie cutters to create a decorative top crust for this Apple Pie with Cut-Out Leaf Crust.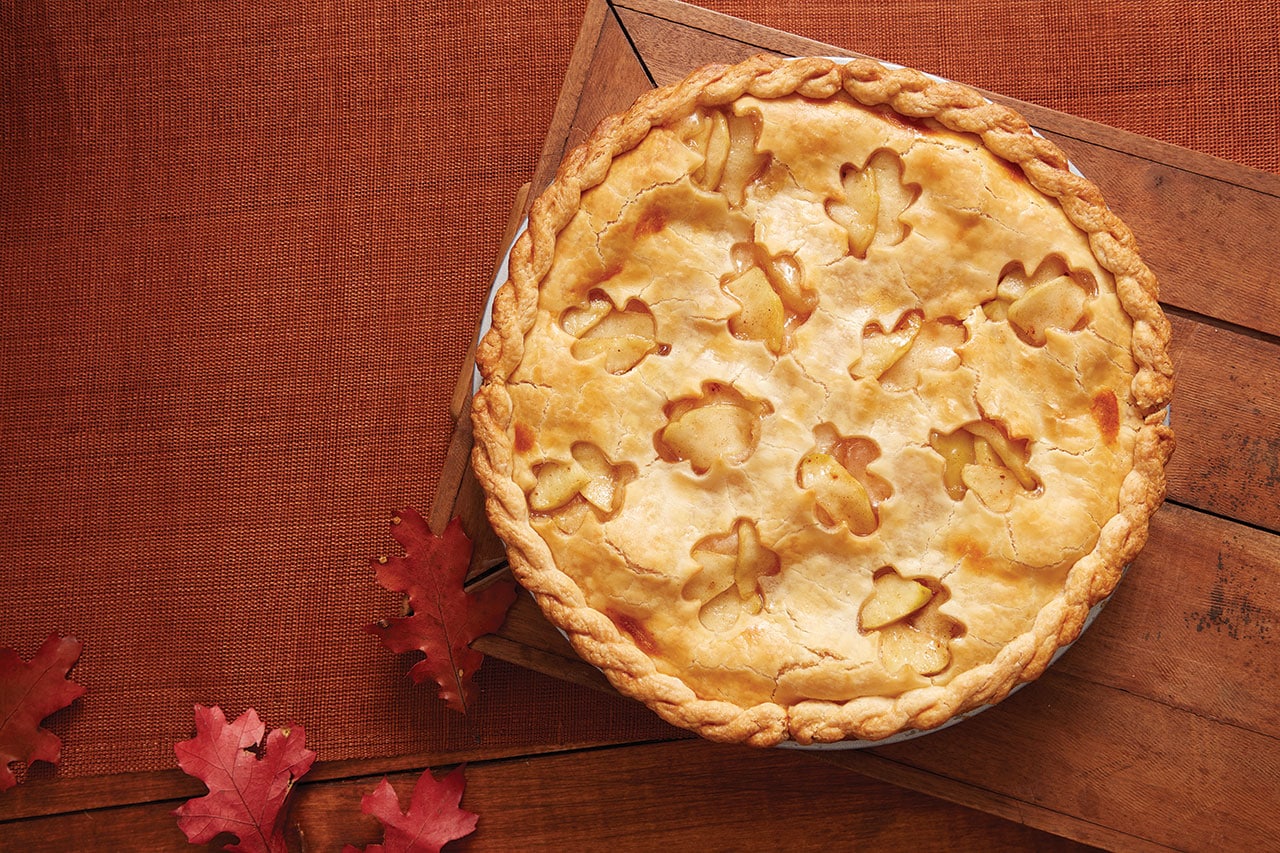 Pumpkin pie lovers won't be able to get enough of this Pumpkin Chiffon Pie, made by folding whipped egg whites into a creamy pumpkin mixture.
Celebrate the warm flavors of fall with this Sweet Potato Pie. Topped with mini marshmallows and filled with cinnamon, ginger and nutmeg, this pie is sure to become a new family favorite.
For a taste of an old classic, try this Easy Pumpkin Pie recipe. Great for bringing to a family celebration, this pie is simple, yet scrumptious! We also have a gluten-free version!
You can't go wrong with this Classic Kentucky Bourbon Pecan Pie. Sweet, rich and oh so delicious, this pecan pie recipe is made even better with a splash of Kentucky Bourbon!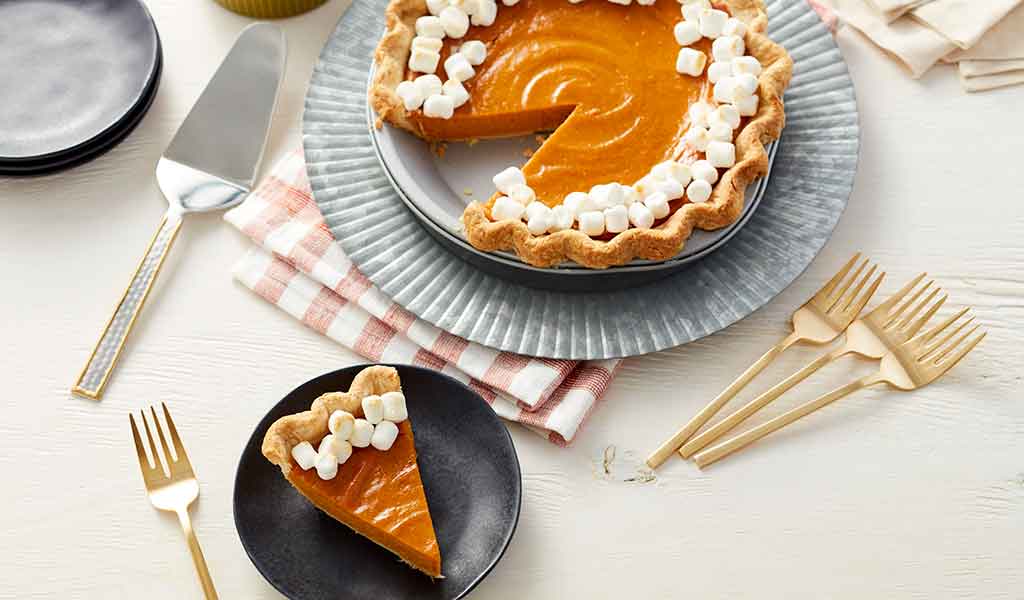 Are you more of a pecan pie or pumpkin pie person? Let us know in the comments below! And if you're baking for Thanksgiving, share a picture of your treats on social media and tag us  @wiltoncakes! We'd love to see what you made!