Learn how to make homemade ice cream cake using chocolate ice cream, cookie dough ice cream, brownie mix and whipped topping, perfect for birthdays and other summer celebrations!
Hi friends, Jenny here from JennyCookies.com! One of my favorite summer desserts to make is a DIY ice cream cake. My whole family loves to help make it, especially when they get to choose the ice cream flavors.
You won't believe how simple this is to make. So easy in fact that even small children can help! Plus, ice cream cakes are great for any summer birthday party you might have coming up!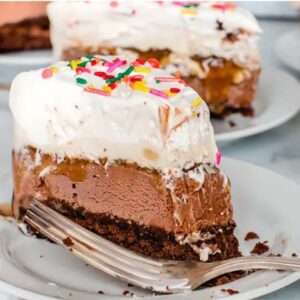 Brownie Ice Cream Cake
A delicious and decadent homemade ice cream cake made from brownies, 2-kinds of ice cream and LOTS of toppings.
Ingredients
Brownie mix (Use a Wilton brownie recipe, your favorite homemade recipe or a boxed mix)

Hot Fudge Sauce

1

pint

Chocolate Ice Cream

(softened)

Caramel Sauce

1

pint

Cookie Dough Ice Cream

(softened)

Whipped Cream

(thawed in refrigerator overnight)
Instructions
Bake whatever brownie recipe you choose in the springform pan. Allow the brownie mix to cool completely.

Spread hot fudge sauce topping on the top of the baked brownie mix, covering it completely.

Add a pint of softened chocolate ice cream to the top of the fudge layer. Spread it out evenly. Place it in the freezer for one hour.

Once the chocolate ice cream has completely re-frozen, add a layer of caramel sauce. Then, return it to the freezer and let it sit in there for about 30 minutes.

Next, take it out and add softened chocolate chip cookie dough ice cream on top. Spread it out to form an even and uniform layer.

Add whipped cream topping. Spread until the ice cream layer is completely covered.

Top the whipped cream layer with sprinkles. The more the merrier! When covered, return it to the freezer and allow everything to chill for 12 to 24 hours.

Once the homemade ice cream cake has fully set, and you're ready to serve it, be sure to bring the cake out of the freezer and allow it to sit at room temperature for about 5 minutes before cutting it up for folks to enjoy. This is KEY to making this delicious and decadent frozen dessert a whole lot easier to slice!
Notes
To store, r

eturn the ice cream cake to the freezer ASAP. It should stay fresh for about 7 days if stored correctly.
Tried this recipe?
Take a picture and tag us @WiltonCakes on Instagram
How to Store Ice Cream Cake
Wrap your ice cream cake in plastic wrap (or in an airtight container, if possible) and store in the freezer. If your ice cream cake is frozen and sealed tight, it should keep in the freezer for a couple months.
Now that you know how easy it is, imagine the possibilities and combinations! Mix and match your favorite flavors of ice cream with all sorts of tasty toppings to make your dream homemade ice cream cake recipe in the comfort of your own home! Or ask someone about to celebrate a birthday to send over their favorites to make a birthday cake that they'll definitely remember!
What are your favorite ice cream flavor combos? Let us know in the comments below and be sure to tag us on Instagram @wiltoncakes so we can see and share your delicious ice cream cake creations!