We can almost hear Miranda Priestly. "Florals? For spring? Groundbreaking." Except we think these amazing, life-like buttercream flowers truly are something special.
Desserts teeming with artful and realistic blossoms have been all over Pinterest, Instagram, and our favorite blogs. Although they look intricate, they're actually fairly easy to create. Here are our best tips for making beautiful buttercream flowers on your own.
Use a reference to help you create your blooms
Channel your inner artist and have a reference in front of you while creating your buttercream blossoms. Check your local grocery store or flower shop for inspiration, or search for images online.
The buttercream you use is key
Buttercream flowers were meant to look pretty, but they should taste good, too! Use a trusted buttercream frosting recipe and quality ingredients. You can find our buttercream frosting recipe here.
Avoid the hassle and have tip couplers handy
Use tip couplers to easily interchange piping tips, and avoid the hassle of preparing a new bag of frosting. You'll want plenty!
Use two shades of green for your foliage
On cakes or large desserts with lots of flowers, use two different shades of green for more realistic foliage. We suggest keeping a lighter shade and darker shade handy for contrast. Cool tones make for the most realistic vines, stems and leaves.
Make your flowers different sizes
Another tip for making cakes filled with florals is to make your flowers in varying sizes to mimic nature and make your creation more visually dynamic.
Use our favorite accident prevention hack — parchment paper and plenty of freezer room
To reduce the risk of creating splatter, place a small square of parchment paper on the flower nailhead, and then make your blossom on it. Once complete, place your buttercream flowers in the freezer. When they're frozen, you can easily transfer them from parchment to dessert without any mishaps.
Don't forget to have fun!
Making beautiful buttercream florals is a labor of love, but remember that it's fun, too. Not all flowers in nature are perfect or symmetrical. So like Bob Ross always says, embrace your mistakes as happy little accidents! And, don't forget to show us your creations on social media, at @wiltoncakes!
Ready to make your own floral creations? Check out our tutorials below: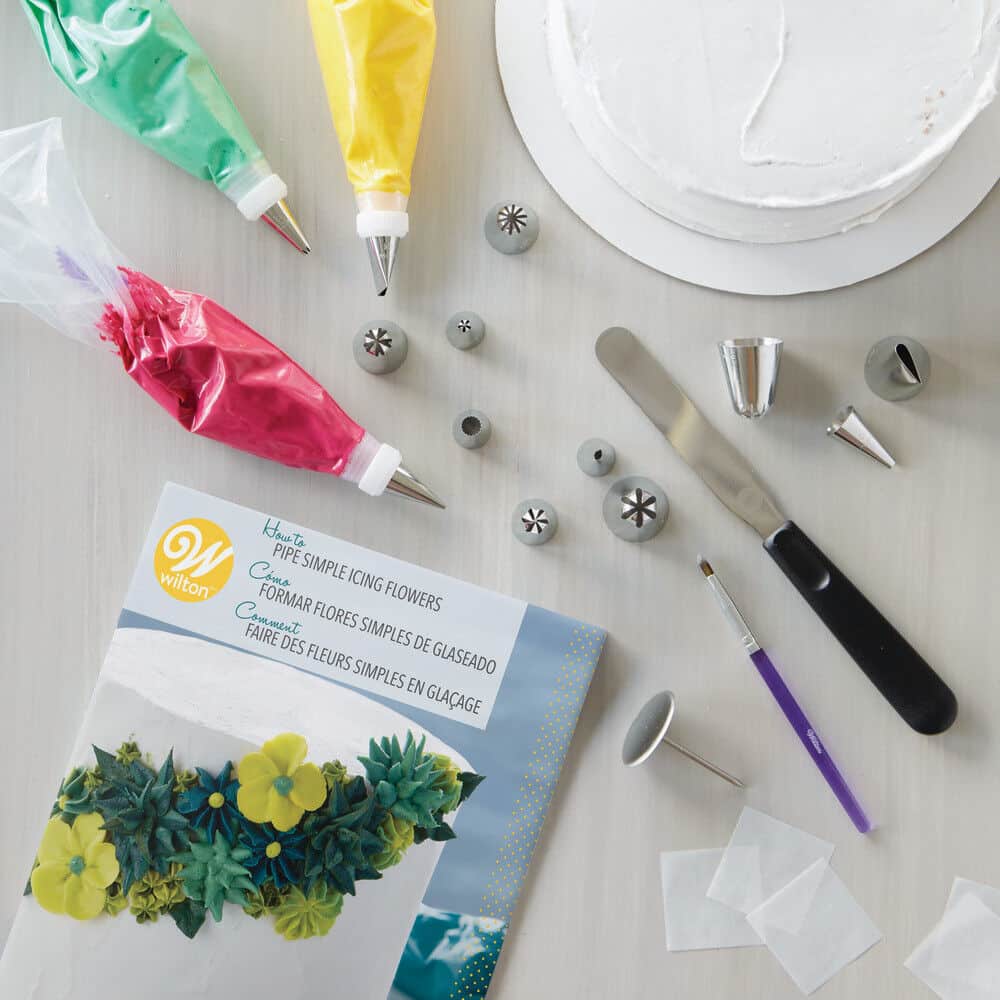 If you're looking for more ways to hone the craft of icing flowers, check out Wilton's How to Pipe Simple Icing Kit. This colorful instruction book makes decorating your desserts a breeze with easy to-follow-instructions that are perfect for beginners!