Learn how to make homemade buttercream frosting with this classic, quick and easy recipe! This recipe makes 2 cups of frosting, enough to frost 24 cupcakes. You will need a double recipe to ice an 8 in. 2-layer cake.
Once you make this light and fluffy vanilla-flavored buttercream frosting recipe, there will be no going back to store-bought frosting. This is our top-requested recipe and is perfect for frosting cakes, cupcakes, cookies or any other treat begging to be frosted. 
Its creamy consistency is also ideal for piping your favorite decorations. From gathering your ingredients to adding colors and flavors, we've gathered our must-know tips and tricks for making, coloring, flavoring and storing your buttercream.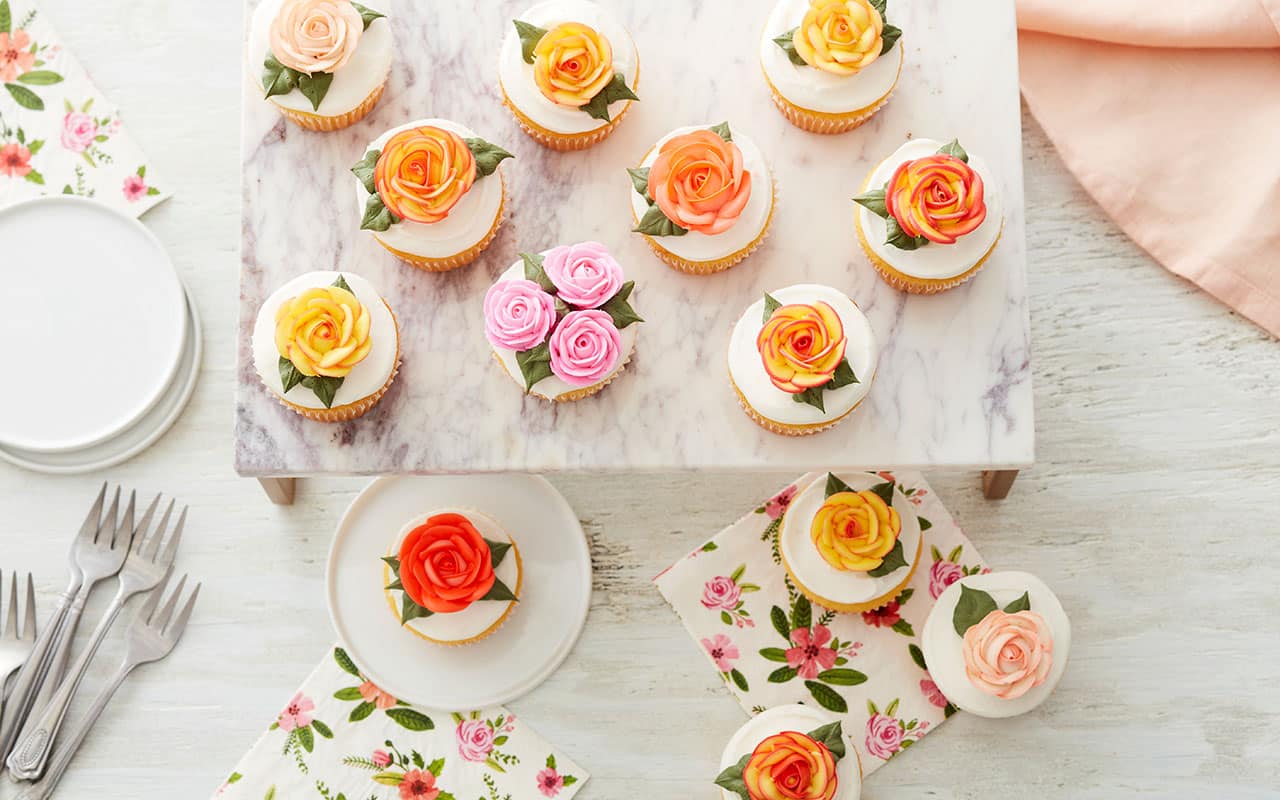 Types of Buttercream Frosting
Looking to try a new variation on an old favorite? There are so many types of buttercream frosting out there, each with its own set of unique flavors and uses.
Dark Chocolate Buttercream
We've intensified the chocolate flavor using dark cocoa powder or some melted unsweetened chocolate squares to make this decadent dark chocolate frosting really pop! This recipe is an amazing way to finish your layered cake or peanut butter cupcakes.
American Buttercream
Arguably the most popular of the buttercream recipes, American buttercream is made with butter, shortening, sugar and vanilla. It's a familiar favorite and is quick and easy to make, well-loved for its flavor and versatility. It's softer and more spreadable than most frostings, but can easily be stiffened to pipe flowers, roses and borders.
Swiss Meringue Buttercream
Swiss meringue buttercream is made by heating egg whites and sugar, then whipping that mixture into a meringue. Butter and flavors are added afterwards, resulting in a soft and fluffy frosting. It'sThis buttercream is great for filling layers or frosting cakes.
French Buttercream
Rich and creamy, French buttercream has a taste and consistency like custard or pastry cream. Made using pasteurized egg yolks and sugar, this buttercream is great for pastry or cake fillings.
Italian Meringue Buttercream
Similar to Swiss buttercream, Italian meringue buttercream uses the same ingredients, but in different proportions. This frosting is a bit sturdier than the Swiss version and is great for both piping and frosting cakes.
German Buttercream
This buttercream combines custard and butter for a velvety silky texture great for filling and frosting cakes. German buttercream is less sweet than traditional frostings, making it a nice alternative to those who enjoy a less sugary frosting.
How to Make Buttercream Frosting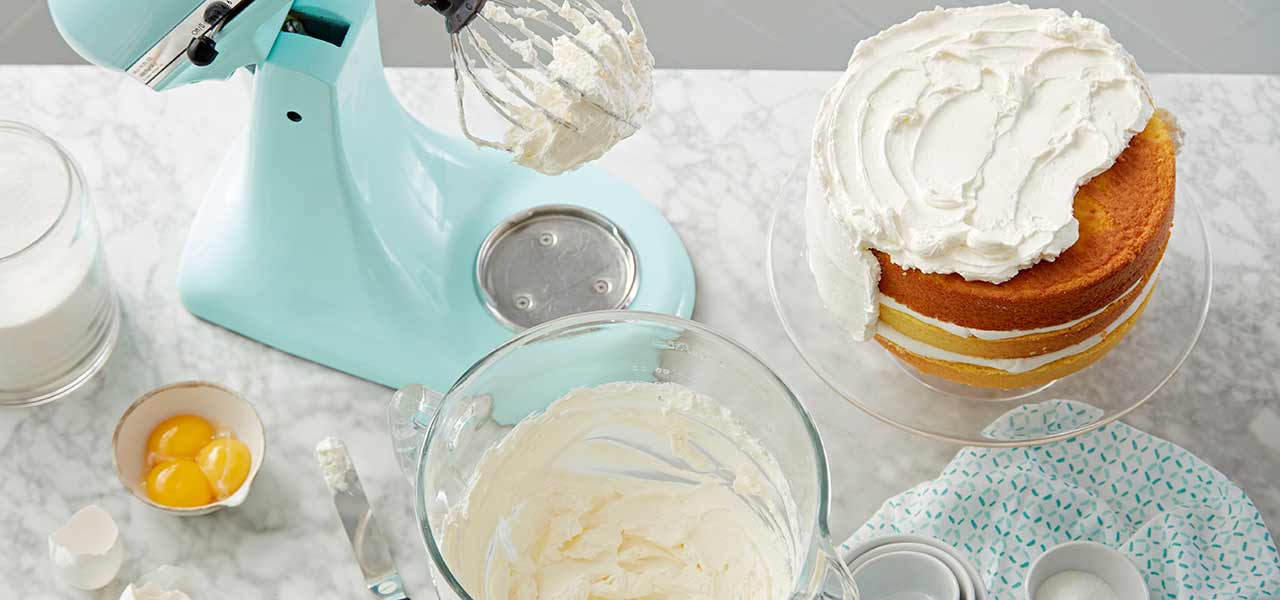 Helpful Hints for Making Buttercream Frosting
For great frosting every time, make sure you start with room temperature butter. If the butter is too cold, it won't mix properly with the sugar, resulting in a lumpy frosting that may look curdled or separated.

If you're using a hand mixer, make one batch at a time to keep your mixer from overheating

If your hand mixer is working too hard, you can add the liquid ingredients before the sugar

To avoid air bubbles from forming, use the flat paddle attachment (on your stand mixer) or beaters (on your hand mixer)

Do not use the whisk attachment on your stand mixer, as it will incorporate too much air into your mixture and your frosting will not look smooth

Leftover buttercream can be stored in an airtight container in the refrigerator for up to two weeks. Buttercream can also be frozen for up to six months. Before reusing, bring buttercream back to room temperature and rewhip using a paddle attachment until it's back to the correct consistency.

*Depending on the humidity and climate, it may be necessary to adjust the liquid and the sugar in your frosting. If frosting looks dry, add small amounts of liquid (¼ to ½ teaspoon at a time). If frosting is too wet, add 1 tablespoon at a time. The key for both adjustments is adding small amounts until you achieve the right consistency.
If you'd like to see this recipe in action, watch the video below!
Buttercream Consistencies
This buttercream recipe is for medium consistency, which is excellent for piping decorations like rosettes and dots. However, it will need to be thinned for frosting birthday cakes and borders.
Stiff Consistency:

Gradually add additional powdered sugar for a stiffer consistency that still flows easily through piping tips. Best for dimensional decorations that need to retain their shape when piped. This consistency is generally best for piping upright petals for flowers.

Medium Consistency:

Add 1 teaspoon of liquid (light corn syrup, milk or water) for each cup of stiff frosting. For pure white frosting, add up to 2 tablespoons of clear liquid. Medium consistency is best for borders such as stars, dots, rosettes and shells, and other decorations that remain relatively flat.

Thin Consistency:

Add 2 teaspoons of liquid (light corn syrup, milk or water) for each cup of buttercream frosting. For pure white frosting, add up to 4 tablespoons of liquid. Thin consistency is best for cake frosting, as well as piping lines and letters. If you are making a buttercream intended for

writing

, use light corn syrup as your liquid. Writing will flow easily and won't break.
Buttercream Modifications
When using a hand mixer:

Start adding your milk or water a little earlier in the process to avoid exhausting your hand mixer. This should be done if you notice that your hand mixer starts to slow down while mixing the powdered sugar.

To cut sweetness:

If your buttercream is too sweet, add a pinch of salt to taste. Popcorn salt is a great option to use in buttercream because it's more granular than other salts. Make sure it dissolves completely once mixed in.

You can also add a pinch of salt to your liquid ingredients to ensure the salt gets distributed evenly. Just make sure it completely dissolves before incorporating it.

You can also opt for 1/2 cup salted butter rather than 1/2 cup unsalted butter to avoid overly sweet buttercream.

To color:

Use

Icing Colors

or

Color Right

food coloring to tint frosting any color without disturbing the frosting's consistency.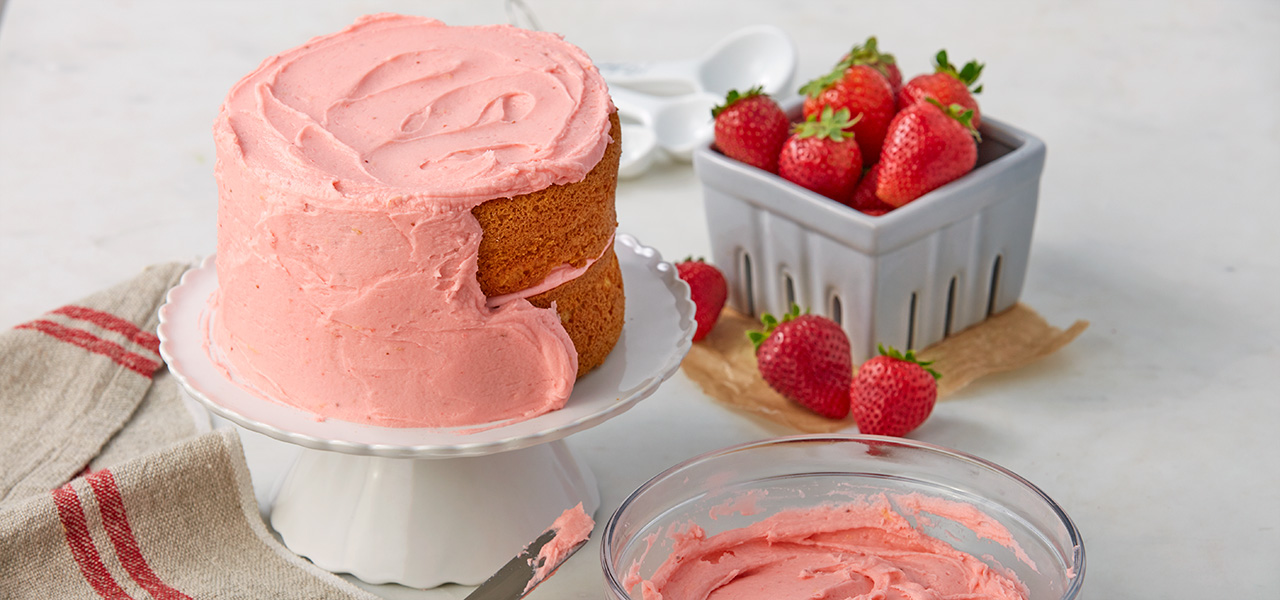 Buttercream frosting can be made a day or two in advance. Keep it stored in an air-tight container in the refrigerator and let it come to room temperature before using it. Once it's at room temperature (should take about an hour), re-whip it to bring it back to a fluffy consistency. 
If you're making buttercream months in advance (or have leftover frosting), you can freeze it. Place buttercream in an air-tight container or freezer bag and freeze for up to 3 months. When you're ready to use it, let it thaw in the refrigerator overnight, then bring it to room temperature before re-whipping again. 
If your buttercream starts to separate or curdle when re-whipping, it's likely too cold. Let it sit for a while and warm up a little longer, then try again.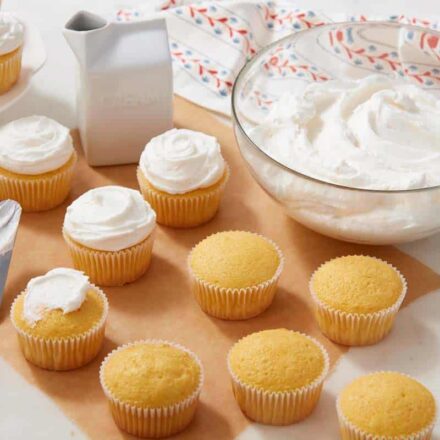 Best Homemade Vanilla Buttercream Frosting
Vanilla buttercream frosting is the traditional choice for bakers and decorators alike. Quick and easy to make, this delicious recipe is perfect for frosting cupcakes, cakes, layer cakes and cookies.
Equipment
Silicone Spatula

Electric Mixer (for best results) or Hand Mixer
Ingredients
½

Cup

Solid Vegetable Shortening

(can be substituted for an additional 1/2 cup unsalted butter)

½

Cup

Unsalted Butter

(1 stick softened)

4

Cups

Sifted Powdered Sugar

(confectioners' sugar)

2

Tablespoons

Milk, Heavy Cream or Water

1

Teaspoon

Vanilla Extract

(Pure or Imitation)

Pinch of Salt

(Optional)
Instructions
Using an electric mixer fitted with beaters or a stand mixer fitted with the paddle attachment, cream the butter and shortening on a medium speed until light and fluffy. Beat in the vanilla extract and scrape down the bowl occasionally.

Gradually add the powdered sugar, one cup at a time. Start by mixing each cup on a low speed then transition to beating well on medium speed. Scrape down the sides and bottom of the bowl after each cup of sugar is added. When all the sugar has been mixed in, the frosting will appear dry and stiff.

Gradually add small amounts of cream or milk or water at a time until the desired consistency is reached. Continue to beat at a medium speed until light and fluffy. Scrape down the bowl once more and beat again to make sure all the ingredients are incorporated.

(Optional) Add a pinch of salt if too sweet and mix until completely dissolved.
Video
Notes
How to Store: Frosting should be stored in an airtight container and can be frozen for up to 6 weeks.
Substitutes:
Shortening substitute: 1/2 cup butter can be substituted for the 1/2 cup of shortening, although the buttercream will appear more yellow. Keep in mind that frosting with all butter will be softer and more prone to melting if you're piping with warm hands or in a warm room. Including shortening in your recipe is optimal for giving your buttercream structure and stability, while still maintaining its fluffy consistency.
Liquid substitute: Water can be used as the liquid ingredient, although the fat from milk and heavy cream make for creamier, more flavorful buttercream.
Butter substitute (for pure white buttercream): Substitute out the 1/2 cup of butter for additional white vegetable shortening and opt for clear vanilla flavor extract. To add the butter flavor to the shortening frosting, add 1/2 teaspoon of clear butter flavor.
Troubleshooting:
Air bubbles: To avoid creating air bubbles, make sure to use the paddle attachment instead of the whisk attachment on your electric stand mixer.
Too stiff or too thin: If your frosting is too thin, add small amounts of powdered sugar until you reach the desired consistency. If too thick, add small amounts of liquid until the desired consistency is reached.
Grainy consistency: Make sure your ingredients are all room temperature to avoid a grainy or gritty consistency.
To preserve while in use: Depending on the weather and humidity, your buttercream may start to crust over. To avoid this, cover your frosting bowl with plastic wrap.
Tried this recipe?
Take a picture and tag us @WiltonCakes on Instagram
Want to learn more about Buttercream?  Check out these other blog posts: