Soft and sweet, marshmallow buttercream frosting is the perfect topping for almost any cake recipe. Made using marshmallow creme, this delicious buttercream can be used between cake layers or to ice cupcakes.
If you've got a sweet tooth for buttercream frosting, this is the recipe for you! Fluffy and light, this buttercream is made using marshmallow creme for that deliciously sweet flavor. Use it as a filling between cake layers, or pipe it on your favorite chocolate cupcake recipe.
Like American buttercream, this frosting can be colored and piped. However, we don't suggest using it for detailed, 3-D decorations, as it's too soft to hold the shape.
What is marshmallow crème?
Marshmallow crème is a fluffy confectionery spread similar in flavor to solid marshmallows. The texture is soft, making it easy to spread on cakes, cookies, crackers and bread.
It also pairs well with a ton of other flavors, including chocolate, peanut butter and pumpkin!
What if I don't have marshmallow crème in my country?
If you can't find marshmallow crème for this buttercream, you can try our Homemade Marshmallow Icing recipe instead, made using meringue powder. 
You can also make your own marshmallow crème by melting marshmallows and corn syrup.
How to use marshmallow buttercream frosting
Soft and fluffy, this buttercream is great for filling layered cakes and frosting cupcakes. You can also use it to pipe simple decorations, such as stars, shells, swirls and rosettes.
Try it with your favorite chocolate cake recipe, or use it to top a batch of pumpkin cupcakes.
Ingredients:
½ cup (1 stick) butter, softened
½ cup solid vegetable shortening
1 teaspoon vanilla extract
4 cups confectioners' sugar
1½ cups marshmallow crème
Step 1:  Combine butter and shortening.
In a large mixing bowl, use an electric mixer to combine the butter and shortening until light and fluffy, about 1 minute.
Step 2: Add the vanilla extract and mix until combined.
Step 3: Gradually add the confectioners' sugar, one cup at a time.
Be sure to start the mixer on low, then slowly work up to medium speed. Use a spatula to scrape the sides of the bowl as needed.
After all the sugar has been added, your frosting may appear dry. It's okay, that's exactly how it should look!
Step 4: Now, add the marshmallow crème and beat on medium speed until light and fluffy.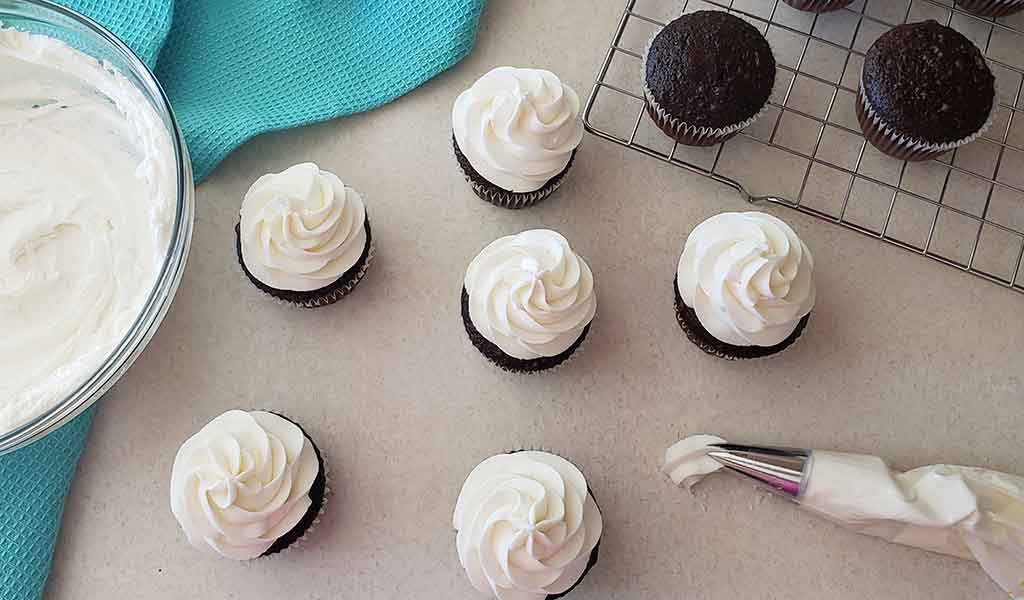 Can I use marshmallow buttercream for piping?
If you're making very basic decorations, like rosettes, swirls, stars and shells, you can certainly use this buttercream. However, we don't recommend it for more detailed piping, like flowers.
If you are piping flowers that have upright petals, we suggest using our standard Vanilla Buttercream recipe or royal icing.
What can I use instead of shortening?
Butter can be used instead of shortening; however, it will change the flavor of your frosting. Using all butter may also cause your frosting to droop or melt at room temperature.
Shortening helps give this frosting stability and evens out the flavors of the butter and marshmallow crème. In a pinch, butter will work…but we suggest adding the shortening for great flavor and texture.
What is the sweetness like?
Since this frosting has sugar and marshmallow, it is on the sweeter side. If you need to cut the sweetness, add a pinch of salt (make sure it dissolves completely once mixed in).
You can also opt for ½ cup salted butter rather than ½ cup unsalted butter to avoid an overly sweet marshmallow buttercream.
Will this buttercream work in humid environments?
Since this buttercream is already pretty soft, it may not hold up in environments with high humidity. If you live in a humid region, we suggest using our High Humidity Icing, which will help your decorations hold their shape.
Recipes for using marshmallow buttercream
These cake recipes lend themselves well to this sweet and delicious buttercream frosting!
This Classic Chocolate Cake recipe is perfect with a marshmallow buttercream. Add a few graham crackers as garnish for a cute s'mores cake!
Make your next birthday celebration extra sweet with these colorful Birthday Cupcakes. Don't forget the sprinkles!
If you're craving fall flavors, you can't go wrong with these Candied Yam Cupcakes. Made using brown sugar, cinnamon, nutmeg and maple extract, these cupcakes smell just as good as they taste.
Have some extra bananas on hand? Take a break from the banana bread and try these Banana Cupcakes. Top them with a swirl of marshmallow buttercream for that perfect dash of sweetness. 
While cream cheese frosting is great on these Pumpkin Cupcakes, you can also use marshmallow buttercream for a fun twist on an old favorite.
Lighten up this Carrot Cake recipe with marshmallow buttercream. A tasty treat for fall birthdays and celebrations, guests are sure to love this delicious dessert.
Marshmallow crème and peanut butter are the ultimate combination. Enjoy this classic pairing by topping these Peanut Butter Cupcakes with a sweet swirl of marshmallow buttercream!
How to store marshmallow buttercream
Leftover marshmallow frosting can be stored in the refrigerator, in an airtight container, for up to 2 weeks. You can also freeze it for up to 6 weeks.
To defrost the buttercream, bring it back to room temperature and rewhip it before using.
Cakes and cupcakes decorated using marshmallow buttercream can be stored on the counter for 2 to 3 days.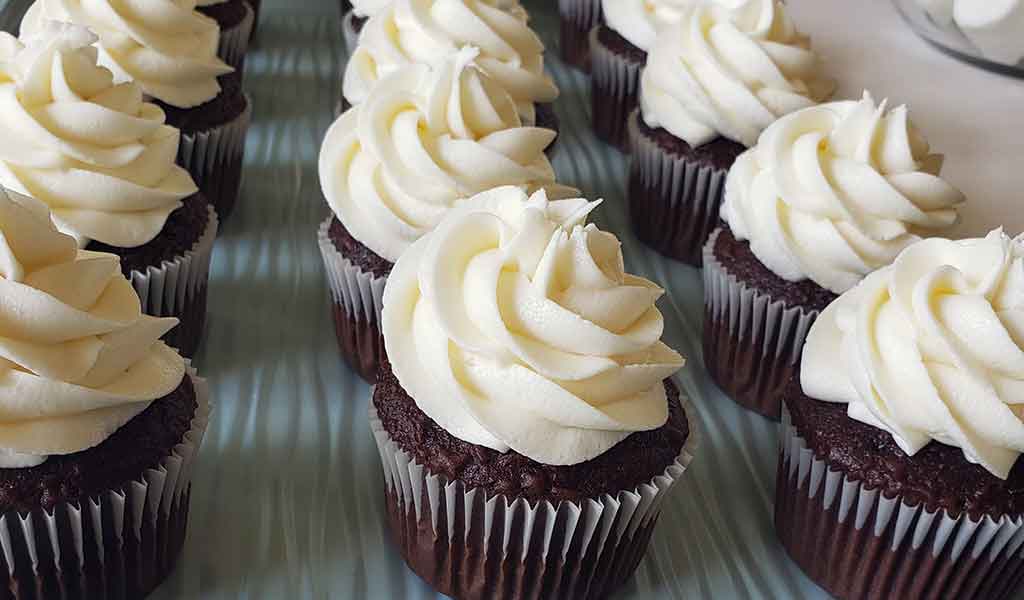 What is your favorite way to use marshmallow buttercream? Let us know in the comments below!