Making an apple crisp from scratch is easier than you think! Packed with cinnamon, brown sugar and old-fashioned oats, this easy apple crisp recipe is perfect for holidays, weeknights and everything in between.
Autumn is just around the corner, which means it's prime apple season! Whether you're pumped for apple pie or apple cider, there's no denying that apples make great additions to your fall baking recipes.
And if you're in need of a quick and easy fall dessert to serve for an upcoming party or celebration, look no further than this easy apple crisp recipe. Topped with oats, brown sugar and cinnamon, this apple crisp not only tastes amazing, but will make your kitchen smell so good! And for the love of fall, don't forget the ice cream!
What are the Best Apples to Use when Making Apple Crisp?
For best results, we suggest going with a crisp, tart variety that will stand up well to baking. Granny Smiths, which we use here, are great – but you can also use Honeycrisps, Jonagold or Golden Delicious apples.
Apples that are more tender, such as Gala, Braeburn, Fuji, McIntosh and Red Delicious, are better for snacking and eating fresh. These softer apples don't stand up to heat and will turn to mush – which no one wants in a crisp!
How do you Make Apple Crisp Not Soggy?
The best way to prevent a soggy crisp is to keep it loosely covered. Tightly covering your crisp with any type of covering will prevent warm air from escaping, causing your oats to absorb the warm air and turn soggy.
If you need to travel with your apple crisp, lightly cover it with aluminum foil so air can still escape, or leave it uncovered if you're not traveling far. You can also prepare it, then bake it on site for better results.
But, due to the nature of the dessert and the fact that the apples will continue to release moisture the longer the dessert sits, it's best to bake and enjoy this crisp the day it's made.
What is the Difference Between a Crumble and a Crisp?
Though they both contain baked fruit, the difference between these two similar desserts is all in the topping. A crumble usually has a streusel crumb topping, giving it a dense, cakey texture.
A crisp topping usually includes oats, which crisp in the oven and make a delicious crust on your fruit.
Now that we've covered the basics, it's time to get started!
Ingredients:
5 medium Granny Smith apples, peeled, cored and sliced into ¼ to ½ in. pieces (about 7 to 8 cups)
2 tablespoons granulated sugar
1 tablespoon all-purpose flour
½ teaspoon ground cinnamon
Apple Crisp Topping:
¾ cup old-fashioned rolled oats
¾ cup all-purpose flour
¾ cup firmly packed light brown sugar
½ teaspoon ground cinnamon
1/8 teaspoon salt
½ cup cold butter, cut into ½ in. pieces
Supplies:
inch pie pan
Large Bowl
Medium Bowl
Measuring Spoon
Step 1: Preheat your oven to 350 degrees F. Prepare a 9 in. square pan with non-stick vegetable pan spray.
Step 2: In a large bowl, toss the sliced apples with the granulated sugar, flour and cinnamon until coated.
Step 3: Next, pour the apple mixture into your prepared pan.
Step 4: For the topping, combine the oats, flour, light brown sugar, cinnamon and salt in a medium bowl.
Step 5: Using a pastry cutter, cut the butter into the mixture until it forms pea-sized pieces.
Step 6: Then, sprinkle the topping over the apples.
How to Cut Butter
Cutting your butter simply means incorporating the flour and butter together until small, pea-sized lumps of butter remain. This is often done with a pastry cutter and works best when your butter is nice and cold.
All you need to do is make sure your butter is cut into small pieces (this makes cutting it into the flour much easier), then use the pastry cutter to push the butter into the flour until mixed.
What Can I Use if I Don't Have a Pastry Cutter?
If you don't have a pastry cutter, you can use two forks to do the same thing. You can also use your hands, but the warmth of your fingers may cause the butter to melt.
If you want to use your hands, wear food-safe gloves to prevent the butter from melting.
How do I Know When Apple Crisp is Done?
Bake your crisp until the filling is bubbly and the topping is golden brown, about 35 to 40 minutes. Let it cool in the pan on a cooling grid for about 15 minutes. Serve it warm with a scoop of vanilla ice cream!
How to Store Apple Crisp
Apple crisp is best eaten the day it's made; however, leftovers can be stored at room temperature for up to 3 days or in the refrigerator for up to one week.
If you want to reheat your crisp, place it in the oven at 350 degrees F for about 12 to 15 minutes.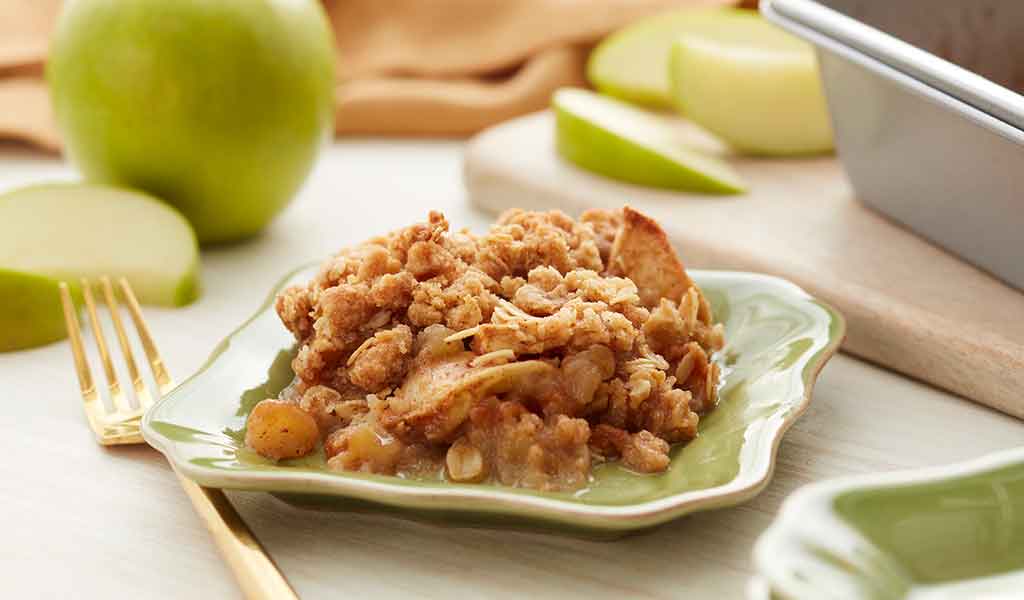 And there you have it! A delicious fall dessert you and your family will love. What are some of your favorite apple desserts? Let us know in the comments below!