Make spring a little sweeter with these delicious Easter cupcakes. From simple mini carrot cupcakes to beautiful blooming floral cones, these bright Easter cupcake ideas are nothing if not egg-straordinary!
1. Bunny-Topped Cupcakes
Hop to it and decorate your Easter cupcakes with cute candy bunnies. An easy decorating project for beginners, these bunny cupcakes add a fun pop of color to your celebration.
2. Mini Carrot Cakes
Enjoy a little bite of something sweet with these mini carrot cake cupcakes. Don't forget a swirl of homemade cream cheese frosting!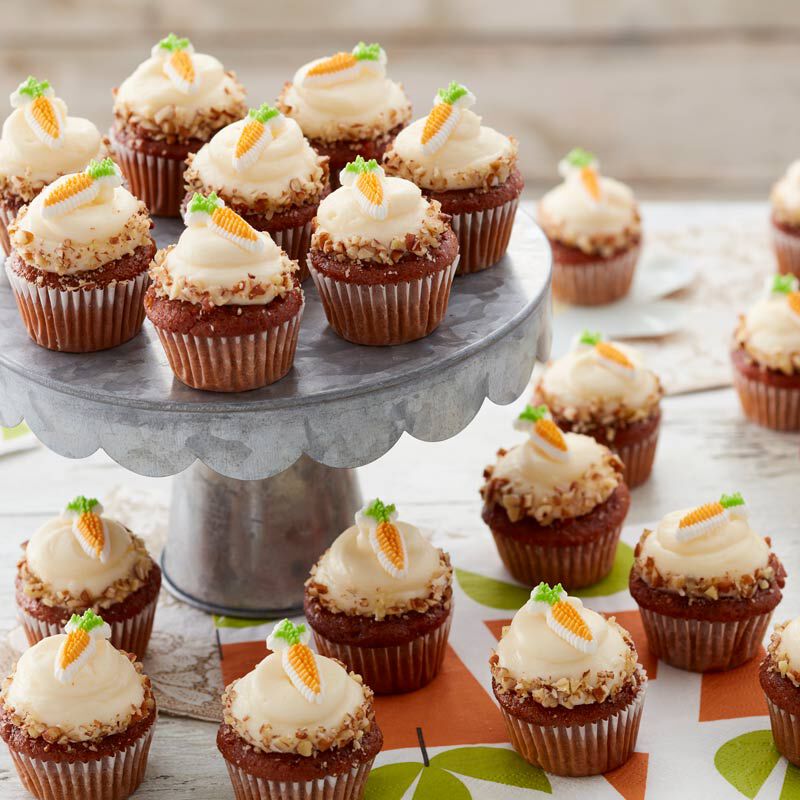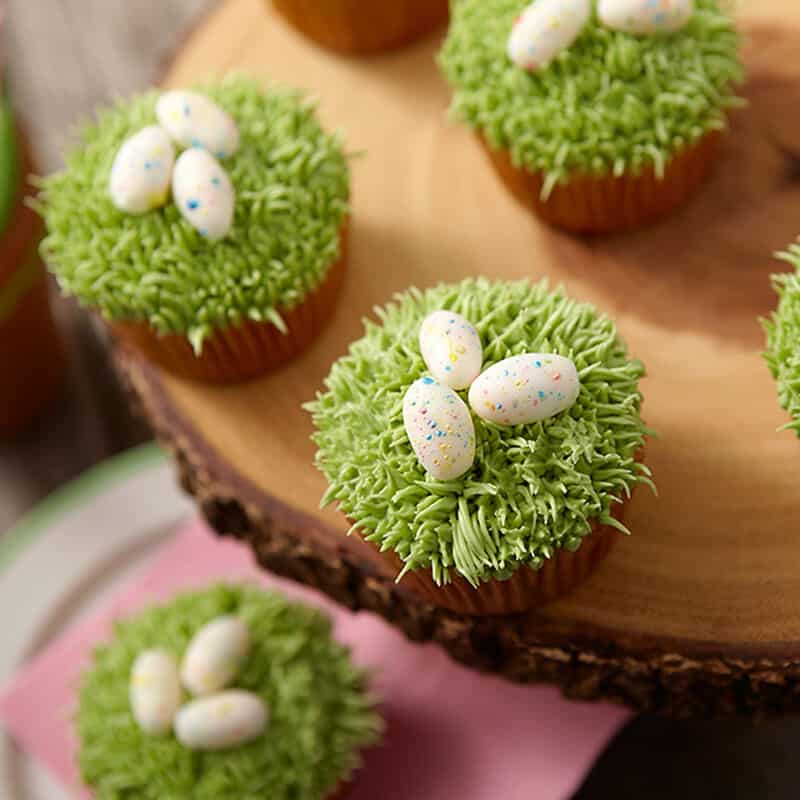 3. Speckled Egg Cupcakes
No need to go egg hunting this year if you bake a batch of these cupcakes that are ready for the Easter dessert table! These grass-covered cupcakes feature three little candy eggs, perfect for Easter or spring parties. Use specialty decorating tip 233 to decorate these cupcakes with ease.
4. Surprise Inside Sprinkle Cupcakes
Springtime is full of surprises…and so are these cupcakes! Filled with colorful jimmies, these cupcakes are also great for a gender reveal party or baby shower.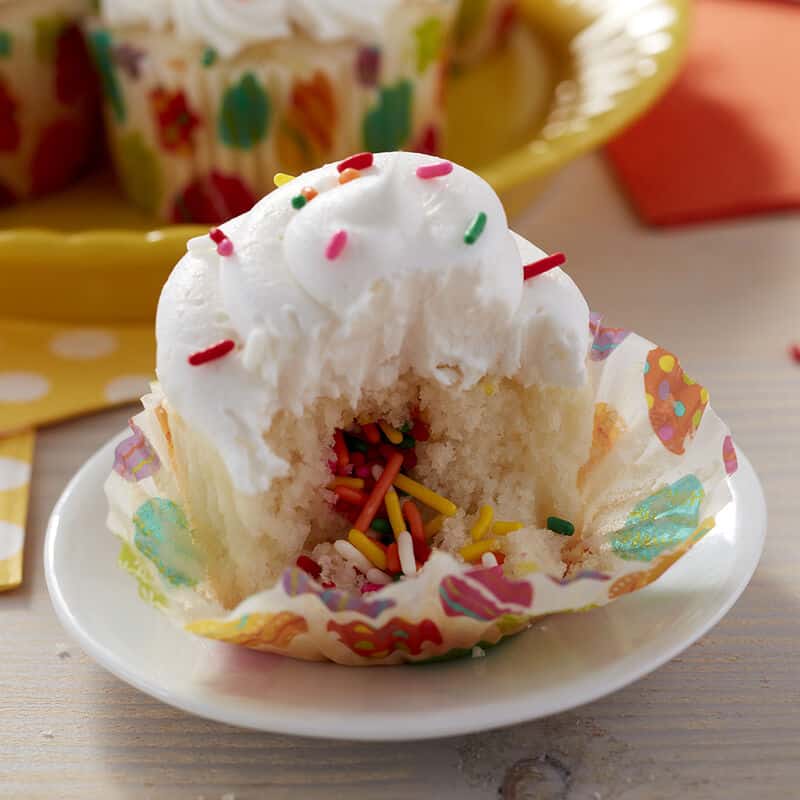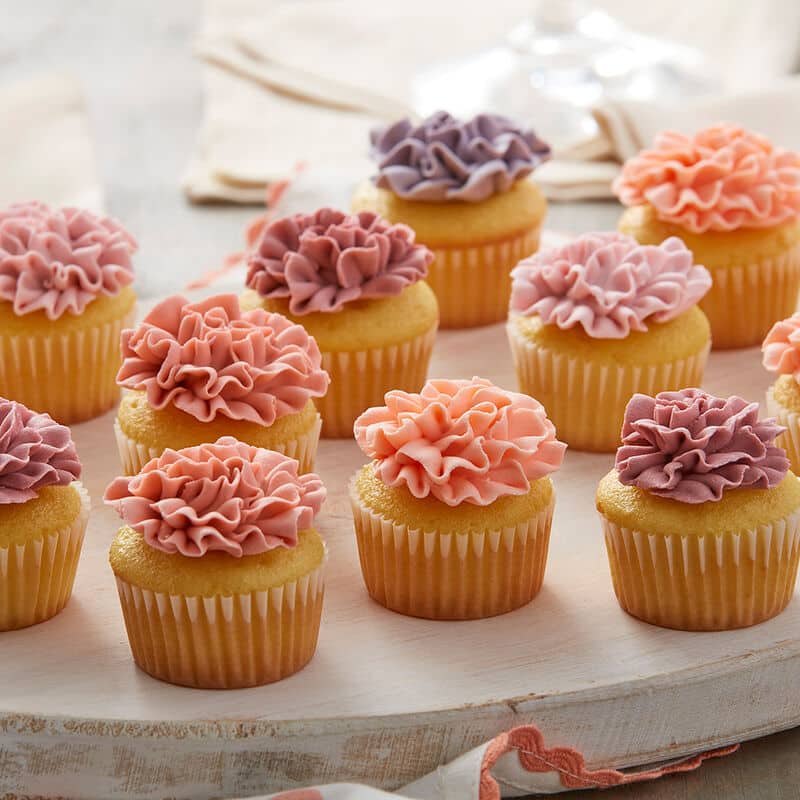 5. Carnation Mini Cupcakes
These little bite-sized treats are blooming with spring colors. Great for bridal showers or serving after Easter dinner, these mini frosted cupcakes are just small enough to enjoy two or three!
6. Swirl Drop Flower Cupcakes
These cute cupcakes are little blooming beauties! Made by striping a decorating bag with teal, purple, pink and coral icing, these floral cupcakes are sure to impress.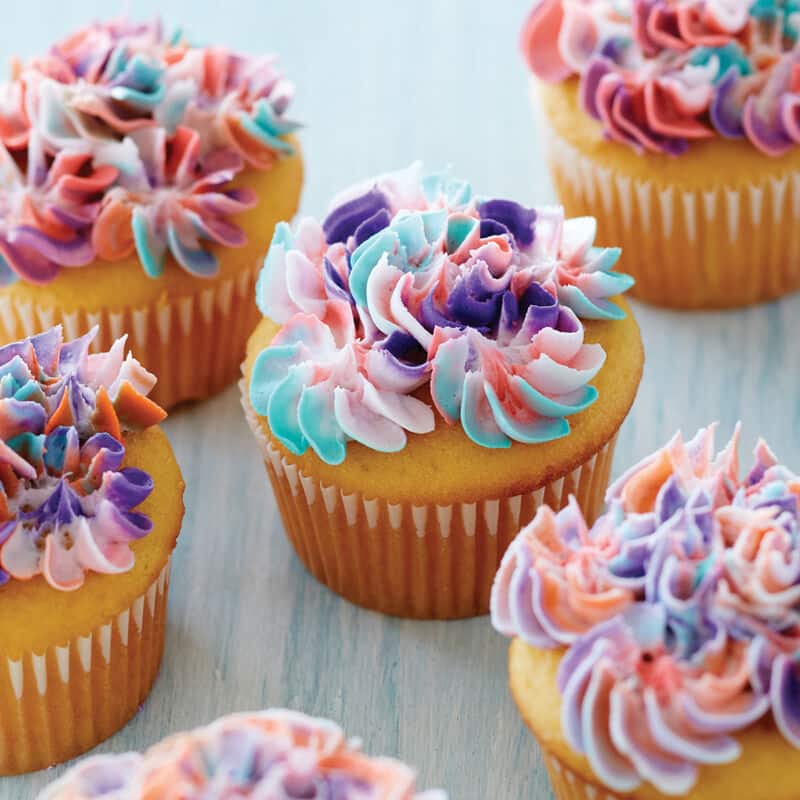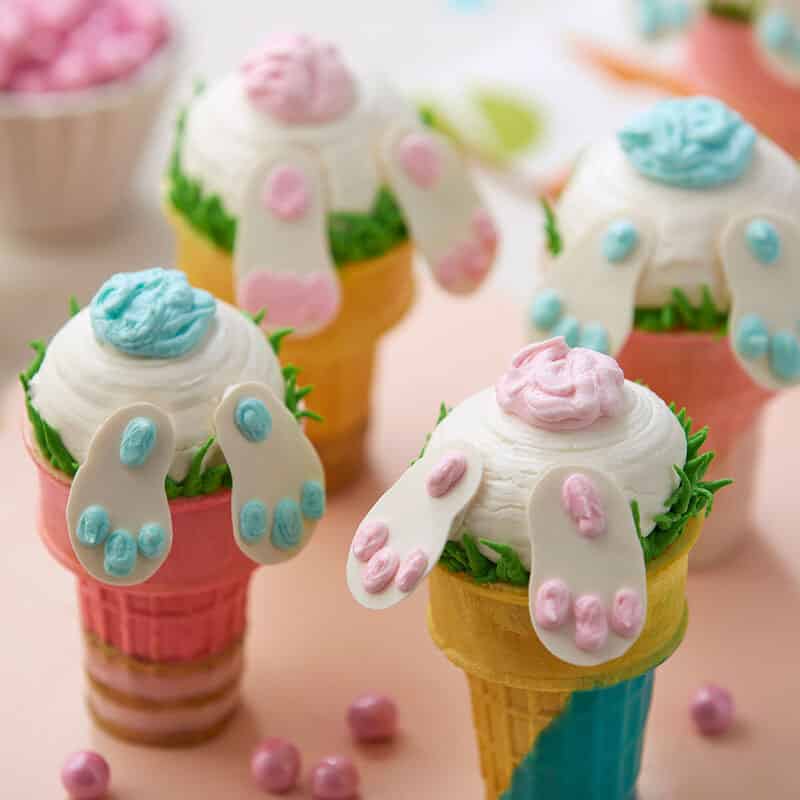 7. Bunny Butt Cone-Cakes
Featuring cute pink and teal bunny tails, these bunny butt cone cakes are a fun and trendy way to celebrate spring. Great for Easter or kids' parties, these colorful treats are sure to be enjoyed by kids and adults alike.
8. Carrot Pull-Apart Cupcake
No need to cut this cake. Made by arranging cupcakes into the shape of a carrot, this pull-apart cake is great for parties and dessert lovers on the go.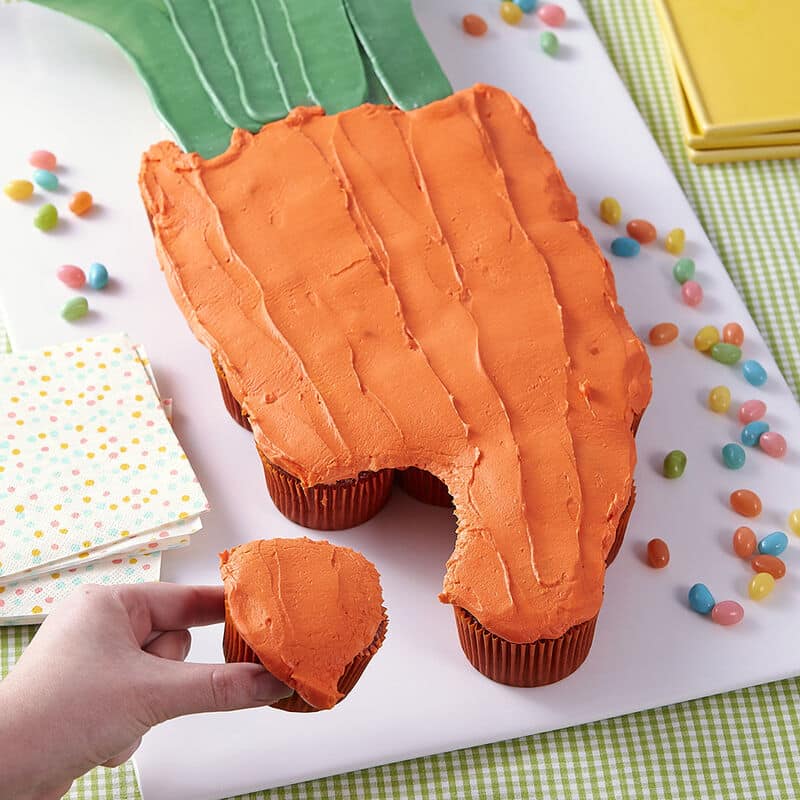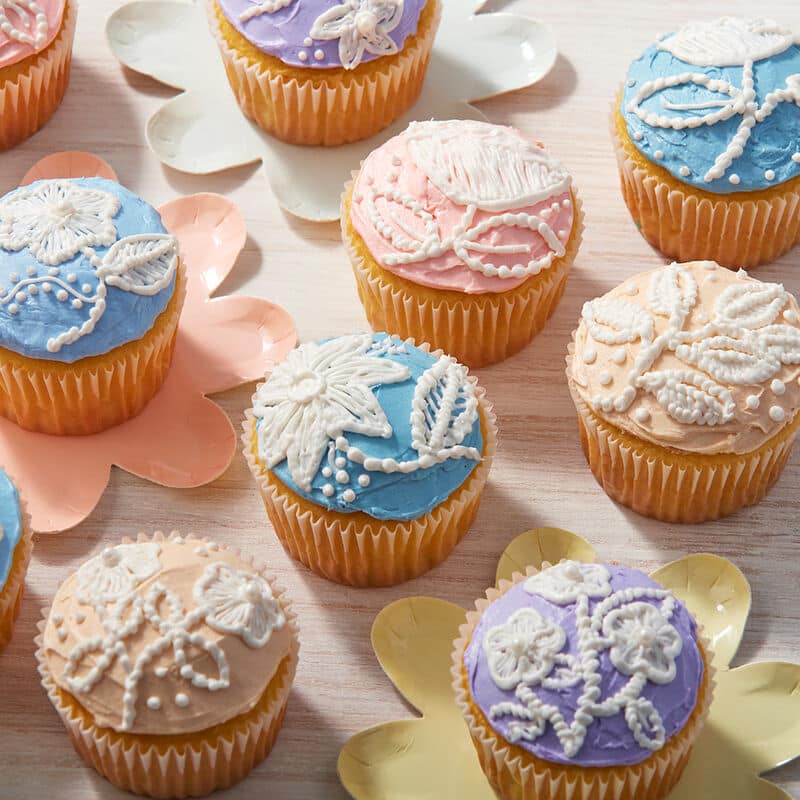 9. Blooming Embroidered Cupcakes
Get the look of lace with these fancy embroidered cupcakes. A simple technique that looks exquisite, these piped decorations are perfect for spring wedding showers.
10. Blooming Easter Cupcakes
These cupcakes are sure to please every-bunny! Decorated with colorful buttercream flowers and candy bunny ears, these blooming cupcakes make an elegant Easter treat.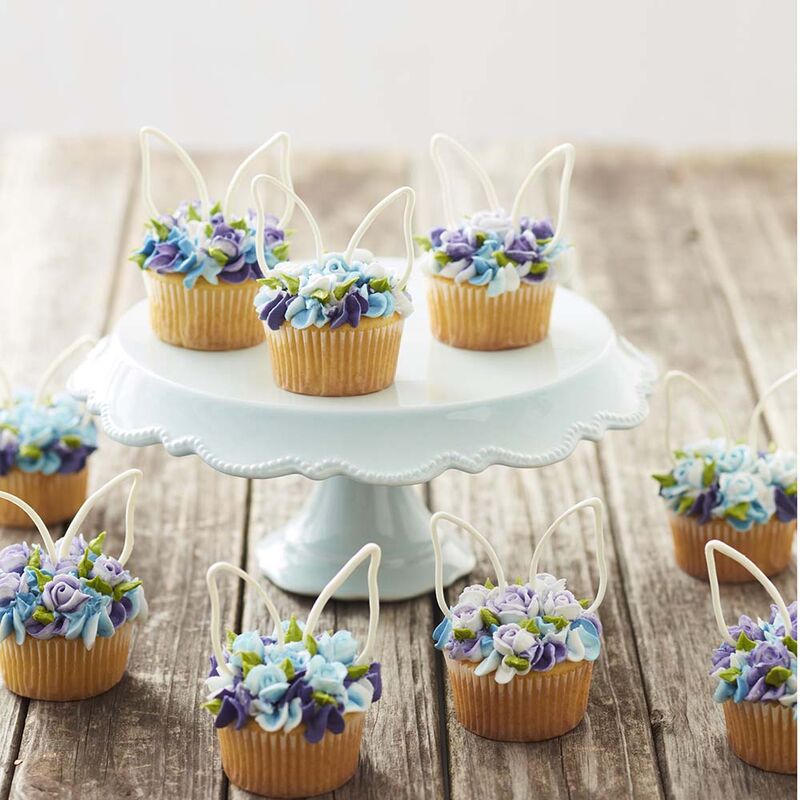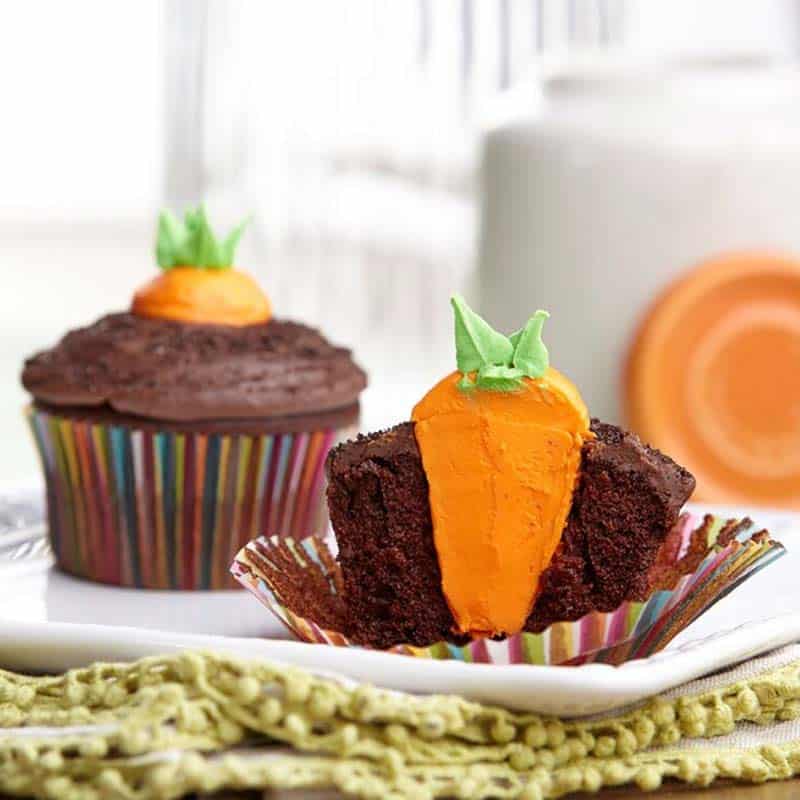 11. Carrot Garden Cupcakes
Create a fun surprise this Easter by piping carrots into delicious chocolate cupcakes. Use large tip 2A to help give the carrots their shape. These make for a great addition to any Easter basket too!
12. Easy Blooms Mini Cupcakes
Piping buttercream flowers is easy and fun with Easy Blooms tips. With just one squeeze of the bag, you can make lovely roses and mums on your mini vanilla cupcakes.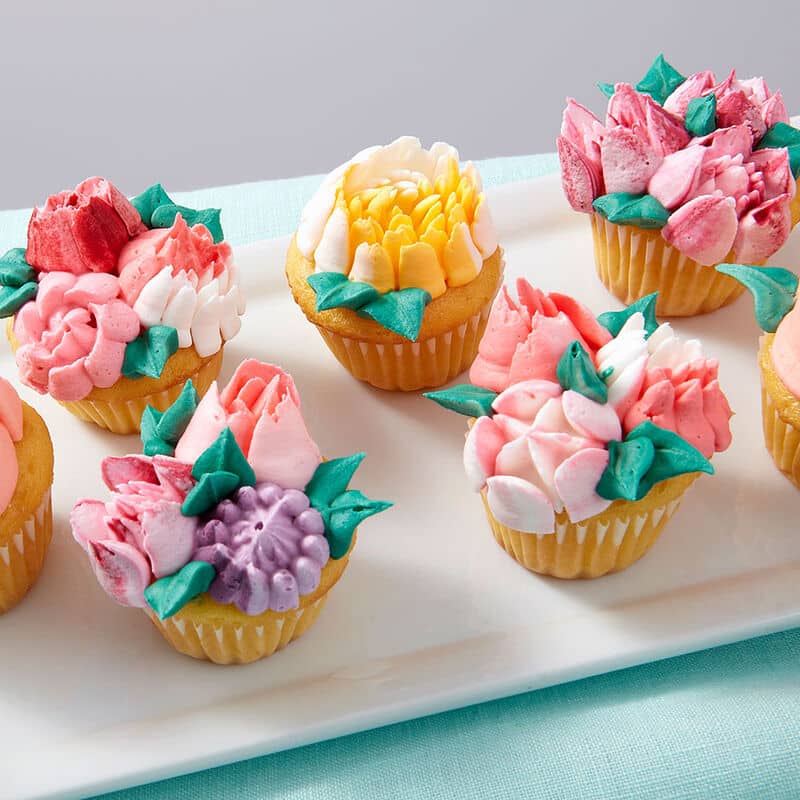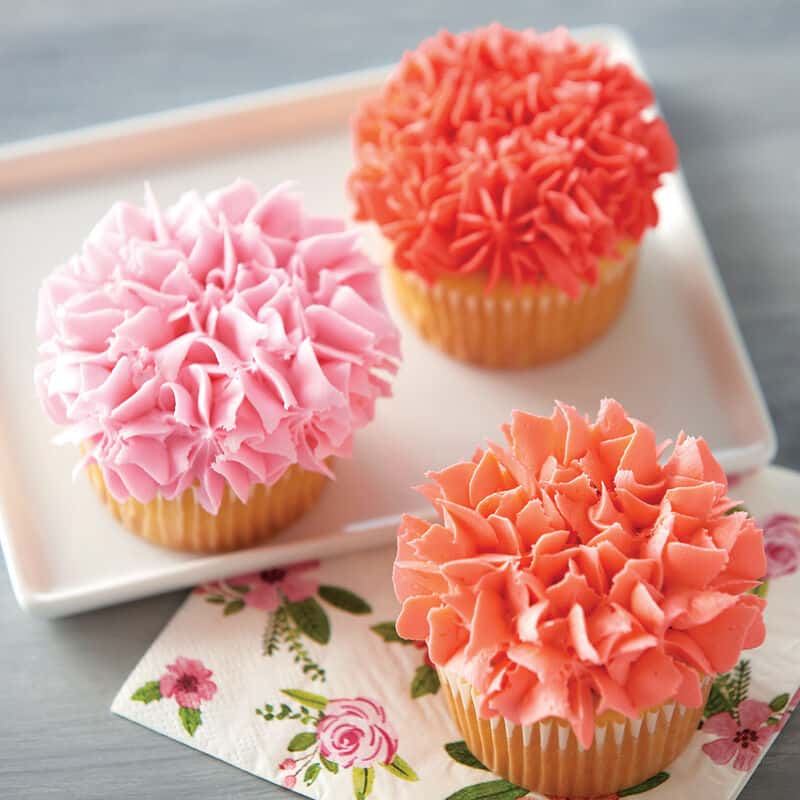 13. Crazy for Coral Cupcakes
Decorated using various shades of pink and coral icing, these pretty cupcakes would make a lovely addition to your Easter spread. A standard drop flower tip is all you need to create these blooming beauties.
14. Blooming Ribbon Rose Cupcakes
No need to pipe intricate buttercream roses, with this blooming rose cupcake, you can create beautiful rosy treats without the use of a flower nail.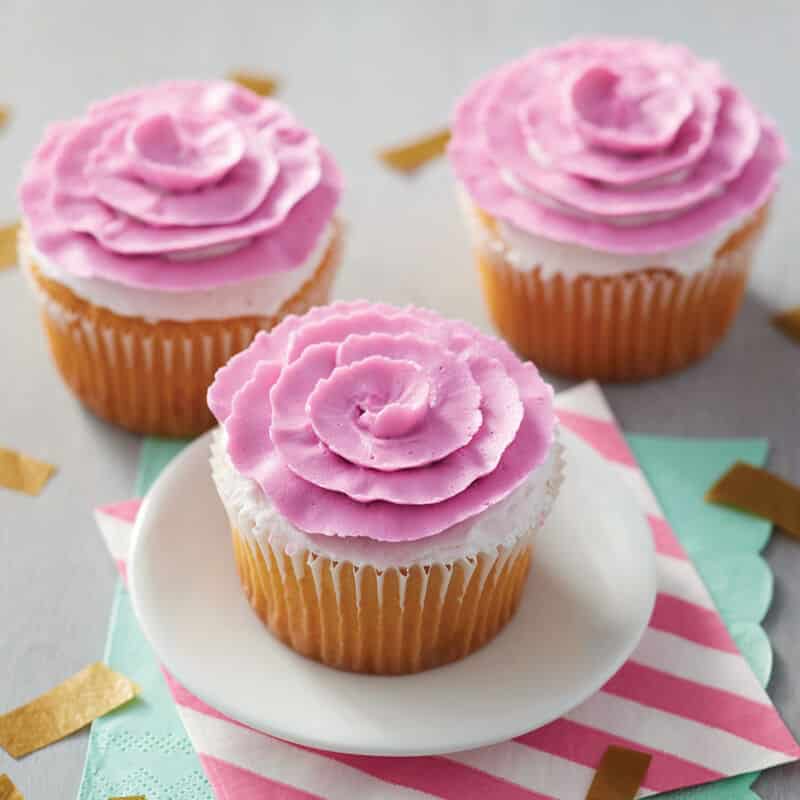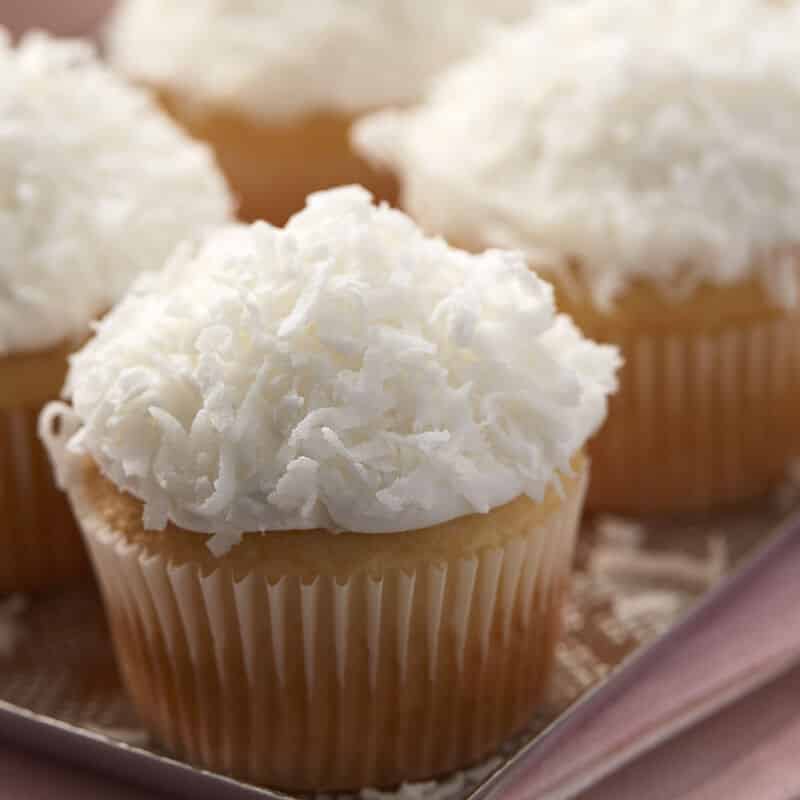 15. Almond Coconut Cupcakes
Perfect for spring birthdays and showers, these flavor-packed cupcakes are irresistible for coconut lovers.
16. Floral Fantasy Cupcakes
Blooming with stunning buttercream roses, daisies, mums and more, these spring cupcakes are certainly sweeter than those store-bought flowers! Make them for Easter, wedding showers or Mother's Day.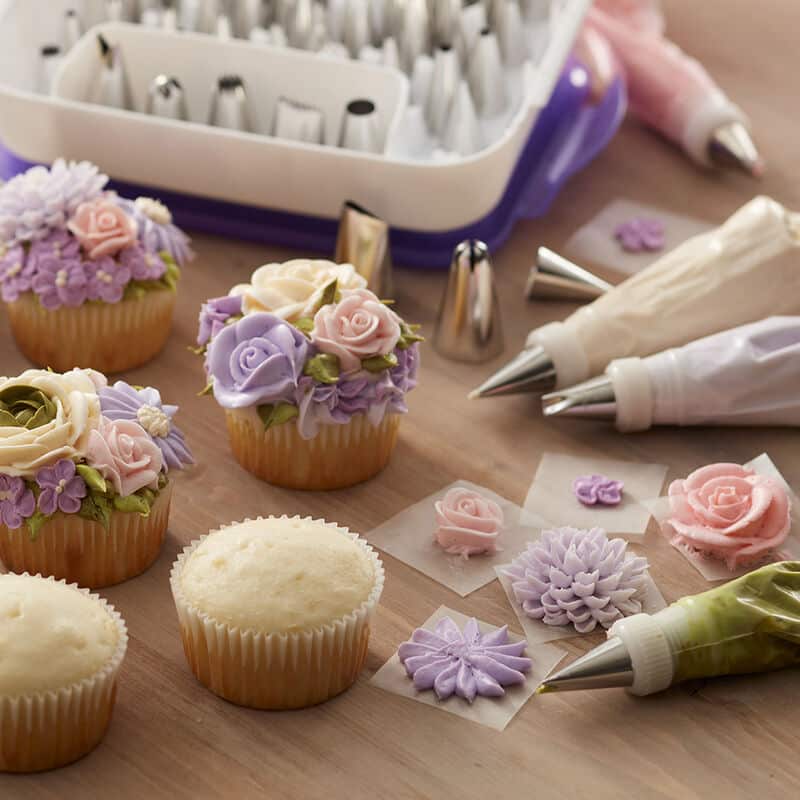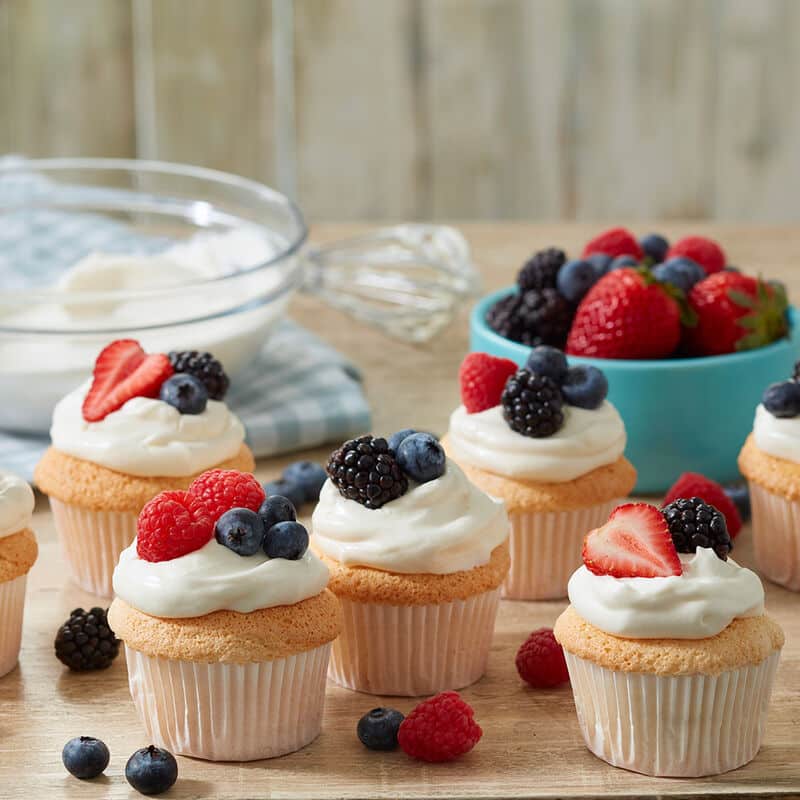 17. Angel Food Cupcakes with Fresh Berries
Enjoy a little something sweet (without the guilt) with these angel food cupcakes. Topped with whipped cream and berries, these bite-sized treats are perfect for Easter brunch.
18. Delightful Daffodil Cupcakes
Creating lovely blooming flowers is as easy as alternating icing colors. A wonderful Easter cupcake recipe for your spring party, these daffodil cupcakes are sure to bring a smile to your face!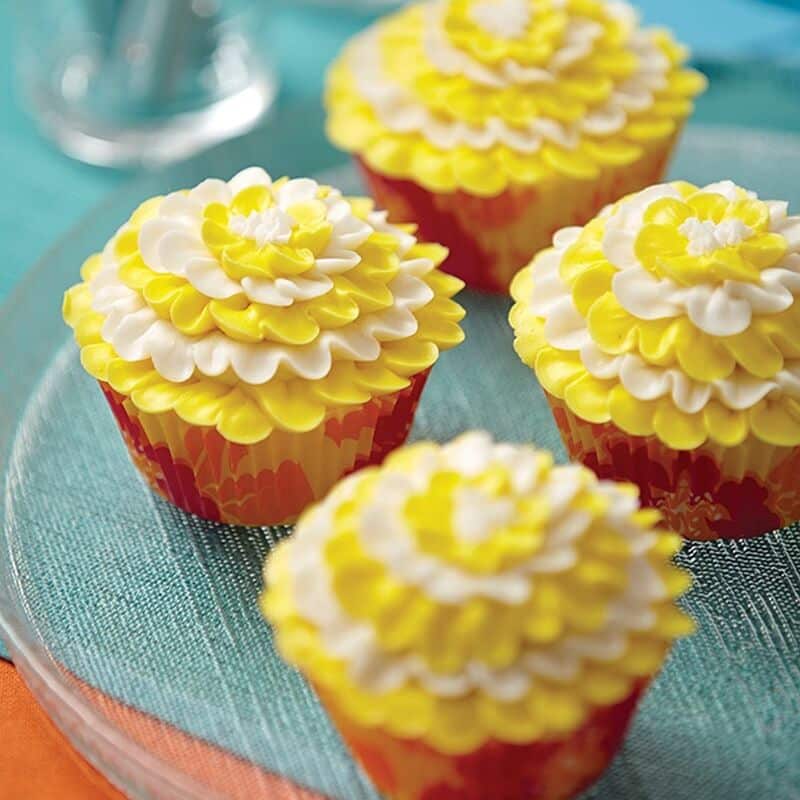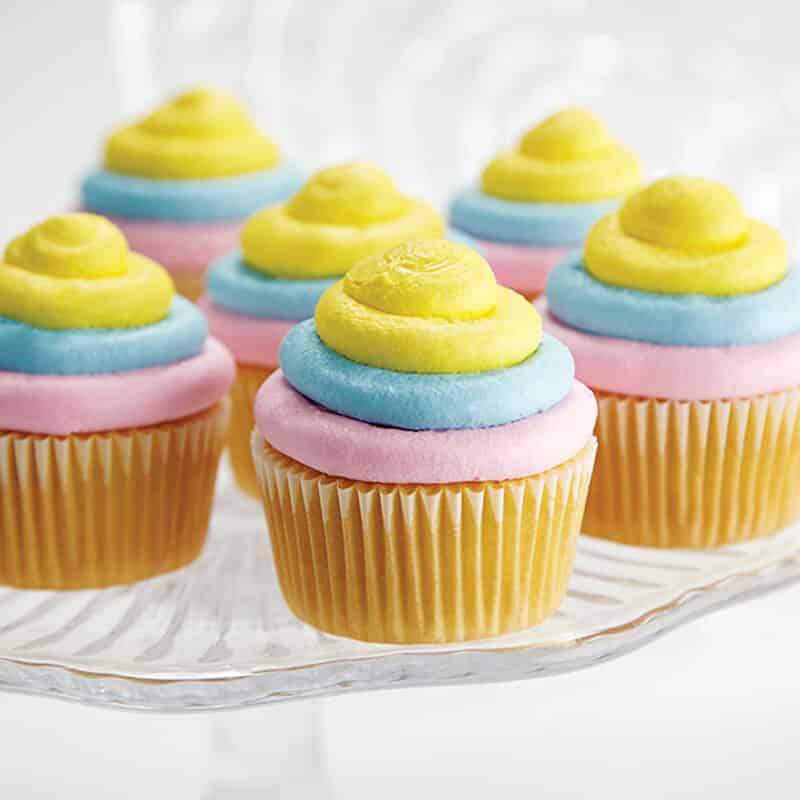 19. Classic Pastel Cupcakes
Can't go wrong with the classic! Piled high with light pink, blue and yellow frosting, these simple lemon cupcakes are a quick and easy dessert you can make in no time.
20. Spring Floral Cones
When you want something other than the traditional cupcake recipe, look no further than these spring floral cones. Dressed up to impress, these floral bouquets are filled with buttercream and candy flowers for a beautiful treat that tastes just as good as it looks.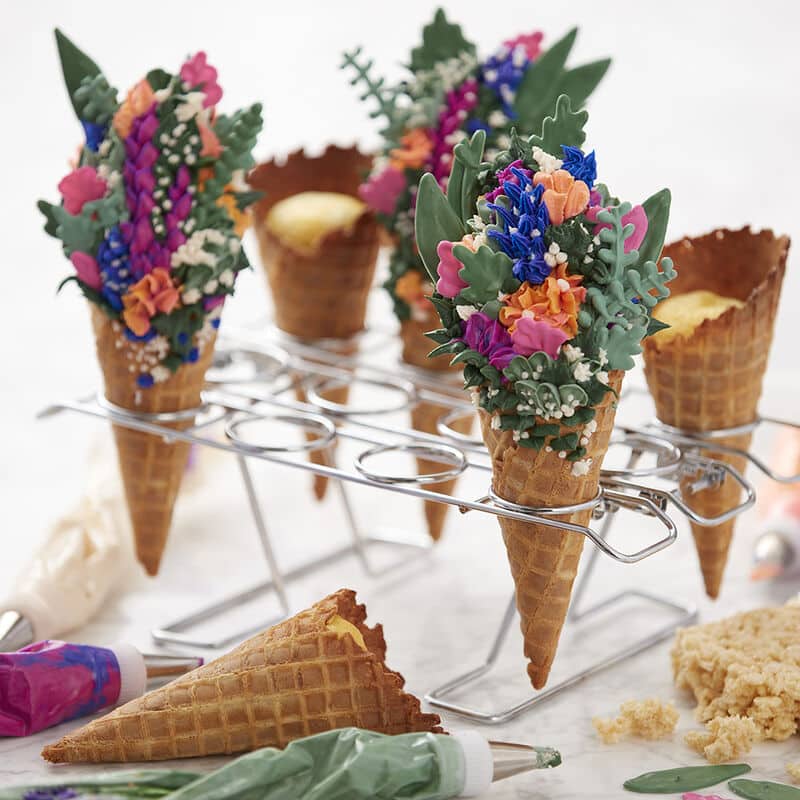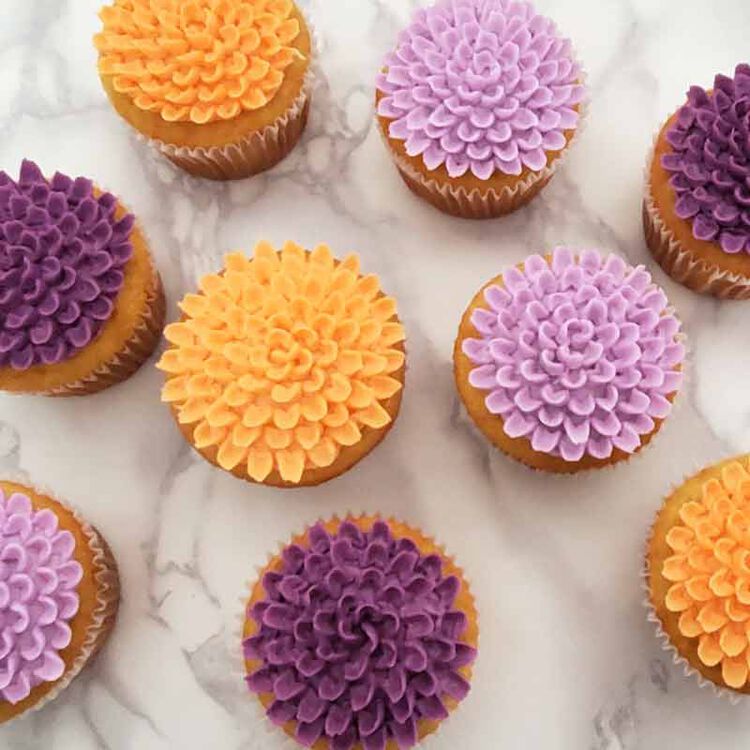 21. Orange and Purple Dahlia Cupcakes
Make a whole edible garden with these Orange and Purple Dahlia Cupcakes. Made using specialty tip 81, these Easter cupcakes are sure to turn any party into a blooming good time! Hosting a wedding or baby shower? Customize these buttercream dahlias to match your party colors.
22. Candy Butterfly Cupcakes
These pretty Candy Butterfly Cupcakes are loaded with fun spring colors. Topped with sprinkle-coated buttercream, a colorful swirl and a butterfly made with Candy Melts candy, these easy Easter cupcakes are a fun decorating project for beginners and seasoned decorators alike.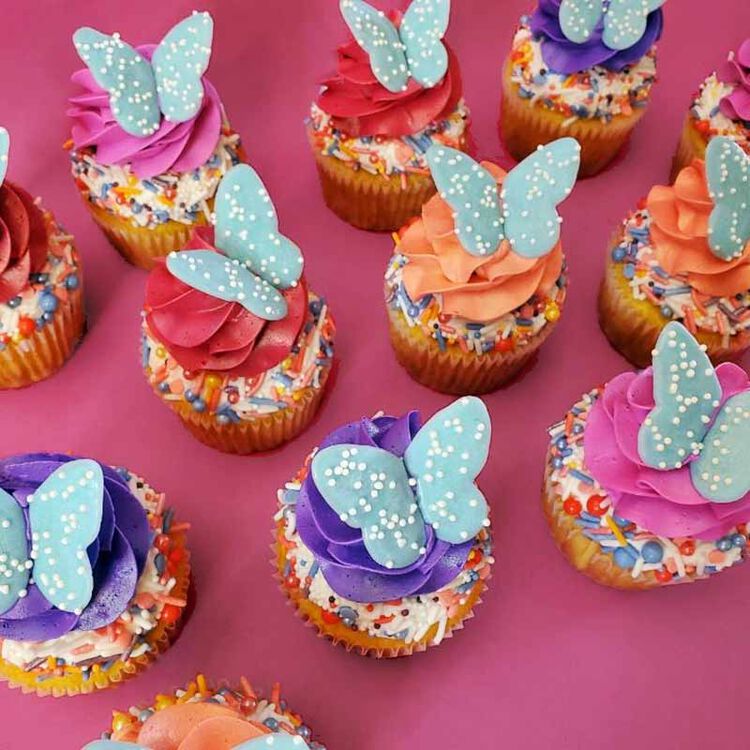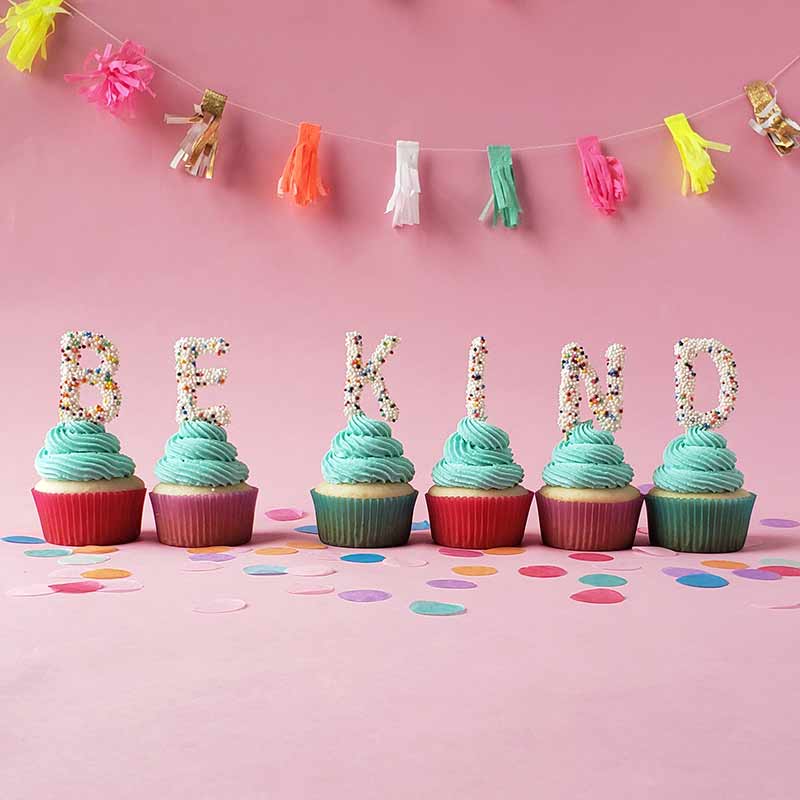 23. Be Kind Cupcake Toppers
Looking for some spring cupcake ideas? These Be Kind Cupcakes are great for any party! Use melted Candy Melts candy and sprinkles to craft your own edible message. Try 'Happy Birthday', 'Congratulations' or 'Happy Easter'. A simple and fun project for adding personality to any dessert, these edible cupcake toppers are a fun and creative way to spread joy!
24. Zesty Orange Cupcakes
If you need Easter cupcake ideas that pack some serious flavor, you're going to love these Zesty Orange Cupcakes. Made using simple white cake mix and a sweet orange buttercream, these tasty cupcakes are fun for spring and summer celebrations.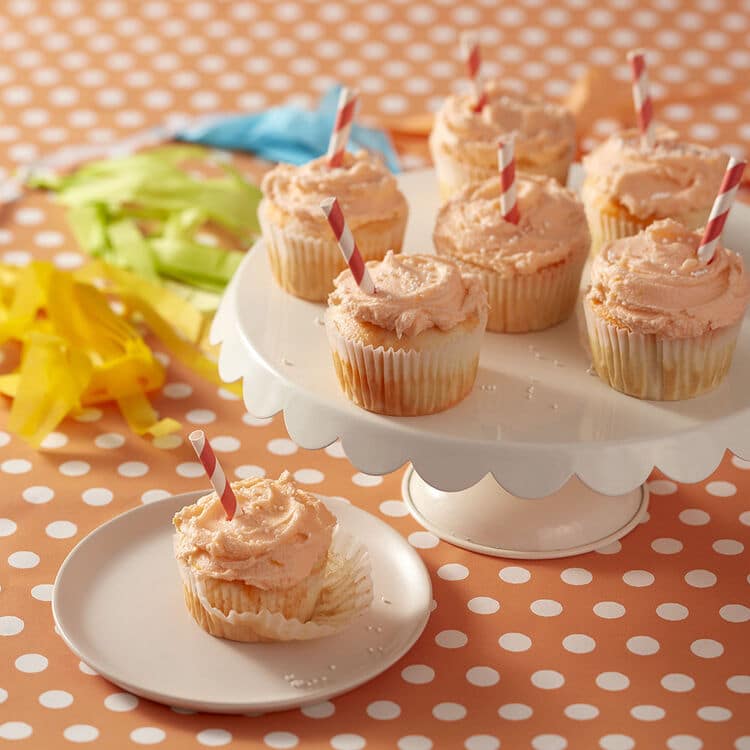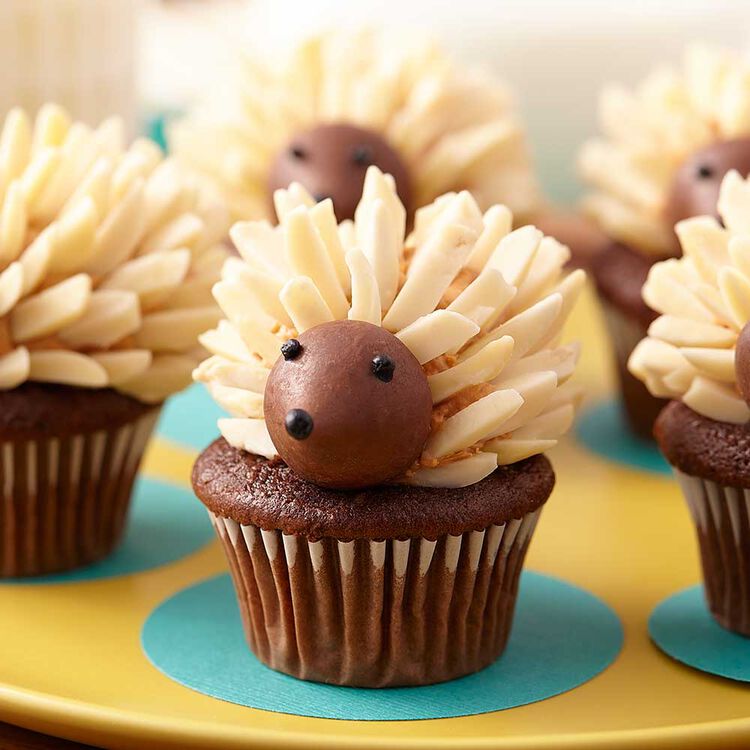 25. Mini Hedgehog Cupcakes
These cute Easter cupcakes are sure to be a hit with kids and adults alike. Made using chocolate kisses and almond slivers, these sweet hedgehog cupcakes are almost too cute to eat! Try them with your favorite chocolate or vanilla cake recipe.
26. Pink, White and Gold Cupcakes
For elegant and stylish Easter cupcake ideas, look no further than these Pink, White and Gold Cupcakes. Decorated using classic rosettes, sprinkles and pink petals, these cupcakes are perfect for your spring celebrations.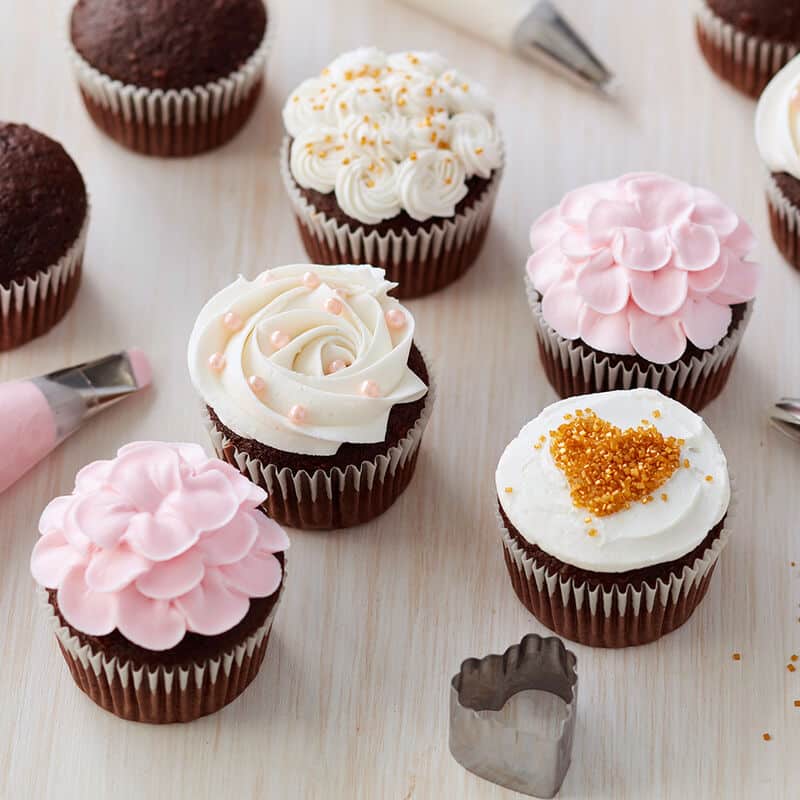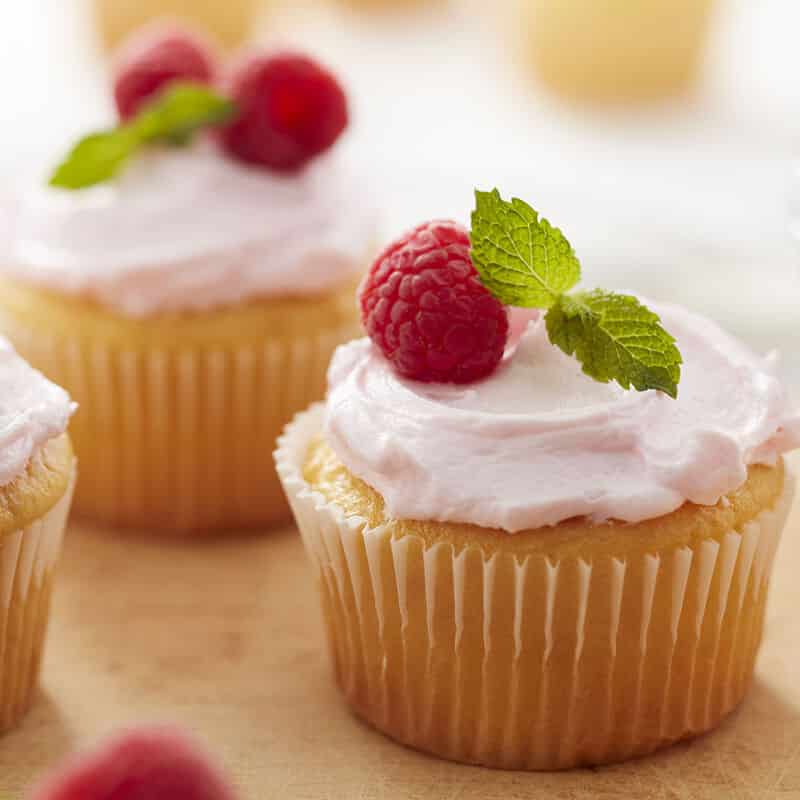 27. Yellow Cupcakes with Raspberry Buttercream
Sweet and refreshing, these Yellow Cupcakes with Raspberry Buttercream are sure to satisfy anyone's sweet tooth. The sour cream cake batter gets a blast of flavor from the raspberry preserves, mixed right into the icing. Top each treat with a fresh raspberry and a sprig of mint for added color and texture.
28. Bold Jewel Tone Swirl Cupcakes
Sometimes, there's nothing better than a simple cupcake. These Bold Jewel Tone Swirl Cupcakes combine an easy recipe with easy decorating techniques for a treat you can whip up anytime of the week.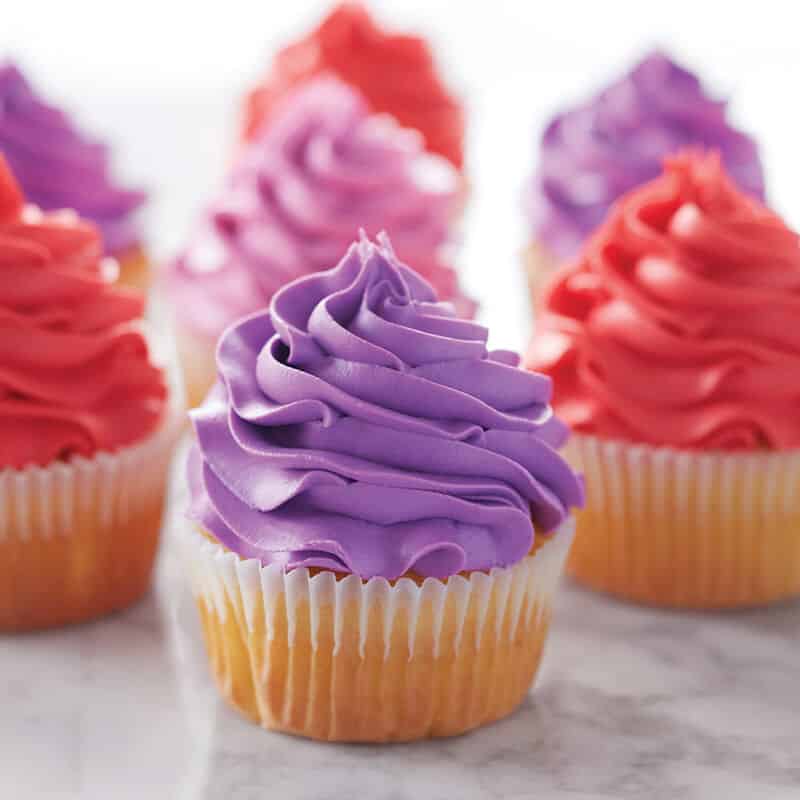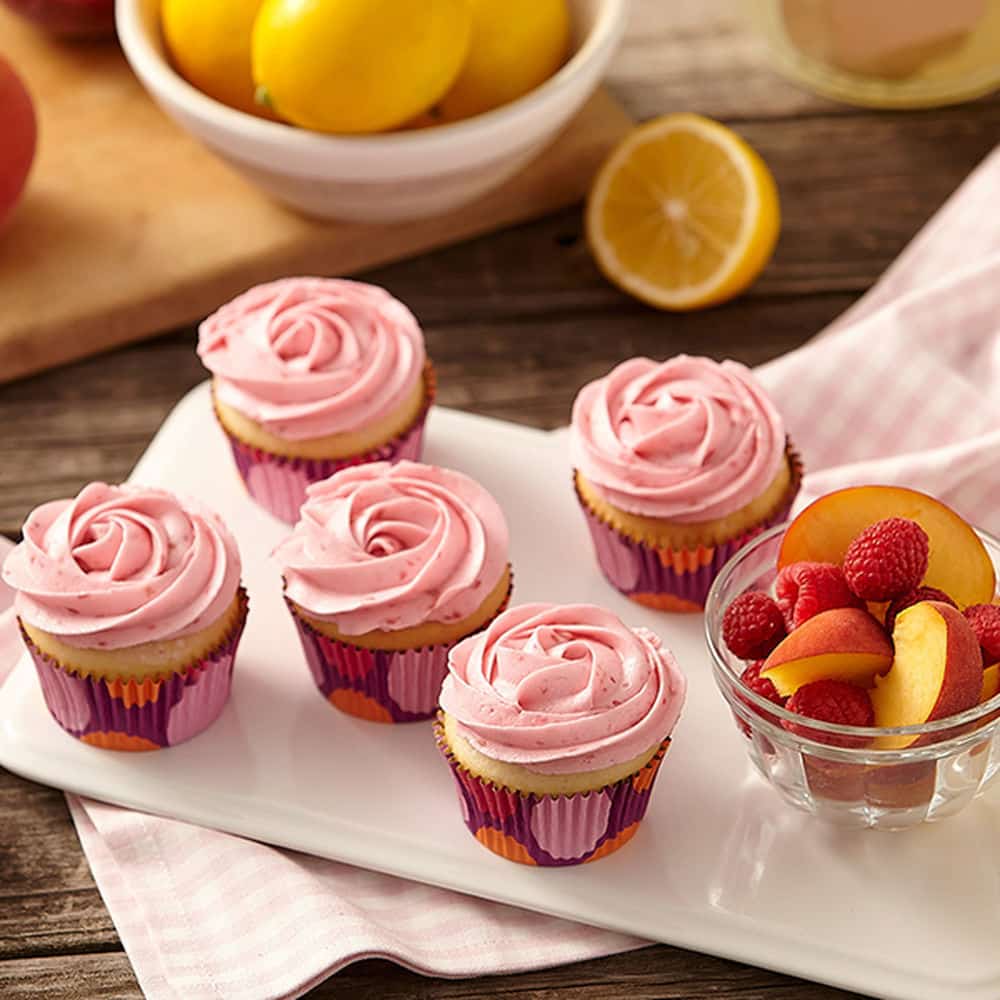 29. Peach Melba Cupcakes
Peach Melba is a delicious dessert that features peaches, raspberries and vanilla ice cream. Though traditional Peach Melba requires ripe peaches, which are only in season a few weeks of the year, you can create these amazing cupcakes anytime with Treatology Juicy Peach flavor. A delicious treat for Easter and Mother's Day, these flavorful cupcakes bring the traditional peach dessert to life whenever you're craving it.
30. Sweet as a Bee Chocolate Cupcakes
These Sweet as a Bee Chocolate Cupcakes are sure to create a buzz! Top your favorite chocolate cupcake recipe with a swirl of yellow buttercream to form the beehive. Finally, use fondant to create your own edible bee to top each treat. A fun dessert for any spring celebration, these cute cupcakes are just as sweet as can bee!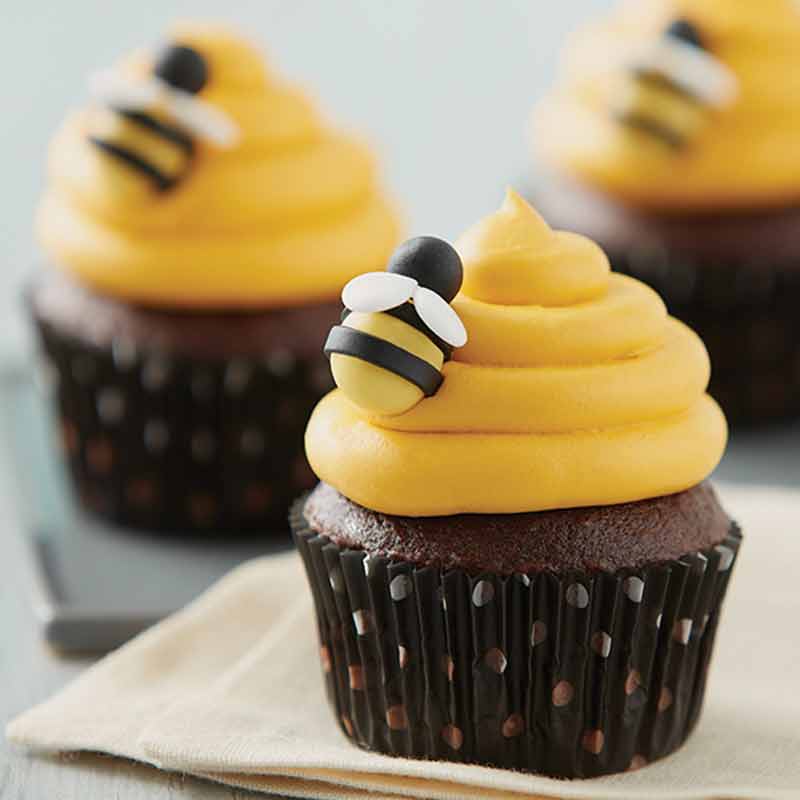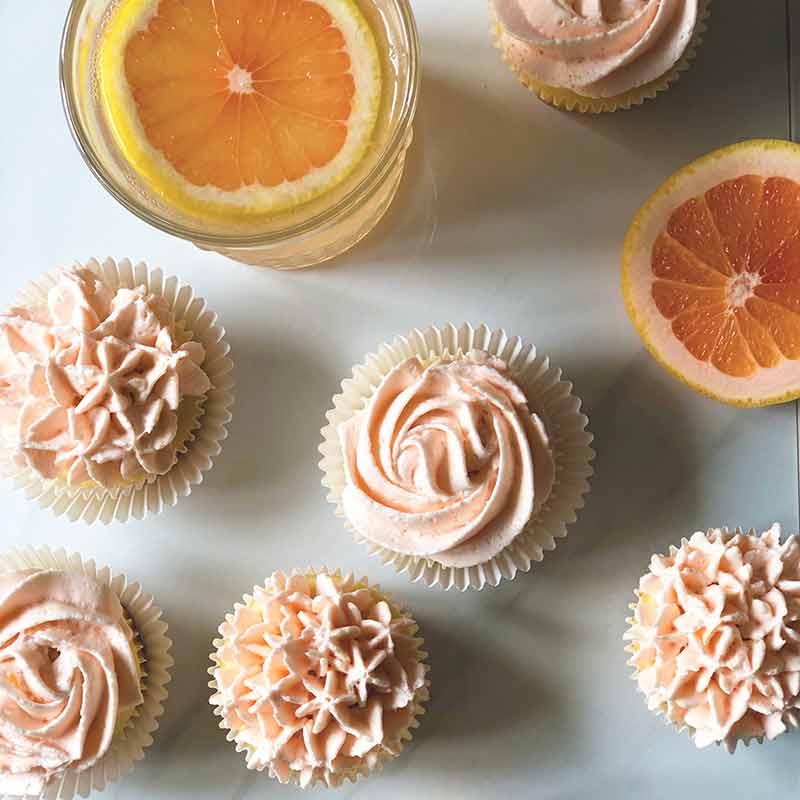 31. Paloma Cupcakes
Inspired by the crisp flavors of the Mexican paloma cocktail, these Paloma Cupcakes are great for spring or summer dinners on the patio. Lime, grapefruit and tequila combine for a refreshing treat you and your guests will love. For an extra shot of fun, use the Shot Top flavor infusers to shoot a little bit of tequila into your cupcake before eating!
32. Darling Dot Cupcakes
A quick and easy project for beginners, these Darling Dot Cupcakes are decorated using a variety of round piping tips. Fill each prepared decorating bag with a different color of buttercream frosting, then pipe different sized dots around one edge of your cupcake, so it looks like it's topped with Easter candy eggs. Easy to make and personalize, these cupcakes are great for birthdays, holiday celebrations and more.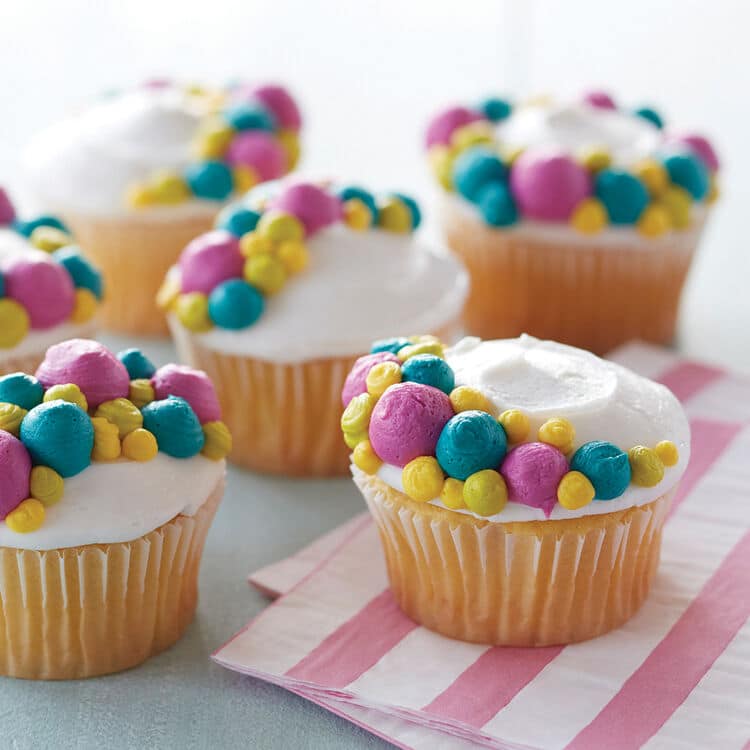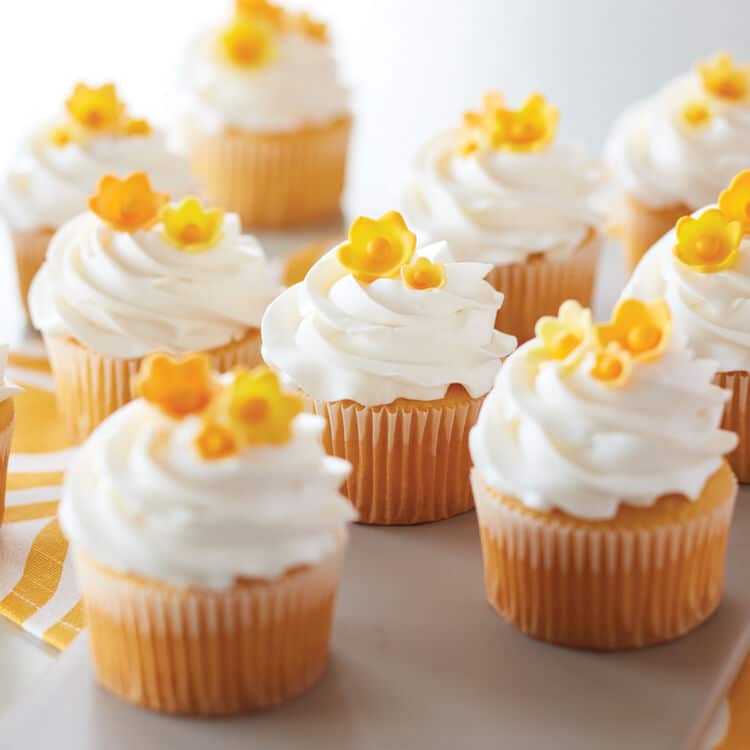 33. Yellow Buttercup Flower Cupcakes
Cheer up, buttercup! With these Yellow Buttercup Flower Cupcakes, you can make sweet, cheery treats that are sure to bring a smile to anyone's face! Made using simple piping and fondant techniques, these cupcakes are great for beginners or those new to fondant decorating.
34. Tip 47 Cupcakes
One tip goes a long way with these Tip 47 Cupcakes. Often used for basketweave piping, tip 47 has a smooth side and a ridged side, making it fun to create all kinds of piping decorations. With this project, you'll learn how to use tip 47 to top your cakes with petals, stars, zig-zags and more.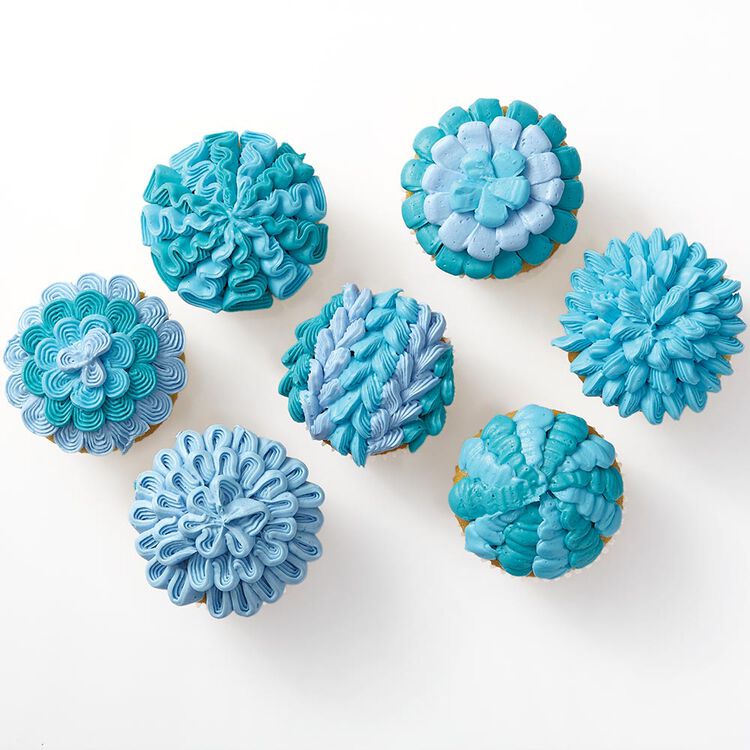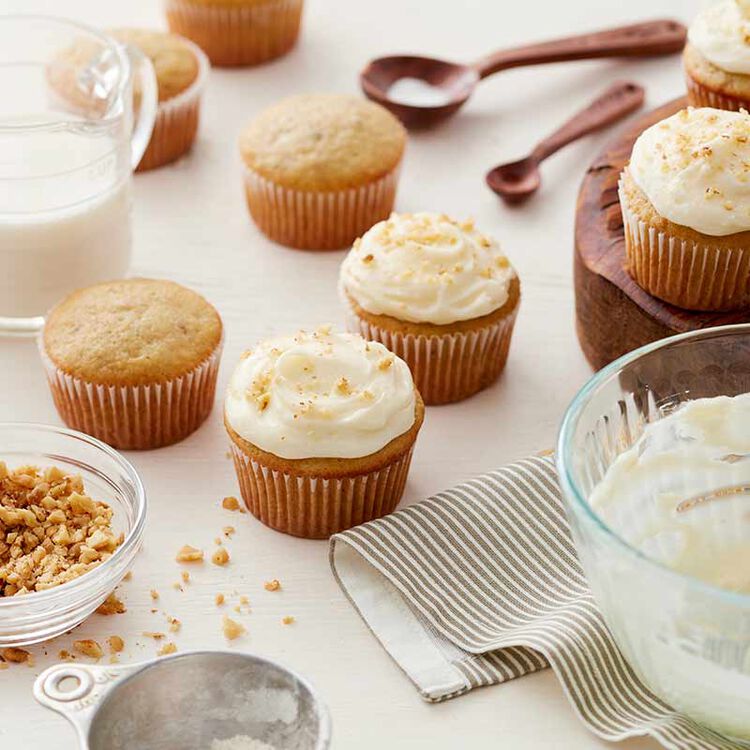 35. Banana Cupcakes
You'll go bananas for these delicious Banana Cupcakes. Perfect for anyone who loves banana bread, these cupcakes combine sweet banana flavor with warm spices for a delicious cake you can serve for brunch or dessert. Don't forget the sweet cream cheese frosting!
36. Coconut Pineapple Upside Down Cupcakes
Enjoy a taste of island living anytime of year with these Coconut Pineapple Upside Down Cupcakes. Flavored with coconut rum, brown sugar and pineapple juice, these cupcakes offer a little escape to paradise.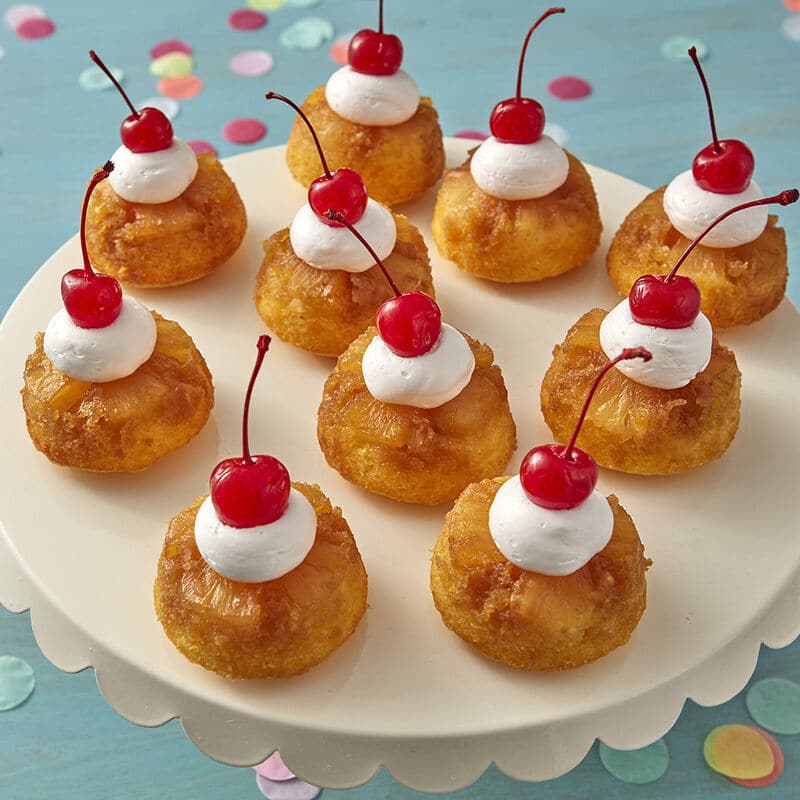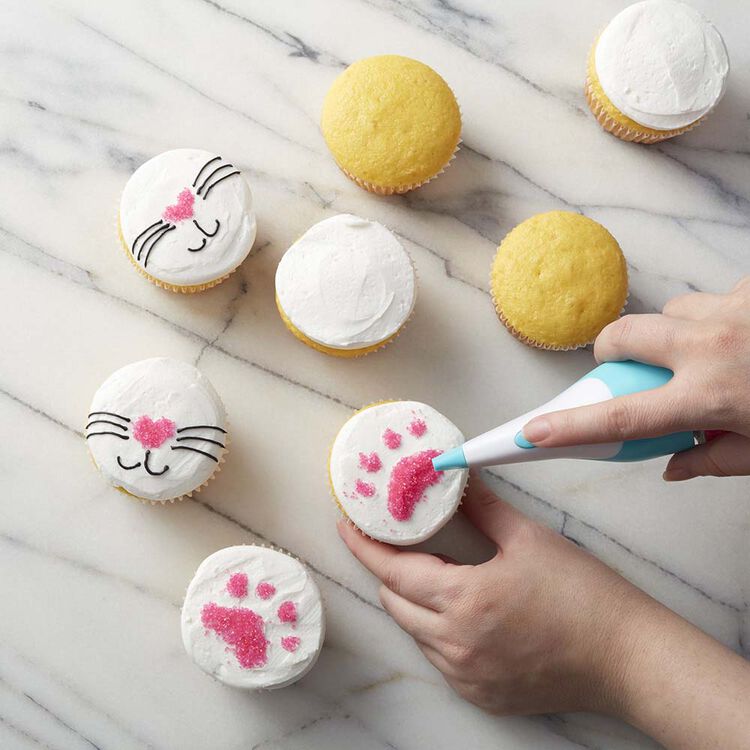 37. Pur-fect Kitty Cat Cupcakes
Make cute kitty (or Easter Bunny) faces with these Pur-fect Kitty Cat Cupcakes. Decorated using the Sugar Writer Writing Pen, this project uses buttercream frosting and sanding sugar to make adorable designs you and the kids will love.
38. Vegan Pink Lemonade Cupcakes
Bring a little taste of something sweet to your Easter celebration with these Vegan Pink Lemonade Cupcakes. Made with vegan-friendly ingredients, these cupcakes are great for those with dietary restrictions. Best of all, even those who are not vegan will love them!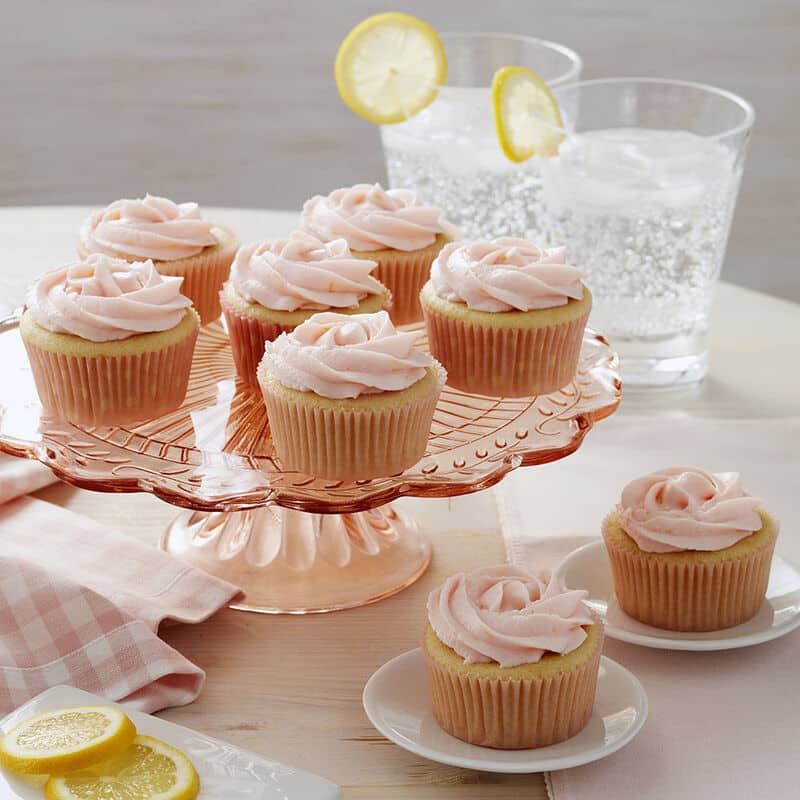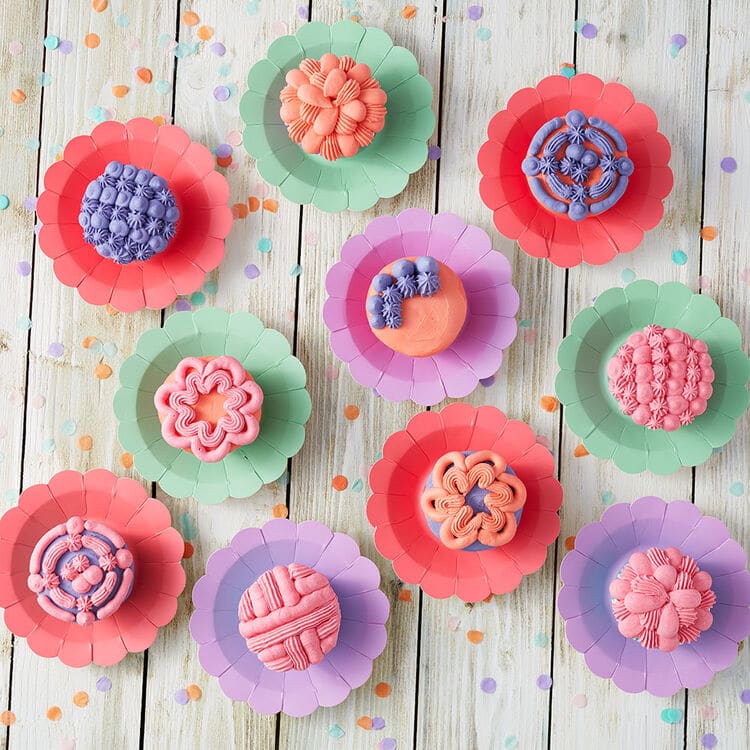 39. Color Block Cupcakes
Mix and match bold colors and decorations with these Color Block Cupcakes. Decorated with pink and purple buttercream, these cupcakes are perfect for turning your Easter table into a blooming colorful display. Alternate icing colors to make your designs stand out even more!
40. Simple and Elegant Champagne Cupcakes
Featuring tasty Champagne-flavored cupcake batter and creamy frosting, this Easter cupcake recipe makes a treat that's a delight for all your senses. Easy enough for beginning bakers and decorators, these Simple and Elegant Champagne Cupcakes are a light and flavorful dessert you'll find yourself coming back to again and again.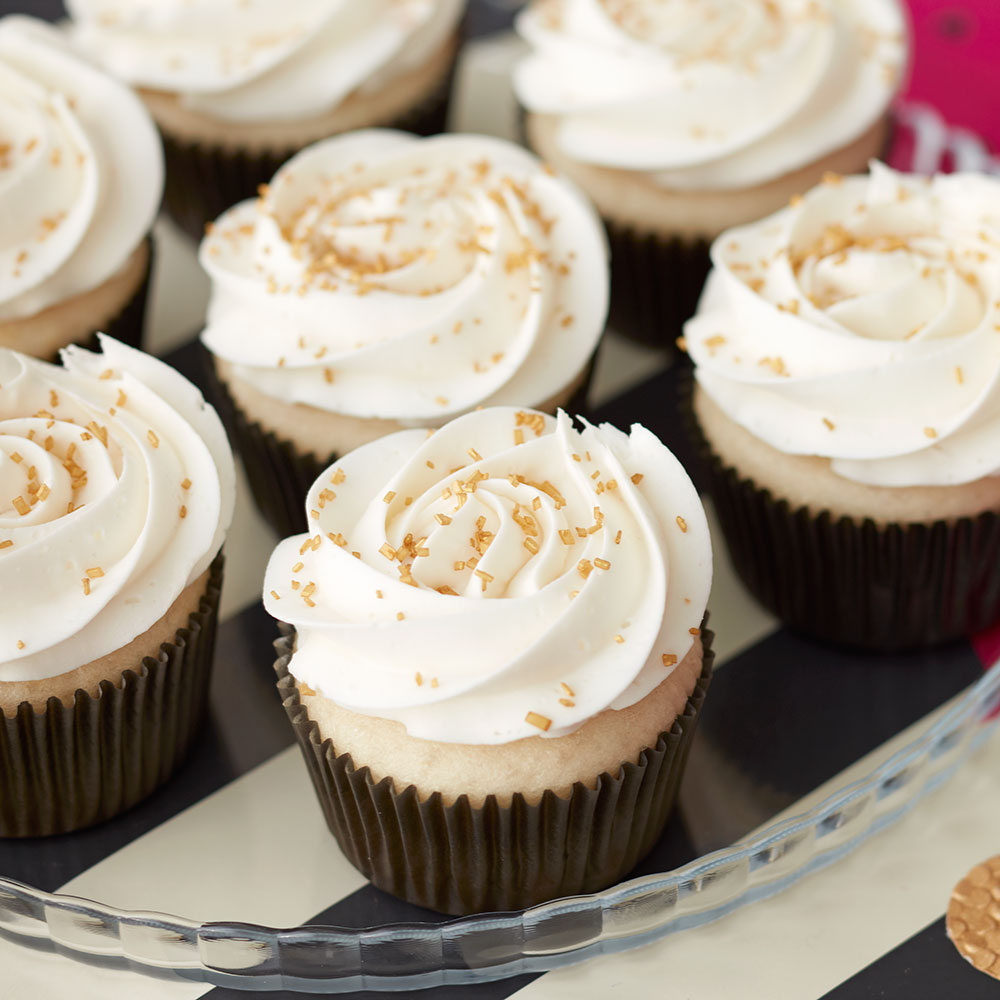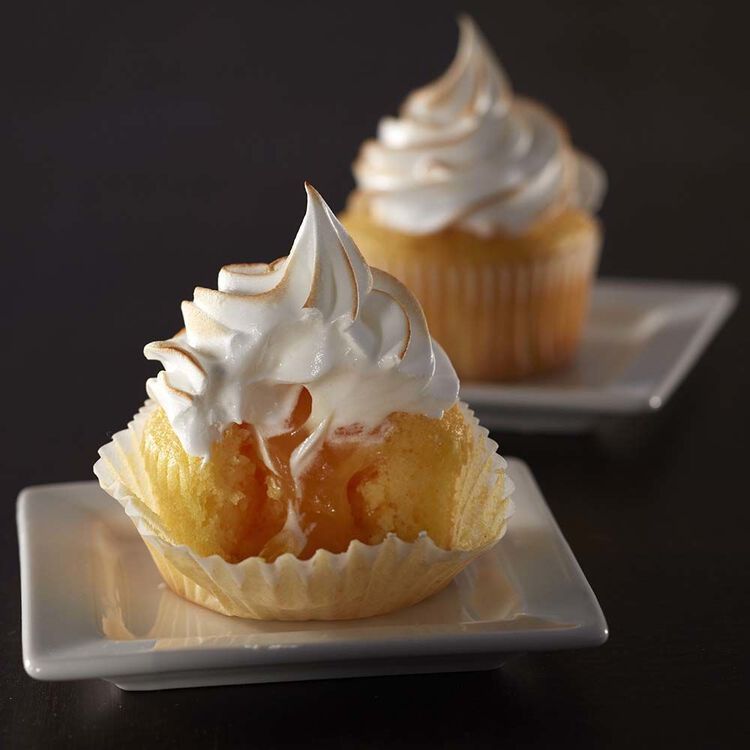 41. Sweet Lemon Meringue Cupcakes
Filled with lemon curd and topped with a creamy meringue topping, these Sweet Lemon Meringue Cupcakes are a fun twist on an old favorite. Lovely for Easter, Mother's Day or spring baby showers, these delicious cupcakes give you a bite of summer any time of year.
Looking for more Easter ideas?  Check out our other Easter blog posts:
Are you making Easter cupcakes for friends and family this year? Let us know which of these cupcakes you want to try in the comments below, or post a picture of your treats on Instagram and tag us @wiltoncakes.
​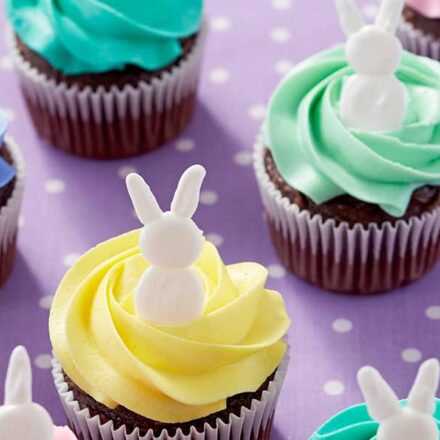 41 Sweet & Easy Easter Cupcake Ideas
Make spring a little sweeter with these delicious Easter cupcakes. From simple mini carrot cupcakes to beautiful blooming floral cones, these bright Easter cupcake ideas are nothing if not egg-straordinary!
Tried this recipe?
Take a picture and tag us @WiltonCakes on Instagram