Have fun baking and decorating with the little ones this holiday season with the help of these 38 kids' Christmas treats recipes. From simple roll-out cookies to beginner cake decorating projects, these easy Christmas desserts are a great way to spend time with the family, make some fun holiday memories and turn snack ideas into delicious holiday treats kids will love!
There are always a few fussy folks at a holiday party that are hard to win over with almost any kind of fun Christmas treat. Kids of course are a whole other story! One minute they're happily downing chocolate covered rice krispie treats or sucking on candy canes shaped like Christmas trees, while the next they're throwing them on the ground and demanding to eat nothing but white chocolate (which they usually don't like) and some leftover cream cheese from your morning bagel run! 
Well, these extra kid-friendly recipes were collected especially for the hard to please with little hands. So pick out a few and give them a try in your kitchen this holiday season. Maybe those little ones will even stop running around for a minute or two and lend a hand since these treats are nearly as much fun to bake as they are to eat!
1. Simple Christmas Cut-Out Cookies
Enjoy some family fun time with the kids while you bake and decorate these Simple Christmas Cut-Out cookies together. Start with our tasty Roll-Out Cookie Dough recipe, then top these cookies with white icing and a variety of holiday sprinkles. P.S. Santa loves these!
2. Christmas Tree and Santa Hat Cupcakes
Give Santa a break from the cookies with these Christmas Tree and Santa Hat Cupcakes. Made using the tips of store-bought sugar cones, these cute cupcakes are a fun way for kids to get crafty in the kitchen.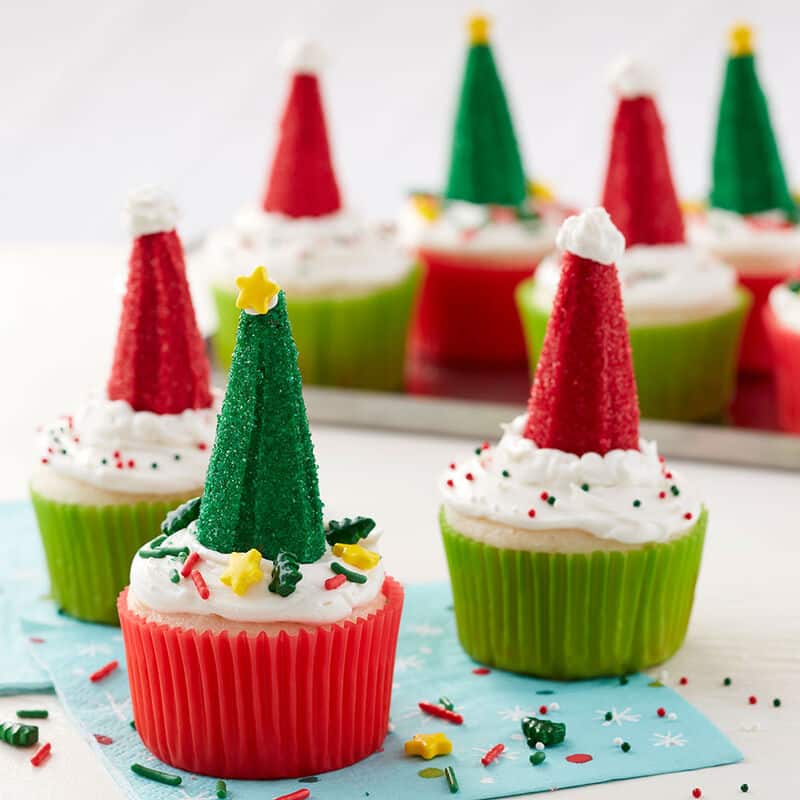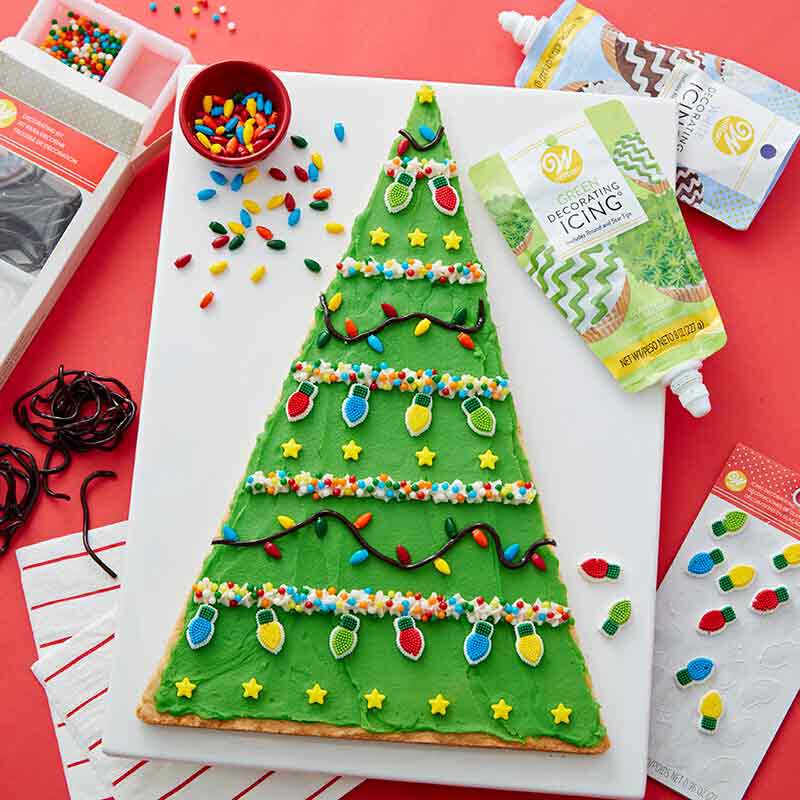 3. Christmas Tree Cookie Cake
Kids will love trimming the tree with this jumbo Christmas Tree Cookie Cake. Start by icing a large tree-shaped cookie with green buttercream, then let the kids have fun decorating with an assortment of sprinkles and icing decorations.
4. North Pole-R Bear Cupcakes
When it comes to easy Christmas desserts for kids, you can't get much cuter than these polar bear cupcakes! Start with your favorite vanilla cake recipe, then top your cupcakes with creamy vanilla buttercream and shredded coconut. Finally, add a cute face using marshmallows and candy eyeballs. The kids will love these!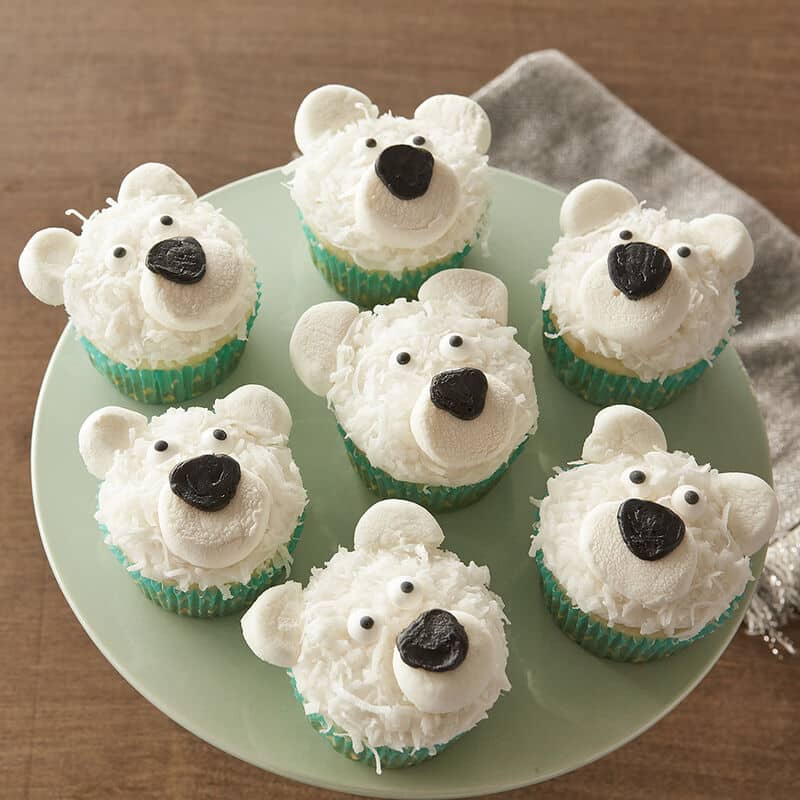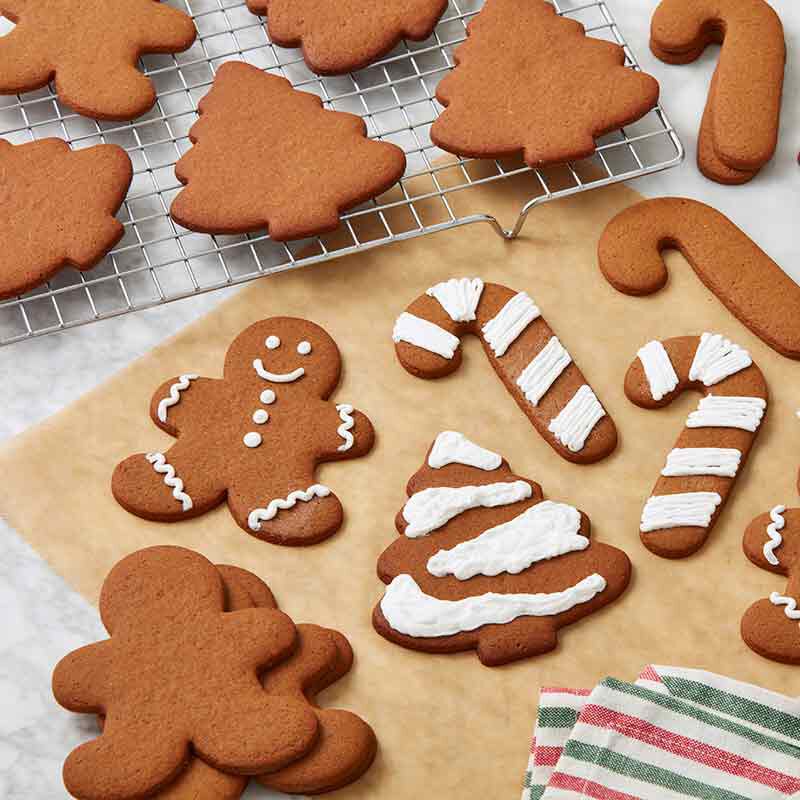 5. Gingerbread Cookies
Christmas just isn't Christmas without gingerbread cookies! Easy to make, roll and cut, this classic gingerbread cookie recipe is a great way to teach kids how to bake and decorate. Top them with royal icing accents for that traditional look, or use store-bought icing pouches for easier decorating.
6. Candy Cane Cake
If you have older teens or tweens looking to get started with cake decorating, this Candy Cane Cake is a great place to start. Decorated using Icing Pouches (which include decorating tips), this cake is great for beginners and young bakers and decorators.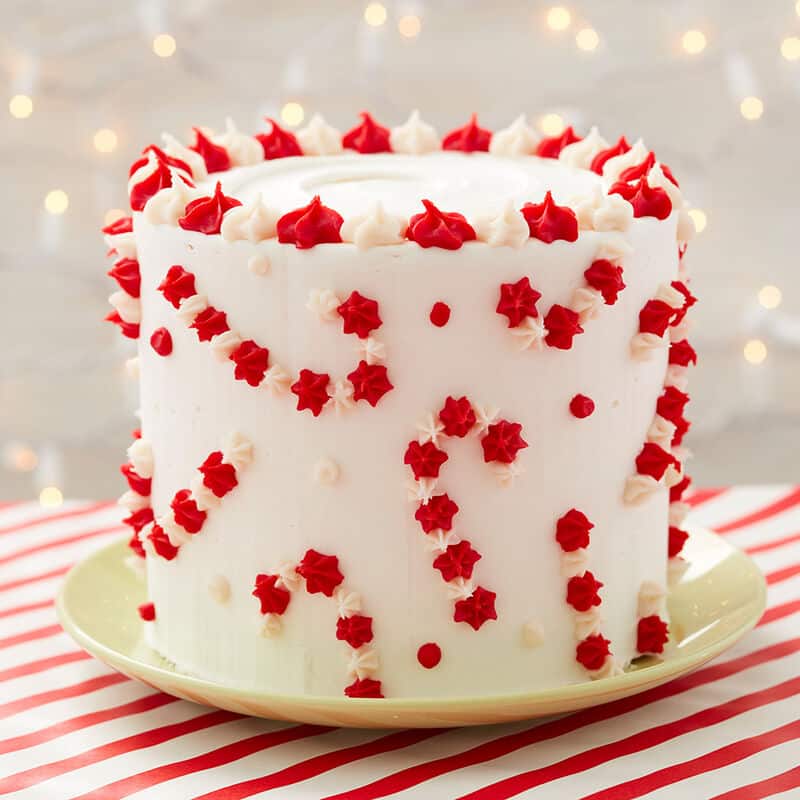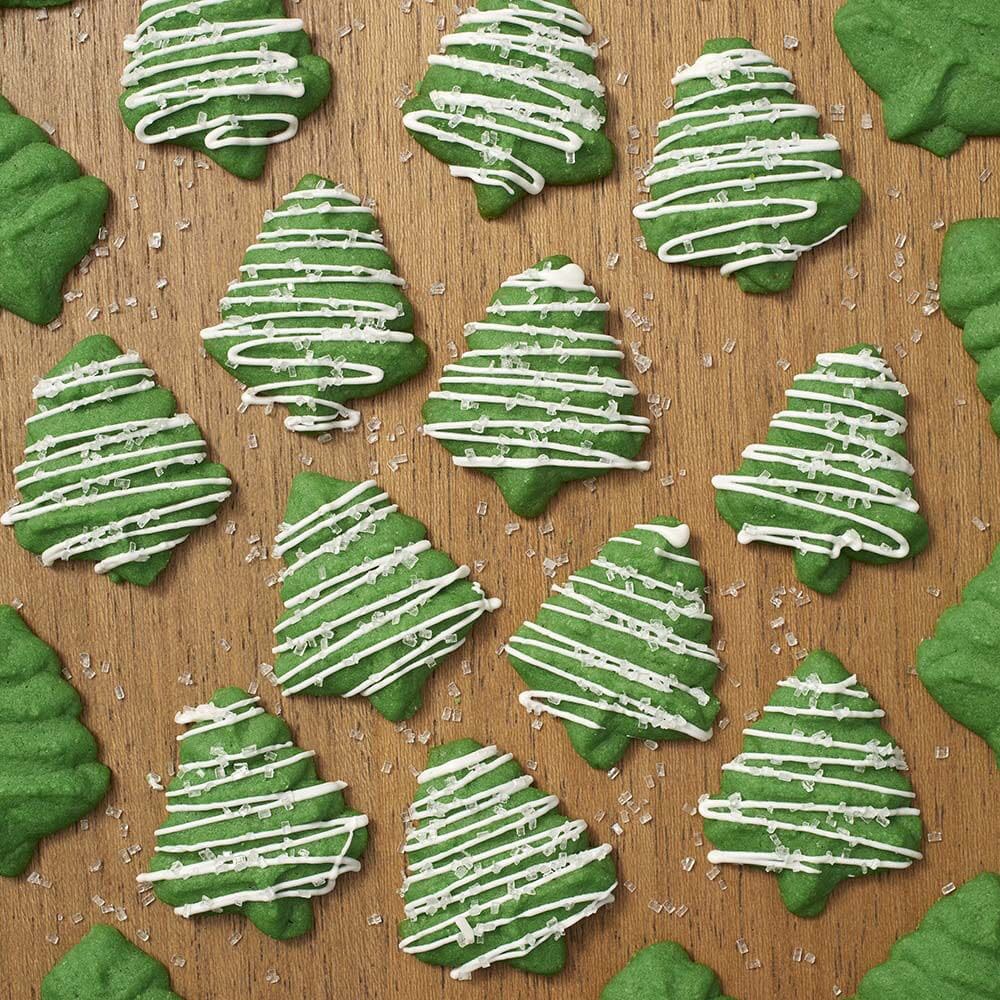 7. Christmas Tree Spritz Cookies
Spritz cookies are great Christmas treats to make with kids. Simple to prepare and fun to press, these Christmas Tree Spritz Cookies make it fun and easy for kids to start baking. Drizzle your cookies with melted Candy Melts candy, or leave them as is for a tasty, buttery treat!
8. Artistic View Gingerbread House
This Artistic View Gingerbread House is great for little ones who love to color. Cover your house panels with white fondant, then use edible FoodWriter markers to draw on your own decorations. A fun project to do with the whole family, there's no wrong way to decorate this house!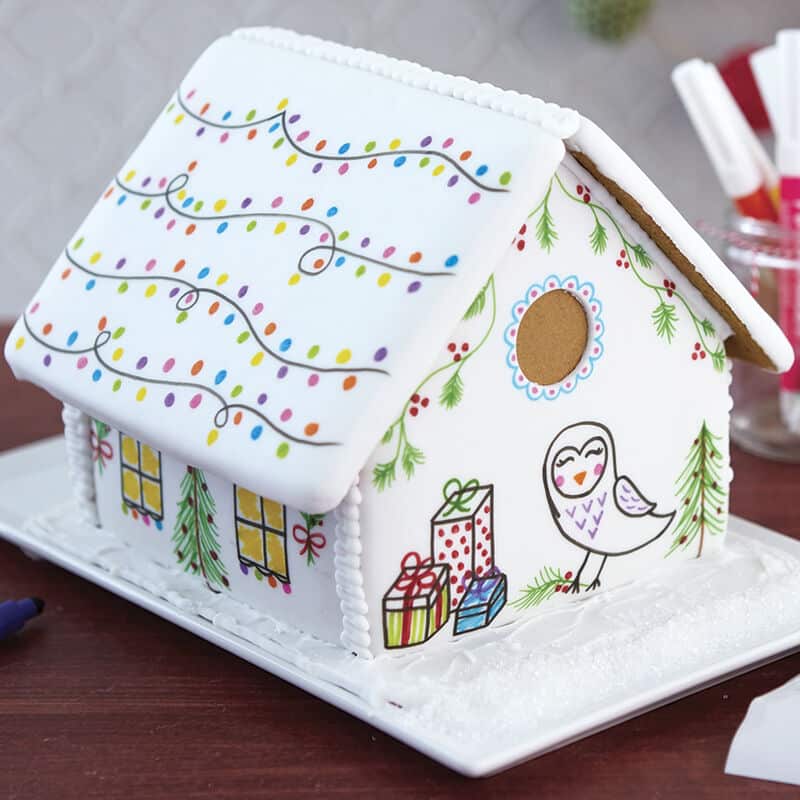 9. Melting Snowman Cut-Out Cookies
Kids are sure to have a blast decorating these fun Melting Snowman Cut-Out Cookies. Topped with royal icing and marshmallows, these cookies dry hard, so they're great for packaging as gifts for friends and family.
10. Mini Hot Chocolate Brownies
Looking for some easy Christmas desserts for kids to make together? Look no further than these Mini Hot Chocolate Brownies. Irresistible brownie bites are topped with a hot cocoa whipped cream and mini marshmallows for a tasty treat that pairs perfectly with cocoa or coffee. Kids can make the brownies themselves, or you can use store-bought brownie bites for a simpler dessert.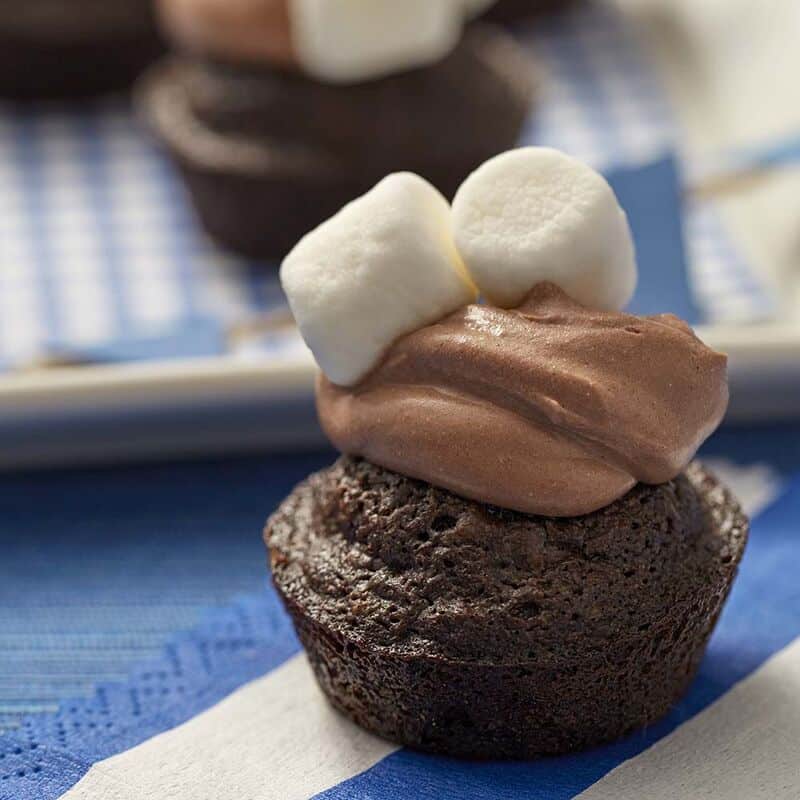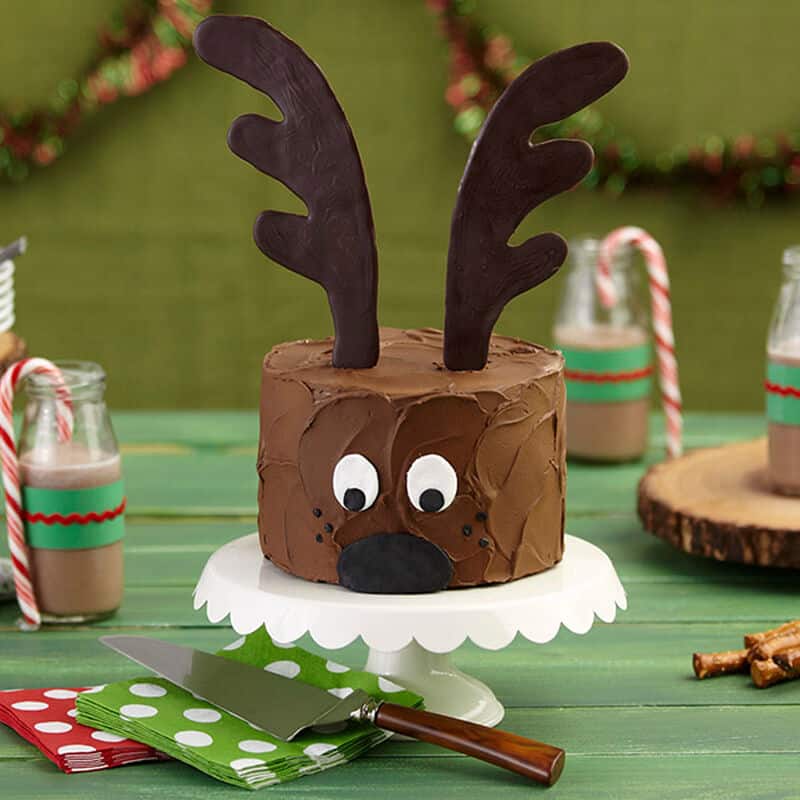 11. Christmas Reindeer Cake
Make a dessert Santa will surely approve of with this cute Christmas Reindeer Cake. Simple enough for older kids looking to try some new decorating techniques, this Christmas cake is topped with candy antlers and a face piped with buttercream. You could even use red buttercream instead of black for the nose to make a Rudolph cake!
12. Candy Cane Cookies
These buttery Candy Cane Cookies are great for those who love a pop of peppermint! A must-have for holiday cookie platters, these peppermint cookies are a simple and easy cookie you'll love making with the kids. Try them dipped in milk for a delicious after-dinner treat.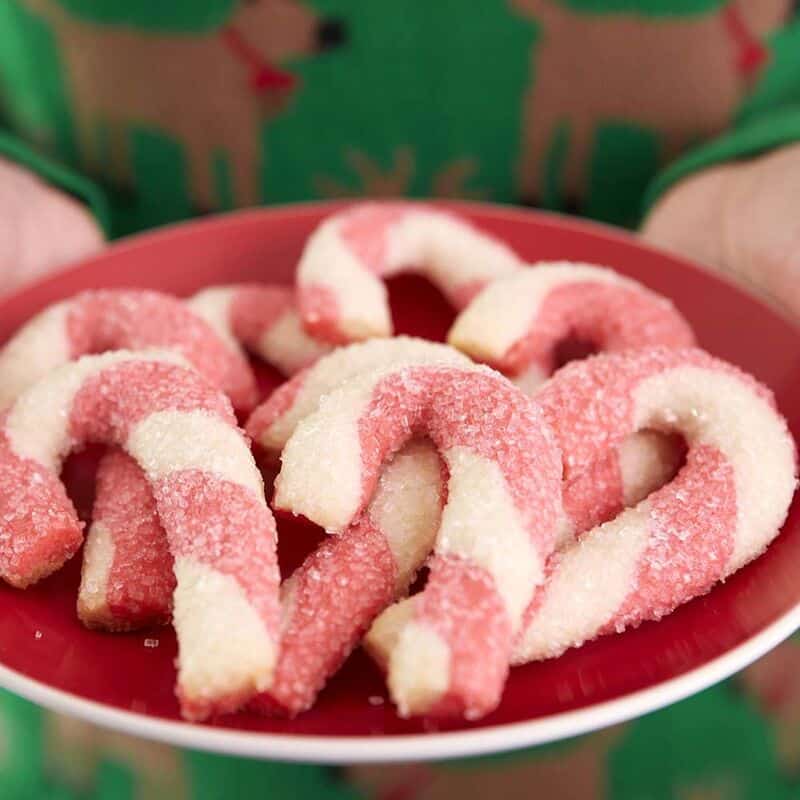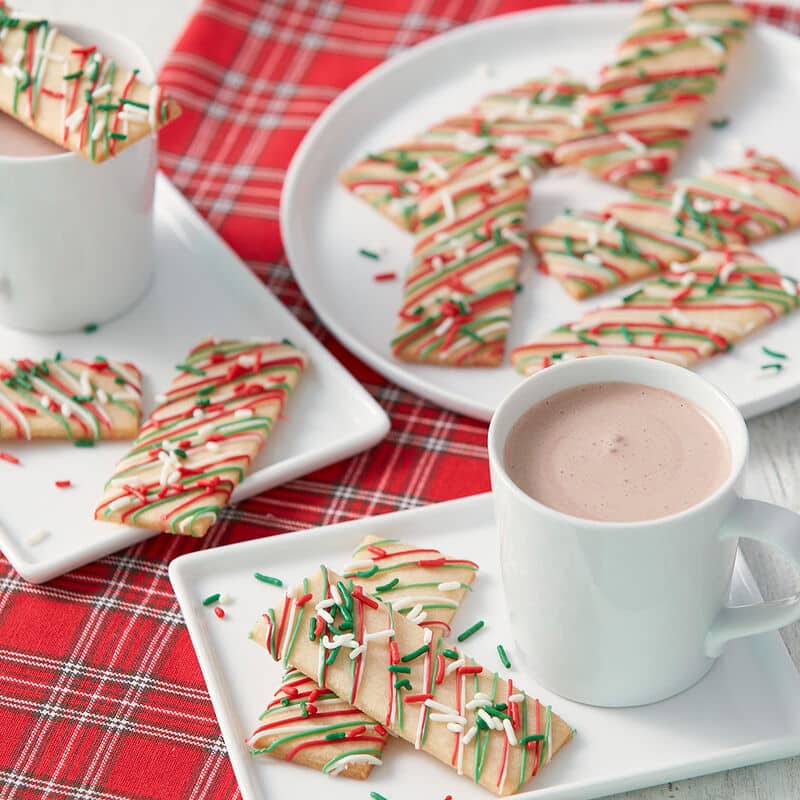 13. Christmas Cookie Dunkers
Sweeten up a cup of hot cocoa with these Christmas Cookie Dunkers. Topped with a drizzle of Candy Melts candy and holiday jimmies, these dunkers are easy for kids to make and gift to teachers, neighbors and friends.
14. Pull-Apart Brownie Bite Christmas Tree
No need to slice and serve this Christmas dessert! Made by arranging brownies on a board, this pull-apart Christmas tree is a fun way to teach kids how to decorate. Simply cover the tree with pull-out stars in various shades of green buttercream, then top with your favorite holiday sprinkles!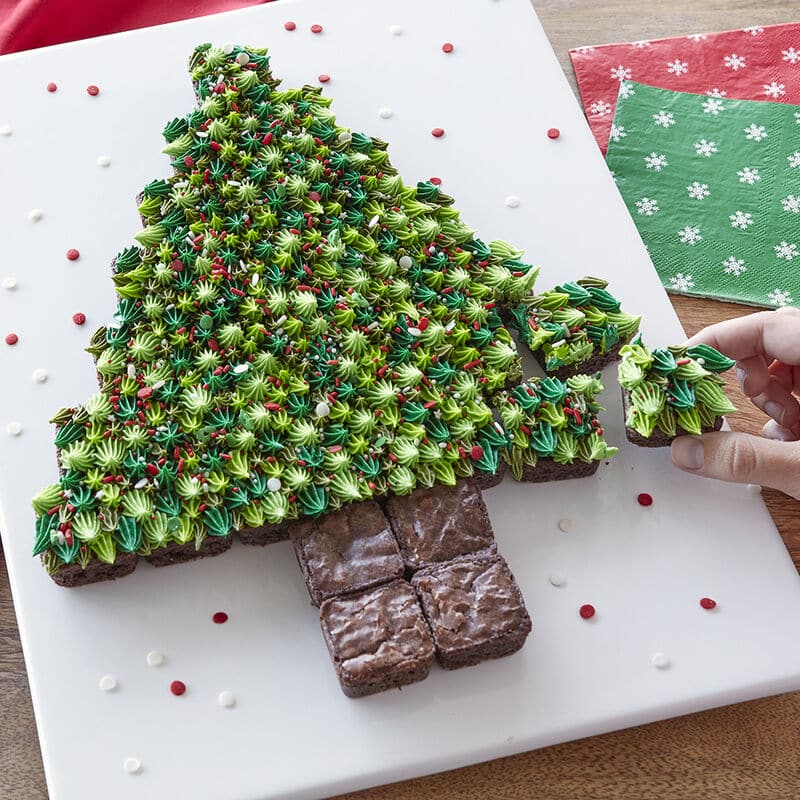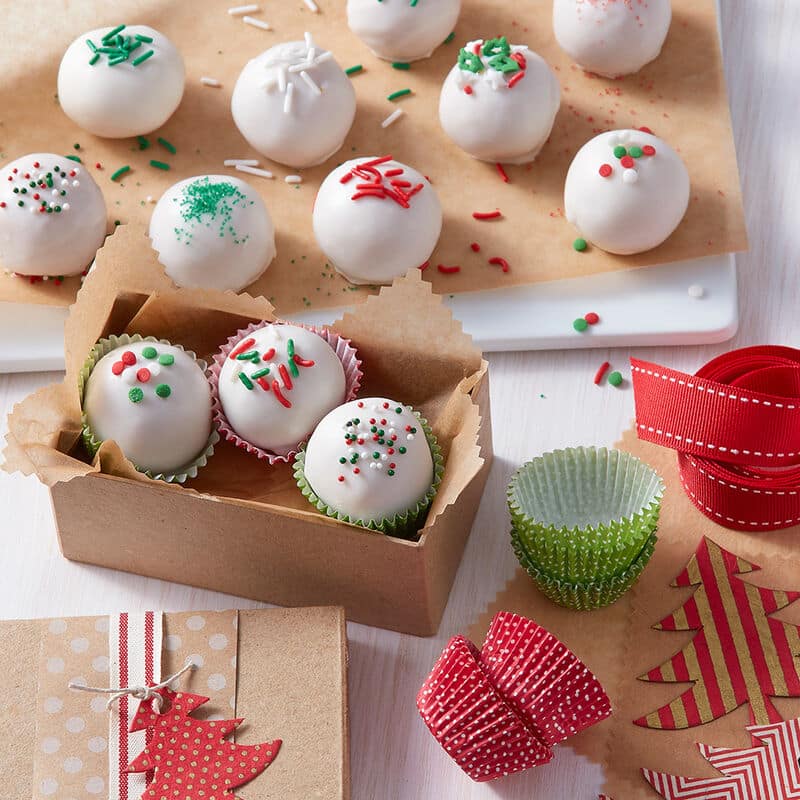 15. Christmas Cake Balls
Take a break from cookie baking and make a batch of these fun Christmas Cake Balls. Kids will love mixing and rolling these cake balls by hand, and you'll love how easy they are to decorate! Simply dip them in thinned Bright White Candy Melts candy and top with your favorite holiday sprinkles.
16. Candy-Coated Christmas Sandwich Cookies
Whether you're looking for a cute stocking stuffer or a fun decorating project for the little ones, these Candy-Coated Christmas Sandwich Cookies are an easy project no matter what the occasion. Start with your favorite store-bought chocolate sandwich cookie, then dip them in thinned Bright White Candy Melts Candy. Finally, top each cookie with a little candy tree (or use sprinkles if you'd like) for the perfect finishing touch.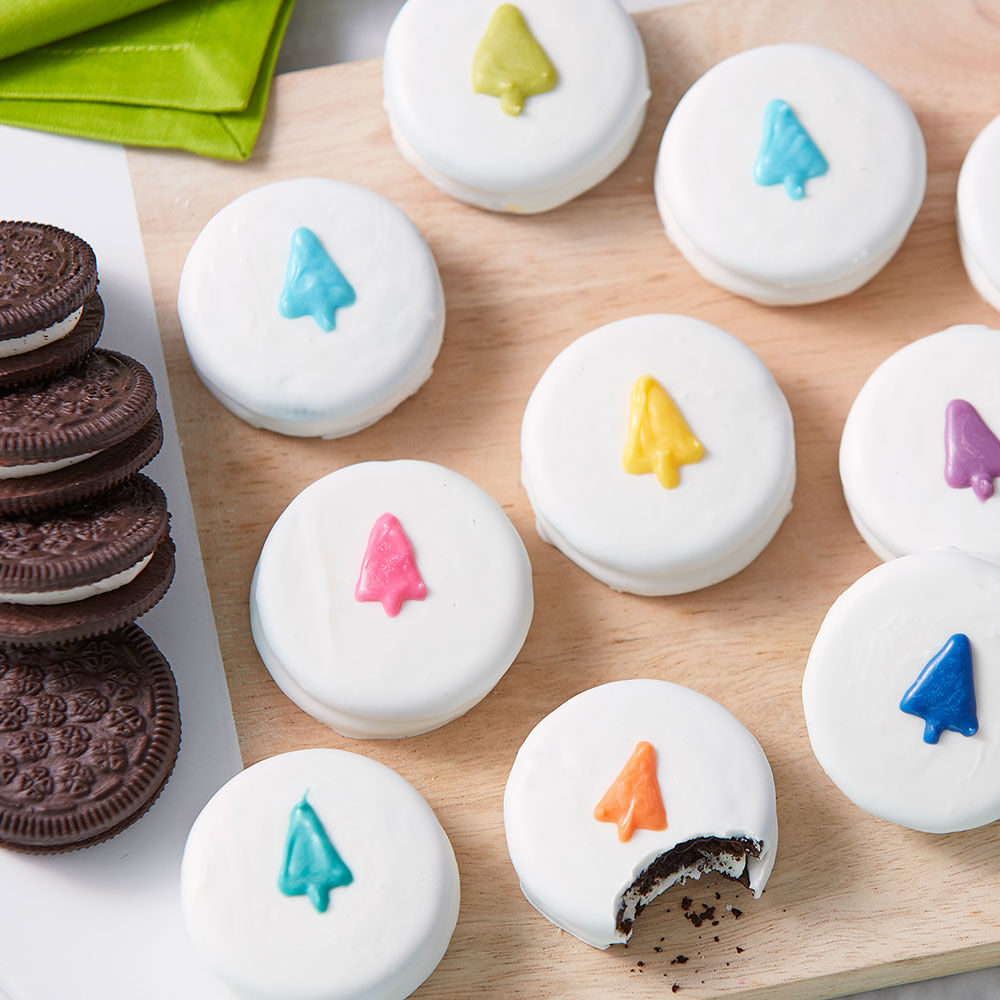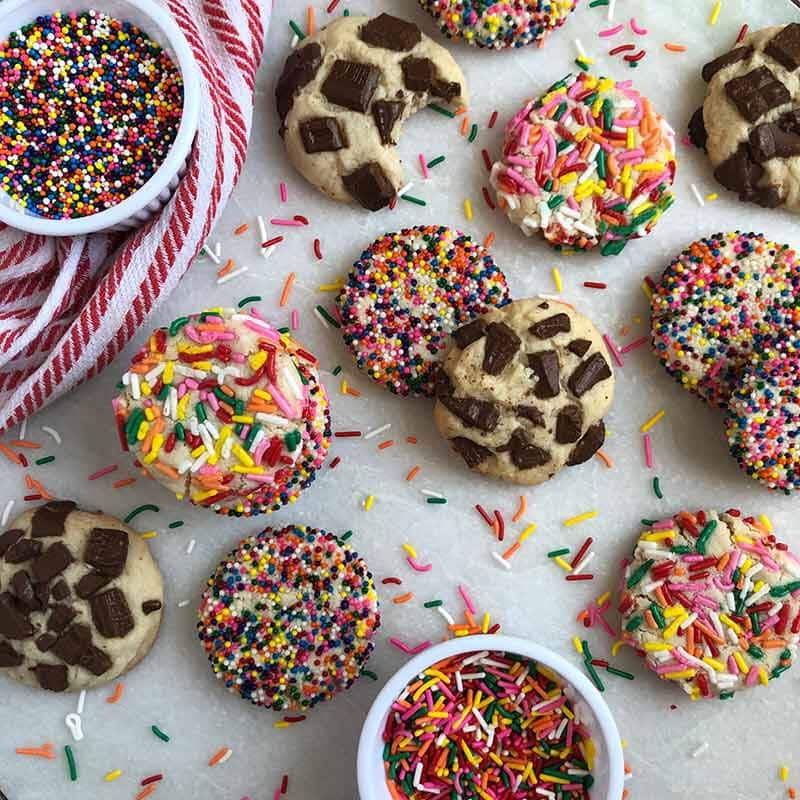 17. Sugar Cookies 3 Ways
Kids can have fun expressing their creativity with this 3-in-1 cookie recipe. One batch of dough is divided into three portions, then each portion gets its own fun topping. Use chocolate chunks, jimmies and nonpareils as we did here, or try mixing in your own favorite candies and toppings.
18. Sweet Snowman Cupcakes
These snowmen cupcakes are the perfect winter baking project! These easy to make snowmen are made of marshmallows and pretzels making it the perfect treat to make with kids.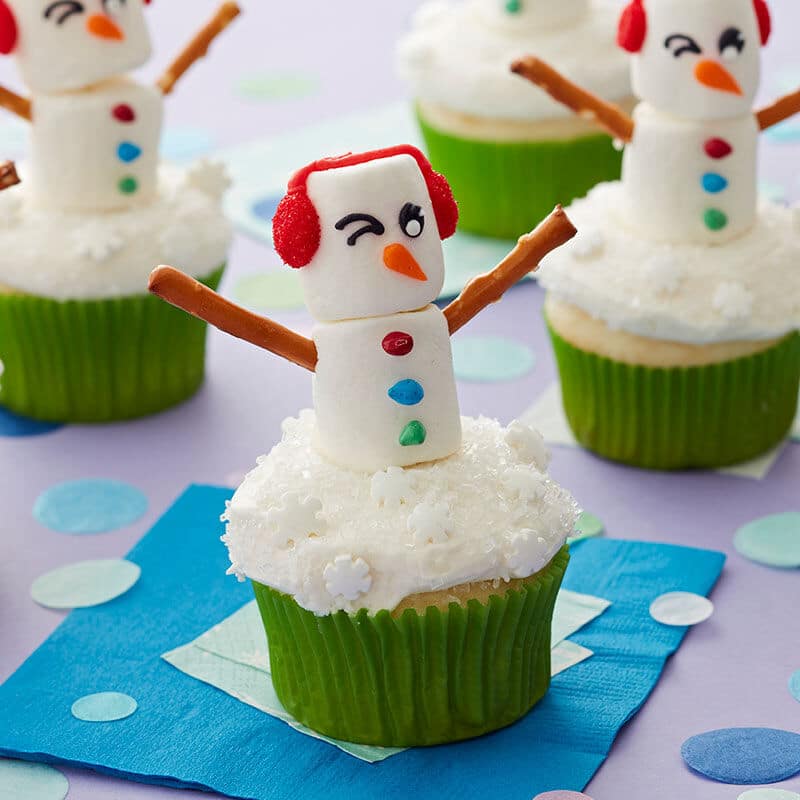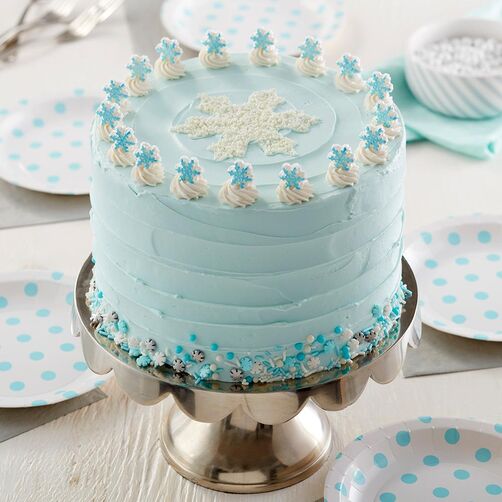 19. Winter Wonderland Snowflake Cake
Bake up a blizzard with this Winter Wonderland Snowflake Cake. Iced in light blue icing and topped with sprinkles and icing decorations, this simple winter cake is great for kids and beginning decorators. Add a few candles for a fun winter birthday cake!
21. Christmas Bark
Christmas treats don't get easier – or cuter – than this! Great for kids and parents to do together, this Christmas Bark features two fun characters in one pan. Use various candies, snacks and sprinkles to make cute reindeer and snowmen…then break apart and enjoy!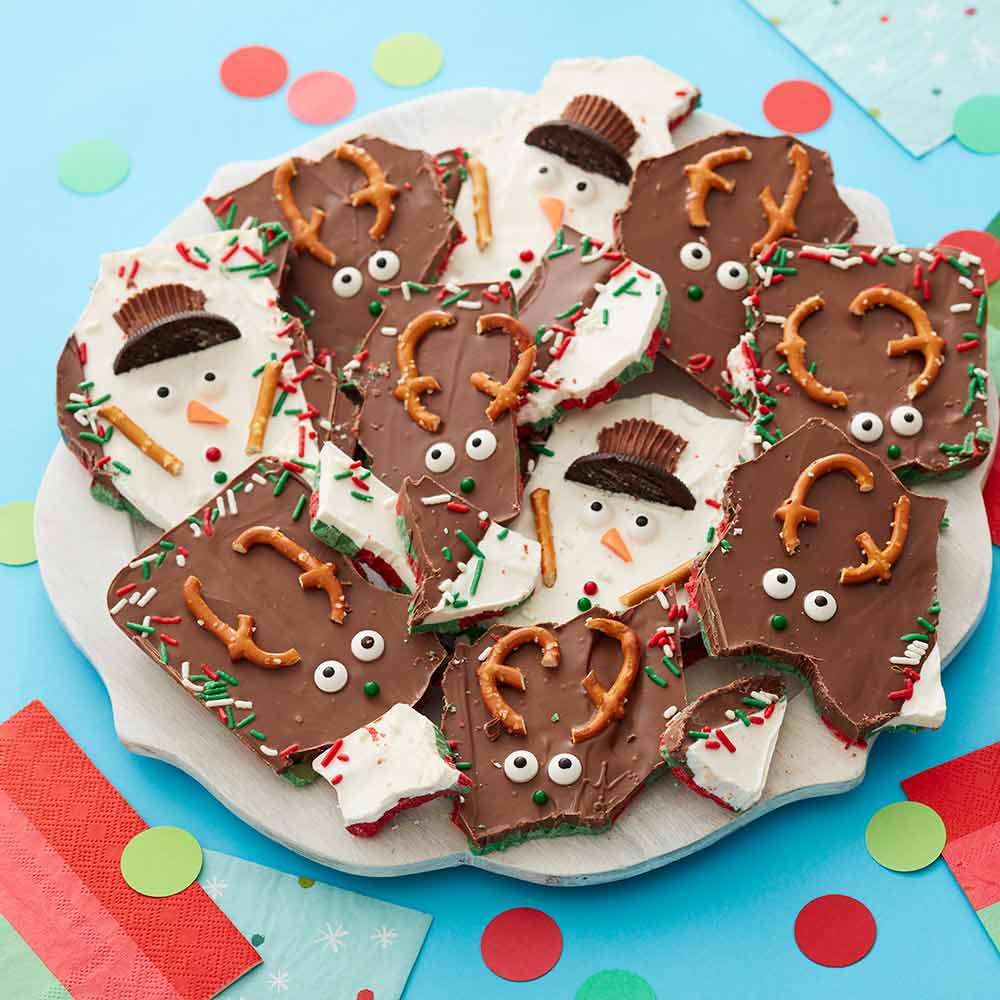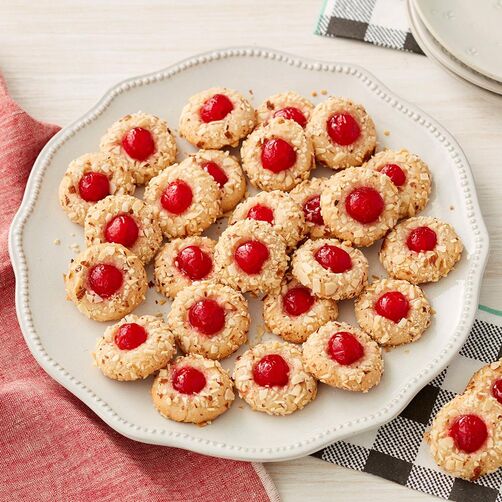 22. Chewy Almond Paste Cookies
Chewy and sweet, these almond paste cookies are a great addition to your holiday cookie tray! Made using almond paste, these cookies are simple enough for kids and beginning bakers. Add a cherry to the center of each cookie for added color and sweetness.
23. Green Color Swirl Holiday Cupcakes
Easy Christmas desserts, like these Green Color Swirl Holiday Cupcakes, are great for keeping the kids occupied in the kitchen. Decorated using the Color Swirl coupler, these cupcakes can be decorated with any combination of frosting colors. Try red, white and green for a traditional look or shades of blue for a winter treat. Don't forget the sprinkles!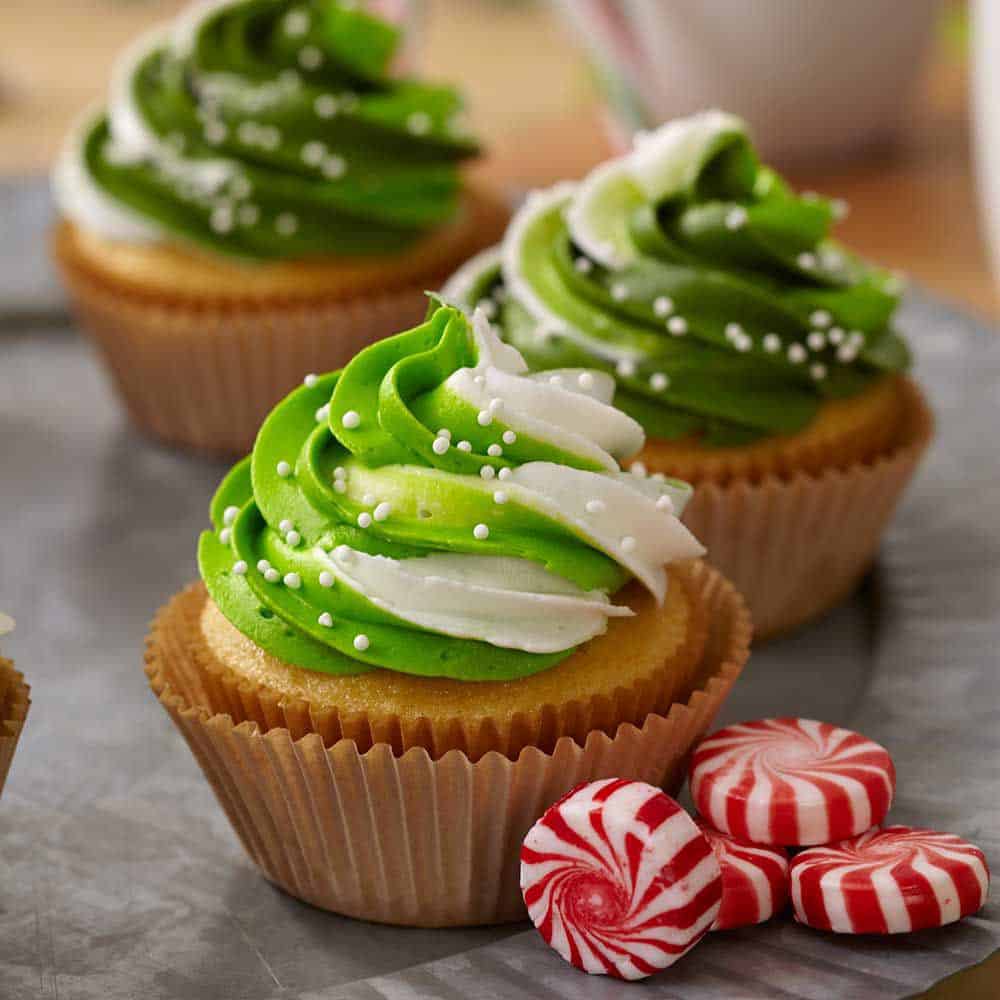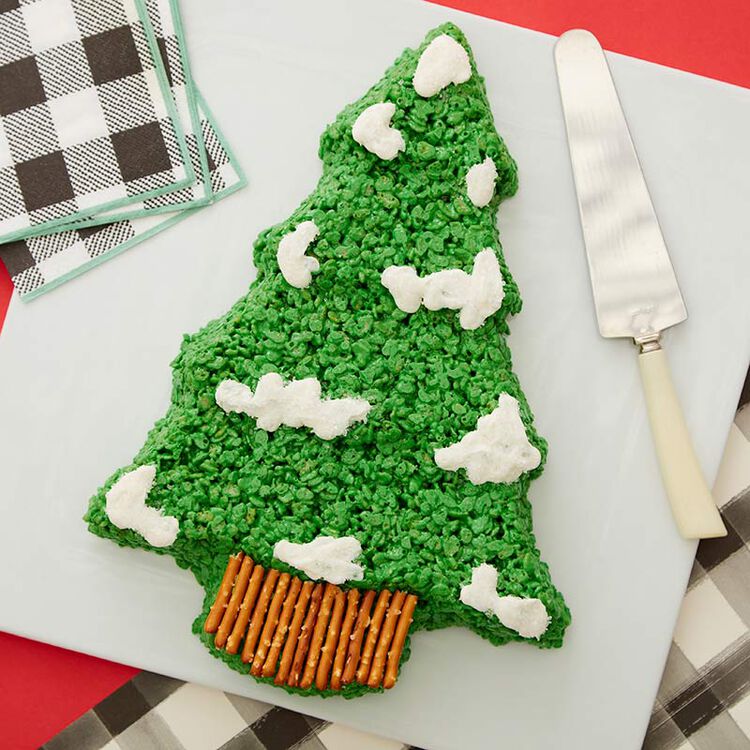 24. Rice Cereal Treat Cake
If you need Christmas treats for kids that require little to no oven time, you're going to love this Rice Cereal Treat Cake. Use our tree-shaped pan to shape your rice cereal treat into a tree, then use frosting to add fun decorations. For color, use icing decorations or sprinkles to add edible ornaments to your tree.
25. Snowman Sugar Cookies
These adorable snowman sugar cookies are easy to make and fun to decorate. Kids will love building their own fun snowmen right in the comfort of their own kitchen! No mittens required!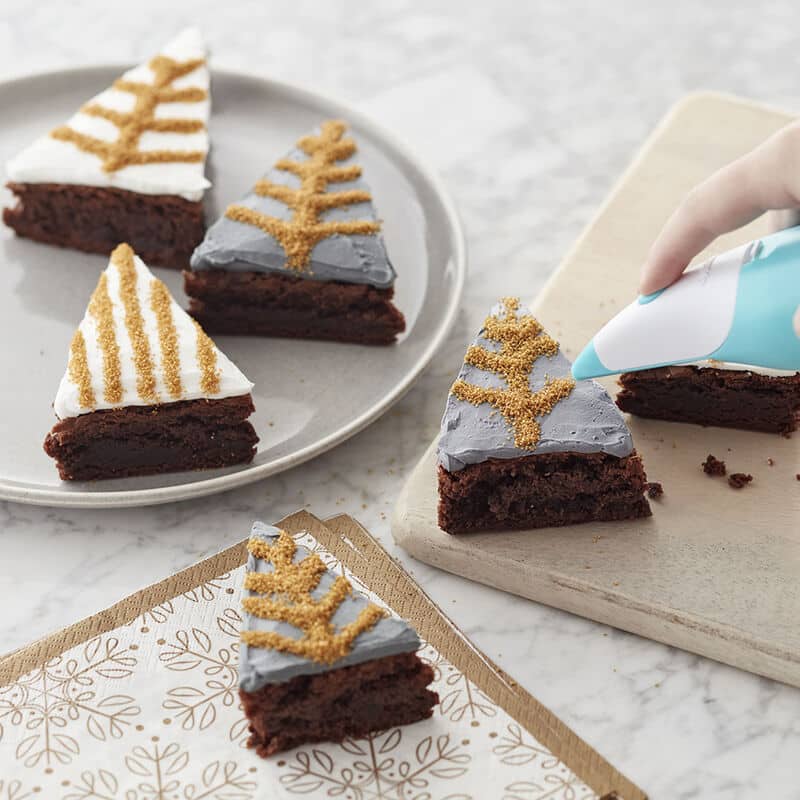 26. Gilded Golden Tree Brownies
These winter brownies sparkle with golden branches! Decorated using the Sugar Writer Sanding Sugar Pen, these brownies are great for Christmas, winter showers, birthdays and more.
27. Peppermint Bark
Looking for easy Christmas treats the whole family can do together? Look no further than this traditional Peppermint Bark. Made using Candy Melts candy and peppermint candies, this classic Christmas treat is great for snacking and gifting. Serve with hot cocoa for the ultimate winter dessert!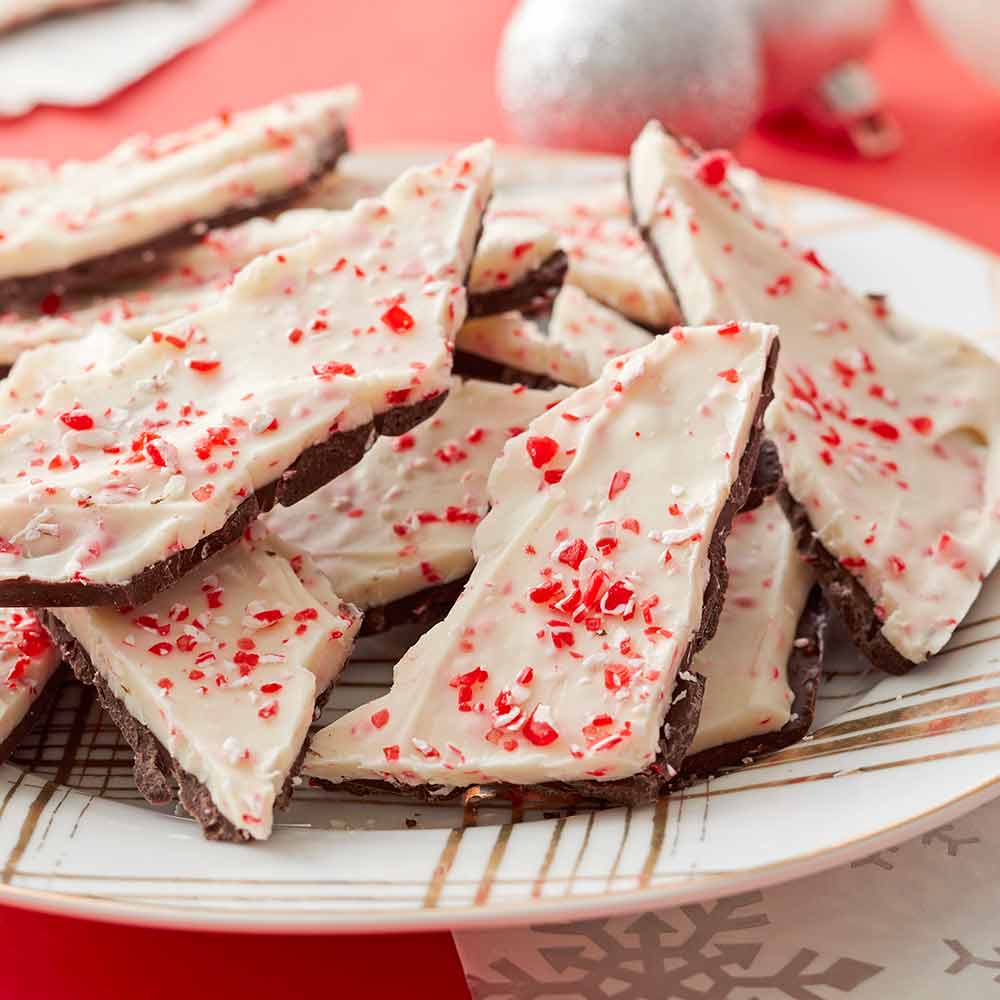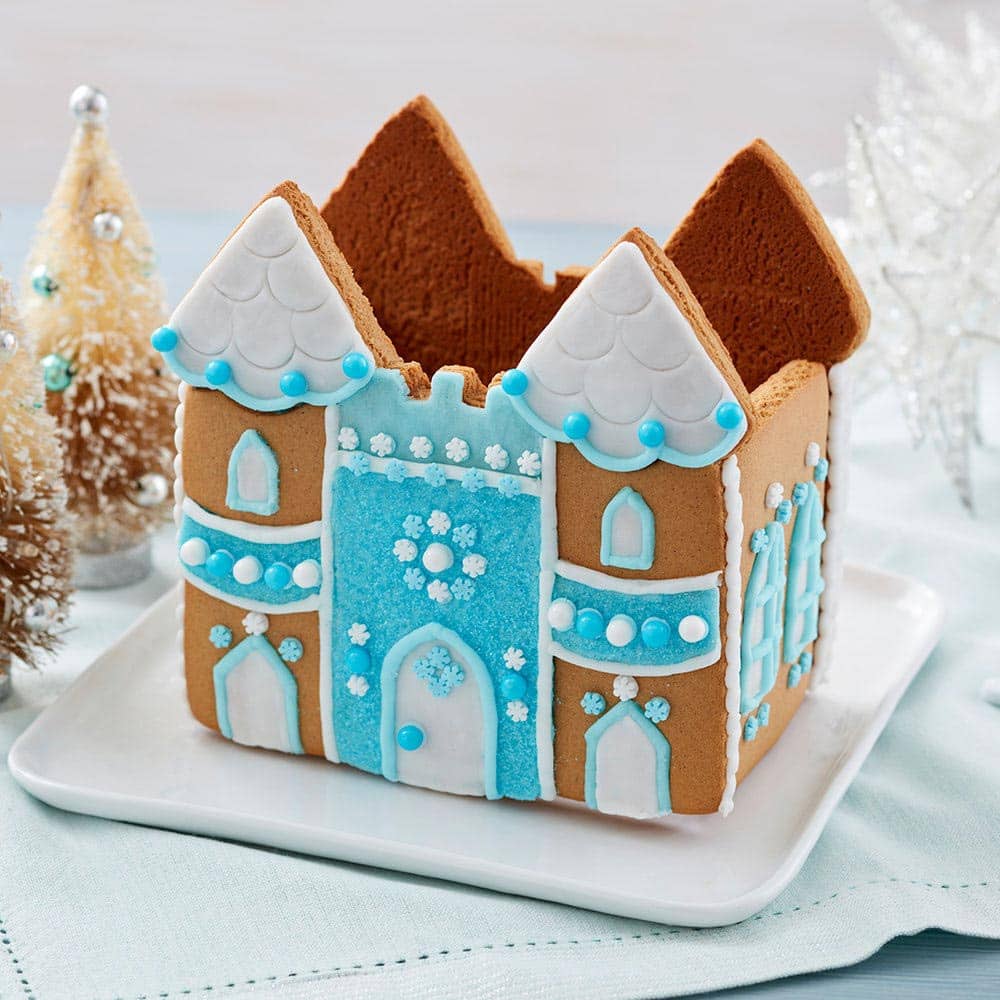 28. Shimmer and Sparkle Gingerbread Castle
Little princes and princesses will love decorating this Shimmer and Sparkle Gingerbread Castle. Great for adding a little magic to your holiday, this easy gingerbread house features simple piping techniques, great for beginners and kids.
29. A Pop of Christmas Tree Cookies
A simple decoration of icing and sugar pearls is all you need to make these cute tree cookies. You don't even need a cookie cutter! Great for holiday parties and gift-giving, these Christmas tree cookies also dry hard so they're great for stacking and packaging.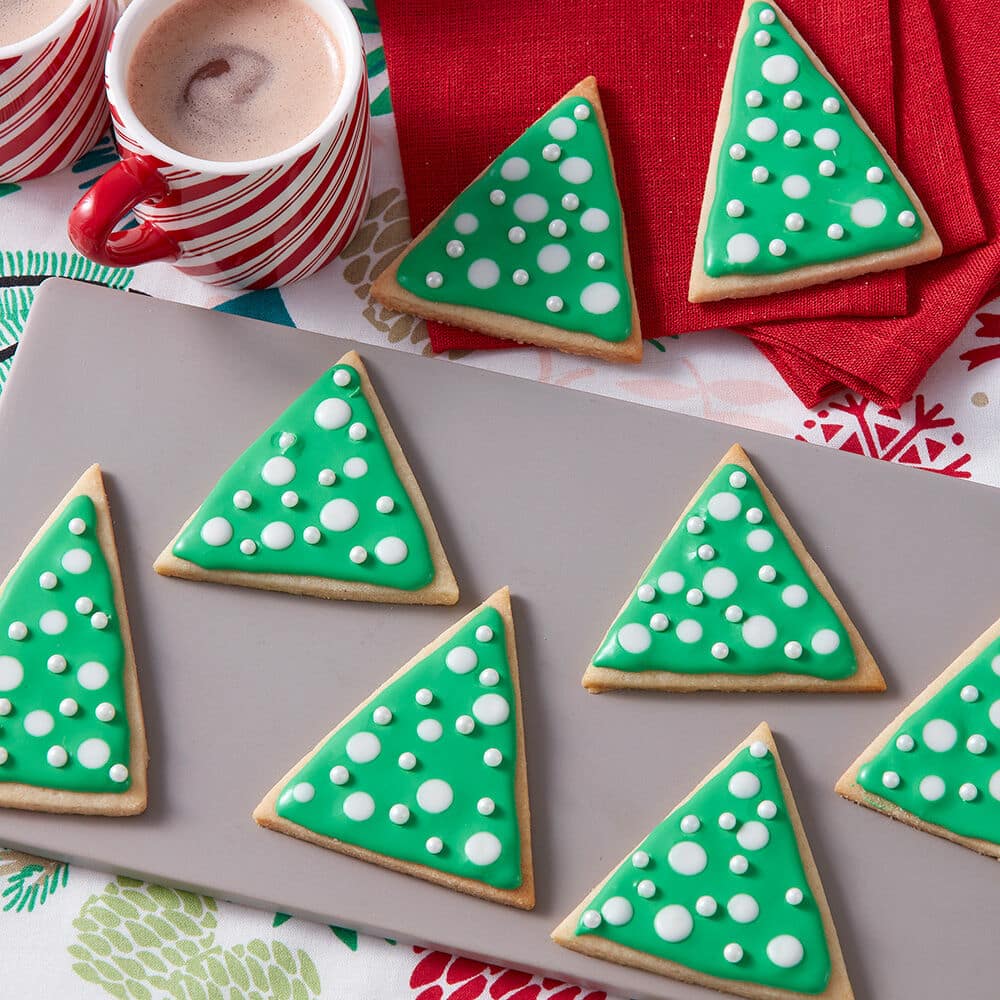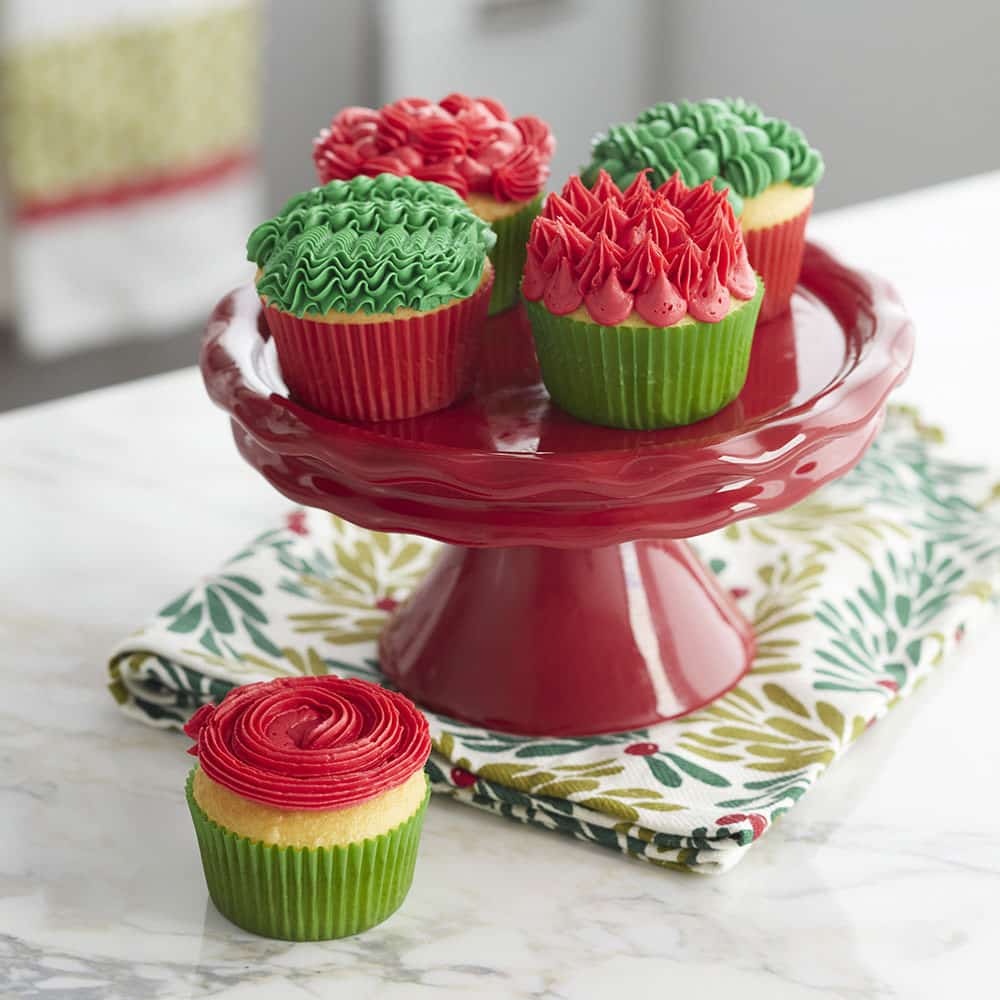 30. Holly Jolly Duo Tip Cupcakes
Decorated using easy piping techniques, these Holly Jolly Duo Tip Cupcakes are a festive and fun dessert idea for the holidays. Try this project with your favorite cupcake or cake recipe!
31. Stars and Rosettes Christmas Tree Cake
Trim the tree with buttercream stars and rosettes with this fun Christmas Tree Cake recipe. Decorated using simple piping techniques, this cute Christmas cake is perfect for your holiday celebration, a winter birthday or shower, or just a weeknight treat!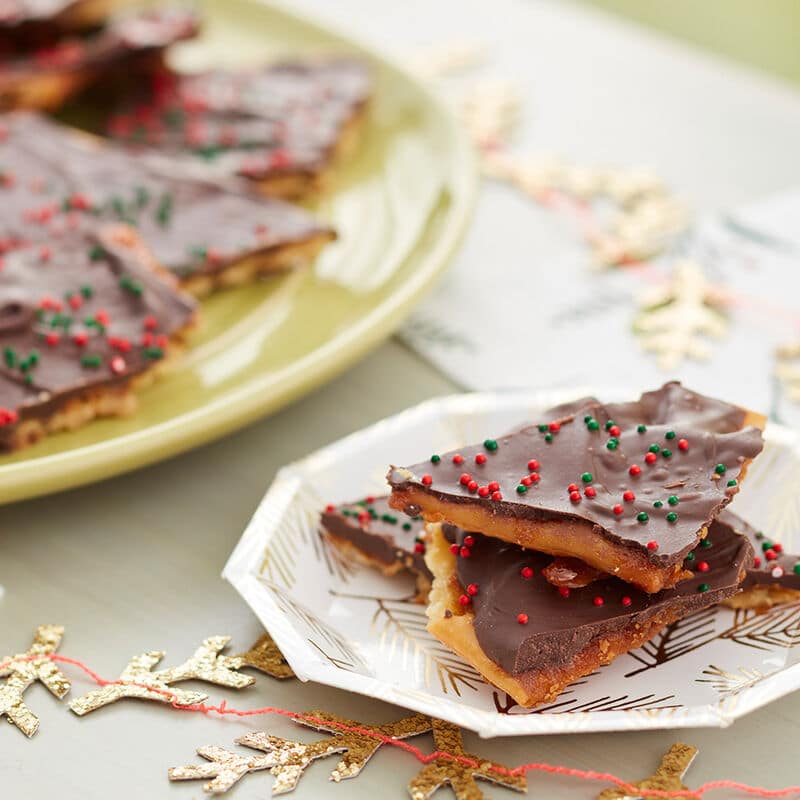 32. Saltine Toffee Bark
One bite of this Saltine Toffee Bark and you won't be able to stop! Made using saltine crackers, brown sugar and Dark Cocoa Candy Melts candy, this traditional Christmas treat may seem simple, but it packs a flavorful punch!
33. Chocolate Fudge
Is it really Christmas without fudge? A great starter recipe for kids, this simple chocolate fudge can be personalized however you'd like. Add nuts, chocolate chips, even sprinkles!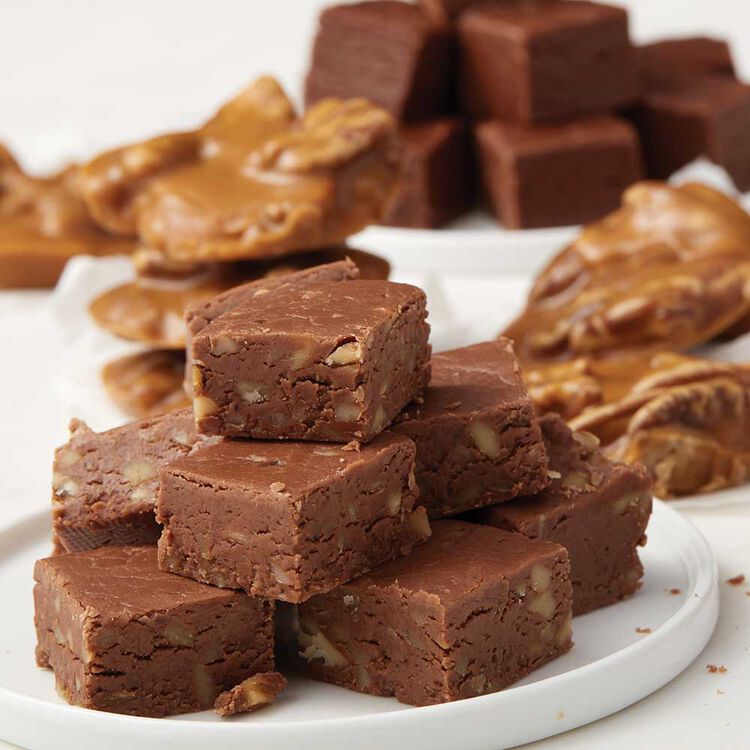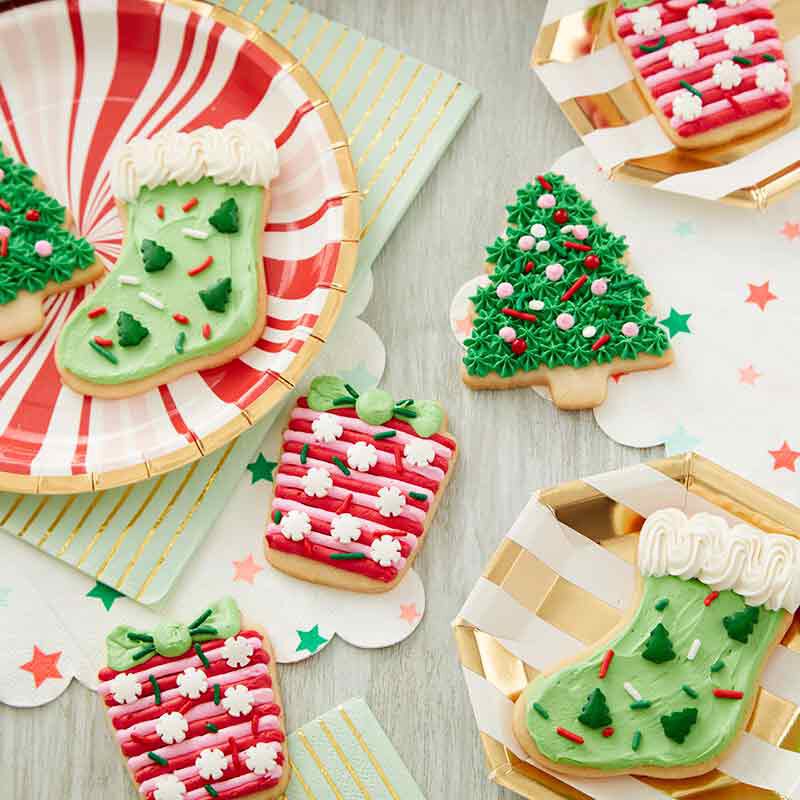 34. Soft Frosted Christmas Sugar Cookies
Create classic cut-out cookies that look just a little fancy – without a lot of extra work! Delicious vanilla buttercream tinted in holiday shades adds festive fun to these buttery Christmas sugar cookies. The easy piping techniques are great for beginners, and everything is more fun with sprinkles.
35. Chocolate Peppermint Cookies
These Chocolate Peppermint Cookies are great for dipping in a mug of hot cocoa. Drizzled with Candy Melts candy and topped with peppermint crunch candies, this easy recipe is fun for kids and beginning bakers alike. Don't forget to leave a few out for Santa, too!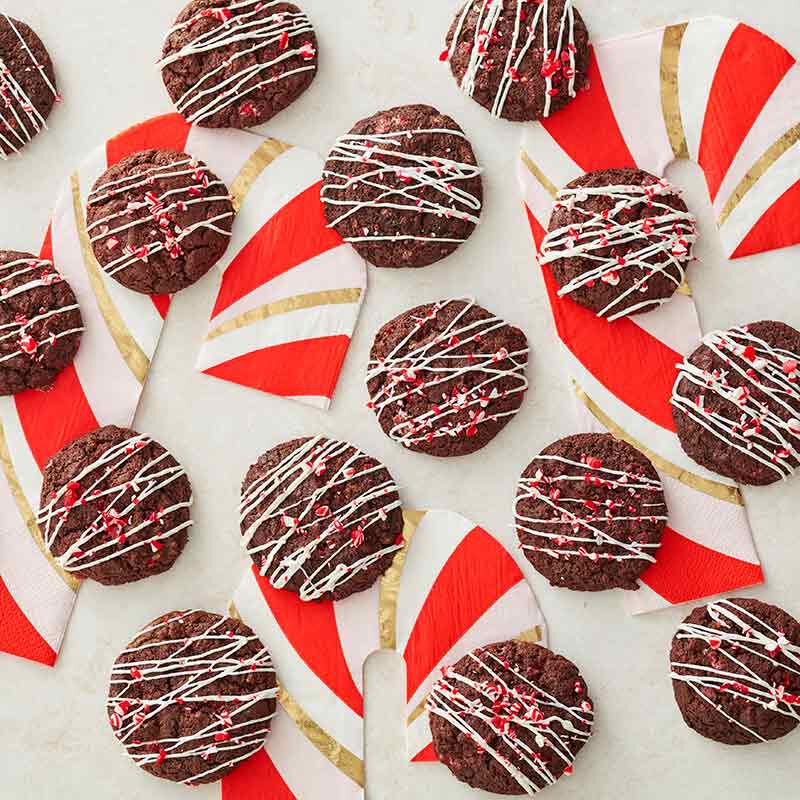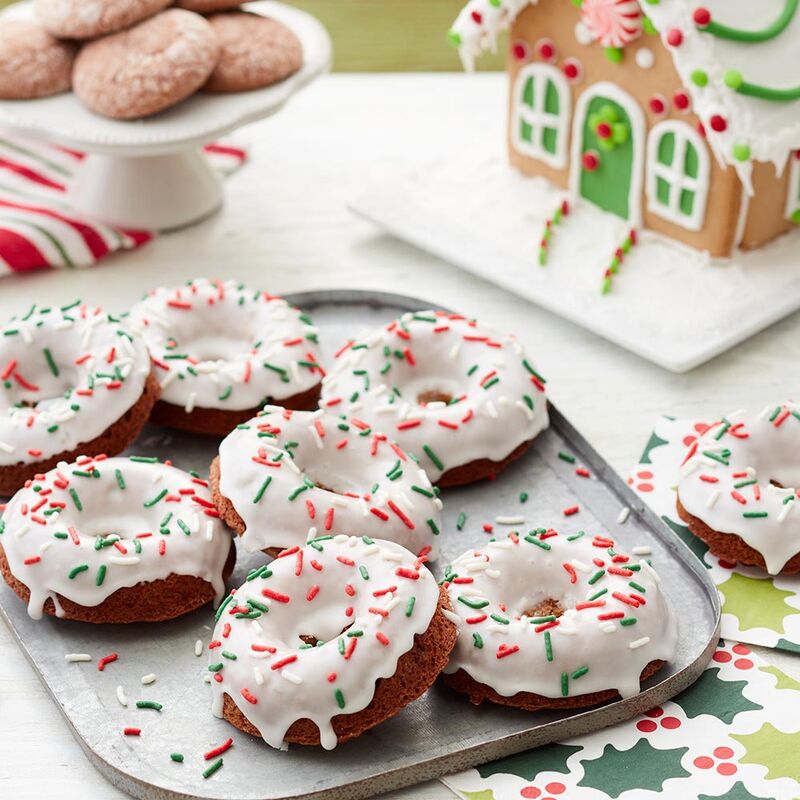 36. Glazed Gingerbread Donuts
Fill your home with the sweet smell of the holiday season with this baked gingerbread donuts recipe. Featuring the warm and delicious flavors of ginger, cinnamon, allspice and molasses, these cake donuts are a wonderful treat on Christmas morning.
37. Chocoholic Truffles
If your kids love getting their hands dirty, they're going to love making these fun chocolate truffles! Great for gift-giving, these truffles are a sweet treat chocolate lovers of all ages will enjoy. Roll them in sprinkles, nuts, coconut or cocoa powder for added flavor and texture.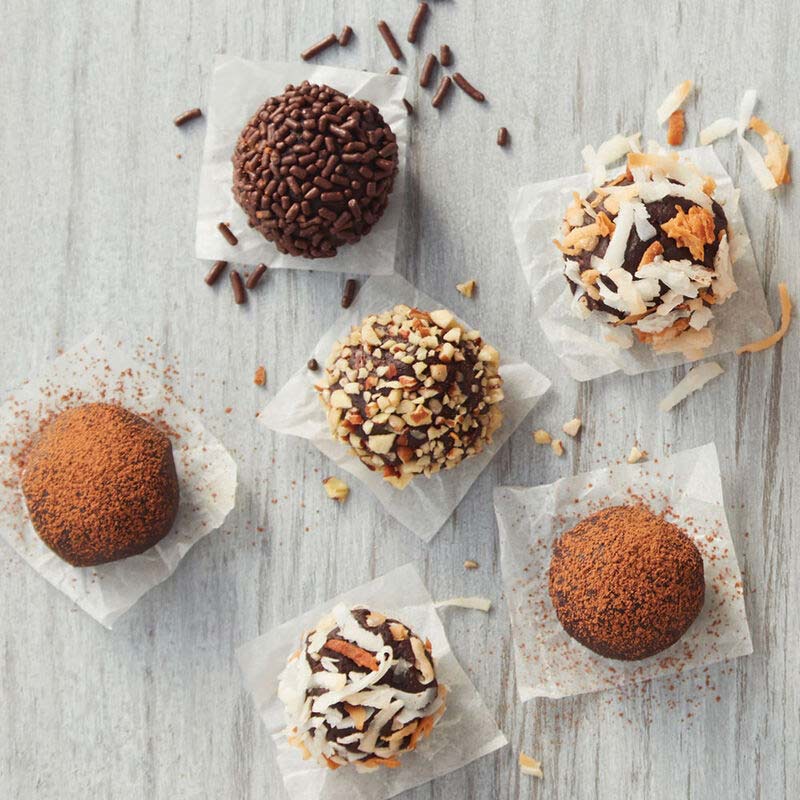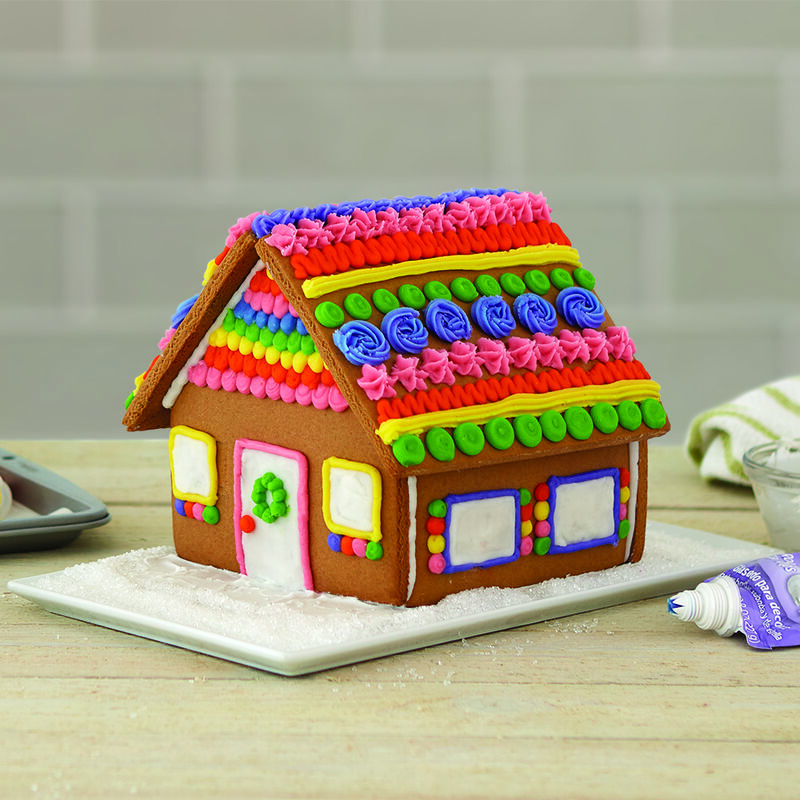 38. Gingerbread House Makeover
Tired of going traditional? Add vibrant color to your gingerbread house with this fun makeover project. Decorated using pouch icing, this project is ideal for kids. Each pouch of icing comes with its own tips for easy decorating and they're available in a variety of colors!
Looking for more inspiration? Try our supersized list of easy Christmas treats recipes that are perfect for Christmas!
Having a tree trimming party this year? Browse our great collection of Christmas tree desserts to help fill the bellies of a hungry crowd.
Is there a fan of rich, creamy and decadent desserts in the house? Well don't waste any time and take a look at our list of absolutely indulgent Christmas cheesecakes to get your baking juices flowing!​
So, which of these fun recipes are you going to make this season? ? Let us know in the comments below! And we'd also love to see what you and the kids are making for the holidays! So, share a picture of their cookies, cakes or cupcakes on Instagram and tag us @wiltoncakes.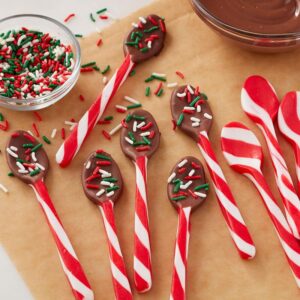 26 Kids' Christmas Treats They'll Love
These tasty, easy to make Christmas treats are perfect for little hands and are great for passing out at parties during the holiday season!
Tried this recipe?
Take a picture and tag us @WiltonCakes on Instagram