Enjoy the warm flavors of fall with a few of our best fall dessert recipes! From pumpkin pie to maple and brown sugar cookies, these autumn favorites are great for Thanksgiving, November birthdays or just a weekend in with the family!
Fall is one of the best dessert seasons! Cinnamon, maple, pumpkin and marshmallow are a few of my favorite fall flavors, and these easy fall desserts have all of those and more!
Whether you prefer cake or pie, cookies or cupcakes, these delicious fall dessert recipes are just what you need to treat your friends and family this holiday season.
1. Sweet Potato Pie
Why give pumpkins all the fun this season? Made using roasted sweet potatoes and flavored with cinnamon, ginger and nutmeg, this Sweet Potato Pie is sure to become a new Thanksgiving favorite. Top your pie with mini marshmallows for added sweetness and color.
2. Mini Carrot Cake Cupcakes
Enjoy a little treat (or two!) with these Mini Carrot Cake Cupcakes. Made using your favorite carrot cake recipe and our tasty homemade cream cheese frosting, these mini cupcakes are just what you need if you're craving a little bite of something sweet!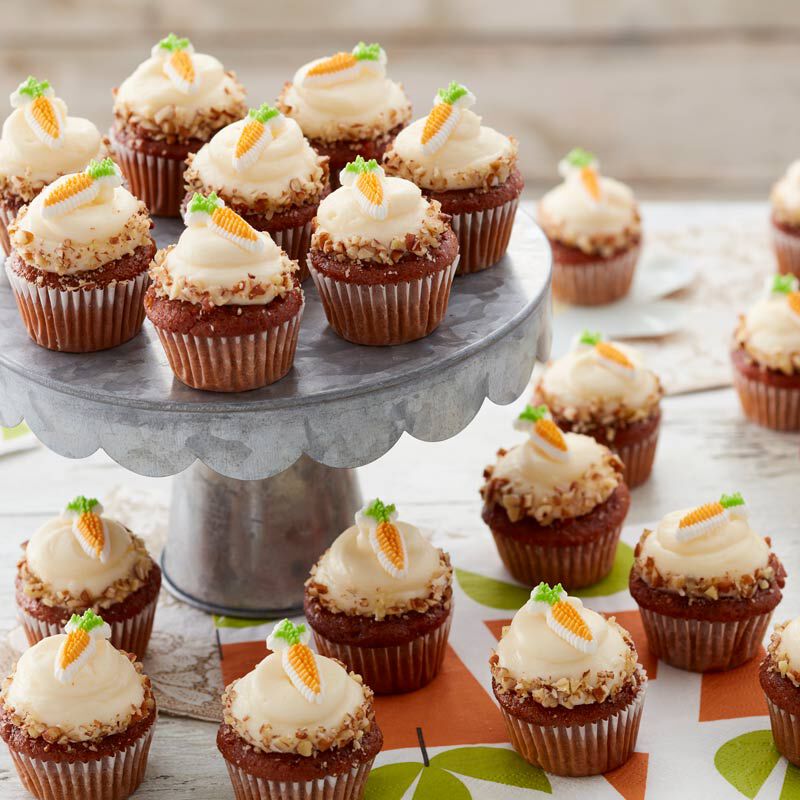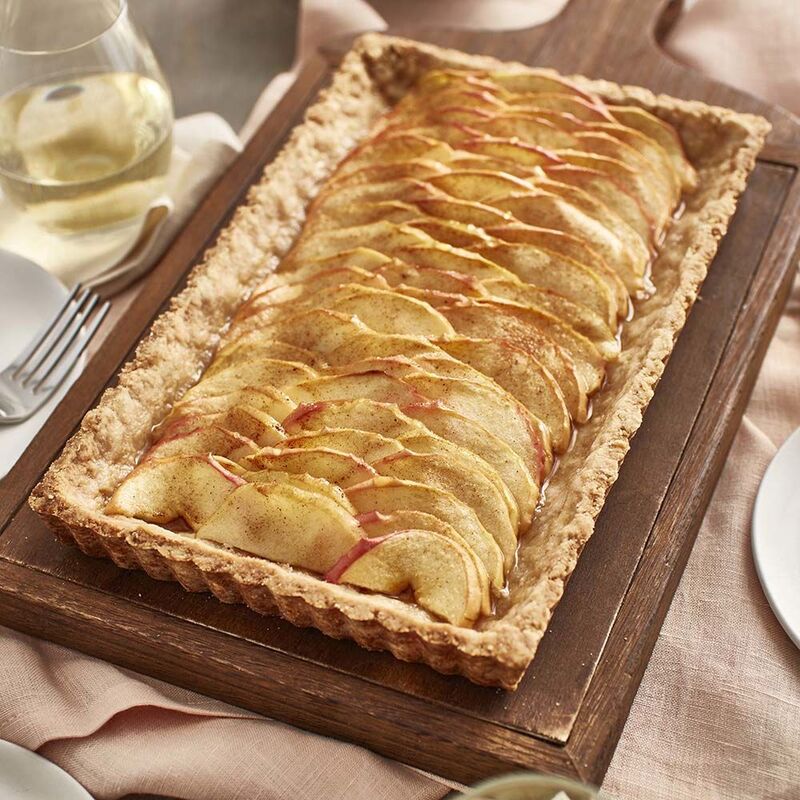 3. Cinnamon Apple Tart
If you're not a lover of lattice work, this Cinnamon Apple Tart is sure to please. Layers of Honeycrisp apples are topped with pumpkin pie spice for a delicious dessert that's best served with ice cream or homemade whipped cream.
4. Maple and Brown Sugar Oatmeal Cookies
The warm, sweet flavor of maple syrup gives new life this old childhood favorite! Topped with a sweet maple glaze, these oatmeal cookies make a great weeknight treat. Best of all, they're easy enough to make with the kids.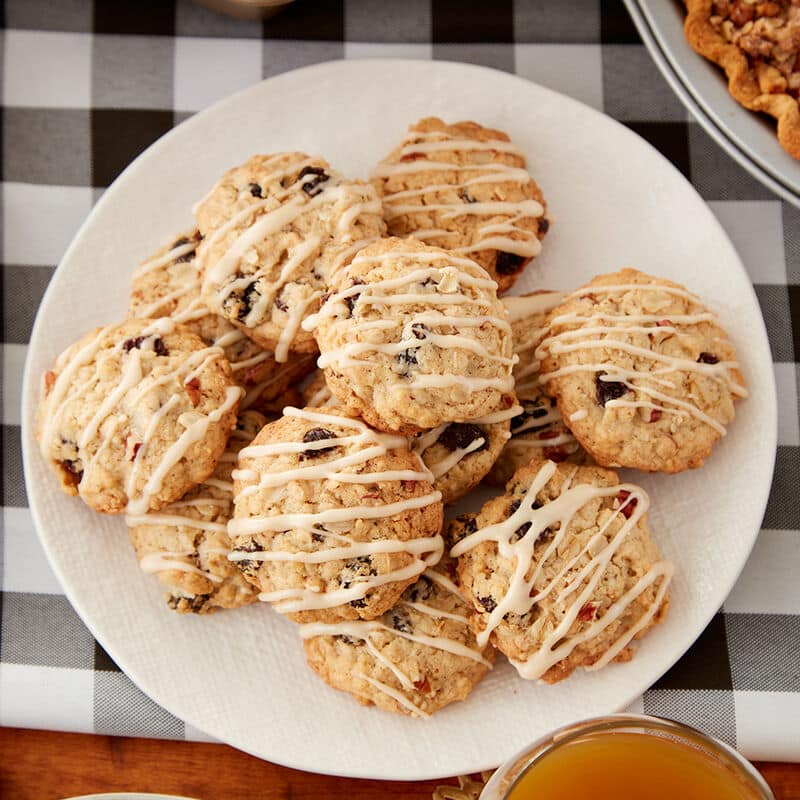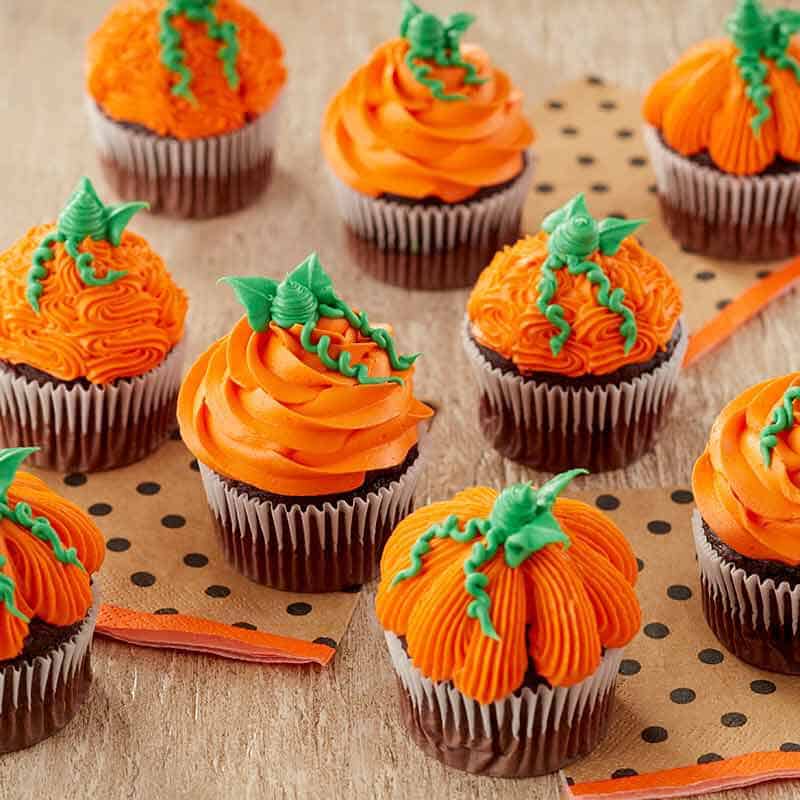 5.Pretty as a Pumpkin Patch Cupcakes
Create your own edible pumpkin patch with this fun assortment of cupcakes. Start with your favorite chocolate cake recipe, then have fun piping your own textured pumpkins with swirls, zig-zags and shells.
6. Homemade Pumpkin Ale Marshmallows
Add a little boozy taste to your marshmallows with this Homemade Pumpkin Ale Marshmallow recipe. These marshmallows are perfect for topping your homemade hot cocoa, or gift them to family and friends!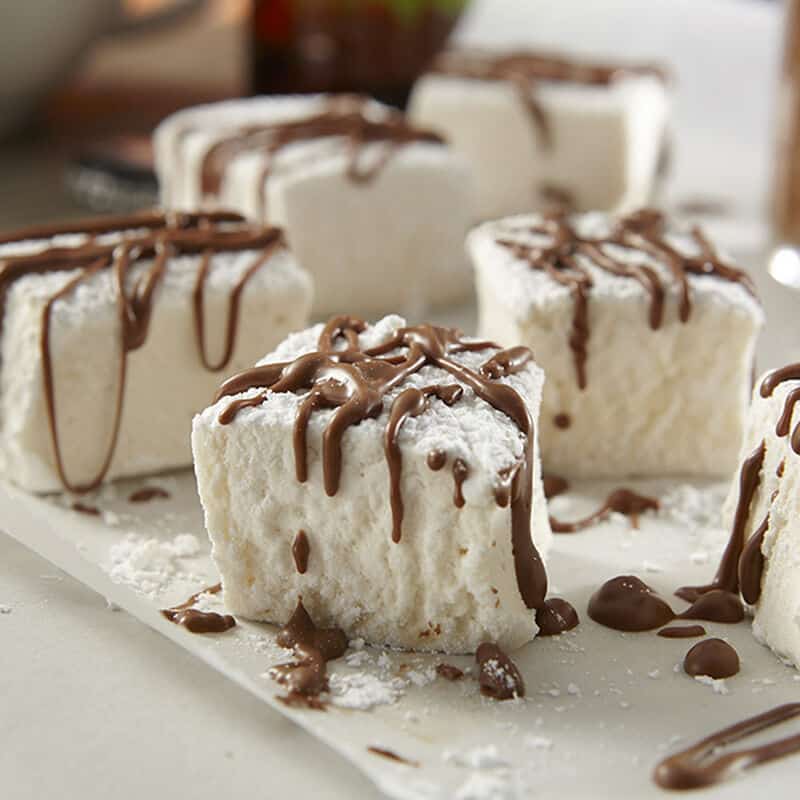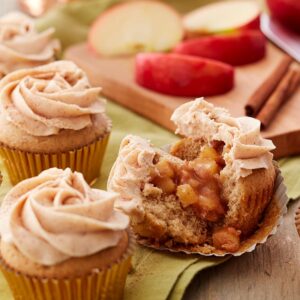 7. Apple Pie Cupcakes with Cinnamon Buttercream
Can't decide between pie and cake? Get the best of both worlds with these Apple Pie Cupcakes. These tasty treats are filled with a warm and spicy apple pie filling, then topped with homemade cinnamon buttercream for a decadent fall dessert you're sure to enjoy.
8. Chocolate Caramel-Filled Apples
Taffy apples can be hard to eat, but these Chocolate Caramel-Filled Apples make it a little easier! Rather than apples dipped in caramel, these sweet treats put all the sticky stuff inside the apple for a dessert kids and adults will love.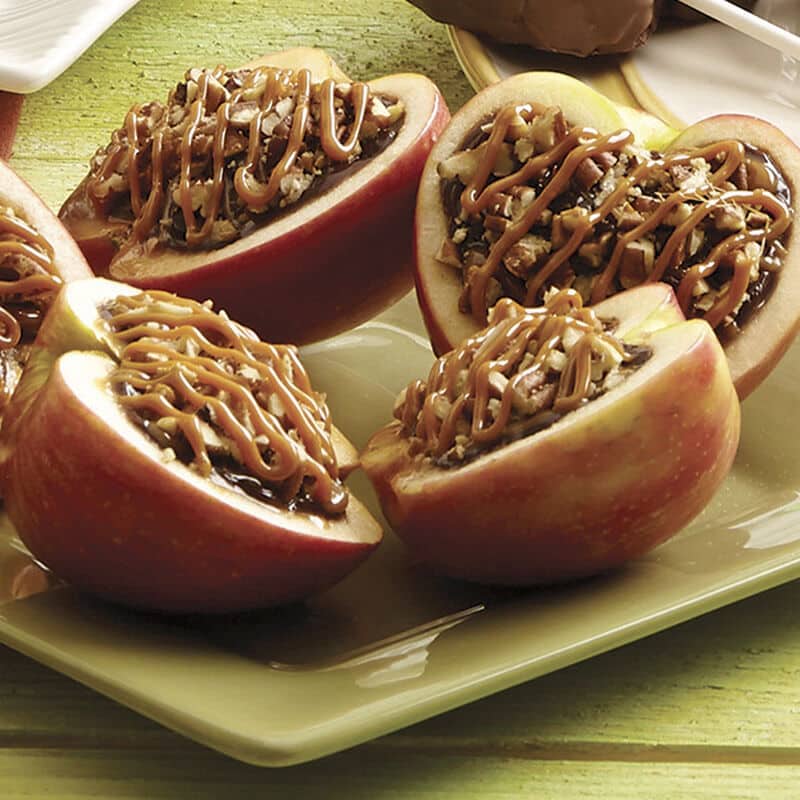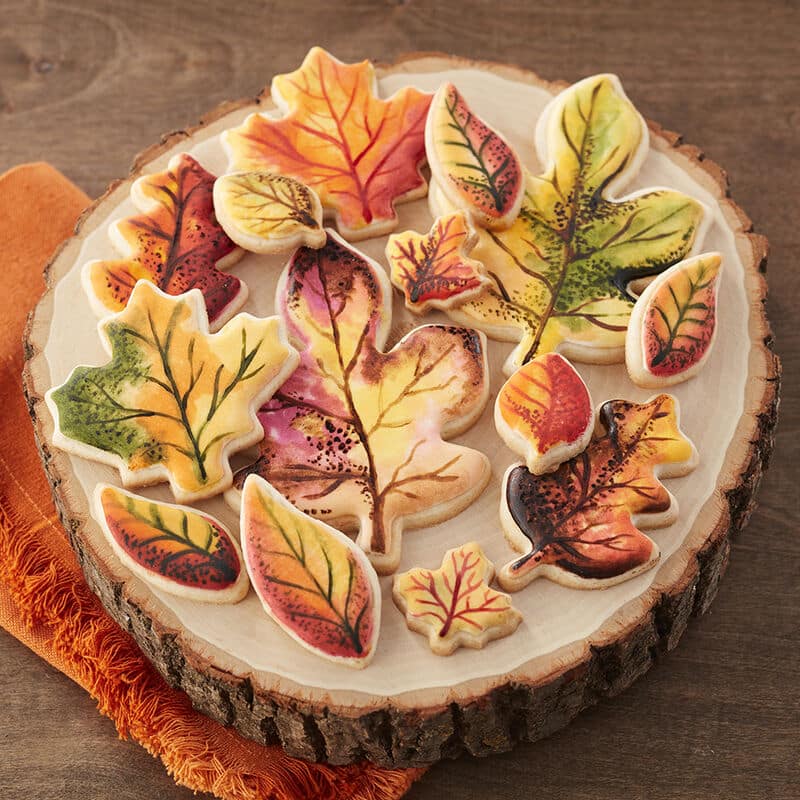 9. Fall Painted Leaf Cookies
Let the cookies be your canvas with this fun and decorative fall dessert. Using an assortment of icing colors as paints, these cookies are great for those who are artistically minded. Serve them at a family gathering or gift them as party favors for Thanksgiving.
10. Pecan Pumpkin Pie
Pecan and pumpkin pie are staples of almost every Thanksgiving meal but, with this Pecan Pumpkin Pie, you can enjoy both pies in one! A creamy pumpkin pie filling is topped with a crunchy pecan topping for a sweet and satisfying dessert perfect for fall celebrations.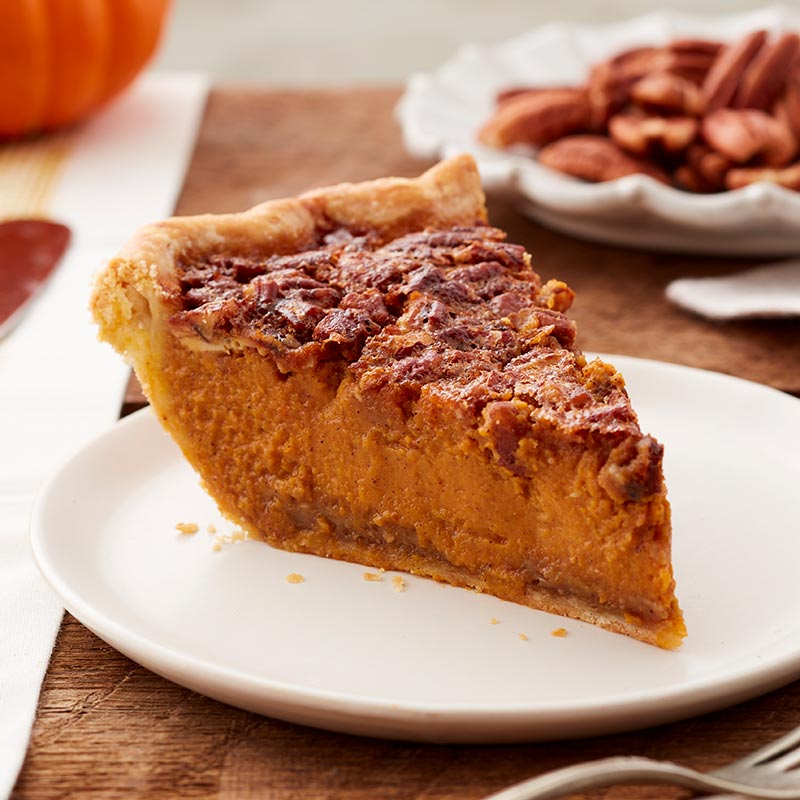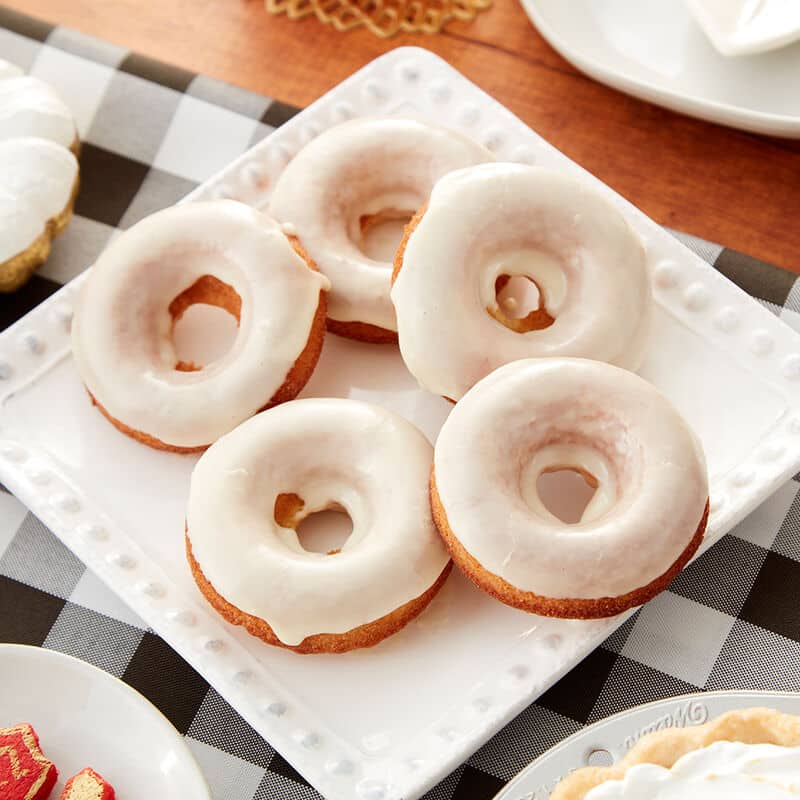 11. Apple Cider Donuts
Nothing says fall quite like apple cider donuts! These sweet and delicious donuts are infused with apple cider, then topped with an apple cider glaze. Serve them for breakfast or dessert!
12. Sweet Potato Cake with Marshmallow Frosting
Fries aren't the only thing you can make with sweet potatoes! Soft and moist, this Sweet Potato Cake is great for all you spiced cake lovers out there! It's even better when combined with our homemade Marshmallow Buttercream Frosting!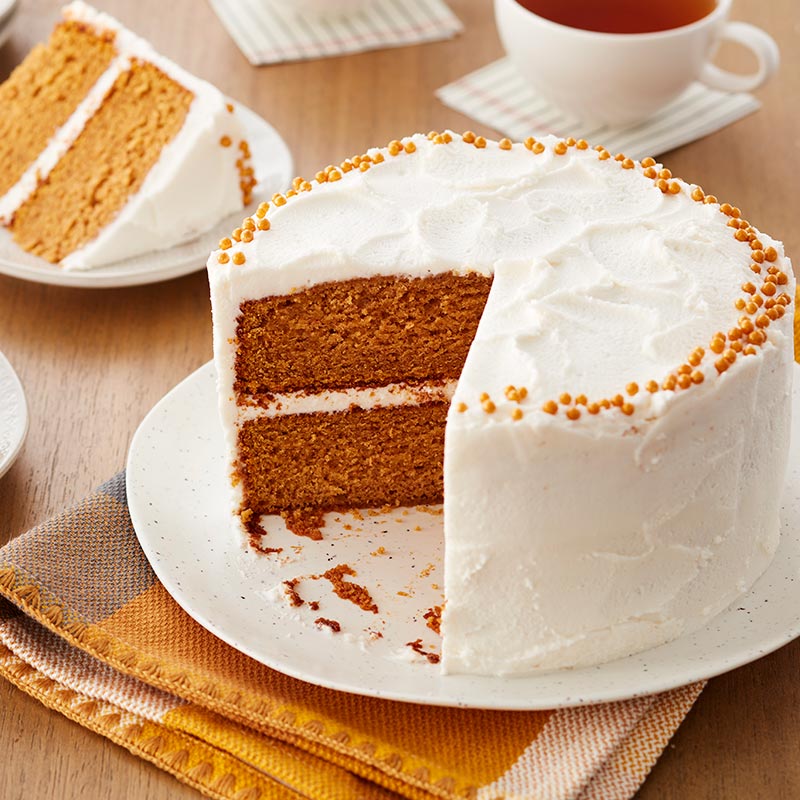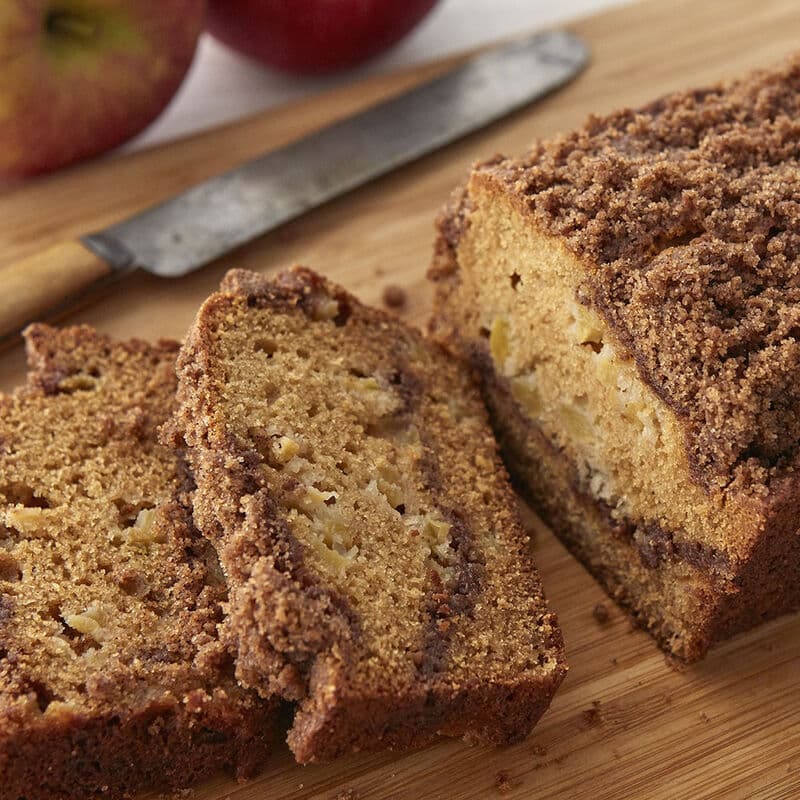 13. Fall Apple Cinnamon Loaf
Applesauce and chopped Fiji apples add a punch of flavor to this loaf cake. A lovely cake to make for a hostess gift, this Fall Apple Cinnamon Loaf has a ribbon of cinnamon streusel weaving through the batter, then is topped with a crunchy topping for added flavor and texture.
14. Caramel Apple Pies
These Caramel Apple Pies combine two amazing fall flavors into one! Small enough to share with the apple of your eye (or just eat on your own!), these mini apple pies are a lovely way to celebrate the flavors of the season.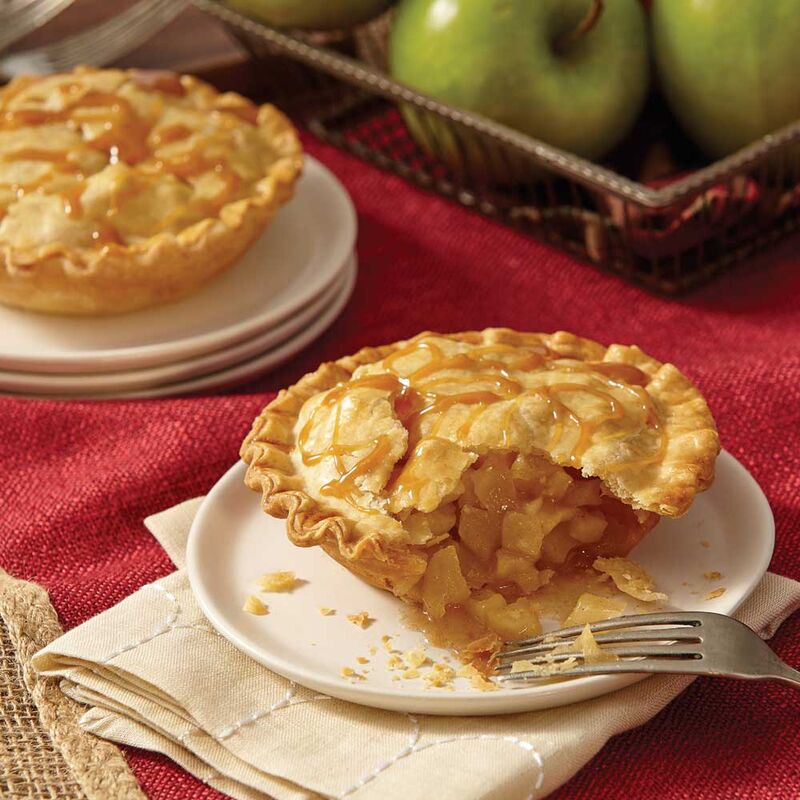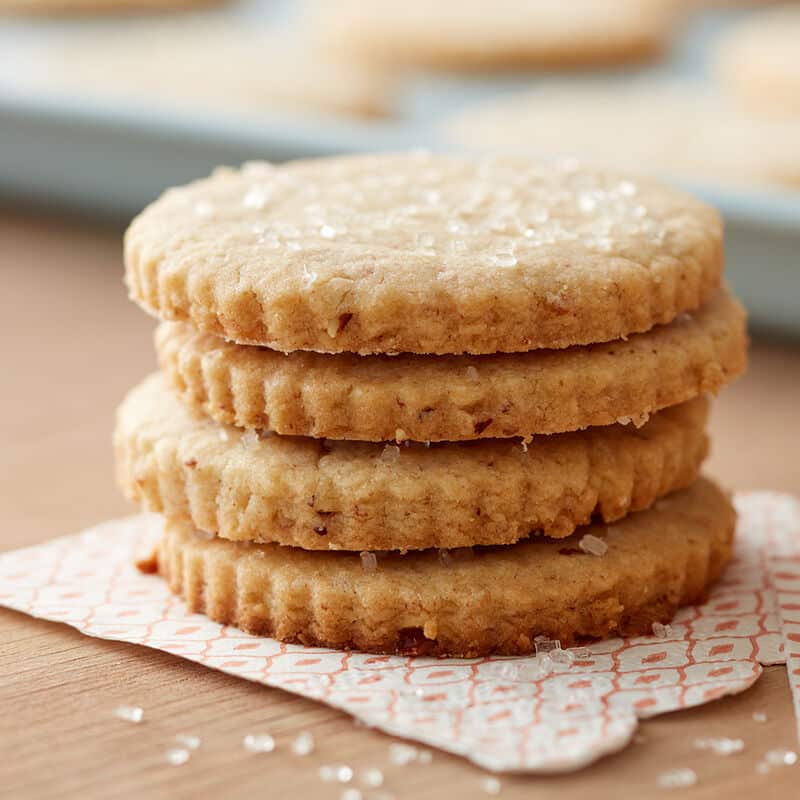 15. Pecan Shortbread Cookies
Buttery shortbread and nutty pecans combine for a rich and flavorful cookie that's great for snacking, dunking, drizzling and gifting! Top your cookies with chocolate or jam, or serve them as is for a delicious ending to any meal.
16. Apple Spice Spool Cakes
These mini apple spice cakes are a great way to celebrate fall. Filled with a thick apple filling and topped with an apple juice glaze, these treats are a simple project for bakers of all skill levels.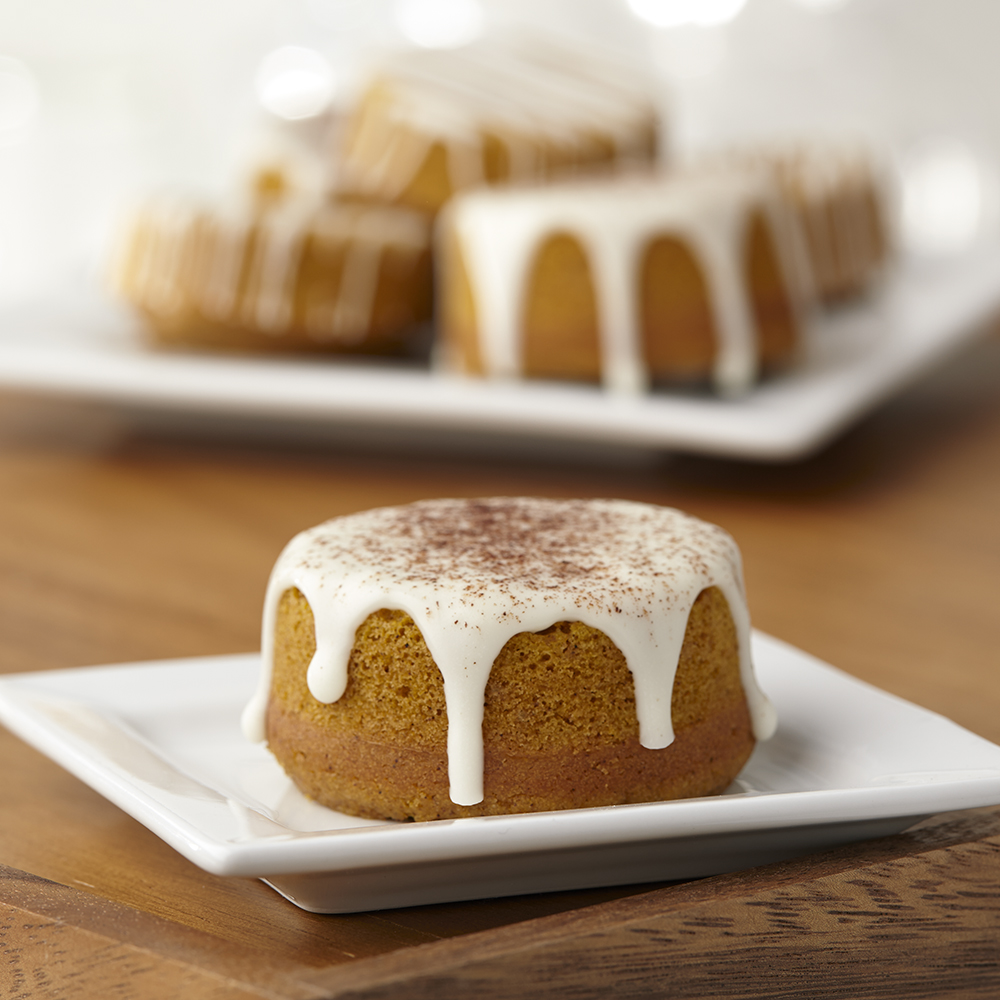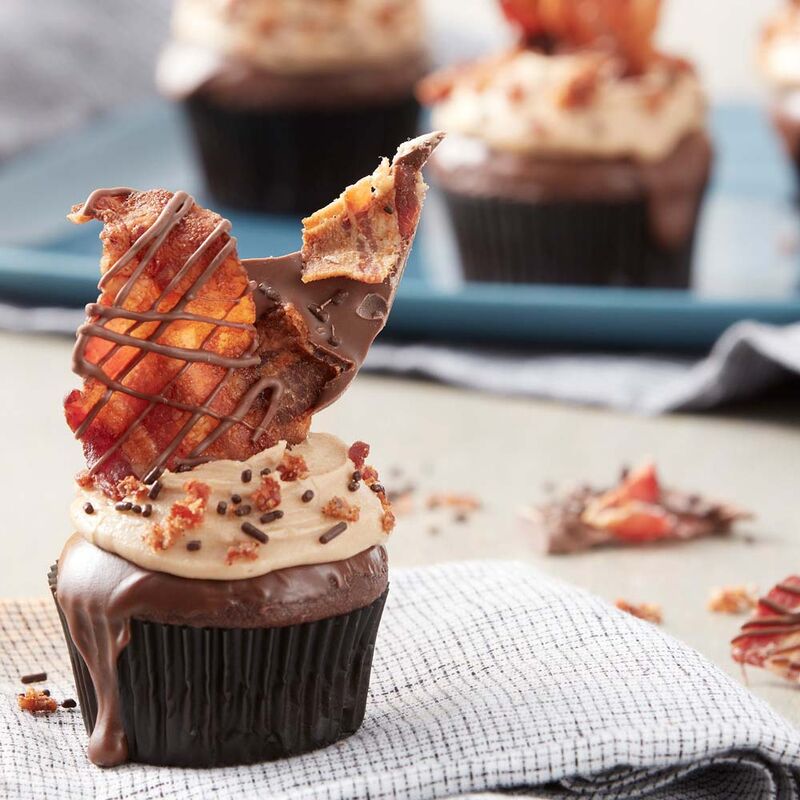 17. Maple Buttercream Frosting
Take your favorite chocolate or carrot cake recipe up a level with this homemade Maple Buttercream Frosting. Great for spreading between cake layers or piping on cupcakes, this rich and flavorful frosting is a simple twist on a classic buttercream.
18. Homemade Pumpkin Bread
Here's a fun recipe for beginning bakers! Made using simple pantry ingredients, this Homemade Pumpkin Bread will fill your home with the aroma of fall spices in no time! Add your favorite mix-ins, such as nuts, chocolate or raisins, or bake as is for a delicious treat you can serve for breakfast, dessert and everything in between!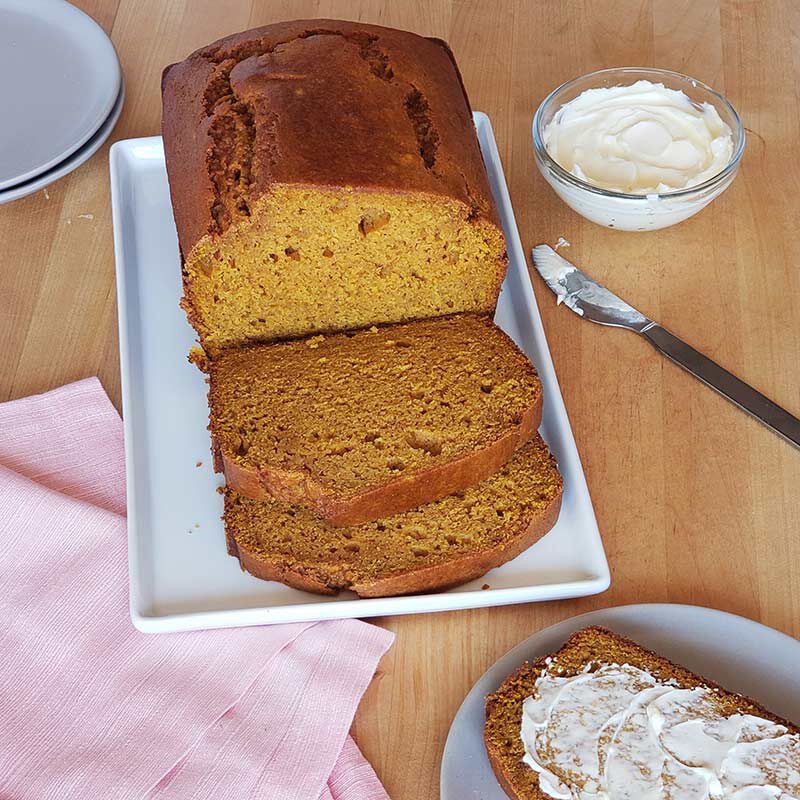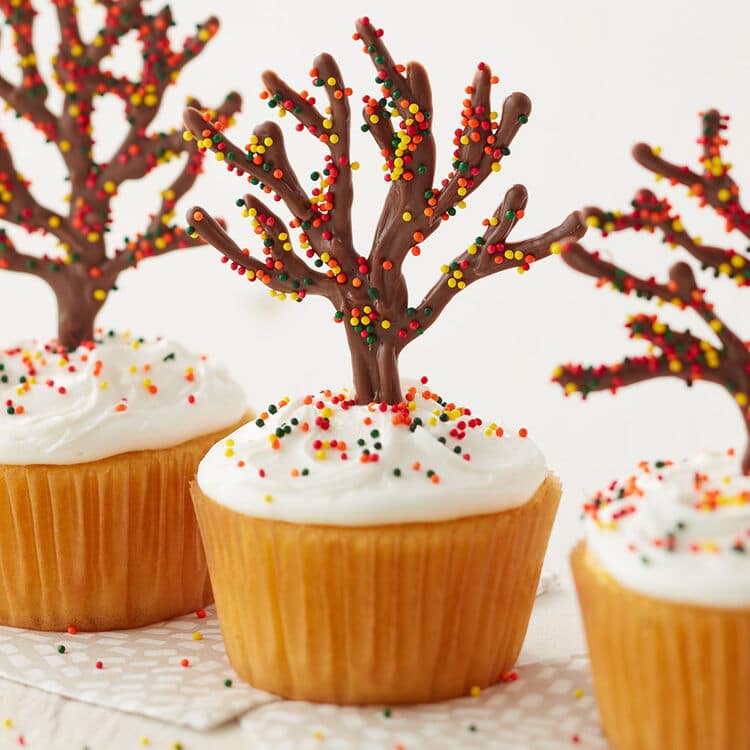 19. Festive Fall Candy Tree Cupcakes
Delight in the colors of autumn with these Festive Fall Candy Tree Cupcakes. Simply pipe some candy trees on parchment paper, then sprinkle them with fall-colored nonpareil sprinkles. Insert them into your favorite homemade cupcakes (or use store-bought!) for a fun fall treat everyone will love.
20. Easy Apple Crisp
Quick and easy to make, this apple crisp recipe is great for a weeknight dessert. Combine slices of Granny Smith apples with brown sugar and cinnamon, then top them with a crunchy oat topping for a warm, flavorful dessert best served with a big scoop of ice cream!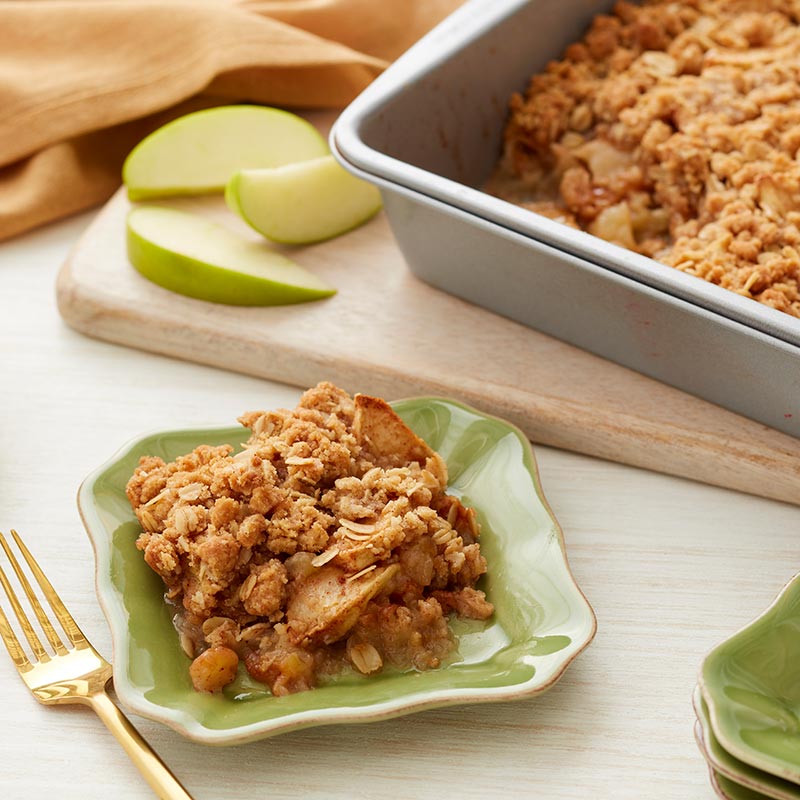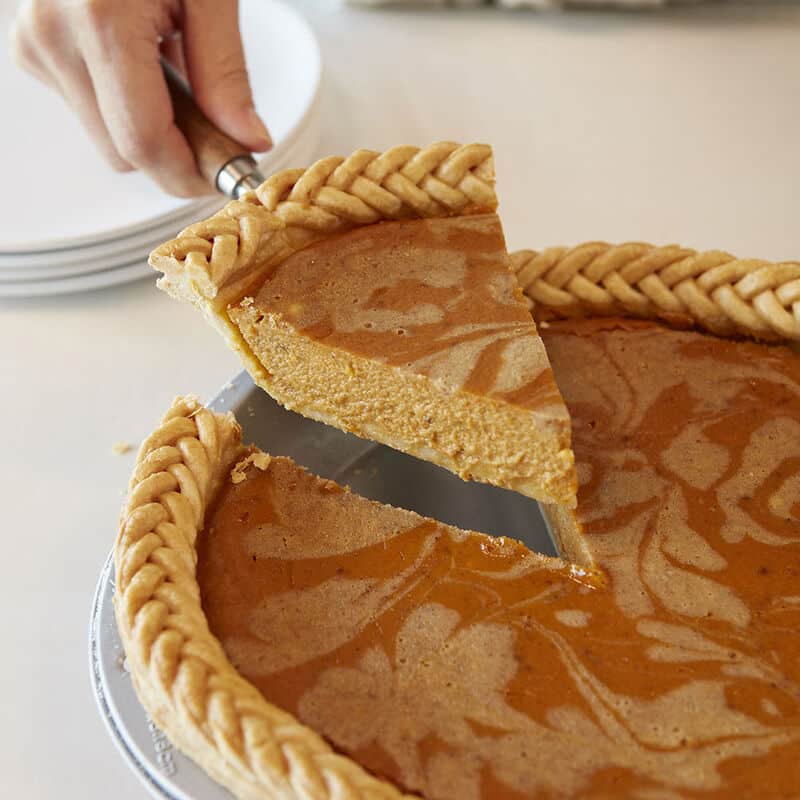 21. Chai-Spiced Swirl Pumpkin Pie
The spicy-sweet flavor of this Chai-Spiced Pie elevates the humble pumpkin pie to a whole new level! Just as delicious to eat as it is beautiful to admire, this pie recipe is a sweet ending to your autumn celebration.
22. Cinnamon Spritz Cookies with Dulce de Leche Filling
Spritz cookies aren't just for Christmas! Seasoned with cinnamon, these Spritz cookies feature an irresistible dulce de leche filling for a sweet treat everyone will love. Serve them on a large platter or package them in treat bags for easy gifting to neighbors and friends.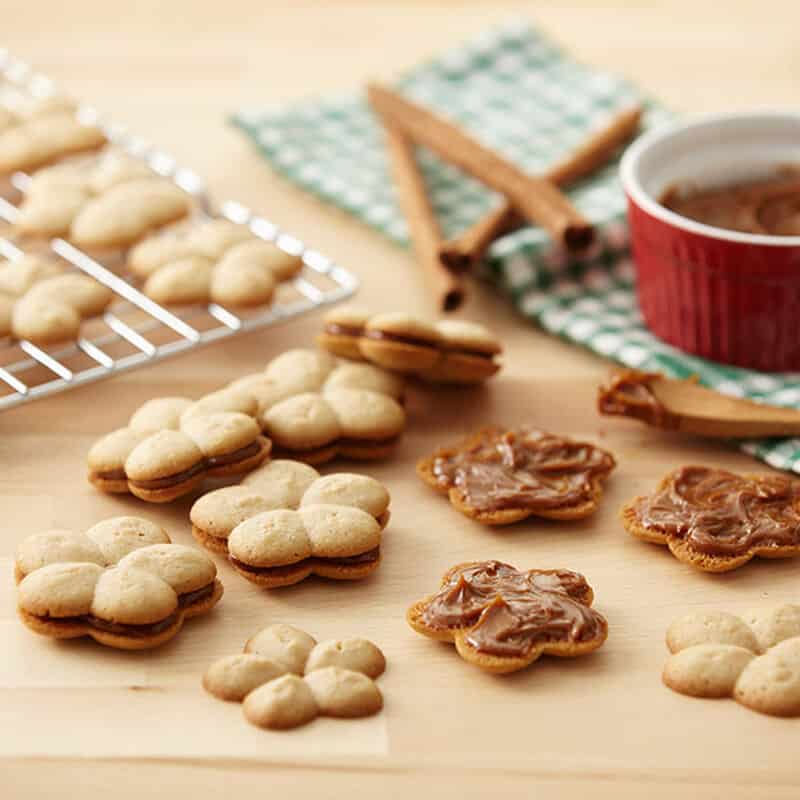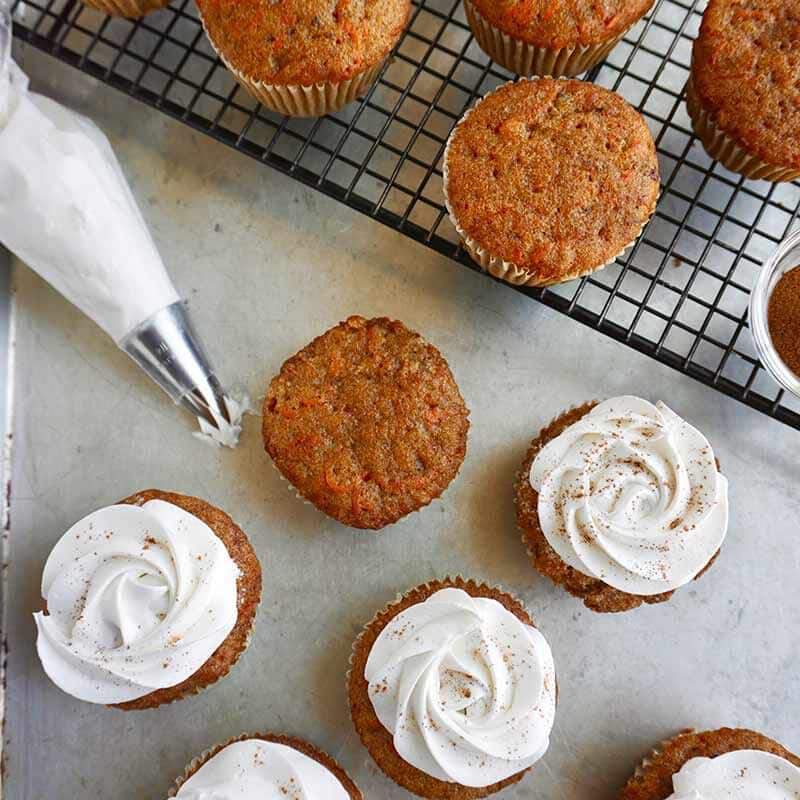 23. Carrot Cake Cupcakes
Real grated carrots make these Carrot Cake Cupcakes moist and delicious. Add chopped pecans for added flavor, or skip them if you'd like. And don't forget the frosting! We've topped ours with our sweet cream cheese icing, but you could also use Marshmallow Buttercream or Maple Buttercream to punch up the fall flavors.
24. Apple Cider Donuts with Whipped Maple Topping
Serve breakfast for dessert with these Apple Cider Donuts. A sweet cinnamon donut is filled with a light whipped maple frosting, then topped with an apple cider glaze for a dessert that screams fall! Garnish with a couple cinnamon sticks and a sprinkle of ground cinnamon or pumpkin pie spice.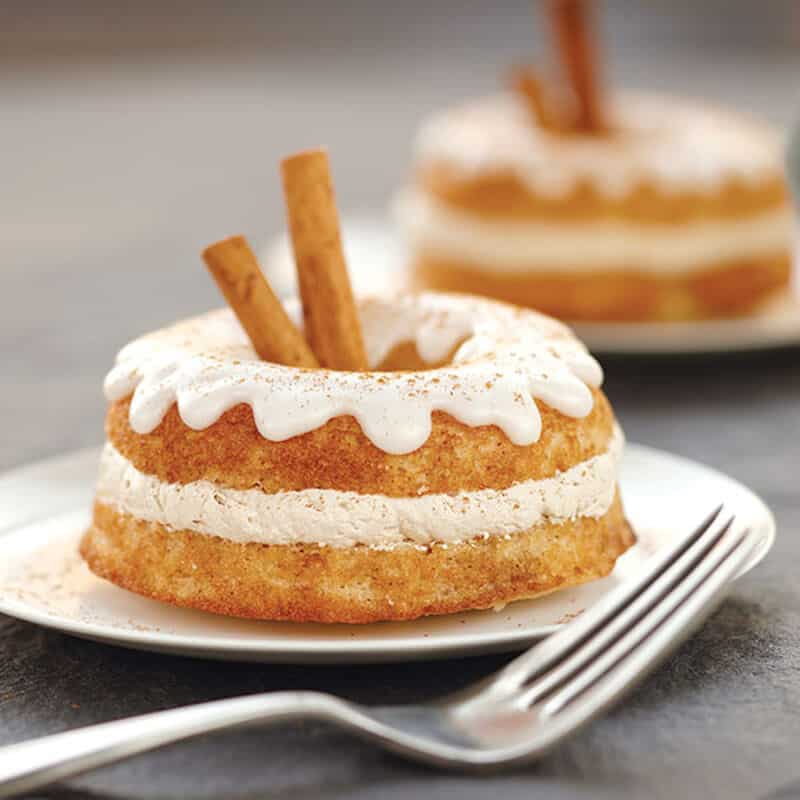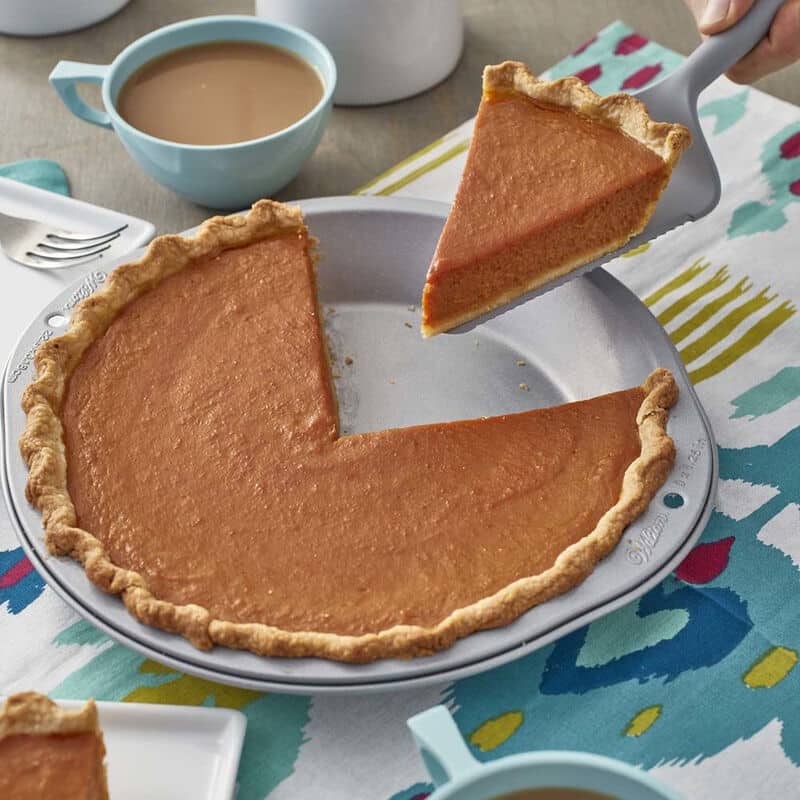 25. Easy Pumpkin Pie Recipe
Keep it classic this Thanksgiving with this Easy Pumpkin Pie recipe. Whether you serve it as is or topped with whipped cream, this traditional fall dessert is a no-fail!
26. Pumpkin Chocolate Chip Cookies
Ready for a new tasty fall flavor duo? Try pumpkin and chocolate! These Pumpkin Chocolate Chip Cookies are a fun twist on an old, familiar favorite. Serve them with coffee or a hot latte, or use them to make mini ice cream cookie sandwiches!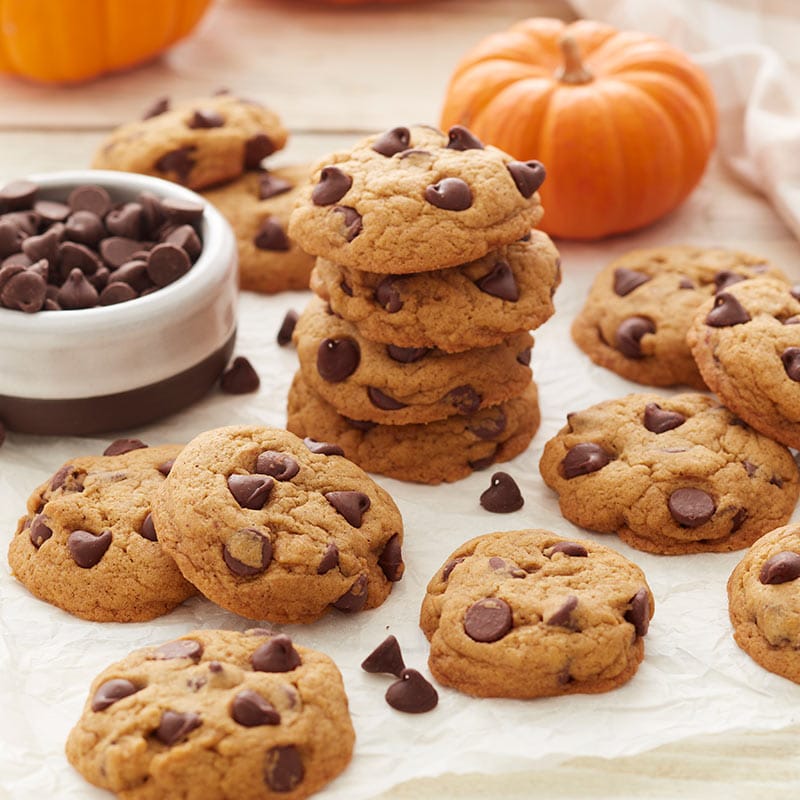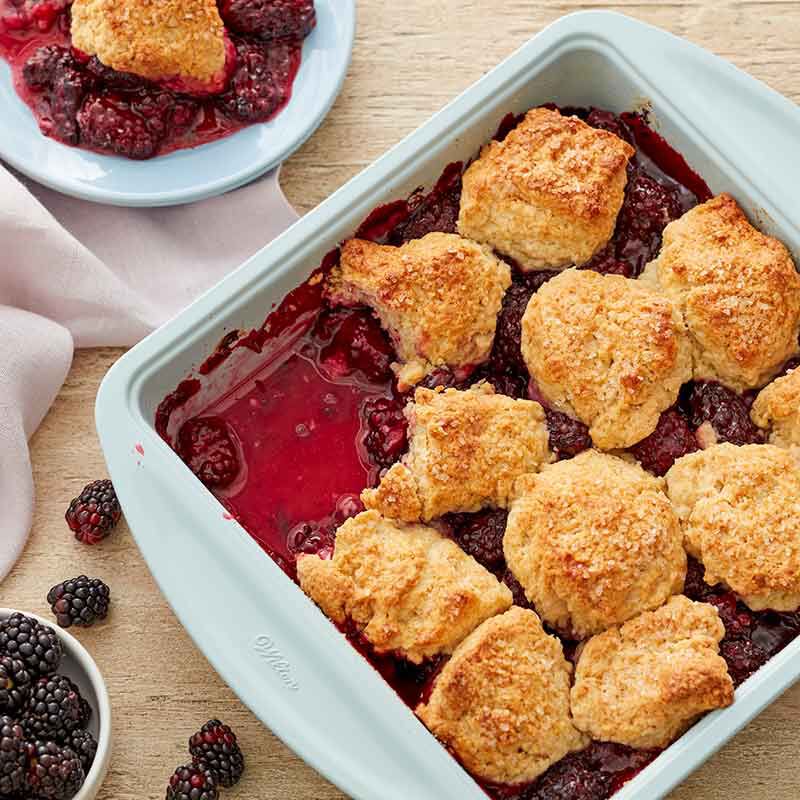 27. Easy Blackberry Cobbler
This sweet blackberry cobbler is made using fresh blackberries, then topped with a crumbly, buttery biscuit topping. A delicious dessert you can make any time of year, this simple fruit cobbler works up quickly and tastes amazing!
28. Best Pumpkin Chiffon Pie
Cool and creamy, this Pumpkin Chiffon Pie is made by folding whipped egg whites into a spiced pumpkin pie mixture for a soft and fluffy dessert you'll love. Top your pie with piped whipped cream rosettes and stars for the perfect finishing touch.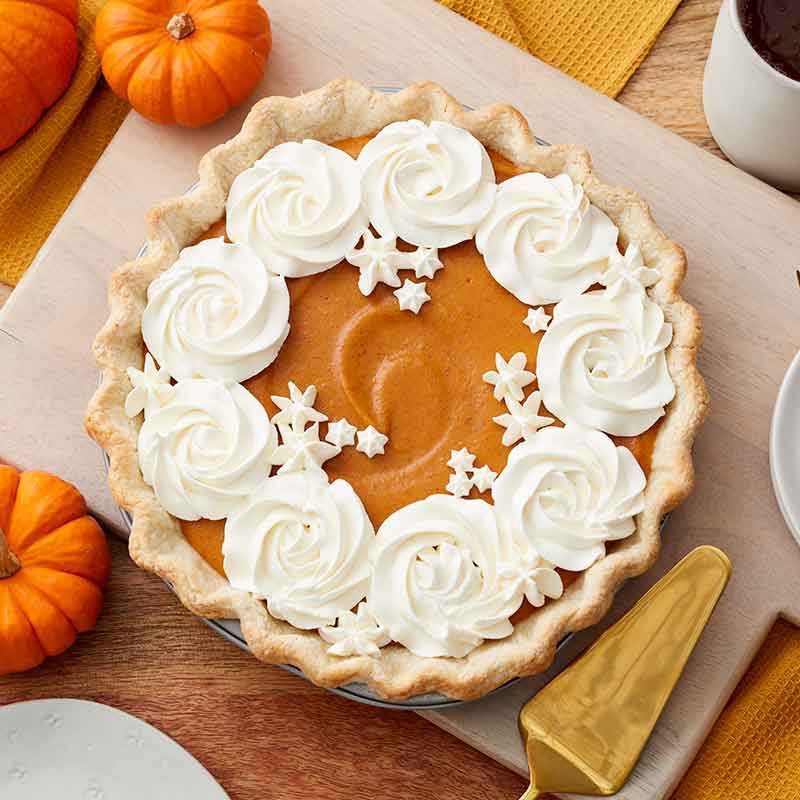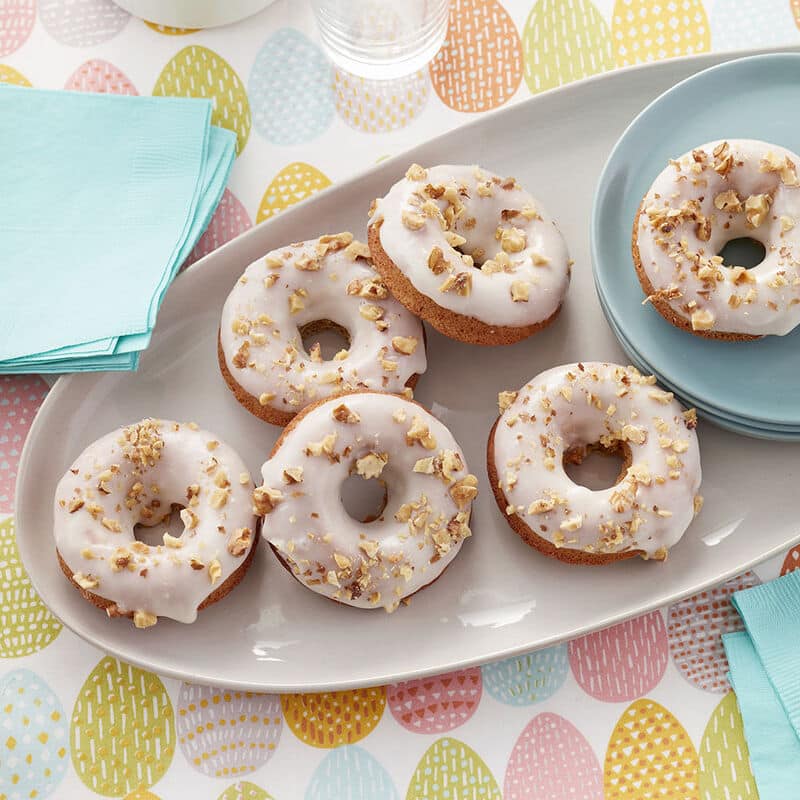 29. Carrot Cake Donuts with Cream Cheese Glaze
Great for breakfast, brunch or dessert, these Carrot Cake Donuts turn the flavors you love into something new! Top your treats with a cream cheese glaze and a sprinkle of walnuts for added crunch and texture.
30. Chocolate Cake
This cake is rich in chocolate flavor! Topped with homemade chocolate buttercream and shaved chocolate, this cake is great for anniversaries, birthdays or just because!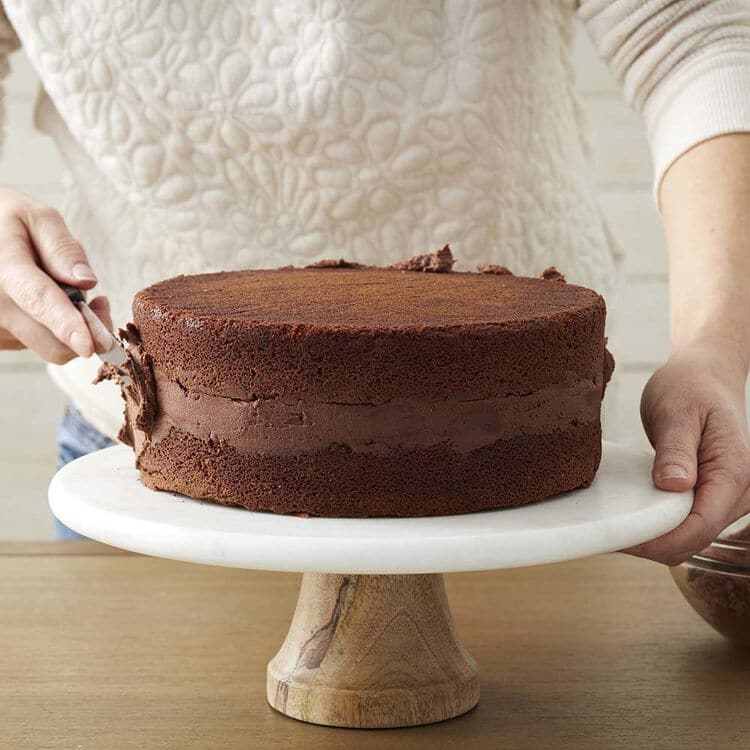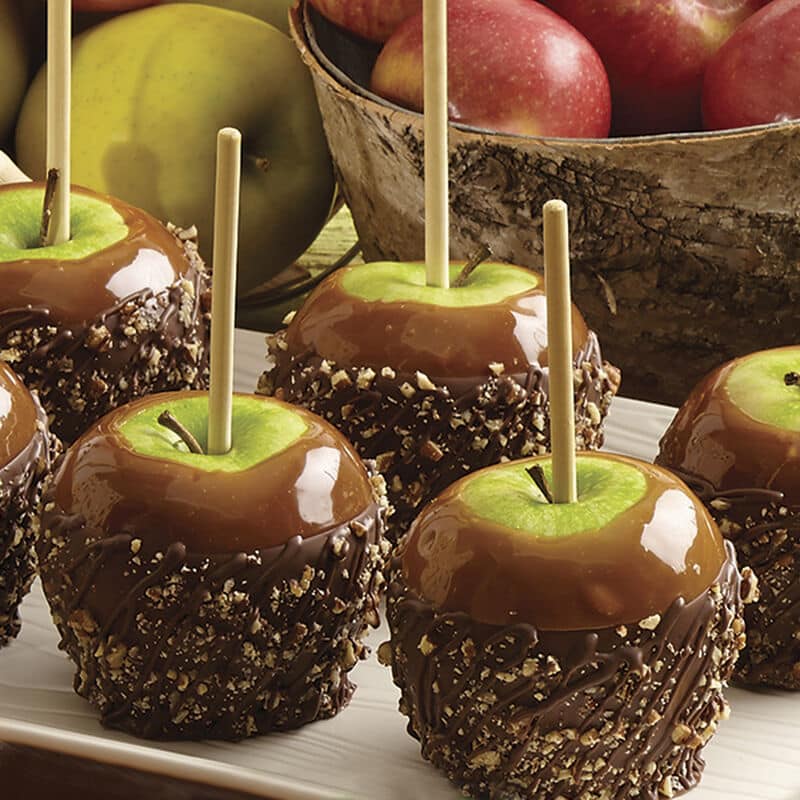 31. Candy-Dipped Caramel Apples
These caramel apples are made even better with a dip in melted Candy Melts candy and crunchy chopped pecans. A classic fall treat kids and adults will love, these candy-coated apples also make fun gifts for friends and family.
32. Classic Turtle Cheesecake
No need to worry about leftovers with this Classic Turtle Cheesecake! A certified crowd-pleaser, this delicious dessert begins with a chocolate cookie crust, then is topped with drizzles of fudge and caramel for a dessert that's bound to become a favorite.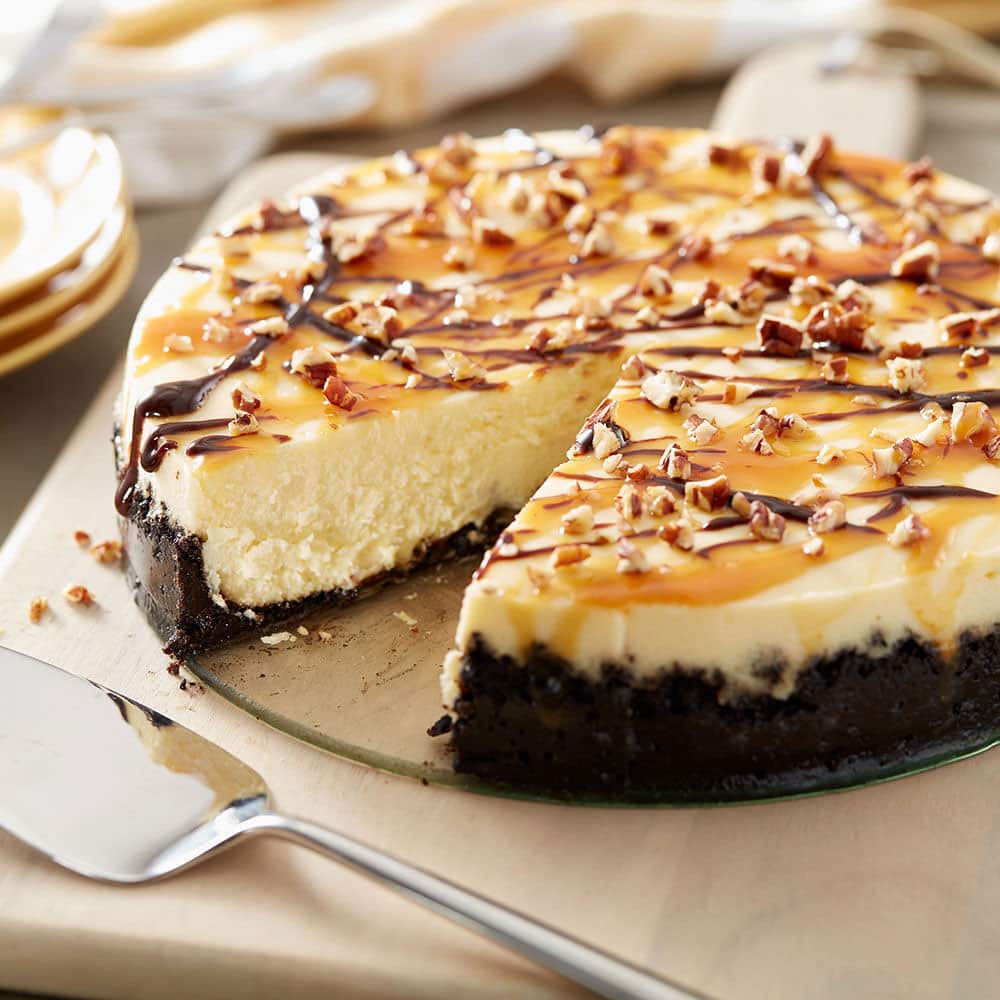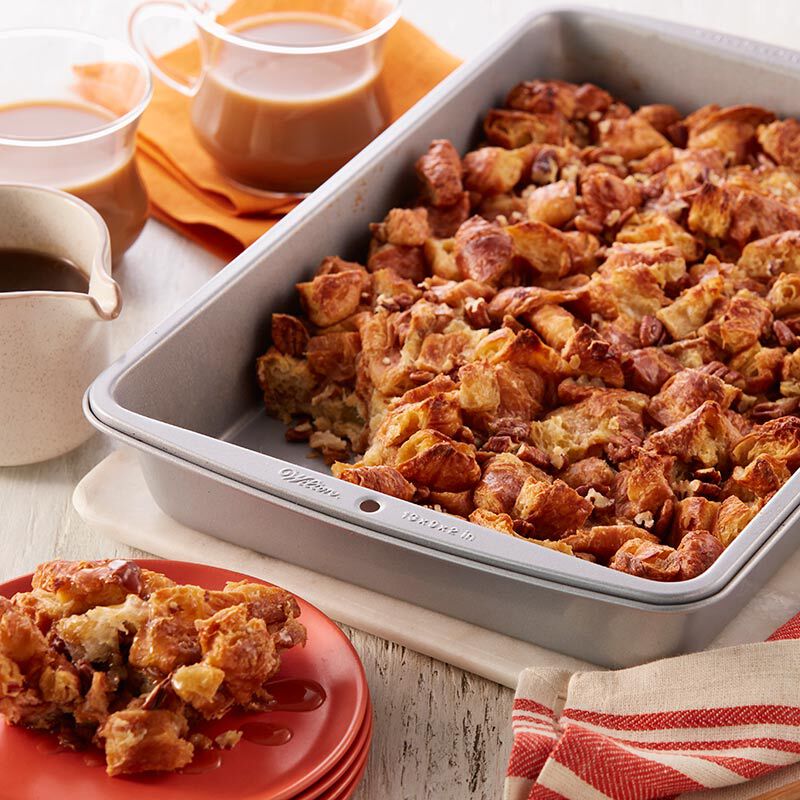 33. Bourbon Bread Pudding with Boozy Caramel Sauce
Go big or go home with this Bourbon Bread Pudding. Made using buttery croissants and drizzled with Bourbon Caramel Sauce, this decadent fall dessert is sure to make any cool, blistery fall or winter day just a little bit better!
34. Butterscotch Meringue Pie
Enjoy a little bite of nostalgia with this Butterscotch Meringue Pie. A simple recipe for beginning bakers, this pie can be made using a homemade or store-bought pie crust for easier baking.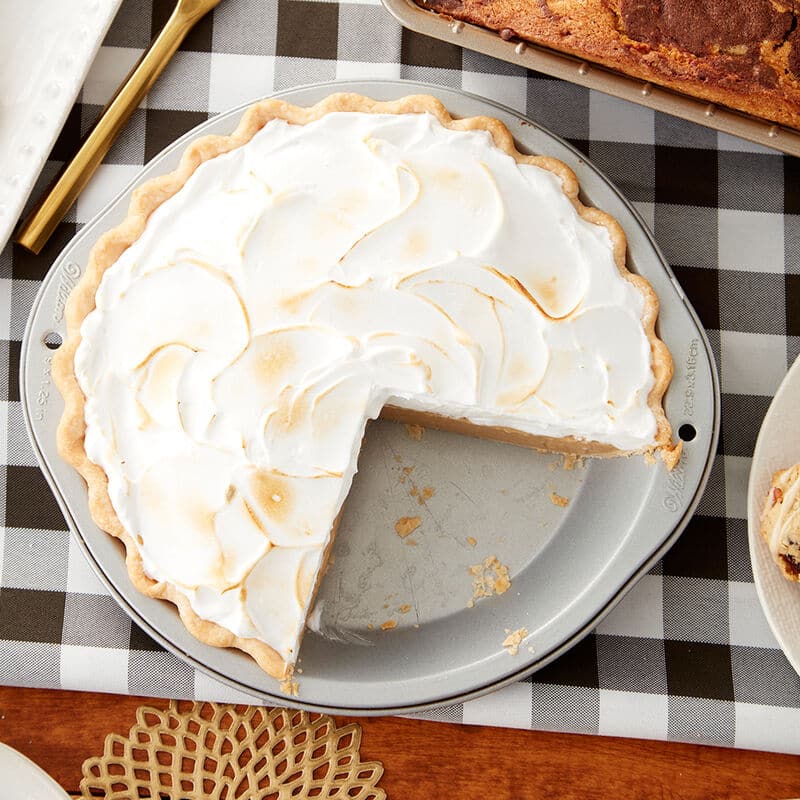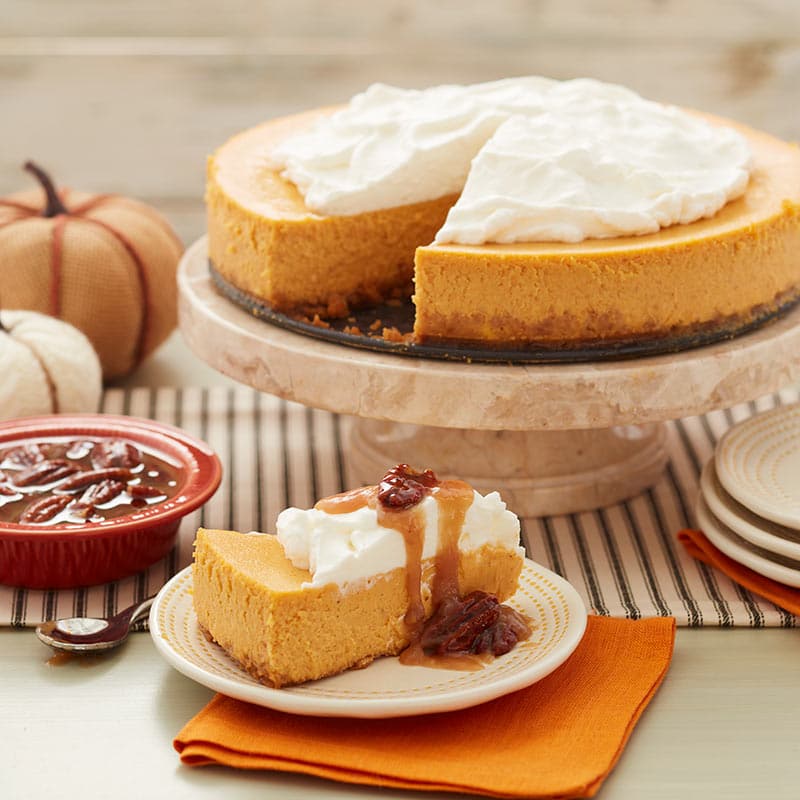 35. Pumpkin Cheesecake
Topped with a caramel sweet sauce and homemade whipped cream, this Pumpkin Cheesecake recipe certainly delivers on fall flavors. Want to save time? Make this cheesecake a day in advance, then decorate before serving.
36. Dutch Apple Pie
Celebrate apple season with this crumbly, sweet, oh-so-flavorful Dutch Apple Pie. Easy to make with a store-bought pie crust, this apple pie recipe will certainly fill your home with the amazing aromas of autumn!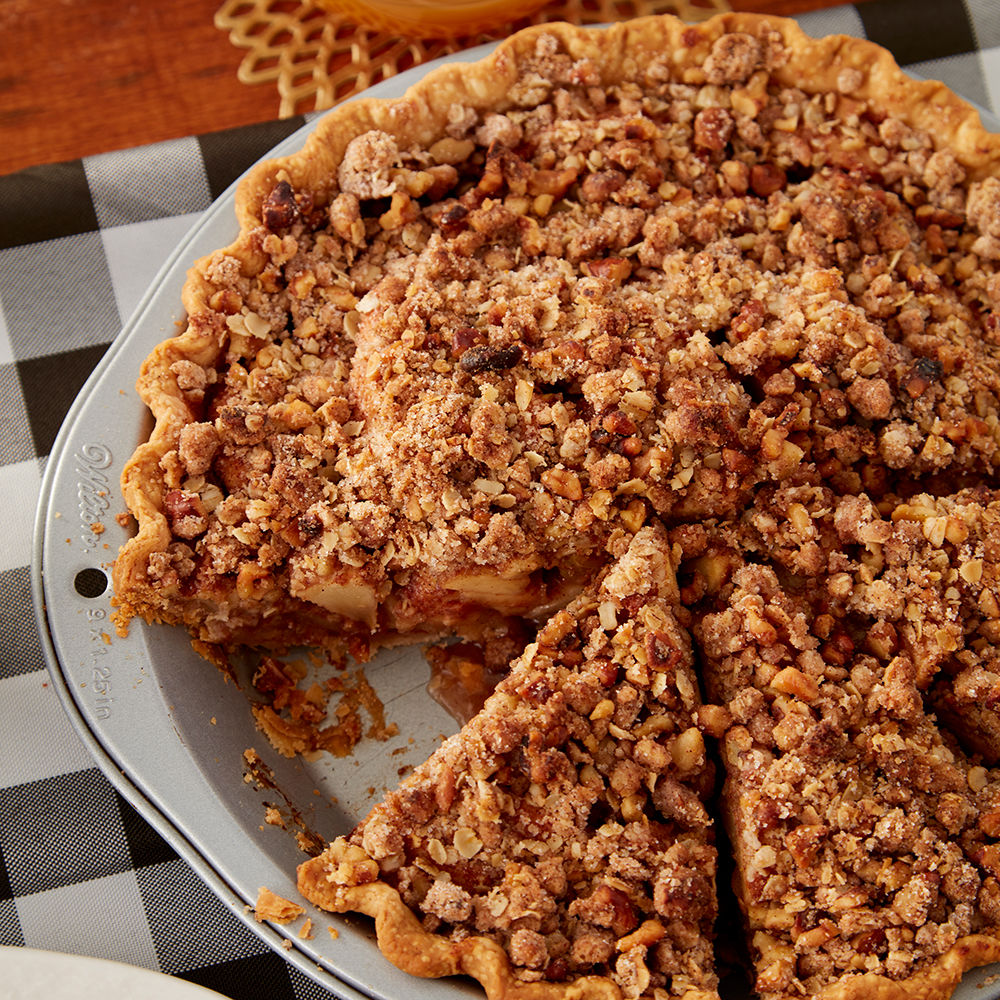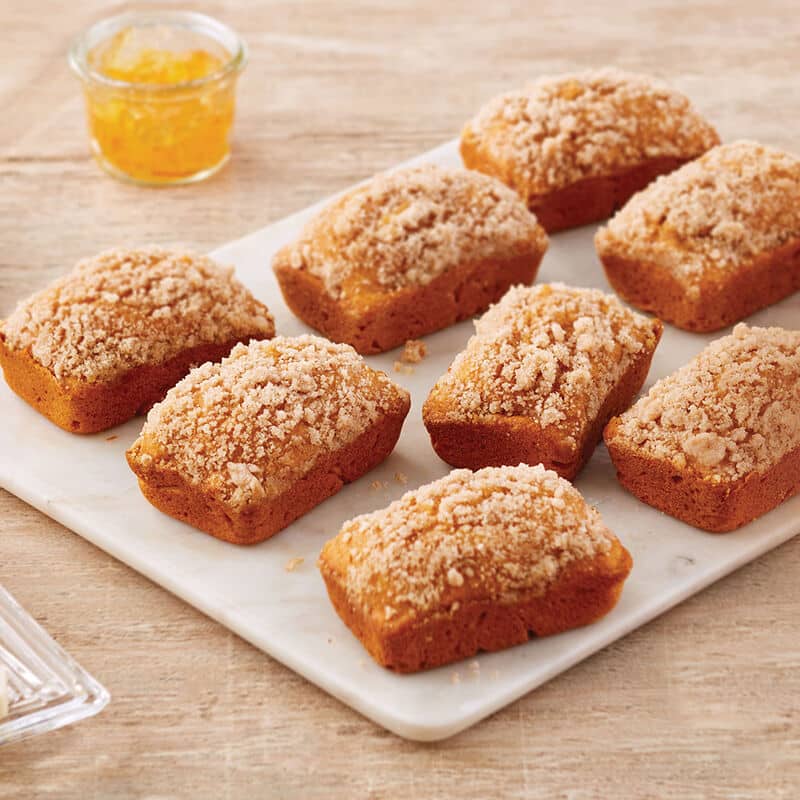 37. Pumpkin Crumble Mini Loaves
A fun treat for breakfast, dessert or gifting as favors after hosting Thanksgiving dinner, these Pumpkin Crumble Mini Loaves are a tasty treat for all to eat. Topped with a buttery brown sugar topping, these mini loaves are made using the 18-Cavity Mini Loaf Pan, so you can bake several small treats at once!
38. Caramel Apple Cookie Bars
Based on the favorite fall snack (but much easier to eat), these Caramel Apple Cookie Bars combine apples and caramel for a delicious dessert that's sure to get you in the spirit of the season.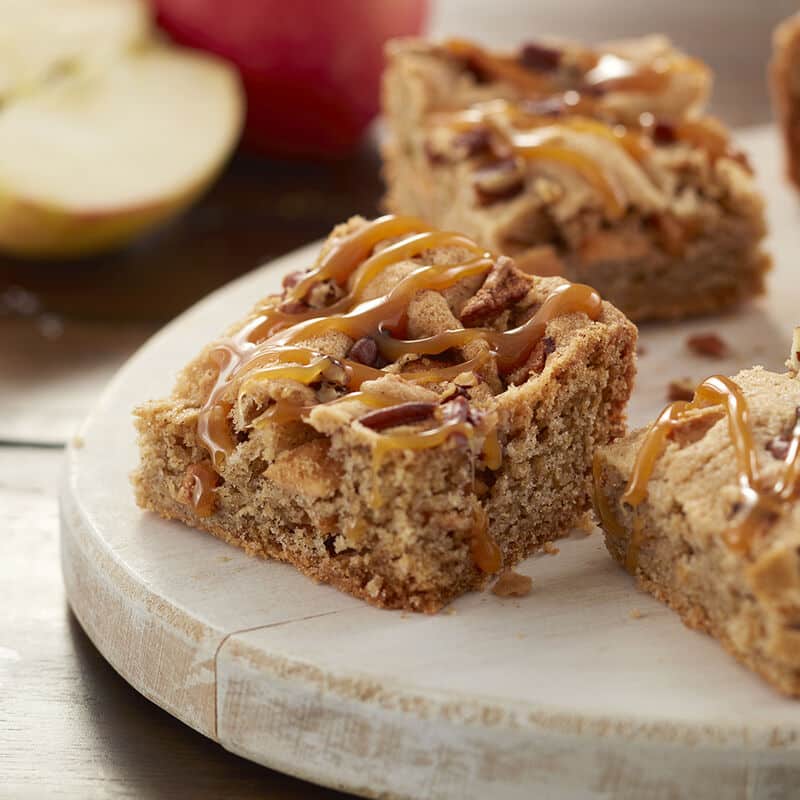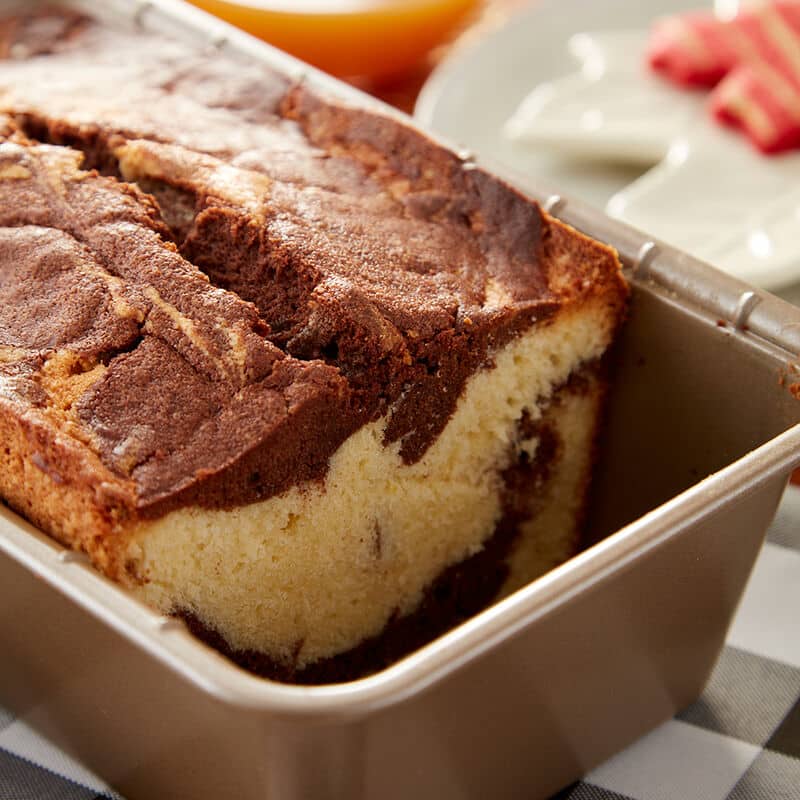 39. Marble Pound Cake
Can't decide between chocolate and vanilla? Swirl the two flavors together to make this Marble Pound Cake. A simple dessert you can serve with whipped cream and berries, this pound cake is everything you love in one cake!
40. Cappuccino Chocolate Chip Muffins
For fall dessert recipes that are sure to warm your kitchen and your tummy, look no further than these Cappuccino Chocolate Chip Muffins. Great for dessert or breakfast, these fragrant and delicious muffins are just the little pick-me-up you've been looking for!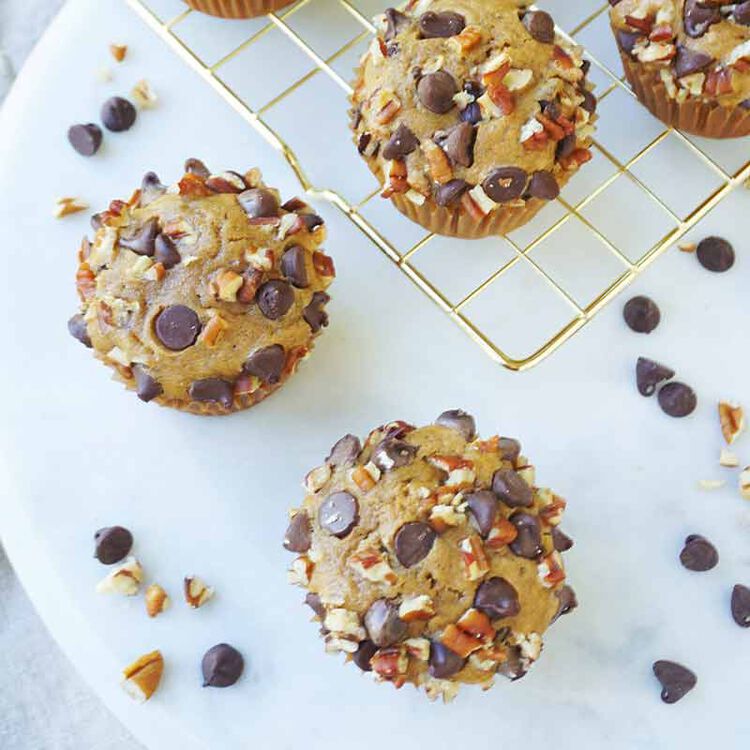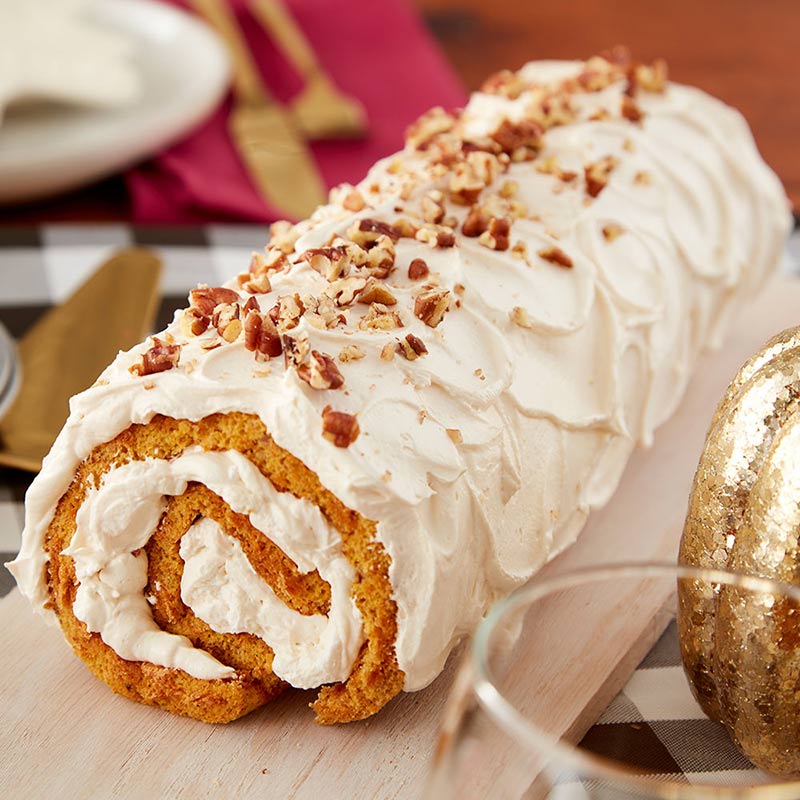 41. Perfect Pumpkin Roll Cake
Get ready for autumn weather with one of the best fall desserts we know! Filled with a white chocolate caramel-flavored cream cheese filling, this Perfect Pumpkin Roll Cake is a sweet treat you can enjoy for Thanksgiving, Christmas and everything in between.
42. Sour Cream Coffee Cake
Great for breakfast, brunch or dessert, this Sour Cream Coffee Cake is sure to become a family favorite. Super moist and soft, this cake is topped with a sweet cinnamon topping and a powdered sugar glaze for a little touch of sweetness.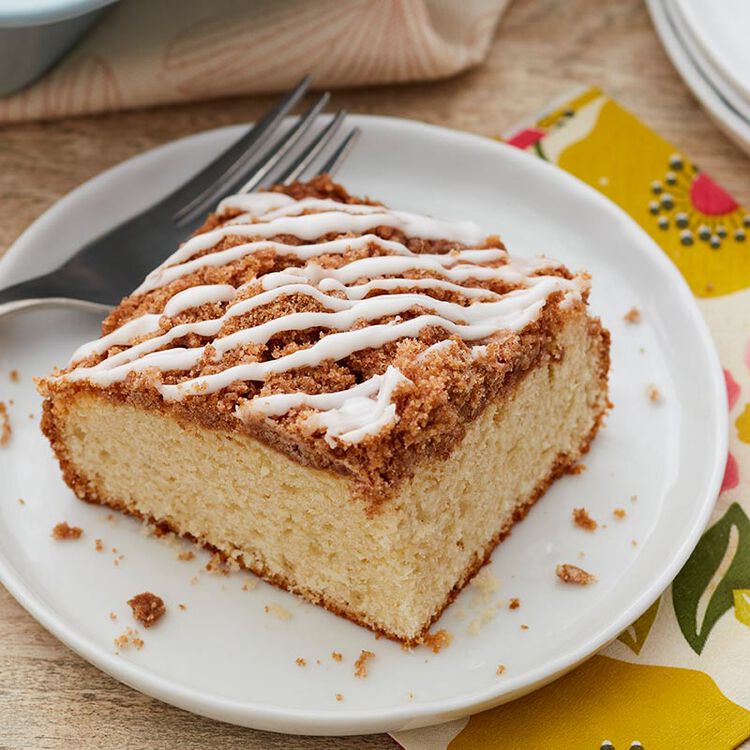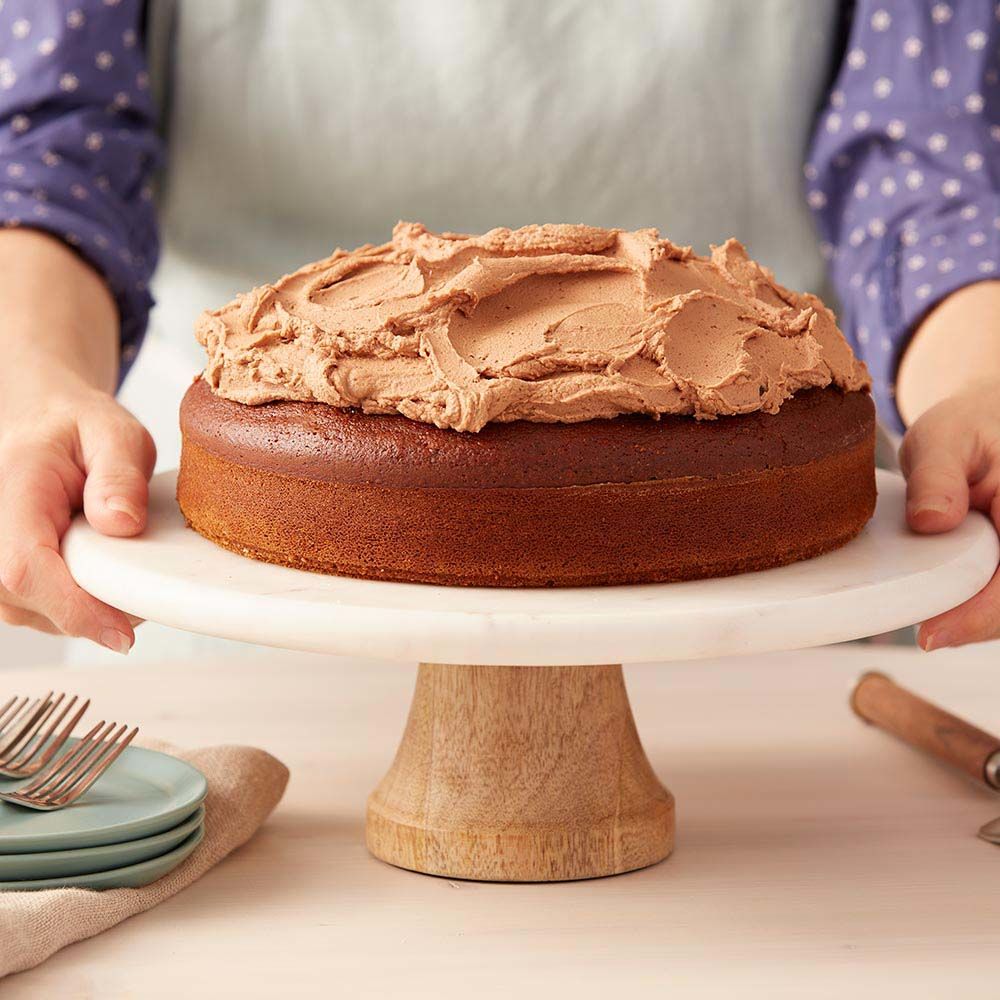 43. Gingerbread Cake with Mocha Buttercream
Are you in need of fall desserts you can make for a birthday or dinner party? Then you're going to love this tasty Gingerbread Cake with Mocha Buttercream. Great for kids and adults alike, this spicy-sweet cake is perfect for celebrating any fall occasion.
44. Salted Caramel Latte Biscotti
For easy fall desserts for a crowd, try these Salted Caramel Latte Biscotti. Great for dipping in coffee, lattes or hot chocolate, these Italian cookies blend the flavors of hazelnut, caramel, coffee and salt for a flavor explosion that screams fall!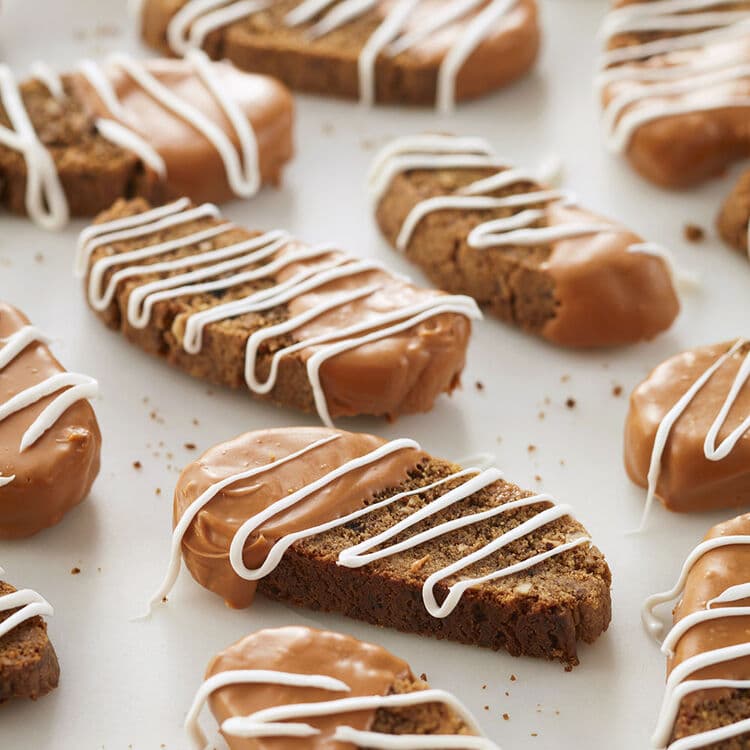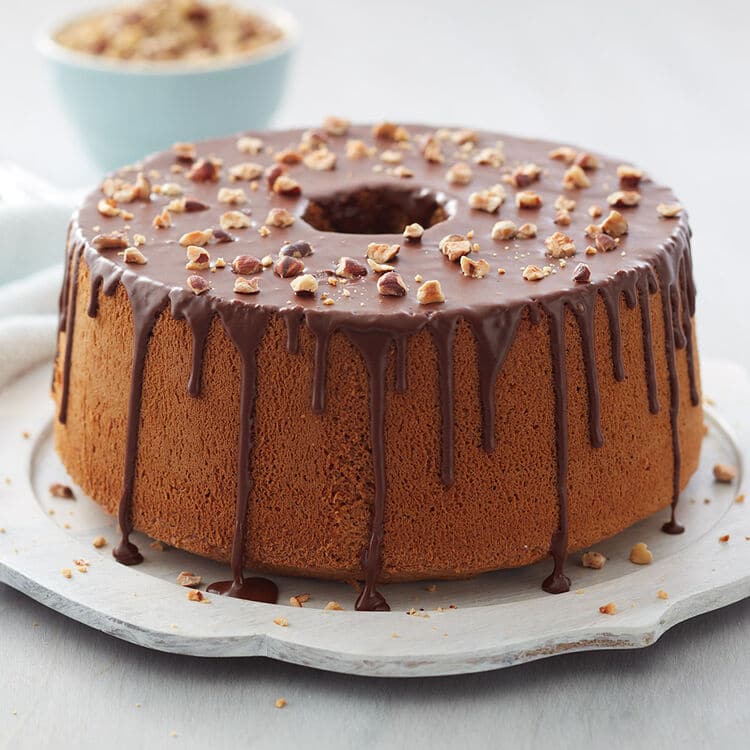 45. Hazelnut Mocha Chiffon Cake
Known for its airy texture, this chiffon cake is made lighter by using egg whites in the batter. Top it with a warmed hazelnut spread for a delicious dessert everyone will love.
46. Cranberry Pear Galette
Fall dessert ideas don't get much better than this rustic Cranberry Pear Galette. Filled with fruit and surrounded with a buttery crust, this classic French dessert is perfect for Thanksgiving or just a simple dinner party with friends.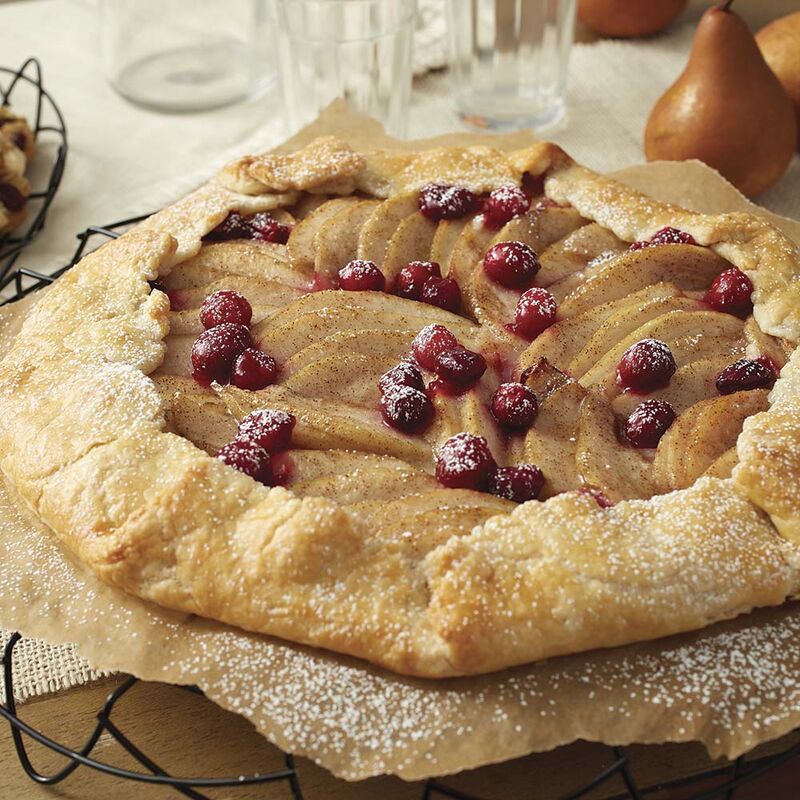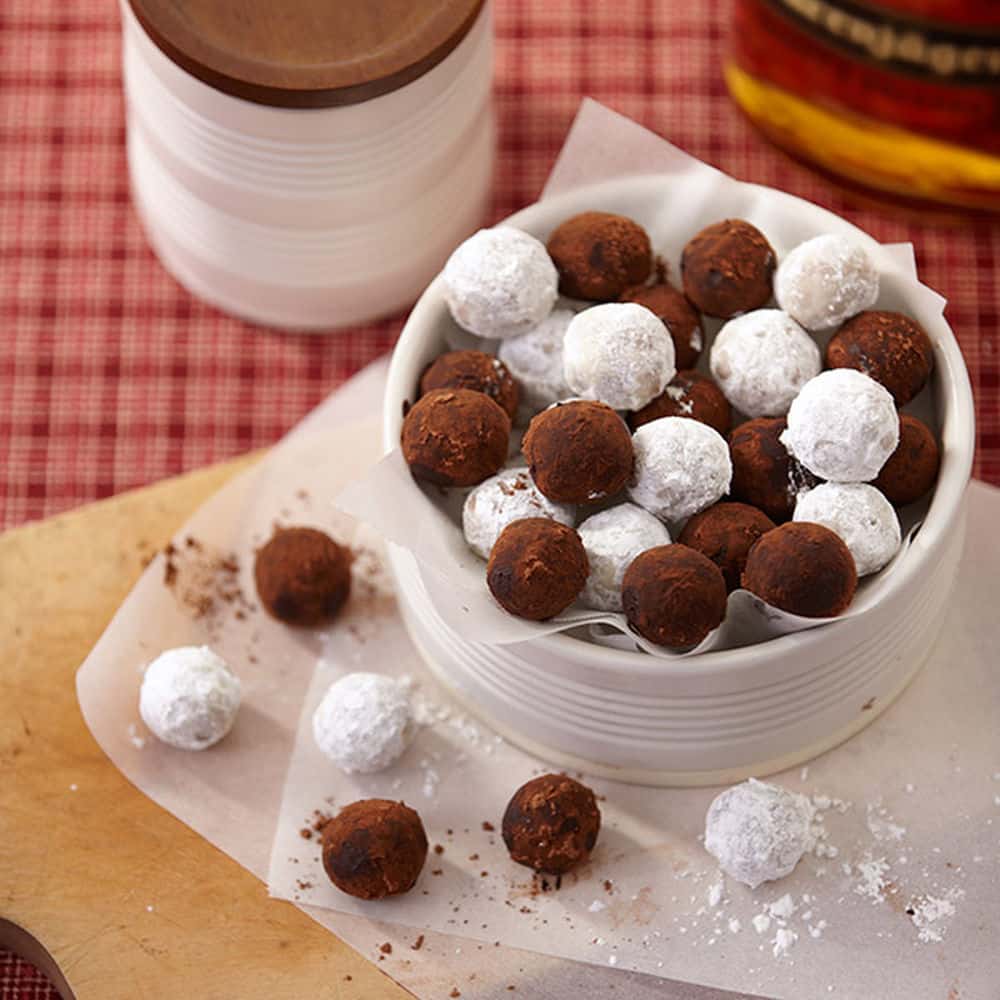 47. Honey Whiskey Balls
Although small in size, these Honey Whiskey Balls pack a powerful punch! Make a big batch and hand them out as party favors!
48. Pumpkin Cream Cheese Muffins
Pumpkin and cream cheese go together like fall and sweaters! Filled with amazing fall flavors and aromas, these Pumpkin Cream Cheese Muffins are great for breakfast or dessert with the family.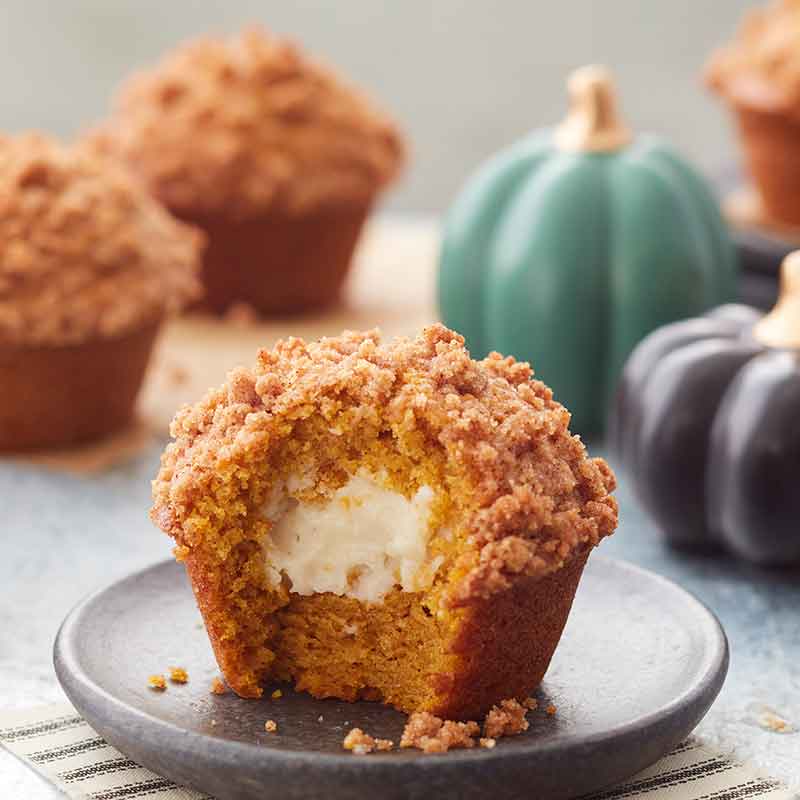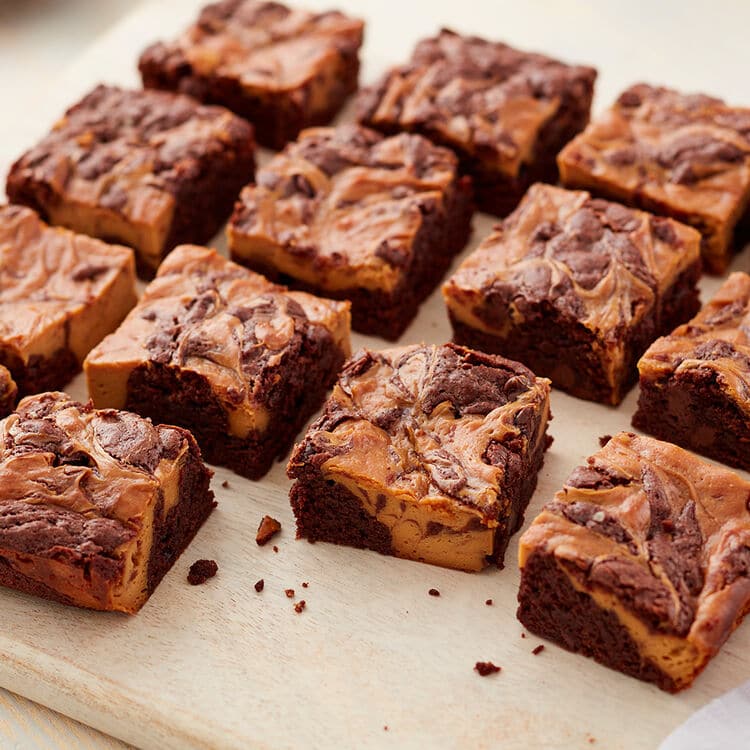 49. Spiced Dulce de Leche Swirl Brownies
Chocolate and dulce de leche combine for a sweet brownie that's great for fall parties and sack lunches. Top them with a scoop of vanilla or cinnamon ice cream to dress them up a bit!
50. Pumpkin Apple Spice Cake
This pumpkin cake is a fall favorite, combining all the flavors of autumn into one delicious treat. Drizzled with warm caramel, this cake can be served for brunch, breakfast or dessert.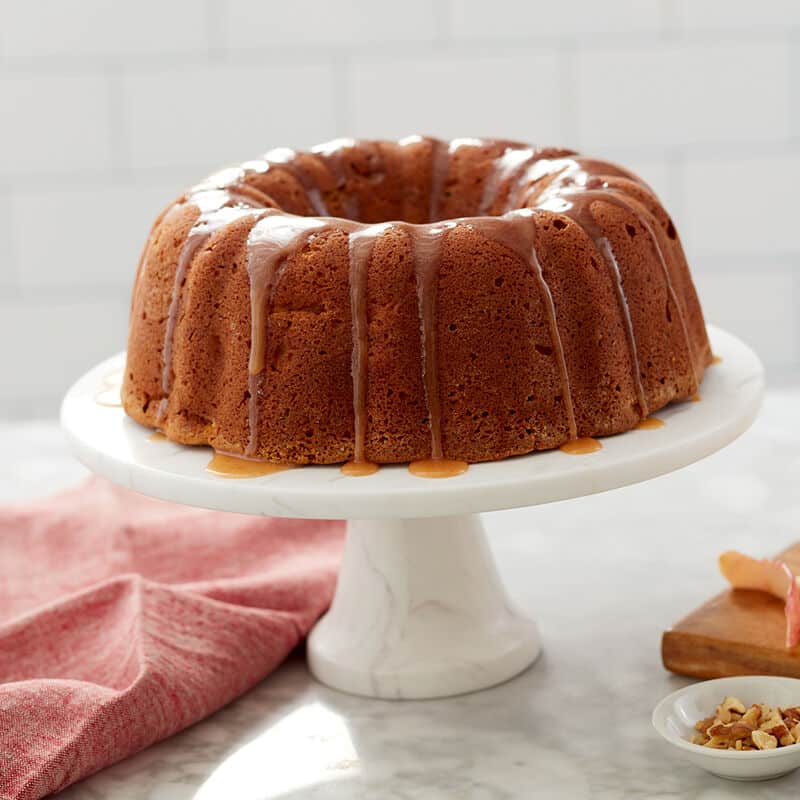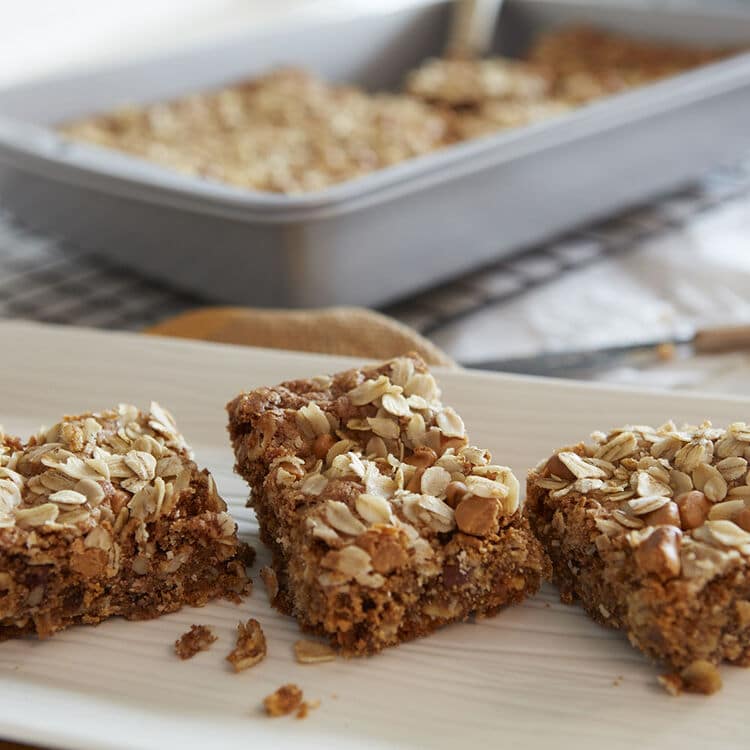 51. Oatmeal Butterscotch Cookie Bars
For a dessert that's both quick and easy, these Oatmeal Butterscotch Cookie Bars are just the thing! Packed with cinnamon, nutmeg and brown sugar, these cookie bars are a sweet fall treat. Serve with milk for a great after-school snack.
52. Pumpkin Spice Buttercream Frosting
Give your favorite chocolate, pumpkin or spice cake a little bite of something sweet with this delicious homemade Pumpkin Spice Buttercream Frosting. Made with real pumpkin puree, this buttercream is smooth and creamy – also great as a dip for graham crackers.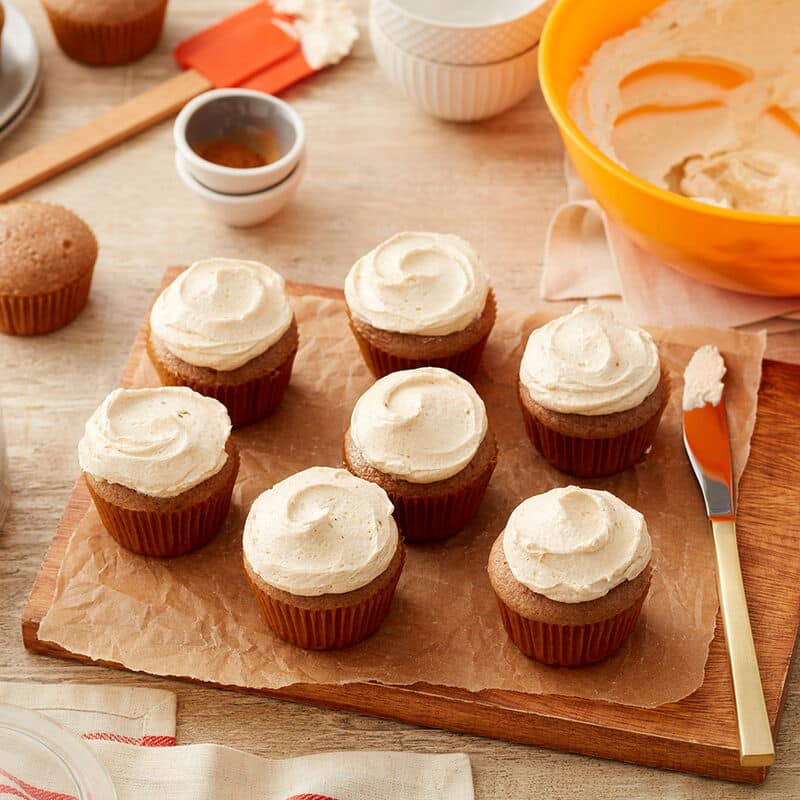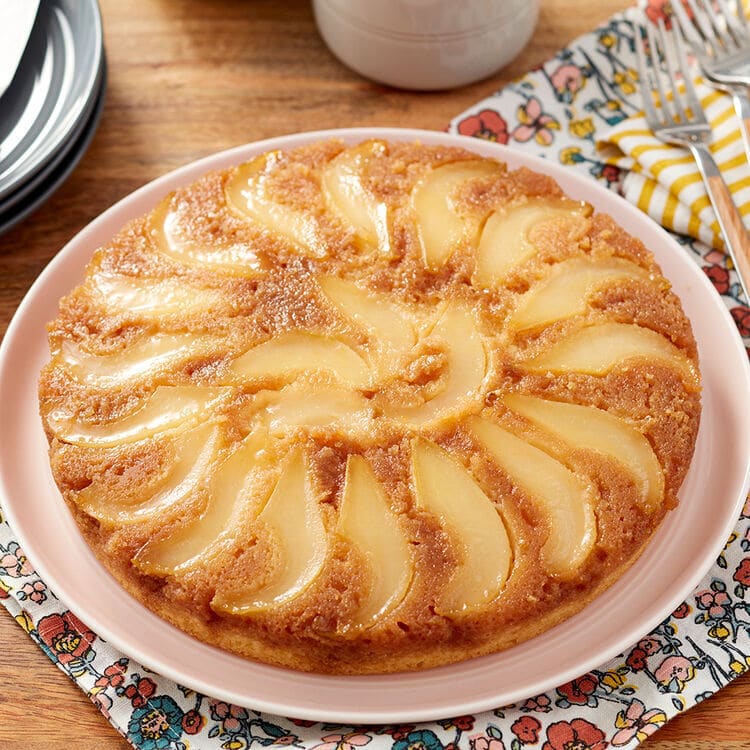 53. Easy Pear Upside Down Cake
With this Easy Pear Upside Down Cake, you can create a delicious fall dessert that packs on the flavor. Serve with a dollop of whipped cream or ice cream to spice up any fall occasion or celebration.
Looking for more tasty Holiday Desserts? Check out more holiday-themed sweets!
Which of these easy fall desserts do you plan on making for your family this year? Let us know in the comments below! And if you make any of these treats, don't forget to share a picture on Instagram and tag us @wiltoncakes so we can see!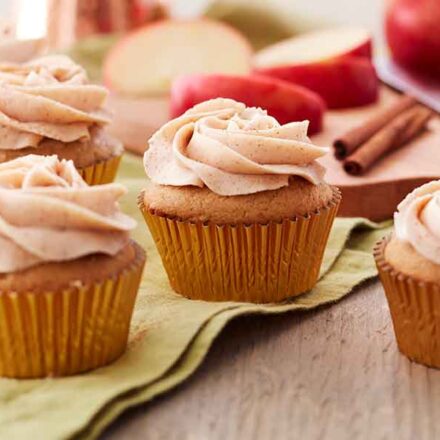 44 Easy Fall Dessert Recipes to Make This Season
Enjoy the warm flavors of fall with a few of our best fall dessert recipes! From pumpkin pie to maple and brown sugar cookies, these autumn favorites are great for Thanksgiving, November birthdays or just a weekend in with the family!
Tried this recipe?
Take a picture and tag us @WiltonCakes on Instagram