Drip cakes are great for any holiday or celebration! In this post we'll show you how to use your favorite color of Candy Melts candy to create a colorful ganache, perfect for dripping down the sides of your buttercream cake.
Drip cakes have been a popular cake trend for years. These stylish cakes are decorated with a creamy smooth ganache, then topped with a variety of assorted treats, such as macarons, candies, cookies, lollipops or candy bark.
Though ganache is often made with chocolate and cream, it can also be made with Candy Melts candy, which means you can create a ganache drip for your cake in almost any color! In this post, we'll walk you through how to make a Candy Melts candy ganache, as well as how to use it to decorate your drip cake.
How to Make Ganache with Candy Melts Candy
Ganache consists of two ingredients: Candy Melts candy and heavy whipping cream. To make ganache, all you need to do is heat the cream, then pour it over your Candy Melts. That's it!
The great thing about making ganache with Candy Melts is that you can use any color of candy you wish. Keep it classic with our Light or Dark Cocoa melting candies, or make a white ganache using Bright White Candy Melts. You can even create vibrant ganache colors with Bright Pink, Turquoise or Yellow candy!
For instructions on how to use Candy Melts candy to create ganache, check out our recipe for Candy Melts Ganache Glaze.
How to Make a Drip Cake
Step 1: Ice your cake
Ganache is a thin topping, so it needs a smooth base. If you pour ganache on an un-iced cake, it will most likely seep into the cake and give you an uneven finish.
To provide a nice smooth surface, we suggest icing your cake with buttercream, cream cheese frosting or your favorite icing before glazing your cake. You can do a thick layer of buttercream or do a simple crumb-coat for a more rustic look. Just make sure the top and sides of your cake are nice and smooth.
Once iced, let your frosting crust before pouring your ganache. You can store the iced cake in the fridge to speed up the process.
Step 2: Make the ganache
Follow our easy ganache recipe for making your Candy Melts candy ganache. Remember, you can use any color of Candy Melts candy you want! Just make sure you have 12 oz. of candy to ½ cup of heavy cream.
Once your ganache is nice and smooth, let it cool to room temperature, about 15 minutes, before pouring it on your cake.
Step 3: Pour the ganache
Place your iced cake on a cooling grid set over a baking sheet. This will make cleanup much easier. When you're ready, pour the ganache into the center of your cake, then use the back of a spoon or the tip of an angled spatula to coax it down the sides.
You can also place the ganache in a squeeze bottle or decorating bag, then pipe it down the sides of your cake. This is great for those looking for a more decorative look. You can use this technique if you want to keep the top of your cake clean for additional piping.
Let your cake sit at room temperature for about 3 hours, or 1 hour in the refrigerator to let the ganache set.
Step 4: Decorate!
Now you're ready to decorate! Top your cake with whatever toppings you wish (we've included a few of our favorite drip cake recipes below if you're looking for some inspiration!).
Keep in mind that ganache will set but will not dry hard; therefore, we do not suggest stacking cakes that have been topped with ganache.
Tips and Tricks for Drip Cakes
If your ganache is too thick, you can thin it out by adding more warm cream. Likewise if it's too thin, you can thicken it by adding more chopped Candy Melts.
While you can make a drip cake up to 3 days in advance of your event, we suggest doing it as close to the event date as possible. This will ensure everything stays fresh and delicious.
Before pouring the ganache on your cake, let it sit at room temperature, uncovered, for about 15 minutes to cool down.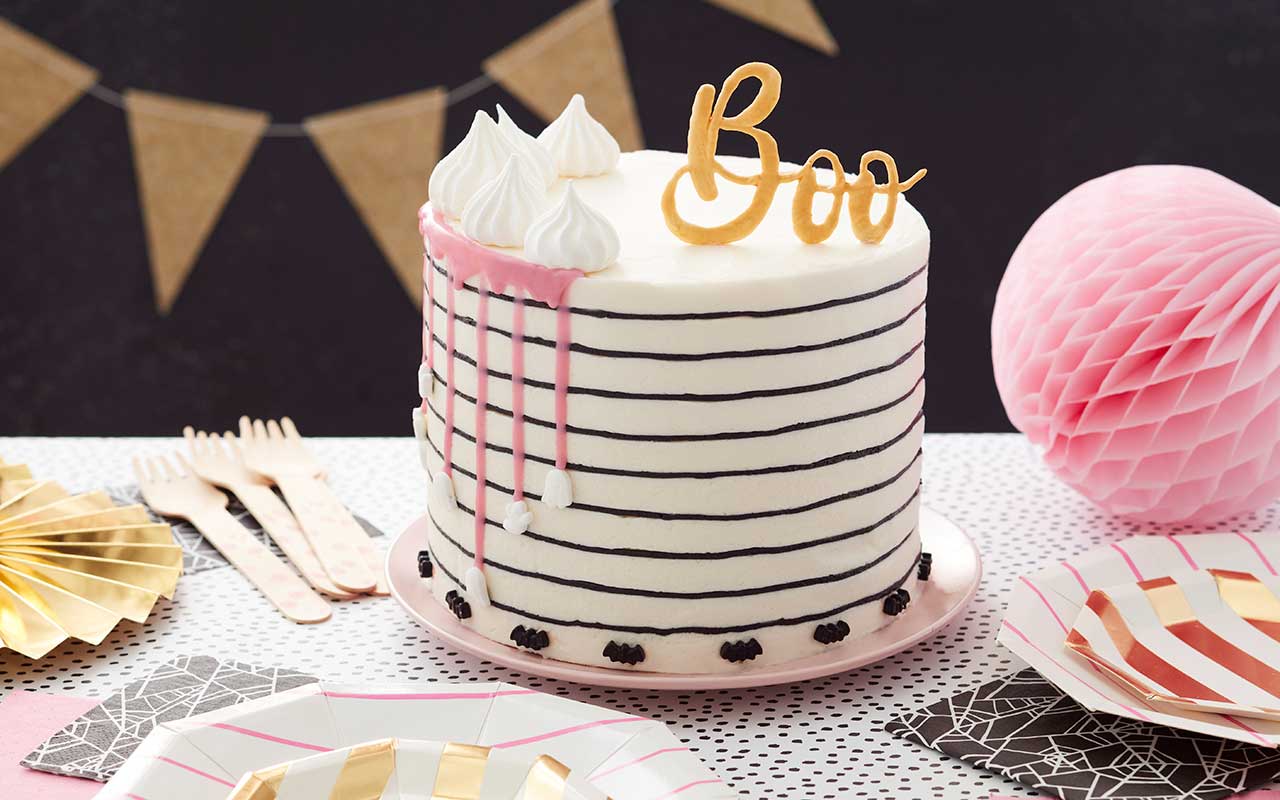 Easy Drip Cake Recipes
This Truffle-Topped Chocolate Cake is a rich and delicious dessert that is the perfect ending to any occasion or celebration. Use Dark Cocoa Candy Melts candy to make both the ganache and the truffles.
Make birthdays and everyday celebrations just a little sweeter with this Sweet Vibes in a Snap Cake. Topped with a colorful candy ganache and some piped candy letters, this trendy cake is a fun way to try out the drip technique.
All your favorite ghouls and boys will love this elegant and Boo-tiful Striped Halloween Cake. Fun for October showers, birthdays or a snazzy Halloween soiree, this striped cake features a small pink drip on the side and a cute Halloween message!
Mix and match all your favorite colors and textures with this Bold and Bright Candy Topped Cake. Piled high with lollipops, cookies, gummies and Candy Melts candy bark, this vibrant cake is sure to catch everyone's eye!
For those who love something salty and sweet, this Chocolate Peanut Butter Cake is sure to please. Start with a dark chocolate cake, then ice your layers with a smooth peanut butter frosting. Finally, top the whole thing with a chocolate-flavored ganache for the perfect finishing touch.
Disney fans are sure to love this fun Mickey Mouse Club Cake! A sweet yellow glaze tops this bright red cake, then a candy plaque shaped like Mickey Mouse himself provides the perfect topper. Add some Candy Melts candy bark for a sweet splash of color.
Have you tried your hand at making a drip cake? We'd love to see it! Post a picture of your cake on Twitter, Instagram or Facebook and tag us @wiltoncakes.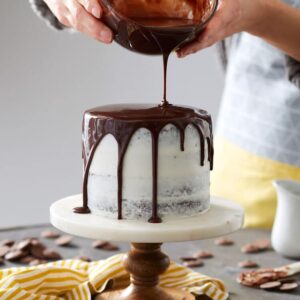 Easy Ganache Icing
Let this rich creamy chocolate-flavored ganache drip down the side of a chocolate cake for a decadent treat. Learn how to make ganache using Candy Melts candy or chocolate chips. This easy chocolate ganache recipe will make any dessert stand out!
Instructions
In a saucepan or microwave oven, heat whipping cream just to the boiling point. DO NOT BOIL.

Remove from heat or microwave, add chopped Candy Melts candy, and stir until smooth and glossy.

If the mixture is too thick, add 1 to 2 tablespoons additional warm whipping cream.
Tried this recipe?
Take a picture and tag us @WiltonCakes on Instagram