Get ready for fall and learn how to make pumpkin cheesecake with this delicious pumpkin cheesecake recipe. Topped with homemade whipped cream and a decadent caramel pecan sauce, this homemade cheesecake is perfect for fall birthdays and celebrations.
Sure, pumpkin pie is great, but when it comes to classic pumpkin flavor, nothing beats this rich and creamy cheesecake. Topped with a rich, caramel pecan sauce and homemade whipped cream, this pumpkin cheesecake is not to be missed!
A wonderful dessert for Thanksgiving or fall get-togethers, this cheesecake starts off with a sweet, graham cracker crust. Then a creamy filling is made using cream cheese, canned pumpkin, cinnamon and nutmeg (it smells amazing).
Finally, the whole thing is topped off with a pecan caramel sauce and a dollop of fresh whipped cream for the perfect dash of added sweetness. This might just become your new favorite fall treat!
How to make a cheesecake water bath
A cheesecake water bath is exactly what it sounds like – you're simply baking the cheesecake in a bath of hot water. Cheesecakes are egg-heavy desserts and eggs need a moist environment to rise. This technique creates humidity in the oven, helping your cheesecake rise evenly and prevents your filling from burning or drying out.
A water bath is also essential for preventing those pesky surface cracks and reduces the risk of your cheesecake sinking as it cools. All in all, it's a quick and easy way to get great results every time!
To make a water bath, place your prepared cheesecake on a jelly roll pan or cookie sheet (make sure the pan has a lip, as it will need to hold water). Fill the pan with about ½ in. of water, then bake as instructed. To prevent water from leaking into your springform pan, we suggest wrapping the bottom of the pan with aluminum foil before baking.
How to make pumpkin cheesecake
This recipe includes instructions for how to make the crust, filling, sauce and whipped cream from scratch. However, you can certainly use store-bought crust or whipped cream if you're short on time.
Ingredients:
Crust
1 cup graham cracker crumbs
3 tablespoons granulated sugar
¼ cup (1/2 stick) butter, melted
Filling
3 packages (8 oz. each) cream cheese, softened
1 cup solid pack canned pumpkin
6 eggs
1 cup granulated sugar
1 teaspoon pure vanilla extract
½ teaspoon ground cinnamon
¼ teaspoon ground nutmeg
Sauce
½ cup (1 stick) butter
½ cup firmly packed light brown sugar
¼ cup heavy whipping cream
1½ cups whole pecans
¼ teaspoon salt
Whipped Cream
¾ cup heavy whipping cream
2 tablespoons confectioners' sugar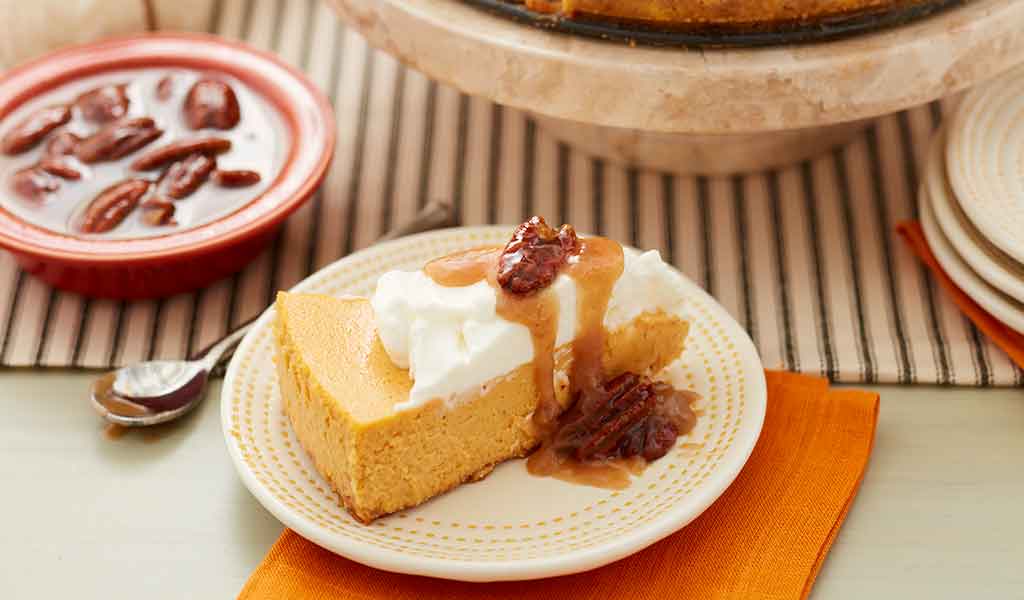 How to make graham cracker crust
Preheat the oven to 325 degrees F and prepare your 9 in. springform pan with nonstick vegetable spray. Wrap the bottom of the pan in heavy-duty aluminum foil. This will prevent water from leaking into your cheesecake during baking.
In a medium bowl, combine the graham cracker crumbs and sugar. Stir in the melted butter until everything is combined.
Press the mixture into the prepared pan. You can use your hands for this or use the bottom of a drinking glass to create a nice, smooth bottom crust.
Bake your crust for 10 minutes. Remove it from the oven and set it aside to cool. Now onto the filling!
Pumpkin cheesecake filling
For the filling, beat the cream cheese with an electric mixer in a large bowl until it's light and fluffy. Make sure your cream cheese is softened to room temperature before beating. This will make it much easier to incorporate all the ingredients and get a nice, smooth texture.
Beat in the pumpkin. Add the eggs, one at a time, beating well after each addition.
Finally, beat in the sugar, vanilla extract, cinnamon and nutmeg. Continue mixing until everything is nice and smooth.
Pour the filling onto the cooled crust.
How to bake your pumpkin cheesecake
This cheesecake is baked in a water bath. This helps prevent cracking and ensures your cheesecake comes out nice and creamy!
To make a water bath, place your cheesecake on a jelly roll pan (make sure the aluminum foil is still secure around your springform pan to prevent water from leaking in).
Fill the jelly roll pan with about ½ in. of water.
Bake at 325 degrees F for 68 to 74 minutes, or until the center of the cheesecake jiggles only slightly. At that time, turn the oven off and let the cheesecake sit in the oven for one more hour. This will allow it to cool gradually and prevent cracks.
Once cooled, place the cheesecake in the refrigerator to set – at least 4 hours (though overnight is best).
How do you know when pumpkin cheesecake is done?
To check if your cheesecake is done, gently give it a little shake. If the center jiggles slightly, it's done (it will firm up as it cools).
If your entire cheesecake wobbles, it's not done baking. The sides should be set and the center should just move a bit as you shake the pan.
We don't recommend doing the poke test (as you would for a cake). Sticking a toothpick or knife into the cheesecake will almost always come out with batter on it since the center sets as it cools. Not to mention it will ruin the lovely top of your cheesecake!
How to make caramel pecan sauce
While you can serve your cheesecake as is, it's even better when topped with whipped cream and this delicious caramel pecan sauce!
To start, melt your butter and brown sugar in a medium saucepan.
Add the heavy cream. Lower the heat to medium and let the mixture gently boil for about 1 minute.
Remove it from the heat and stir in the pecans and salt. Let cool slightly.
This sauce is best served warm; however, if it sets before serving, you can reheat it over low heat.
How to make whipped cream
To make whipped cream, mix the heavy cream and confectioners' sugar on high speed with a hand mixer until stiff peaks form. You can also use a stand mixer with the whisk attachment.
Be sure to watch your whipped cream carefully, as overbeating it can turn your whipped cream buttery. It should take no more then 2 to 3 minutes for your whipped cream to achieve stiff peaks.
Whipped cream also loves cold tools, so stick your mixing bowl and beaters in the freezer for about 10 minutes before beating for delicious results.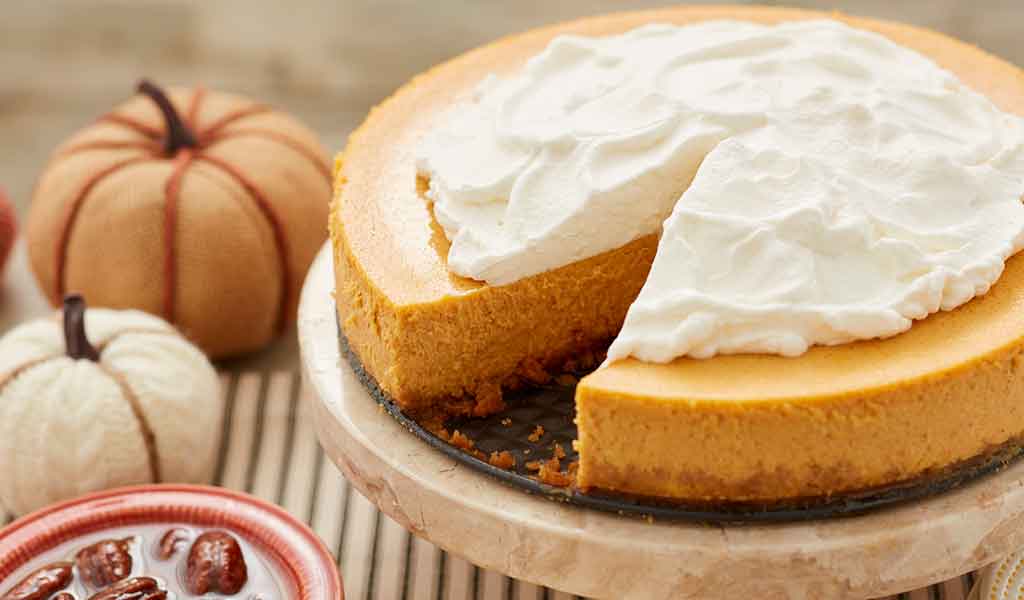 How to serve pumpkin cheesecake
Use a knife to loosen the edges of the cheesecake from the sides of the pan before removing the outer ring.
Once the ring is removed, you can serve the cheesecake on the bottom of the springform pan or use a knife to loosen the bottom portion of the pan and transfer the cheesecake to a serving platter.
Using a sharp knife, cut your cheesecake into slices (you should get about 10 servings from a 9 in. springform pan).
Top each slice with the warm caramel sauce and a dollop of whipped cream.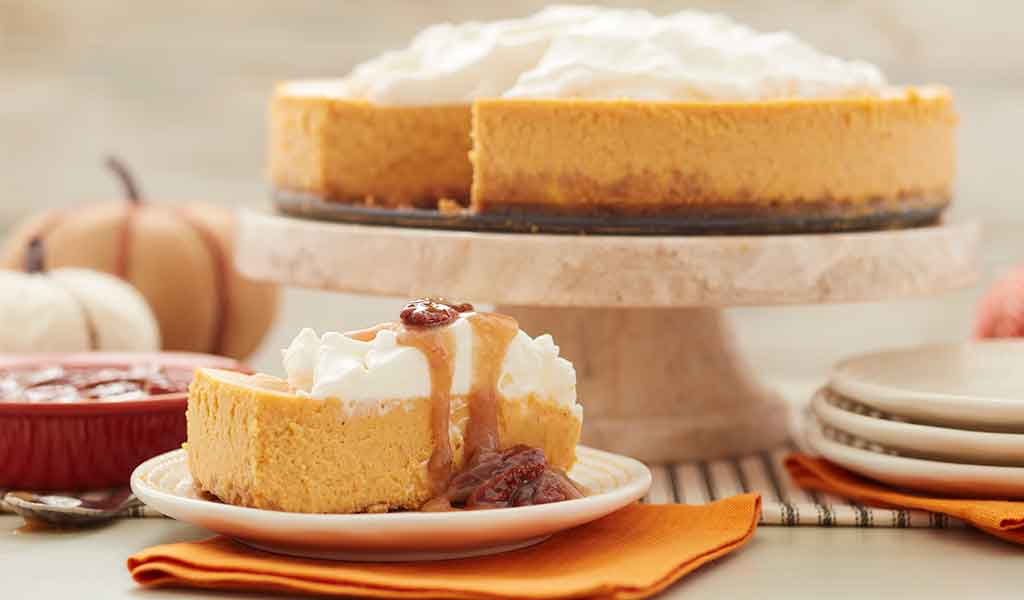 How long does pumpkin cheesecake last?
Stored in the refrigerator, this cheesecake should last about 4 to 5 days. Make sure it's covered tightly with plastic wrap to prevent drying.
Cheesecakes are also best stored undecorated, so only prepare the sauce and whipped cream when you're ready to serve.
If you make this recipe, we'd love to see it! Post a picture of your pumpkin cheesecake on Facebook, Instagram or Twitter and tag us @wiltoncakes!