If you have always wanted to learn how to pipe icing decorations using a bag and tip, you are in the right place. Part 1 of the Piping Tips 101 series will help you get started by introducing you to the most common tip families, including round, star, leaf, drop flower, petal and specialty tips. We will also cover the basics for using tips and decorating bags. 
Achieve your pipe dreams with this guide on piping tips. Organized into a variety of "families", these decorating tip categories all work to make fun and impressive buttercream decorations on everything from cakes to cupcakes.
Though it may seem intimidating, once you understand how bags and tips work, you'll realize how easy it is to pipe amazing decorations on your treats. The good news is that most of these tips do all the work for you, so all you need to do is fill your bag and get to piping!
6 Types of Piping Tips
Piping tips are classified by the shape the opening makes. Within those groups, tips range in size and shape, so you can choose the size that best suits your decorating project.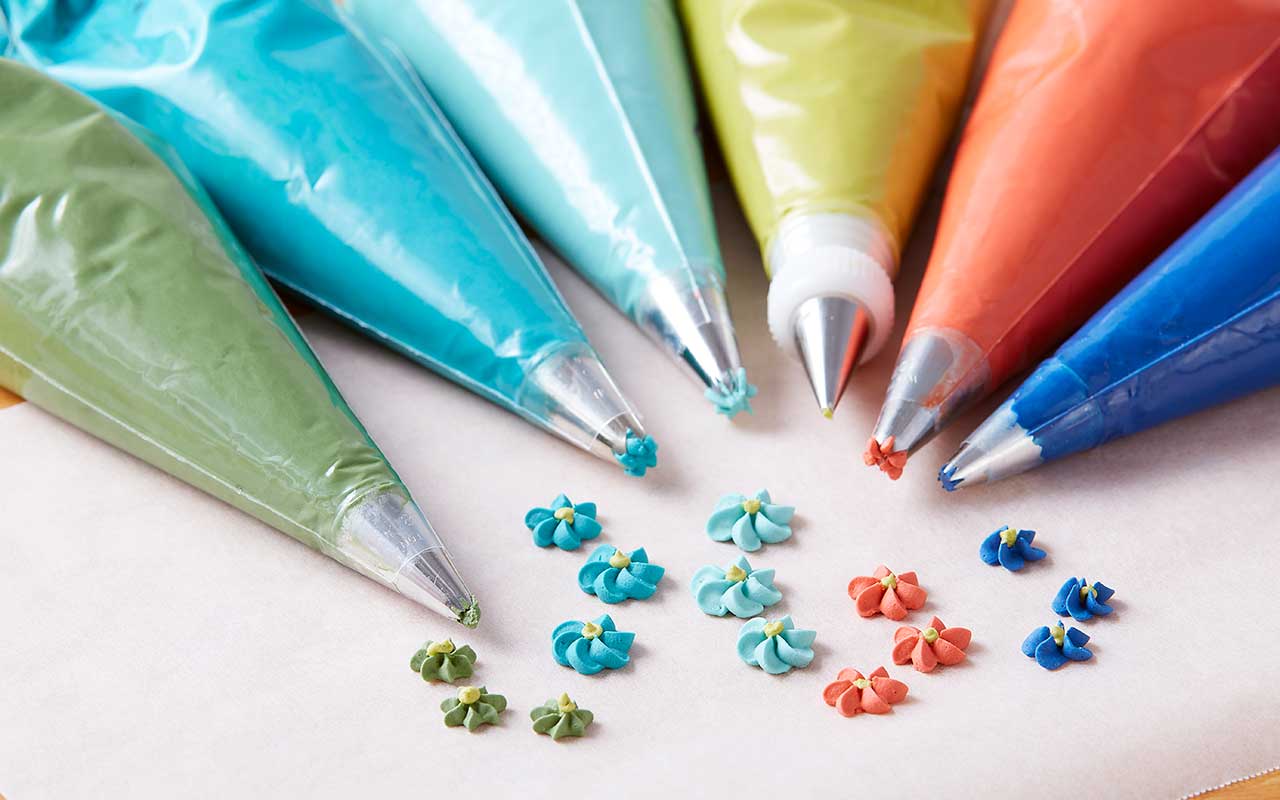 Round Decorating Tips
Round tips are a great place to get started. These tips all feature a round opening, making them perfect for piping letters and lines. The smaller sizes are often used for piping lettering, dots or outlining cookies, while the larger sizes can be used to pipe large dot borders, swirls and lines.
Use a small round tip 3 to make this Floral Fascination Cake or try piping a large cupcake swirl using the larger tip 2A.
Star Decorating Tips
The star tip is very versatile, making it great for beginning decorators. A simple squeeze of the bag and any sized star tip will produce a cute star-shaped design, perfect for making borders or filling in large areas of your cake.
Star tips are also used to pipe shells, swirls and rosettes, simple techniques with a big impact!
This Pink and Purple Rosette Cake uses a variety of star tips to cover a sheet cake with colorful rosette flowers.
Drop Flower Decorating Tips
Drop flower tips looks like a star tip, but the grooves are slightly closed, making it easier to pipe a flower shape. These tips allow you to pipe a flower with just one squeeze, or you can make a swirled flower by simply twisting your wrist as you pipe.
This Cascading Drop Flower Cake is a lovely way to celebrate any occasion. You can also create amazing designs by striping your bag with two or three colors of icing, as seen in these Swirl Drop Flower Cupcakes.
Leaf Decorating Tips
Pipe flat, ruffled or stand-up leaves to make your flowers more life-like. You can also use these tips to pipe sunflower petals or a leaf border in different shapes and sizes.
Use a leaf tip to make cookies that look like blooming flowers with this easy cookie decorating project.
Petal Decorating Tip
As the name suggests, this tip is used to pipe buttercream flowers, such as roses and tulips. However, this tip can also be used to pipe lovely ribbons, ruffles and simpler three or five-petal flowers, such as an apple blossom.
Use a petal tip to create one of these three amazing cake designs or use a large petal tip to top a cake with a simple blooming flower, like in this Coral Flower Cake project.
Specialty Decorating Tips
These tips are in a class of their own because each one does a something different. This catch-all category includes the grass tip, the triple star, the basketweave, the Bismark and the cake icing tip, just to name a few!
The grass tip is one of the most popular in this category and can be used to pipe grass and fur, like these Easter Egg Cupcakes or this Fluffy Bunny Cake. The basketweave tip, which has both a flat and serrated side, is great for adding texture to the sides of your cake, like in this Floral Basketweave Cake.
This category is also home to the Bismarck tip, used to fill pastries and cupcakes, as well as the large cake icing tip, which makes it quick and easy to ice your cake with a smooth or textured finish.
Easy Blooms Tips are a fun addition to this category. Designed to pipe a lovely rose or mum with just one squeeze, these tips are great for quick and easy decorating! Use them to make fun mini cupcakes with the kids or decorate a sweet roll cake in no time.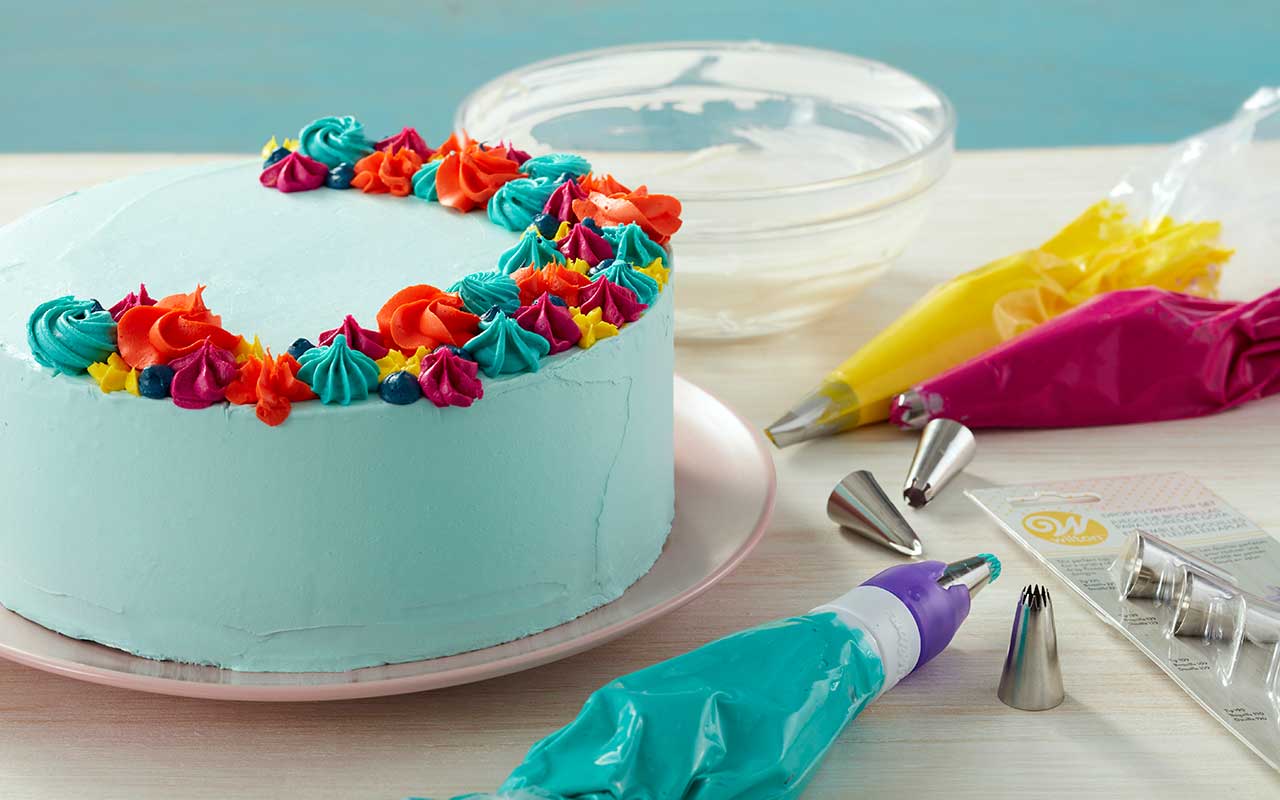 Plastic vs. Metal Piping Tips
Most decorating tips are made of metal; however, some are also available in plastic. Plastic tips are great for beginners. They often come in standard sizes and are more durable than metal tips. They're also cheaper and will last a long time if taken care of correctly.
Metal tips cost a little more than plastic ones, but often give your decorations a sharper, more defined shape. While these tips are durable, they are a bit more fragile than plastic tips, so take care to wash and store them properly.
What are Wilton piping tips made of?
Most Wilton piping tips are stainless steel. They are dishwasher safe and, if stored and cared for correctly, will last for years.
Wilton also makes plastic and disposable tips.
Can I use the metal tips with the ready-to-use decorating tubes?
Yes, our decorating tubes and pouches can be fitted with any standard Wilton piping tip and coupler ring.
How to Wash Piping Tips
Wilton piping tips are stainless steel and dishwasher safe (on the top rack). After use, wash your tips in warm, soapy water, then rinse and allow to dry completely before storing.
You can also use a tip brush to get into those little nooks and crevasses of your tips, especially good for cleaning star and drop-flower tips!
When you're ready to store them, it's best to store tips with the narrow end up. Use a tip organizer case for easy storage and organization.
How to Use a Piping Bag
Piping tips are nothing if not paired with a piping bag. Depending on your project, there are a few options to choose from when it comes to finding the right decorating bag.
Disposable Decorating Bags – If you like easy cleanup (who doesn't), these bags are perfect for decorating. Available in both 12 and 16 in. sizes, these bags work with any Wilton decorating tip and coupler. When you're done, simply remove the tip from the bag and throw the bag away.
Featherweight Decorating Bags – Made of flexible, durable polyester material, these decorating bags can be reused over and over again. Available in a variety of sizes ranging from 8 in. to 18 in., these bags have a grease-resistant coating inside, so icing won't seep through. They are dishwasher safe and only get better with age!
Parchment Bags – If you're piping small details or you're looking for extra control, like piping lettering, you can make your own decorating bag by folding a piece of parchment paper. These bags are best used for small amounts of icing and are disposable for easy cleanup.
How to Assemble a Piping Bag and Tip
If you're planning to use more than one tip on the same bag, you can use a coupler to make it easy to swap out piping tips. Available in standard and large sizes, a coupler comes in two parts. The first part, the base, is inserted into the bag before you fill it with icing. The second part, the ring, is used to secure your tip in place.
If you don't plan on changing tips, you do not need to use a coupler. Simply drop your tip into the decorating bag and use scissors or a pen to mark a line about 1/2 way up the tip. Cut the bag at the line, then push the tip down through the opening.
How do I use a coupler?
Preparing your bag with a coupler is easy. Check out our guide on How to Use a Coupler to learn more about how to use a coupler with a 12 or 16 in. piping bag.
Do I need to use a coupler?
Wilton piping tips do not require the use of a coupler. Just place the tip directly into the bag!
However, couplers are needed if you're planning to use more than one tip with your piping bag. You can also use a coupler if you want to give your tip a little more stability.
How do I know what size coupler I need?
Wilton offers a standard coupler, as well as a large coupler. The standard coupler is compatible with all our standard piping tips, while the large coupler is compatible with our larger tips.
Here's a compatibility list so you know what size coupler you need:
Standard Tips (Compatible with Standard Coupler):
Drop Flower – #106, #225, #109
Round – #1s, #1, #2, #3, #4, #5, #6, #7, #8, #10, #12
Star- #199, #14, #16, #17, #18, #20, #21, #22, #32
Specialty – #81
Petal – #59s/59, #61, #97, #101, #102, #103, #104, #150
Leaf – #352, #70, #67, #74
Basket Weave – #47, #48
Left-Handed – #106L, #107L, #59L, #97L, #116L
Large Tips (Compatible with Large Coupler):
Drop Flower – #2C, #2F, #1B, #1E, #1F, #1G, #224
Round – #2A, #1A
Star – #1M
Specialty – #234, #2010
Petal – #123, #124, #125, #126, #127
Leaf – #366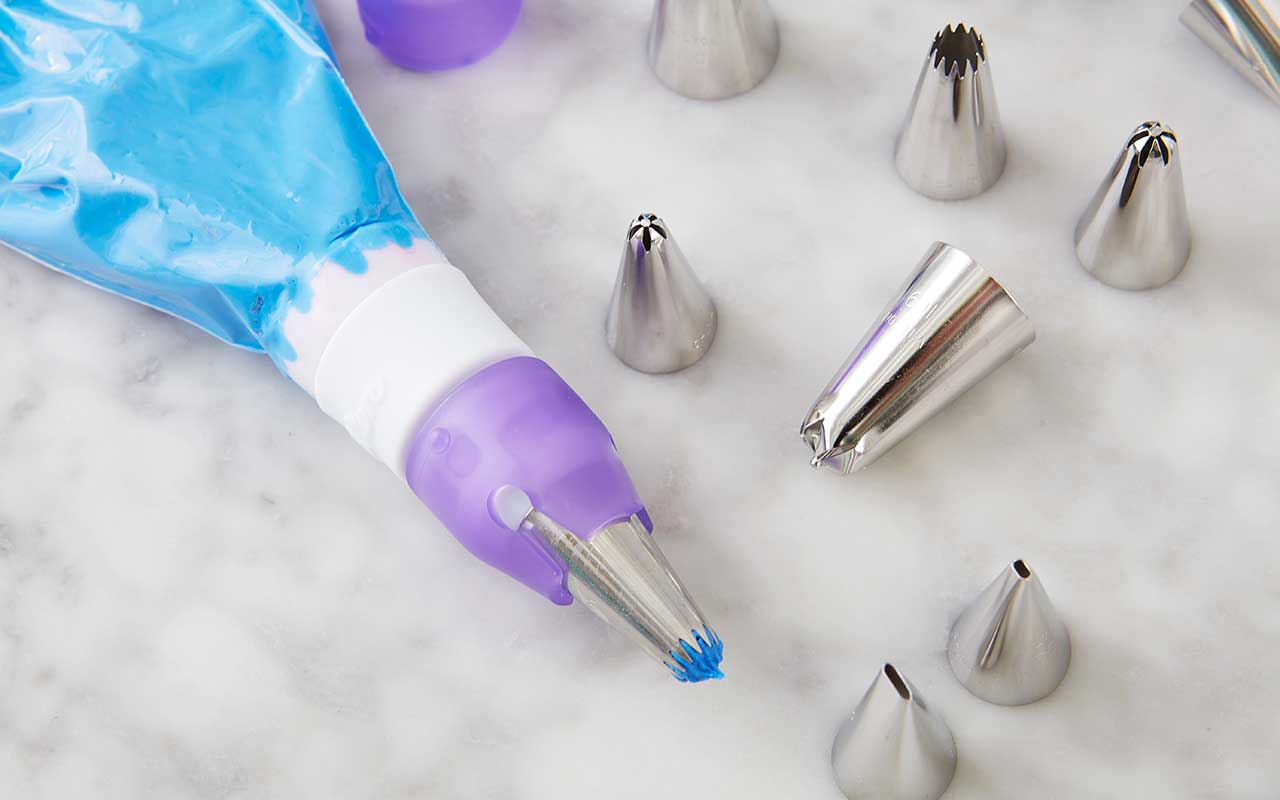 Tips and Tricks for Using Piping Bags and Tips
Expand your creativity by using larger piping tips to pipe dough, fillings, mashed potatoes, batter, meringue and more.
If your tip becomes blocked, use a toothpick to loosen the lump, then squeeze carefully to remove the block. To prevent lumpy icing, be sure to sift your confectioners' sugar before mixing.
For easy piping, don't overfill your bag. It's best to work with about ½ cup of icing at a time. Most Wilton decorating bags have a fill line for easy measuring.
Pipe two colors at once by filling two 12 in. decorating bags, separately, with different colors of icing. Cut ½ in. off the end of each bag and drop them both into a larger 16 in. bag, prepared with a large tip (1M or 2A works great for this).
Now that you know about piping tip basics, follow this series on Piping Tips 101 to learn more about each tip family and the decorations you can pipe with them. Do you have a favorite piping tip or other uses for piping tips and bags? Let us know in the comments below, or post a picture of your piped design on Instagram and tag us @wiltoncakes.