Customize your store-bought frosting with these icing hacks. Whether you want to change the flavor, the texture, the color or the consistency, these store bought frosting hacks will help make the frosting you took off the shelf, taste like it's really homemade from your own kitchen.
Using store-bought frosting is a quick and easy way to decorate everything from cupcakes to wedding cakes; however, the icing may not come in the color or consistency you need for your project. It also may lack that simple "from scratch" taste. Thankfully, these store-bought icing hacks can help you turn canned frosting into something that tastes (and looks) homemade!
From adding unique flavors to making your store-bought frosting pipeable, these icing hacks can remain your little secret for serving up the best (and easiest) treats and decorations.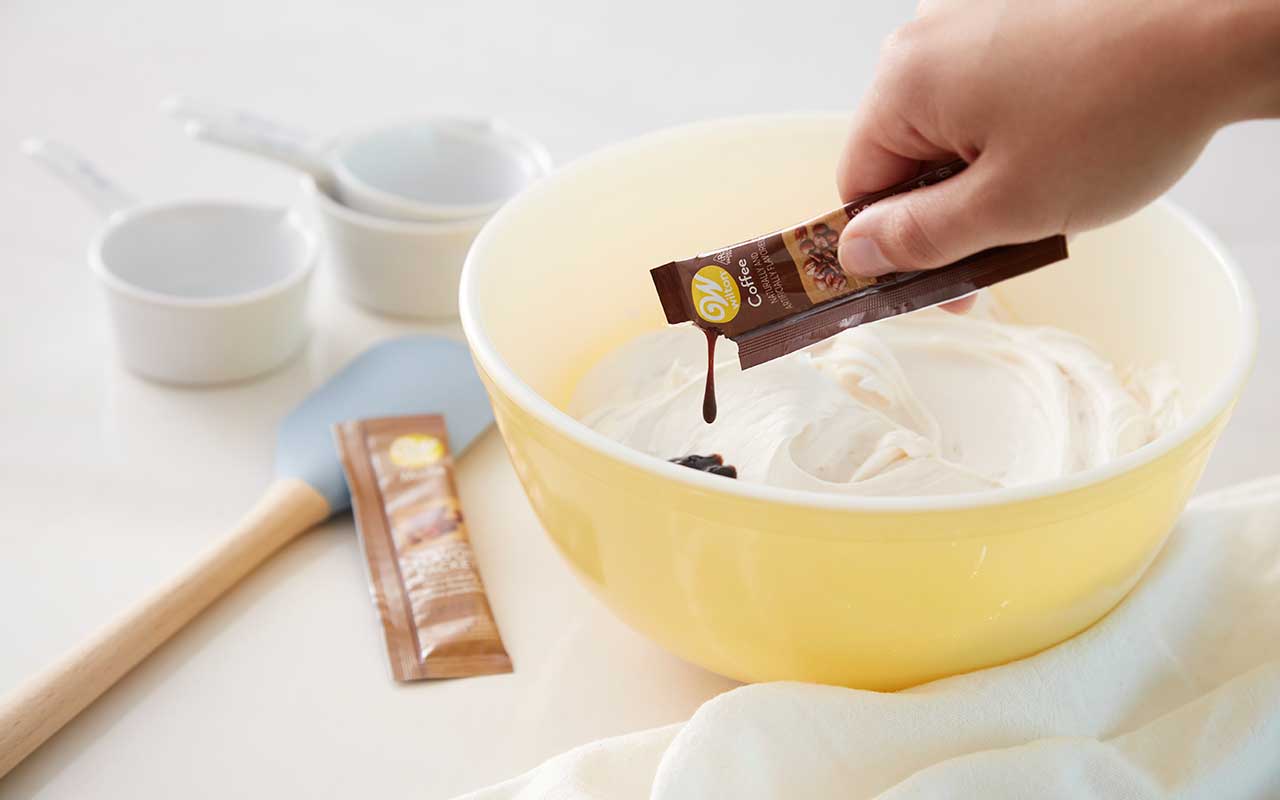 Adding Flavor to Store-Bought Frosting
Extracts and Syrups
Adding extracts, fruit or peanut butter are some of the easiest ways to take your store-bought frosting up a notch! To give your vanilla icing that homemade taste, try mixing in 1/2 teaspoon of vanilla extract. This will help pump up that flavor that makes homemade icing so delicious.
You can also try adding 1 teaspoon of your favorite flavored syrup, such as maple, caramel or raspberry, for a tasty frosting pairing to your chocolate or vanilla cake.
To add more flavor to store-bought chocolate icing, try mixing in 1/2 cup of creamy peanut butter. This simple hack will produce a frosting reminiscent of chocolate-covered peanut butter cups. Yum!
Treatology Flavor Extracts
If you're looking for unique flavor options, try our Treatology Flavor Extracts. Available in Salted Caramel, Creamy Vanilla Custard, Warm Cinnamon Graham, Toasted Coconut, Crisp Champagne, Sweet Meyer Lemon, Juicy Peach and Fresh Basil, these extracts infuse your frosting with amazing flavor. A little drop is all you need to turn store-bought frosting into a delicious treat!
Cake and Icing Flavor Kits
You can also add flavor to your icing (and your boxed cake mix!) using our Cake and Icing Flavor Kits. Specifically designed to use with canned frosting, these flavor kits are available in a variety of combinations, including Coffee, Caramel and Mocha; Brown Sugar, Apple and Cinnamon; and Lemon, Blueberry and Cream Cheese. These flavors can be used individually or can be mixed for even more tasty options.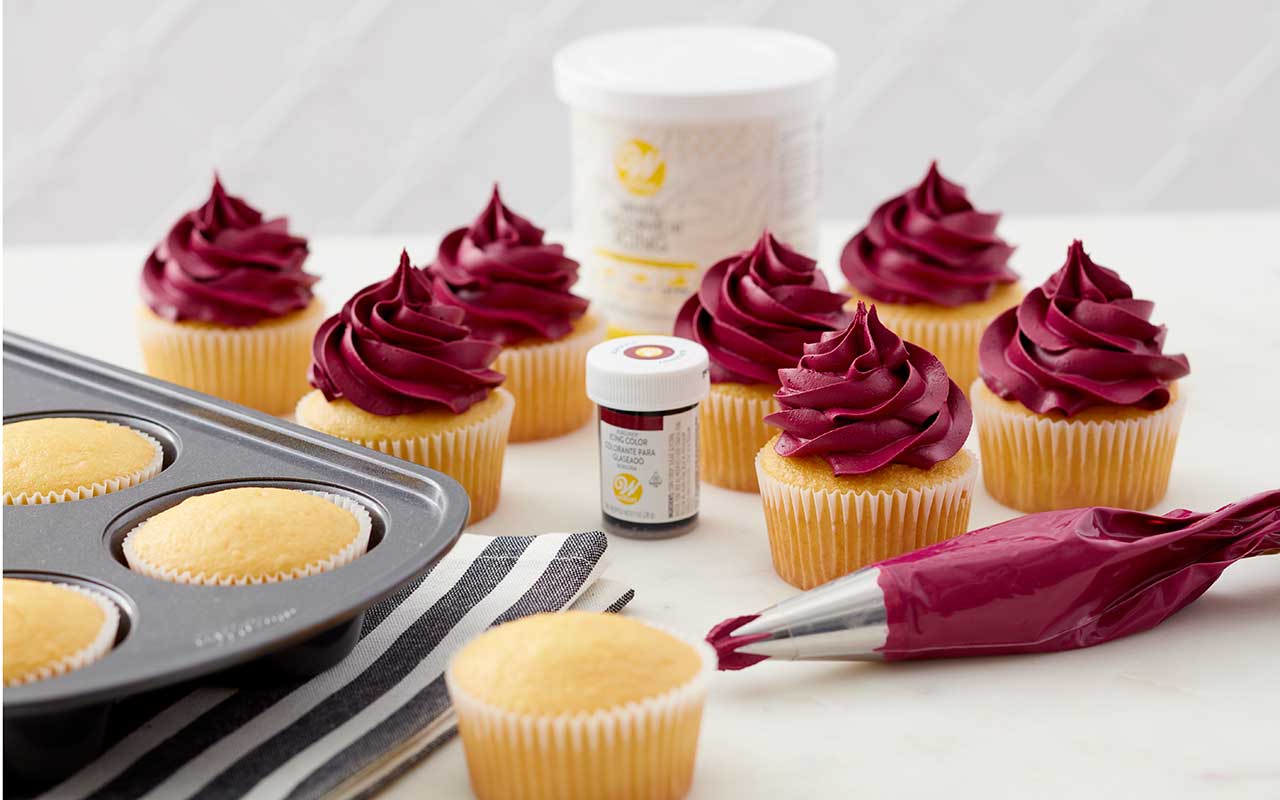 Adding Color to Store-Bought Frosting
Color Right Concentrated Food Coloring
Create rich and vibrant colors using Color Right concentrated food coloring. This kit includes Yellow, Orange, Red, Pink, Blue, Crimson, Brown and Black, as well as a color mixing guide that makes it easy to create any color you'd like! Since these color formulas are based on using 2 cups of icing, Color Right is great for tinting larger batches of icing.
These colors are also ultra-concentrated, so a little goes a long way. For best results, use bright white store-bought icing to create bold icing colors. If you're making black icing, we suggest starting with store-bought chocolate icing rather than vanilla. This will make it easier to get that dark black color.
Gel Icing Colors
For quick and easy coloring, or for coloring smaller batches of icing, try our gel icing colors. These concentrated colors come in various shades of red, yellow, green, blue and more. Simply use a toothpick to add a little scoop of color to your icing, then mix until combined. You can also use these gel colors to tint batter, fondant and dough.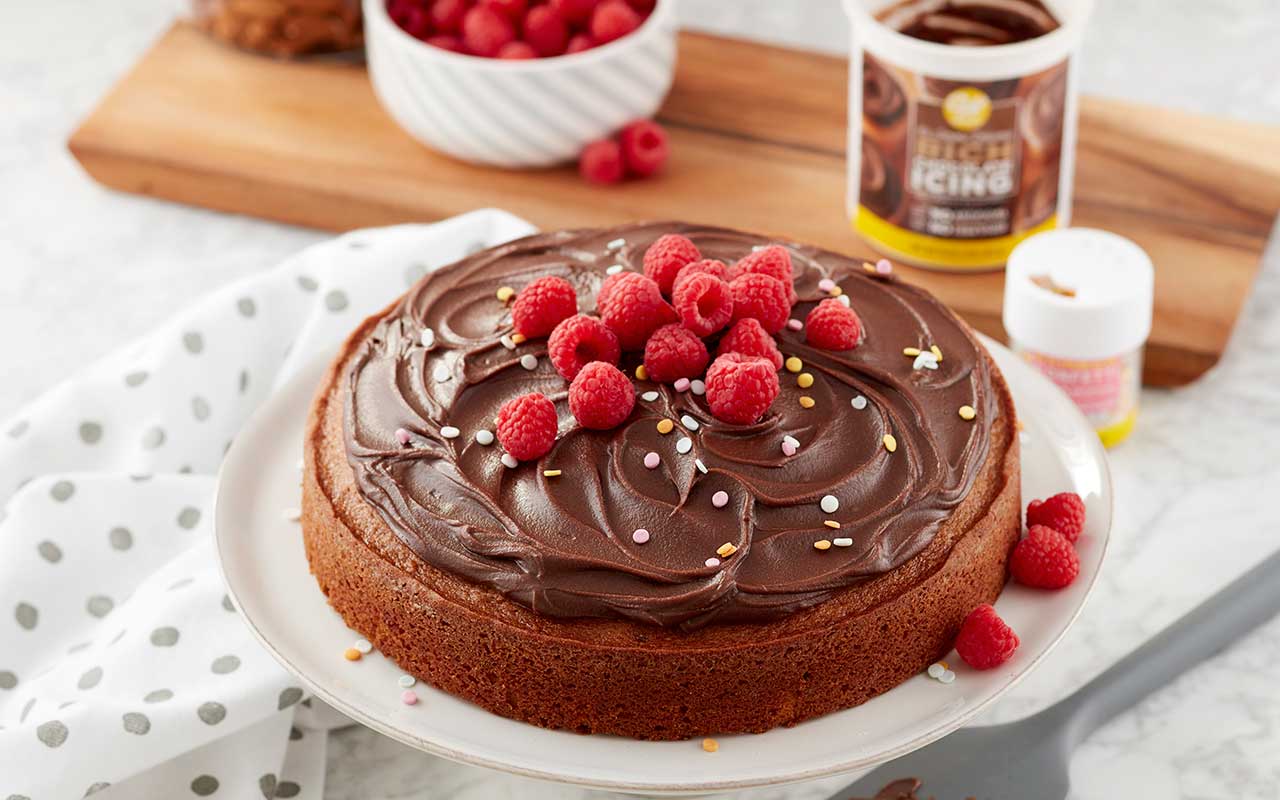 Adding Texture to Store-Bought Frosting
Fruit, Nuts, Chocolate and Candies
You can add texture and flavor to your store-bought icing by mixing in your favorite fruit preserves, nuts or candies. These additions are great if you're using store-bought icing to add a layer of frosting between cake layers.
If you're planning to pipe your icing, make sure your texture additions are small enough to pass through your piping tip.
Jimmies and Sprinkles
For a fun confetti look, try adding jimmies to your frosting (you can also add jimmies to your cake batter for confetti cake, too!).
It is possible that jimmies, nonpareils and sanding sugar may inadvertently color your icing. To lessen the chance of this happening, use a spatula to carefully fold in the sprinkles, then stop once incorporated.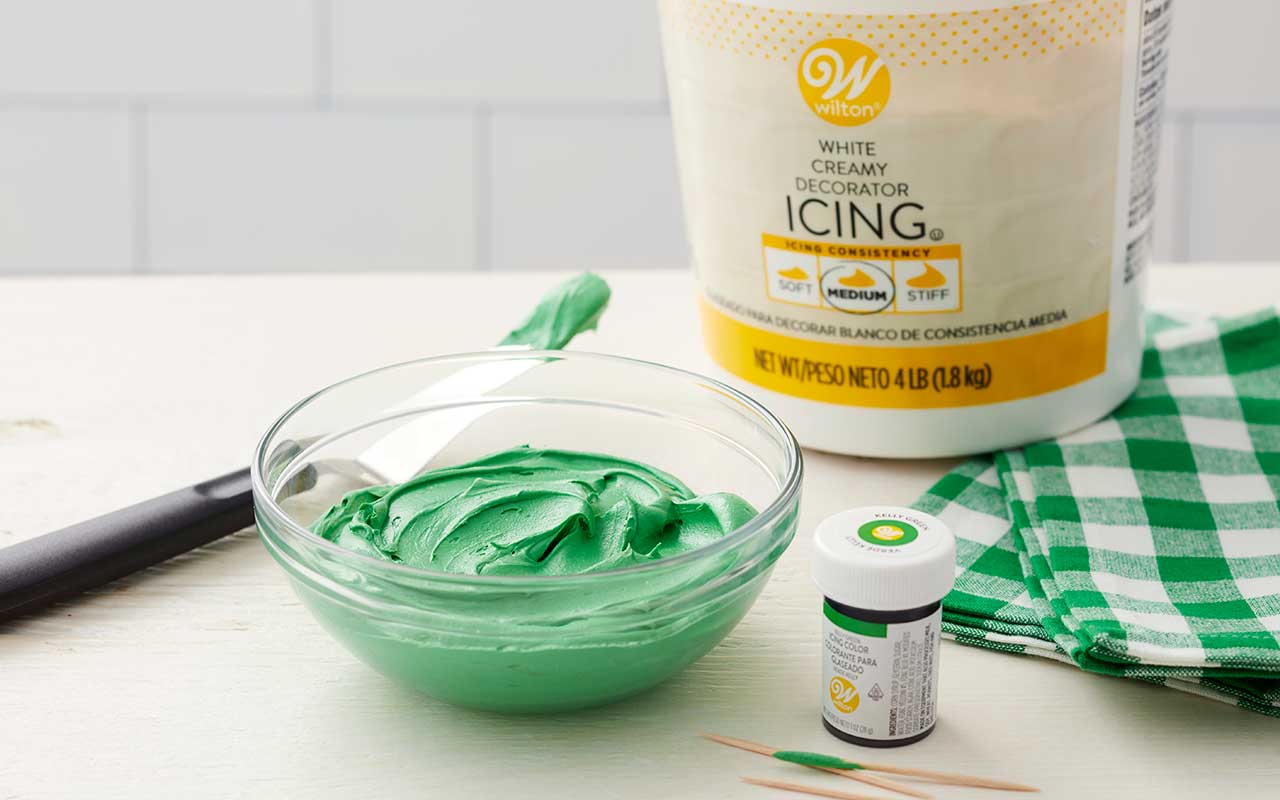 Changing the Consistency of Store-Bought Frosting
 In most cases, store-bought frosting has a thin consistency. This is fine for piping borders and other flat decorations, but if you want to use your icing to pipe cupcake swirls, ice your cake or pipe up-right decorations, such as roses or flowers, you'll need to change the consistency of your frosting to medium.
For piping flowers and up-right decorations, you'll need to stiffen your store-bought frosting. Using a hand mixer, add powdered sugar, 1 tablespoon at a time, until you've reached your desired consistency.
If you're using your icing between cake layers, to decorate cupcakes or to crumb coat and ice your cake, you'll need to soften the consistency. Using a hand mixer, add milk, 1 teaspoon at a time, until frosting is easily spreadable.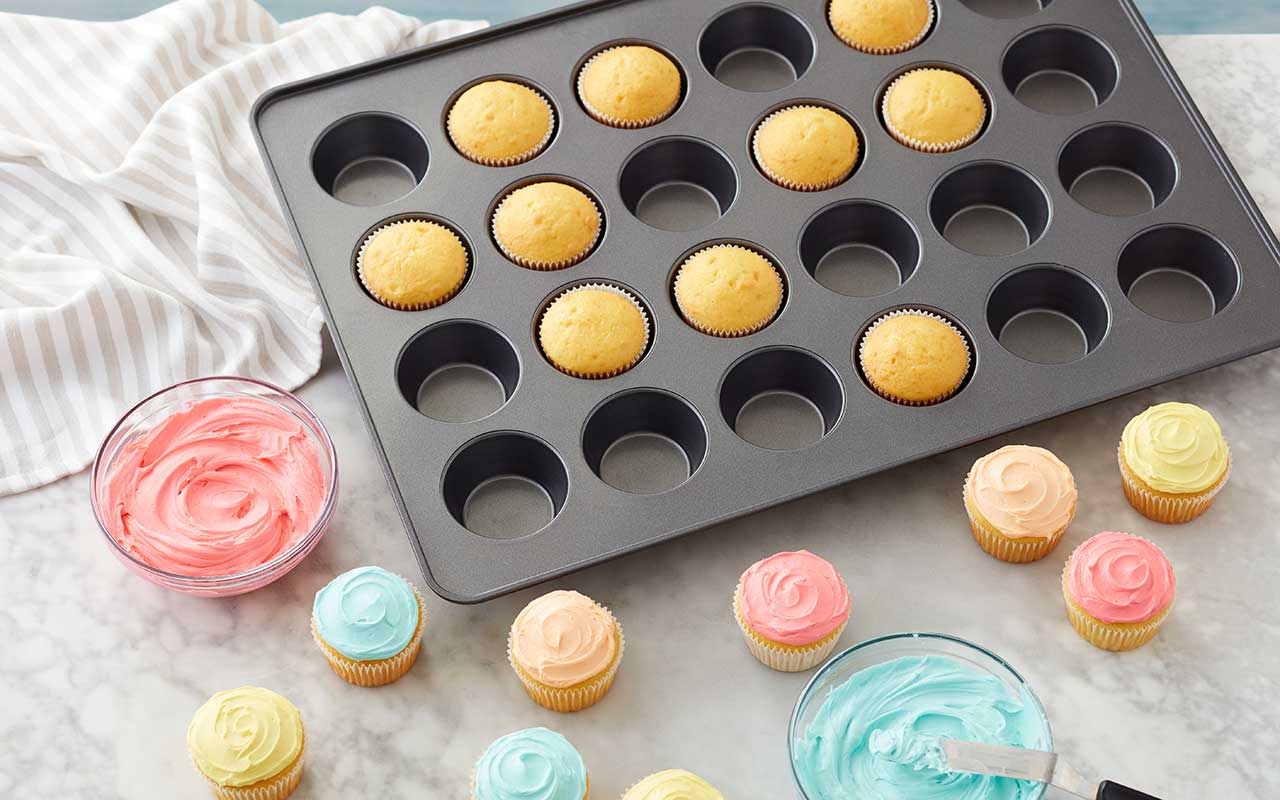 Store-Bought Icing Tips and Tricks
How do I make store-bought icing fluffy?
To make your frosting fluffier, mix one 16 oz. can of frosting with 16 oz. of frozen whipped cream topping (defrosted). Using a hand mixer, stir both until well combined. This will also help lessen the sweetness of your icing if you're not a fan of super sweet buttercream.
Keep in mind that mixing your icing with frozen whipped cream topping will mean that your icing will need to be refrigerated and will melt at room temperature.
How do I give my store-bought icing a richer taste?
Try adding 8 oz. cream cheese and 1 teaspoon vanilla extract to one 16 oz. can of frosting. The addition of cream cheese will give your frosting a creamier, richer flavor. Keep in mind that, since this combination contains cream cheese, it will need to be refrigerated.
Can I turn store-bought frosting into a glaze?
Sure! Simply transfer your frosting to a microwave-safe bowl. Microwave on high to 20 to 30 seconds. Stir well, then pour over your cake (or use it for donut glaze).
How do I make store-bought frosting taste homemade?
If you're going for a simple, homemade taste, use a hand mixer to incorporate 1 teaspoon of vanilla extract into your icing. It's a simple hack, but it goes a long way!
Can I use water instead of milk to thin my icing?
Yes, you can use water if you don't have milk on hand. However, milk offers a richer flavor to your icing, so try to stick with it if you can. You can also use half and half, whipping cream or your favorite milk alternative to thin your icing – just keep in mind that it may also add flavor to your frosting as well.
How do I make store-bought icing pipeable?
If your store-bought icing is too soft to pipe, you can stiffen it by adding powdered sugar. Use a hand mixer to incorporate 1 tablespoon of confectioners' sugar into your icing. Continue until your desired consistency is achieved.
What other baking hacks do you have? Let us know in the comments below!